Starting and structuring a real estate brokerage can be a career milestone, but one that requires making complex and solid decisions from the onset. This article breaks down how to start and structure a real estate brokerage into manageable steps, thoroughly discusses important decisions, and gives you the information you need from financing options to implementation.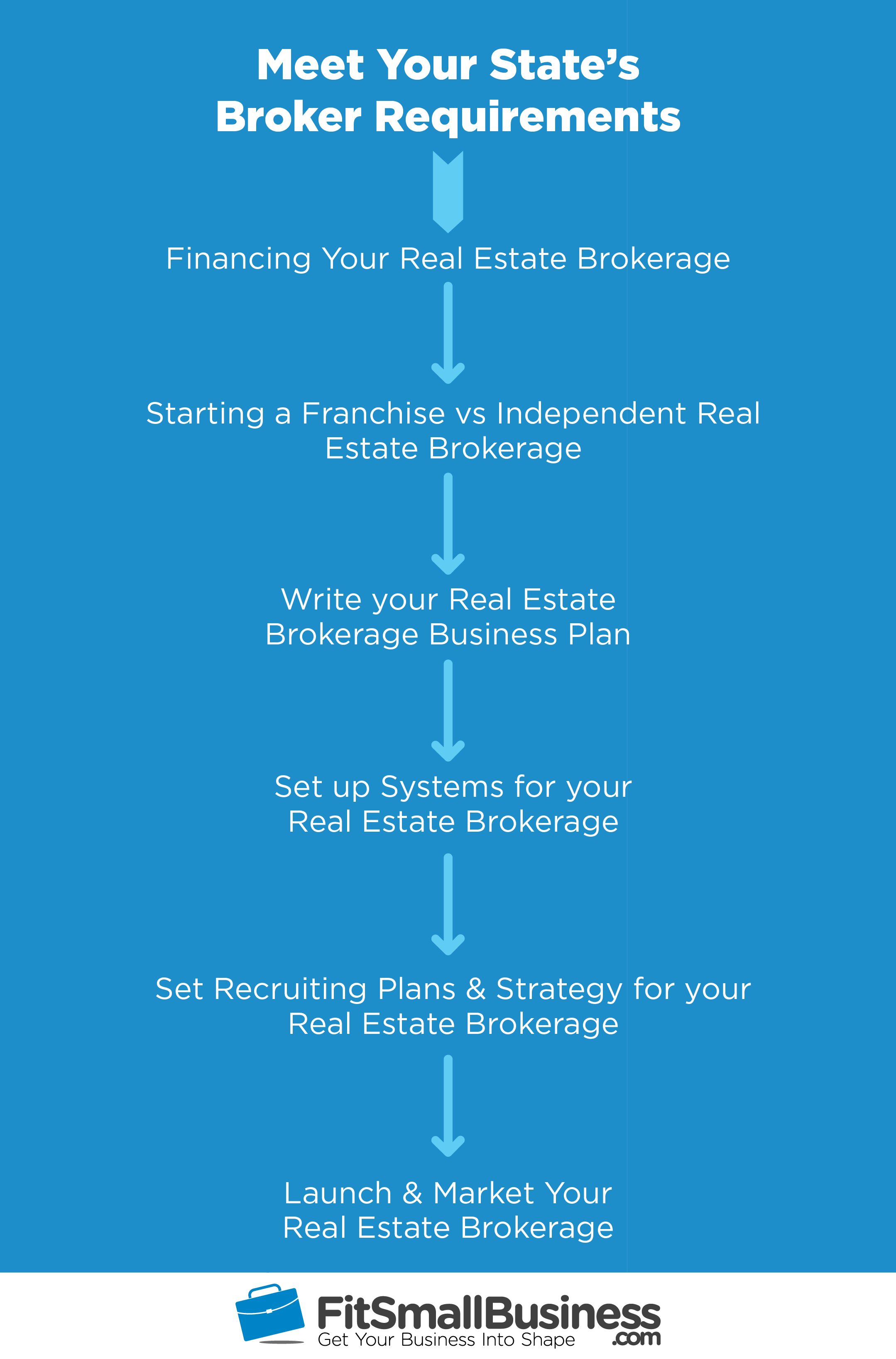 Step 1: Meet Your State's Broker Requirements
After having your real estate agent license, you must then meet your state's work requirements, take the educational courses required, and pass the broker's exam. Check specific state requirements through your state's Real Estate Commission. Generally every state requires work experience, pre-licensing education, and an examination.
Work Experience
Most states require that you have worked several years as an agent or have completed a specific number of transactions to become a real estate broker. For example, in Texas you must be a licensed real estate agent for four of the past five years, hold an out-of-state broker's license, and have accumulated at least 3,600 points. In the case of Texas, points are calculated by a specific state formula whereby transactions are valued at 300 points per transaction (regardless of size), and other variables such as buyer representation agreements are valued at 10 points per transaction. An example of the broker's requirements for a residential broker, provided by the Texas Real Estate Commission can be seen below:
Pre-Licensing Education
In addition to significant work experience, all states require that you have coursework prior to sitting for your broker's exam. While the education requirements can vary significantly by state, ranging anywhere from 45 to 900 hours, usually they can be met handily even while you are still operating full-time as a licensed agent. Click here to learn what it takes to be a great real estate broker.
Many active agents thinking of taking the next step to become a broker don't have the continuing education most states require to get licensed. McKissock Learning offers a convenient and interactive program that gives you unlimited access to the continuing education library, as well as access to dynamic content including videos, job aids, and recorded webinars to help you further develop your professional skills. Click here to see courses available in your state.
Examination
The broker's examination is fairly extensive, and requires study even if you've been operating as an agent for years. For example, in California, it is a five-hour exam that requires you to get 75% of the 200 questions correct. Estimate that, along with your required coursework, you will need time to study, and allocate this into your existing schedule.
Overall, meeting your state requirements to become a broker can take several months, so carefully examine your particular criteria and plan ahead. For more detailed information in how to become a real estate broker, we offer a guide to take you through the process.
Step 2: Financing your Real Estate Brokerage
Starting your own brokerage comes with significant cost and it is important to examine, from the onset, how you intend to meet the fiscal demands you'll face for the upcoming months and years. Rigorously detail your anticipated operating expenses, and determine how you will fund your venture. Popular methods are bootstrapping, partnerships and small business loans.
Detailing the Operating Expenses of your Real Estate Brokerage
When starting and structuring your real estate brokerage, be sure that you have your short and long-term operating expenses detailed, leaving nothing to chance. There are two things you want to determine — your initial startup expenses and your ongoing operating expenses.
Initial Startup Expenses
Starting a real estate brokerage entails mountains of branding and advertising. Some of this will be ongoing, and other expenses will be initial startup costs. Seemingly small elements can cost a significant amount, so be sure to price out these out.
Elements like the initial company website construction, for example, could cost anywhere from $5,000 to $20,000 or more depending on who you consult. If you are familiar with general website construction and tools, building your own IDX website can also be an option.
Setting up a website, social media accounts, branded signs, cards, and other elements will be essential to moving forward as a company but must be present upon opening. Be sure to explore all of your options and do your research. Spending the extra time to examine the details, like the best real estate sign companies to customize your signs uniquely, have the potential to differentiate you from your competitor.
One of the best things you can do is to determine how much of the initial startup work you can do yourself, and how much will have to be outsourced. Setting up social media accounts, for example, might be something you can do yourself but also you may determine that your time is better spent working on infrastructure and outsourcing this work to Hibu or another firm that deals with social media presence.
Ongoing Brokerage Expenses
When starting a real estate brokerage, ongoing expenses can make all the difference in your bottom line. Decide what expenses are yours and which are the agents to assume. Detail how much will you be spending on advertising, branding, supplies, computers, copiers, errors and omissions insurance, and your office space. Most brokerages assume, on average, that they will spend about 10% of their revenue on advertising costs.
ProTip: Use Your Expertise
If you want to reduce one of the biggest overhead expenses to operating a real estate brokerage, your office space, use your expertise. Why not purchase a building, lease the other areas, and reduce your costs? Find ways of saving on your biggest expense moving forward, and also allow yourself the room for the expansion you might need.
Sources of Funding for your Real Estate Brokerage
Bootstrapping
Self-funding a real estate business requires significant capital, but depending on your transaction history and current living expenses, these expenses might be something you can save for and self-fund. While certainly the most ideal of all financing options, be sure you have enough for your family to live on, as well as the company to have at least six months of runway.
Partnership
Starting a brokerage doesn't have to be a solo venture, and many times it is beneficial if you partner with another. Having someone to invest in the business and help with the day-to-day decision-making both relieves costs and the operational burdens of a new business. Be practical, but be smart and create a business partnership agreement should you decide to start a brokerage with others.
Small Business Loan
A small business loan might be just what you need to kick off your real estate brokerage. While it is never advisable to borrow money without a clear path to repayment, if the market is right, and your own transaction history shows it can be sustained, a small business loan might give you the bit of extra you need to cover initial expenses.
While you can't use small business loans to invest in real estate itself, you can use them to start your real estate brokerage. It is true the process of applying for a small business loan is often more lengthy than a traditional loan, but the benefits are that they often have longer terms and lower down payments to help you maintain a better cash flow during your operation. We have a complete guide on startup financing options to help you make the best decision for your brokerage should you decide to further explore that avenue.
Financing will be the make or break difference in starting your real estate brokerage. Be sure to examine your current life situation, debts and financial obligations as well as your business needs.
Step 3: Starting a Franchise vs. Independent Real Estate Brokerage
One of the biggest decisions you can make is whether to become a part of a franchise, or operate an entirely independent real estate brokerage. Both franchise and independent brokerages have their pros and cons, and we explore these below.
Franchise Brokerages
Franchise costs are significant, but have advantages as you start your own real estate brokerage. For example, the estimated initial set up investment to start a RE/MAX franchise is in the range of $35,000 to $219,000. This does not account for recurring fees associated with running a RE/MAX franchise, such as monthly management and promotion fees, annual dues, transfer fees, transaction fees, or renewal fees.
The benefits of a franchise brokerage are many. At RE/MAX, for example, owners attend a 4 ½-day training on operation, and the franchise comes with many of the contracts ready to go and "tough decisions" already made, such as processes of operation and agent commission splits. Franchises come with name recognition, some amount of public trust, and plenty of resources available to you as a broker such as training methods/resources for your agents.
Independent Brokerages
The largest benefit of starting and structuring an independent real estate brokerage is flexibility and control of your company. As an operator of an independent brokerage, you can run your company your way. You have no franchise fees to pay, and are able to keep a larger share of your income as a firm. As a broker of an independent firm, you can build the type of website you wish, offer the type of training you wish, and meet the needs of your own market in any way you see fit.
The downside to starting and structuring an independent brokerage is a mirror of the perks. While you have the freedom of doing things your way in your business, you are also completely on your own to do them. While some might relish the ability to develop their own in-house processes, training programs, contracts, and commission structure, others might find the structure franchises offer quite a relief and worth the additional fees they bring.
Step 4: Determine the Legal Structure of Your Real Estate Brokerage
When deciding what legal structure to choose for your brokerage, you have five choices: partnership, sole proprietorship, S corporation, C corporation, or limited Liability company (LLC). It is recommended that you structure your real estate brokerage as an LLC for a variety of reasons.
Personal Liability & Structure
While you should always carry errors and omissions insurance, you can further protect your own personal liability under the LLC structure. While other structures also protect your personal liability, LLCs do not require the more formal business structure that corporations do. For example, corporations require that you have a board of directors, which in the case of a real estate brokerage would be required to be comprised of licensed brokers.
Taxing & Flexibility
The LLC structure also allows real estate brokerages to divide profits how they choose, and is more flexibly taxed. While there are no shareholders to divide the profits among in an LLC, most who choose this structure also use pass through taxation. The owner of the LLC could then avoid paying taxes both on the company's profits as well as their personal income.
If you have more questions about how tax structures could benefit or harm your future business, we offer a direct comparison of LLC vs S Corp vs C Corp to examine which might best serve your needs.
Register Your Business
Registering your business is an essential element of getting up and running. Once you know what type of structure your brokerage will be, be sure to register your business as a legal entity. The approximate cost of registering your business can vary dramatically from state to state. For example, filing fees for an LLC are approximately $630 in Illinois but only $50 in Colorado.
While filing can be fairly straight forward, depending on which legal business structure you choose, it is always prudent to be sure this area of your business is done correctly from the beginning. Using a service like Rocket Lawyer is inexpensive, and can help ensure you don't miss anything as you do your initial set up.
Step 5: Write Your Real Estate Brokerage Business Plan
In deciding to start a real estate brokerage, writing a business plan can greatly help you determine the direction of your real estate brokerage. Creating a business plan maps out the direction of your brokerage, assesses market demand, and plots the trajectory of your business. The following items are the basic building blocks to any real estate brokerage business plan.
Executive Summary
An executive summary should contain the name and legal structure of your business, as well as where you operate and what kind of clients you serve (commercial, residential, etc.).
Mission Statement
The mission statement of your business plan should include what your reason for existence is, your point of difference, your guiding principles, and what you intend to do in the market.
Company Summary
The company summary of your business plan should outline where the company is located, what hours they keep, and who is a member. The company summary will usually also discuss ownership, growth projections in employees, and often outline the current costs of operation.
Services Offered
Your services offered will detail two groups. One section will detail who your target customers are, where they are, and what you are offering to service them. Another section will often discuss what you offer to incoming agents and employees of the company.
Current Market Analysis
This section of your business plan will contain a summary of the market analysis you've run for your business, the strategies you've laid out to tackle the market as it stands, your point of differentiation, and your company goals. Areas of the market to consider in your analysis is the examination of trends, market size and growth, and target segments of the market to address.
Financial Analysis
The financial analysis should specify who the owner(s) are, their licensure, estimated operating expenses, and a plan to repay any current loans. It should also include projected cash-flow, and a break-even analysis examining when the company anticipates meeting this point given their financial and company goals.
SWOT Analysis
A solid SWOT analysis (strengths, weaknesses, opportunities, and threats) will keep your business grounded, well-balanced, and on alert by not only focusing on the areas of momentum and strength, but also focusing on the weaknesses and threats ahead. This is an area to examine competitors in the market, and look honestly at potential issues like cash flow.
Setting up a solid business plan is something you may be able to map out yourself, but consider software like LivePlan, to help prompt you to cover all the bases as you start. Saving time in the fairly structured area of creating a business plan, can help you focus on systems or other areas of your brokerage that require more customized planning.
Step 6: Set Up Systems for Your Real Estate Brokerage
Starting and structuring a real estate brokerage involves automation in how your business operates. Having systems and consistency is the key to a successful processes that promote growth. Two keys to effective automation in your business will be transaction management software and having a solid CRM.
The Best Transaction Management Software for Your Real Estate Brokerage
Every brokerage should be equipped with transaction management software that makes closing deals easier and ensures compliance. While there are a number of options which allow for e-signatures, custom document creation and secure storage, we found DotLoop to be the best transaction management software for your brokerage because of its collaborative fields feature.
Collaborative fields allow you to edit previous version of documents, which can be especially useful as you have to submit varying offers: quick edits, and no starting from scratch! As you start and structure your brokerage, the ease of making brief changes in DotLoop for offers and counteroffers becomes seamless with a nice compliance trail of previous documents for your records.
There are a lot of variables to consider when selecting a transaction management software for your real estate brokerage. If you're still not sure which to consider, here is a review of the top three real estate transaction software packages, including price points and functionality.
The Best CRM for Your Real Estate Brokerage
Good CRM software will allow your brokerage to manage their contacts more effectively, nurture leads, and get more referrals. In selecting the right CRM for your brokerage, you want software that will offer your agents the best features for building and nurturing relationships. While there are a number of options for your brokerage, Freshsales is a solid choice that provides powerful tools at an affordable price.
How does a CRM benefit you? For starters, you can set up profiles for each of your clients. These can then be tracked as they progress through the sales process, giving you at-a-glance insights on how the relationships are progressing. You can also set follow-up reminders, track emails, and keep your communication consistent with templates and automated tasks. Click here to start a free trial of Freshsales.
Setting up your initial systems and processes should include the latest technology when possible. From virtual touring software to electronic signing software, incorporating these elements keeps you current, reduces paper trails, and allows for greater productivity. Check out our list of the 29 Best Real Estate Software & Tools, most of which are must-haves for brokerages operating in today's market.
Step 7: Set Recruiting Plans & Strategy for Your Real Estate Brokerage
Knowing how you are going to proceed when recruiting, helps make the growth process smooth as you start and structure your real estate brokerage. Creating internal structure for your brokerage will require recruiting plans and strategy, determining commission structure, and designating what your budget will cover in supporting them.
Recruiting Plans & Strategy
Most brokers know who they need, but the process of finding great agents and staff can be truly challenging. Have a recruiting plan that will help you find great agents and staff who intend to be with your brokerage for the foreseeable future and are not simply using it as a stepping stone to other things.
A useful way to see the staffing of your brokerage, is to think of the creation of any successful real estate team, but with a different starting point. While most teams in existing brokerages are building out from a point of existing growth, a starting brokerage will first need to emphasize initial structure and build out from there. While teams have brokerages, you are now the only company you have to fall back on.
The basic skeletal structure of your real estate brokerage come first. A buyers agent, listing specialist, and assistant will likely be your first team members to come aboard. As you grow even more, you may decide to contract a transaction coordinator, and bring on a showing specialist and listing coordinator. No matter what your preferred order of team recruitment, here are some tips on bringing aboard the best.
Screen Your Applicants Carefully
When screening your applicants, some basics to look for are digital knowledge, internal drive, and a solid culture fit for your company.
Look for applicants that are already savvy in digital marketing and have a presence on social media. The majority of individuals buying a home are searching online. For example, we know that 99% of Millennials search online and are currently the largest share of first time home buyers in the United States at 66%. While you want to be sure your agents understand the importance of establishing in person relationships, be sure to hire people who know how to reach a digital audience.
When interviewing candidates who are not high producers already, ask them what is holding them back. For some, they have areas of weakness that might be easily remedied with the right brokerage, for others, it is simply a lack of motivation. Know when you have the ability to help nurture a rockstar and when the individual is simply not built for the profession.
The last milestone to look for is culture fit. You know the feel and culture of your company (as well as established a mission statement above), and you want individuals who will fit with your company, believe in what you are doing, and grow with it. A great company is full of "true believers" who enthusiastically push the company forward.
Have a Generous Commission Structure
Every brokerage is going to find a commission structure that works best for them and their numbers. So while there are a number of structures to choose from, from varying split percentages to flat fee and others, be generous to the best of your ability, and remember that you only make money if others want to be a part of your firm.
If you decide to use a franchise in starting your real estate brokerage, the commission structure will be an already determined component of an existing system. For independent brokerages, there may be more decisions to make. Do you want to have a fixed split system or a graduated system that rewards agents for performance? Our guide to how real estate commission splits work will give some insight into which of these differing structures could fit into your particular brokerage model.
Promote a Culture of Success
Be the company that others want to be a part of. Be aware of your reputation both within and outside of employees, and have an encouraging yet high standard environment. People who are successful (or aspire to be), want to be in places where they can thrive.
Whether agents are just starting out or a seasoned high producer, you want to be the place they can see themselves fitting in. Examine the best real estate companies to work for in 2018, and do something better. Look at what other firms are doing to make themselves appealing and see how you can gain a competitive edge to attract the best candidates to your brokerage.
Step 8: Launch & Market Your Brokerage
Recruiting team members and launching your business is the last step in starting and structuring your real estate brokerage. At this point, you have done all of the research you can, have looked hard at your bottom line, established the structure of your company, and are fully aware of the market you are entering.
Marketing is Key to a Successful Launch
Be sure to get your name and brand in the public sphere and market your company. If you want to be competitive in the field, it will require that you use a multi-pronged approach.
Local Press
Local press placements can help establish your real estate brokerage as a new player in the area. Take advantage of your local papers, radio, and traditional advertising to reach out to the public and show differentiation from your competitors. While many companies might be spending most of their money on internet advertising, it never hurts to know how to get local press coverage as well. In an increasingly technological society, local press may not be where all demographics are, but they still reach an important audience.
Internet Targeting
You can't stop progress, but you can get yourself ahead of the game. Be sure your social media accounts are up and running, pay for promoted posts on Facebook, and be specifically talking about your brokerage and neighborhood. While this article on Facebook ads for real estate was crafted with agents in mind, the same principles can be applied to brokers promoting their agency and listings.
Aside from social media fluency, being present where buyers are actively looking will be essential. Be sure that your brokerage is using Zillow Premier Agent. It is estimated that for every $1 that is put into Zillow Premier Agent, you get approximately $2.60 back in returned commissions.
Online ads and availability is playing a larger role every year in determining if businesses thrive, and how consumers find them. Check out our article on 53 real estate marketing ideas for some other tips that can expand your brokerage presence.
Pleasant Surprises & Common Pitfalls in Starting Your Brokerage
In starting and structuring your own brokerage, we talked to two established brokers to see what pleasant surprises they found, and what common pitfalls to avoid. From legal warnings to technology and staffing advice, both independent and franchise brokers had some great tips for those just starting out.
Jamie Crouch is a broker and owner of Home Again Properties in Tulsa, Oklahoma. For her, a pleasant surprise was the ability to own an independent brokerage and still keep up with the technology of larger corporate brokerages.
"I was surprised at how easy it was to provide the technology services many large well known brokerage provide. The cost can add up, but I have found affordable options that keep pace with the technology that large firms have."
As for the common pitfalls to avoid, Crouch stated to be sure to follow your state requirements and guidelines for business practices and marketing. To avoid any pitfalls in this area, Crouch stated that she recommends calling the real estate commission when you have questions, and she has even sent marketing materials to them for review.
Bruce Ailion is a broker and owner of RE/MAX in the greater Atlanta area. For him, a pleasant surprise is the ability to quickly build momentum.
"Once you have all the tools and people, it is not that difficult to keep it rolling." Ailion stressed that the people in your organization are both an important part of both building momentum, as well as a possible pitfall to watch out for. One piece of advice that he would give to future brokers to implement quickly is "the value of being slow to hire, fast to fire…poor or bad performance weighs the whole team down."
The Bottom Line
Starting and structuring a real estate brokerage requires a number of components, but broken down into steps, is a manageable process that can take your career and income to the next level.
When considering whether to start your own brokerage or simply continue on the agent path for a bit, we've put together a guide including 5 steps to help you decide if you should start your own business. Whether or not this is the right path for you at the time, the steps above will give you the confidence to move forward or stay the course.