A subscription box is an assortment of niche goods that ship to subscribers on a recurring basis. In this article, we'll show you how to start a subscription box business in five steps. We'll cover how to build your concept and website, get subscribers, source products and packaging, and ship boxes—all with few upfront costs.
How to Start a Subscription Box
Step 1: Develop Your Concept
Your first task in starting a subscription box business is exploring ideas and developing a brand concept. This drives every decision you'll make throughout the process, from your logo and box design, to the products you seek, to the way it's presented. Get this going with some good, old-fashioned brainstorming and online research. Specifically, you need to answer these seven questions:
What's your passion

—

or your great idea?
Are others passionate about it?
Does this idea or passion have a large social following?
Can you spot social influencers on this topic?
Is there subscription box competition in this niche? What are they doing right or wrong, in your view? Can you do it better?
Can you list 10 products related to the topic? How about 20?
Are those 10 to 20 products low-cost or expensive? Are they large, heavy, or liable to break in shipping?
If you already have a basic idea or products for a subscription box, answering these questions will help you flesh out things like the potential purchasing audience, influencer marketing, and product mix possibilities. If you haven't yet settled on an idea, this is a great tool to explore many different concepts until you find one that has potential.
Here are some examples of how different concepts and goods translate into successful subscription boxes:
1. Curated Products Boxes
With this model, you curate products that fit a concept and build a large subscriber base that makes brands clamor for a spot in your box. This method costs little to launch and can be very profitable. Both TheraBox and JerkySnob do this quite well.
2. Your Own Branded Products Box
If you want to sell items under your brand, you can do that by making products yourself or by using private label suppliers. This is very popular for private label cosmetics, gourmet foods, and personal care subscription box brands. If you already do this, you can easily package a subscription box offering. Merkaela and Simplicity Teas use this model.
3. Manufactured Goods Boxes
Some box brands self-manufacture their products in volume. Harry's is a prime example of this model. Startup costs and product investment can be quite high with this approach, so it's not the best route for most startups.
Bring Your Concept to Life
After you have a concept and name for your box, you can start experimenting with logos, products, and prototype box presentations. For many budding sellers, this is the best part of learning how to start a subscription box—so have fun with it. Plus, it's helpful to have some of these elements in place for your pre-launch campaign, which we discuss in Step 3.
If you're ready to start testing your idea in real life, here's what to do:
1. Start working on a logo
You can design your logo yourself using simple logo design tools or you can hire a freelancer to design a custom logo that communicates your brand. Try using Fiverr, a freelancer marketplace, to find a freelancer, starting at $5. Click here to visit Fiverr.
Once you have your logo, you can use a color inkjet printer to print logos and experiment with different looks on your prototype box. When you launch, logo stickers are a low-cost way to brand your box.
2. Gather up products that represent the types of goods you might feature in boxes
If you already sell your own goods or source products from vendors, then you can use those in your box prototype. Or, if you're like most startups, you plan to curate a unique assortment of goods for each box. If that's you, just gather up a representation of the items you hope to include. Remember, this is a sample to communicate your theme, not a final commitment. Search out and buy lotions, soaps, foods in sample sizes, stress balls—whatever fits your concept. Five to seven items is a good average for most boxes.
3. Start experimenting with box and packaging options
Once you have an idea of the goods you'd like to feature, test them out in different types of boxes with various fill materials. Note: Cratejoy provides free sample boxes and a low-cost box program with BoxUp—learn about it here. Try to keep your box as small as possible to keep your shipping rates low. For fill, crinkled paper is popular and photographs well. If you plan to include card inserts with product details or coupons, print samples of those.
4. Take photos of your prototype box and document the unboxing experience
Once you have a good prototype of your sample box, take product shots of the closed box with your logo, as well as throughout the various stages of opening. This unboxing experience is very important to your subscribers, so pay special attention to how this looks and translates into images. If you are definitely selling the products in your prototype, get detailed shots. If they're just representative of items you might ship, then don't use close-ups.
5. Locate some free stock photos that represent your concept
This isn't a must-have, but brand-enhancing, mood-inspiring images can help convey your concept, and there are plenty of free resources on the web. Pixabay is a good source of free images cleared for commercial use. You can use these in website slideshows and backgrounds, and even on your printed inserts.
With your idea developed and clearly represented through your logo and prototype box, you're ready to start marketing your concept to potential subscribers in a pre-launch campaign. For that, you'll need a website platform which we'll explore next.
Step 2: Launch a Pre-launch Campaign on Cratejoy
Once you have your idea, it's time to get your pre-launch campaign and web page together, like this simple pre-launch page built on Cratejoy:
The goal of your pre-launch is to market your concept, attract an audience, and build your email list while you work out the details like product sourcing, fulfillment, and so on. This strategy provides you a ready audience that you can convert to paying subscribers, which helps fund your first round of purchasing. This is how many subscription box startups fund their first box with few upfront costs.
Another benefit of this stage is it gives you a way to gauge the validity of your idea. If you gain many signups and followers via pre-launch efforts, you're on target and can expect to launch with ready buyers. If not, you might want to tweak your idea to see if you can drum up more interest before your launch.
"One of the best ways we've seen to launch a subscription box business is a pre-launch campaign. This means gathering emails and gauging interest in your product before pulling the trigger on a fully-fledged product launch. Campaigns that see a 10 to 20 percent conversion rate from their pre-launch email list are usually set up for success from month one and are able to scale more quickly than the average merchant."

– Amir Elaguizy, CEO and co-founder of Cratejoy
Set Up Your Pre-launch Web Page
We recommend building your pre-launch page on an all-in-one platform designed for subscription sales, like Cratejoy. That way, when your pre-launch phase is complete, everything is already in place for you to start taking orders.
To start, sign up for your Cratejoy 14-day free trial. This gives you full access to the Cratejoy seller dashboard. From here, you can quickly set up a pre-launch webpage like the one above using Cratejoy's pre-launch basic website theme: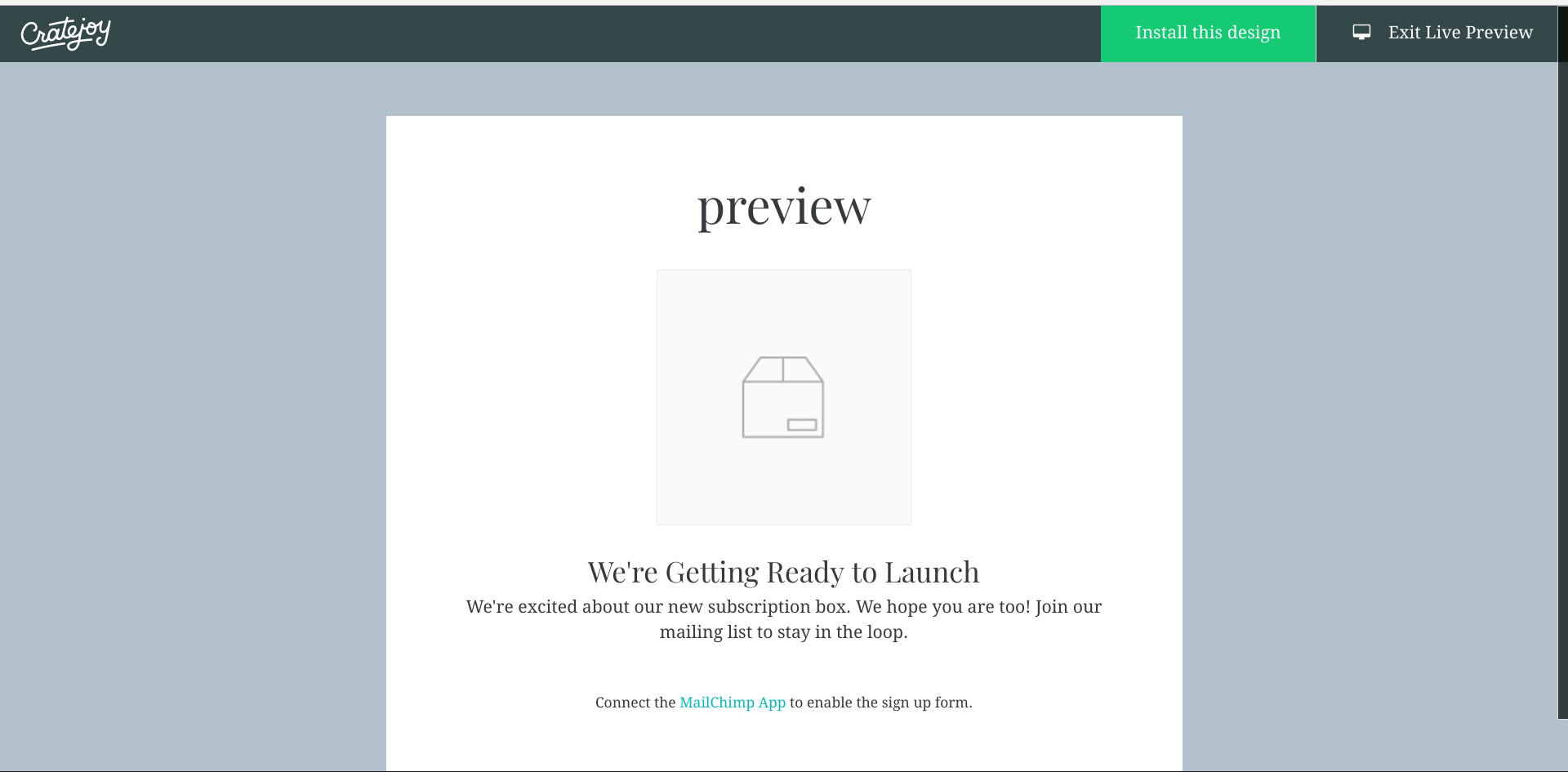 This one-page website provides everything you need to communicate your idea, build anticipation, and start building your contact list of potential subscribers.
If you already have your logo and prototype box imagery from Step 1, then you'll use that in your pre-launch page. Of course, you can do this with just your name and a stock photo, too. There are no rules!
Here's all you need to do:
Install the pre-launch basic theme — here's the tutorial that shows you how
Upload your logo and/or any imagery
Write a compelling headline and enticing copy; keep it short but descriptive, and focus on the experience you're providing to potential subscribers
Sign up for a free MailChimp email account and connect it to Cratejoy — here's that tutorial
Insert a compelling Call to Action to encourage email signups
Create social accounts for your box brand and connect those to your page
If you're unsure how to do any of this, Cratejoy's Subscription School tutorials walk you through every step.
Once your launch page is live, you can start getting the word out, collecting emails, and building a social following. While your pre-launch campaign does its job, you can work on the remaining pre-launch tasks.
Step 3: Source Your Products, Boxes & Packaging
Products, boxes, and packaging all play a major role in a subscription box business, so we'll examine these three elements together in this step. Since curated products boxes are far and away the easiest, most popular, and lowest-cost model to start from scratch, that's what we'll focus on here.
Product Sourcing
—

How to Curate Products

"Curated products" is a fancy term for sourcing goods that someone else makes and putting them in your monthly collection. There are many ways you can hunt up products for your box. One of the best is to visit stores that match the image you want to build and see what they're selling. Snapping shots of product labels with your cell phone to gather contact information is a great way to fuel early and ongoing product search.

Online search, artisan festivals, farmers markets, and wholesale buyers markets also are avenues for sourcing unique items for your boxes. Learn more product sourcing strategies in Cratejoy's Subscription School.

You'll also need to have a state sales tax certificate to buy from most of these suppliers without paying state taxes. To get that, you'll also have to set up some sort of formal business structure, like a sole-proprietorship or limited liability corporation (LLC).

Once your tax certificate is set up and you have a list of potential products for your first box, it's time to start contacting suppliers. You can use your pre-launch contact list to ballpark the number of items you might need to purchase. Remember, if you have 500 contacts with an expected 5% to 10% conversion to subscribers, expect to ship 25-50 boxes when you go live. Whatever your figures are, use those numbers to get an idea of availability and price for each product you'd like to include in your first box.

In most cases, you'll have to pay for goods for your box. Sure, boxes with thousands of subscribers sometimes get rock-bottom pricing and even free goods. But as a startup, you probably can't get those types of deals. Wholesale, cost, and cost-plus are the pricing strategies you'll use to work purchasing deals. Once you start getting costs from potential suppliers, you can figure out what your monthly box subscription cost will be. Cratejoy recommends targeting a 40% profit margin, including product, box, and packing costs, to ensure success.

It's also helpful to tell suppliers that you want to share their story and market their brand alongside yours. This can earn you brownie points and better pricing. Also, let them know if you're interested in other products for future boxes. If they think you're more than a one-time buyer, you might get a better deal. To get this process started, check out Cratejoy's Subscription School product sourcing webinar.

Once you have your final product list together for your launch box, ask for, or purchase, some samples. You'll need these for your next step in learning how to start a subscription box—creating your packaging plan.
Boxes & Packaging
—

Bringing It All Together

If you've been studying the subscription box market, you already know that packaging plays a major role in your overall product. Unboxing is a definite thing in the world of subscription boxes. Your goal is to make receiving your box a grand experience that subscribers look forward to and, hopefully, document and share on social media.