Starting a mom blog is not only a great way to document your child's growth and development, but it can also be a great way to make money. It doesn't take very long to get started—in fact, you can have your first post live by the weekend.
1. Select a Blog Host & Theme
When you create your blog, you want a self-hosted WordPress site. This means that you own the content and pay a monthly fee for hosting. One of the most popular web hosts is Bluehost, because you get a free domain name (that's your URL) for a year and 24/7 support for as little as $2.59 per month. Round-the-clock support is important in case you break something on your site and need help (it happens to even the most seasoned blogging veterans!).
Themes for mom blogs are often bright or pastel colors reminiscent of a kindergarten classroom, which signals to your reader "hey, I am a mom blog!" If that's not your cup of tea, you can find themes that balance function and classy style in places like Etsy or Envato's Theme Forest. Most themes allow you to customize your blog's colors.
Or, you can even hire a designer and developer to create a custom website for you, but expect to spend thousands for it compared to less than $100 using Envato or Etsy.
2. Install Useful Plugins for Mom Bloggers
Think of a plugin like an app—it expands the usefulness of your blog by enabling you to do things like aggregate data, make linking to affiliates easier, and improve search engine optimization (SEO). Too many plugins can slow down your site, so try to stick with just a few necessary ones for now. Then, select one or two fun plugins to shake things up.
Google Analytics: If you want to make money blogging, you must use this plugin. This is because many influencer networks and brands want your Google Analytics data. This tells it how many page views and sessions your blog receives, as well as demographic data.
Yoast SEO: While many new and seasoned bloggers avoid learning about SEO, you must have some basic understanding of it. The easiest way to get a grasp on SEO is to use this plugin because it walks you step-by-step through what you need to do to rank your blog posts in search engines.
Thirsty Affiliate: I discuss making money through affiliate sales in-depth later on, but know that a plugin like Thirsty Affiliate makes it so much easier to manage links. Instead of hunting down every blog post containing an affiliate link when you need to make an update, you simply make the adjustment in the plugin and it updates all affiliate links.
KingSumo Giveaways: Brands love to partner with mom bloggers for giveaways, and the KingSumo Giveaways plugin makes it super easy for readers to enter. Using this plugin, the reader can earn more entries for completing tasks like sharing on social media.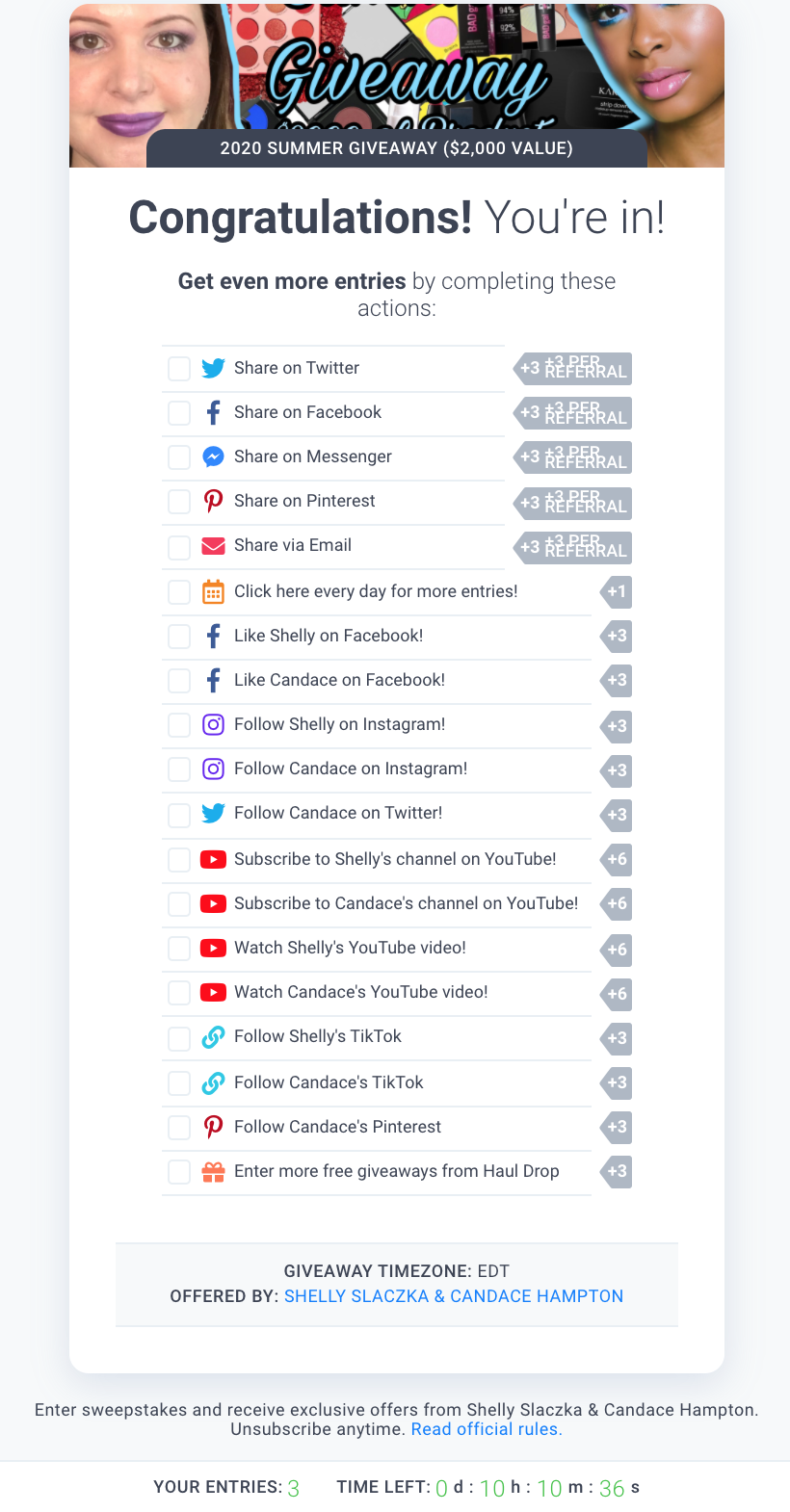 3. Publish Your Mom Blog Posts & Promote
The process of writing your blog posts is simple thanks to the WordPress editor that functions a lot like a Google Doc or Microsoft Word document. You can type your entire blog post, and then go through and edit. This is when I like to add headers and bullet points to help break up the text. From there, add your own photos or source images using Pexels or Shutterstock.
Keep in mind that you won't always have to write specifically about the newborn niche if that's what you start blogging about. Early on in my blogging journey, I wrote a lot about "crunchy" (natural) parenting and our lightning-fast home water birth (I almost gave birth in the car!). Over time, this evolved quite a bit as the "new baby" novelty wore off and I got lost in the everyday shuffle of special needs parenting, shuttling kids to sports, and traveling.
The lesson in this is that it's more than OK to pivot. In fact, you should! Readers love to see the journey, so feel free to write about what life stage you're at the moment—like a new mom, onto preschool, then elementary, middle school, high school, and empty-nesting. As long as the content relates to moms, your current readers will progress through the ages with you, and you'll attract new readers as you enter the next stage in parenting.
Here are some blog post ideas to write through various stages of parenting:
How to wash cloth diapers
5 ways to get stains out of baby clothes
The ultimate guide to attachment parenting
6 Valentine's Day crafts for the classroom
An IEP survival guide for special needs moms
Nursery photo tour
Birth stories
Dealing with pregnancy after loss
6 ways to make birthdays special during quarantine
5 family-friendly road trips to take in the fall
How to French braid fine hair
How to pick a doula for your home birth
Meal planning for large families
21 activities to do while breastfeeding
Ten Netflix shows to binge-watch while on bed rest
The best sites to find college scholarships
According to CoSchedule's Headline Analyzer, the titles that get the most clicks are six words long. While clickbait works in the short term, which is when you use sensational headlines to entice someone to click on your post, it's not a great strategy for keeping readers long term.
It's best to create an editorial calendar to help keep you on track with publishing blog posts consistently. I've personally blogged since 2006 and work with some of the biggest brands in the world—you must lay a foundation early on. This means organization and building a proper system.
I like to create a higher-level sticky-note calendar using Miro, and then plan out the articles using Trello. This helps me stay organized too. I set Trello to remind me of deadlines with brands and to create checklists in my editorial process. After all, you can repurpose blog content to get the most mileage out of your posts—so organization is a must.
To promote your blog posts, share them on social media and in particular in Facebook groups meant specifically for moms or bloggers (make sure to follow group guidelines before posting).
Another really popular option is to use a Pinterest and Instagram scheduler like Tailwind, because it's built specifically for bloggers to share other bloggers' content through what's called "Tribes." Plus, Tailwind also has an image editor to make creating the perfect images easy.
4. Make Money Mom Blogging
As a mom blogger, you can make money in so many different ways. Most bloggers choose several monetization methods, and many practice several at the same time. These methods include using an influencer network, selling products and services, participating in affiliate marketing, and working with ad networks.
Popular Influencer Networks for Mom Bloggers
An influencer network connects brands with bloggers. The network handles all of the recruitment for campaigns, managing promotions, and payment processing for bloggers. Because bloggers don't get paid until the network does, payment typically doesn't occur until 60 or 90 days after the conclusion of the campaign.
Examples of influencer networks for mom bloggers include Soapbox Influence, Izea, Activate, Influence Central, and Massive Sway. Most of these networks require bloggers to post high quality, non-controversial content.
I've personally had great experiences with each of these networks, but I recently did a campaign with a network called Acorn Influence, and I won't work with them again. Campaign requirements for this network leave very little room for creative freedom, and I found their campaign manager difficult to work with which is unfortunate because they have some of the best rates for bloggers.
Top Affiliate Programs for Mom Bloggers
An affiliate program is one that pays you any time a specific action occurs on your affiliate link. Often, this is when a reader makes a purchase, other times it's simply when they click the link or provide their information to the company. Most mom bloggers belong to the Amazon Associates affiliate program simply because of how popular the service is, but it's notorious for having some of the lowest rates available—as low as 1%.
Rather than attempting to navigate every company's affiliate program individually, most bloggers also sign up for an affiliate marketing program like Rakuten or Shareasale. These places have thousands of affiliate opportunities to sign up for.
The Best Ad Networks for Mom Bloggers
An ad network does the hard work of finding brands to display ads on your website. Some ad networks pay per ad view, while others pay after an ad click or purchase. Many mom bloggers start with Google AdSense first because there aren't very many requirements to qualify. In fact, most bloggers can receive approval even with a new blog.
Many bloggers long for the day they reach 50,000 sessions per month on their blog. This is because they can then apply for Mediavine, which is an ad network that pays significantly more than Google AdSense.
After reaching 100,000 page views per month, bloggers usually switch to AdThrive because the pay is even better. Learn more about ad networks for bloggers.
Products & Services to Create as a Mom Blogger
Creating your own products and services to sell to your readers doesn't have to be difficult. Sure, you can source raw materials or find suppliers so you can make physical products like cloth diapers, coloring books, and bows. Or, you can shorten the lead time from concept to your first sale by offering digital products like e-books, patterns, and digital printables.
Many mom bloggers start creating an e-book for their first product because it's simple to do. From there, many will also create a course that complements the e-book.
Bottom Line
Starting your mom blog isn't a difficult process, but it can definitely be a lot of fun. After establishing your blog with great content and building a following, you can even begin to monetize your blog through methods like creating your own products and working with ad networks.
You want a web host to grow with your blog, so choose a reliable host like Bluehost. With its 24/7 support, free domain name for a year, and 1-click WordPress installation, it's hard to find a better host that serves you at every stage of your blogging journey. Get started today.