Starting a personal finance blog is a great way to not only help others reach their financial goals, but it helps keep you accountable on your own journey. You can get started in as little as a weekend, and even if you're on a strict budget—web hosting starts at $2.59 per month.
1. Select a Personal Finance Blogging Niche
One of the best ways to grow your personal finance blog and gain recognition for being an expert is to narrow down your niche. Sure, you can write about all things personal finance, but what will set you apart from everyone else? Whose name will your reader think of when a friend asks for resources to save more money?
When most personal finance bloggers choose a niche, they tend to focus on one of two areas: The blogger will either write about something they struggle with (like budgeting), or something they've overcome (maybe they've successfully become debt-free). Is there an area of personal finance that you've really mastered? How about an area you've struggled with?
You might think…why on Earth would I write about something I am not an expert in? Isn't that phony? I get why you might think this way. People love to read about the journey it takes to reach a goal—it gives them hope that they, too, might reach that goal someday. Better yet—you've just laid out the blueprint for them to follow (along with some potential lessons to avoid along the way).
As you gain traction in your niche, your writing will evolve. Your blog likely will too. This means you might start out writing about managing a solo budget, but then find yourself navigating a new marriage—and budget—a couple of years in. Know that it's perfectly OK to pivot along the way.
There are a lot of areas to choose from, so I've come up with a few of my favorite personal finance blog niches.
Fat FIRE Blog
FIRE means Financial Independence Retire Early and those who practice Fat FIRE plan to spend more than the average person once they hit retirement. This means they'll need to save up a lot more money to do so than other FIRE methods. An example of a Fat FIRE blogger is The Retirement Manifesto.
Lean FIRE Blog
Lean FIRE is the opposite, minimalist sibling of Fat FIRE—once you hit retirement, you plan to spend very little. This means you won't need to save as much money in order to retire from your job. People tend to retire much sooner than Fat FIRE folks. An example of a Lean FIRE blogger is Mr. Free at 33.
Budget Blog
As a budget blogger, you help people get their budgets in order. This way, people can stop living paycheck to paycheck and feel like they have some control over their finances. Your budgeting style can vary—you might help people with one income in a house of five, or maybe dual incomes with no dependents. An example of a budget blogger is Budgeting Couple.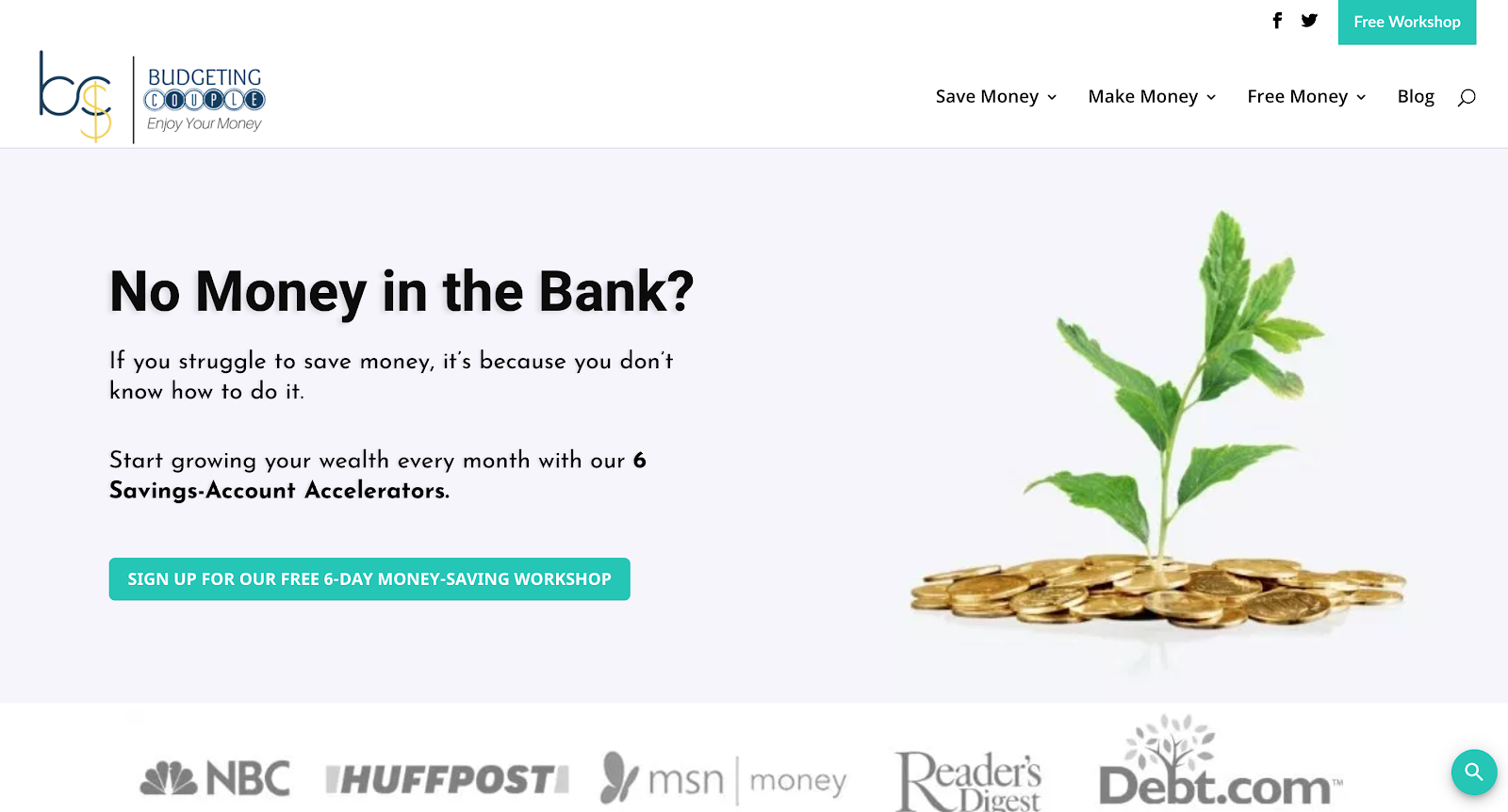 Debt Blog
Some of the best debt bloggers not only show others how to get out of debt, but they've done it themselves. Otherwise, they're in the process of paying down this debt and share the journey with their audience. An example of a debt blog is Our Debt Free Family.
2. Secure Hosting and Install a Theme & Plugins
If you want to make money blogging by working with brands and ad networks, you absolutely need to have a self-hosted WordPress blog. Not only does it open more doors for monetization, but there are a lot more ways you can customize your blog through CSS, Java, and HTML. Or, if you aren't very tech-savvy (yet!), you can use plugins to help expand the functionality of your blog.
To set up a self-hosted WordPress blog, sign up for a web hosting service like Bluehost. You'll pay as little as $2.95 per month and receive a free domain name for the first year (domain name = your blog's URL), an SSL certificate (this adds a padlock to secure your blog visitor's info), and 24/7 support. That last part is especially important as you're just getting started blogging. Even as a blogging veteran I've needed middle-of-the-night blogging support after breaking HTML. Creativity has no bedtime!
Install a Theme
After creating your Bluehost account, you need to choose a theme. A theme simply changes the layout and feel of your blog. There are many free blog themes available within WordPress, otherwise, you can purchase a theme from Etsy or ThemeForest. It's best to stick with responsive themes, which means that no matter the device used to view your blog (mobile, desktop, tablet), the viewing experience is the same.
There aren't very many personal finance-specific themes to choose from, but popular options include anything minimal: lots of white space, crisp, and clean feeling. If you stumble across a theme you really like by another blogger, you can check to see which theme they're using with WP Theme Detector. This tool will also tell you what plugins the blog uses.
When you buy a theme or select a free WordPress-provided theme, the process is simple. Simply click install on the free theme you want, or if you purchased a theme you will receive a zip file containing the files needed. You don't have to unzip this file—simply upload it to the themes dashboard within WordPress and click activate.
Helpful Plugins for Personal Finance Bloggers
Downloading plugins is easy too. You simply choose a plugin from the plugin library, click install now, and activate. Keep in mind there are thousands of plugins to choose from, but having too many plugins can slow down your blog. A slow blog is terrible for search engine authority (SEO), so try to limit your plugins to essentials and a couple of fun plugins. Read about other SEO best practices in this article on how to do keyword research.
Google Analytics: When working with brands, they want to know what your blog's stats are. Google Analytics is the gold standard for analytics (and to many—the only option). Be careful not to download more than one plugin that feeds to Google Analytics otherwise you'll have duplicate data.
Responsive Mortgage Calculator: This plugin is perfect for personal finance bloggers that talk about mortgages. It calculates the total cost of the home, down payment amount, interest rate, amortization period, and by pay period. There's even a pop-up summary with a chart and amortization schedule for your readers.
Yoast SEO: The Yoast SEO plugin tells you what you need to do to optimize your blog post for search engines. At the bottom of your post, you will receive a score of green, yellow, or red under many different criteria. This criterion includes blog post length, metadata, and keyword usage. This plugin makes it easy to learn SEO as you write.
Akismet Anti-spam: Protect your blog from spam comments with the Akismet Anti-spam plugin. This plugin has blocked 37,233 spam messages since I installed it on my blog in November 2019 with 99.82% accuracy.
3. Map Out Your Blog's Content
When you chose your blog's niche, you probably started to think about all of the different blog posts you can create for it. While that's all-and-good—a more strategic approach is to use an editorial calendar to plan your content. You can use an old-fashioned paper calendar, or you can use a tool like Coschedule or Miro to map out content. I go in-depth on how to do this in my article on blog planning.
To come up with ideas to go in my editorial calendar, I use keyword research tools like Ahrefs to research article ideas (read more about how to conduct keyword research). Let's say that you're writing about how to pay off student loan debt. According to Ahrefs, this particular phrase receives 150 searches per month in the US. It also has a keyword difficulty of 31, which is hard. I might need to find an easier search term to tackle.
To look for an alternative, but related phrase, I can scroll down the page to find other phrases. "How to pay off student loans faster," is the next closest option to what I'm trying to achieve. It has a medium search difficulty and may be better suited for me to target until I gain more traction on my new personal finance blog.
One thing to keep in mind is that a new blog can definitely rank above an established blog for a keyword or phrase, provided the new blog is topically authoritative. This means that they are an authority on that particular topic. For example, a blog about crushing student loans will rank higher on a student loan payoff strategy article over Buzz Feed, who writes about anything and everything.
4. Publish and Promote Your Blog Posts
To create a blog post using WordPress, you will use the WordPress post editor. It works just like any standard word processor, only you also have the ability to use HTML, CSS, and Java. If that's not your thing though, you can stick to standard word processing just like you would with Microsoft Word—with bold, italics, and font size. You can also insert links within your blog posts, which is a great way to link out to other relevant articles you've written on a topic.
When you're done adding images and sub-headers to break up the content in your post, click publish. Your work doesn't end there, though. You've got to promote that blog post so people know you wrote it. Otherwise, what's the point in writing? See other ideas for how to promote and market your blog.
Places to promote your blog posts include:
RSS feed: Add your blog to an RSS feed like Rockstar Finance, which automatically notifies the feed any time you make a new post. It also serves as a directory for personal finance blogs.
Social media: You can share posts on social media platforms such as Pinterest and Facebook. With as little as $5 in ad spend, you can also run Pinterest ads to give your post a little traction.
Newsletters: If you only take one piece of advice from me, this is it. Start collecting emails from the beginning, and don't wait until you have an offer to share. You can share your blog posts in weekly, bi-weekly, or monthly newsletters. Learn more about email marketing for bloggers.
Use Your Blog to Reach Personal Finance Goals
In step one, I talked about how some bloggers choose to focus on writing about an area they struggle with. Before you tell me this is unethical—hear me out. The reason they do this is that they want accountability to reach their goal, whether it be paying down debt, improving their credit score, or buying a home in cash. In fact, it can be many different goals the blogger is looking to accomplish. The blogger isn't hiding the fact they don't know everything—they're taking the reader along for the ride.
An example of a blogger who does this really well is Kristin Larsen's blog, Believe In a Budget. She started blogging to share her journey toward paying down debt and shares her income reports with readers. With so much transparency, her blog took off rather quickly thanks to readers discovering her income reports all over Pinterest.
Another blogger I stumbled upon during my own budget journey is The Budget Mom. I felt inspired by her real, actual budget and income reports—so inspired that I actually purchased my own Budget by Paycheck workbook from her shop (I was the youngest financial adviser to work at my large international investment firm, so that's saying a lot!).
Her product makes me eagerly look forward to tackling the workbook every time I make money or need to pay a bill. I can appreciate the way The Budget Mom approaches money topics in an easy, let-me-show-you-how kind of way. Her online community is also very friendly—if she doesn't get to your question, thousands of others in the group will.
As your blog's audience grows, you can also monetize your blog by selling products and services. These products include one-on-one coaching, workshops, online courses, and physical goods like planners and swag.
Other Ways to Make Money With Your Blog
Ad networks: An ad network partners with well-known brands to display ads on blogs. The brand pays the network, who then pays the blogger. Ad networks include Mediavine, AdThrive, and Google AdSense. Some networks pay based on clicks and views, and others only pay after purchase.
Affiliate promotions: Rather than going through an ad network, you can partner with brands using an affiliate platform like Shareasale. Some brands have their own affiliate platforms, like the Amazon Associates program. Many brands only pay when a reader makes a purchase.
Sponsored posts: Working with brands is my favorite way to make money blogging. You can get paid even as a smaller blogger as much as $250 to start. The more page views you earn per month, the higher your sponsored earnings potential. Learn more about how to pitch brands and work with influencer networks.
Freelance: While growing your blog, consider supplementing your income with freelance work. You can ghostwrite articles for other bloggers, do administrative work, or even create graphics and videos. Advertise your expertise on platforms like Upwork and Fiverr.Learn more about how to make money blogging from our ultimate guide.
Bottom Line
Creating a personal finance blog can provide a source of income and accountability on your own personal finance journey. By working with brands, running ads, and selling products, you'll have more money to throw toward debt and savings. Best of all, starting your blog takes hardly any time at all—you can have your first post live easily in a single weekend.
As your blog grows, you want a web host that can grow with you. We recommend using Bluehost because of its free domain name for a year, SSL certificate, and 24/7 support. Get started for as little as $2.59 per month.