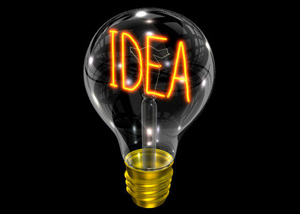 In the last article in our series on how to start a business, we walked you through the 5 steps for coming up with a business idea.  Now that you have your idea don't make the mistake that many failed businesses make, and launch your business before gauging the demand for your product or service. In today's article we show you how to test a business idea in 3 practical steps, including this handy checklist you can use as you go through the article.
Step 1: Talk to people who have been there and done that.
Before you spend any money on your new idea, locate some professionals that are in the same (or similar) business to the one you are looking to start.  For example, if you are looking design and sell a new type of necktie, then go out and talk to other people in the necktie business.
Don't know anyone who has run a similar business to the one you are looking to start?  
By using LinkedIn's premium service you can find and reach out to people with experience in just about anything.  If you don't want to pay for LinkedIn premium see this article by Andy Brandt on how you can search LinkedIn for people using Google for free.  Then once you have located them just send them an invitation to connect, and edit the invitation to reflect why you are reaching out to them.  If you are completely new to LinkedIn, then start with this article by Stephanie Buck at Mashable.com.
Once you locate some folks to talk to keep in mind the following:
Try and avoid family and friends because they are biased towards liking your ideas.
People who hate your idea often provide much more valuable information than people who like it.
Take careful notes about what they do not like and then decide whether their complaints are unfounded, idea killers, or simply require modifications.
You are there for advice not a debate so check your emotions at the door and don't try and convince someone who doesn't like the idea.
You want to do a lot more listening than talking so come prepared with questions.
You want to know about successes AND failures so you know not only what you should replicate but also what you should avoid.
Too shy to go out and talk to people?  
As we discuss in "How to Know Whether You Should Start Your Own Business" sales is one of the four must have abilities for any business, so this is a good opportunity to get over your shyness.  One of the best ways to do that is to simply force yourself to go out and talk to people.  If you want some help this article from Tina Su at ThinkSimpleNow.com is a great place to start.

Step 2: Refine your pitch
Now that you have spoken with people in similar businesses about what you are looking to do, one of two things should have happened:
You discovered that your business idea has a fatal flaw.  In this case go back to the drawing board.
You will need to make a few tweaks to your idea based on feedback, but will be confident that you are moving in the right direction.
Assuming you are moving forward with your idea, its time to take into consideration the feedback you received, and come up with a solid elevator pitch for your product or service.  If you are not familiar with the term elevator pitch, or need help crafting an effective elevator pitch, read this article by Chris O'Leary of ElevatorPitchEssentials.com.

Step 3: Go out and find some customers
There is no better way to find out if you should build out a business idea, than finding some customers who are willing to buy your product or service once it's developed.  You don't have to have a product or service to ask people if they will buy it when you do have it, so why not do that before investing a lot of time and money into your idea?
Here are 5 inexpensive ways you can find customers before you build:
If you followed the advice in our article "How to Come Up with a Business Idea" then you should already know some people who have the problem that your product or service solves.  Go pitch them and see if they will buy it if you build it.
Put up a simple 1 page website pitching your product or service, and asking people to leave their email if they are interested in buying once built.  (Get the domain from GoDaddy and use their website builder wizard for less than $20 all-in) Then run a Google Adwords campaign and seeing if you can get signups.  Learn how here.
If you have a product that can be funded using Kickstarter then this is a fantastic way to  find out not only if there are people who will buy your product, but to get them to fund the development as well.  For more on Kickstarter see this awesome guide from Nick at IncomeDiary.com.
Contact bloggers who write about the industry you are considering entering and ask them if you can write a guest post about your idea and solicit feedback from their audience as to whether or not this is a product they would buy.
Use Google Surveys to advertise your survey which asks people if this is a product or service they would buy.
That's our article for today.  If you have any questions or comments please leave them in the comments section below.  Also be sure to read the next article in this series where we discuss how to come up with a name for your new business.
More great articles on how to test your business idea:
View this Article as a Slideshare: