So you have a business idea and want to know if it will work? While there is no way to guarantee a business idea will be successful, there are ways to better understand its risk of failure. Testing a business idea is the most overlooked part of starting a business. Don't skip it!
As a small business consultant who has met with over 700 entrepreneurs, I know you're very excited about your idea, and that's fantastic. However, don't let that excitement keep you from honestly investigating the viability of your idea. Follow the recommendations outlined in this article to collect data and get facts about your business idea.
The information you collect isn't just for you. You'll include most of the researched info in your business plan, which may be read by bankers, investors, business partners, and employees. The market research, competitor analysis, SWOT (strength, weaknesses, opportunities, and threats), and location information will all go into your plan.
To test your business idea, you should start with the recommendations that will help you eliminate the most business risk. For example, getting early customers and doing market research should be done first as they may provide information that reduces more risk than doing a SWOT analysis, which is based on your personal assumptions and opinions.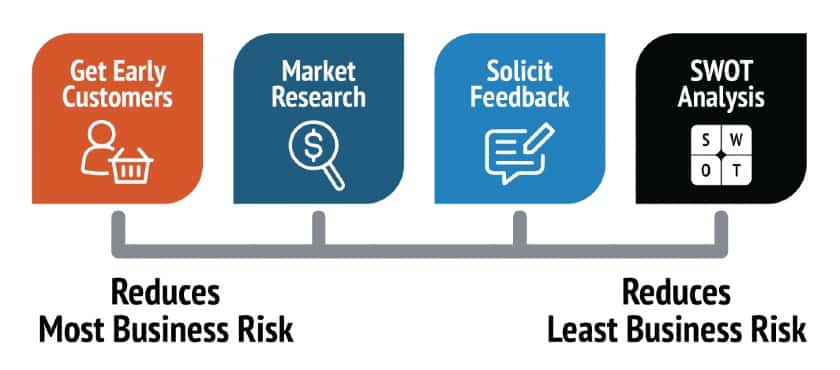 1. Get Customers Early
Your ability to get customers early is the best indicator that your business will succeed. You can do this in a few different ways including pre-selling products or services before the business opens, crowdfunding, or creating a minimum viable product (or service) of your idea.
Pre-sell
If possible, sell your products or services in advance of investing a lot of money in the business. It's important to collect funds from customers, because that is the best business validation available.
As a new entrepreneur, it's likely you will receive a lot of support from family and friends. They may even be your first customers, which is great! However, the true test of a new business is when customers you don't have a relationship with pay for your product or service.
A common saying in entrepreneurship is that a new product or service may be providing a "solution to a problem that doesn't exist." What this means is that although you, the entrepreneur, believe a customer needs a product or service, ultimately, the customer will use their money to tell you if they want to use your solution. Pre-selling helps you determine if your assumed problem does exist.
Pre-selling can be as simple as collecting your first payments through a free payment processor like Square. If you're providing a service, consider collecting a deposit as a way to pre-sell before performing the service.
Crowdfund
Using a crowdfunding platform is a more expensive, yet more organized way to get early customers. Typically, crowdfunding is when a business allows customers to purchase a product before that product is made. Although less popular than products, crowdfunding can also be done with services.
Regarding costs, the typical crowdfunding platform charges around 5% of the final amount raised. For that 5% fee, you get to use the platform's well-organized features such as built-in payment processing, a well-designed landing page, contact management system, and worldwide reach.
If you're crowdfunding on a local level, it's important to have a large personal network to promote the business such as a social media following or email list.
A different form of crowdfunding to consider is equity-based crowdfunding. With this type of crowdfunding, you give away a percentage of ownership in your company in exchange for a sum of money. Equity-based crowdfunding is a more advanced way to validate a business idea and typically requires the business owner have extensive experience in the industry.
Create Minimum Viable Product or Service
A minimum viable product (MVP) (or minimum viable service (MVS)) is a simple version of your business that only has basic features you can test without spending a lot of time or money on the product. If customers are willing to pay for basic versions of your product or service, it's likely your idea can turn into something valuable.
For example, I once had a small business client who invested over $30,000 of his personal savings in a niche social media platform. He was very passionate and excited about the platform, but unfortunately, he was not receiving repeat users. Stuck with $1,000 a month in maintenance costs, he was about to go another $30,000 in debt to market the platform to new users. I recommended against the debt and to have a Twitter marketing strategy instead.
Unfortunately, the owner could not attract enough users to his platform and had to close it. Luckily, he didn't absorb $30,000 in additional debt to try and attract users to a failing product. While I don't like to criticize in hindsight, it would have saved the business owner a lot of money if he had created a more simplified version of his platform (an MVP) to test his idea for a fraction of the cost.

2. Do Market Research
The second best alternative for business validation is to collect data on your potential customers and the current state of your business's industry. This is called conducting market research. You can use the data you collect in this step to better understand your customers and ultimately, the likelihood that your business will succeed.
All of the market research you conduct will be used in your business plan, which may be shared with bankers and investors. It's important to collect compelling research and information that will persuade them to loan or invest funds in your business.
Start With Basic Research
Basic market research is essentially collecting information about your ideal customer and then your industry. To better understand who your ideal customers are, you should first craft several customer profiles. These profiles contain descriptions with information such as demographics, motivations, and frequently used marketing channels.
After creating multiple customer profiles, use the tools at your disposal (see my recommendations in the next section) to find information about that potential customer. Essentially, you need to determine whether and convey that your ideal customer lives near your business and is interested in the products or services you're selling.
The other market research you'll want to conduct pertains to the industry in which your business operates. Essentially, you need to communicate that the industry you're targeting is strong and that experts believe it will continue to grow in upcoming years.
Best Tools For Market Research
ReferenceUSA: Use this tool to research potential customer information. This paid tool is available for free across tens of thousands of libraries in the US.
IBIS World: This paid tool is the best option for industry research. Industry data is updated every three months with new outlooks and projections for the next several years. An IBIS World report costs around $1,000.
U.S. Census Search: This free tool is provided by the U.S. Government. Use this tool to find information about your potential customers.
Statistics of U.S. Businesses: This is a free tool provided by the U.S. Census that provides industry information. Unfortunately, it's not well designed, and you may find it difficult to navigate and find the info you're looking for. If you find that to be the case, use a paid industry analysis tool, such as IBIS World above.
Complete a Competitive Analysis
A competitive analysis is a well thought out list of the advantages and disadvantages that your competitors face. You can use this information to position your business to take advantage of their potential weaknesses. To start collecting data, gather all physical marketing materials your competitors have available. Additionally, collect information about them from their websites, social media pages, and Google My Business listings.
A simple way to conduct a competitive analysis is to list your top five local competitors. Then, list two to three advantages each business has over yours. Basically, determine what that competitor will do better than your business. Then, list two to three disadvantages that they have—what will your business do better?. Discuss topics like location, marketing, product, pricing, and customer satisfaction.
Purchase A Feasibility Study
A feasibility study is an in-depth analysis done by professional researchers to determine if a business or product is likely to succeed. Think of a feasibility study as a thorough analysis on topics like the market, location, competition, and finances. At the end of a study, researchers typically give a "yes" or a "no" to conclude whether or not the business or product should be created.
The cost of a feasibility study varies depending on the type of business and scope of the study. For a small business expecting around $300,000 in revenue, a simple feasibility study may cost around $5,000. For an eight-figure, multi-million dollar business, feasibility studies can cost over $100,000.
3. Solicit Feedback
The reason I recommend seeking feedback after conducting market research is because I've found that the information family and friends (even some strangers) tend to provide to business owners about their ideas is usually favorable, but not honest. This causes business owners to start their company based on the feedback they've received, only to learn that people will not spend money on the product or service.
Again, true validation of a business idea comes when customers spend money on your product or service, not on feedback from a focus group, survey, or family and friends. However, you may still find feedback useful. When people give their honest opinion, you can use the information to potentially change the direction or features of your product or service, so it's more likely to sell.
Issue a Survey
A survey is a questionnaire you can use to ask potential customers about their thoughts on your business idea. Typically, you'll want to find out about potential customer needs and if they'd spend money on your product or service.
There's two things to consider when creating a survey. One: You can make an online survey for free using a software such as Survey Monkey. Two: Don't make the survey too long to complete. Try to keep it under 10 questions in under 10 minutes. If your survey is too long, respondents may give you poor answers from a willingness to finish the survey faster, especially toward the end.
Put Together a Focus Group
Using a focus group is more involved than handing out a survey. You'll need to gather a small group of people who could be potential customers and ask for feedback on your product. Typically, a focus group will be used for a physical product such as a food item.
With a focus group, it's important to have surveys available so that the testers can write down their thoughts without bias from the group. If you're going to have a group discussion, make sure it's at the end of product testing to avoid groupthink.
Talk With Family & Friends
Sharing your business ideas with family and friends is a great way to get some initial feedback. Ask family and friends to play "devil's-advocate" and poke holes in your business assumptions. Also, encourage them to ask difficult questions about your business idea.
A word of caution: From my experience with clients, family and friends tend to be supportive by default. Don't rely solely on their feedback to determine if a business idea may be successful or not. The true test will always be when a stranger pays you for your product or service.
4. Do A SWOT Analysis
A SWOT analysis is an exercise that lists a business's strengths (internal), weaknesses (internal), opportunities (external), and threats (external). It's an exercise that helps a business better understand where it stands in the market. Developing a false sense of reality is an easy mistake to make when ideas are only in your head. A SWOT analysis forces you to critique those ideas, especially when it's done with a group of peers.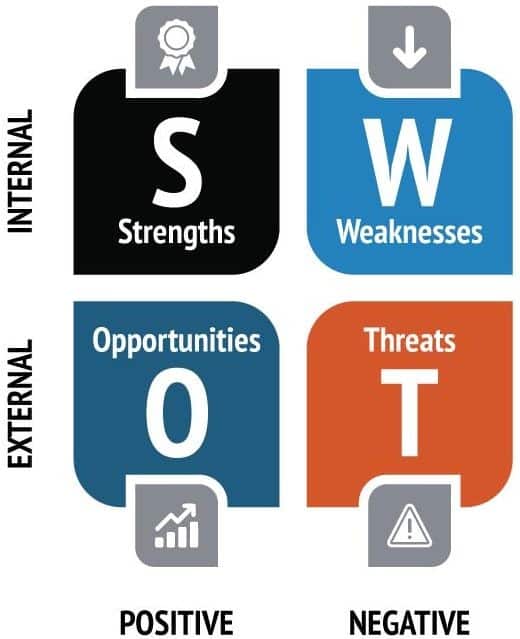 List Business Idea Strengths
The first step to conducting a SWOT analysis is to list the things your small business will do well. Think about what advantages your business will have over other businesses. Remember a strength is generally not something every business in your industry does well.
For example, if you're a pizza restaurant and every competitor does delivery well, then it's going to be hard to claim delivery as your business' strength.
List Business Idea Weaknesses
After strengths, list weaknesses your business may have. This will be tough to do, but be honest as possible. Try to avoid inherent weaknesses of a new business such as brand recognition. Try to think about what weaknesses you may continue to have for many years.
List Business Idea Opportunities
For opportunities, think of advantages outside of your business operations. Opportunities tend to be recent changes that your new business can capitalize on that your competitors cannot because they are slow to change. For example, if your new business can quickly learn a new and more efficient software or technology that would take a competitor months to implement, that would be an opportunity.
List Business Idea Threats
Threats to a small business are typically things outside of your control that may negatively affect the business. For example, you may not be able to do anything about an upcoming government regulation that would negatively impact your new business. Think honestly about threats to accurately assess the risk of your potential new business.

5. Choose A Location
You may be wondering why I recommend choosing a location to test a business idea. Consider this: A business idea that requires an expensive location and exceeds your startup budget can hinder your chances of opening the business. Additionally, you need to conduct location research for a business plan if you're seeking a loan from a bank or an investor.
Learn About Commercial Leases
As a new business owner, it's important to understand the details of a commercial lease because it's long-term and binding (hard to get out of). Many first-time business owners also get confused at the non-standard form (sections in different order) of commercial leases. Every lease you receive may be organized differently based on the landlord's needs.
Additionally, when reviewing a commercial lease, it's important to remember that leases are negotiated. If you receive a lease to review, remember, it's not set in stone. Consider negotiating on terms such as the length of the lease, rent, security deposit, and improvements.
Determine Foot Traffic of Potential Locations
Foot traffic is the number of people passing by your potential business every day. A location with high foot traffic will typically have more expensive rent than a place with low foot traffic. The challenge for a new business owner is determining if foot traffic is large enough to justify the additional rent.
When determining foot traffic you can use two different methods: purchasing a clicker and counting how many people walk in front of the business or counting the number of people passing by on a security camera. Typically, you'll want to count how many people pass by on a 30 minute basis and multiply that out. With your analysis, you'll also want to factor in busy times, such as nights and weekends.
Consider An Affordable Location Option: Co-working
Many new business owners assume they need to have their own location when first opening their business, but that's not always the case. If you're opening a non-retail location, consider opening in a co-working location.
A co-working location is a shared office space among businesses. Leasing options typically include a dedicated desk, a small office, or a large office for eight+ employees.
Because you are sharing a bathroom, Wi-Fi, kitchen, and other services with other businesses, the overhead cost is much lower than leasing your own location. Typically, a small office space in a co-working location starts at around $600 per month.
Bottom Line
Testing your business idea is a must to accurately assess its potential success. At the end of the testing process, you'll either feel more confident about pursuing your plan or less confident. If you're less confident, then you may want to consider a different idea. If you're more confident, take your research and dive deeper into your idea with a business plan.