Whether you're a store or restaurant that wants to send promotional texts, a salon that wants to fill last-minute vacancies or an organization that wants to send reminders for meetings, text message marketing is a simple and highly effective way to reach an audience.

In this guide, we'll show you how to setup EZ Texting, our recommended text messaging marketing system, in 3 simple steps. You can start by signing up for a free account on their website.
You can read why we recommend EZ Texting, in our full comparison of the Best SMS Marketing Software.
Before we dive into the details on this topic, we also suggest you check out Insightly, our recommended small business CRM. Visit Insightly to learn more.
1. Create Groups
When you log into EZ Texting, the first step to setting up your account is to create groups. "Groups" are unique sets of customers. Categorizing customers enables you to send different messages to different groups.
For example, a hair salon may have a group for each stylist. This way, if a stylist has a last-minute opening, they can message just their own list of customers. On the other hand, if the salon is having a store-wide promotion, they can text all the groups at once.
Creating a group is very simple: You just click "Add a new group," fill in a Group Name and then add a description (optional).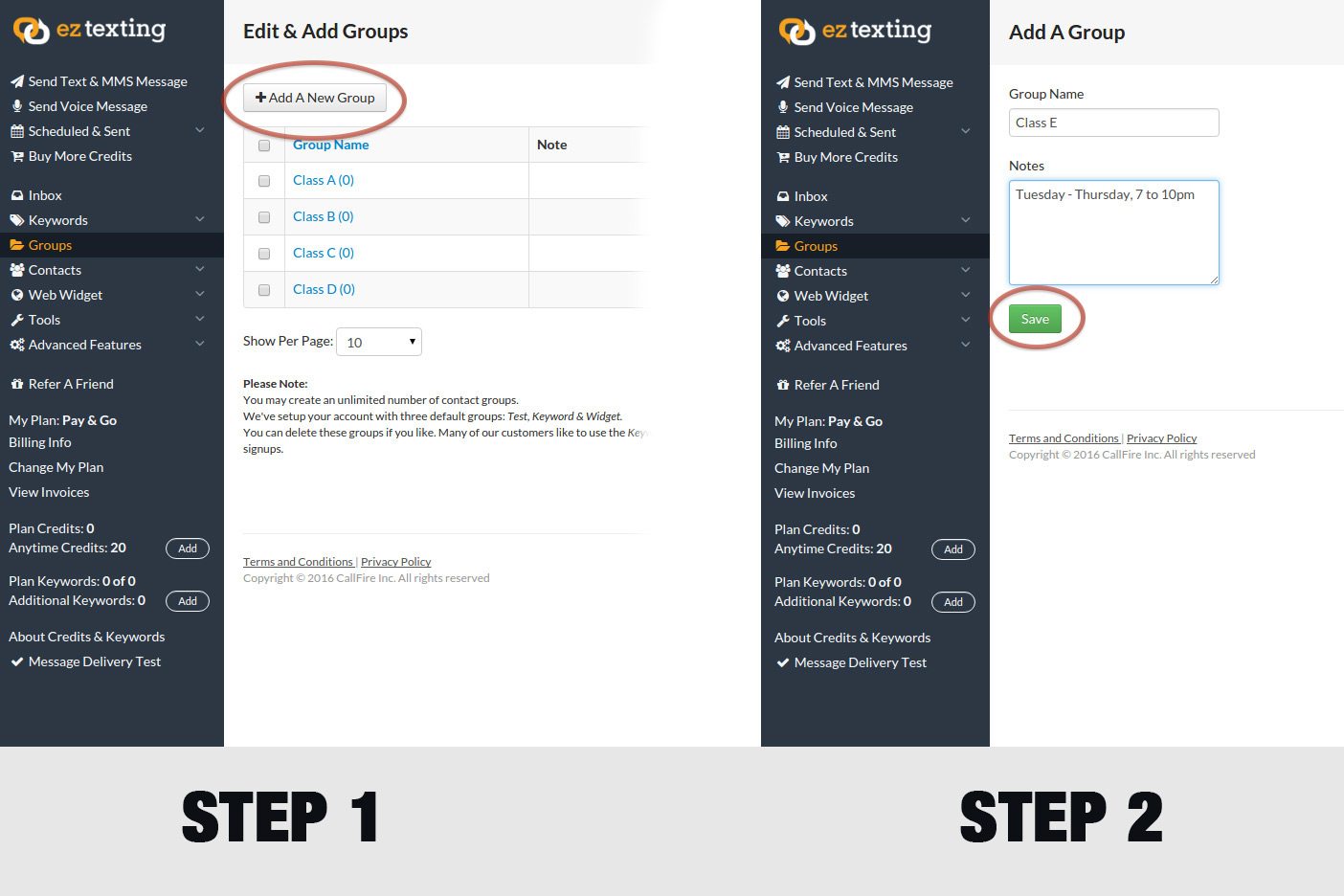 2. Add Contacts
The next step is to add contacts to your groups. A contact is a customer or member who is joining your texting list. There's 4 different ways you can add contacts:
Manually enter contacts.

If you already have customer's phone numbers written down or saved in your POS system (and have permission to send them text messages) you can copy over their phone numbers manually.
Upload from a spreadsheet.

To make this process faster, you can also upload a spreadsheet of names and phone numbers and save customers in bulk.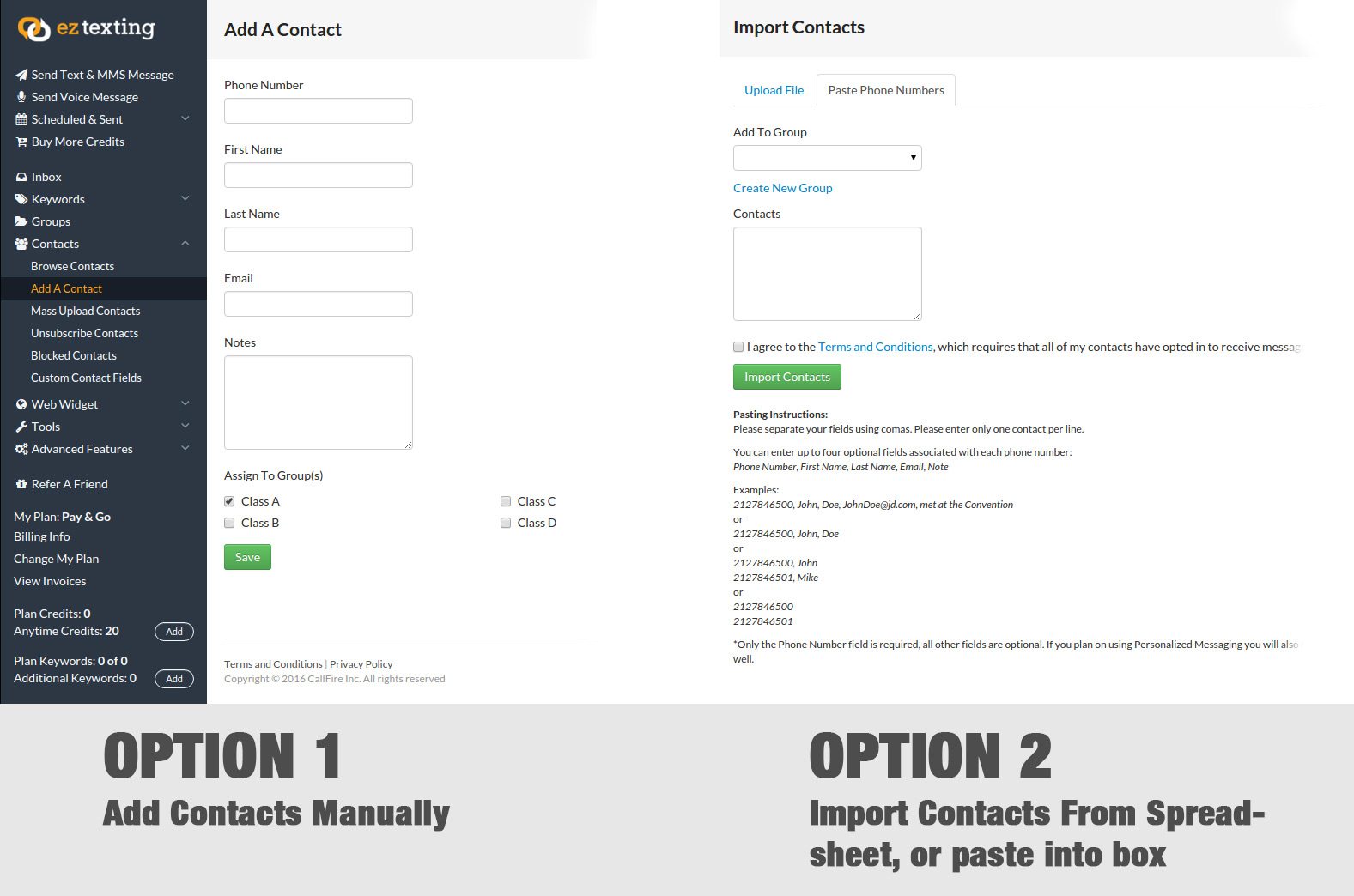 Create Widget. 

If you don't have phone numbers on hand, you can create a web page (or "widget") where customers sign themselves up. It's a simple form that asks for customers' names, phone numbers and (optionally) email addresses and which group(s) they'll be joining. 

The widget can be embedded on your website, or you can generate a link if you want to, say, send it out with your email newsletter. One handy feature about the widget is that it also gets a customer's' permission to receive promotional messages at the same time it asks for their number.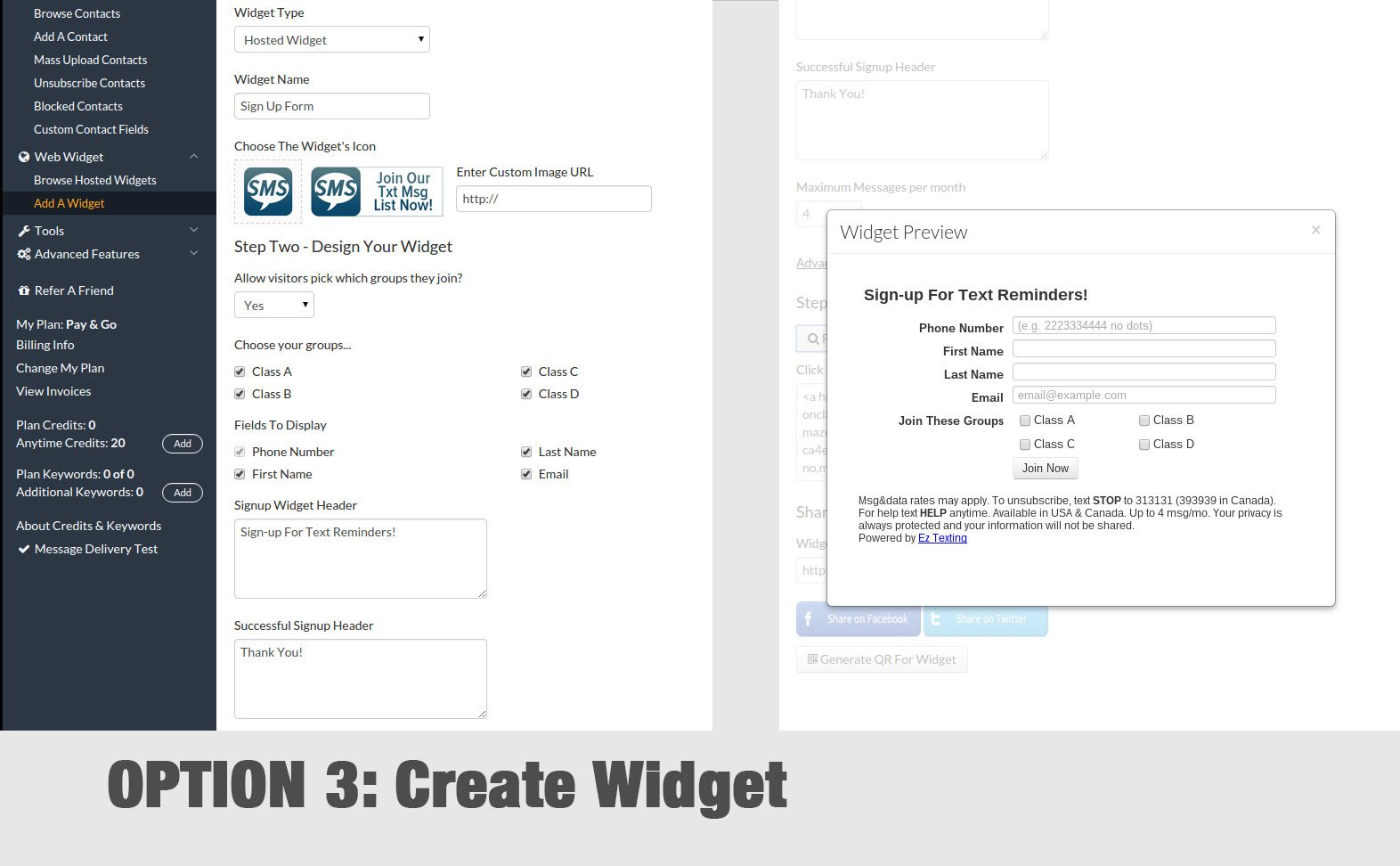 Text Keyword. 

This is probably what most of us think of when we hear text marketing. Customers can join your mailing list by texting a keyword to a shortcode – i.e. "ICECREAM to 313131." It's a simple way to grow your messaging list, since you can promote it on posters, flyers or even a billboard.





With a free account of EZtexting, you get 1 demo keyword. This is a random jumble of words and numbers, so it's not particularly memorable. With paid accounts, however, you get custom keywords of your choosing. You can search for available keywords

here

on their website.
3. Send Your Message
Now onto the 3rd and final step – how do you message your customers?
This is actually incredibly simple. From the top of the left hand menu bar, click "Send Text & MMS Message." Select which groups you want to message (or enter phone numbers manually) and type your message. You can send the text immediately, or schedule it for a later time.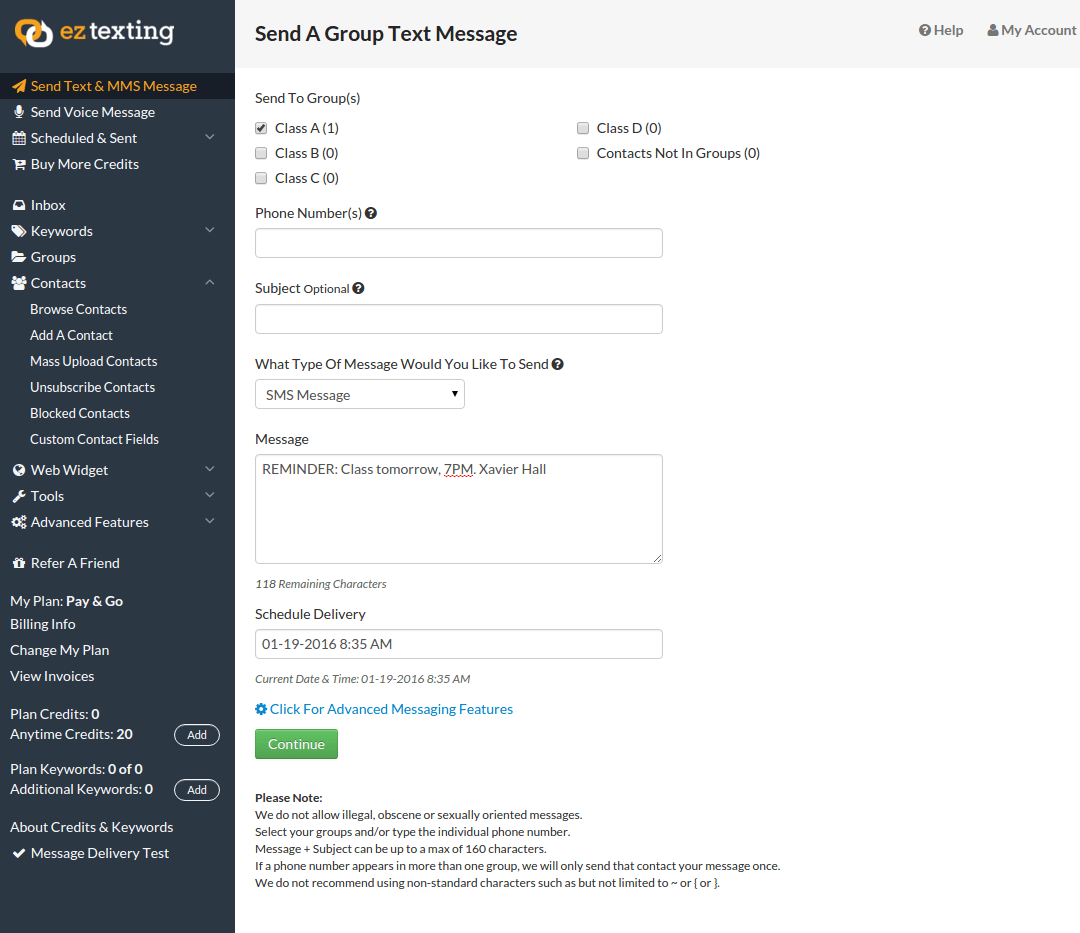 Under "Click For Advanced Messaging Features," you have the options of attaching pictures, inserting recipient's first or last name into the message, sending the text as a recurring message, or using a message template.
Under "Advanced Features" on the sidebar menu, you'll find even more tools. "Drip Campaigns" are pre-saved messages sent over time – beginning when a contact joins your list. You can also view reports on your contact growth over time, or the source of your contacts. This is just to name a few – there's lots of advanced features you can explore once you get the basics down!
Want to manage 1000's of leads, save time, and get organized? Click Here to get our FREE CRM guide and find out how.
The Bottom Line
Text message marketing is one of the most effective ways to reach an audience. A lot of businesses are surprised to learn how easy it is to setup and how inexpensive it turns out to be: EZ Texting has a free edition that lets you send up to 500 messages/month. Their paid plans start at $49/month for up to 1,000 messages/month, plus a custom keyword.