LocalSaver is a great option for brick & mortar small businesses looking to draw in new customers from coupon advertising. In this guide, we'll explain how it works, how much it costs and share some pro tips from LocalSaver's Adam Cramer.
Before we dive into the details on LocalSaver, we also suggest you check out Synup, a way to make sure your local listings are showing up online. Click here to get a free scan.
How it Works
LocalSaver distributes coupons for brick & mortar small businesses, such as restaurants, retail shops, plumbers and handymen. For $10/month, LocalSaver gets your promotions on top coupon websites, including Coupons.com, Yowza, The Yellow Pages App and more. Users on these websites find local businesses by entering their zip code and browsing for deals.
What are the advantages to using LocalSaver vs. distributing coupons myself?
There's a few key advantages:
Access to Exclusive Websites.

Using LocalSaver is the only way to get on

Coupons.com

, which, with 27 million unique monthly visitors, is arguably the biggest local coupon website after Groupon. LocalSaver also submits to 13 other popular websites, including their own coupon network.

Simple Online Tools.

Write your coupon by filling out a few boxes – "Title," "description," and "restrictions." No need to hire a graphic designer.

Cancel Coupons Whenever you Want.

Was your deal more popular than expected? You can cancel your coupon before it puts you in the red. Or, edit your coupon so it has a lower value. LocalSaver gives you flexibility print advertisers can only dream of.

Optional Facebook/Mobile Ads.

For an additional price, LocalSaver can advertise your coupons on Facebook, or by running ads to mobile users in your area.
Pricing
You can post coupons on LocalSaver.com (their own coupon network) for free. LocalSaver's distribution service is $9.99/month. They also offer additional advertising services that start at $99/month:
Free

$9.99/month

$99 - $149/month

Post your coupon on LocalSaver.com

LocalSaver gets 1.9 million unique monthly visitors*

Post your coupon on LocalSaver.com + 13 other websites

Includes Coupons.com, which gets 27 million unique monthly visitors*

Post your coupon on LocalSaver.com + 13 other websites AND advertise on Facebook, or mobile display ads
*Data comes from SimilarWeb.com March 2016 estimates
How to Create a Coupon With LocalSaver
Getting started with LocalSaver is very simple. You can sign up for a free account to submit coupons through LocalSaver's own network (LocalSaver.com) or register for $9.99 for full distribution. Either way, you'll get started by following this link.
The first step is to enter some basic business information, including your name, website and industry/category. When you enter your category, LocalSaver will immediately recommend 3 offers, which are based on what's popular among similar businesses. You can select 1 or more of these, or just choose to write your coupons own later.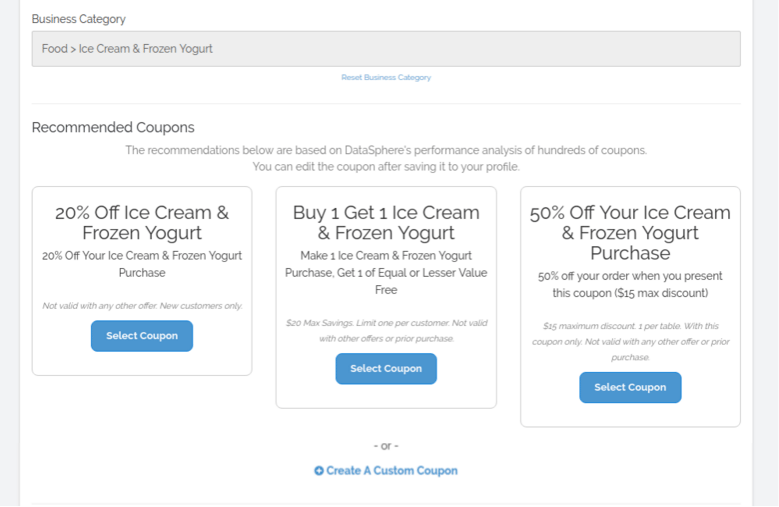 In the next step, you'll enter a little more information about your business, including your address and phone number. LocalSaver will have to call and confirm your number (with an automated voice) before your coupons can go live. Prior to that, however, you can still write coupons and setup your account.
Once you're on the main dashboard, scroll to the bottom and click "Coupon leads." Scroll to the bottom again and click "Create A Custom Coupon." This will launch LocalSaver's coupon design tool (pictured below).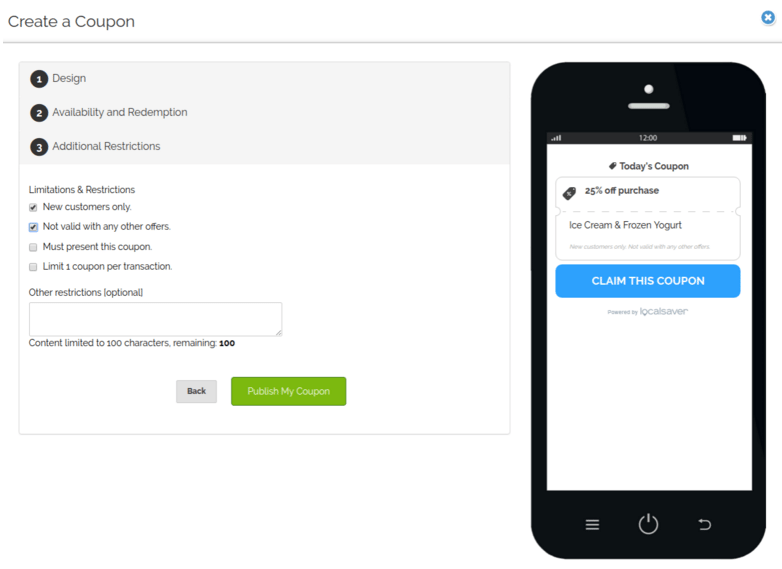 Just like everything else up to this point, creating a coupon is very simple. Start by entering the type of promotion (percent off, money off, free item, or buy x get y). Then give it a title and a short description.
After that you'll set the expiration date. Then, add the fine print. LocalSaver gives you a few common options, like "Limit 1 coupon per transaction," or "Not valid with any other offers." You also have the option to add your own.
Once that's complete, all you have to do is click "publish" and your coupon will go live.
For additional tips on writing your coupon, check out our Ultimate Guide to Coupon Advertisement, which features expert advice from coupon pros.
How To Get The Most Out of LocalSaver
To get your deal the most traction, LocalSaver recommends offering a discount of at least 20%. This applies whether you're offering a percentage-based discount (20%) a cash-based discount ($10 off a $50 purchase) or offering freebies. If your coupon is for a free appetizer, for example, it should still be worth at least 20% of the average overall purchase.
Why 20%?
Local coupons have a certain disadvantage compared to eCommerce coupons. For local coupons, customers have to be motivated enough to print out the coupon (or save it to their mobile phone) and plan a trip to the store/restaurant.
A 10% discount may may catch their eye, but it typically takes greater value (at least 20%) to motivate new customers to plan a visit. This is very different from eCommerce businesses, who tend to have a much smaller hurdle. Customers of online stores can just copy/paste a coupon code and check-out within seconds.
Offer Flexibility
If a 20% discount feels too steep, remember that you can always set certain restrictions. For example, you can set a maximum discount (i.e. "20% Off, Up to $50 Max") or limit the promotion to certain days of the week and/or new customers only.
With each restriction you add, however, you may be limiting the effectiveness of your coupon. As Adam Cramer from LocalSaver explained to us, you should give your customers a certain level of flexibility. Whenever possible, make your discount applicable to everything in the store – not just one item. Also, avoid restrictions on certain days & hours. Limiting visits to Monday-Friday, however, is acceptable for restaurants.
Use Trial and Error
Adam recommends starting with larger discounts, then scaling back once you're happy with the number of new customers. LocalSaver allows you to edit or remove coupons at any time, so you can experiment without too much risk.
When you edit or remove a coupon, the change will take place across every website. Some take a little longer than others, however, ranging between a few hours or a few days.
The Bottom Line
For brick and mortar business, LocalSaver can be a highly effective way to draw in new customers and boost your revenue. It's important to remember, however, that the coupon world doesn't exist in a vacuum. When a customer discovers your coupon, many times they'll immediately check your website and Yelp page. If you don't have a professional site and strong positive reviews, they're liable to skip your business in favor of another.
On the other hand, those who have polished their web presence will find coupon advertising all the more effective. For more guides on these topics, be sure to check out our articles Yelp For Business – 6 Simple Steps To Success, and Best Website Builder 2016: Weebly vs Wix vs WordPress.
Also, for additional advice on coupon advertising, including a formula to calculate costs, check out our Ultimate Guide to Coupon Advertising.