How to Use monday.com as a CRM in 7 Steps
This article is part of a larger series on CRM.
monday.com is known for its project management and team collaboration features, but can be easily customized into a customer relationship management (CRM) by designing boards, items, and columns that meet your business' unique sales needs. It also has a more affordable price point than many traditional CRMs, making it an excellent alternative for users who want a simple tool for managing sales opportunities and customers.
We'll show you how to use monday.com as a CRM in seven steps and offer other user-friendly alternative CRM solutions.
1. Determine Your Sales Process
To use monday.com's visual project and work management platform as a CRM system, you need to customize the elements of the interface for sales-related operations. This requires you first to establish what chronological activities go into your operations to produce deals and revenue.
Those repeatable sales steps specific to your business are known as the sales process. Having a standardized system from initial introduction to deal-closing activities makes it easy to track your progress on various sales opportunities. It also helps make evaluations as to which stages are effective and which could use improvement. This process will be incorporated into your monday.com CRM as you create your boards.
Below are some examples of stages or statuses you might have in your sales process:
Introduction: Making the first connection with a lead by cold calling, emailing, or in-person at a networking event or trade show.
Lead qualification: Determining whether a prospect is a good fit for your products or services and if they are potentially interested.
Lead nurturing: Continuously remaining in contact and following up with a prospect via email or by phone to keep your brand fresh in their minds.
Product demo: Showcasing your product's features and how they work in-depth, and addressing questions from potential customers.
Underwriting/Quoting: Reviewing a potential client or customer and their needs to formulate price estimates.
Sending proposals: Generating and sending a business proposal to a prospect with pricing, deliverables, and terms of services to acquire their signature.
Negotiation: Back-and-forth conversations to find agreement between the customer and the provider on pricing, product or service deliverables, and terms.
Client onboarding: Transitioning new customers through activities such as setting them up with the product or service, training, and connecting them with their account manager.
Cross-selling or Upselling: Attempting to sell complementary products or services to what they already purchased and/or upgrade them to a more premium product or service.
Re-introduction of offerings: Re-introducing products or services to prospects who were lost deals previously, especially if there are changes to your offerings that may interest them.
2. Create Your monday.com Workspace
The first thing you'll create in monday.com regardless of how you're using it is the "workspace." Think of the workspace as the centralized system that will store all of the modules you use to run your business like a CRM or project management software. The module(s) are essentially the main software features while the workspace is the central place where your organization or specific department can find the company-wide systems and tools.
Once you log in, select the "Add workspace" button, name your workspace, and set the privacy setting. Workspace privacy options include "Open" for all team members with a monday.com account to join or "Closed" where only users specifically invited to the workspace have access. Privacy settings are important to keeping your company and customer data secure. Once created, you can start creating your CRM by adding "boards" to it.
3. Create a Board With Groups
The next step to learning how to use monday.com as a CRM involves creating boards. From your workspace, click the "Add" tab and select "New Board." Each board is the equivalent of a module within a software system and is where you start your CRM. When prompted, you'll be asked to name the board, choose a privacy setting, and then select the types of items you're managing. Since you're using this to track sales opportunities, we recommend either "leads" or "clients."
Once the board is created, start renaming and adding "groups." Groups are subsets of leads, prospects, or customers that you want to track separately. For instance, you might have multiple sales reps, product or service lines, or regional teams you want to monitor individually. In these cases, each rep, line, or team can have their own group inside your CRM board.
4. Customize Your Columns
Once you have your board and groups established, you're ready to customize your columns. Columns represent the types of information you want to organize for leads or customers. Things like pipeline status, potential deal size, contact information, or lead source are common examples, and all need to be configured from the column.
From the board, your groups will already have default columns you can edit. You also have the option of adding new ones by hitting the "+" sign on the far right column. From there, you have numerous options on the data type, such as numbers, dates, people, text, or a drop-down from which to choose, as well as the ability to rename the column header.
Note that some column types require you to add or customize labels. If you are doing a drop-down option or a status, you need to add options or stages relevant to that type of information. You'd use drop-downs when your users need to select one piece of data from a certain list of options, like when you're indicating the lead source of a contact. You would only have so many options to choose from, like online, trade show, or referral, and you can only pick one.
The status data type is the best place to incorporate the sales process you designed in step one. By clicking on any of the status stages, you'll see each of the options and a button called "Edit labels" to add the stages in your sales process.
5. Add 'Items'
When all the information you want to collect is set and configured on the columns on your board, you're ready to add leads and customers to your monday.com CRM in the form of items. In each group, if you click the "Edit" button, you can customize the name of lead, prospect, customer, account, opportunity, and so on.
Once the name is added, go through each column to change the item's status and enter the data relevant for each category. You may enter information like the date created, lead source, deal value, contact information, and anything else your business wants to track. The default view on monday.com is spreadsheet-style, which makes it easy to enter data and customize columns.
As you add information and have a larger pool of records, however, you may want to view the information using different visuals. Toward the top of the board, next to "Main Table," there's a + sign titled "Add View." From there, you see the drop-down of all the views you can choose from, such as a dashboard, Kanban-view, Gantt chart, or cards. The type of plan you subscribe to dictates which views you have access to.
Upon adding the new views, you can go back and forth between each one and customize the types of information you want to appear in the view. For instance, in the Kanban-style, you can check the boxes for the columns that you want to appear on each card.
6. Implement Board Power-ups (Optional)
For more advanced functionality from your monday.com CRM, use board power-ups by integrating monday.com with external applications or configuration automation within your board. monday.com integrates with tons of popular software, including Gmail, Slack, Zoom, and Mailchimp, to let you use some of your favorite tools within monday.com.
From the board, select "+ Add to board," where two of the options are called "Integrations" and "Automations." The integration center lets you search, browse, and integrate external apps into your system. The automation center allows you to search and create automated workflows such as auto-notifications, automated item assignments, or board changes based on status updates.
---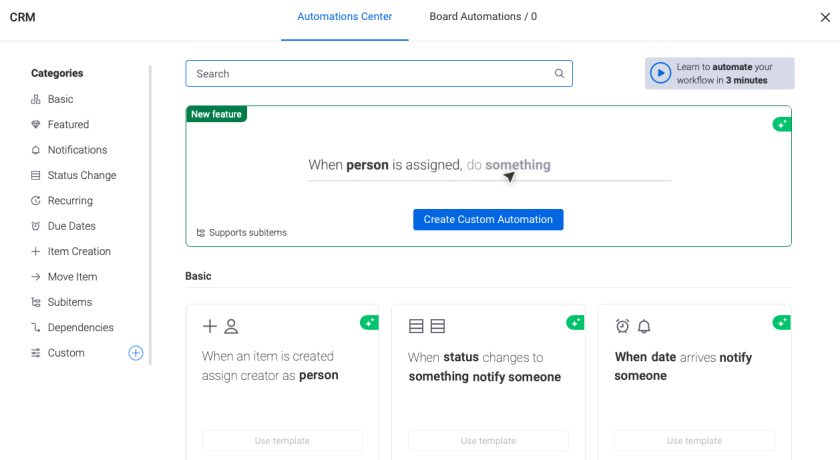 ---
7. Run Your Sales Operation
Once your CRM is designed, you've added your leads, and incorporated optional integrations and/or automation, you are ready to fully utilize your new CRM. As you contact leads and make progress in your sales process, update the item's cards with information on activity or files that are associated with your process, such as proposals, contracts, quotes, applications, and so on.
Throughout the item updates, you can mention team members and view activity logs to enhance sales team collaboration. You also have the ability to drag and drop item cards on your Kanban view to move them down the sales pipeline into their new stages while easily adding new leads as more are generated.
monday.com CRM Templates
It should be noted that if you wish to save time by having a general CRM system designed in monday.com, they do offer premade CRM and sales templates. These let you organize leads and pipelines while tracking potential revenue from the start. Furthermore, you can manage other aspects of your business with additional premade templates for things like project management, marketing, human resources, and content development.
Alternatives to Using monday.com as a CRM
Even though monday.com offers a robust CRM alternative in itself, you may prefer another visual collaboration tool you're already familiar with or find easier to navigate. Airtable and Trello are great options for those who don't wish to invest in a traditional CRM. They both offer product simplicity as well as multiview and integration options similar to monday.com.
Airtable is better suited for businesses that want a dynamic view of their sales opportunities and operations. Trello, on the other hand, offers power-up features to help automate workflows, integration with other apps, and even predesigned visual boards for sales management professionals looking for easy-to-add advanced CRM features.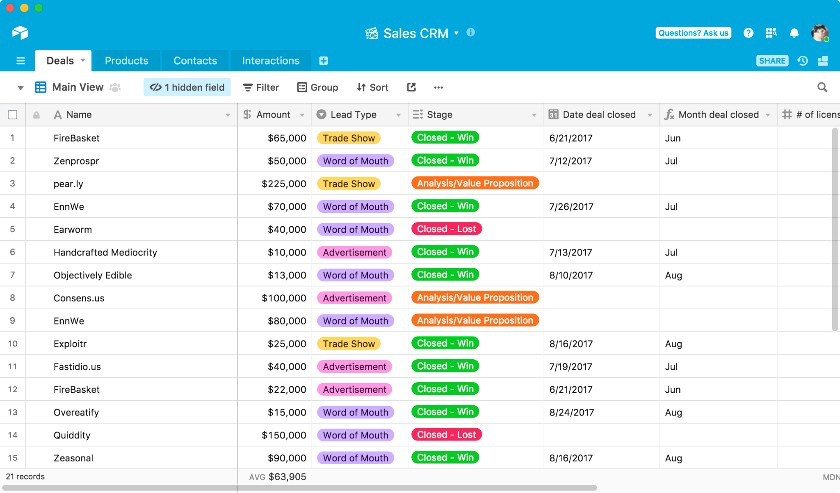 ---

---
For businesses looking for traditional CRM software with some of the appealing attributes of monday.com, like cost-friendliness and strong project management tools, we recommend Bitrix24. Bitrix24 has a free plan for an unlimited number of users to organize contacts, manage leads and deals, collaborate with team members, and manage projects as well as the budgets and tasks associated with them.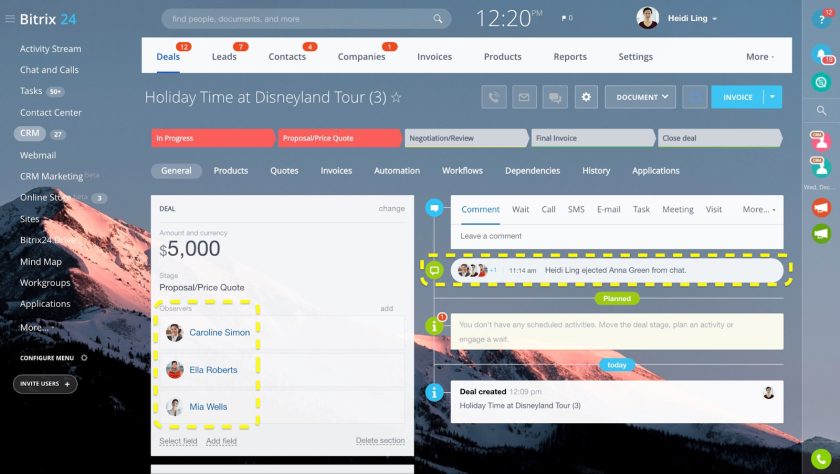 ---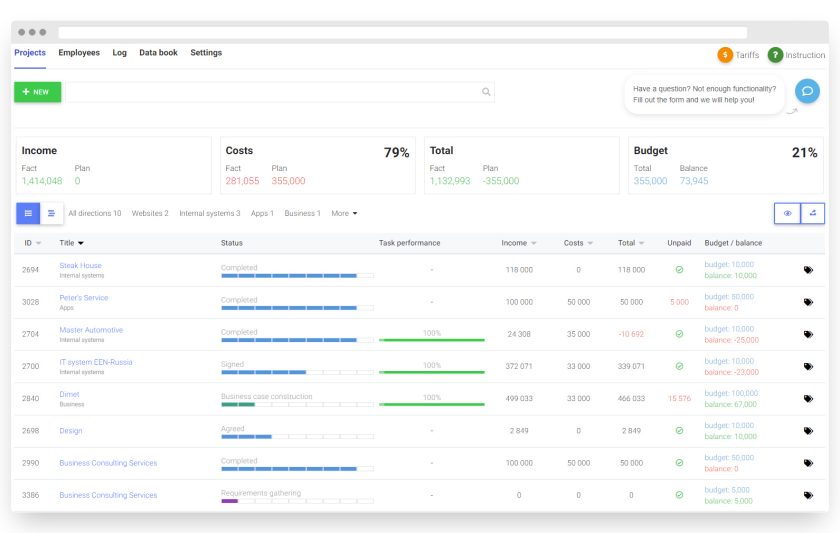 ---
Bottom Line
monday.com is best known for its visually appealing and easy-to-use project and workflow management capabilities. When the boards, columns, and items are customized properly, however, monday.com can become a cost-friendly, simple CRM alternative to investing in a traditional CRM software system. Additionally, users can incorporate optional integrations and automation into their systems to replicate some of the advanced features of a typical CRM.