RingCentral is one of the most popular voice-over-internet-protocol (VoIP) systems on the market, and Salesforce is one of the leaders in the customer relationship management (CRM) space. While they are powerful on their own, they integrate together using the RingCentral for Salesforce app to automate workflows and automatically track caller information through the sales pipeline.
The RingCentral for Salesforce app is free to download and once installed, it can become one of the most beneficial business VoIP features you have at your disposal. However, you'll need an active subscription on both services on eligible plans for the integration to work, which can limit its usefulness.
That said, if you are an active user with both services, you can start combining the two programs by following these steps:
1. Verify Your Plan Supports Integrations
Unfortunately, not all RingCentral or Salesforce plans allow you to integrate the two programs. For example, RingCentral requires a subscription to either the RingCentral MVP Premium or Ultimate plan. These tiers start at $34.99 per user, per month, but there is a 15-day free trial available if you would like to test it out first.
You can learn more about other functionality offered at these plan levels by visiting our RingCentral Review page.
For Salesforce, you'll need a Sales Cloud or Service Cloud subscription. Both Salesforce products have a starting price of $25 per user, per month and are packed full of features to help you manage communications and client needs. However, you can also try them for free for three months without a commitment.
2. Install the RingCentral for Salesforce App
Once you have accounts with both services, you're ready to download the integrated app. Here's how to do it:
Open the Salesforce AppExchange page.
Click "Get It Now."
Follow the login prompts to login into your Salesforce account.
Click "Install in Production."
Read through the terms and conditions, check the box, and click "Confirm and Install."
Select the "Install for All Users" option, then click "Install."
3. Add Users to Your RingCentral Call Center
Once you have the connection set up, you can start adding users to your RingCentral call center, if you haven't already done so during your initial phone system setup. To add users to your call center module, you'll have to open up your RingCentral main control panel. You can do this by going to your Setup menu and clicking "Call Centers."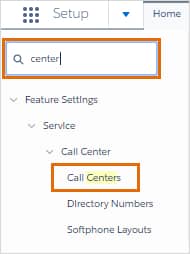 From there, click the "Cloud Phone App" button, and then choose "Add More Users." Once you've gotten to that menu, you can look up individuals in your organization and add them to your call center group. Within this menu, you will be able to set up permissions for your users. This is especially useful if you want to have some entry level of temporary staff and do not want them to have access to certain records.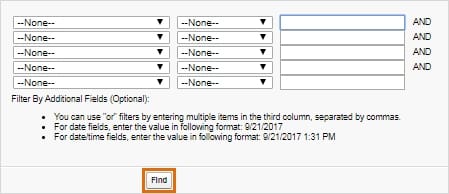 4. Set Up Call Dispositions in Salesforce
Once you've added all the users you want, you're ready to start setting up call dispositions, or the expected results of phone calls, for your staff. An example of a call disposition might be "Left a Message." This makes it easier for your staff to quickly summarize a call in Salesforce's customer relationship management (CRM) platform and move on to the next one. It also makes it easier to generate call activity reports.
To set up call dispositions, go to your Salesforce dashboard and go to that platform's setup menu. Type "activities" on the Quick Find/Search bar, and then click on "Task Fields."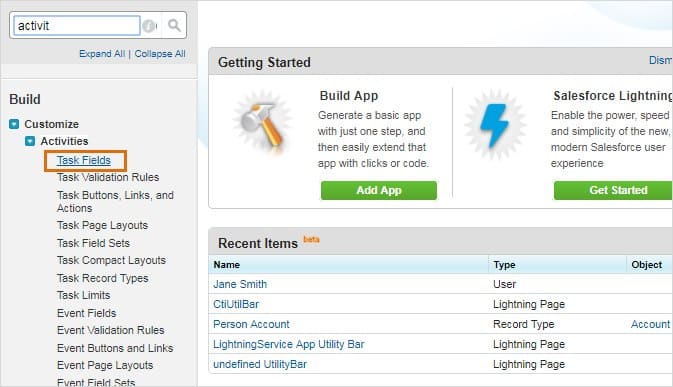 Under the task fields menu, select "Subject."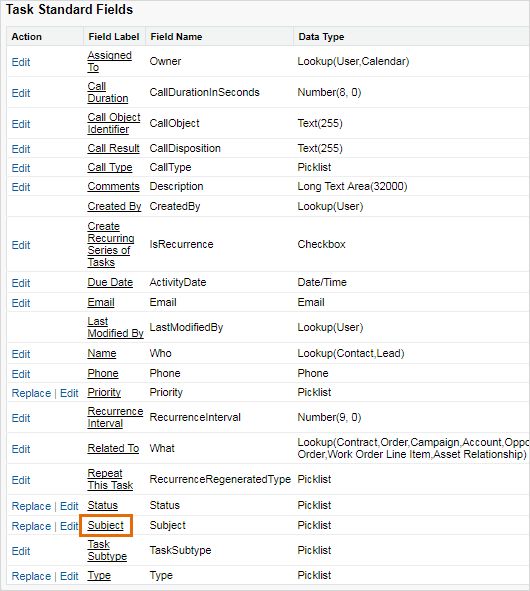 A list of subject picklist values should come up. Click "New" to add a user disposition, "Edit" to alter an existing one, or "Delete" to remove one.

This will allow your staff to make the call logging process fast and simple. The dispositions will appear in a drop-down list in the call window. This will help speed up your team's workflows considerably.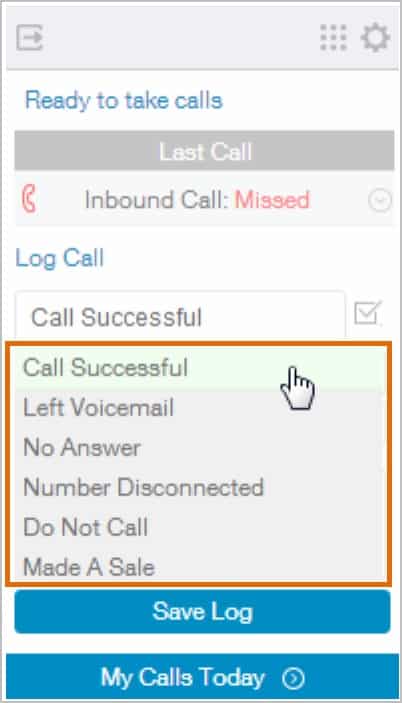 5. Add Calling & Text Connections to Salesforce
The last part of the call center setup process will involve adding call and text options. Go back to the Setup menu and type "button" into the Quick Find/Search. Then, go to the "Task Buttons, Links, and Actions" menu and click on the "New Action" button.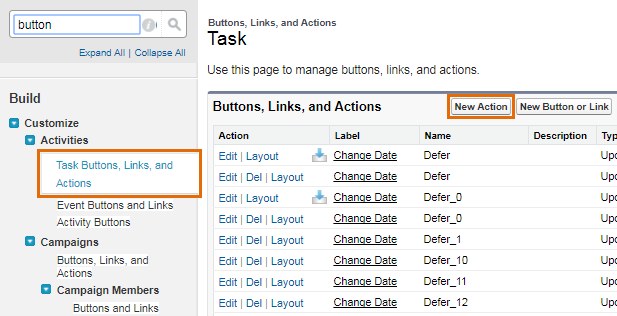 Choose "Custom Visualforce" as the action type. Then choose "Phone Numbers Account 999 [Phone_Numbers_Account_999]." Type "Call with RingCentral" as your label, and then click "Save."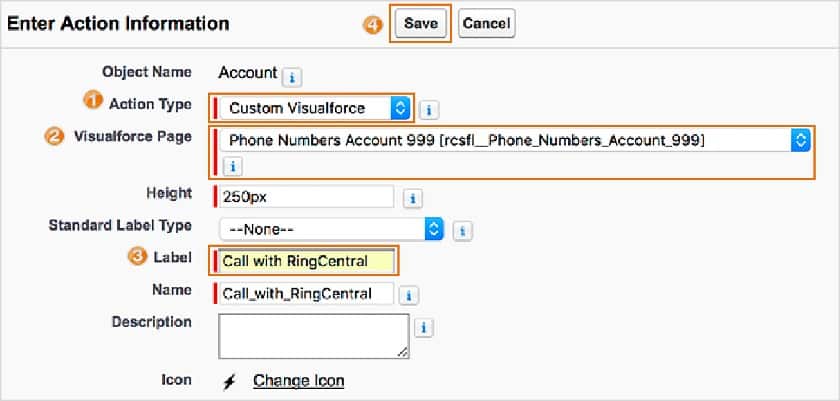 To add texts, go back to the Setup page and type "page layout" in the Quick Find/Search bar. Then go to Build>Customize>Accounts>Page Layouts.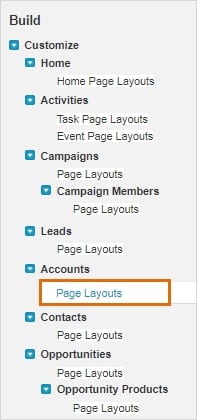 Then, create a new layout by clicking on "Page Layout Assignment."
In the menu that pops up, choose the account profile that needs to be changed. From there, choose Salesforce 1 and Lightning, and then drag "Call with RingCentral" into "Experience Actions" menu.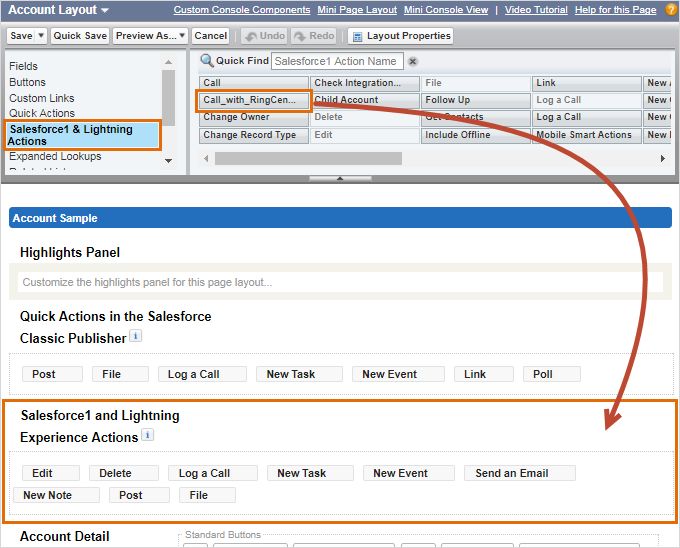 Then, look for SMS with RingCentral, and drag that into the Experience section.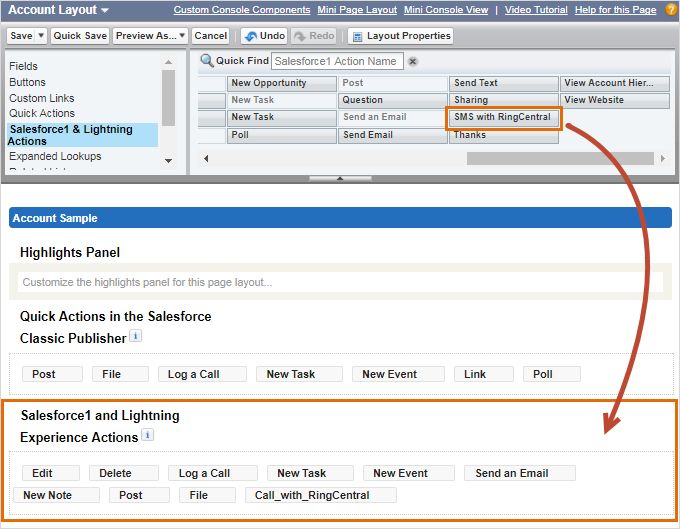 Click "Save." Then, you should see options for "Call with RingCentral" and "SMS with RingCentral" at the bottom of all of your customer profiles.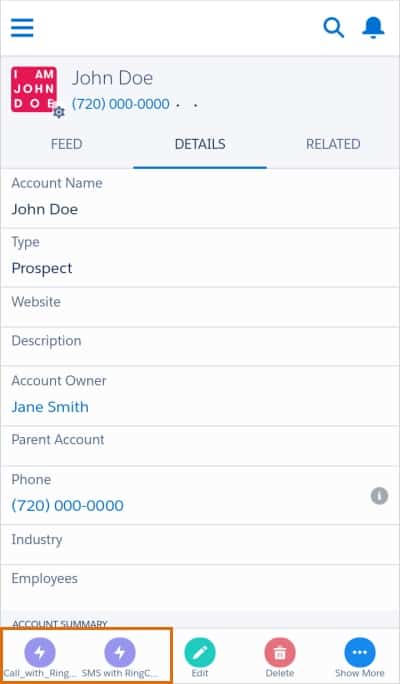 6. Start Using RingCentral & Salesforce Together
Now that your business phone system is set up with the necessary software, you're ready to get started. Here's how you can use the two services together to sync data and streamline your communications:
Call logging: Keep a detailed record of all your activity on a customer-by-customer level so that each future interaction is an extension of a developed relationship.
Click-to-dial: Call, text, or video chat any contact straight from the Salesforce user interface (UI) with simple click-to-dial functionality.
Call tagging: Quickly and easily log call dispositions (call answered, no answer, left a voicemail, do not call, and so on).
View data: Get a detailed 360-degree view of every contact, customer, and lead before you make or answer phone calls.
Build flexible reports: Use rich customer data to build flexible reports and real-time dashboards of important customer interactions.
Download the mobile app: Take your RingCentral-Salesforce integration on the go with the Salesforce mobile app, now available in both Salesforce Lightning and Salesforce Classic.
Benefits of Integrating RingCentral & Salesforce
The purpose of any integration is to quickly and seamlessly share data and functionality across separate platforms, streamlining workflows and customer records. The RingCentral for Salesforce integration empowers users to use a single platform to access all the information and functionality they need to do their job well.
RingCentral and Salesforce can be used together in various ways to improve call experiences for agents and customers. Below are a few of the benefits businesses will find when integrating the two software solutions.
Enhance Your Customer Data
Salesforce empowers your business to keep detailed records of every customer interaction. This gives reps all the information they need to provide top-notch customer experiences, regardless of if they dialed or answered the call.
For example, whenever you receive a call on your mobile phone, the Salesforce integration will feed you important customer details before you pick up the call. You'll be able to see the caller's name, company, business title, past activity, and more without having to pull up a separate spreadsheet or ping a teammate for answers. This gives your teams the advantage of going into any customer interaction prepared, regardless of if they're in the office or on the road.
When the call is over, reps can quickly log call disposition details and additional notes so they (or another agent) are prepared with the most up-to-date information for the next customer interaction.
Improve Communication Efficiency
The RingCentral for Salesforce integration shines for its ability to reduce distraction, eliminate steps in the process, and streamline workflows. Here's how:
Dial straight from the Salesforce UI: Reps can dial any contact straight from Salesforce by just clicking on the contact record. They'll also have the option to text or video chat with the contact, depending on the available information and user preferences.
Reduce mistakes: Click-to-dial decreases the chance your agents will misdial numbers. It also makes sure the contact's data is front and center when the conversation starts, so your reps don't confuse one customer for another.
Save money: Salesforce, combined with traditional landline technology, can get pricey. RingCentral's VoIP services provide your business with unlimited domestic calls and business SMS, giving your team the freedom to send and call as much as they need to close the deal.
Log dispositions quickly: Use the quick disposition drop-down menu to log the status of a call so that the subsequent interaction can utilize past data.
Prevent voicemail interruptions: RingCentral's voicemail-to-text and voicemail-to-email features empower your reps to stay on the phone with customers while addressing messages in the inbox. Plus, your agents can stay focused and present during every call without having to take notes manually—the call recording and transcription features will take care of all of that for you.
Expand Your Communication Channels
Phone calls are just one part of the customer experience. Today, businesses and customers use text messaging, video conferencing, phone calls, and more to stay connected. RingCentral gives Salesforce users the option to connect with customers and leads in the ways that make the most sense for each situation and user.
RingCentral also provides an internal messaging tool to allow teammates to chat and file share. This expands all your communication channels' potential while keeping everything neat and tidy on a one-stop-shop platform.
Streamline Lead Captures
Time is money. Calls centers make more revenue by closing more deals and satisfying more customer complaints—and that's done through increased call volume and experiences. However, with an endless number of calls coming through, it can be difficult for your agents to record the details and interactions of every conversation they have.
The RingCentral for Salesforce integration removes this burden by making it quick and easy for reps to update contacts, leads, and opportunities in Salesforce while staying on the phone. That means they can do two jobs at once, allowing them to be more accurate when creating contacts and updating records while also empowering them to jump on the next call as soon as the first ends.
There's also a full suite of tools to help you schedule follow-up actions and reminders so that you're primed for the next interaction.
Track Agent Activity
Create flexible reports and real-time dashboards so you can know how each of your agents is doing. This performance reporting gives you the data you need to provide additional training and advice, as well as drive important business decisions.
For example, if you find your agents are running into an abnormal number of unanswered calls, then that might be a sign you need a deep clean of your contact database. And if your dashboards show a decreased number of outbound calls, that might be a signal you need to connect with your marketing department to increase your qualified leads count.
Frequently Asked Questions (FAQs)
Does the integration cost money?
No, the integration is free to use. However, you'll need a Premium or Ultimate RingCentral account to unlock the Salesforce integration functionality. You'll also need a Salesforce subscription.
What browsers are supported?
Here are the supported browsers as of the date this article was published:
Google Chrome 30 or later
Firefox 25 or later
Safari 6.0.5 or later (supported for Classic view only)
Internet Explorer 10 or later
Does RingCentral have other integrations?
Check out the App Gallery to discover all the integrations RingCentral offers. Beyond this extensive list of software integrations, RingCentral also provides customers with robust developers API to build VoIP communications straight into any app.
Bottom Line
The RingCentral and Salesforce integration gives your teams the highest level of customer data to ensure every experience is built off the last. It's a must-have tool for telesales businesses looking to automate workflows, improve recordkeeping, streamline reports, and otherwise maximize their subscriptions to industry leading software.