For an integrated business phone and help desk solution, connect RingCentral with Zendesk. The RingCentral Zendesk integration is simple, requiring only three steps. Once connected, your agents can deliver memorable customer experiences while improving productivity. Take the following actions to integrate both services and install the app, and then discover how to benefit from using RingCentral with Zendesk.
1. Subscribe to Eligible RingCentral & Zendesk Plans
You must have active accounts with both Zendesk and RingCentral to complete the RingCentral Zendesk integration process. While all Zendesk Suite plans support telephony integrations, only two RingCentral versions connect to Zendesk: Premium and Ultimate.
RingCentral Plans & Pricing

RingCentral offers four voice-over-internet-protocol (VoIP) packages starting at $19.99 per user, per month when paid annually. All include a local or toll-free number, document sharing, and unlimited calling in the U.S. and Canada. However, you'll need one of the following RingCentral plans to integrate RingCentral and Zendesk:
Premium: $34.99 per user, per month when paid annually
Ultimate: $49.99 per user, per month when paid annually
Monthly payment plans are also available. Plus, for companies with 100 or more users, prices drop to $32.99 (Premium) and $42.99 (Ultimate) per user, per month with an annual payment. If you're unsure which plan to purchase, check out our RingCentral review.
Zendesk Plans & Pricing


Zendesk features five Zendesk Suite plans that work with RingCentral. Additionally, Zendesk offers support- or sales-only versions, but these may not come with telephony integrations. If you have an existing subscription, like Zendesk Sell, talk to Zendesk to see if a RingCentral integration is supported. Otherwise, pick one of the options below:
Suite Team: $49 per agent, per month when billed annually
Suite Growth: $79 per agent, per month when billed annually
Suite Professional: $99 per agent, per month when billed annually
Suite Enterprise: $150 per agent, per month when billed annually
Custom plan: $215 per agent, per month when billed annually
2. Download & Install RingCentral for Zendesk
After subscribing to an eligible plan, you'll need to download and configure the RingCentral for Zendesk app. Open the latest version of Chrome, Internet Explorer, Firefox, or Safari on your Windows or Mac computer and go to the RingCentral App Gallery. From there, use the search bar to find the RingCentral for Zendesk app.
Disable pop-up blockers in your browser for best results, then click on the "Sign-in to proceed" button. Once downloaded, set up your RingCentral for Zendesk account:
Sign in as an administrator and tap the Admin icon
Select Apps, then Marketplace, and search for RingCentral
Tap on the RingCentral app, choose your account and click install
Doing so brings you back to the Admin page, where you can enter your credentials
Once finished, tap install to connect the RingCentral app to your Zendesk account
3. Complete Installation in Zendesk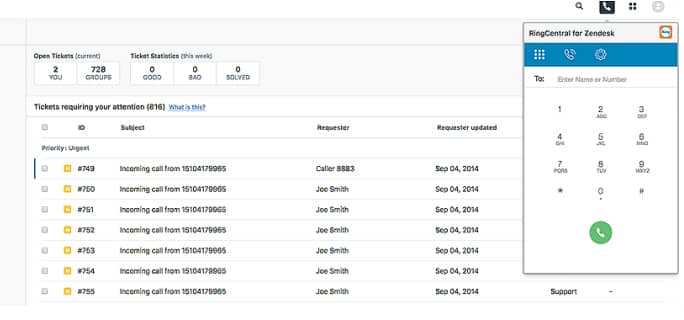 Open your Zendesk app. You'll see the RingCentral icon at the top right-hand corner. Click on it to launch the RingCentral login screen. Fill out your credentials and tap "Sign In." Now that your RingCentral and Zendesk integration is complete, you can use either program to make and receive calls.
This step should be relatively easy to complete, but if, for whatever reason, you find yourself unable to sign in, you can check out the more complete administrator's guide here.
Benefits of Using RingCentral With Zendesk
Many convenient RingCentral features are available in Zendesk, including viewing voicemails, texts, and faxes. Once you connect RingCentral to Zendesk, agents can use one interface to communicate with customers, log information, and automate help desk tickets. As a result, companies can achieve customer service and productivity goals with ease.
Here are some ways a RingCentral Zendesk integration enhances the performance of your agents and business:
Increase Efficiency
Your agents save time by automating repetitive tasks and using a central hub for all communications. Your system administrator can set up automatic ticket creation for new or missed calls and voicemails. Help tickets include a link to the existing voicemail (if any), and all are searchable by status.
The click-to-dial feature works in Zendesk, so your representatives can call from a help desk ticket or customer profile. In addition, the RingCentral with Zendesk integration lets your agents search both RingCentral and Zendesk contacts from one spot.
Reduce Onboarding Time for New Agents
Training your new agents on your call center or business phone system and help ticket software is time-consuming. Instead, your business can prioritize Zendesk training and teach your agents how to use RingCentral with Zendesk. While there's still a learning curve, training on just one system reduces onboarding time so new reps can go live sooner.
Achieve Greater Visibility
Using both platforms gives your business access to many useful insights. For example, RingCentral provides data and trends to help you understand usage and customer behaviors. The analytics also cover important key performance indicators (KPIs), such as the average handle time.
Meanwhile, Zendesk offers customizable, prebuilt dashboards and charts with customer service metrics. These let you view and learn from interactions across multiple channels, including phone, text, email, chat, and social media channels.
Enhance Customer Experiences
Zendesk support tickets contain a field for notes so users can read about previous calls before dialing a customer or picking up their call. It also provides client details on pop-up screens for incoming calls. Customer records include full call history and work logs. Each option lets agents tailor their greeting and approach to individual callers so that interactions are more personalized during both inbound and outbound contact.
Frequently Asked Questions (FAQs)
What are the system requirements?
Minimum system requirements include a VoIP-compatible desk phone and computer using Windows XP, 7, 8, or Mac OS X® Mountain Lion and above operating systems. You must install RingCentral, Zendesk, and the RingCentral for Zendesk application, which works on the following browsers:
Google Chrome 41 and higher (Windows, Mac)
Firefox 37 and higher (Windows, Mac)
Safari 8 or and higher (Mac)
Can I help two customers at the same time?
Yes, if you're on a call and see another one come in, you can save your current ticket and move to the next caller, or the system will automatically log the incoming call. You can also set up automatic creation of help tickets for voicemails.
Does RingCentral for Zendesk work on smartphones?
No, the RingCentral for Zendesk app works in a browser, and mobile devices aren't supported. Agents must use a desk phone connected to a Windows or Mac computer. However, agents can still use other apps offered by RingCentral and Zendesk on smartphones.
Can I view presence data in the app?
Yes, RingCentral for Zendesk shows real-time presence data for teams and syncs with other RingCentral applications. Status choices include do not disturb, available, invisible, and busy.
Bottom Line
Delivering excellent customer support can be challenging. Integrating your help desk and business phone system closes the divide between agents and clients. Zendesk puts client details at your agents' fingertips while RingCentral ensures dependable connectivity. Use insights from both services to gain visibility and improve performance.
Get started with the RingCentral for Zendesk app by selecting RingCentral's Premium or Ultimate plan. Or take advantage of a free trial that comes with 50 minutes of domestic calls per user for up to five users.