How to Use Squarespace SEO to Get Found in Google
Squarespace is one of the best all-in-one site builders. Aside from its sleek design, it's known for its exceptional built-in search engine optimization (SEO) capabilities, helping sites rank better online. To optimize your Squarespace SEO for Google, you'll need to do certain steps: customize your SEO tags, add a favicon, optimize your images and content, organize your products, connect a custom domain, enable SSL, and integrate Google software.
Here's a breakdown of the 10 steps needed to use Squarespace SEO to rank on Google:
1. Customize Your SEO Titles, Meta Descriptions & URLs
Squarespace allows you to add SEO titles and meta descriptions to each of your website pages. This can be found in the SEO settings of each individual page (accessible by clicking on the gear icon beside each page in the Page menu). These SEO titles and descriptions tell potential viewers what a certain page on your site is about.
Pro tip: In the same menu as your SEO settings, you can find your page's General settings. Here, you can change your page's title, telling your audience more about the page they've landed on. This is separate from your page's SEO title, which is the title displayed in search results.
How to Customize SEO Titles
Head to your page's SEO tab to change your SEO title. Your SEO title is the title that will appear in search results, so make sure it's informative (and includes your primary keyword) to tell your audience and search engines what your page is about. Google only displays 50 to 60 characters in a title, so we recommend keeping it to this length, or just a little shorter—keeping your entire title featured in the search results.
---
How to Customize Meta Descriptions
In the same page SEO tab, you'll also have the opportunity to write a meta description. Meta descriptions are the short blurbs you can find under the SEO title in search results. This tells your audience and Google a little more about what's in the page they're about to click on. Again, we recommend keeping it between 155 to 160 characters to avoid it being cut. Add your primary keyword to generate more leads and traffic.
---
How to Customize URLs
You have the option to create a unique URL slug for the page in the General tab (above the SEO tab), which we recommend for SEO purposes as this makes your page easier to find. This should give a short description of what your page is about. For example, your products page can use the slug "shop." Your audience can then easily find this page by typing in "www.yourbrandname.com/shop."
---
2. Add a Favicon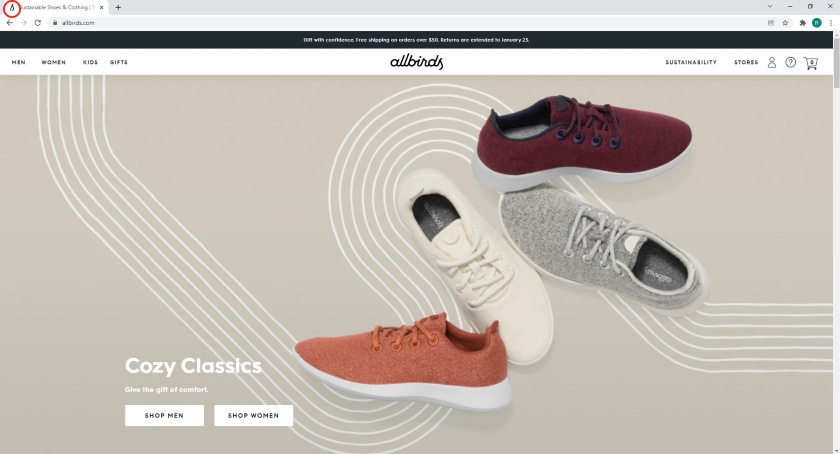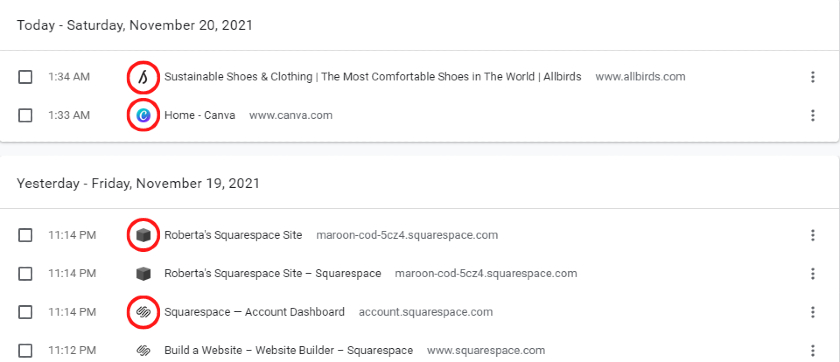 ---
A favicon, or a brand icon, is the small image you see in your browser tabs, history archives, and bookmarks. Many companies use their company logo as a favicon. Take note that favicons don't directly impact SEO, but they can go a long way in promoting brand awareness, name recognition, and site credibility.
On Squarespace, you can easily create a favicon by uploading your logo. Just go to your Home menu, click on "Design," and then click "Browser Icon" to upload an image. You don't have to upload a separate, smaller image either. Squarespace automatically resizes the image to fit your browser.
3. Optimize Your Images
Although how Google ranks websites isn't definitive, it doesn't hurt to optimize everything about your website, including your images. Ensure that all the images on your website are of high quality, and make sure that they have readable and descriptive file names. Google also looks at alt text, or a short description of your image that's indexed by search engines.
Keep your descriptions short. We recommend using 12 words or less to describe your image, and always include relevant keywords without stuffing them. To add both the image name (without special characters, except for underscores and hyphens) and the alt text, click on the image you want to describe in your Editor. Then, click on the pencil icon that appears to open its settings.
Pro tip: Although high-quality images are extremely important, ensure that your images load quickly by condensing the image files before uploading them. Slower loading times directly affect user experience, which then brings down your ranking on Google.
4. Organize Your Tags & Categories
Organizing your tags and categories might not directly affect your rankings on Google, but it does improve your user experience. This will hopefully lead to longer session times and lower bounce rates, which Google does take into consideration when determining your search result ranking. On Squarespace, you have the ability to tag and categorize your blog posts, products, and events.
Here's when to use each:
Categories: Used to organize the content on your site. Examples of categories are "International Travel" and "Local Travel," and "Dresses," "Tops," and "Bottoms."
Tags: These are any words that your audience might search your site for, like keywords or very specific niches.
In general, you'll want to use categories to organize large amounts of content. On a food blog, for example, categories can include "Breakfast Foods," "Brunch Foods," "Lunch Foods," and "Dinner Foods." The tags for these categories can include "recipe of the day," "meatless Mondays," "holiday specials," "Christmas meals," and anything else you can think of to describe a specific post.
To organize your posts, start by clicking on your Page menu. Choose your blog, store, or event page from the main navigation and click on the ellipsis beside the post, product, or event you want to categorize. From there, you can add tags and categories in the Options tab. Organize them by going back to the main navigation menu and clicking on the gear icon beside the page (e.g., your blog page). You will find the option to organize your tags and categories under Advanced.
5. Create a Custom 404 Page
A 404 page is an error that your audience sees when they land on a broken URL. Squarespace automatically uses a standard 404 page, but it's easy to create a custom one. The purpose of a custom 404 page is to add links that your viewers can click on in the event of an error. For example, you can link back to your homepage or another page on your site that your viewer may find interesting. This can prevent them from leaving your website altogether.
To create your own 404 page on Squarespace, first, go to your Pages menu and create a new, blank page. Design the page by adding an error message, plus any links you want to direct your audience to. Make sure to unlink the page so that it won't be visible on your menu by dragging it to the "Not Linked" section of the menu. Then, go back to the main navigation menu, click on "Design," then click "404 Page." You will then be able to select your custom page from the drop-down menu.
6. Connect a Custom Domain
A custom domain name increases the chances of your audience finding you. As a small business owner, it also speaks to the professionalism of your brand when you have a custom domain instead of a site with a subdomain (e.g., www.yourbrandname.com vs www.yourbrandname.squarespace.com). Getting a custom domain for your website will require you to register on a domain registrar, like Bluehost, Google Domains, or Squarespace.
If you pay for an annual or bi-annual billing cycle via Squarespace, you are eligible to get a free custom domain for one year, after which you'll need to start paying a registration fee to keep your domain. You can also choose to connect a domain you already own from another domain registrar through domain mapping.
7. Ensure SSL Is Enabled
SSL, or secure sockets layer, is a certificate or code that provides security for communication between a web server and browser. Google does take this extra layer of security into account when ranking websites, so aside from customer protection, it's imperative for SEO purposes. It's standard for websites to have SSL enabled. In fact, Squarespace provides this for free on all of their paid plans. However, it's always good to double-check if your SSL certificate is enabled.
To view your security settings, go to Settings via your main navigation menu. Click on "Advanced" at the very bottom, and find "SSL." From there, you can see if it's enabled. We recommend never changing your site's preferred security settings.
8. Connect to Google Search Console
Google Search Console is a service offered by Google that helps you optimize your website and submit it for indexing. After you've published your website, connect it to Google Search Console for free.
Pro tip: Password-protected sites can't be indexed by Google, so make sure that your site is visible to the public before submitting it for indexing.
Connecting your website to Google Search Console allows you to submit a generated sitemap that will help search engines "discover" your website. Google Search Console also scans your site for issues that they can alert you to.
Generate & Submit Your Sitemap
Squarespace automatically generates a sitemap for your site, which you can submit to Google for indexing. You can access it by going to www.yoursitename.com/sitemap.xml. The XML sitemap, which you'll be submitting, is a list of your site's pages that search engine bots can crawl. These bots will then determine if your site (or pages) are relevant to searches.
---
Detect Issues & Fix Them
Because more people search the web through mobile devices, Google prioritizes mobile sites over sites built for other platforms. Squarespace's templates are all mobile-friendly and responsive, but it doesn't hurt to check how your site looks on mobile by clicking on the Mobile Preview button in the top right corner of your Editor.
Google Search Console also detects mobile usability issues. If you have elements on your website that aren't mobile-friendly, Google will send you an alert. An example of an alert is that your text is too small to read. When you get an alert like this, you can go to your Squarespace Editor and address the issue.
---
9. Use Google Analytics
Google Analytics is another free service Google offers that tracks basic site data. These analytics can then be used for optimizing and marketing your website. Squarespace has a built-in Google Analytics integration, but you'll first need to create a Google Analytics account to connect to.
With Google Analytics, you can track and analyze the traffic coming into your website. It tells you your audience's demographics, how they behave, and which pages of your site are the most appealing to them. Although there are more advanced trackers out there like SEMRush and SimilarWeb, Google Analytics is still a useful tool to have on your Squarespace website.
10. Optimize Your Content
Optimizing your Squarespace website is only one part of the equation. To get people to stay, create and publish only high-quality content. Take some time to review your content to see if everything is in place. Insert relevant keywords, include meta tags, and prioritize long-form, informative, and engaging content.
By increasing the quality of what's on your site, you gain more relevant backlinks and increase dwell time and click-through rates (CTR). This leads to higher rankings on Google overall.
Frequently Asked Questions (FAQs)
Is Squarespace good for SEO?
Yes. Squarespace is a top all-in-one site builder for SEO. It has a lot of integrations and built-in features that make it easy to optimize for search engines like Google and Bing. However, it still can't compare with a platform like WordPress. Hence, if you're looking for the best SEO capabilities despite a steeper learning curve, then we suggest heading straight there instead.
Is Squarespace a good site builder?
Squarespace consistently tops our list as one of the best site builders available. Not only does it have good SEO and marketing features, but its templates and design capabilities are much more modern and beginner-friendly than many other site builders. You can quickly build a Squarespace website in five steps. If you're looking for an easy way to set up a sleek, professional-looking small business website, Squarespace may be the perfect builder for you.
How do I make my Squarespace site searchable on Google?
Creating an XML sitemap and submitting it to Google is the fastest way to get search engine bots to crawl your site. While it isn't a requirement (Google will find your site eventually), this speeds up the process significantly. You can easily connect your Squarespace account to Google Search Console by going to your settings from the main menu and clicking on Google Search Console under "Connected Accounts."
Bottom Line
Squarespace has some of the most advanced search engine optimization features available for an all-in-one site builder. With Squarespace, you can easily optimize your website through a mix of built-in features and other integrations, like Google Search Console and Analytics. In just 10 simple steps, you can optimize your Squarespace site, rank higher on Google, and gain more traffic and visibility. Try it today.
You Might Also Like…