Beginner's Guide: How to Use the Wix Dashboard
Wix is one of the most popular all-in-one site builders, offering a beginner-friendly, clean, and intuitive platform with limitless customizations. To navigate the Wix dashboard, you only need to get familiarized with its three main sections: site functions, your dashboard, and an analytics overview. Learning how to use the Wix dashboard isn't complicated, especially since Wix walks you through the processes step-by-step.
Here's how to use the Wix dashboard and a breakdown of its features.
Wix Dashboard Features
The Wix dashboard can be broken down into three main sections: functions menu, main dashboard, and analytics and support. On the left, you have a menu with the functions of your site. At the top, you have a shortcut to your site editor. Below this, you have a checklist of how to set up your Wix site. Then, you have a customizable dashboard where you can manage your site. At the very bottom, you have site suggestions. Finally, the rightmost section has an analytics overview and customer support.
Functions Menu
The functions that you include in your website (e.g., bookings, services, blogs, and payments) can all be found and controlled on the left-hand panel of your Wix dashboard. This is the navigation menu as well, as it appears permanently no matter which section you're in.
These are the features on your menu:
Home: Directs you back to your main dashboard, or the dashboard featured in the pictures above.
Booking Services: Helps you set up your services and classes.
Booking Calendar: Where you can see the services people have booked, and where you can arrange the staff and their availabilities.
Blog: Your blog dashboard, where you can see the posts you've published, your drafts, those scheduled to be published, those deleted, and your categories. Additionally, you can add, edit, and delete categories from this menu.
Contacts: Where you can manage your contact list (from email marketing), your site members (from site memberships), and tasks to help manage your workflow.
Communications: One dashboard that connects all of your communications, like Facebook Messenger, email, and live chat. This is also where you can manage your business email and site forms.
Automations: Automatically create tasks and send emails. You can create custom automations too, like sending an email automatically when a client books a service.
Marketing & SEO: Where you can find all of your marketing and search engine optimization functions, including the Wix SEO Wiz, social media ads, and Google integrations.
Analytics & Reports: Reports of your site's traffic, data on your audience, insights, and alerts on key statistics.
Finances: A dashboard that lets you manage your site's payments, prices, and invoices.
Channels: Manage your domains, your website on mobile, and even create a customized app for your website.
Settings: Your site's general, ecommerce, bookings, and communications settings. This is also where you can input custom code to the content of your website.
Apps: Your connected apps, plus Wix's extensive App Market.
Content Manager: This section allows you to create content and update it for similar pages on your website, keeping your elements consistent across pages.
Developer Tools: Logs to view your site events in real time.
At the very bottom of this menu, you have "Quick Access"—basically links to everything you may need to flesh out your site. With this section, you can add content to your site without having to enter the Wix Editor, or enter the Wix Editor to make changes to how your website looks.
Main Dashboard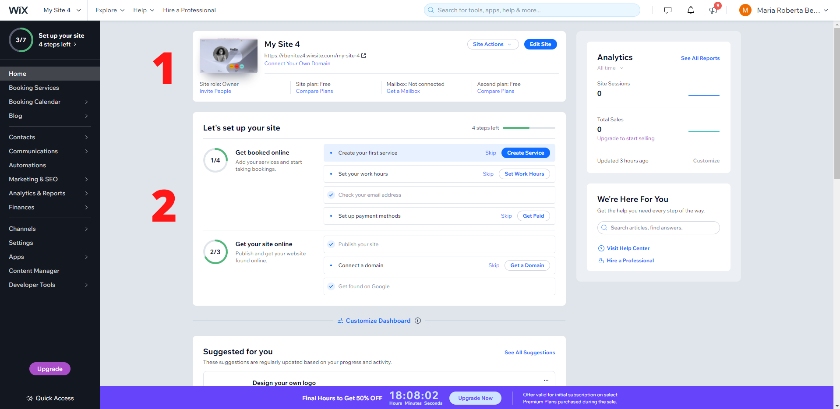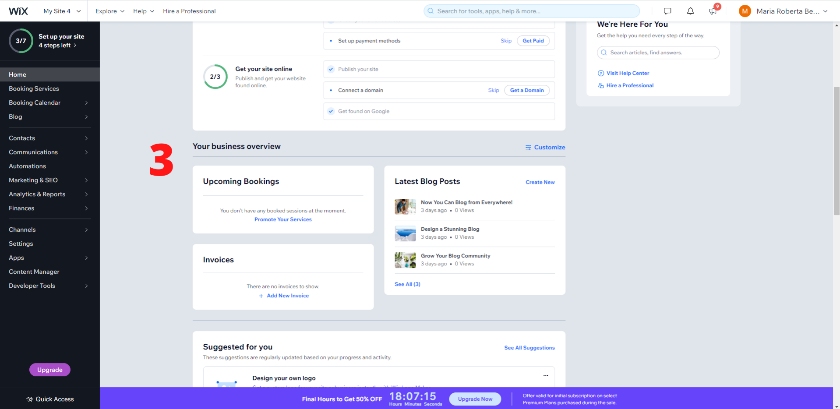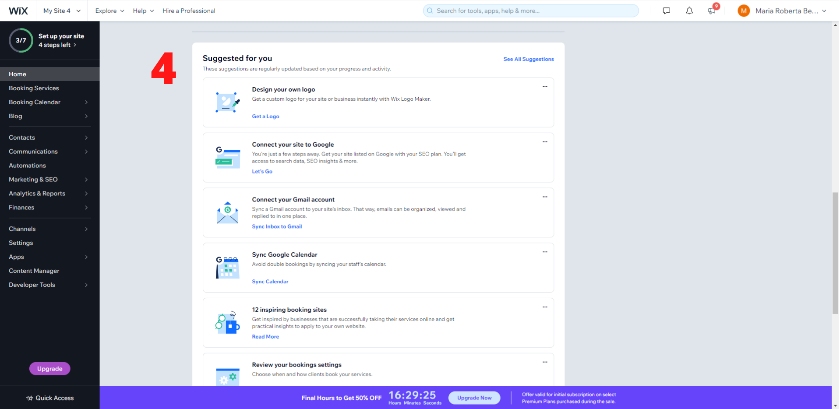 Beside your Functions menu, and in the middle of your screen, is the main dashboard that can be broken down into four parts. The first part is an overview of your website and a shortcut to the Editor. The second part is a checklist of how to set up your Wix website. The third is a customizable dashboard, and the fourth part is a "Suggested for You" section that shows what Wix thinks you should do based on your current site progress.
How to Customize Your Wix Dashboard
The Wix dashboard can be customized according to your preferences by adding or removing widgets as needed. First, scroll down to the customizable section (under "Your business overview") and click on "Customize" to the right. From here, a widgets menu will appear, and all you need to do is to click on a widget to add or remove it from your dashboard. There aren't many widgets for you to choose from, but there are enough options to track your site.
Analytics & Support
The third section, to the rightmost of the interface, is an overview of your site analytics and customer support. The analytics overview is very basic, and you can find a more thorough breakdown by clicking "See All Reports" (in the Analytics overview box), or by clicking on the Analytics & Reports section in the left Functions menu.
Wix Editor Features
In order to build a Wix website, you'll need to venture into the Wix Editor. Wix has two editors: its famous drag-and-drop editor and Wix ADI. Wix ADI is a great option for beginners, as it uses artificial intelligence (AI) to generate a website for you that you can then edit. However, it's not as customizable as Wix's drag-and-drop editor, which has a true drag-and-drop interface plus an extensive app library so you can build the site that you envision.
Whether you choose to build a site through the drag-and-drop editor or the ADI, your Wix dashboard will look the same.
Drag & Drop Interface
On the drag-and-drop editor, you get panels at the very top of your website and on the left side. The menu at the top includes site search engine optimization (SEO) tools, like adding a 404 error page. But to add content and elements to your site, you'll need to use the menu on the left.
These are the functions of the icons on the left menu:
+: A list of elements that you can add onto your page. These elements will come with their own settings (i.e., a button element will come with link settings). To see a specific element's setting, click on the element itself in the Editor.
Pages: Add and delete pages on your website, plus organize your menu. You can also use this to navigate around your site and click on the specific page you want to edit.
Theme Manager: Control the theme (colors and text) that appear throughout your website.
Background: Add or change your page's background.
Wix App Market: Search and add integrations to your website.
Media: Upload and edit media, like pictures and videos.
Blog: Manage your blog: add, delete and edit posts, plus organize them.
Bookings: Add and manage services. A more robust tool to manage your bookings can be found in your dashboard, under "Booking Services."
Ascend by Wix: A suite of marketing and SEO tools designed to increase traffic to your website. A more thorough breakdown of these tools can be found in the dashboard under "Marketing & SEO."
To build out the content on your site, first add a page or head to the page you want to build. Organize your menu by dragging and dropping the page on the Page Manager. Then, fix how the page looks by changing its background. Finally, add elements or content (e.g., media and text), and drag these elements around in the Editor until they are where you want them to be.
Wix ADI
The sectional Wix ADI interface is a lot cleaner and simpler than the drag-and-drop interface. Instead of having two menu panels (to the left and at the top), Wix ADI only has one menu bar at the very top of the page. On the left are ways to add content to your site, and on the right you have your site settings.
These are the functions present in the left portion of the menu:
Pages: A list of your site's pages, where you can add and delete pages, plus organize them in your site's menu. This is also used as a navigation bar for your website (i.e., select a page to edit it).
Add: Add sections, pages, and apps to your site. Unlike the drag-and-drop editor, the apps on the Wix ADI aren't third-party integrations. Instead, they're your blogs, bookings, stores, and services.
Manage Apps: Manage your "apps" or the functionality of your website. This leads you to your Wix dashboard where you can optimize and tweak settings.
Undo/Redo: Undo and redo changes, as your changes are automatically saved.
To build your site with the ADI, start by adding, deleting, and organizing your pages. Then add elements or apps. You can organize your page using the up and down arrows that pop up when you hover over a section on the interface. You can also hover over a section to find its settings and to change its design. Take note that everything in the ADI is "prebuilt" (including section design), so instead of having design freedom, you get premade options to choose from.
Frequently Asked Questions (FAQs)
Is Wix a good site builder?
Wix is one of the best site builders available, and is known for almost full design freedom without the learning curve of WordPress. It's also a great choice for SEO. In short, it's a very good builder to use if you're a beginner looking to create a highly customized site in both function and design, without having to delve into the world of WordPress.
How can I add integrations to my Wix site?
You can add integrations in one click through the Wix App Marketplace, which is only fully available for Wix's Editor (i.e., not all the apps are present in ADI). However, you can add marketing tools—like Mailchimp—to any of your Wix sites by heading to your dashboard, clicking on "Marketing & SEO," and heading to "Marketing Integrations." From here, you'll see a list of integrations that you can connect to your site.
What's the difference between Wix ADI & the Editor?
Although Wix is a beginner-friendly website builder, Wix ADI is even more so. Wix ADI uses artificial intelligence (AI) to generate a website, which you can then edit through a sectional interface. On the other hand, the Wix Editor has true drag-and-drop for almost full design freedom. If you're confident in your design skills, then we highly recommend using the Wix Editor. However, if you want a sleek website up very quickly, or if you're not familiar with web design, then the ADI may be better for you.
Bottom Line
Wix is one of the most intuitive website builders out there, and learning how to use the Wix dashboard is very easy. Between your Functions menu and your main dashboard interface, you can control almost everything on your Wix site. To edit and manage how your website looks, you can enter your editor—either the drag-and-drop or ADI—and edit your website directly.
You Might Also Like…
Don't forget anything, and see our guide to building a website for your business.
See if Wix is the right website builder for you with our extensive Wix review.