You want to create fantastic content for your blog audience—that's a given. But, you're pressed for time so you wonder if it's possible to write blog posts faster without sacrificing quality. You're in luck because there are several simple strategies you can use to write blog posts fast.
The smartest thing you can do to create blog content faster is to break up your blog writing into three phases: prewriting, writing, and post-writing. By organizing your content development in this manner, you are far more efficient and thus can produce more blog posts in less time.
Another way to shorten the time it takes to go from blog idea to a published blog post is to work with freelancers. You can outsource many of your blogging tasks, including editing and proofreading, to the professionals on Fiverr.
1. Prewriting Phase: Things to Do Before You Start Writing
The biggest mistake I see bloggers make that slows down their writing is trying to do too many things all at once. Certain things—like blog idea brainstorming, editorial planning, and blog content strategy planning—need to be done before you begin writing if you want to create blog posts faster.
Maintain a List of Blog Post Ideas
The process of generating blog post ideas should always be separated from the writing process. As a blogger and blogging consultant for nearly a decade, I've seen the massive value of having a large idea pool to draw from so you never run out of things to blog about.
Create a separate document where you list blog post ideas as they come to you. Don't evaluate whether these ideas are good or bad—just jot them down. Later, when you're working on your blog's editorial calendar, you can decide which of those ideas merit development.
Create an Editorial Calendar That Includes Writing Deadlines
Creating a blog editorial calendar will help you manage blog content and publishing deadlines. If you tend to be a bit loosey-goosey when it comes to setting blogging goals and committing to writing deadlines, an editorial calendar will help you improve your blogging consistency. It'll also help you be more efficient, as you know exactly what you want to write about, and no longer waste time coming up with a new writing plan whenever you want to publish a new blog post.
Write Related Posts Close Together
To speed up your writing time, shorten the time you spend researching your blog posts. One of the ways to do this is to write posts about like-subjects one after the next. This way, you don't have to go back and research the topics from scratch. You may even want to create a blog series of related posts; this will not only reduce your research time per post, it will also give your readers a reason to keep coming back to your blog.
Get Others to Do Some of the Work for You
You can outsource some or all of the research or writing for your blog posts. Outsourcing frees up more of your time to focus on the work that only you can do.
Choose Blog Post Formats That Are Easiest to Write
Some blog post formats can be written more quickly than others. Cornerstone content, those core articles that are the epitome of your brand, and ultimate-guide posts tend to take a lot of time to develop. Simple list posts, question-and-answer posts, opinion pieces, and personal stories can often be written quickly.
My advice is to schedule a good number of easy-to-write posts on your editorial calendar. This allows you to publish posts more frequently with less effort.
Do Your Research Before You Start Writing
There are two types of research you need to do before you start writing. The first is keyword research, and the second is content research.
Many bloggers—especially new bloggers—underestimate the value of keyword research. If you want Google to rank your posts higher, then you need to create a keyword plan for every post you create.
Tip: If you don't know much about keyword research or search engine optimization (SEO) read SEO for Bloggers.
You'll also need to conduct content research. If you're writing about a topic that you're intimately familiar with, you may not have much, if anything, to do here—the content will probably easily flow for you. Otherwise, you'll have to do some research before you can start writing. Thorough research upfront leads to higher quality posts in the long run.
Create a Blog Post Outline
Too many writers get bogged down in the writing process because they don't take the time to organize their thoughts and create a content plan. Creating a solid outline before you start writing can slash your writing time and improve your writing quality significantly.
Some bloggers balk at the idea of outlines because they think outlines are too time-consuming to create. That's why you need to create the type of outline that works best for you. Write a simple bare-bones skeleton outline if that's all you need to get started. Or, create an in-depth, all-the-points covered outline if that works best for you.
What's most important is that you always create a writing content and organization plan in the form of an outline before you write a single word. Outlines ultimately save time and increase the quality of your blog posts.
By the way, your outline is a writing guide, not a set-in-stone mandate. If you discover your original plan needs tweaking when you edit your post, then make the changes required to create logical flow, clarity, and a great user experience.
Use a Blog Planning Template
If you want to make money blogging, then you need to have an on-target plan for every piece of content you publish. Your plan should include a clear writing objective, a strong title and content strategy, keywords you intend to target, and key takeaways you plan to offer your blog audience. I've developed a blog planning template you can use to create a winning strategy for every blog post. I encourage you to download it now.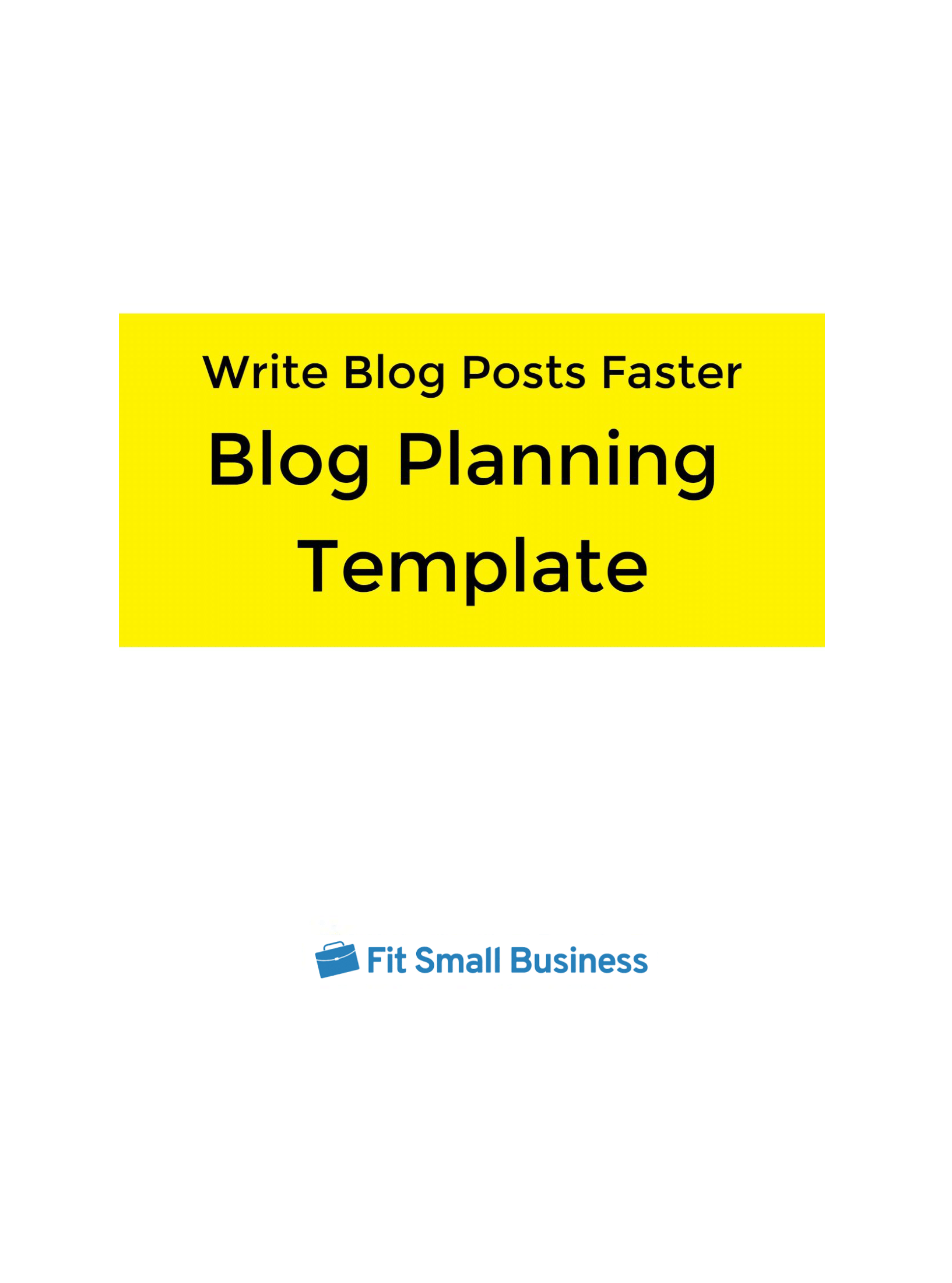 2. Speed Up the Blog Writing Process
Once you've finished your pre-writing work, it's time to write. If you want to write blog posts faster, it's important to remove all the barriers that could slow you down—including bad writing habits.
Write First, Edit Later
I must admit that I sometimes fall into the trap of editing my work while I'm writing, and many bloggers tell me they struggle with the same bad habit. The best way to write quickly is to focus exclusively on writing; editing while you're writing will only slow you down.
Get used to the idea that your first draft won't be perfect—in fact, it shouldn't be perfect. Breaking the editing-while-writing habit is one of the top things you can do to improve your writing speed.
Write in a Word Processor App, Not in Your Blogging Platform
Some bloggers prefer to write directly in their blogging platforms, whether that be WordPress, Squarespace, Wix, or another popular blogging software. If you want to increase your writing speed, I recommend you write in software developed exclusively for writing such as Google Docs or Microsoft Word. Writing software offers fewer distractions than most blogging software, which means you stay focused on the task at hand, namely, writing.
Write the Blog Post Introduction Last
Ever get stumped on how to start a blog post? This usually leads to spending way too much time working on the introduction. It's a very common problem among bloggers. That's why I suggest jumping into the meat of your blog post first and saving your introduction for last. Once you have the bulk of your post written, it's far easier to come up with a terrific introduction that captures readers' attention and keeps them reading.
Write in a Distraction-Free Environment
The fewer distractions you have, the more focused you can be on your writing. So schedule your writing time when you can be alone and undisturbed.
Mute your cellphone, and place it far away from you if you might be tempted to check it. Tell everyone who might interrupt you that you need to be alone for 30 to 60 minutes, and close the door. If you have children or others who won't honor your desire to be alone, then you may need to write before they're awake or after they've gone to bed.
To minimize distractions further, you can download a writing tool that will block out all notifications and alerts that would otherwise pop up on your screen. If this sounds appealing to you, then tools like Calmly Writer, Writer (a Google Chrome extension), and FocusWriter are worth a closer look.
Instead of Writing, Try Using Talk-to-Text
Most people can speak a lot faster than they can write, which means talk-to-text software could help you create blog posts faster. Google Docs come with voice typing dictation software, Apple offers a voice control feature, and many other writing and note-taking apps have voice-to-text features too.
Use "Add Later" Placeholders
Sometimes, you'll be in the flow of writing and hit a wall because you can't remember a name, come up with the perfect word, or want to add a link that you don't have handy. Instead of interrupting your writing to find the content you need, add placeholder text—such as "Add Later"—to remind you to come back to this section at a later time. Then, keep writing.
3. Post-Writing Phase: What to Do After the Post Is Written
When you use the six speed-enhancing writing tactics we've just discussed, you'll produce your first drafts faster than ever before. They won't be ready to publish just yet, though. You still need to add appropriate visuals to your posts, edit your writing, and thoroughly proofread your content before you publish your work.
Add Compelling Visuals to Your Blog Posts
While you don't want to slow down the writing process by thinking about visuals when you're writing, you definitely want to add images to your blog posts before you publish them. Blog posts with images get 94% more page views than those with no images and improve reader recall up to 65%.
Edit Your Blog Post
The secret to good writing is often not in the writing itself but rather in the editing. I recommend using a grammar-checker like Grammarly to catch basic errors, but that's no substitute for a thorough edit.
When editing your blog posts, ask yourself the following questions:
Are the messages you most want to convey crystal-clear?
Does the organization make sense? Does the blog post flow well?
Are there any extraneous words or content that could be cut?
Did you write in active voice rather than passive voice?
Are your headlines clear and compelling?
Did you break up the text with bullets and visuals to make it easy to read?
Are there any extra-long paragraphs (over 85 words) or sentences (over 30 words) that need to be split up?
Frankly, it's really difficult to be an objective editor of your own work. If your budget allows, hire an editor; there are many talented and affordable editors available through Fiverr.
Proofread Your Blog Post
Editing and proofreading are often mistaken for being the same thing, but they are not. Editing is working to ensure your writing is the best it can be, while proofreading is confirming that your blog post is written correctly—check for grammar errors, misspelled words, and random typos. Proofreading is the last stage of the writing process.
Before you hit "publish," you need to proofread your post, or ideally, have someone else proofread it for you. It's been my experience that once you've researched, written, and edited your blog post, the chances of you finding all the errors in it are next to zero. So, if you're on a shoestring budget and are limited on how many freelancers you can hire, I recommend hiring a proofreader. You can find reliable freelance proofreaders on Fiverr.
Bottom Line
My top tip for writing blog posts faster is to break the process down into three phases, including pre-writing, writing, and post-writing tasks. Do your research, and write an outline before you begin writing, and use the six speed-increasing writing tips mentioned above to write blog posts more quickly. Finally, make sure your blog posts meet high-quality standards by adding compelling visuals as well as editing and proofreading each post thoroughly.