An estimate is a document that gives a customer insight into what products and services you will provide if they do business with you. It lists what you will do within a defined time frame and how much it will cost. Providing customers with clear estimates helps create mutual expectations and secures more business deals.
Using a customer relationship management (CRM) tool allows you to keep track of estimates associated with a lead, client, or account. Freshsales CRM lets you attach files to them to each sales opportunity, track end-to-end sales activities, and shows your recent conversations so that you can stay on top of timelines and projects. Sign up for a free 21-day trial today.
1. Choose a Job Estimate Template or Make One From Scratch
Every client is different–some jobs require a detailed business proposal and, for some jobs, you just need to know how to write an estimate. For example, if you're redesigning a website for a company and there are multiple bids out on the project, you'll want to provide a thorough proposal with key deliverables, company history, and testimonials. If you're fixing or installing a new home appliance, you'll use an estimate, which is a simpler document detailing labor, materials, and total cost.
Often you can use an estimate template if you've had a similar client in the past. However, if you're starting a brand new business or you provide a unique product or service, you may want to learn how to write an estimate from scratch. Fortunately, if you want to use a template, there is no shortage of examples you can find online.
Basic Job Estimate Template
This is a free estimate template from Vertex42 you can use for nearly any job. You'll just need to plug in your company information and fill in the customer details, description of the work you'll be completing, and itemized costs. You can also edit the disclaimer to fit your specific company policies.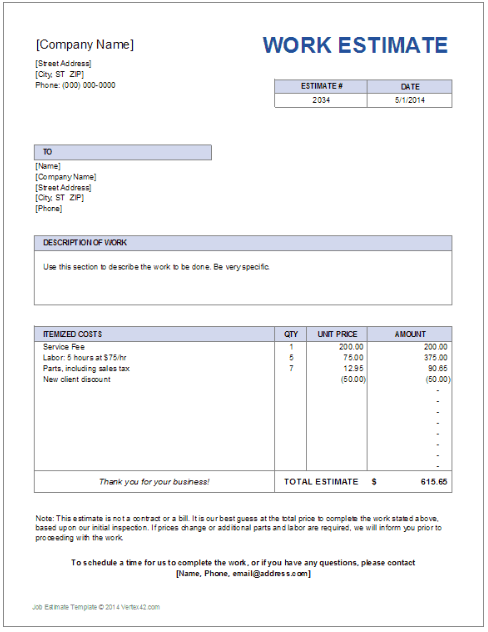 Online Job Estimate Template
If you want to generate an estimate online rather than use a downloaded template, this is a great free option. Go to the Aynax website and fill in your company details and the client's information. For the line items, there's a convenient drop-down menu that lets you choose from service, hours, days, products, and discounts.
You can provide a description of each, the unit price, and quantity. The total will then be calculated for you. Then, you can print the estimate straight from the website, download it as a PDF, or send it to your customer.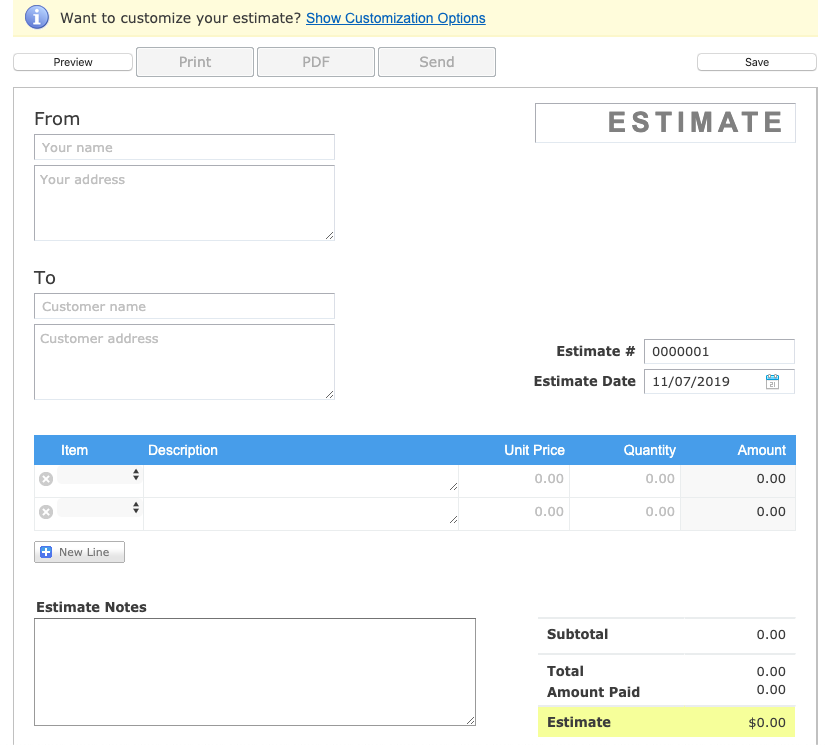 Whether you're using a template or learning how to write an estimate from scratch, there are still certain elements it should always include. For example, you want to be sure to detail the information about the specific project, materials, and labor involved to eliminate any future confusion.
2. Provide Company Information and Customer Details
The very first thing your client should see when they look at your estimate is your company name, your logo (if you have one), along with contact information like your name, your company address, phone number, and email address. You want each customer always to know where they can reach you.
Next, list out the client's information. Include their full name, address, phone number, and email address. It's also a good idea to verify this information with the customer so that you know where to reach them in the future.
"A good tip is to make it comprehensive but brief. Include all the standard business information. Have the company name, address, client details, customer ID, and a quote number. Don't make the pricing entries too complicated. Include a time table, any applicable taxes, a 'valid until' date, terms and conditions, payment terms and methods as well as space for signatures A key thing to remember is to itemize the quote and have space to explain succinctly where each number comes from."

—John Linden, Interior Designer, MirrorCoop
3. Supply a Project Description
This is the section where you will list exactly what services you are going to provide. For example, if you're building a customer a new deck, you'll include the dimensions of the deck, what type of wood you'll use be using, if it will be stained, and with what color and brand of stain, and so on.
By being as specific as possible, you set mutual expectations with your customers and avoid confusion or frustration later. If your customer isn't satisfied, you can always go back and review the project description you agreed on.
4. List Materials and Labor Required
After you understand the scope of the project, you should have a good idea of how many people you'll need—if any, besides yourself—to complete the job. List out the number of contract workers or staff who will be working on the project, and the estimated number of hours it will take to complete the job.
Provide a detailed list of what materials and equipment you think you'll need. You can offer to let the customer purchase the materials, or you can offer to provide them yourself as a part of your final estimate.
5. Provide a General Timeline
While some jobs, such as fixing a dishwasher or installing a microwave, can be completed in a few hours or less, some jobs like building a new garage will require multiple visits. Give your client a general timeline, including when you will start, key milestones, and when you estimate the project will be finished. Delays happen, especially when inclement weather affects a project, but be sure to keep your client in the loop to keep expectations clear.
"The important elements to include are a clearly marked price—whether that's hourly or package—a deadline to make a decision, a timeline for work to get done, more information about the service, and contact information. Software isn't always necessary for this. Some people will use their invoicing or accounting system, but if you don't already use one of them, it's not necessary. You can create a template in Microsoft Word or Google Docs easily, or even input the quote directly into the body of the email."

—Alex Nerney & Lauren McManus, Professional Bloggers, Create and Go
6. Outline the Expected Costs
Provide a line-by-line estimate of what the entire job will cost. This should include your labor, materials, and any equipment you have to rent to complete the project. Some small businesses choose to bill on an hourly rate, and some choose to charge a flat rate that is agreed upon by you and the customer. Whatever you choose, make sure it's listed on the estimate.
Furthermore, make sure your client knows that the total is an estimate that can change to be more or less in the end, especially for larger projects. Keep them up to speed as the project progresses and let them know if the cost is going to change.
"The most important thing when making a price quote template is a transparent way to present the total breakdown of the costs associated with the product or service you are offering. Make sure to include a section for adjustments and variations to the originally quoted price, in a clear and easily readable format. I would recommend using software to standardize and automate the price quoting process. The less manual adjustments the better, as this will minimize the chance of human error in your quotes. Ideally, you can set up a CRM specifically designed for this purpose."

—Igor Mitic, Co-founder, Fortunly
7. Add a Personal Note
Adding a personal note to the estimate is something that can help you stand out from other businesses. It doesn't take much extra effort, but it is appreciated. This is particularly helpful if you're emailing an estimate rather than delivering it in person.
For example, add a quick note that says, "Thank you for the opportunity to earn your business. I'm looking forward to working with you on this project." After all, you don't know if your customer is getting estimates from other companies, and a personal touch could make all the difference.
8. Outline Terms and Conditions
Finally, make sure to include your company terms and conditions. This should include your cancellation policy, refunds conditions, or any reasons you might provide a discount. You also want to clearly define your billing terms so that there is no confusion later when it comes time to collecting payment for your work.
For example, some companies expect half of the payment upfront and half upon completion. Others offer a monthly billing schedule that may include interest, and some businesses want the entire project to be paid for either at the beginning of the job or when it is completed. Include a signature line for both you and the customer below the terms and conditions.
4 Best Practices for Effective Job Estimates
Providing clear estimates is just one part of making sure your customer is satisfied. To create the best customer experience, you need to understand your client fully, follow up, and develop clear expectations, especially if you hope to get repeat customers and new referrals.
1. Treat your Estimate as a Sales Tool
Since the estimate is often the only thing a customer is looking at when making a decision to move forward, it's worth putting a little extra effort into branding your estimate. Put an engaging visual logo on your estimates, and don't be afraid to use a little color. You can even include your company mission and vision at the top to personalize it even more.
2. Seek First to Understand
Using templates is great but listen to their needs first to grasp what their needs and desires before you create an estimate. Consult all decision-makers, not just the person writing the check to make sure you have buy-in from all stakeholders, especially in larger projects or those in with other businesses.
"My best advice for generating sales estimates for potential clients is to clearly identify what it is they want. Know their brand preferences, budget, and timeline. There is nothing worse than working hard to impress a new client and blowing it in the end because you failed to communicate effectively."

—D'Aydra Allen, Managing Member, ECA DuctWorks
3. Follow Up With the Prospect
Once you deliver the estimate, don't leave it up to them to get back to you. Set a date to follow up and allow them to ask questions and move the decision-making process forward. Be confident—ask what you can do to earn their business. Learn more about sales follow up best practices and explore email templates you can use today.
4. Have Regular Check-ins After the Estimate Is Approved
Review progress and expectations regularly, especially if the project is a multiday job. Clients often change their minds about details, so be proactive and allow them to talk about any adjustments they'd like to consider. Cover and delays or setbacks if you are behind the initial timeline.
Frequently Asked Questions (FAQs)
What should be included in a job estimate template?
An estimate should include your company information, customer details, a project description and time, labor and materials, overall cost, and terms and conditions.
Are job estimates legally binding?
Estimates are a rough idea of what a project should cost and are not legally binding. That's why it is important to keep customers up to date on any pricing changes as a project progresses. Document any changes and have them sign off on price adjustments.
What's the difference between an estimate and a proposal?
Proposals are typically longer, more formal documents for more complicated projects. An estimate is meant to provide a rough idea of how much a project will cost to complete before a customer decides to move forward.
Bottom Line
Learning how to write job estimates is a huge part of developing a successful small business, whether you are using templates or creating them from scratch. Use the guidelines in this article to help you engage customers with excellent estimates and customer service for business success, increased revenue, and customer referrals.
Keep all of your customer information in one place with a robust CRM, including your estimates, conversations, and emails. Freshsales allows you to store documents easily access everything you need to know about each customer on any device, so you can stay informed no matter where you are. Sign up for a 21-day free trial today with no credit card required.