When you need to hire someone, you have two choices. You can use an internal HR manager, someone who is on your payroll and focuses some or all of their time sourcing candidates and hiring. Alternatively, you can hire an external recruiter, a third-party firm or individual who helps companies find qualified job candidates.
Both internal and external talent recruiting can be effective depending on your business' particular circumstances. In this article, we'll discuss the pros and cons of each and when you should use one versus the other.
Thanks to Indeed for sponsoring this article. If you decide to hire someone in-house, head over to Indeed, the world's largest job site, to find hundreds of qualified applicants.
Who's Better? HR Managers vs. External Recruiters
When an HR Manager is Better
When an External Recruiter is Better
Cost
More affordable for regular, high
volume hiring.
More affordable for one-off or sporadic hiring.
Timing
Slower but can develop
continuous, long-term
candidate pipeline for you.
Faster to recruit.
Hiring Strategy
Develop long term hiring
strategy and pipeline.

Bring industry hiring insights.
Company Story
Tell candidates what's
special about your business.
Evaluate company's hiring performance relative to competitors.
Reaching Candidates
Utilize employee referrals, institutional outreach, and career fairs.

Fill entry level positions.

Utilize external referrals, job boards, and targeting passive candidates.

Fill senior positions.

Filtering Candidates
Evaluate cultural fit.

Manage interviews and
decision process.

Conduct background checks and reference checks.

As you can see, whether an internal or external recruiter is the best choice depends on the types of candidates you need and your overall hiring needs. Next, we'll go more in-depth into each of the areas you should consider when choosing between an in-house HR manager and external recruiter.
Cost of an HR Manager vs. External Recruiter
An HR manager is an employee on your payroll who you'll have to hire, train, and pay a salary to. They are there for the long haul. On the other hand, you can retain a recruiter to help you fill one position, a few positions, or many over a long period of time.
When thinking about costs associated with an HR manager or external recruiter, there are number of factors to consider including:
1. Evaluate How Time The HR Manager Will Spend On Hiring
If you're comparing recruiters with internal staff, it's important to determine if the internal person is full time or not. Often, internal HR folks are pulled in many directions and only devote a portion of their time to hiring. If you ask your HR manager to do recruiting full time, this will cost you money, whether you have to add extra staff or shift other staff members' duties around to make up the slack.
If you have a high volume of hires, you're going to be able to spread the cost of a full-time HR manager over more hires, potentially making an internal resource more cost-effective than an external recruiter.
2. External Recruiter Costs Vary Based On Type
When thinking about external recruiter costs, you need to understand that there are different options for external recruiting.
Headhunters
Headhunters are folks who go out and source candidates for a fee. In general, their fees tend to be 20% to 35% of a candidate's first year salary. According to a BountyJobs 2016 report, the average agency recruiting fee was 21.3% in 2015.
These fees often can be, and should be, tied to short-term retention of new hires. For example, you can break the fee up into two pieces, the first paid when candidates are presented to you for consideration and the second paid after hires have been with the company for 90 days.
Staffing Agencies
Staffing agencies provide junior-level, hourly employees on a contract basis as needed. They allow you often to try out a candidate before hiring them. They either charge a percentage of the employee's hourly rate or a flat fee. On a percentage basis, most firms charge between 5% and 50% of the hourly pay rate. If you end up hiring a candidate, they will often charge typical headhunter fees for the hire. Staffing agencies typically work with small businesses as co-employers and get some authority over hiring and firing decisions.
Cold Callers
An often overlooked type of external recruiter are cold callers. These folks work on an hourly basis and will dial into companies looking for passive job seekers who might be a good fit. Normally, you provide them with a list of target companies that are likely to have good candidates who aren't actively looking. These could be competitors or companies who have similar positions, such as engineers. Cold-callers will often supplement this list with similar companies that they know of.
The rates vary greatly, but I've seen folks who charge from $65 to $125 per hour. They can often be a cost-effective alternative to headhunters if you have a specific list of target companies and don't need all of the services provided by headhunters.
3. Cost Of Recruiting Tools & Services 
If you decide to use someone in-house to help you with your recruiting and hiring, they'll need some tools to help them do the job. This will add to your cost. Some examples include:
Applicant tracking software – These tend to be priced at $40 to $100 per recruiter per month or $0.20 to $7 per employee per month. Find out our recommended applicant tracking system here.
Recruiting software – The cost can be $50-$100 per recruiter per month or $200-$500 per hire. Find out our favorite recruiting system here.
Candidate testing software – $25 to $100 per month.
Video interviewing platforms – $100 to several hundred dollars per month or priced on a per position basis.
Reference checking services – $25 to $100 per check.
Background check services – $30 to $80 per background check, depending on the scope of the check (e.g. identity, criminal, drug, etc.). We cover a range of options here.
Job board fees – Check out Indeed, which lets you post unlimited jobs for free. You can sponsor a job to reach more candidates.
Usually, but not always, these services are baked into the percentage fee when working with external recruiters.
Sample Cost Comparison For HR Manager vs. Recruiter
Let's compare the cost of using an internal HR manager versus a headhunter. Let's assume you are hiring one project manager at a target salary of $70,000 and five engineers at a target salary of $100,000 (that's cheap for an engineer!). The median annual salary of an HR manager is approximately $60,000. Assume your external recruiter is charging 25% of first year salary. Let's say it takes three months to fill all six positions. Here's the math.
External Recruiter Cost

Project Manager Salary

$70,000

5 Engineers Salaries

$500,000

Total Salaries

$570,000

X 25% headhunter fee

= External recruiter's cost



$140,000
HR Manager Cost
Annual Salary / Time to Recruit
$60,000 / 3 months
Total recruiting cost = $20,000

Compared to $20,000 for an HR manager, you can see how an external recruiter would be much more expensive for all of these hires. But what if you were only hiring a project manager? Well the 25% external recruiting fee would be $17,500. In that case, you may be better off just sticking with an external recruiter instead of someone in-house. Of course this is a predicated on the assumption that they are creating the same results in quality and timing.
Wimbush of The Hire Talent adds, "The cost may seem high, but if you think about it, if you are only making a handful of hires each year, it costs a lot more to hire an internal recruiter and provide them all the tools and resources to be successful. I estimate at minimum an in house recruiter is going to cost a business at least $50K annually, and realistically the right one with all the tools is more like $100K annual cost or more. If search fees are somewhere around $10K to $20K per new hire, it is more economical and efficient to go with a proven expert to find your talent."
Recruiting Timelines For HR Managers & Recruiters
While the length of time it takes to fill an open position will vary based on seniority and industry, as a baseline, this Indeed study found that the majority of open positions take 1-2 months to fill.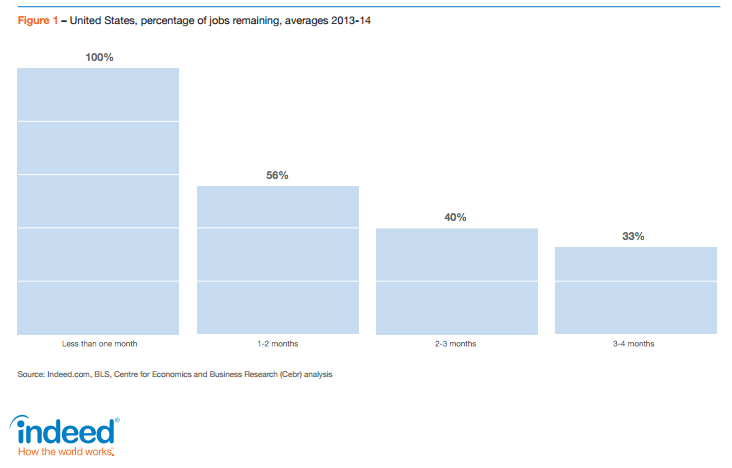 In general, a recruiter takes about 30 days to find candidates and get them over to you for first round interviews. So, this is in line with the overall average. If you need to hire an HR manager and then find candidates, your timeline doubles because you first have to hire that individual. But, once up and running, the recruiting time for both is about the same.
In general, external recruiters are quicker when you need to make a very specialized hire (e.g. a backend engineer with experience in python). In-house can be quicker when you have a bunch of hires to make for positions that aren't very generalized (e.g. a bunch of hourly retail workers).
In general, you can use this rule of thumb for who is faster:
| | | |
| --- | --- | --- |
| Need to hire lots of candidates | HR Manager | Either |
| Need to hire few candidates or for specialized roles | Either | Recruiter |
| | Internal and external candidates | External candidates only |
Other Considerations
Your Company's Overall Recruiting Strategy
A recruiting strategy generally includes the following:
Plan for future hiring needs and translate business plans into volume and timing of hires
Determine organizational hierarchy
Set target compensation levels
Identify possible internal hires and promotions
Integrate recruiting into employer branding campaigns.
Even if you decide to hire an outside recruiter, your company's recruiting strategy still needs to be overseen by someone internal since only someone inside the company will have access to necessary information. A recruiting strategy is so closely tied to business plans and operations, so it's best to get someone in-house to design and lead your overall strategy. They should work closely with the outside recruiter.
Outside recruiters, however, can help craft the strategy at a high level. They often bring an objective point of view to the process. Since this is what they do for a day job, they can be helpful in talking through what the strategy should be and bring insights into what other successful companies are doing in terms of positioning and tactics around reach.
As Fletcher Wimbush, CEO of recruiting agency The Hire Talent, puts it, "Most people are never trained to recruit, screen, assess, or interview candidates. This is a highly developed skill. Choosing a partner who has your best interest in mind and is an expert makes a major difference and they are likely to help educate and teach you how to be a better assessor of talent which will help you in future hiring efforts."
Telling Your Company's Story
You want job seekers to be excited by the prospect of joining your company. Why is your company a winner? Why is it a great place to work? Why is the work going to be fulfilling? A quality recruiter, internal or external, should be able to take your input and craft a compelling story for candidates.
Keep in mind that your company's small size can be a key benefit, because you won't have the bureaucracy, micro-management, and slow advancement speeds typical at larger companies. However, it can be a struggle to gain visibility with job seekers if you're a small business.
An in-house HR manager will probably communicate your story better than an outsider because he or she also works at the company. That person experiences what it's like working for your company day-to-day, and will likely have a much better feel for your business' culture and the demands of a specific role.
On the other hand, recruiters may have a better sense of what candidates are hearing overall in the market and can help you craft a story that resonates with respect to other options a candidate has. For instance, if millennials perceive one of your competitors to be the better place to work, a recruiter can advise you what you can do to better attract young talent.
Reaching Candidates
According to a 2016 Indeed small business hiring survey, the number one problem for small business hiring is attracting qualified candidates. The key to success is getting your job opening in front of enough good candidates. That means maximizing all of the possible candidate channels – employee referrals, job boards, social, internal candidates, etc.
HR managers are going to better at managing candidate channels that require long-term management or internal processes. Some examples include:
Identifying potential internal candidates to promote from within
Managing relationships with local universities and attending career fairs
Interacting with government programs, e.g. veterans hiring programs
Coordinating employee referral programs
Coordinating client, partner, and vendor referrals
Recruiters tend to be more focused on short-term projects. They are usually better at leveraging job boards; external referrals beyond your company's referral network: and passive candidates. Recruiters usually have a broad network of people they tap into to get leads for your job openings, and they are adept at cold emailing or cold calling passive candidates who may not be actively looking for a job but could be a great fit for your company. They also have experience on which job boards and other channels work better for certain types of positions. In addition, many recruiters specialize in certain areas such engineering or HR. This means you may need a mix of internal and external or multiple external recruiters to fill all of your needs.
Filtering Candidates
After you've attracted a great pool of candidates, you need to be able to narrow things down and pick the best out of the bunch. This can take a lot of logistical maneuvering.
Someone internal will be most efficient at coordinating phone screens, managing interview schedules, gathering interview feedback, and mediating salary negotiations. Internal recruiters will also probably be better at knowing what questions to ask candidates at an interview and which to avoid.
External recruiters will probably be better at formal vetting such as references and background checks, simply because they are less time-constrained than small business managers and sometimes have access to better HR software tools.
Examples
While your individual situation will dictate the best option, here are some situations where an in-house HR person makes more sense and when an external recruiter does.
Choose internal if...

Choose external if...

Entry level hires
Large quantity of hiring
Steady but slow hiring pipeline
Internal candidates are a significant source of candidates(promoting from within)
Leveraging university candidates is critical


Hiring for senior positions
You want to target passive job hunters
You don't have the bandwidth to run a proper process in-house
You don't know what the best sources of candidates are
You need help being competitive in the market
You need to hire very quickly
Bottom Line: HR Managers vs. Recruiters
Deciding on whether to use an HR manager or external recruiter is going to be very specific to your particular hiring needs and internal hiring capabilities. Hopefully, now you're armed with a lot of factors you should consider in making the decision.
If you need to hire an in-house HR manager, head over to Indeed, the world's largest job site, to find hundreds of qualified applicants.