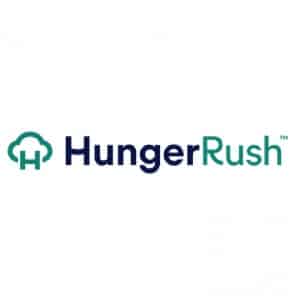 HungerRush is a hybrid POS system that operates on a robust central network as a cloud-based point-of-sale (POS) system designed for the food and beverage industry. This POS evolved from the legacy POS Revention that has served the pizzeria industry since the 1990s. Revention rebranded as HungerRush in 2020 and switched from a locally-installed internal network to a cloud model. Even though the core software is now a cloud POS, the HungerRush system retains many of the legacy POS's strong functions.
What We Recommend HungerRush For
HungerRush is rapidly developing its new approach to POS design and consistently adding features and new hardware. The system could go in any direction, but currently, HungerRush works best as a robust delivery POS with cloud access.
In particular, we recommend HungerRush for:
Pizza delivery restaurants that want a cloud POS: HungerRush's delivery functions are some of the strongest available in a cloud POS. Though it's too pricey to make our list of the best delivery POS systems, it's a great solution for pizzerias that need detailed modifiers and pay-at-the-door functionality.
High-volume ghost kitchens: If you are running a delivery-only restaurant and need to centralize all of your orders in one hub, HungerRush integrates directly with third-party platforms.
When HungerRush Would Not Be a Good Fit
Restaurants that want a free POS: Costs can add up quickly with this system, so we don't recommend it for restaurants on a budget. See our favorite free POS systems to explore more suitable options.
Restaurants that want to bring their own hardware: Currently, HungerRush operates on proprietary hardware, so if you want a restaurant POS that operates on an iPad, this is not the system for you.
Micro-restaurant operations: HungerRush is simply more software than small-footprint food and beverage business—like food trucks and cafés—need.
HungerRush POS Overview
PROS

CONS

All-in-one price for software and hardware
Recently updated POS model may be glitchy
Robust delivery management functions
Only one option for payment processing
In-person installation assistance
Can be pricey for small operations
HungerRush Pricing
The system is offered at a custom-quoted price that varies based on the number of terminals you need and what features you want to include. Since it is still emerging, the pricing structure seems flexible. Some users were quoted an upfront price of anywhere from $3,000 to $6,000 for a single terminal set up; others received quotes for a monthly subscription rate of $199 for software and hardware. You can also get in-person installation and training for an additional fee.
HungerRush does not list pricing on its website. Conversations I've had with HungerRush representatives suggest that they are eager to work with restaurants that want to use the system. When the company rebranded as HungerRush, it offered a hardware buy-back program for some customers who switched from other POS systems. If price is your primary concern, you could ask HungerRush if it can beat a price you've been quoted elsewhere or ask about buy-back options.
HungerRush Payments
Supported by Worldpay: Integration with this major payment gateway means you can process various payment types.
NFC and Mobile Wallet Payments: Apple Pay, Google Wallet, and Samsung Pay are all supported.
Point to Point Encryption: Encryption ensures your customer data is secure, whether they pay in person or online.
PCI-DSS and EMV compliant: Compliant payments mean fewer chargeback disputes.
Gift cards and House Accounts: Offer gift cards or run a monthly tab for regular customers.
For payment processing, HungerRush integrates directly with the popular payment gateway Worldpay. Many competing restaurant POS systems work with it, too, so if you are switching from a HungerRush competitor, you may be able to keep your processor.
I like to see more than one payment processor so that restaurants can shop for the best rates. However, working with a significant payment player like Worldpay means that you can accept any type of payment your customers want to give you virtually. You can take in-person swiped, dipped, or tapped credit and debit card payments, mobile wallet payments, online payments, and gift cards.
HungerRush also has built-in features for tracking house account payments. So, if you want to set up a running tab for one of your regulars or a nearby business that pays for employee lunches, you can do this easily.
HungerRush Hardware
Stationary terminals: Traditional terminals with integrated printers and cash drawers are a good fit for high-volume counter service.
Handheld tablets: Take orders tableside or bust lines.
KDS and digital menu display: Dynamic displays reduce your reliance on paper tickets and menus.
Industry-grade hardware: Hardware purchased from HungerRush is spill-proof to withstand a busy restaurant environment.
The HungerRush POS operates on restaurant industry-grade Windows 10 compatible terminals and tablets. You can purchase these directly from HungerRush at custom-quoted prices, or contact a HungerRush sales representative to see if your existing hardware is compatible. Currently, HungerRush only operates on Android and Windows devices—but if HungerRush's presence in App Store is any indication, an iPad POS may soon debut. You can choose stationary terminals with printers and cash drawers, opt for handheld tablets with card readers, or use a combination.
Dynamic digital menu displays allow you to show images of your food and feature promotions. If you have an excellent Yelp rating, you can display positive customer reviews or remind customers to enroll in your loyalty program at checkout. HungerRush also allows you to add GIFs and videos, as well as display a live TV feed or time and weather widgets.
The integrated KDS displays in-house, online, and delivery orders. You can set prep times for individual dishes so that they appear on KDS screens at the right time to ensure all dishes on an order are hot and ready simultaneously. If consistency is an issue in your kitchen, you can set the KDS to display recipe information for dishes so that the line never slows down.
HungerRush POS Features
HungerRush refers to its software interchangeably as a POS and as an "RMS"—which is short for Restaurant Management System. The term RMS illustrates HungerRush's software strength, but it is kind of a misnomer.
When industry folks say "restaurant management system," we typically mean a centralized software hub that connects a POS to your vendors and banking partners to streamline your accounting, payments, payroll, inventory, scheduling, and reporting (Compeat and Restaurant365 are good examples). It seems like HungerRush uses the term RMS to refer to the POS software functions beyond simple order taking and payment processing. Essentially, the HungerRush POS comes with the HungerRush RMS built in.
While HungerRush is a robust restaurant POS, it doesn't offer tools that are wildly beyond its competitors' scope. Don't get me wrong, HungerRush is a full-featured system. I just think the RMS term is needlessly confusing.
In addition to the reporting and analytics, digital ordering, delivery management, marketing, and loyalty tools that we'll explore in individual sections, HungerRush's POS also features:
Inventory Management: Ingredient-level inventory comes with vendor management to create new orders. You can customize which items you want your staff to physically count every day, week, or month. Related inventory reports give you deep insight into your food costs and waste percentages.
Multi-Location Features: A centralized back-office hub displays information from all your locations in one place. You can transfer inventory from one location to another and run reports by location or aggregate to assess your entire group's overall sales and costs. Compare location performance side-by-side or individually to identify areas to improve. Save application forms, manuals, and other PDF documents in the cloud so all locations can access them.
Workforce Management: The Employee Scheduling module allows you to create and manage employee schedules, while the schedule builder shows past sales and labor data to help you create a cost-effective schedule. You can also control costs by preventing employees from clocking in early for scheduled shifts and sync with HotSchedules to allow employees to trade shifts and keep scheduling communications in a central location. Moreover, Scheduled-versus-Actual hourly reports show you who is sticking to the schedule and who continuously needs coverage.
Customer Management: HungerRush lets you own the customer experience by retaining your customer data. The system collects a robust amount of information from contact information order history to preferences and multiple delivery locations with detailed notes.
Reporting
Centralized: Access reports from anywhere with HungerRush's mobile back-office HUB.
Customizable: Set custom parameters to view key performance metrics by day, week, month, or other timeframes.
Robust templates: Templated reports track everything from driver efficiency to speed of service.
Exportable: Export reports in Excel, CSV, or Word files.
With HungerRush, you can get as granular as you like with your reports. Drill down to see a record of every cash transaction that passed through a single till, or analyze voids and comps. Customize report views by day, week, month, or multiple month views. Track your most popular coupons and promotions to see which ones are impacting your bottom line. Compare how long your drivers spend on the road to a computer estimate of how long they should have been. Save and email reports in your preferred format: .xlxs, .csv, or .docx.
In addition to the customizable reports, HungerRush hosts various templated reports like the Daily Performance Report that compiles daily sales, payment, labor, and order statistics in a single page. Real-time productivity reports track your kitchen team, front of house staff, and drivers' efficiency, so you can make sales and staffing decisions on time to impact your profits. Reports are gathered in the reporting HUB, which you can access anytime through the cloud.
Menu Management
Massive modifiers: The system tracks a near-infinite number of modifiers.
Unlimited order categories: Categorize your order types to fit your restaurant style: on-site, takeout, delivery, curbside, drive-thru, and more.
Size options and combos: Include options for small, medium, and large versions of the same item or build combos.
Dynamic digital menus: Use graphics and menu images to draw customers' attention to dishes you want to move.
HungerRush's origin as a pizza POS shows in the massive modifier functionality. You can add menu items like build-your-own pizzas or allow single items to become the foundations to create a platter or family-style meal. If all that modification terrifies you, the system also lets you set a maximum number of modifiers on individual items. You can set order priority for individual items to control what order they appear in on kitchen tickets. You decide if customers can earn loyalty points on specific menu items and how many.
Integrated digital menu screens let you display your menu dynamically. Beyond a simple list of menu items, you can add images, videos, even gifs to draw your customers' attention to featured menu items. The system supports course and seat numbers, held and fired orders, and credit card pre-authorizations to support any food and beverage business from a full-service restaurant to a bar.
Digital Ordering and Delivery
Website or App: Customize your in-house ordering strategy by offering a branded website or mobile app.
Driver management: Built-in tools help you schedule drivers, assign orders, and track their productivity.
Kitchen-optimized: Group delivery orders together in your KDS and use prep timers to ensure items are ready at the same time.
Detailed reporting: Track driver productivity, kitchen prep time, order ring time, and out-the-door time.
Third-party integration: HungerRush integrates with ItsaCheckmate to feed third-party orders directly into your POS.
HungerRush's online ordering system supports incredibly detailed orders. Your customers can build their own pizzas, sandwiches, or combos with easy-to-use buttons. You can choose to place your online menu on a branded, mobile-optimized website or a mobile app as well as offer options for pickup, delivery, curbside pickup, or no-contact delivery. Customer information—like phone number, email address, and delivery addresses—are automatically logged in your POS.
HungerRush's driver dispatch screen is easy to navigate. It includes all the functions you might need—assign, reassign, map order, and more—right on the main screen, so you can assign and map multiple orders with a few taps. The dispatch system integrates with Google Maps to provide turn-by-turn directions and estimate the amount of time a delivery should take. Drivers' trip routes are color-coded, so you can track their location and know when they will be ready for fresh orders.
Having fully integrated delivery management functions combined with mapping and KDS functions makes your HungerRush POS a reporting powerhouse. You can track and compare performance metrics like driver's delivery speed, kitchen prep speed, and the amount of time between when an order is placed and when it walks out the door. If third-party delivery is more your speed, HungerRush integrates with ItsaCheckmate to feed third-party orders directly into your POS.
Marketing and Loyalty
Auto-enroll: Set up your system to enroll new customers automatically.
Look-up options: Look-up loyalty customers by email or phone number.
Detailed records: Log customer order preferences, cross streets, delivery addresses, and payment information.
Auto-messaging: Use built-in templates to send automated emails when customers earn points.
Customized promotions: Create coupons and promotions that apply to certain dates and times, specific customer groups, or special events.
HungerRush has incredibly robust tools for marketing and loyalty. The system supports traditional points-based loyalty that awards one point per dollar spent. You can customize how many points are required to earn specific rewards or offer a simple dollar amount or percentage discount. You can choose to create a rewards profile for new customers automatically or prompt your staff to enroll customers at check out. Loyalty customers are tracked by phone number or email address; you don't need to hand out cards.
Many delivery-heavy restaurants build their customer base by offering promotions and combo deals. HungerRush allows you to create dozens of customized promotions directly in the POS. You can set specific dates and times that promotions apply or tie the promotion to coupon or promo code to track how your customers found you. You can offer dollar discounts connected to specific orders, as in "$5 off an order of two or more large pizzas." Alternatively, you can offer a deal for one particular item, like "Free Brownie on Your Birthday."
HungerRush Ease of Use
US-based customer support: Live support is available Monday through Friday, 9 a.m. to 5 p.m.
Multiple locations: Offices in Austin, Chicago, Seattle, and Indianapolis offer local, in-person contact for customers in surrounding areas.
Online resources: Comprehensive online database lets you troubleshoot issues on your own, anytime.
Socially active: HungerRush representatives are active on Facebook and Instagram.
On-site training: You can book a HungerRush representative to train your team at your location for a fee.
Upcoming innovations: HungerRush is expected to roll out text-to-order or voice ordering tools soon.
Functionally, HungerRush is closest to competitor Speedline. The order screens on both systems show ingredient information and relevant promotions at the push of a button. Both also support dynamic, map-based driver management. From a management perspective, HungerRush's cloud-accessible reports make this POS a bit easier to use. I especially like the communications hub for multi-location restaurants that allows you to store PDF documents—like training manuals—in the cloud for easy access.
Some HungerRush users say that the POS interface is dated. While this may be true, I don't think that the look makes it hard to use. The screens can be a little busy—with lots of buttons and options to choose from—but keeping all the navigation on a single screen may improve your service speed. Many HungerRush users mention that the POS function is very easy to use. Insightful features like Order Lookup—which allows you to search the POS to find an order by check number, table number, or customer phone number—make this system an especially good fit for high-volume spots.
Customer-facing online ordering and mobile payment options are branded with your restaurant logo and very easy to navigate. The integrated KDS streamlines kitchen communications and measures productivity. The only HungerRush KDS I have seen are the old-school monitors with bump bars for navigation. This might not be as aesthetically pleasing as a streamlined iPad interface, but some cooks prefer the bump bars because they can easily navigate with wet hands.
In December 2020, HungerRush acquired OrdrAI, a leading tool for text and voice ordering. With contactless operations expected to be popular in the coming year, this could provide an incredible leap forward in functionality for this hybrid POS.
HungerRush Restaurant Software Alternatives
| If you want: | Check out: |
| --- | --- |
| Built-in delivery management at a lower cost | |
| Free restaurant POS | |
| Completely locally-installed POS | |
| More options for payment processing | |
What Users Think of HungerRush POS
HungerRush evolved from the legacy POS Revention in 2020. So, many online HungerRush user reviews refer to the older system. User reviews are split; some love the system, while others have struggled with software glitches and unsupportive service representatives.
HungerRush's development as a cloud POS coincided with the COVID-19 pandemic, when many POS brands reduced their support staff. So, you'll see a definite pattern in the user reviews; Revention users rated the system well, but ratings dropped after the HungerRush rebrand.
Negative reviews highlight payments glitches and unsupportive customer service reps. It's hard to know if these customer service issues indicate a company struggling during a pandemic or a larger opportunity for improvement.
| Users Like | Users Don't Like |
| --- | --- |
| Easy to navigate display and back office | Customer service is hard to reach |
| Great reporting functions | Card readers can be glitchy |
| Robust digital ordering and delivery management tools | User interface looks dated |
Bottom Line
As an evolution of the long-running locally-installed Revention system, HungerRush combines the power of a legacy restaurant POS with the flexibility of a cloud POS. With recent tech acquisitions, it is clear that HungerRush is looking toward the future. HungerRush's built-in solutions for customer relationship management, digital ordering, delivery management, inventory, staff scheduling, and marketing create an incredibly robust all-in-one system.
It can be a pricey system for small restaurants, but since pricing is offered at a custom-quoted rate, you won't know your full costs until you contact HungerRush. To see if this system is a fit for your restaurant, contact HungerRush for a demo.