Welcome to the Fit Small Business Xero training course! In the last two lessons, we discussed how to add customers and suppliers manually. In this lesson, we're going to cover how to import customer and supplier contacts in Xero. This is ideal if you have existing customers and suppliers that you would like to bring over from another accounting system.
The steps for importing customers and suppliers are exactly the same, but the type of info that you need to include is different. We will discuss the info you should include for customers first and then suppliers.
You can follow along on your own Xero account. If you don't have one already, click here to sign up for a free 30-day trial and follow along below.
To complete this lesson, you can either watch the video below, read through the step-by-step instructions, or do both. Let's begin!
For some small business owners, Xero will provide enough tools to handle their books all on their own. But, for many, it makes sense to use Xero in conjunction with experienced small business accountants who are also Xero experts, like those at Bookkeeper360.
Bookkeeper360 can handle your monthly bookkeeping, payroll, new employee paperwork, taxes, and more. Basic plans start at $249/month. Get your first consultation free.
What Info You'll Need to Import Customer Contacts
There are 2 ways you can enter contacts into Xero:
Enter contacts manually
Upload via spreadsheet
Since we discussed the first option in our previous lessons, this lesson will focus on importing contacts via spreadsheet. To do this, you'll use an import template: A spreadsheet provided by Xero that specifies the data you need to include, and where to include it. Whether you are converting from another accounting software or not, importing via spreadsheet will cut your time in half compared to manually entering contacts.
The import template for customers and suppliers is exactly the same; however, there are certain fields that we will focus on for customer contacts only. Below is a snapshot of the fields that you will complete for your customer contacts, along with a brief description of what to include in each and an example of how to format the info:
The only field that is required is Contact Name, which is indicated with an asterisk (*). However, it will save you time later on if you import all of the information that you have for each customer.
What Info You'll Need to Import Supplier Contacts
Tips for Importing Customer and Supplier Contacts
Tip #1 – You can put all customer and supplier contacts on the same import template.
Tip #2 – You can import up to 1000 supplier and customer contacts at one time. If you have more than 1000 contacts, you can put them in a separate template and import the remaining contacts or enter them manually.
Tip #3 – Do not make any changes to the header row. Keep all of the columns even if you do not plan to use them all.
Tip #4 – Do not change the order of the columns.
Tip #5 – The Contact Name field is required. You cannot leave this field blank for any customer or supplier.
How Do I Import Customer and Supplier Contacts?
As we discussed previously, the steps to import customer and supplier contacts are exactly the same.
Follow these steps to import customer and supplier contacts.
Step 1 – Navigate to Contacts
Click on Contacts and select All Contacts as indicated in the screenshot below.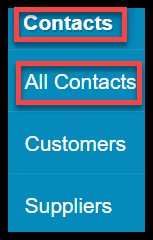 Step 2 – Select Import
From the Contacts screen, click the "Import" button as indicated in the screenshot below.


Step 3 – Download the Template File
Click the "Download Template File" link to download and save the import template to your computer.

Step 4 – Prepare the Template
Below is a snapshot of the first few columns in the template that you will prepare for import. Complete the fields for customer contacts and supplier contacts as we discussed previously in this lesson and save the file as a "CSV" format.


Step 5 – Upload Template to Xero
Click the "Browse" button as indicated below to locate the template that you want to import.

Step 6 – Verify Correct File has been Selected
Once you have selected your upload file, you should see the file name to the right of the "Browse" button. Once you verify the filename, click the "Import" button as indicated in the screenshot below.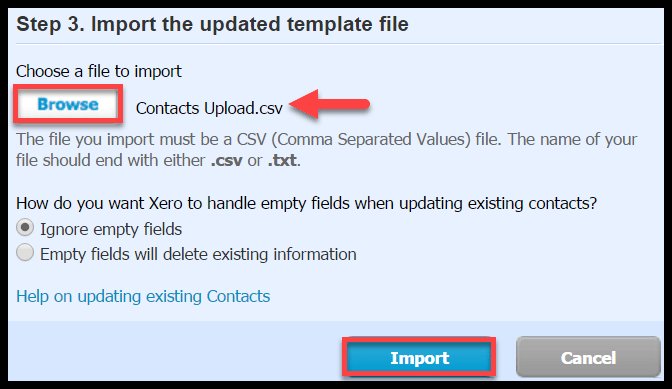 Note: In addition to importing new contacts, you can also update information for existing contacts. When doing so, you will need to let Xero know how you want to handle any empty fields for existing contacts.
You can either have Xero ignore the empty fields or have Xero delete the existing information for any fields that are empty in the template. To learn more about how to update multiple contacts at once, click here.
Step 7 – Review & Complete Import
In this step, Xero provides us with the action that will be taken once we complete the import. The total number of contacts is listed here along with a breakdown of the number of new contacts versus existing contacts with updated information.
In addition, you will see any warnings. If you are fine with the results, click the "Complete Import" button as indicated in the screenshot below. Note: Once you click this button, you cannot undo this action.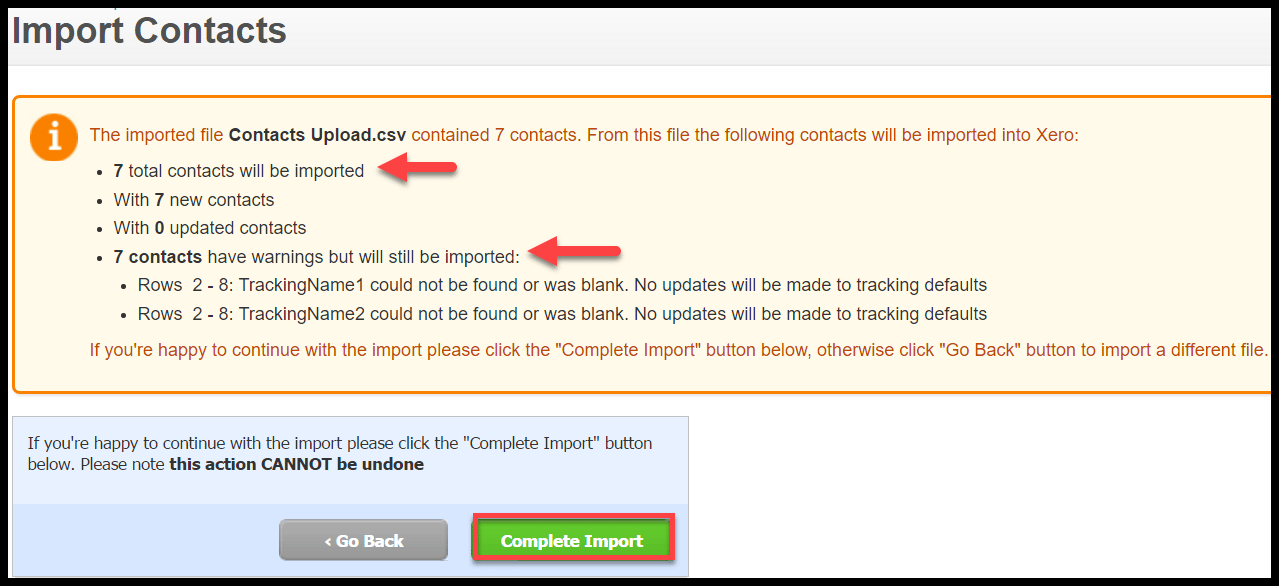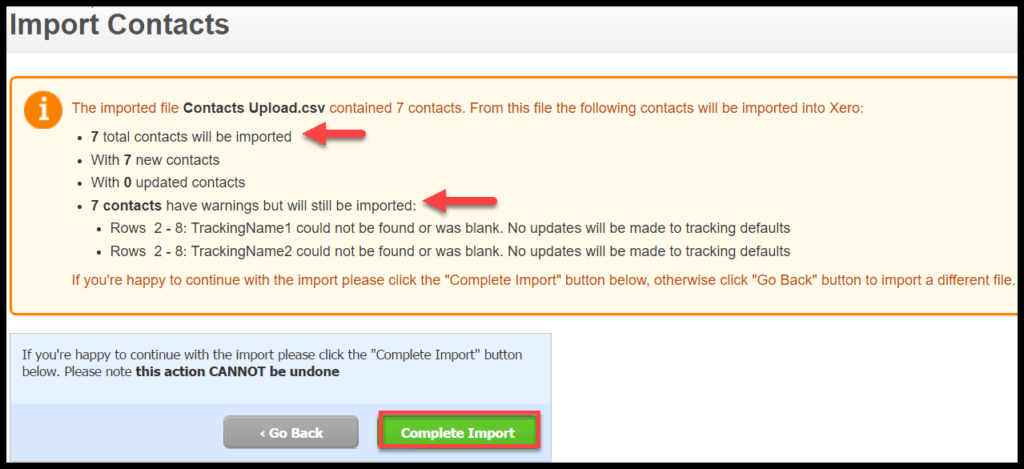 Don't forget, when you import your contacts they will show up in the All Contacts group. Xero will categorize your contacts as either customer or supplier after you have entered a transaction (invoice, bill, credit note) for the contact.
Wrap Up
That wraps up the section on how to import customers and suppliers. The next lesson in our Xero Training Course will be how to import customer invoices. In this lesson, we will walk you through how to import your outstanding customer invoices when converting from another accounting software. To access this lesson or any of the others in the series, click here. For a free 30-day trial of Xero, click the button below.