Indeed.com has two features that many employers under-utilize: Indeed Company Pages and Indeed Career Pages. Both are free tools offered by Indeed to increase your online job ad exposure, albeit in different ways. In this guide, we're going to explore each of these important features, and show you how to set up an Indeed Company Page and an Indeed Career Page for your own business.
We use Indeed regularly for new postings, and we've consistently found and hired quality talent via their job boards. If this is your first time hiring with Indeed, click here for a free $50 ad credit to boost your job posting.
What is an Indeed Company Page?
An Indeed Company Page is a profile for your business that job seekers can use to research you as a potential employer. Current and former employees, as well as interviewees, can leave reviews of their employers on these pages. Employers can "claim" their page in order to respond to reviews and monitor postings.
Your company page will often exist whether you claim it or not, so you have everything to gain by setting it up (which we go over next).
What is an Indeed Career Page?
Indeed Career Pages allow businesses to create a "careers" page on their website. Your job ads are automatically pulled from Indeed, and applicants can browse postings and submit their resume— all without leaving your website. Indeed gives you simple tools to integrate the career page on your site without the need for a web developer.
Now let's explore how to create an Indeed Company Page.
How to Claim and Set up Your Indeed Company Page in 3 Steps
Remember, your Indeed Company Page may already exist, whether you claim it or not. This means there may be online reviews you're not aware of about your business written by current or former employees. By claiming your Indeed Company Page, you'll be able to respond to these reviews, and get more control in general over how you're presented to potential applicants. This allows you to project a positive employer brand to candidates.
If an Indeed Company Page doesn't already exist, you can easily create one yourself. We'll show you how to create and/or claim your Indeed Company Page in the steps below:
Step 1: Create an employer account (if you don't already have one)
Head to Indeed.com and fill out your email address and password to create an employer account. Afterwards, you'll be prompted to post a job ad. While you may not be interested in posting one just yet, this is required in order to set up your Company and Career pages.
You can check out our guide on how to write an effective Indeed job ad, or just enter something quick that you can go back and edit later. Once complete, the final step to setting up your employer account is to confirm your email address.
Step 2: Find your company's page on Indeed.
To find if your company already has an Indeed company page, simply search your business name on Indeed. If you find a page already exists for your business, simply click the link "Claim this company page" on the top-right.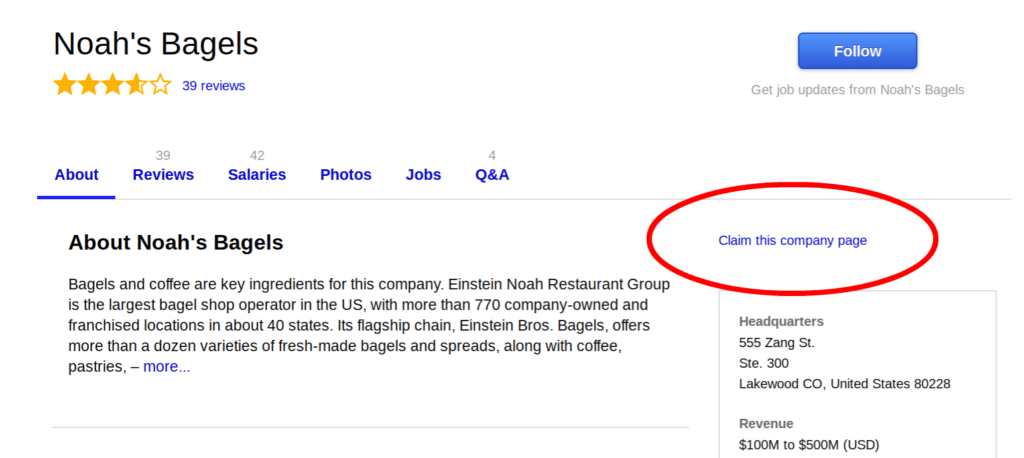 If you don't find one, you'll need to create a company page from scratch. To do this, simply scroll down on your employer dashboard and find the option to create or edit your company page.
Step 3: Add images and text to complete your company page.
You will want to make sure your page is set up in a way that is consistent with your company's brand. You can add some text or even a video to describe your company, and you can customize the header image and the logo image on your Indeed company page. You also can add information about your CEO (complete with headshot) and link to your company's social media pages on Facebook, Twitter and Instagram.
Once you are set up, you can then respond to reviews from current and former employees through an Indeed-regulated process, and be alerted to new reviews as they are posted.
How to Set up Your Indeed Career Page in 5 Steps
Let's now look at how to create an Indeed Career Page. It's noteworthy that, unlike your company page, the careers page is not Indeed-branded; it is integrated with your own website. It will look to job seekers like you had a web developer make it customized for your business.
Here's an example of a fully setup Indeed Career Pages: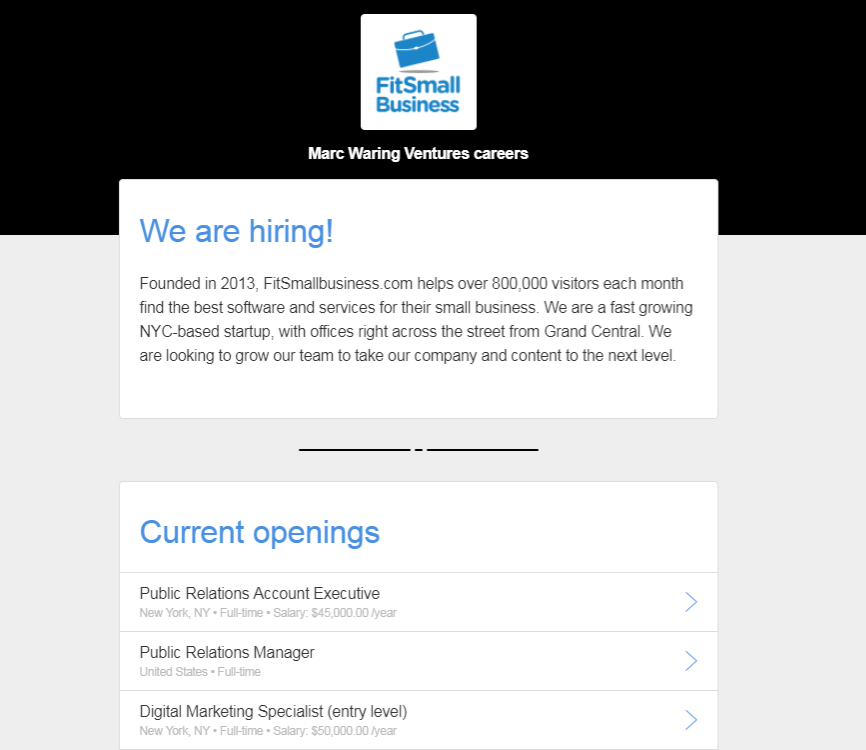 Here are the 5 steps you need to take in order to make an Indeed Career Page:
Step 1: Create an Indeed employer account (if you don't already have one)
You probably already did this for the Company Page, but if you chose to skip claiming your page, now is the time to create an Indeed employer account. You can easily do that by clicking the area on the screenshot that says "Employers/Post Job" at the top left of the screen; this will automatically redirect you to create an employer account.

Step 2: Scroll down to the bottom of your page on the Employer Dashboard
You will then see the below screenshot where you can easily click to create your Career Page:

Step 3: Fill in the details to create your Careers Page
Just follow along the open text areas, and upload your company logo as well. You can see what the customized URL will be as your careers' page's web address (top right) and that you can also link it to your various social media channels if you want.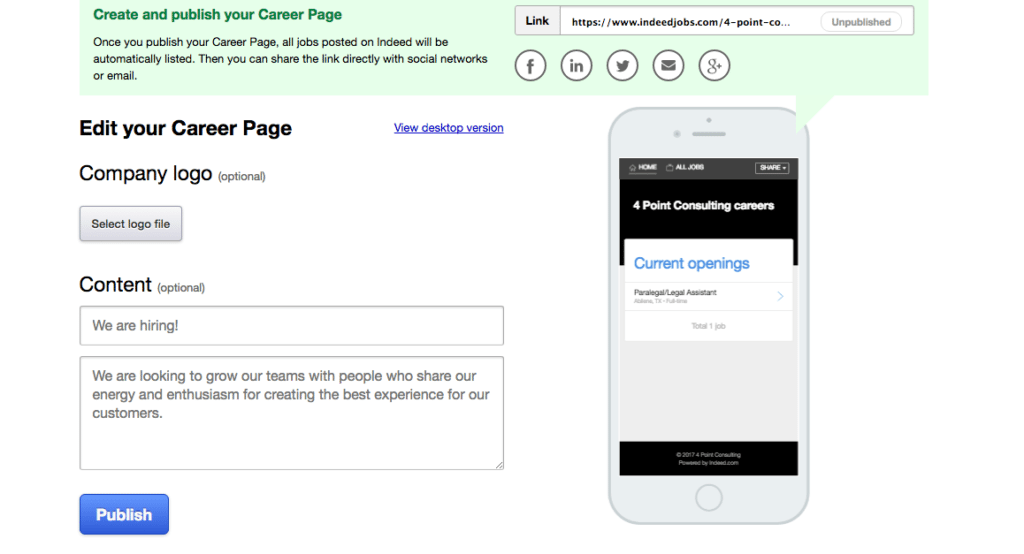 Step 4: Integrate with your current website
There are 3 ways to integrate your new Careers Page with your current website:
If you have a Wix or Squarespace site: There is an iframe you can easily integrate (no web development skills required!); and if you need help, you can contact Indeed's customer service.
If you have a WordPress site: There is a direct WordPress plugin that you can use to integrate your new Careers Page.
If you don't have any of those three web development sites, you can cut & paste HTML code into your website.
Now your Careers Page will just look like a part of your website, it took you a whopping 5 minutes and it was FREE— no web developer fees!
Step 5: Get posting and monitor applications
Now that you are all set up, post your current job openings to Indeed.com and they'll automatically appear on your Careers page. You can also login and monitor applications, just as you would with a typical Indeed job posting.
If you aren't convinced yet, let's discuss the reasons that having an Indeed Careers Page can help your small business.
5 Benefits to Having an Indeed Career Page
Setting up a company-branded Indeed Career Page is worth the time and effort. Here are what we view as the top 5 reasons to setting up an Indeed Career Page:
1. It's Free
Yes, after chatting with my contacts at Indeed, they confirmed that one of the key features behind Company Pages is that it's completely free. In making this service free, it allows all small business owners that use Indeed to utilize the various features included, giving them a more comprehensive hiring experience.
2. It Posts Your Jobs To Indeed Automatically
Once your careers page has been setup, you can start posting jobs from it that will hit Indeed automatically. This makes your life a little bit easier, since you can know that they will be posted on your website plus Indeed— you don't need to use 2 different systems.
3. It Easily Integrates With Your Website
With 3 ways to integrate to your website and without any developer help needed, the Indeed Careers Page helps you to expand your web presence for free. There are many people at Fit Small Business who are trained in SEO, but even I as an HR person know that an expanded web presence is only good for your business and it broadens your company's online reputation. Now when people search for your business, your career page will show up along with your website. It's helpful to potential applicants, and leaves a more professional impression to customers, partners and competitors.
4. It Can Integrate with Your Social Media
Tying into web presence, your Indeed Careers page also will integrate with your social media accounts, making it easy to let your network know about open positions, and to encourage employee referrals.
5. It's a One-Stop Recruitment Shop
The 4 factors above, combined with Indeed's applicant tracking system functionality, make an Indeed Careers Page a one-stop recruitment shop. You can track your job posting's performance, applicants who need to be rejected, applicants who need to be scheduled for interviews, and more. Read here for more on how to get the most out of your Indeed job posting.
The Bottom Line
Having both a claimed Indeed Company Page and an Indeed Careers Page will do nothing but help your business from both a reputation management and recruitment standpoint. Each process takes 5 minutes or less, and they are both free. You have nothing to lose by trying them out and seeing if they work for your small business.
If you haven't already, click the button below to create a free employer account on Indeed.com.
Create an Indeed Employer Account
This article was sponsored by Indeed