A Solo 401(k) is a qualified retirement plan allowing business owners and their spouses to shelter up to $56,000-$61,000 of income from taxes each year. Solo 401(k)s are like any other 401(k) except they are lower cost and are an option for business owners with no full-time employees.
ShareBuilder 401k is an experienced 401(k) provider that allows soloprenuers to maximize their retirement savings at an affordable price. Clients get access to a low-expense, diverse, high quality fund line-up and an easy to use online portal. Opening a solo 401(k) with ShareBuilder 401k has a one-time setup fee of $150 and ongoing administration costs start at just $25 per month.
How a Solo 401(k) Plan Works
The Solo 401(k) – also known as an Individual 401(k) – is virtually identical to any other 401(k) plan. Both have early withdrawal penalties as well as identical contribution limits and distribution rules. The only difference is that a Solo 401(k) can only have one participant – the business owner – plus their spouse.
This makes a Solo 401(k) cheaper and easier to administer for a single participant while providing the same tax benefits and general investment options. For this reason, a Solo 401(k) is a great retirement savings plan for solopreneurs or those who earn 1099 income and are looking to shelter income or profits from their business.
However, a popular alternative to a Solo 401(k) for individual business owners is a SEP IRA. Typically, a SEP is a more attractive option because it's easier to establish and administer, and therefore less costly. However, SEPs limit contributions to 25% of pre-tax income with a $56,000 – $61,000 cap, which is unlike Solo 401(k)s that allow participants to contribute more than 90% of their income until they reach the cap of $56,000 – $61,000.
Small business owners who qualify for an Individual 401(k) can, therefore, save a much larger portion of their income when compared to a SEP. In addition to high contributions relative to income, Solo 401(k)s can be easily converted if a business owner ever hires employees. When that happens, the plan becomes just a typical 401(k) plan.
This is in contrast to a SEP IRA, which requires that all contributions are employer-made. So, if you have a SEP IRA as a solopreneur and then hire an employee, you'll have to contribute the same proportional amount to your employee's account as you do your own. With a Solo 401(k) that transitions to a normal 401(k), this isn't the case. For more information on SEPs, you can read our article on SEP IRA, rules, contribution limits, and deadlines.
Who a Solo 401(k) Plan is Right For
People using Individual 401(k) plans are self-employed, single-member companies, or those who earn 1099 income. These individuals are typically high-earners with strong sales and little need to reinvest profits in their business. They may have been maximizing contributions under a Traditional IRA and are looking for ways to shelter more income.
The types of individuals who find a Solo 401(k) Plan appropriate include:
Solopreneurs and their spouses
Businesses that rely on independent contractors instead of full-time employees
Freelancers and independent consultants
Self-employed business owners who think they'll eventually hire employees
Although Solo 401(k) plans offer clear advantages for some business owners, they are only beneficial in two specific cases when compared to a SEP IRA or similar alternative:
You make less than $74,000 per year and want to contribute more than 25% of your income
You don't have any employees but plan to hire within the next 2 years
This is because above the $74,000 threshold, SEP IRAs and Solo 401(k)s have the same contribution limits and a SEP might a better option. We discuss this in greater detail below. However, if a Solo 401(k) may be right for you, the first thing to do is find a good provider to help them you set up a plan.
How to Find Solo 401(k) Plan Providers
Though there are many types of 401(k) providers, it's helpful to consider firms that specialize in Solo 401(k)s as niche products. A provider can help employers through the process of designing, adopting, and administering a plan specifically structured as a Solo 401(k). Providers can update plans and submit proper filings as necessary.
5 of the top Solo 401(k) plan providers include:
With more than $4.5 trillion under management, Vanguard is the largest mutual fund company in the world and a very well-established money manager. The fund company provides custodian services for IRAs and a host of retirement plan solutions. Vanguard's pricing structure for Solo 401(k)s is very economical, but investments are generally limited to Vanguard mutual funds.
Most small business owners only need a simple, straightforward, cost-effective plan to help them save and invest. With Vanguard, business owners get exactly that.
IRA Financial is an online provider that specializes in increased investment flexibility for clients. Using an alternative provider like IRA Financial frees investors from using only the in-house products of a mutual fund company. Instead, investors have "checkbook control," meaning their accounts are self-directed. This gives them far more investment mobility than is found with most banks, but also higher fees.
While this kind of alternative provider isn't for everyone, it's great for investors who want to hold alternative assets like real estate. However, unless you are an experienced investor, they probably aren't worth the added expense.
Fidelity is widely known as one of the largest diversified financial services companies in the world. They provide brokerage and investment advisory services to companies both large and small, as well as a wide array of retirement plan solutions – including Solo 401(k) plans.
Providers like Fidelity, who offer an array of other services outside Solo 401(k)s, are great for business owners who may want more investment options than just mutual funds, but don't need to pay the added cost of checkbook control. They may also need guidance in other areas of their business or personal finances.
Human Interest is a younger company that is already disrupting the retirement plan industry. Unlike some more established providers, Human Interest makes fee transparency one of its primary goals. They aim to provide cost savings to business owners on all kinds of retirement plans, including Solo 401(k)s.
Some business owners are more comfortable than others with online products and newer providers. Human Interest is a great option for those who are willing to use technology for cost savings.
MySolo401k is another alternative provider that, as the name suggests, specializes in Solo 401(k) plans. Apart from basic Solo 401(k)s, MySolo provides a vast array of add-on services like lending facilities, but also a remarkable degree of flexibility among investment options.
Like IRA Financial, MySolo401k is a great alternative provider for sophisticated investors who know what they're doing and don't want to hold mutual funds or other mainstream investments. For most small business owners, however, the costs of alternative investments are too high to be attractive.
"As with an employer-sponsored 401(k), a Solo 401(k)'s investment options will be determined by the financial institution sponsoring the plan. Unlike traditional employees who typically have little say in their employer's plan selection, self-employed individuals looking to set up a plan can and should shop around to compare the costs and investment menus offered by different plan administrators. Savers who want maximum flexibility may want to seek out a Solo 401(k) with "checkbook control," which often allows for investments in a broader array of asset classes." -Rebecca Pavese, CPA, Client Service & Portfolio Manager, Palisades Hudson Financial Group
Solo 401(k) Plan Contribution Limits 2019
Individual 401(k) plans have two contribution limits. The first is deferrals up to the lesser of 100% of an individual's wages or $19,000. The second comes in the form of discretionary profit-sharing for additional contributions up to either $37,000 or 25% of the participant's income, whichever is lower. Supplemental catch-up contributions are also allowed for participants over 50.
The two types of contributions to Solo 401(k) plans and their respective 2019 limits are:
Employee Deferrals – The maximum total employee deferrals for 2019 is $19,000 or 100% of income.
Profit-Sharing Component (Discretionary) – Employers can elect to make additional profit-sharing contributions above the $19,000 threshold to a Solo 401(k) plan but are limited to an additional $36,500 or 25% of income.
Traditionally employee deferrals come from wages – they are elected by an employee each pay cycle – while profit-sharing contributions in a 401(k) come from the employer. However, in single-employee businesses, employers and employees are the same people, and deferrals vs profit-sharing is much the same.
Because Solo 401(k)s are just 401(k) plans with a single participant, the IRS governs them the same as any other plan. This includes dividing contributions into two different types, each with their own limits. The reality of a Solo 401(k) is that it doesn't really matter how the contributions are made, so long as account holders follow the rules and limits.
As a type of 401(k), Individual 401(k)s do come with costs that aren't always found in IRA alternatives.
"My only negative is that I didn't start it 5 years earlier when I first learned about it. The greatest benefit I can see is that with a SEP the contribution is limited to 25%, whereas with the Solo 401(k), for those with lower income but who can afford to contribute a lot, it allows a greater percentage of income to be contributed with pre-tax dollars…I would say "do the math". Decide how much you can afford to invest a year, and if it's more than 25% of income, at least look at the Solo 401(k). Because a significant portion of the contribution is "by choice", in a slower year, the employee contribution can be reduced while still doing the "employer" portion." -Ilene Davis, CFP, Financial Consultant, Financial Independence Services
"With a Solo 401(k) the contribution limit is $56,000. Additionally, if you are over 50 there is a $6,000 catch-up allowed. Another advantage with an Individual 401(k) is that there is the ability to have a Roth feature, which is critical for those folks who are over the income threshold to own a Roth IRA or just want to defer more money into Roth Savings than the IRA limits… With Solo 401(k) plans, there is also the ability to loan against the account balance for up to 50% of the account with a $50,000 maximum limit." -Nicholle Overkamp,CEO, Wilcox Financial Group
Solo 401(k) Plan Costs
Costs for 401(k) plans are paid directly by company owners, from plan assets, or from mutual fund fees within the plan. Fees can range from 0.25% or less for large plans to over 4% for smaller plans that aren't careful. Total costs between 1.25%-2% of plan assets is usually a good target.
Depending on the providers used, the types of fees to be paid may include:
Plan administration fee (0.25%-1% annually) – Every 401(k) requires administration that includes Form 5500 filings and reporting changes to plan assets. Solo 401(k)s do not have compliance testing, so administration is much easier and cheaper than in plans with employees. Some providers credit this fee against investment charges, but participants should expect to pay annual administration fees totaling 0.25%-1% of plan assets.
Custodian fee (0.25% or less) – A qualified custodian is required to hold assets in trust for IRA and 401(k) account owners. Custodian fees can be fixed or based on plan assets, but shouldn't exceed 0.25% of plan assets annually. It may also be part of other services or offset against investment fees.
Advisor fee (0.5%-2%) – Many retirement account holders use an investment advisor to help guide their investments. Advisory fees are typically based on account size and can be as low as a fraction of a percent. Advisors with strong track records can charge up to several percent per year but are sometimes partially paid from investment fees.
Investment fees (up to 0.6%) – Some investments within a 401(k) charge their own fees. Mutual funds automatically deduct fees as part of their expense ratios, based on the number of assets invested in the fund. Account holders who trade stocks, bonds, or ETFs in their 401(k) will pay commissions that can exceed mutual fund expenses.
Recordkeeping (0.5% or less) – Recordkeeping tracks all contributions, withdrawals, and expenses and is required for all 401(k) plans but is much easier and cheaper for Solo 401(k)s. Though often included in plan administration, fees for this service are typically up to 1% for most 401(k) plans and often less for Solo 401(k)s.
Solo 401(k) Plan Rules
Most 401(k)s and other employer-sponsored retirement plans are governed by the Department of Labor under ERISA. These regulations can restrict contributions of employers and highly-compensated employees. Because Solo 401(k)s are only for single-employee companies, they are exempt from ERISA. This provides owners more flexibility in how they use their plan.
To set up and use a Solo 401(k), business owners are still required to follow certain rules established by the IRS and Department of Labor for any 401(k) plan. These regulations govern the adoption and administration of all 401(k) plans, and failing to comply can lead to plan disqualification and penalties for plan sponsors.
The four primary plan rules include:
1. Provide Disclosures to all Eligible Employees
When a plan becomes active, disclosures must be provided to all employees eligible to participate. Even though a Solo 401(k) is only for a self-employed individual (and possibly their spouse), disclosures must be prepared that contain certain information about the plan including employer contribution guidelines and deadlines.
2. Submit Plan and Filings Before Deadlines
The IRS provides detailed deadlines for preparation and adoption of plan documents, annual filings including a Form 5500, and employee disclosures. These filings need to be prepared and submitted on time.
3. Follow Contribution Guidelines in Plan Document
While a Solo 401(k) does not provide for employer matching contributions, other contribution guidelines outlined in plan documents need to be followed. Failure to follow with plan documents can lead to stiff penalties and/or corrective actions.
4. Immediately Vest Employer Contributions
In all 401(k) plans, employee deferrals always vest immediately, but employers sometimes establish schedules for vesting employer contributions with employees. In Solo 401(k) plans, vesting schedules are not used. All contributions vest immediately.
Unlike IRA alternatives, Solo 401(k) plans allow for borrowing against retirement funds – a service offered by some providers. Though most people choose not to use this option, about 18% of Americans able to borrow against their 401(k) assets do so.
"If you are going to get hit with a big tax bill a Solo 401(k) can help minimize that sting. You have more time to contribute as the business owner. You have until you file your taxes to fully fund for the previous year. This means you could potentially wait until October 15th the following year. This can be really helpful if you are scrambling to save this extra money up. Would you rather write a check to the IRS or yourself?" -David Rae, CFP, AIF, Financial Planner, DRM Wealth Management
How to Set up a Solo 401(k) Plan in 5 Steps
Working with a provider to implement a Solo 401(k), you'll follow the same process as any other 401(k). There are slight differences in filing requirements, contribution and disclosure obligations to be addressed in plan documents. Once complete, you'll have a plan that can grow in the future if you decide to hire employees.
The 5 steps for implementing a Solo 401(k) plan include:
1. Write and Adopt a Plan Document
Every 401(k) plan is governed by a plan document that must meet specific guidelines. This document outlines the structure, rules, and restrictions on items including employee deferrals, employee eligibility, enrollment, and vesting. Employers typically engage one or more providers to aid in plan design, implementation, and administration, who will have sample documents that make the process easier and streamline with the remaining steps.
2. Structure a Trust for Plan Assets
Most often, this step goes unnoticed by business owners – it appears to them only as an account application. However, this item is an integral part of retirement accounts in the United States. Assets held in tax-deferred accounts are required to be held by a trust for the benefit of plan participants. Plan participants can't hold the money themselves.
As part of this step, every trust formed to hold retirement assets must have a trustee to serve as the ultimate overseer of plan's assets and operations. Trustees can include managers of the company, but almost always include providers to the plan. Though you'll be able to direct your own investments, trustees have the ultimate responsibility to ensure a plan's financial integrity, so they ultimately sign off on all investment elections.
3. Build a Recordkeeping System
Recordkeeping is often handled seamlessly by a third-party administrator ("TPA") to a 401(k) plan or another provider. These records must include all ongoing deferrals, employer contributions, gains and losses in the plan, as well as plan expenses and disbursements. Together, this recordkeeping ensures the financial integrity of the plan.
4. Prepare Employee Disclosures
Once any 401(k) plan has been implemented, disclosures must be provided to employees eligible to participate. Disclosures should include the plan's rules and restrictions, the advantages of tax-deferred savings, and investment options available in the plan. This step is a formality for a Solo 401(k), but it's important that employers follow the process in case they ever expand their plan with new employees.
5. Make Contributions
Once any 401(k) is established, it must follow its plan documents to the letter. This is especially true for a Solo 401(k) since failure to abide by plan documents could make the plan subject to additional requirements and restrictions. These plan documents set out, among other items, the types and timing of employer contributions. In a Solo 401(k) there is no employer matching, so contributions are limited to employee deferrals – which need to be preselected – and employer profit-sharing contributions that can be made at the employer's discretion.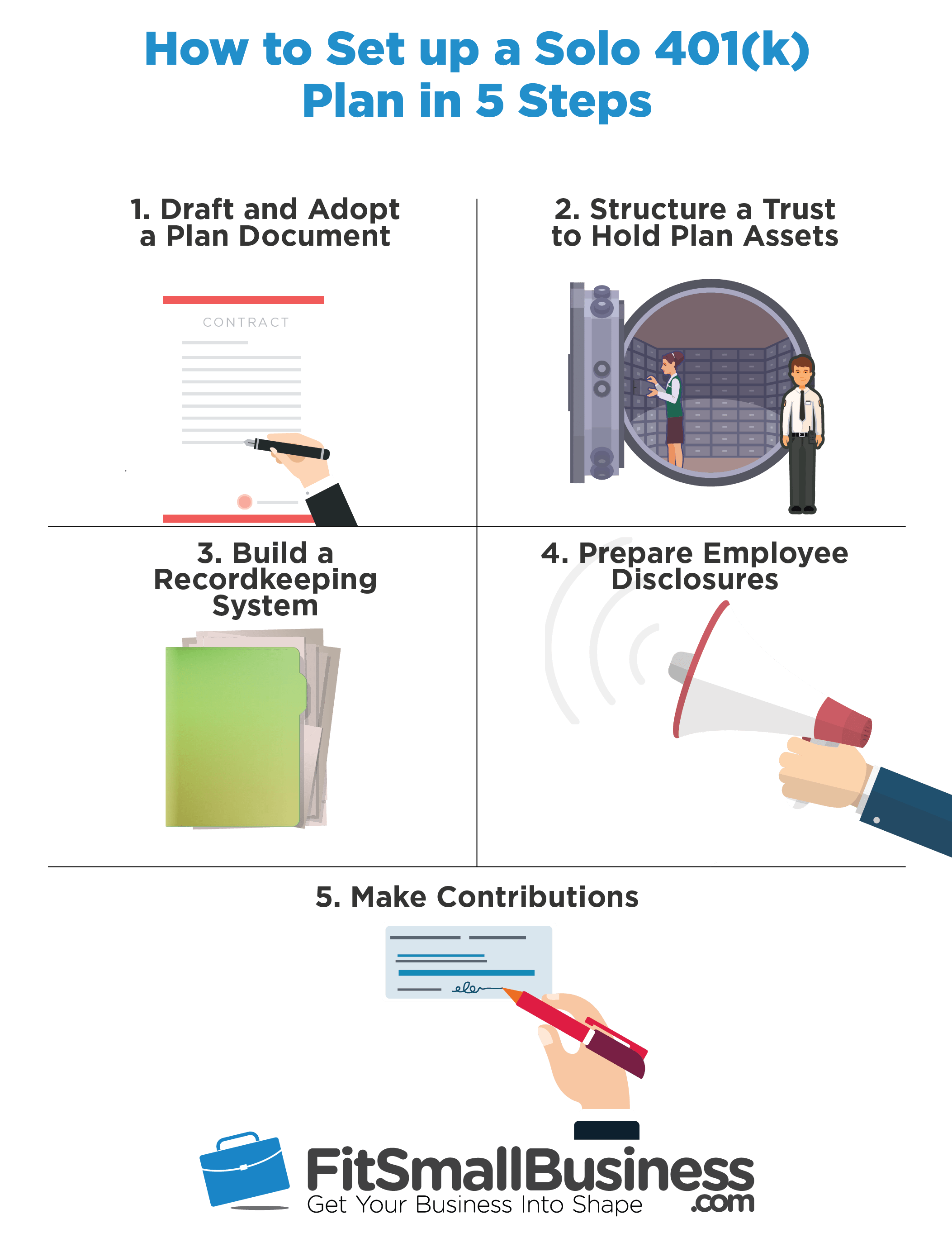 Pros and Cons of a Solo 401(k)
As with all types of retirement accounts, Individual 401(k)s have both benefits and drawbacks. Business owners need to consider both when deciding if a Solo 401(k) may be their best options.
Pros of a Solo 401(k)
Solo 401(k)s are only appropriate for a narrow segment of small business owners. However, for people in certain circumstances, they offer great advantages, including:
Easier to administer than a typical 401(k)
High contribution limits as a percent of income
Potential for "checkbook control" to increase investment flexibility
Lending component allowed so account holder can borrow against assets
Tax-deductible contributions that grow tax-free
Lower costs than typical 401(k) plan
Easily converted to accommodate additional employees
Business owner's spouse can participate
Can be self-directed to invest in alternative assets
Cons of a Solo 401(k)
Several advantages of Solo 401(k)s, including tax-free contributions, can be found with other types of accounts as well. There are also several drawbacks, including:
Higher administrative costs than IRA alternatives
More compliance requirements than IRAs
Form 5500 required for plans with over $250,000 in assets
Only allowed for companies with one full-time employee
For the majority of small business owners, the cons of a Solo 401(k) will outweigh the pros – many of which can be found with other types of accounts. In all but a few cases, some form of alternative will be preferable to a Solo 401(k).
Alternatives to a Solo 401(k)
An Individual 401(k) isn't always the best option for someone who's self-employed. Sometimes people can't afford to contribute a high enough percentage of their income for a 401(k) to make sense. Other times, they prefer not to pay the costs associated with a plan. For many reasons, it's important to consider other options.
The following are valid alternatives for single-member businesses:
1. Solo 401(k) vs Traditional IRA
There is no qualified retirement account more straightforward than the Traditional IRA. It costs almost nothing to create or administer, and grants account-holders a wide array of investment options. Traditional IRAs can be created from scratch or used for rolling over account balances from other qualified accounts for more investment flexibility or mobility.
Traditional IRAs have two primary drawbacks. One is that, unlike Solo 401(k)s or SEPs, they can't be used by someone who is eligible for a qualified retirement plan through their employer. The second is that, at just $6,000 per year ($7,000 for participants over age 50), Traditional IRAs have the lowest contribution limits of any tax-deferred retirement account.
Like Solo 401(k)s, Traditional IRAs are often a good choice for independent consultants and self-employed individuals who have not yet achieved a high degree of profitability, as well as employees of small businesses that have not yet set up company-sponsored retirement plans. However, Traditional IRAs only permit their owners about 10% of the pre-tax contributions allowable under SEP IRAs or Solo 401(k) plans.
2. Solo 401(k) vs SEP IRA
For those who qualify for Solo 401(k)s, SEP IRAs are easily the most flexible IRA alternative available. On a dollar-for-dollar basis, for the self-employed SEPs are also among the least expensive plans available. They cost virtually nothing to set up or administer while allowing employers to contribute the same each year as a 401(k).
Where it can get expensive to have a SEP IRA versus a Solo 401(k) is not in administrative cost but the cost of contributions. For an employer to qualify for a SEP they must fund contributions for all employee accounts that are proportional to contributions in their own accounts based on individual compensation. Employees do not contribute to SEPs.
If a business owner thinks they may eventually grow beyond 5-8 employees, a SEP can quickly become more expensive than a Solo 401(k), which would simply become a typical 401(k) when new employees are added.
When to Use a Self-Directed Solo 401(k)
A self-directed Solo 401(k) is a good option for individuals who would like to invest in more diverse assets than those offered by a standard Solo 401(k) plan. This option allows you to invest in assets such as real estate, venture capital, startups, and various stocks and bonds. A self-directed Solo 401(k) offers all the tax advantages and high contribution limits of a standard Solo 401(k), but with more flexibility on what you can invest in.
Secure your retirement with flexible investment options and high contribution limits through Rocket Dollar. Those who qualify for a Solo 401(k) can contribute up to $55K annually and invest in a variety of IRS-compliant assets. Rocket Dollar can get you set up for a $360 registration fee plus $15/month. Schedule a free call today.
Bottom Line
For a low-cost, full-featured, 401(k) plan that is able to grow as you do, consider ShareBuilder 401k. Opening a solo 401(k) with ShareBuilder 401k has a one-time setup fee of $150 and ongoing administration costs start at just $25 per month.