Influencer marketing uses people with a large following to drive a brand's message to their target market. Celebrities, athletes, and those with large social media followings are used to promote products or services. Instead of addressing the consumers directly, this strategy relies on individuals to inspire and get the word out to the target market.
Understanding influencer marketing comes as easily as taking the term apart into its two root words: influencer being someone who influences, and marketing being the promotion of products and services.
3 Examples of Influencer Marketing
There are tons of examples of influencer marketing out there. We chose three that demonstrate how effective influencer marketing can be when done right. We also included a couple that demonstrate how even businesses with a smaller marketing budget can still succeed with influencer marketing.
Example #1: My Tales of Whiskey
This video is from My Tales of Whisky—a campaign by Lagavulin, a whiskey company. They won a Shorty Award for Best Influencer & Celebrity Campaign because of this video, and it's clear why!
The video stars Nick Offerman, otherwise known as his character, Ron Swanson, of Parks and Recreation fame. His persona in said show is important to the success of this video, as Swanson is depicted as a tough, masculine, whisky-drinking character.
The video itself is nearly 45 minutes in length, and shows Offerman sitting in a large armchair in a rustic room complete with a crackling fireplace, and whisky glass in hand. He stares deeply into the camera, deadpan, while occasionally taking a sip from his glass. That's all it is, for 45 minutes—no words, no nothing, just a man and his whisky.
The humor in this, coupled with the right influencer for the brand, made the campaign go viral. It has nearly 3.2 million views and almost forty thousand likes.
Example #2: The Retree Project from Boxed Water
Another example of a campaign that was wildly successful is the Retree Project —a philanthropic campaign in partnership with the National Forest Foundation. The premise is this: Boxed Water would plant two trees for every Instagram post that featured Boxed Water and included the hashtag #Retree.
For this endeavor, they sought the help of influencers on Instagram, one of them being Aidan Alexander. Alexander is a social media star who, like many influencers, is mainly famous for having a ton of followers on Instagram, Twitter and Facebook.
At the time of the campaign, Aidan had over half a million subscribers on Instagram, far more than the 53,000 Boxed Water had. Through the campaign, Boxed Water was able to increase its reach exponentially, all while promoting the preservation of the environment. Ultimately, the campaign was able to plant nearly 74,000 trees, and greatly increase their brand recognition.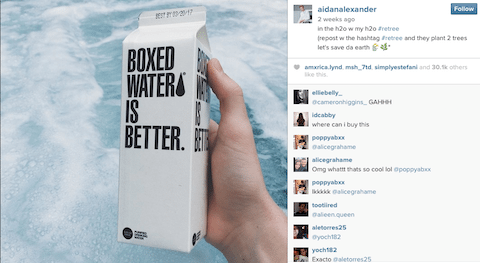 Example #3: "Regular Women" Campaign
Another company benefitting from influencer marketing is the Manhattan-based startup Glossier—recently named one of Fast Company's Most Innovative Companies of 2017.
The beauty brand owes its nearly overnight fame to their network of micro-influencers, as they rely on "regular women" to talk about their skincare and cosmetics lines. Though these women don't have that many followers on their own, when you put together hundreds of women posting about the product, the potential reach grows exponentially.
They recently launched a referral program to let their bigger-name followers offer discounts on their products, as well as other incentives, to their following, thus spreading the word about the brand even further.
4 Steps to Getting Started with Influencer Marketing
The digital marketing landscape is constantly evolving, so it's important that to stay on top of the newest marketing trends. Now that you know what influencer marketing is, and how it can help promote your brand, here's how to get started:
Step #1: Know Your Audience
Before you decide who should carry your message, you need to fully understand your audience first. This will help you choose the right influencers that will be able to reach them. For example, if your target audience is men ages 35-65, you probably want to go with someone in the sports world versus the beauty industry.
Step #2: Find the Right Influencers
Find people in your niche who will be good endorsers of your brand. There are several ways to go about this, ranging from searching through social media to heading to marketplaces for influencers, such as Tapinfluence and Webfluential.
There's also the option of using influencer discovery tools, like BuzzSumo. Using this tool, you can input words that represent your campaign, and the tool will generate a list of people already influential on the topic.
This should give you a long list that you will need to narrow down. Gather information on your top choices and make a checklist of what you're looking for in an influencer.
Observe how their audiences respond to them, and how they respond to their audiences. Find out if they promote any other brands, and if they do, ask yourself what kind of brands they are. Everything that checks out on that list will help you towards finalizing your picks.
Also, try not to get too worked up about the number of followers they have. While the number can be important, sometimes it isn't the quantity so much as it's the quality that's needed; if your prospect's followers trust them, then you'll be getting good results with your endorsement when it happens!
Step #3: Build a Relationship
Now it's time to actually connect with the influencers! Follow them on social media, comment on their posts, and share things they create with your followers. Don't stress them out with an immediate pitch. You are trying to make a good impression– to influence your influencer into liking you and your brand.
Feature them in a blog post to boost their following; show your appreciation that they do what they do. This is a great way to get noticed, leading to you forming a relationship with them. The next steps depend on marketing yourself to your influencer to get them to market for you, which will take time and consideration.
Step 4: Get Your Campaign Rolling & Measure Results
Once you've built a relationship, you can go into your pitch. Reach out via social media or email and ask if they would be willing to post about your product. If they will do it in exchange for a free product, ask where to send the sample to. If they desire payment, make sure to work out the details before the campaign begins. We will talk more about costs in the next section.
An advantage of influencer marketing is that you can easily measure engagement, meaning you can simply look at the post to see how many likes, comments and shares it got. This will give you a good idea of if you want to work with the same influencer again in the future.
How Much Does Influencer Marketing Cost?
The cost of influencer marketing can range from $0 to upwards of $200,000 for a single post. The price typically depends on how many followers an influencer has, and how many likes, shares and comments their posts usually get.
Some small influencers may work for your brand at no cost in order to gain a free product or simply update their portfolio. This type of influencer marketing is earned. This involves developing relationships with social media users to get them talking about your brand.
On the other hand, stars like the Kardashian sisters can charge $200,000 upfront for a single picture. This is called paid influencer marketing. It can be very effective because celebrities tend to have millions followers, but of course it is more costly.
For businesses with smaller social marketing budgets, we recommend building a relationship with your influencers and get them talking about you. The cost is far more scalable, the output is more sincere, and while it might require more time and effort, it's a real factor that can drive your success in a more permanent fashion.
You can do this by sending them free samples of your product, or perhaps offering to feature the influencer on your website. If you offer something that will increase the influencers recognition, it's more likely that they will post on your behalf at little to no cost.
Is Influencer Marketing Right for Your Small Business?
There's no denying the positive effects influencer marketing can have on your small business. In particular, it provides the following benefits:
Founded on trust. Trust is a valuable currency in the world of marketing. You can take advantage of the trust influencers have earned from their constituency to promote your business.
Penetrates a niche. The real strength of influencer marketing is depth and not breadth. You want your brand to deeply influence a niche market and not shallowly across a broad market.
Can be cost-effective. Campaigns can now get media attention without requiring a huge investment of resources – as long as you are able to form relationships with the influencers.
Have we influenced you to try out influencer marketing yet? It's time to spread awareness of your brand through influencer marketing!