CRMs are great for managing everything up to a sale. But what about after the deal is closed?
If you're like most B2B businesses, there's still work to be done: Contracts to be signed, products and services to be delivered, etc. Although a CRM can help you make a sale in lightening speed, a lack of organization can cause many businesses stall when it comes to these post-sale tasks.
At Fit Small Business, we use Insightly's built-in project management tool. Coming at no extra cost, it's a very easy and effective way to manage our articles as they're passed between editors.
In this guide, we're going to show you exactly how we set it up so you can do the same for your business.
Before we dive into the details on this topic, we also suggest you check out Insightly, our recommended small business CRM. Visit Insightly to learn more.
Using Projects to Stay Organized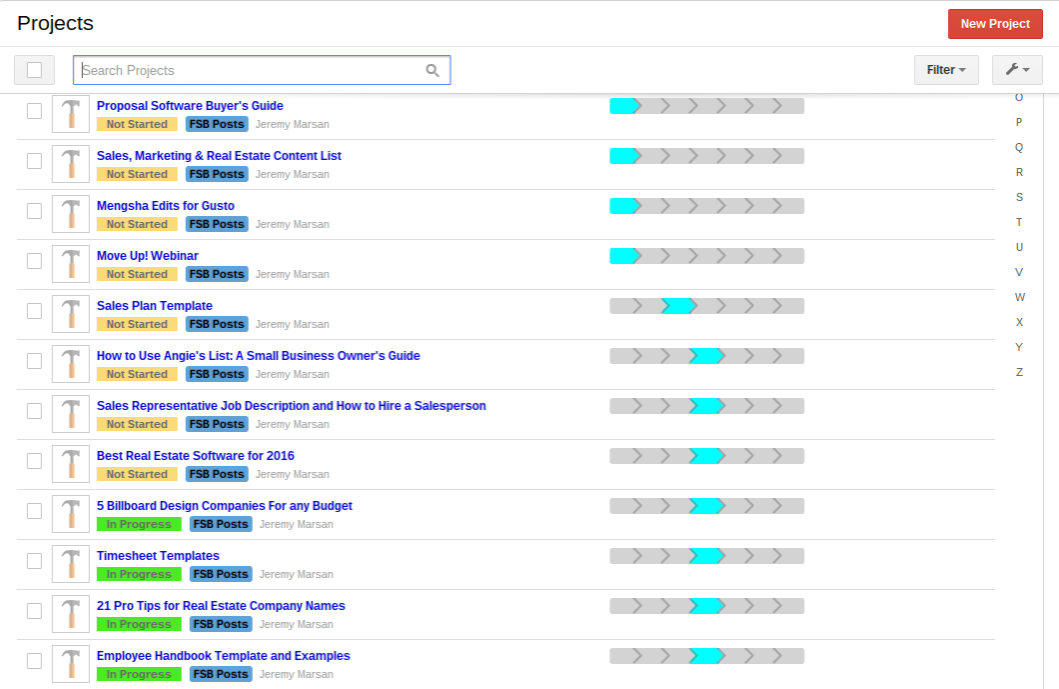 Say your business has a contract process that goes like this:
Salesperson drafts a contract

Salesperson passes it along to a manager for editing/approval

Manager passes it along to 2nd manager for approval

2nd manager passes it back to salesperson to be signed by the client
If you do anything similar at your business, you know there's a chance something can go wrong. On a good, day, the contract will come back quickly and properly. But on a bad day it could get stalled, skipped by one of the managers, or returned to the salesperson as the incorrect draft.
With a project management system, you can easily track who's responsible at any given time. You can't skip or stall a step without sirens going off. Likewise, it's easy to stay up to date on the latest draft of a document.
While many businesses use separate project management software like Basecamp or Asana, Insightly users can take advantage of built-in tools. This saves you time, as you don't have to transfer any data to another program, plus it comes at no additional cost.
If you need to track time, however, or manage lots of files, you'll probably want to use a more robust platform. You can check out our comparison of Basecamp, Trello and Asana here.
What Processes Can I Streamline with Project Management?
Te first step to is to think about the projects you undergo at your business. Projects can be used for many different purposes, but they work best for complex jobs that have many different steps. It also works great for jobs that need to be passed between multiple employees, as we showed in the example above.
At Fit Small Business, we use Insightly's project management to oversee our articles. The process goes like this:
Writers upload a first draft

An editor reviews the draft and sends it back to the writer with notes

The writer makes changes, then sends it to our manager for approval

Our manager sends the article to our webmaster who publishes the article online.
Using Insightly's project management has helped us publish hundreds of articles with virtually no hiccups. In particular, it keeps articles from stalling (and potentially getting lost). It also ensures everyone is reading the most up-to-date draft. Since we make lots of revisions throughout the process, this would be a nightmare without project management.
Once you have some ideas of projects, start writing out the steps as shown in the example above. This will help you during the next step when you outline your projects in Insightly.
Manage Each Stage of Your Project
Now that you know which tasks you want to streamline in Insightly, it's time open up the software and start setting them up.
If you followed our previous guide about setting up opportunities, many of these steps will sound the same. Just like opportunities, projects also use pipeline stages and activity sets. If you want to refresh your memory, you can refer back to the other guide here.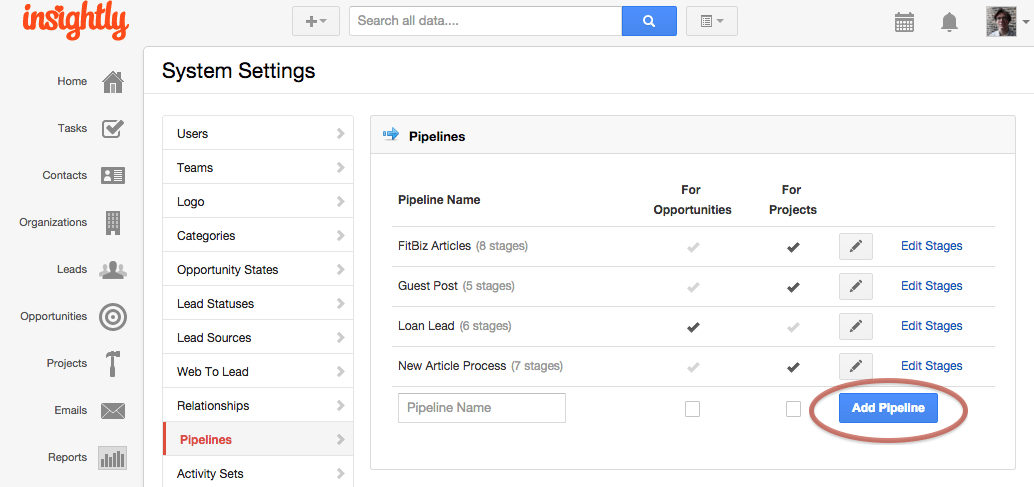 The first step is to go "System Settings" and click "Pipelines" on the left-hand menu.
Enter a name for the first project you want to create, check the box under "For Projects, then click "Add Pipeline."
Next, you'll add the stages of the project you wrote down earlier. For now, you can ignore the box next to it that says "Activity Set."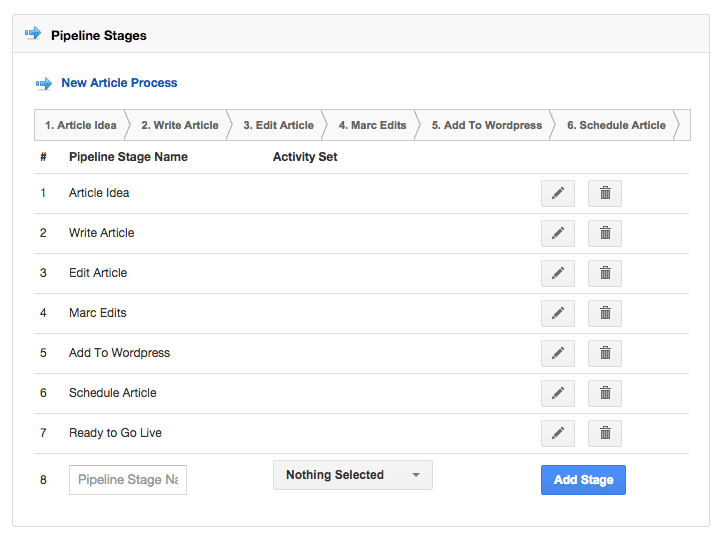 Here's the stages we saved for our "New Article" pipeline. It's a little more detailed than I outlined earlier because there's a few additional steps required for writing and publishing the article online. For your own pipeline, it may take a little trial and error before you get the stages perfect. You can always come back and edit it later.
Customizing Projects to Fit Your Needs
While we're on the control panel, this is also a good time to enter any custom fields you may need for your projects. By default, projects pages show their name, description, category, pipeline, stage and currently responsible user. Custom fields allow you to also track information relevant to your specific jobs.
At Fit Small Business, we need to track the name of the author, the date the article was completed and the date the article is published. Each of these are saved as custom fields, so our employees have a space to enter this information.
Click on "Custom Fields," which is just below "Pipelines" on the system settings menu. Make sure you have "Projects" selected at the top.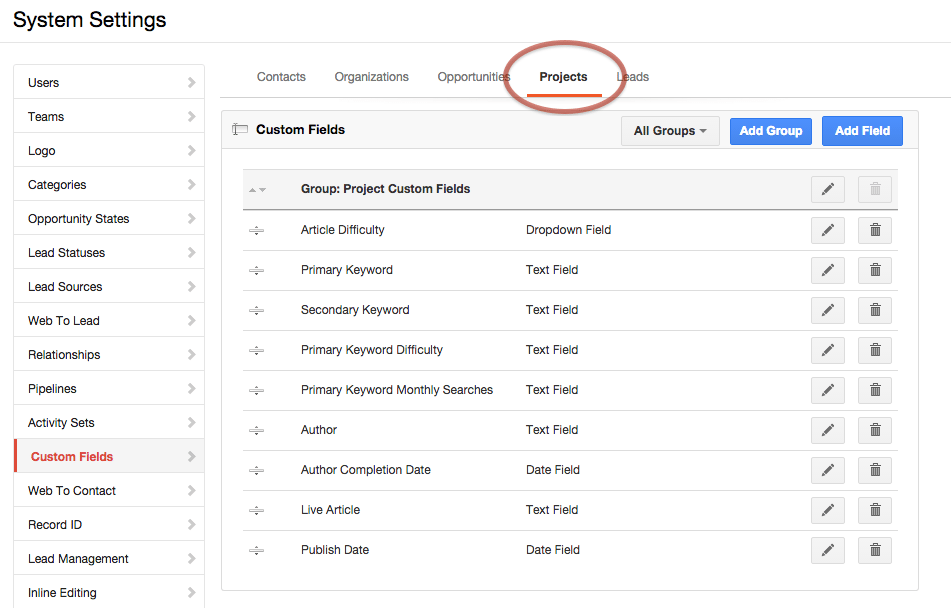 Now you can enter any data fields you'd like to have for your projects. You can choose between a text field (which will just show up as a text box on your project), a dropdown field (which will let you users select between a few different options), a checkbox, a numeric field and more.
Assign Tasks Automatically: Activity Sets
If your jobs are fairly simple and you're just using project management just to oversee work passed between employees, you may want to skip this next step. On the other hand, if your projects are complicated, "activity sets" will help you manage all the tiny details.
Activity sets let you create subtasks for each project stage. For example, when we publish an article, we have 2 subtasks assigned to employees: "Post article on social media" and "Notify interviewees" that we've published the piece. Saving these as an activity set means the tasks appear automatically when we reach the final stage.
If you're interested in using activity sets, you'll find them under system settings, just below "Pipelines." Enter an activity set name, select "For Projects" then click "Add."
You can add as many tasks as you like. In our case we only need 2. When you create a task, you also have the option of saving a due date. Our first task is due the same day it's assigned, while our second task is due 1 day after.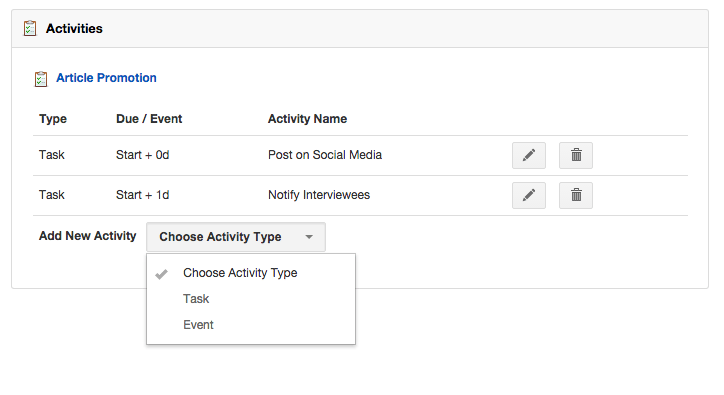 Once you've entered all your activity sets, you'll have to go back to the "Pipeline" menu and tell Insightly which activity sets correspond to which stages. For example, our activity set "Article Promotion" needs to be launched after the final step of publishing the article, so that's where we'll place it: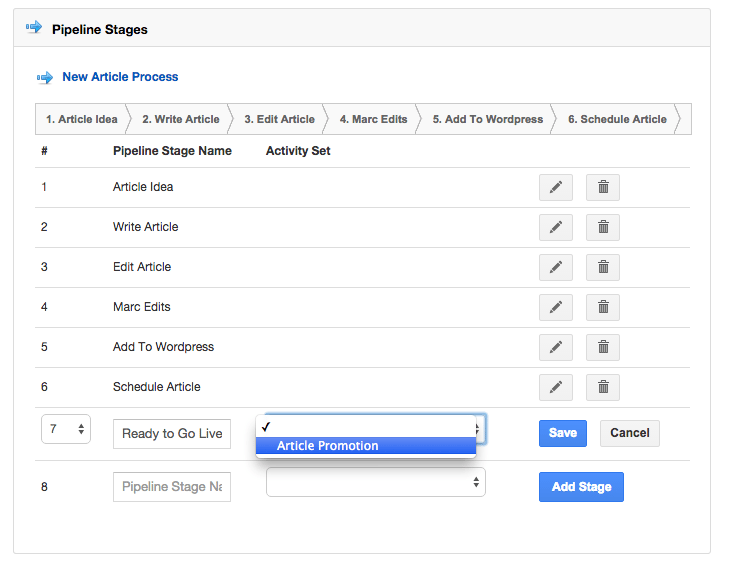 Navigating back to the project menu, you can now see the beauty of activity sets in action. Create a new project and click to update the project stage. The tasks you assigned to that stage will now pop up, and you'll be asked if you want to assign them to yourself or another employee.
Tasks that are assigned to you appear on the "Tasks" menu page, sorted by due date and priority. If your salespeople use tasks already to schedule follow up, it's ideal to use them for projects as well. Your employees can view everything they have to do from a single menu – there's no need to juggle between multiple programs and calendars.
Want to manage 1000's of leads, save time, and get organized? Click Here to get our FREE CRM guide and find out how.
The Bottom Line
How you can benefit most from Insightly's project management depends on how you use the system. If your team is already using tasks, then activity sets will be an easy transition. Otherwise, if you just want a simple tool for managing workflow, pipeline stages work great. At a glance, you can see where every project is at and who needs to be working on it.