Instagram marketing is a way for businesses to use videos, images and other content on the platform to increase brand awareness and sales. All small businesses can benefit from Instagram marketing, although specific strategies will differ across industries. A successful Instagram marketing strategy increases Instagram followers and engagement, converting them to customers.
Small businesses without marketing knowledge turn to freelance professionals to either execute or guide them as they craft and employ their Instagram marketing strategy. On Fiverr, for example, businesses can find an Instagram marketing expert, then negotiate a price that fits their budget. To learn more about Fiverr's Instagram experts, visit Fiverr and search for relevant freelance skills, like Instagram experts and Instagram marketing expert.
How Instagram Marketing Works
Instagram marketing is a process that takes a business from Instagram profile creation through the promotion of their brand, products or services. First, a business would create a business-specific profile, and then post relevant content directed to their target audience, and encourage engagement through effective call-to-actions (CTAs). This leads to greater brand awareness and sales conversions.
Instagram marketing starts with learning who your competitors are by Googling popular questions your customers have. Then, analyze your competitors' Instagram profiles, including metrics like audience growth and fluctuations, top performing posts, best engagement times and days, posting frequency, engagement types and more. Once you have this data and know what content performs well, create goals to maximize the impact of your content.
If you implement an Instagram marketing strategy successfully, you will see an increase in brand awareness (with increased user engagement and more followers) as well as an increase in return on investment (ROI) from leads who have converted on sales and opt-ins.
Who an Instagram Marketing Strategy Is Right for
Instagram offers powerful marketing tools for business-to-business (B2B) brands, business-to-consumer (B2C) brands and nonprofit organizations. With more than 700 million monthly active Instagram users, there are 8 million business profiles — up from 1.6 percent in 2016 — and 80 percent of Instagram users follow at least one brand.
Here's a more in-depth look at how nonprofit, B2B, B2C businesses can use Instagram.
B2B Businesses
B2B brands in 2018 use Instagram to increase engagement with their target audience by creating an appealing persona that their audience can relate to. Real-time event images, product demos and live behind-the-scenes videos, for example, add authenticity to the B2B world, making business customers and clients feel a deeper connection than they often do with professional brands.
B2C Businesses
B2C businesses generate sales based on a trusting relationship with their target audience. That trust is created by offering a relevant personality on platforms like Instagram. Using this social channel, businesses join followers in conversations that mean something to them via hashtags, mentions, user-generated content, live video, stories and more. Once consumers have connected with brands on a personal level, brands can run more successful ads and promotions while sounding less salesy, and with a more genuine and engaging feel.
Nonprofit Businesses
Nonprofit organizations looking to raise funds and awareness around their causes must do so via authentic storytelling. Instagram offers nonprofits unique opportunities to immerse followers in stories and events via Instagram's live video, stories, images, hashtags and user-generated content. These help nonprofits showcase their worthy cause rather than pleading their cases. In turn, followers become more aware and passionate about nonprofit missions.
Instagram Post Types
When creating an Instagram marketing strategy, it's important to understand all the types of content available to you. Instagram goes beyond a simple photo-sharing platform, allowing you to connect with users through a variety of engaging content types, which then fuels interaction between your business and target audience.
Here's a closer look at Instagram's shareable content types:
Photos: Share static visuals with your audiences, including snapshots, memes and infographics designed with Instagram's dimensions and mobile-first platform in mind
Stories: Instagram stories are viewable for 24 hours before they vanish; via the Stories feature, you can share videos and images, and then add polls, captions, hashtags and tags or even use direct-messages to make them interactive and engaging
Live video: When you share live videos, your followers are notified you're going live; they can then like or comment on the stream for a real-time connection; then, once you've finished, the video vanishes; however, if saved to Instagram Stories, it becomes available for replay for a 24-hour period
Video: Post a video up to 60 seconds in length, just like you would an image; you can add a filter, location tag and caption for more engagement opportunities
Ads: Create ads in Facebook's Ads Manager or turn one of your highest-engaging posts into an engagement ad
Instagram shopping: Tag up to five products within your product images; then, users can click on tags to access information like pricing, descriptions and links to your site's purchasing process
Instagram TV (IGTV): Share hour-long videos with your audiences via the Instagram TV app within Instagram
How to Do Instagram Marketing in 10 Steps
Instagram marketing is a step-by-step process of analyzing competitor performance on the platform, defining goals for your business based on this data, optimizing your profile and generating targeted content to achieve your goals. When done successfully, Instagram marketing will increase your brand awareness and conversions.
Here's how to plan, execute, and optimize an Instagram marketing strategy in 10 steps.
1. Decide if Instagram is Right for Your Brand
To get the most out of your Instagram marketing efforts, make sure your target audience aligns with the audience on Instagram. In addition, to help you better reach new demographics, consider which extended Instagram audiences may respond well to your Instagram marketing. Lastly, because Instagram is catered to mobile-first access, it's important to prepare your brand to embrace mobile-first leads.
Learn Instagram User Demographics
Each marketing platform comes with its own set of users that are part of a unique demographic. For example, while only 29 percent of adults between the ages of 18 and 29 use LinkedIn, 81 percent of that age group uses Facebook. Likewise, Instagram has its own unique demographic of users.
Pew Research's 2017 report notes the following statistics about Instagram users:
64 percent of adults between the ages of 18 to 29 use Instagram.
21 percent of adults between the ages of 50 to 64 use the platform.
Only 10 percent of adults age 65 and older use the platform.
30 percent of adult men use the platform.
39 percent of adult women use the platform.
29 percent of adults with a high school degree or less use the platform.
42 percent of college graduates use Instagram.
67 percent of suburban adults use Instagram as opposed to only 42 percent of urban adults.
Compare these demographics with your target audiences. If you run a senior care facility, this might not be the platform for you. But, be creative. Think of all your audiences, not just your core audience. While senior care patients may not be on Instagram, many baby boomers and Millennials might be facing the need to make decisions about their aging parents' care. Instagram could offer a platform to showcase the superior care you can offer their loved ones.
Consider the Platform's Mobile Nature
Instagram users are 70 percent more likely to purchase a product via a mobile device. This means that your brand must be set up to support mobile-first leads. For example, if your bio includes a link to your current campaign, your landing page must be mobile-friendly. If you showcase your retail shop via the Instagram Shop, your site must support mobile browsing.
No marketing platform should live in a silo. This is because very few customer journeys live on one platform alone. Considering the entire customer journey means making sure the rest of your brand's presence is set up to support visitors that come from Instagram.
2. Conduct a Competitor Analysis to Craft Your Advantage
A competitive analysis is an in-depth look at your competitors' performance. This allows you to mimic content that is working for them and target audiences they have not captured. A successful competitive analysis will involve a deep dive into Instagram follower and engagement metrics, helping you shape your own marketing goals.
First, visit competitor profiles. To find competitor profiles, think about the questions your customers most ask you, then Google them. You'll find a list of businesses that are answering them or targeting the keywords contained in them. It's best to do this in an incognito window, so the results aren't affected by your own browsing history.
Next, jot down a couple of competitors that rank just above your ranking in the search engine results pages (SERPs). Also, notate which brands rank highest. This way, you can learn how to compete with direct competitors and strive to compete with those that are far ahead of you in market share.
Lastly, search for these brands on Instagram. Set data collection time frames — say a month — then dig into their profiles to learn about them. For example, if you want to know what to aim for in terms of video engagement, analyze their video posts. Who and how many followers liked them? Who commented on their posts? Is their engagement higher on certain weekdays or at certain times of the day?
By analyzing similar competitors and their audiences' behaviors, and then optimizing your presence to offer only what relevant audience members want, you build a competitive advantage. To do so, review follower growth; top performing posts in general and by type (video and image engagements, for instance); audience preferences by demographic; hashtag use; follower count; posting frequency; and top engagement times and days.
Consider Third-party Competitive Analysis Tools
If your business is more time-strapped than cash-strapped, third-party paid benchmarking and analytics tools automate the research process. Using Sprout Social, for example, you can set up a competitor's portfolio, then receive an Instagram competitor report covering metrics like their audience growth and average growth rates, follower counts, most popular posts and hashtags, likes, comments, shares and more. Get a free report with its 14-day free trial.
"Comment replies to other posts are a great indicator of what consumers in that vertical are interested in. If you see a competitor doing well, see if they're replying and engaging with their audience. They should be, but many don't, which leaves a huge opportunity for you to poach those questions by directing people to your content."

— Libba Durrett, Founder, Sparklers Online
3. Decide on Your Instagram Marketing Strategy Business Goals
Once your competitive analysis pinpoints underperforming metrics, choose which goals will help you compete. Avoid being vague, thus skirting accountability. A strong social media analysis process can help you get specific about what goals you should set. For example, you might need to increase new Millennial women follower rates by 20 percent in two months to lead the competition. Start by asking questions about your business needs, and then go from there.
Here are two steps to setting specific goals around business metrics.
Build on Your Competitive Analysis
Ask questions to understand how to proceed based on your competitive analysis results and your business needs. Questions about your weaknesses, strengths, audiences and business vision and how Instagram's features can serve your business goals all help you begin the process of setting goals.
The following questions can help you turn analysis into metrics, then create an action plan:
Who does my product or services best serve?
How does the competition attract these personas?
What can I perform better than my competitors?
How can I use images and videos to reflect my competitive advantage?
What unreached audiences do I need to develop an engagement and growth plan for?
Focus on Specific Metrics
If you discover that your competitor increased its Gen Z women audiences within one month by 300 followers by sharing how-to fashion videos and engaging with certain hashtags five times a week, consider setting a higher expectation for yourself to see if it will boost your Gen Z women followers as well. However, don't just aim to "increase" your Gen Z women followers. Instead, set goals that are measurable, attainable, relevant and time-based.
For example, your goal might be to share seven videos a day with accompanying hashtags to attract 350 Gen Z women followers in one month. Notice that this goal is measurable (350 new Gen Z women followers), attainable (you have the resources to produce enough videos and know what hashtags to use), relevant (this is what you need to do for your business to meet its goals) and time-based (you've set a one-month time limit).
For a more in-depth look at setting these goals, known as SMART Goals, read 20 Best SMART Goals Examples for Small Businesses in 2018.
4. Set Up and Optimize Your Profile
Now that you understand what goals you're aspiring to meet, optimize your Instagram profile around them. Some key elements to focus on when optimizing your profile include your profile's format, biography copy, biography URL and its landing page, application of analytics insights, profile image and logo.
Here are three steps to follow when optimizing your Instagram profile.
Claim a Business Account
Business accounts provide basic analytics surrounding post performance and follower growth, space to add business hours and location to boost local awareness and a contact button for customers to connect with a company representative via direct message, email or phone. You can also turn a personal Instagram profile into a business profile easily with just a few clicks.
Update Profile Information
Your bio must be 150 characters or less. What description would attract your target markets? For example, if you're seeking to attract more Gen Z women, your competitive analysis likely revealed which hashtags and content types attract them. You might include these hashtags and mention the how-to fashion videos you share. In addition, include running campaign landing page URLs in your bio and update them frequently with current campaign URLs.
Align Your Profile Photo with Campaigns
A consistent logo is a recognizable one, but slight tweaks and added context can send powerful messages to target audiences. Are you a sustainable brand? You may design your logo to align with Earth Day. For example, Google is known for changing its logo design for one campaign every day of the year. People love it. They write about it and create best-of albums in Google's honor, thereby spreading brand awareness among target audiences. You can do the same.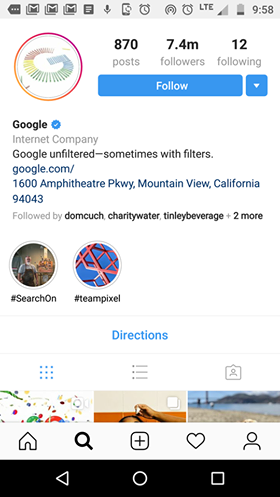 5. Create a Style Guide
A style guide is a document that describes all of the messaging, design and style elements that define your brand. Many brands create style guides to dictate tone, message, content parameters and more for their blogs and websites. Leading brands extend those guides to include social and visual style guidelines. These guidelines create consistency and increase brand recognition and awareness.
Here are a few points to consider when planning your Instagram marketing brand style guide.
Color Palettes
Some brands use cool colors to show a more professional minimalistic image while others embrace vibrant warm colors to showcase an inspirational mission. Choose your color palette and, as much as possible, stick to it when designing and choosing visual content to share.
Design Styles
Some tech brands reflect a hip, modern image to attract younger generations by using minimalism to design posts. Choose what design styles best reflect your brand, and then use them to project your image visually and consistently.
Logo Policies
Visual content should be branded to boost brand awareness. The placement of logos as well as other criteria like logo dimensions and background colors on different visual assets should be consistent. Choose how your logo and brand name will be displayed on each type of visual content, and then stick to it for a more recognizable visual presence.
Voice
Your style guide should provide guidance on how to reflect a unified brand personality, thereby humanizing your brand for deeper connections. Choose a voice to align with the personality you've chosen for your brand. For example, you might use words like discover, immerse, explore and rugged for an outdoor adventure brand but focus on more nurturing word choices for a nursing home.
Tone
Most of us have consistent underlying personalities, but how we speak may change depending on circumstances. A nonprofit would use a different tone to mourn a devastating natural disaster than when celebrating 25 years serving the public. Decide how you would describe the tones your brand uses in different circumstances and the word choices that do and do not align with them.
6. Create a Publishing Strategy Around Your Business Goals
An Instagram content marketing strategy helps you create a consistent presence to target and attract the right audience. Begin by crafting an engaging and consistent calendar that keeps people coming back for more. Next, add hashtags to make your content searchable and followable. Lastly, continuously analyze and optimize to boost engagement.
Apply Insights for a High-performing Posting Schedule
You already know what posting schedules work well for your competitors, including top engagement times and average posts per day. To begin learning what posting schedule works best for you, follow the practices you learned from your competitors, and then analyze the results and optimize your posting schedule to reflect what works best for your brand.
Instagram's Business Accounts offer Instagram Insights to help you analyze what's working. Once you've begun posting, you can learn what posts earn the most engagement. As you publish content, keep a close eye on when people most engage. Then, develop a schedule to post more during those times.
A couple of tools can help you post at optimal times for highest engagement. Buffer is a free tool that allows you to schedule Instagram posts from your desktop. It analyzes your engagement, and then offers a post schedule to align with peak engagement times and days.
Make Your Published Content Sticky
Once you learn top engagement times, keep visitors anticipating value by publishing regularly. For example, a fashion brand's peak engagement time may be Tuesday afternoons. If their competitor offers influencer tips for high engagement, to trump the competition, they may offer twice as many influencer fashion tips via a Tip Tuesday. With consistent and premium weekly tips, followers learn to anticipate content, then return weekly for more.
Admittedly, publishing consistent content is tedious, especially when premium content creation involves collaboration. But, by missing one Tip Tuesday, for example, your strategy loses stickiness or the ability for visitors to anticipate regular value. A planning and automating social-sharing platform like CoSchedule helps brands collaborate and schedule ahead, thereby avoiding social-sharing gaps.
Add Relevant Hashtags for Content Visibility
Another way to create sticky content is to make it easily findable. When applied to sticky content, hashtags help keep content organized and increases stickiness. A fashion brand, for example, might brainstorm and apply a unique brand hashtag for their Tuesday Tip posts, so these posts are easily recognizable, followable and searchable.
It's sometimes tough to guess what hashtags followers find compelling. Many free tools can help you test your chosen keywords, and then optimize them for highest engagement. By typing in your hashtag, for example, Keyhole offers free hashtag-ranking clouds that display higher-ranking keywords more prominently. From there, you can decide to stick with your initial keyword or replace it with a related one to boost engagement.
In addition, brands can create hashtags to increase campaign success and cohesiveness. If a fashion brand runs campaigns around different generations like Gen Z and Millennials, they may create a brand hashtag for each. In this way, target audiences recognize content that provides them with unique value. In turn, they can engage with that content by re-posting and commenting under that hashtag as well as searching for content that's relevant to them.
Optimize Each Post for Highest Engagement
Your message type, use or exclusion of emojis, message length, hashtag application, and more, could boost or lower engagement. Your job is to understand what works and what doesn't, then apply that knowledge to grow engagement.
Free tools like CoSchedule's Social Media Optimizer can help you tweak each post for highest engagement, even if you aren't a marketing expert. Type in your message and instantly receive a complete report on how to improve your message to boost engagement. Then, score your message again to see if your changes translate into higher engagement. Experiment to find the best message for each post.
7. Attract & Maintain an Instagram Following
Instagram marketing isn't just a set-it-and-forget-it strategy. Instead, cultivate greater results by building a following and maintaining it. A couple of ways to do so include promoting and maintaining growth via internal and external influencers and working toward growth goals via giveaways and contests.
Prompt Growth via Influencers
Many people think influencers are well-known industry experts with lots of followers. But, influencers can also be regular people who have an influence over how your audience views your brand. These can be both internal to your company and external.
Many of your employees use Instagram, and all of them have strengths that make your brand shine. After all, that's why you hired them. Showcase their relevant expertise on Instagram to build brand trust and provide value. In turn, their audiences will often join yours when they learn the connection. Help them to make the connection via brand hashtags, @mentions of employee Instagram usernames and by involving employees in live video Q&As or Tip Tuesdays.
Many people outside your company also influence how people view your brand. Restaurant owners, for example, should consider how local farms and event coordinators influence people's willingness to come in-store. For greater reach and positive brand awareness, partner with collaborating brands for joint Instagram live videos, stories or IGTV episodes. Offer how-tos and behind-the-scenes content to showcase how your partnership offers followers unique value.
Run Giveaways & Contests
Giveaways and contests are great for growing your audience and spreading brand awareness. But, if no goals are set beforehand, they can be time and budget-consuming while producing disappointing results. Look at your competitive analysis and determine what you want your giveaway or contest to accomplish.
Here are the steps to create a successful giveaway.
Create an Offer
Ask yourself what content attracts target audiences. Is it seasonal content or how-tos perhaps? What content most resonated with this demographic in your competitive analysis?
Set Granular Goals
Your campaign won't provide definitive returns unless the goals surrounding them are measurable and specific. For example, you might want to attract 500 new Millennial women followers in 30 days.
Set a Budget
Some businesses offer value to several winners while others only have a budget to award less than $100. You may offer a $100 gift card to one lucky winner or five products via a tiered-winner approach, depending on your budget. If you have no budget, opt for an experience award instead, like a free cooking course for restaurant followers.
Request User-generated Content for Entry
Ask followers to post their own similar content with a brand hashtag or mention, and then follow you to enter your contest. Make your giveaway or award clear to entice followers to respond and share. Then, be sure to follow them back so you can continue the relationship even after your campaign ends.
Award a Winner
Once you've reviewed incoming user-generated content, pinpoint what information you need for prompt prize or giveaway awarding. Is it an email address or a physical address? How do you plan on collecting that information?
8. Optimize Your Marketing Funnel
Most social media platforms foster awareness-phase followers who may have some knowledge of your brand but need more information before deciding to convert. For this reason, make sure you prepare the rest of your conversion funnel, especially your website, to embrace and guide followers to purchase. A couple of ways to do this are to design your website to be mobile responsive and optimize your website conversion funnel to guide new visitors to purchase.
Make Your Website Mobile Responsive
Those who click from Instagram profile to your website will often do so from mobile devices. From there, they will leave if your website is impossible to navigate via mobile. Many content management systems (CMS) like WordPress offer free website design templates or themes that convert well automatically on mobile devices. To review and optimize your website on small screens, you can even toggle between devices via their Site Identity customization menu option.
Optimize Your Conversion Funnel
Social media campaigns often attract awareness-phase followers who may know little about your brand or products but are aware they have a relevant need. From there, your job is to guide them through to purchase. To do so, you may run campaigns on Instagram that link to specific landing pages. For example, if you post a photo of a new product on Instagram, update the link in your Instagram bio to go directly to a relevant landing page.
9. Target & Convert with Instagram Ads
Instagram ads help you target existing followers and expand your reach to lookalike audiences that may not know about your brand or products. Since Instagram is part of the Facebook family, Instagram ads can be purchased, targeted, created, run and analyzed from the Facebook Ads platform.
Here's are some ways to get the most out of your Instagram ads.
Define Your Target Audience
Define your audience around your business goals by setting your target audience's demographics, including age, location, language and more. Then, choose whether you want to run your ad among existing followers to boost conversions, or if you want your ad to run before lookalike target audiences to spread awareness to new but relevant audiences.
Choose Ad Placements
Ads can be run within viewers' feeds or within Instagram Stories. Ads within feeds work well because they look like any other relevant piece of content, apart from having a "sponsored" label on the top.
Set Your Budget
You can start with a set budget of just $5 a day, which is based on how many impressions your ad earns. This is great for creating multiple ads to gauge what works and what doesn't, then allocating larger budgets to those that perform well.
Create Your Ad
Facebook's Ads Manager allows you to create your ad right from the platform by first choosing between image and video formats, then uploading images or photos and adding text.
Run Your Ad
Choose to run your ad on Instagram or across Facebook as well. For greatest engagement, create custom ads for each platform based on platform user demographics and engagement behaviors.
Analyze & Optimize Ad Performance
Once you have a few ad variations running at a low budget, track them to learn which ones perform best. You can track based on impressions, clicks, cost per result, and more. Learn from the results, then create and run ads that reflect what works.
If you don't feel comfortable creating, running, and optimizing your own Instagram ads, consider hiring an expert to do it for you. Hibu offers targeted ad creation, monitoring, optimization, and retargeting around your business goals, including increased visibility, more qualified leads, click-throughs to your website, and more. To get started using their services, contact one of their representatives to discuss your business goals and budget.
10. Optimize Continually for Long-term Success
The biggest mistake Instagram marketers make is to follow a guide like this once, and then abandon what they've learned and revert to exactly what they've always done. Doing so means wasted efforts and budgets. Instead, build on what you've accomplished by continuing to implement an Instagram marketing strategy via a feedback loop.
To create a feedback loop, conduct a quarterly competitive analysis to understand how you are and are not building a competitive edge, then let those insights inform future campaigns and Instagram marketing strategies. Next, gather analytics around those optimizations and fold them back into your Instagram profile and subsequent conversion funnel. Lastly, continually analyze your optimization performance, then apply what works and discard what doesn't.
Here are some points to hit as you do.
Update Your Bio Information
As you learn what audiences you need to target, align your bio and bio URL to attract them via targeted campaigns and messaging.
Let Competitive Analysis Inform Your Content Strategy
Once you know what audiences to target or what content will help you boost engagement and other metrics, it's time to put it into action. But, don't just do it once. Conduct, at a minimum, a quarterly competitive analysis and adjust your content strategy to reflect the goals you derive from them. In addition, look at how your posts perform and learn from what works and what doesn't. Use those insights to inform future posting strategies, content types and schedules.
Cater Campaigns to Underperforming Target Audiences
Don't stop at updating your shared or curated content and bio to attract underperforming target audiences. Use Instagram ads to both strengthen engagement among existing target followers and to expand your reach to other Instagram users via look-alike advertising and retargeting.
Optimize Your Conversion Funnel to Convert Instagram Leads
Your Instagram marketing strategy should not happen in a silo. It should funnel new leads into your website-wide conversion funnel. This requires optimizing your landing page and subsequent conversion funnel around new campaigns to reflect the preferences and behaviors that entice qualified leads to purchase.
Frequently Asked Questions (FAQs)
How Much Does Instagram Marketing Cost?
Instagram business accounts are free to set up and offer free basic analytics. You may run into costs if you would like to use third-party tools like Unbounce, Sprout Social or Canva to analyze and optimize your profile around your business needs. You also must pay per impression to run Instagram ads, with a minimum budget of $5 a day.
What Are Some Top Tools for Instagram Marketing Success?
There are quite a few tools to get you started in managing your Instagram marketing strategy, including CoSchedule, Buffer, Keyhole, Hibu, Fiverr and Unbounce. Sprout Social and Canva are two other tools that can help you design, execute, manage, analyze and optimize your Instagram marketing strategy for long-term success.
How can Retailers Use Instagram Shopping?
Instagram Shopping allows businesses to post products so followers can browse and purchase them. Within a product image, marketers can tag up to five products to add information like product descriptions, pricing, and call-to-actions (CTAs) with links to help followers proceed with purchase on brand websites. For best results, marketers must provide mobile-friendly websites to ensure Instagram shopping campaigns can result in a purchase by mobile-first Instagram users.
How Often Should I Revisit My Instagram Marketing Strategy?
It's recommended that you evaluate your goals and marketing efforts once every quarter, if not more frequently. The specific timeline will depend on what your goals are and how important Instagram marketing is to your business.
The Bottom Line
Instagram marketing moves businesses through the process of creating an Instagram profile, analyzing competitors' performances, and setting actionable marketing goals for increased brand awareness and conversions. This is best for any business interested in targeting an audience base that uses Instagram frequently and that wants a measurably increased ROI.
For many small businesses, developing an Instagram marketing strategy can be a challenge. Agencies like Hibu are ready and able to take the reins to expertly produce and execute an Instagram marketing strategy for your brand. To craft a custom social media marketing solution designed around your business goals, visit Hibu's website and schedule some time to speak with one of their consultants about your business's Instagram goals.