Since publication:
A Missouri court ruled in favor of a restaurant in a COVID-19-related business interruption claim, stating that the policy's language is ambiguous, so the claim is covered.
As of February 24, 2021, insurers have won 174 motions to dismiss or for summary judgments in COVID-19-related business interruption insurance lawsuits. Business owners have won 42 similar motions.
The deadline for filing a lawsuit on business interruption claims is typically one year from the date of the loss, so policyholders should check their coverage now if they're considering legal action.
Insurance is saddled with an unfair reputation of being stodgy and unchanging, but the truth is that the events of one year often impact how the industry works in the future. Business owners who identify the circumstances of 2020 that might influence their coverage can better prepare for 2021 and beyond.
Insurers Predict $107 Billion in Losses From COVID-19
To say the coronavirus pandemic is going to change a few industries is literally the understatement of the year. Perhaps the real surprise is that insurance is one of the industries that COVID-19 has flipped on its ear. Most of the concern centers on how much money insurers may have to pay out for coronavirus-related claims, which Lloyd's of London predicts to be $107 billion just in underwriting losses.
For business insurance, the focus falls on three essential policies: workers' compensation, business interruption, and cyber insurance.
States Push for Workers' Compensation Benefits for Coronavirus Victims
The big question for employers regarding COVID-19 and workers' compensation insurance is whether or not policies cover their employees' medical bills and lost wages if they contract the virus. As with all things workers' comp, the answer depends on state law. Most states don't cover communicable diseases because it's difficult to connect the injury to the workplace. However, that's less true for COVID-19, where certain jobs put workers directly in harm's way.
The National Conference of State Legislatures keeps a running list of how states are addressing coronavirus-related workers' compensation claims. It shows 30 states have tried to extend coverage by presuming certain employees have contracted COVID-19 at work—essentially designating COVID-19 as a work hazard.
The 30 states used several tactics to create a presumption for coronavirus cases for some workers, including:
Executive order (six states)
Legislation (20 states)
Administrative policy changes (two states)
A combination of legislation and executive order (two states)
Despite this push to presume coverage for certain professions, workers' compensation claims have not seen the dramatic uptick the insurance industry originally predicted. For example, global insurance broker Marsh reports workers' comp claims decreased significantly for its clients—down as much as 29% in August. This may be the result of people moving to remote work, reducing their chances of an injury. Moreover, the National Council on Compensation Insurance (NCCI) recently issued a new report that suggests the majority of coronavirus-related workers' comp claims are small.
If this trend continues, it's possible employers won't see a major increase in their workers' compensation premiums. However, both the Marsh and NCCI report point out that the amount of uncertainty makes predicting how COVID-19 might impact workers' compensation insurance difficult.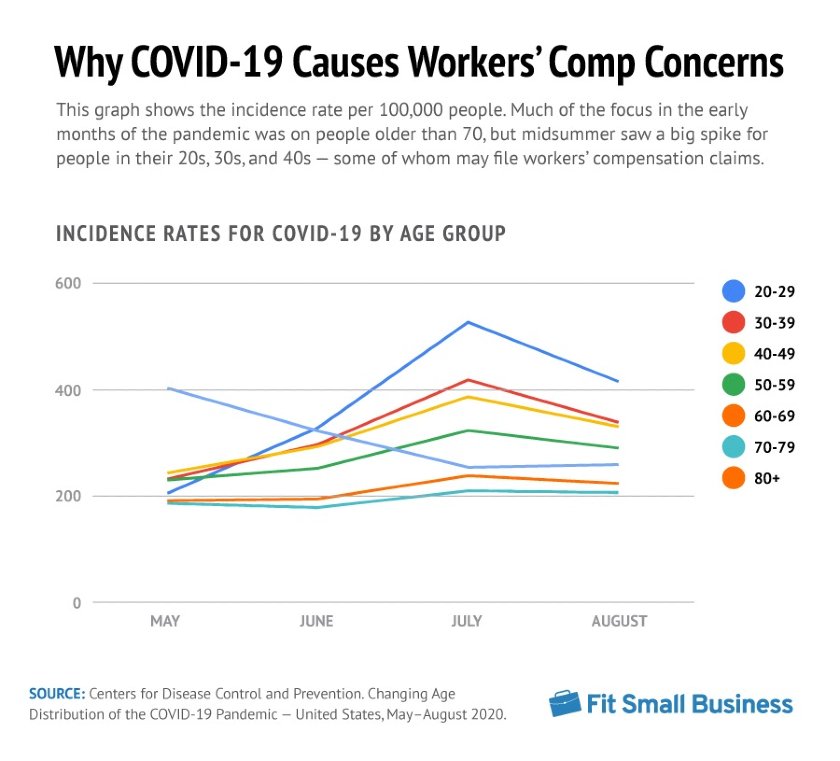 Impact: The list of unknowns regarding COVID-19 and workers' compensation costs is long. We don't know if the long-term effects of COVID-19 will result in more expensive indemnity claims or if a second surge might mean more working-age people end up with the disease. We can't even say for sure if designating the disease as a workplace hazard will reduce premiums by speeding up claims processing or increase them by requiring more benefits to be paid. Ultimately, business owners need to keep an eye on how their states are handling coronavirus workers' comp claims and prepare for the worst.
Over 1,300 Business Interruption Lawsuits Filed
Coronavirus lockdowns wreaked havoc on businesses—probably small businesses most of all. A study published by the Proceedings of the National Academy of Sciences surveyed 5,800 small business owners in the early days of quarantine and found 43% had temporarily shut down. Moreover, the median small firm with $10,000 in monthly expenses had only enough cash on hand to pay two weeks' worth.
These are exactly the type of perils business interruption insurance (BII) is designed for—except for two things:
Policies almost always exclude viruses.
Most policies are only triggered by "a direct physical loss."
Still, 184,546 claims were filed with insurers as of July, according to aggregate data from the National Association of Insurance Commissioners. But the same data shows that only 1,122 claims were closed with payment. This may explain why the University of Pennsylvania's Covid Coverage Litigation Tracker shows 1,302 COVID-related lawsuits filed in the United States as of October 5, 2020.
Impact: Despite a couple of positive rulings for business owners, the courts seem to be siding with the insurers on BII coronavirus cases. This could be a good thing, considering the American Property and Casualty Insurance Association estimates that insurers would have to pay between $255 billion and $431 billion if they were forced to cover virus-related losses. Unfortunately, that's little comfort to the small business owners who may permanently close because of the pandemic. Those that survive can most likely expect tighter policy language to minimize any issues in future pandemics as well as new endorsements specific to pandemic-related shutdowns.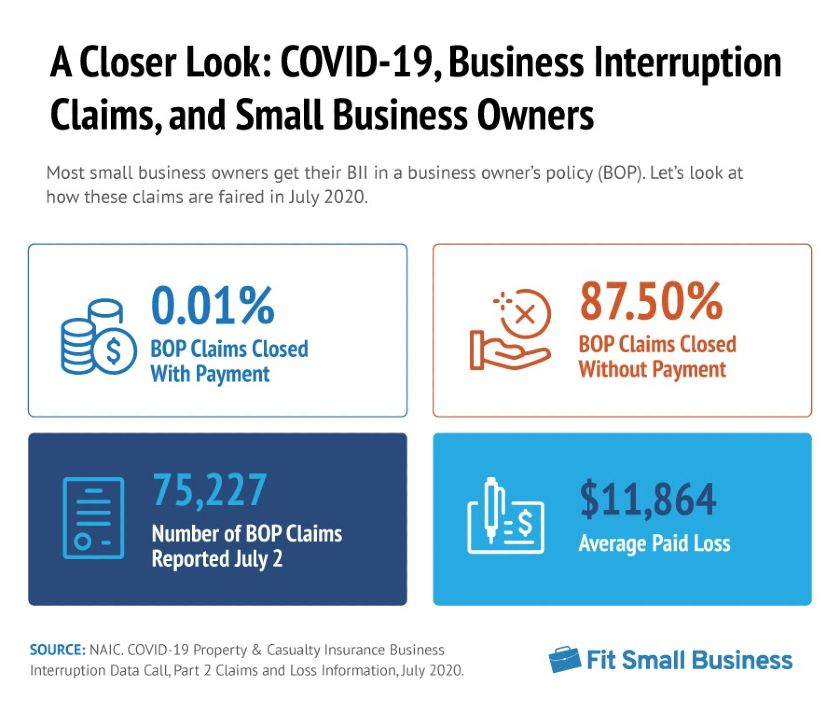 Data Breaches Down 33% During Pandemic
Early in the pandemic, when businesses had to scramble to set up remote work for their employees, insurers were worried about a spike in cyberattacks. The Identity Theft Research Center (ITRC), however, reported a 33% drop in data breaches for the first half of 2020 when compared to the same period in 2019. Moreover, 2020 is on track to have the lowest number of data breaches since 2015.
Much of the decrease in data breaches may be the result of COVID-19. The early concerns about cybersecurity may have made business owners more vigilant about protecting their data, but another possibility is that working from home limited employee access. According to the Verizon Data Breach Report, 30% of all breaches involve internal actors.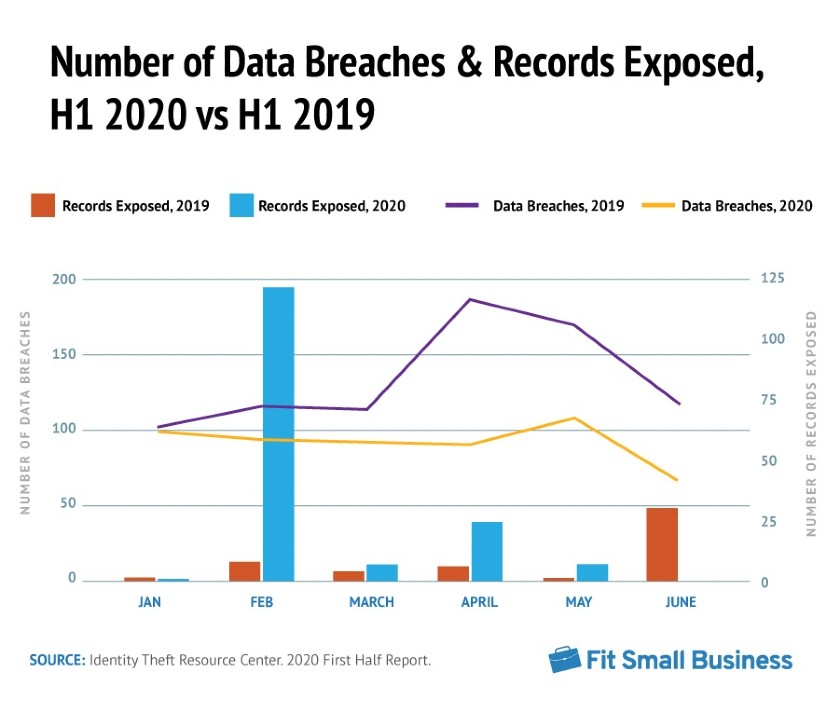 Impact: First and foremost, let's hope the downtick in cybercrime doesn't cause business owners to stop paying attention to cybersecurity. This is a situation where small businesses that survive the pandemic may be tempted to cut back. Cyber insurance has been a historically tough sell—the most recent data shows only 42% of businesses have a policy—and a struggling economy may only make it harder.
Changing Climate Causes Changes in Insurance
Climate change, both natural and human-induced, is causing expensive damage across the US. Data analytics company CoreLogic estimates insured losses for Hurricane Delta, the 25th named storm of the Atlantic hurricane season, to be between $700 million and $1.2 billion just for wind damage and storm surge. That makes it only the fourth-most costly storm this year.
Despite seeing 25 named storms this season, hurricane frequency isn't the main concern when it comes to climate change and insurance. According to a Yale Climate Connections article, greater attention needs to be paid to:
Storm intensity: One study predicts category 4 and 5 storms, the ones that cause catastrophic damage, will increase 28% globally, 42% in the North Atlantic Ocean, and 355% in the northeast Pacific. Another study concluded that the proportion of these storms have increased 25 to 30% per degree of Celsius of human-caused global warming since 1975.
Storm speed: Scientists have not determined if warmer weather has slowed down hurricanes, but a study from the National Oceanic and Atmospheric Administration (NOAA) found a 10% reduction in speed overall since 1949 and a 21% reduction over landmasses.
Rainfall: Warmer air can hold more moisture and produce more rain, according to the Clausius-Clapeyron equation. In a hurricane, this can mean greater rainfall and an increase in flooding.
Changes in hurricanes aren't the only climate-change issue that may impact insurance. Wildfires, widely considered to be partly intensified by human-induced droughts, have burned more than 5 million acres in 2020. Moreover, 14 wildfires have cost more than $1 billion since 2000.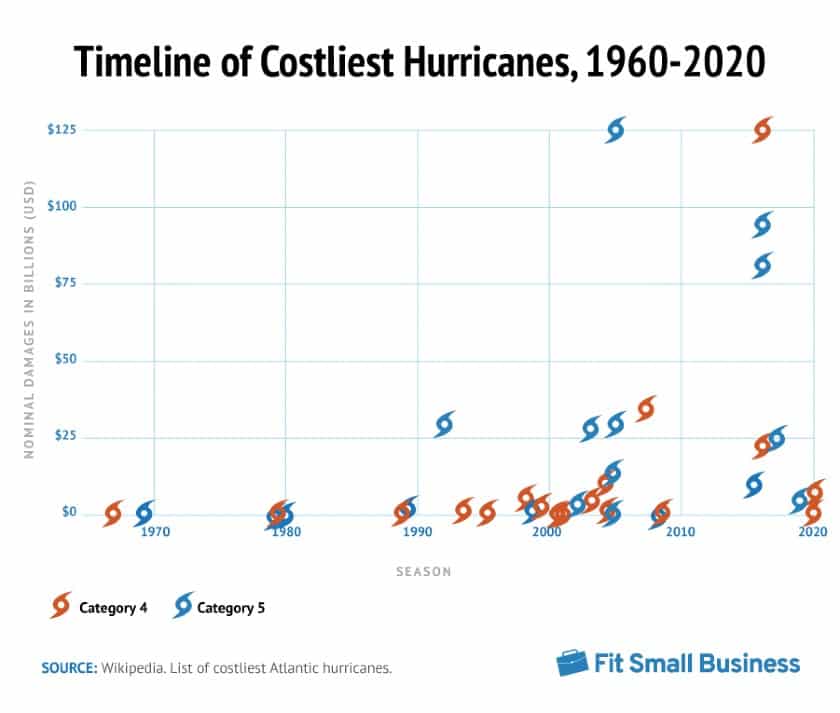 Impact: Covering property losses is the big issue for insurance when it comes to climate change. A survey of state insurance regulators by Deloitte found that 70% expect physical risks to be the most impacted by climate change in the next five to 10 years. It also found:
51% expect climate change to have a high or extremely high impact on policy availability
51% expect climate change to have a high or extremely high impact on underwriting assumptions
33% don't know how prepared insurers are to handle the impact of climate change on their financial stability
In layperson's terms, that means state regulators think climate change is probably going to make some policies difficult for insurers to offer—either because they can't cover the certain types of risks at all or they've set strict guidelines as to who is eligible for coverage. Business owners can increase their chances of finding an affordable policy by selecting locations that are less likely to suffer property damage, retrofitting their buildings with weather-resistance materials, and looking for insurers that offer "green" discounts.
Legalized Marijuana Creates Insurance Questions
Compared to the coronavirus and climate change, concerns over legalized marijuana seem almost quaint these days. But the industry's remarkable growth (projected to be up 20% by 2025) and expansion into new markets (Arizona, Montana, New Jersey, South Dakota, and Mississippi all voted for some form of legal cannabis in the 2020 election) create major questions for insurers.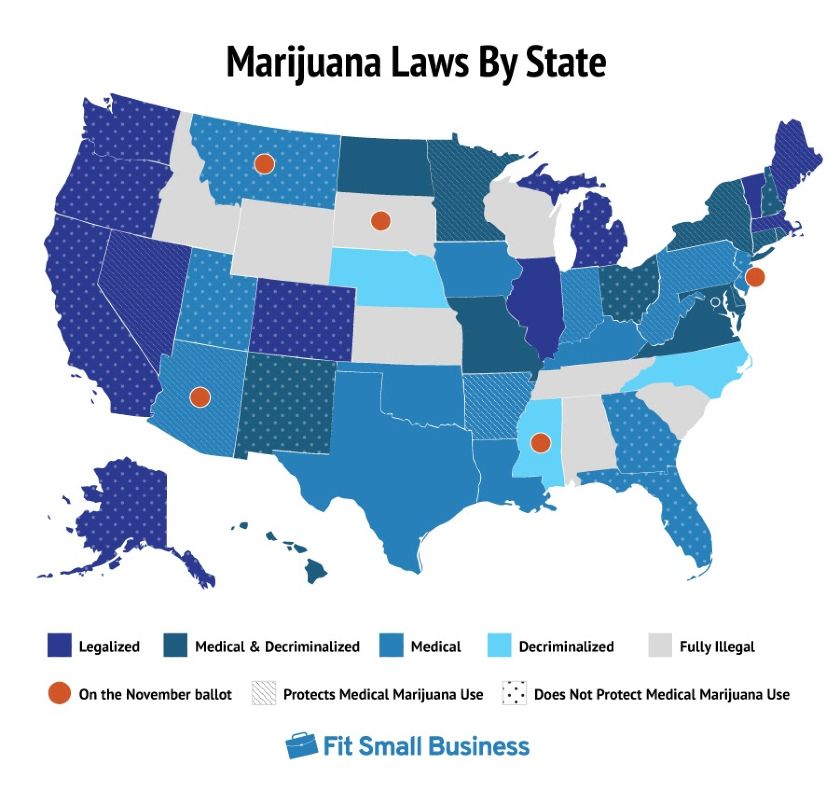 Two Workers' Comp Questions Complicate Legalized Pot
The insurance issues that affect the most business owners center on workers' compensation. Generally, legalization brings up two questions:
Should workers' compensation programs reimburse medical marijuana costs for injured workers?
Can an employee file for compensation if they are injured while under the influence of legal marijuana?
Both questions generate several additional issues for insurers and employers, so we'll tackle them in the following sections.
Workers' Compensation Reimbursements for Medical Marijuana
While only six states currently have workers' comp laws that make medical marijuana a reimbursable expense, another eight considered legislation on the issue. Iowa is the only state that passed legislation to say insurers are not required to compensate workers for medical marijuana treatment. (Similar bills in Alabama, Indiana, Kentucky, and Oklahoma all failed.) However, two states—New York and New Jersey—have bills pending that would authorize compensation. A bill in Kansas that would have allowed both legalized medical use and authorized reimbursement failed.
State lawmakers often have legal objections over workers' compensation covering a drug that's still illegal in the eyes of the federal government, but they can have practical concerns, too. Neither dosages nor potency is standardized, making it difficult for insurers to figure out what they're covering. As it stands, only one state—New Mexico—has a fee schedule for marijuana.
Workers' Compensation for Intoxicated Employees
No state requires employers to tolerate on-duty use, possession, or impairment from either medical or recreational marijuana, and states' laws typically restrict benefits if an injured worker is intoxicated at the time of the accident. However, the ability of tetrahydrocannabinol (THC), the chemical responsible for most of marijuana's psychological effects, to remain in a user's system makes this tricky. For instance, THC is detectable for:
Two days in a saliva test
24 hours to 30 days in a urine test, depending on the frequency of use
90 days in a hair test
36 hours in a blood test.
This means a chronic user who tests positive for cannabis after a workplace accident may not have been intoxicated at the time, making it inappropriate to deny their claim.
Impact: Workers' compensation laws are patchwork, but the combination of the cannabis industry's growing economic power and acceptability means state legislatures may have to amend their laws to fit that reality. Small business owners need to pay attention to developments to ensure they remain compliant with their state's workers' comp requirements.
Varying Employment Protections for Legal Pot Use Leave Business Owners Exposed
A final question for business owners is whether an employer can fire a worker who is under the influence of medical marijuana. On the face of it, you might assume that you can't get in trouble for taking a legal substance taken for medicinal purposes—and you'd be right if you lived in one of the 13 states that have laws prohibiting employers from taking adverse action against employees with medical cards. But there are 14 states where you'd have no protection at all.
Clearly, one complication is with federal law designating cannabis as a Schedule 1 narcotic with no acceptable medical use. The flip side is that state disability laws may protect employees who are prescribed marijuana treatment—which could be a big problem considering a National Safety Council survey found that 71% of employers have a workplace policy governing illegal marijuana use, but only 54% have one for legal marijuana. Moreover, the survey found:
24% of business owners respond by ignoring the situation
27% return the employee to the same position
27% monitor the employee carefully
7% relocated them to a position of lesser responsibility
Impact: Changing marijuana laws are likely to affect employment practices liability insurance (EPLI) in the coming years—at least if states start offering protections for medicinal use. EPLI typically covers accusations of wrongful termination, failure to promote, and discrimination. More business owners may find they need this coverage as states determine how to handle legalized pot in the workplace.
States Look to Cover Mental-only Injuries
The issue as to whether workers' compensation should cover mental injuries is a complicated one. On the one hand, it seems fairly clear that at least some professionals suffer mental injuries such as post-traumatic stress disorder (PTSD) in the course of their employment. Take first responders as an example. A 2015 study revealed that 37% of emergency medical technicians (EMT) contemplated suicide and 6.6% attempted suicide—approximately 10 times the national average, as found by the Center for Disease Control and Prevention (CDC).
Despite this evidence, paying for mental-only injury claims (sometimes called mental-mental claims in the insurance industry) is a struggle. These claims are difficult to prove, so they often result in costly litigation or arbitration.
Interest in covering at least some mental-mental claims appears to be increasing. Back in 2014, a review of workers' compensation laws found that 15 states refused workers' comp benefits for any mental injuries without a physical injury present. As of October 2019, however, eight of these states provide coverage in certain circumstances, like after an unusual or sudden event, and a total of 37 states cover mental injuries to some degree.
Moreover, 16 states addressed legislation regarding workers' compensation for mental injuries in 2020, including:
Colorado: Enacted legislation establishing a worker's visual or audible exposure to a serious bodily injury or death as the result of a violent incident or accident as a psychologically traumatic event for the purposes of workers' comp coverage.
Florida: Considered workers' compensation coverage for correctional officers suffering PTSD; this bill did not pass
Missouri: Considered two bills that would have recognized mental disorders as an occupational disease for firefighters and first responders and PTSD for firefighters, EMTs, police officers, and other first responders in certain situations, and a third bill that would have made this recognition the default position unless employers or insurers demonstrated otherwise; all three failed
South Carolina: Currently considering legislation to modify the requirement of first responders seeking compensation for mental injuries and to add mental injury to a list of potentially compensable injuries if they are the result of a significant trauma
Vermont: Enacted legislation that requires certain government agencies to submit written report about state employees making mental injury claims to committees in the state's House and Senate
Virginia: Considered two bills; enacted one making PTSD compensable for police officers and firefighters; did not pass the other that would have defined psychological injuries as compensable for employees regardless of whether the triggering incident is either a normal or expected part of employment
Washington: Enacted legislation defining PTSD as a compensable injury for 911 emergency dispatchers
Wyoming: Enacted legislation that specifies when mental injuries are compensable for first responders
Impact: Acknowledging that certain employees may suffer these mental injuries that require workers' comp coverage seems like a logical step but covering these injuries can increase workers' compensation premiums. Perhaps state workers' comp boards will create early intervention programs to control costs and provide better care.