Digital marketplaces facilitate the buying and selling of online businesses. These businesses can include websites, ecommerce shops, software companies, apps, and social media accounts, and can cost as low as $50 to more than $20,000,000. The best marketplaces don't break the budget and provide excellent customer service; some even verify the business' income.
Top 6 Online Business Marketplaces 2019
| Marketplaces to Buy Online Businesses | Best For |
| --- | --- |
| | Budget-friendly entrepreneurs who want a large and diverse selection of online businesses |
| | Inexperienced buyers who need excellent customer service when purchasing a higher-end online business |
| | Entrepreneurs looking to purchase a physical inventory or dropshipping-based ecommerce business |
| | Risk-averse buyers who want the benefit of revenue verification after a business purchase |
| | Experienced entrepreneurs looking to diversify with unique higher-end online businesses |
| | Experienced social media managers who want to start an Instagram-based business |
How We Evaluated Marketplaces to Buy Online Businesses
When evaluating marketplaces to buy online, businesses we considered everything from cost and ease of use to the purchasing process and quality of listings. It's important to know other factors such as the level of support each marketplace provides. Some companies provide brokers and advisers to help you find an online business for sale. The brokers also facilitate the transaction. All online marketplaces we reviewed have facilitated at least 100 successful online business transactions.
The criteria we used to evaluate the best marketplaces to buy online businesses include:
Cost: We reviewed the fees charged when purchasing a website, which range from free to 10% of the purchase price.
Ease of use: The entire process is reviewed, from searching for an online business to purchasing to migrating the online assets.
Quality of listings: We reviewed the overall quality of listings and the vetting process online business marketplaces conduct before a business listing is live.
Number of listings: Marketplaces have varying amounts of online businesses listed for sale, from less than one hundred to thousands.
Search technology: Every marketplace has its own search technology to help you find an online business for sale, like filtering options by price, type of business, industry, and date listed.
Purchasing process: We reviewed the overall process of purchasing a business, which includes verification of online business quality, communication with seller, and negotiation.
Customer support: Each marketplace has varying levels of support it provides before, during, and after an online business transaction.
Taking all the above criteria into account, we recommend Flippa as the best marketplace to buy online businesses. For a first-time buyer, Flippa presents an ideal opportunity to learn the process involved with buying an online business. It has thousands of low-cost and higher-priced online businesses for sale, like ecommerce, advertising-based, and apps. Additionally, Flippa provides tools for buyers, such as Flippa Finder, which is a paid service to assist finding an online business.
Flippa: Best Overall Marketplace to Buy Online Businesses


Flippa is a budget-friendly online business marketplace ideal for first time buyers. In a successful transaction with Flippa, sellers pay the fee. It's no cost for buyers. Flippa also provides tools to aid in a purchase, such as Flippa Finda, which is a paid personalized service that helps with searching and negotiating.
Flippa Pricing
Flippa is free for buyers to use. There is a buyer service called Flippa Finder that provides a dedicated account manager for $50 per month. After a sale occurs, buyers pay a 2.5% acquisition fee. Additionally, in the event of a sale, the monthly fees are refundable.
Flippa Features
The Flippa marketplace sells online businesses in an auction format, similar to eBay. Its search function is easy to use, and it has the largest number of listings of any online business marketplace in the world. The purchasing process is typically self-facilitated; however, Flippa provides messaging tools, verified analytics, and legal contracts to make the purchase go smoothly.
Flippa Ease of Use
Flippa has an easy-to-use interface that facilitates online sales well. Its online business sales page is functional and provides plenty of information about a business. It gives you the ability to make a bid, contact the seller directly with a question, and watch the business for price changes. On the business sales page, Flippa's recommendation algorithm lists similar businesses you may be interested in, which is based on previous visitors' interest.
Flippa Quality of Listings
Overall, Flippa provides a large selection of quality listings. However, the main downside of Flippa is the high number of low-quality listings. One of Flippa's pros for sellers is the short amount of time it takes to publish a listing. Flippa does not have a formal business vetting process. This is a con for buyers who have to filter through the low-quality listings from the higher-quality listings.
You can identify a quality listing by reviewing a seller's profile, which shows directly in the listing. For example, the seller listing survivalkits.org has done 37 transactions totaling over $152,000 in sales. This is a seller who doesn't want to tarnish their reputation on Flippa with a poor quality and scammy website sale.
Flippa Quantity of Listings
Compared to other online business marketplaces, Flippa excels with its quantity of listings. At any given time, there are thousands of business listings to explore, from $10 businesses to $1 million businesses. Flippa also shines in its diversity of listings with online assets such as AdSense websites (a Google Ads revenue-based business), apps, and software as a service (SaaS) businesses.
Flippa Search Technology
Flippa's search technology is functional and works well. In addition to its main search engine, Flippa provides tools built into its website, like recommendations of similar listings. Flippa organizes its listings by the type of business, such as websites, ecommerce, content with ads, content with AdSense, SaaS, and apps. Within those categories, it provides curated listings with Editor's Choice, Featured Listings, Established Businesses, Starter Businesses, and Most Active.
Flippa Purchasing Process
Most listings on Flippa are self-service sales, which means there won't be a broker or adviser involved in the sale. Flippa will facilitate the steps digitally to purchase a business and provide the forms needed to make it a legal purchase. It also provides an escrow account that holds your funds until you confirm all the online assets have been turned over to you.
Sales on Flippa are auction sales, which means the highest bidder after a certain period of time will win the sale. You need to be ready to bid towards the end of the sale in case someone outbids you. Typically, there is a "Buy It Now" price to purchase the business and skip the auction.
Flippa Customer Support
Support is available 24/7 but is generally limited unless you're in the purchasing process. Flippa provides a service for buyers called Flippa Finder, which helps you acquire an online business.
What Flippa Is Missing
Compared to competitors, Flippa is missing an internal process to vet businesses before listing them on its website. Broker-based competitors like FE International, Empire Flippers, and Latona's vet online businesses before listing them on its website. Flippa doesn't vet businesses, because its business model runs on quantity over quality. This is to the detriment of the searcher because it takes more time to vet and determine the quality of a listing.
What Users Think About Flippa
Flippa user reviews are generally positive with some negative experiences. Buyers enjoy the responsive and friendly customer service. One buyer stated the CEO of Flippa reached out to him after he purchased a business to ask about his experience. Buyers complain about acquiring online assets that were lower quality than described. Other buyers were not happy with the customer service during the purchasing process.
Where to Find Flippa
Flippa is the perfect online business marketplace for someone just getting started in the online business world. You can purchase a business with positive cash flow without having to build it yourself. Flippa provides all the necessary tools, like legal forms and an escrow account, to purchase an online business. Invest in a low-cost online business today.
FE International: Best High-end Marketplace for Customer Service


FE International is a professional website broker with high-quality listings. Out of all the website brokers, FE International has the best customer service. Its businesses are well vetted before being publicly listed and have a 94.1% sale success rate. On deal completion, the buyer pays a 2.5% fee, capped at $1,000.
FE International Pricing
Buyers do not incur fees when speaking with brokers or requesting business information. However, when a deal is completed, there is a 2.5% buyer transaction fee, which is capped at $1,000. The fee covers administration costs associated with the sale, such as drafting the letter of intent, escrow setup, transfer facilitation, and drafting the asset purchase agreement.
FE International Features
FE International excels in its quality of listings and customer support. It makes the transaction process easy to complete by walking you through it step by step. If you're not ready to speak to one of its brokers on the phone, the lack of a search function is a downside. Compared to all marketplaces, FE International has the best free prepurchase library, which includes its 83-page e-book titled "Guide to Buying an Online Business."
FE International Ease of Use
As a broker service, FE International's ease of use is how well its brokers provide service to buyers. When you make an inquiry on a business, one of the brokers will contact you within a couple of hours to get more information about your needs. As you go through the purchase process, the FE International brokers will be with you every step of the way until the online asset is in your possession.
FE International Quality of Listings
Compared to its competitors, FE International has some of the highest-quality business listings. FE International's vetting process is thorough. It only accepts listings it believes can sell. There are "previously sold" listings and "under contract" listings, so you can better understand the type of businesses recently sold.
FE International Quantity of Listings
The number of listings on FE International is similar to other high-end website brokerage businesses. At any given time, there are around 100 online businesses listed for sale on its website. FE International also listed a diverse range of online businesses, from Amazon-based ecommerce to video streaming and affiliate marketing.
FE International Search Technology
The search technology for FE international is nonexistent. It prefers to list businesses from highest asking price to lowest. This is not an impediment to purchasing a business from them. It's clear from FE International's website organization that it would rather a buyer call directly than spend time searching through business listings.
FE International Purchasing Process
Before you start the purchasing process, FE International does a lot of the leg work vetting a business. It doesn't do a deep dive into the inner workings of the online business—you will need to do your due diligence. FE International confirms the analytics and sales data as best it can. Additionally, the broker sets up a question-and-answer meeting between you and the owner before the negotiation occurs.
FE International Customer Support
Compared to the competition, FE International provides the best buyer support. Once you start the process of buying a business, you have direct contact with a broker during normal business hours. After the sale, you're typically given 20 hours of training over a 30-day period to learn how the business you purchased operates. You can negotiate a longer training time for more complicated businesses.
What FE International Is Missing
FE international is missing a search function on its website. Currently, the available business listings it has are ordered by highest- to lowest-priced listings available. A searcher cannot filter by type of business, revenue, or newly listed.
What Users Think About FE International
Generally, FE International user reviews are positive. Previous clients say FE International is a professional brokerage, communicates clearly, and is timely with responses. One client said he appreciated that FE International handled as much of the transaction process as it could. First-time online business owners also enjoy a library of e-books to learn about the process of purchasing a higher-priced online business. The main con of FE International is that it's an outdated website that could use a redesign.
Where to Find FE International
FE International has the best customer service among marketplaces with higher-end online businesses. Its main downside is the 2.5% of the purchase price buyer fee, but it does several administrative tasks that save you time in the purchase process. FE International's upfront business vetting saves you time in the online business screening process. Visit the website to connect with FE's customer service team today.
Exchange: Best Marketplace for Shopify-based Ecommerce Businesses


Exchange by Shopify is a marketplace that exclusively sells Shopify-based ecommerce businesses. It uses the Shopify platform's internal analytics to verify business data prior to listing, making the listing's information accurate. Exchange also provides specialists who assist in account migration after your purchase. Additionally, buyers don't pay any fees to purchase a business.
Exchange Pricing
There is no cost for buyers to purchase an ecommerce business on Exchange. According to one of its support specialists, the seller pays the cost, and the amount of the fee changes depending on the type of business being sold.
Exchange Features
Exchange has thousands of quality and verified listings from which you can choose. Its website interface is easy to navigate. Exchange has the best post-purchase support because Shopify experts help migrate the ecommerce store over to you, saving you technical headaches. All of the website analytics, like website sales and traffic, are verified within the Shopify platform.
Exchange Ease of Use
When searching for an online business, Exchange excels with its ease of use. Exchange's website has a simple design, so you can quickly understand revenue, website traffic, and business expenses. Additionally, at the top of a listing page, there are tabs that take you to specific information, like the business story, expenses, sales, and the seller's advice.
Exchange Quality of Listings
Overall, Exchange does a great job of providing quality listings. The Shopify platform has internal analytics that pull data from each store listed for sale to verify the sales and website traffic data. Exchange lists less expensive ecommerce stores selling for under $1,000 and several high, six-figure businesses.
Exchange Quantity of Listings
There are over 9,000 ecommerce businesses listed for sale on Exchange. This is impressive considering they are all Shopify-based businesses. Exchange targets several niche markets and lists numerous types of ecommerce businesses like dropshipping, inventory-based, and print-on-demand.
Exchange Search Technology
Exchange has a standard search technology that has no issues helping you find the business you are looking for. It separates itself from the competition with the ability to search by location. Exchange has hundreds of different cities and countries from which to choose. It also has a "cheap businesses" section, with dozens of businesses listed for sale under $1,000.
Exchange Purchasing Process
The purchasing process with Exchange is fairly simple. It starts with you messaging the seller directly within the platform. The Exchange marketplace does a great job offering a lot of information upfront about the business, including verified sales and website traffic.
After the offer is accepted by the seller, your money goes into an escrow account, and you typically have three days to review the website assets and confirm that the information the seller stated on the sales listing is correct. After that, Shopify will set up the migration and notify you when the store is ready for you to manage.
Exchange Customer Support
Exchange shines in its website migration support. Most marketplaces leave the online asset exchange to the buyer and seller. With Exchange, it has a dedicated migration support staff to make sure the business is fully prepared for you to operate. Once the transition is complete, someone from its support staff team will contact you for an onboarding call. After the initial call, you have support available 24/7.
What Exchange Is Missing
Exchange is missing a broker option to help facilitate the sale. If you're purchasing a higher-priced business, it may be worth it to hire a broker to help negotiate a better deal for you. Unless you are an expert negotiator, you may be paying tens of thousands of dollars more than you could with an expert negotiator who can secure a lower purchase price. For example, Empire Flippers assigns a broker to help facilitate communication and negotiation with the seller.
What Users Think About Exchange
Exchange user reviews are generally positive. People like that Shopify has skin in the game since all listed websites are built on its ecommerce platform. People also like the ability to either choose from newer ecommerce websites that have growth potential and more mature websites with a sales history. Exchange users don't like the fact that many of the businesses listed are not profitable and that the responsibility to vet the business is on the buyer.
Where to Find Exchange
Exchange by Shopify is the marketplace to visit if you're looking to purchase an ecommerce business. Exchange offers complimentary migration support that assists with transferring the ecommerce business over to you. The number of websites available with pricing from under $1,000 to over $1 million make Exchange an idea platform for any type of buyer. Visit Exchange, and search for your ecommerce business today.
Empire Flippers: Best High-end Marketplace for Revenue Verification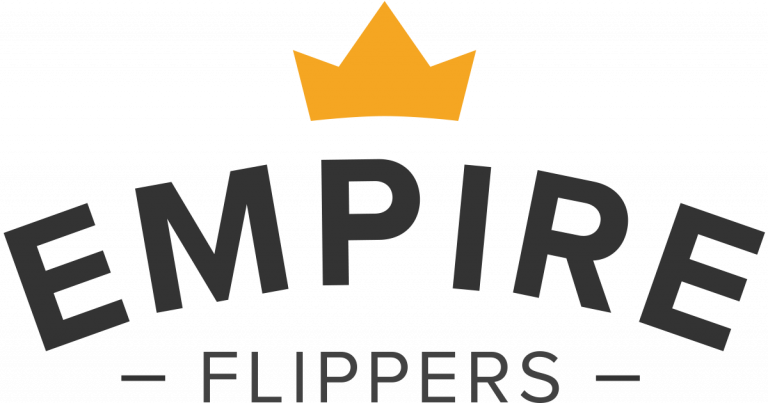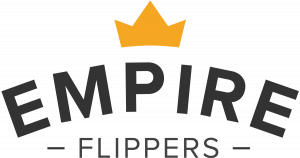 Empire Flippers is a brokerage service for high-end online businesses. It separates itself from other high-end marketplaces with in-depth revenue verification. Empire Flippers also has a post-sale revenue verification period to confirm revenue stated in the listing. There is a 5% fully refundable deposit a buyer must pay to access the verified information about a business.
Empire Flippers Pricing
Empire Flippers requires a fully refundable 5% deposit to gain access to a business' verified analytics. If you choose to purchase the business, that deposit will be applied to the final purchase price.
Empire Flippers Features
Overall, Empire Flippers is fairly similar to other high-end website brokerage marketplaces. It offers quality listings and hand-holding support. Empire Flippers' purchasing process is easy to navigate because you have a dedicated representative. It has features other competitors don't provide, like the post-sale revenue verification period that benefits buyers.
Empire Flippers Ease of Use
It is easy to navigate the Empire Flippers website. The website is created with minimal navigation tabs that make it easy to get the information you need. Empire Flippers provides easy-to-read custom sales charts, similar to Exchange. Once you move into the purchase phase, a dedicated adviser walks you through the purchase process step by step.
Empire Flippers Quality of Listings
The quality of listings on Empire Flippers is very high. It sells 88% of all online businesses listed. Unlike other online marketplaces, Empire Flippers verifies profit margin (the percent of income remaining after expenses are subtracted) for each company. Typically, on other platforms, you have to do the research and calculate the profit margin yourself. In addition to the stated numbers, Empire Flippers goes above and beyond to provide screenshots of income data from sources like Google AdSense and Amazon Associates.
Empire Flippers Quantity of Listings
Empire Flippers has less than 100 listings on its website, which is typical for a high-end website brokerage marketplace. It does have a diverse catalog of online businesses that includes Google AdSense, Amazon Associates (advertising Amazon products), ecommerce, and SaaS.
Empire Flippers Search Technology
Since Empire Flippers has a limited amount of online business listings, its business search function is less developed. However, it is superior to FE International. Empire Flippers allows you to search by the type of online business and organize businesses by new, pending, or sold status.
Empire Flippers Purchasing Process
The purchasing process with Empire Flippers is easy to navigate because one of its employees acts as an adviser to give you direction. Empire Flippers provides a couple of features that competitors don't. One unique feature is the revenue verification period after a sale; if after the sale, the revenue stated in the financials isn't accurate, the deal can be overturned.
Another feature Empire Flippers provides during the purchasing process is what it calls a wire run. This happens when there is more than one potential buyer. Empire Flippers allows multiple buyers to wire funds to purchase the business. If the seller receives any wires that are less than the list price, they can accept other offers. This may work to your advantage if you're willing to pay the full asking price when other buyers offer less; in this case, you would win the wire race.
Empire Flippers Customer Support
Since Empire Flippers is a brokerage business, it works with you step by step until the business is yours. You'll receive more support than you would with Flippa or Exchange. When you make the 5% refundable deposit on a business, the customer support team knows you're serious and gives you additional support.
Something unique and modern about Empire Flipper's customer support system is that it recommends you reach out on Twitter for help for immediate questions. It also has a live representative you can contact by phone during normal business hours and an online support ticketing system.
What Empire Flippers Is Missing
The main feature that Empire Flippers is missing that other marketplaces have is the ability to lock in your offer. Even after you put in the work with due diligence research on the business and sign a purchase contract, you could lose the deal. Empire Flippers relies on the wire race, which typically benefits the seller. You could lose out on a deal by a matter of minutes because your wire transfer was slow and sent after another buyer's wire.
What Users Think About Empire Flippers
The Empire Flippers user reviews are generally positive. Clients commented that they felt the employees at Empire Flippers worked hard to get them the best deal possible. Clients also enjoyed its free content, like podcasts and blogs about online business. There were some complaints about a slow response time, which the user said was between two to three days. Additionally, a user complained about his adviser giving him poor legal recommendations in a certain industry.
Where to Find Empire Flippers
Empire Flippers provides an easy-to-search marketplace with brokers to help you in your purchase journey. Its well-researched and vetted listings make it likely for you to find a quality online business. Empire Flippers has the best post-purchase support to confirm the business' revenue equals what was stated in the listing. Visit the website to review a list of vetted online businesses for sale.
Latona's: Best for Diverse Selection of Online Businesses


Latona's is considered a high-end online business broker with assets listed from mid-five figures to low-eight figures. Its customer support and quality listings are comparable to that of other high-end marketplaces. Where Latona's separates itself is the diverse selection of online businesses, like the Domain Portfolio. Unless otherwise negotiated, Latona's is no-cost for a buyer.
Latona's Pricing
Latona's doesn't charge a fee for buyers during the transaction. However, it's important to remember that during a negotiation, a seller may request that the buyer pay a percentage of the broker fee.
Latona's Features
Latona's features are comparable to the features other high-end website brokers have. It has high-quality listings with a diverse offering of online businesses. Its search technology is functional, with a unique filter to search for businesses that could qualify for a Small Business Administration (SBA) loan. And the brokers are experienced enough to help connect you with your ideal online business.
Latona's Ease of Use
During the beginning of your online business search, Latona's is not user-friendly; it doesn't provide a lot of information about the process. Its website also needs an update to a modern design. When you're ready to get more information about a specific business, you will be connected with a broker who takes care of the purchasing process for you. This adviser connection makes Latona's easy to use as a marketplace.
Latona's Quality of Listings
The quality of Latona's listings are high. Sale prices range from mid-five figures to low-eight figures. Latona's has been in business since 2008, which gives it a strong brand name in online business marketplaces. This attracts quality listings that are all cash flow positive, which means the online business is making money.
Latona's Quantity of Listings
Latona's has 93 business listings, comparable to other high-end brokerages. It separates itself from competitors with its diversity of listings. Latona's originally started as a domain name broker, which means it sold website domain names. Now, the company bundles quality domain names and sells them as Domain Portfolios. Typically, these portfolios contain hundreds or thousands of unsold domain names that are monetized with advertising.
Latona's Search Technology
Latona's search technology is functional. You can browse by price, revenue, or profit. Something that makes its search technology unique is the ability to search by businesses that could be SBA loan-approved. Typically, SBA loan-approved businesses will have saleable assets in the business. Latona's also allows you to search by type of business and type of industry.
Latona's Purchasing Process
The purchasing process at Latona's is simple because, once you connect with a broker, they walk you step by step through the purchasing process. Once you create an account, you'll get access to additional purchase tools like a snapshot of businesses available. When you're interested in a business, you simply go to that listing and request more information about it.
Latona's Customer Support
Latona's provides several different ways to get in contact with a representative, including by phone during normal business hours and using a contact form. Additionally, it lists all of its brokers with a short background and direct contact information. If you believe a certain broker's background would help you find the business you're looking for, you can contact them directly.
What Latona's Is Missing
Other than the listings, Latona's website hasn't been updated in several years. It's missing content about the purchasing process that other online marketplaces, like FE International and Empire Flippers, provide. There is no information listed on Latona's website regarding frequently asked questions, website migration details, or details like how long the buyer's due diligence period is.
What Users Think About Latona's
Latona's user reviews are generally positive. Buyers and sellers enjoy the professionalism and expertise of Latona's website brokers. The negative reviews are about purchasing low-quality or misleading websites.
Where to Find Latona's
Overall, Latona's is similar to other high-end online business marketplaces. It provides a similar quality of support and experience from its brokers. Latona's has a unique business offering with its domain portfolios. Where Latona'a could improve is a revamp of its website with more information outlining its purchasing process. There is no cost to get started. Start searching for your high-end online business today.
Social Tradia: Best Marketplace to Buy Instagram Accounts


Social Tradia is a marketplace that sells Instagram accounts. You would want to purchase an Instagram account with a Following because you can promote products through Posts and Stories. Additionally, you can sell ad space (called influencer marketing). Instagram account prices range from under $100 to $40,000.
Social Tradia Pricing
Buyers using the Social Tradia marketplace pay a 10% transaction fee on a purchase. You can pay this fee by credit card or wire transfer.
Social Tradia Features
The features Social Tradia provides are similar to Flippa. It is largely a do-it-yourself marketplace. The purchase process for Social Tradia is easy to navigate, because the only online asset being transferred is the Instagram account. There's a 24-hour verification period after the account purchase that helps to ensure you will receive a quality online business asset.
Social Tradia Ease of Use
Social Tradia's search function and transaction process are easy to follow. It takes about 30 minutes to transfer an Instagram account after the seller agrees on the purchase price. Purchasing an existing Instagram account is much easier than buying an online business. For example, you only need login information to transfer an account. To purchase an online business and its website, you have to consider the domain name, hosting, platform, analytics, and revenue accounts.
Social Tradia Quality of Listings
Social Tradia has high-quality listings. All listed Instagram business accounts have detailed analytics, like demographics, likes per post, and geographic location of likes; Social Tradia verifies the analytics to ensure the followers are real and engaging with the account.
Social Tradia Quantity of Listings
There are thousands of accounts listed on Social Tradia. It is one of the most popular marketplaces to buy and sell Instagram accounts. Social Tradia's marketplace lists accounts with under 5,000 followers to over 100,000 followers. There are dozens of accounts listed for sale with more than 100,000 followers.
Social Tradia Search Technology
Social Tradia organizes its listings based on how many followers each account has and the business categories to which they belong. For example, you can search for accounts between 2,000 and 5,000 followers or accounts between 5,000 and 20,000 followers. The search technology is highly visual, and you can see real examples of an account's posts directly in the search.
Social Tradia Purchasing Process
You need to do your own due diligence when purchasing an Instagram account. Yes, the analytics are verified within Instagram; however, you must verify any claims of revenue from the account. After you purchase an account and receive login credentials, you have 24 hours to personally verify the information on the account's marketplace page. As long as you don't damage the account and it's within 24 hours, you can return the account to the owner, and your purchase price will be refunded.
Social Tradia Customer Support
Social Tradia provides minimal support to its buyers because the average sale of an Instagram account does not warrant an adviser or broker. If you're a frequent purchaser of Instagram accounts, you may receive an account representative. Regardless of your situation, if you have any questions, you can email them and expect a response during normal business hours.
What Social Tradia Is Missing
The main feature Social Tradia is missing is information about revenue and content. There is no section on the website to search specifically for cash flow-positive Instagram accounts. There is also little information describing the type of account content and the amount of work needed to maintain the Instagram account. Additionally, there is no demographic data about an account's followers listed publicly, like geographic location or age.
What Users Think About Social Tradia
The Social Tradia user reviews are generally positive. Users enjoy the quick and smooth process to purchase an Instagram account. Users also enjoy the responsiveness of the Social Tradia staff when they had a question. There was a complaint about a one-off situation when someone was in the process of buying an Instagram name online and the deal did not happen.
Where to Find Social Tradia
Social Tradia is a low-cost way to start operating a low-cost business. It is particularly appealing if you're already familiar with the Instagram platform. Additionally, if you already have a business or Instagram account, you can purchase a separate account to promote your business to followers. When you find an Instagram account you're ready to purchase, you pay a 10% fee. Start searching for your next Instagram business today.
Bottom Line
Depending on the type of online business you'd like to purchase, there are several different marketplaces to fit your needs. Some are auction-based with the highest bidder winning the online asset. Other marketplaces assign you a broker to assist with the process. The transaction fee is typically paid by the seller, but platforms like Social Tradia require the buyer to pay the transaction fee.
Flippa is our top-recommended marketplace to purchase an online business. It's perfect for the entrepreneur who is new to online business and wants to learn with a low-cost opportunity. Additionally, if you're looking for a higher-performing business, Flippa has listings in the mid-six-figure range. If you would like assistance with your purchase, you can use Flippa Finda, which is a paid service. Find your next online business with Flippa.