Cameron Peake spent years launching digital financial products all around the world before starting the digital banking platform Azlo in 2017. Her work enabled small business owners and entrepreneurs to save and pay more securely, efficiently, and cheaply.
Peake and Brian Hamilton co-founded Azlo with the goal of delivering small businesses and entrepreneurs the tools they need to start, scale, and grow their business. We spoke with Peake about her recent transition to CEO, how Azlo empowers small businesses, and Azlo's recent PayPal and Square integrations.
Cameron Peake, CEO & Co-founder of Azlo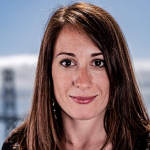 Peake is the co-founder and CEO of Azlo, an online, fee-free digital banking platform. Peake completed her undergraduate studies at McGill University and received her Master of Business Administration at The Wharton School at the University of Pennsylvania. After working with a handful of digital financial products around the world, Peake was motivated to develop the first digital banking platform to offer fee-free business accounts with unlimited payments to anyone in the United States or Mexico.
Peake Looks for Ways to Deliver Even Better Services in Transition to CEO
FSB: You recently transitioned from COO to CEO of Azlo. What excites you about this change? How do you expect this will this impact Azlo and your customers?
Peake: "As COO, my job was all about execution: making sure things work and run well, and that the business delivers on its goals. Transitioning to CEO is stepping one level above that; thinking about our mission and our vision and looking at how to run the business from a more holistic perspective. I now have the opportunity to not just think about how to get where we're going but why we're going there and what we're trying to achieve.

"Azlo will continue to do what is working well: offering entrepreneurs, freelancers, and small business owners digital-first services that empower them to focus on building their business rather than worrying about banking. However, I do see this transition as an opportunity to look for areas where we can improve. In an early-stage company, a lot of what you're doing is building something, testing something, and seeing where it fits.

"With my transition to CEO, we have an opportunity to pause, assess, and reflect on our work to date. I don't see any need for a major shift, but we can create more focus and refinement around who we're serving and our mission."
Azlo Works to Empower Women, Entrepreneurs of Color, and People Living in Rural Areas
FSB: You've played an important role in the new wave of business digital banking. How has Azlo empowered the gig economy, entrepreneurs, and small businesses?
Peake: "I come from a mission-oriented background where I helped to launch digital financial products around the world, and I'm passionate about expanding access to opportunity. At Azlo, we help entrepreneurs, freelancers, and business owners launch and grow companies on digital platforms. This is important because digital platforms are a democratizing force that enable business owners ― and in particular women, entrepreneurs of color, and people living in rural areas ― to create opportunities for themselves that may otherwise be out of reach."
Azlo's Peake Looks for Ways to Deliver Better Services for Small Business Owners
FSB: With the new wave of digital banking, several key players will be on the rise. What makes Azlo more advantageous to business owners compared to industry competitors? How can business owners use your fee-free, digital banking platform to improve how they manage their finances?
Peake: "Within the banking industry, small business customers usually either aren't served at all, or they're served as an afterthought. At Azlo, from day one, we've built our product just for them. For example, we don't have minimum balances or monthly fees. This is important because if you're a new business owner ― particularly someone who hasn't started earning revenue yet ― your money should be put towards your business rather than fees.

"We also have a product that's entirely digital, so it works for entrepreneurs whose work and life are digital-first. Our accounts are designed for their lifestyle, so they can open accounts online and manage them from their phones or computers.

"In addition to helping entrepreneurs manage their business finances, we offer resources to help them learn skills and becomes successful. For example, we host webinars, we have an online community where entrepreneurs can learn from each other, and we also set up offline events for entrepreneurs to meet each other in person."
Azlo's Integration With PayPal and Square Allows for a Streamlined Business Cash Flow Process
FSB: Recently, Azlo completed an integration with PayPal and Square into its online banking platform. How is this integration advantageous to business owners?
Peake: "When you're running a new small business, invoicing and getting paid is important. For most business owners, it's the number one thing they care about. That's why we offer basic in-app invoicing to help our customers get paid. We recognize that there's a whole range of ways for entrepreneurs to get money from their customers, so these integrations allow them to send invoices through the Azlo app and then accept payments with PayPal, Square, or other tools that they're using every day.

"Another benefit of these integrations is that they offer a more holistic view of cash flow. If you're an early-stage entrepreneur, you care about where your cash is coming and going. Our integrations provide a better view of those transactions in once accessible place.

"Integrations are a focus of ours because digital entrepreneurs use many tools every day to run their businesses. We got many customer requests for this PayPal integration, as well as support for QuickBooks Online, which was launched several months ago, and we continue to get customer feedback and requests for new integrations. That's why we have a team dedicated to responding to this feedback and implementing these integrations."
Azlo Says the New Wave of Digital Banking Is Key For Small Businesses
FSB: What are some emerging trends in the digital banking space that small business owners should prepare for and what are you excited about for 2019?
Peake: "For years, faster peer-to-peer payments in the tech space, such as Venmo, were ubiquitous but these rapid payments weren't available within banking. Now, the banking industry is finally catching up and offering real-time funds transfer through services like Visa Direct and Zelle, although Zelle isn't currently available for business accounts. As these products become more widely available, it will be possible for entrepreneurs to make payments and get paid much more quickly.

"Another interesting trend is that there's more and more purely digital banks emerging. Many of them focus on very specific audiences like folks in the gig economy or startup workers. These types of segments don't fit into the products lines offered by traditional banks, and they've been wildly underserved. I'm excited to see more energy and innovation for these customers."
What Azlo Does for Small Businesses

Azlo enables businesses to make purchases, send digital invoices, make mobile deposits, electronically transfer funds, and pay bills. They provide a free business bank account that's designed for small businesses and their owners, freelancers, and entrepreneurs. Customers can access their money through more than 55,000 Allpoint ATMs nationwide for no additional charge.
Azlo was founded in 2017 and is a private company that partnered with BBVA Compass to help underserved entrepreneurs. The financial terms of BBVA's (stock symbol: BBVA) investment in Azlo were not disclosed. Azlo relies on BBVA Compass banking license and payment infrastructure to operate in the U.S. but runs as an independent company.