Inventory control is the organizing and tracking of inventoried goods on a retail sales floor, in backroom storage, or in a warehouse. Good inventory control practices and systems ensure correct stock counts, proper product display and storage, correct tagging, and accurate restock orders.
Inventory tracking software is an essential tool for ecommerce sellers and retail store owners who value accurate, real-time inventory control. Lightspeed POS is an end-to-end ecommerce and retail inventory management package that readily supports the inventory control best practices we explore below. See how Lightspeed POS inventory tools can streamline your business with a free 14-day trial.
How Inventory Control Works
Inventory control is the process that a retail store, ecommerce seller, wholesaler, or manufacturer uses to track inventory as it moves through the business. Typically, inventory control involves the hands-on, physical control of stock, including:
Data Tracking – Stock information such as cost, supplier information, restock lead times, and sales velocity must be easily available and up-to-date for efficient operations.
Stock Counts – Knowing how much of each item is in stock is essential to making stock purchasing and markdown decisions.
Location Tracking – Retailers and online sellers must have sound display and storage tracking procedures so they can easily locate, count, and sell inventory.
Correct Tagging – Improperly tagged goods create all sorts of problems, like incorrect pricing that affects retail profits, or order errors that end in ecommerce service issues and return and reship costs.
Accurate Receiving – Proper receiving procedures can keep counts, location, and tagging on track, but receiving errors create problems from the minute stock hits your door.
The ultimate goal of inventory control is to ensure all stock data is correct, inventory can be found and accounted for, and that purchasing decisions are based on accurate and up-to-date data.
Reliable inventory data allows business owners to make profitable decisions in many key areas—from reordering stock, adding new products, and expanding lines and categories to marking down slow-moving products. Without proper inventory control methods, businesses generally end up overstocked and cash-strapped, consistently sold out of hot-selling products, and unable to locate stock. Ultimately, poor inventory control leads to lower profits, unexplained inventory shrinkage, and an unhealthy bottom line.
Who Needs Inventory Control
Any business that moves products through their operation needs inventory control. Some businesses sell just a few unique items in large quantities. Others carry broad collections, but not large quantities of each. Then there are businesses that track inventory in partial units—like manufacturers that track both parts and finished goods, or restaurants that track the ingredients that go into each meal.
Here is a closer look at businesses that benefit from inventory control:
Retailers – Retail inventory control tracks inventory on both the sales floor and within store stockrooms and other storage locations. It ensures that goods are tagged properly, products are displayed correctly, and that slow-movers are marked down to move out.
Ecommerce Sellers – Correct inventory counts, storage location, and tagging are critical in an ecommerce operation where back orders or incorrectly filled orders lead to irate customers and costly reship fees.
Multichannel Sellers – Businesses that sell on several online channels or both in-store and online must have sound inventory controls to ensure stock listed on each channel is available, and must reorder in a timely manner to avoid back orders.
Manufacturers & Wholesalers – Manufacturers often must track both the parts that go into finished products and the finished products themselves. Wholesalers that sell in full and partial cases must track goods per unit and per case. These sellers need inventory controls that connect parts or units to a larger whole.
Restaurants & Food Service Businesses – Restaurants and cafes split bulk foods into partial units to create dishes. So they must track these ingredients, connect them to meals, and report how many meals can be made from in-stock food.
Whatever your business—fashion boutique or food truck—if a sellable product is involved, you need inventory control methods to run an efficient operation. We explore how to put it all together in a process that works for your unique business next.
7 Recommended Inventory Control Methods & Best Practices
The size of your operation, where you sell, and what you sell can all determine how you handle inventory control. However, the goal of inventory control is universal: know what stock is received, how much is on-hand, where it's located, and how long you've had it.
Here are the seven best inventory control methods that can be tailored to any product-focused business, plus tips and best practices from retail and warehousing pros.
1. Use a Retail Point-of-Sale (POS) or Other Inventory Management System
If you're a small or startup operation working with a tight budget, you might be tempted to handle inventory control using paper logs or spreadsheets. However, industry pros unanimously agree that this is a mistake. A POS system helps automate a lot of processes, and gives a small business owner helpful data analytics related to sales, staff, and inventory.
 "A business would have to be micro-small to be able to get away with a non-POS-based model in 2018," says Sarah Curtis, shop manager and assistant buyer for North Standard Trading Post in Toronto.
Lewis Hill, a B2B warehousing and operations manager in the motorsports industry, agrees. "The first consideration in inventory control is having a computerized inventory management system that tracks products in real-time, as they're received and sold," says Hill.
"All manner of inventory control software and programs are available," says Hill. "Low-cost basic systems like Square POS fill small business and startup needs well by tracking inventory data like supplier costs, quantity-on-hand, bar code SKUs. Volume sellers managing large inventories across multiple locations, or that need FIFO (first-in, first-out), LIFO (last-in, first-out), and advanced cost averaging, do better with more advanced inventory systems like Lightspeed POS or Vend."
Hill adds, "Cost is driven by the bells and whistles that each inventory control software system provides. Square is basically free, but others have monthly fees. In testing the options, remember that it all it all boils down to being able to add and subtract inventory and report what is on-hand as easily and painlessly as possible."
Retail consultants Rich Kizer and Georganne Bender of Kizer & Bender also warn against manual inventory control methods.
"Management never finds the time to enter information on spreadsheets and then work it," say Kizer and Bender. "No question—a POS system is a must. It's the central point for all inventory and sales data. With a POS, you can print out reports and review them over a cup of coffee in the morning, then make well-informed decisions—from stock purchasing to sales markdowns—as needed."
Clearly, some type of computerized inventory control software—like a retail POS system or similar order and inventory control system for ecommerce, manufacturing, or wholesalers—is the ideal way to launch and manage an efficient inventory control process. And with free options like Square POS readily available, and advanced POS players like Vend and Lightspeed available at small business-friendly prices, it doesn't make sense to launch an inventory control plan without one.
We explore the inventory control software and POS systems mentioned above in more detail in the next section.
2. Use Multichannel Inventory Control Methods
As you develop an inventory control method for your business, you need to consider the way you currently sell, plus think about any additional sales channels you might use down the line. For example, if you sell in your own store, you just use one channel, which most retail POS systems handle. But if you plan to expand into online sales, you'll want a POS system that supports ecommerce sales as well.
According to Curtis, multichannel selling is a reality of retail life these days. "Everything is so interconnected that customers expect retailers—including startups and even market and festival sellers—to sell on multiple platforms: in person, online and via social channels," says Curtis. "It almost makes it impossible to use a system that doesn't support multichannel sales."
"Customers expect to be able to shop your products online, shop via Instagram, Facebook, and Pinterest, plus see your goods in a store—all from the second you start out." Curtis adds. "This expectation doesn't give budding retailers any time to work out the kinks or swap systems. If you tried to do it manually with spreadsheets, or even a single-channel POS, you would need an extra brain and about ten extra hands!"
Efficient multichannel sales requires that you connect sales that happen in two or more places—like a store and an ecommerce site—to the same inventory source. In Curtis' business, "We sell in a brick-and-mortar location and in an online store that lists almost our full inventory, plus we also sell to multiple wholesale clients via purchase orders."
Curtis' business uses Vend to keep this multichannel model humming along. "It connects our inventory to sales on all three channels and enables us to keep up-to-the-minute inventory levels on all products to make sure we aren't oversold on any one of our multiple revenue streams."
Even if multichannel sales isn't in your plan now, it's a good idea to choose a system that supports that option. It's a lot easier to simply turn on that feature when needed than spending time swapping inventory data over to a new system when you're ready to expand your business.
3. Create an Internal Product Numbering System
Setting up internal SKU numbers lets you take control of stock organization and not rely on your supplier's product codes or UPC numbers to identify and track goods. Lewis Hill says, "It's very easy to create internal product codes that communicate key data within your operation."
"It's a good idea for product-focused businesses to set up their own SKU numbering system using particular coding and identifiers," says Hill. "With unique SKUs, any staff member can look at a code and know key facts about the item."
For example, a SKU number can be set up so that have different parts of the code are "identifiers," like this:
XX000-0000, which broken down means:
XX = Supplier code
000 = Category
-0000 = item sequential, which is simply a number for each item under this specific Supplier/Category combination
Here's how this looks in action:
At a glance, the SKU number BP063-0021 used by a plastic drinkware retailer tells us:
BP = Supplier code: Bentley Plastics
063 = Category: Plastic Tumblers
-0021 = Item sequential

—

this is the twenty-first item in this line added to this SKU base
Once you have your own unique SKU numbering system in place, you can enter numbers into your POS or inventory management system to identify items internally. Some, like Lightspeed POS and Vend, will print SKU numbers as bar-coded product and pricing labels, like this:
"Internal SKUs are a fairly simple inventory control method to put in place," says Hill. "And the benefits range from improved ordering and stock receipts all the way through more accurate sales during checkout."
4. Use Assigned Product Display and Storage Areas
If you don't know where a product is housed in your operation, you'll have a hard time selling it. Plus, it's hard to count stock that you can't find. So, setting up trackable display and storage locations is another key ingredient in sound inventory control.
Hill says, "In warehouse environments and retail back rooms, the first thing to do is set up and label bin locations—labeled with SKU numbers, if possible. This way, you know where stored and overstock items should reside."
For retail display, Kizer and Bender recommend that retailers, "use bar-coded bin tickets and shelf labels to identify display locations—and treat these spots as landlords that house your rent-paying tenants—which are your products for sale."
"SKU-assigned shelf and display spaces on your sales floor will be your best friends because they literally scream 'Fill me up!' when spaces are empty," say Kizer and Bender. "Bin tickets and shelf labels that display SKUs, bar codes, or just a simple item name quickly tell you what item belongs there. You can even print bin tickets and labels that include the date the merchandise was received so at a glance, you know how long it's been in your store."
Combining SKU numbers with assigned bin, shelf, and display locations lets you easily map your entire sales floor. This helps staff quickly find the right display areas when restocking goods or conducting stock counts.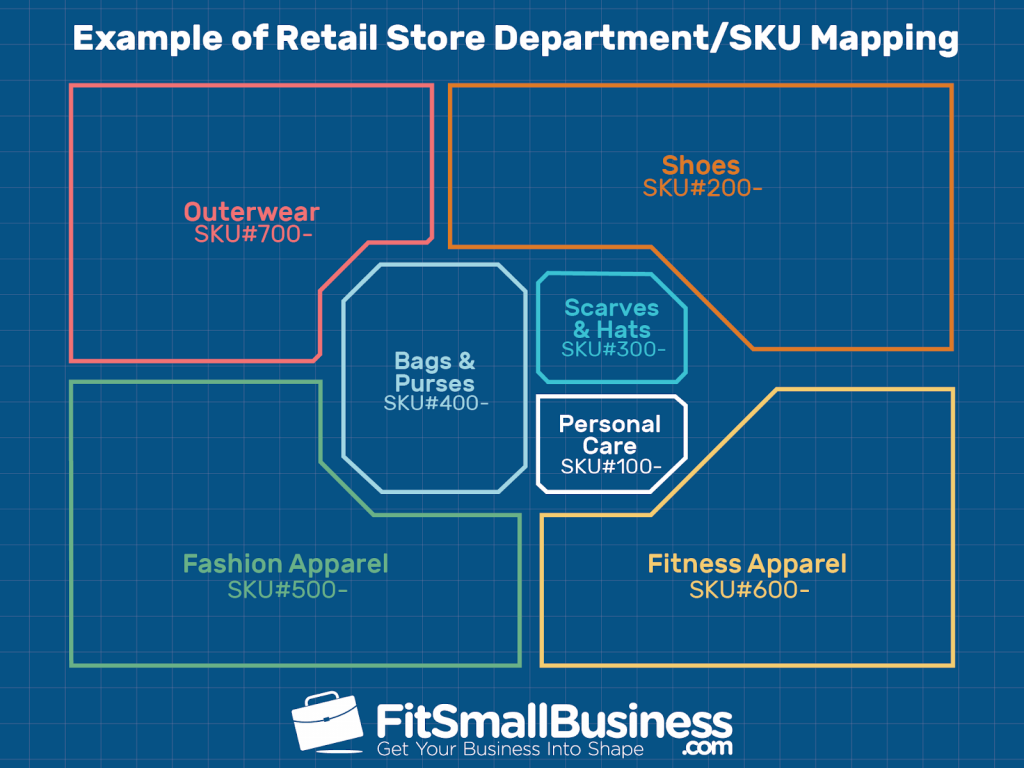 With this type of system in place, it's easy for a retailer to get goods onto the floor fast and get them sold. "Retail is still an eyeball sport," say Kizer and Bender. "Assigned display areas help you know what is and isn't selling since you're likely restocking some spaces more often than others."
And speaking of restocking, the pair reminds retailers to stay on top of this important inventory control task. "Our pet peeve is finding merchandise in the stock room that is not on the sales floor—you're not going to sell it back there!"
Small stores can use simple physical reminders to restock bins. "Place a small green dot on the shelf or bin ticket when you stock the shelves," advise Kizer and Bender. "The green dot indicates there is more of this merchandise in the stockroom. Then, when you restock the final items from the stockroom, simply replace the green dot with a red dot. This indicates that you either need to order more of this item or it is not to be reordered and needs to be replaced by something new."
"But don't forget," they say, "your POS inventory report also tells you it's time to reorder those items over your morning cup of coffee."
5. Use Accurate Receiving Procedures
Accurate receiving is a highly important facet of inventory control. "Receiving errors haunt you for a long time," says Hill. "It's frustrating to deal with the recounts and inventory shrink questions that come from receiving mistakes since it's so easy to do it right the first time."
According to Hill, the key to correct receiving is training staff on this simple procedure:
Check all Units in the Shipment – Make sure you received all of the boxes or containers that your supplier shipped.
Unpack First, Then Count – Counting goods as they're unpacked leads to errors. Unpack them, organize them, then count them.
Receive Against Your Order – Whether you order using purchase orders, online on your supplier's site, or via faxes forms, check received items off on your order

—

not the suppliers packing list. If they made mistakes, you'll catch it on your order.
Mark Damages and Errors – Immediately contact your supplier if you received damaged goods or if they made a packing error. Be sure these goods aren't checked into your stock counts.
Update Stock Counts – Only after received goods are counted and checked for damage should you enter them into your system.
Shelve or Store in Assigned Spots – Don't allow received good to sit unshelved in your backroom. Put them out on the sales floor or in assigned overstock areas right away.
Curtis says her store's POS system, Vend, plays a major role in receiving. "Day-to-day, we restock the shop using Vend on a separate laptop in our storage area," she says. "Stock check-in is handled in an organized manner, so we're sure to catch anything that had wandered off."
6. Conduct Regular Cycle Counts
Regular cycle counts are the lifeblood of a sound inventory control process. "Cycle counts are basically counting a select grouping of items," says Hill. "This can be by vendor, by category or department, or just on a rotating schedule of certain spaces in the warehouse or on the sales floor."
Kizer and Bender say that "physical cycle counts are very necessary because they provide an ongoing comparison between the actual physical inventory on-hand and your POS records. If these two numbers don't balance something is going on. Receiving errors? Sloppy merchandising? Shoplifters? Whatever it is, cycle counts help you spot it so you can get to the bottom of it."
Like receiving, accurate cycle counts can be worked into your operation using a simple procedure:
Identify Count Groups – Decide how you want to handle cycle counts

—

by category, area, or supplier.
Print a Count Sheet – If you use a POS, you can print a count sheet that shows the expected stock on-hand. If the counts match, you can just check that off. If not, you can note the physical count on the sheet.
Count Stock – One staff member can handle small, simple counts. Larger counts are more accurate and faster in teams of two.
Investigate Discrepancies – If counts uncover more or less stock than expected, double-check the count, then see if you can find the cause of the difference, like a receiving error or misplaced stock.
Adjust Numbers – Make needed stock adjustments in your POS or other inventory tracking system that you use.
7. Monitor Inventory Shrink Closely
If your cycle counts uncover missing stock, this is called inventory shrinkage, and it's important to investigate. "The most common cause of shrink is theft," say Kizer and Bender. "But retailers might never know they have a problem if they're not staying on top of cycle counts and using their POS system reports to monitor inventory levels and profitability."
"The most common cause of shrink is theft, and vigilant store associates play a big part in in stopping it," they say. "The best defense is to make sure the sales floor is well-covered and that customers take top priority. Having associates focused on restocking and other busywork always creates a bad situation. Shoppers walk out with nothing exception frustration, do the self-service thing and ask for someone to take their money—or worse, the dishonest ones have the green light to steal."
Watching for theft-related shrink is part of any sound inventory control plan. However, "If you notice odd results from cycle counts—especially large discrepancies in one item or several items within one line—it's time to examine receiving records and system entries," says Hill. "Receiving errors, misplaced stock, and even ordering mistakes account for shrink—but these usually aren't value losses, just clerical problems."
When uncovered, clerical and data entry issues need to be remedied through better training or tighter procedures to prevent future inventory shrink problems.
Inventory Control Software & POS System Providers
There are many POS systems and ecommerce inventory management programs on the market today. However, three names tend to pop up each time we talk to experts in the field—as was the case in this guide. If you don't already use a retail POS or other inventory management system, Lightspeed, Square, and Vend are three multichannel-friendly POS systems to consider when putting together your inventory control plan.
Each supports the key inventory control methods covered above and depending on your specific business and inventory control needs, one of the three is sure to be the right fit.
1. Lightspeed POS Inventory Control Software
Lightspeed POS delivers a highly advanced inventory control and tracking system that's ideal for multi-location inventory tracking, manufacturing assemblies, service centers, and high-volume operations. Unlike Square, Lightspeed does not offer a free version, but its monthly fee is very small-business friendly. If you expect to handle stock in large volumes or across several locations, Lightspeed is one to seriously consider.
Lightspeed POS Costs
Key Features of Lightspeed POS
Use your own credit card processing provider.
Set up PC, Mac or iPad registers, and use iPhones for mobile checkouts.
Tracks detailed product data SKU, counts, wholesale cost, vendor information, item names, descriptions, variations, and images.
Track aggregate or location-specific inventories in multiple stores or warehouses.
Creates purchase orders and connects to vendor catalogs for automatic cost updates and easy ordering.
Provides advanced reporting and business analytics on inventory, sales, purchase order status, sales velocity, and purchase forecasting.
Handles partial and combined inventory like kitted items, bundled product sets, and manufacturing assemblies.
Add fully integrated ecommerce capabilities with Lightspeed eCom for $59 per month, or integrate with other ecommerce platforms via third-party apps.
Manage service work orders and attach inventory items to repair tickets.
See what users have to say about Lightspeed POS.
2. Square POS Inventory Control Software
Square is a free POS system that many small sellers and startups use to launch retail, online, and multichannel sales operations. The basic free POS system offers nice inventory controls over product data, counts, and reports, plus it connects your inventory to both brick-and-mortar and online sales. It even supports mobile sales and handles all of your credit card payments, too.
Square POS Cost
Free POS system, or upgrade to Square for Retail's advanced features for $60/month
Credit card processing fees: 2.75% per in-store sale, 2.9% + 30¢ per sale
Key Features of Square POS
Built-in credit card processing
Works on iPad, iPhone and Android Devices
Tracks product SKUs, counts, wholesale cost, item names, descriptions, and images
Prints inventory, sales, and staff-specific reports
Tracks item variations like size and color
Free online store, plus free integrations with top ecommerce platforms like WooCommerce
Unlimited users and staff IDs
Track inventory in unlimited locations
Learn more about all that Square POS can do for your business.
3. Vend POS Inventory Control Software
Vend is a cloud-based POS like Lightspeed and Square, but it really takes cloud technology to the next level by enabling users to access virtually every function from anywhere using iPhones. This includes looking up inventory reports, placing purchase orders, and scanning bar codes for counts via a free iPhone app.
"Vend helps greatly since we can all access it from our phones or laptops during buying/wholesale meetings with clients, at the store, or even just to check inventory or sales from home or on the road," says Curtis. "We can see everything in the same place at the same time, so our team is always on the same page with inventory and sales no matter who is working from where."
Vend POS Costs
$99 per month for a single store, $159 per month to add advanced reporting and multichannel features.
Credit card processing fees: per your chosen provider.
Key Features of Vend POS
Choose from top-rated credit card processing providers, including PayPal, Square, and Vantiv.
Set up PC, Mac or iPad registers, and use iPhones for tasks and even inventory scans.
Enter and track product SKUs, counts, supplier costs, vendor data, item names, descriptions, variations, and images.
Track inventory in the aggregate or location-specific if running multiple stores or warehouses.
Create purchase orders, track incoming shipment status, and receive stock on any device.
Basic inventory and sales reports in the basic level; advanced reporting and business analytics on the higher plan.
Use composite products for bundled deals, kitted items, and assemblies.
Connect Vend to top ecommerce platforms like Shopify, WooCommerce, Magento, and BigCommerce.
See what users have to say about Vend POS.
Bottom Line
Whatever your business, if products are involved, you need to put inventory control methods in place to run an efficient and profitable operation. Which methods are right for your business depends on the size of your operation, where you sell, and what you sell. However, the goal of inventory control is universal—you need to know what products you receive, how much you have on-hand at any given time, where your inventory is located, and how long you've had it.
Businesses have several inventory control software options, but POS-based inventory control systems are the best tools for retailers who want to sell in-store and also expand into online and multichannel sales. There are many excellent options, ranging from the free Square POS system to Vend's full-access cloud management tools.
Of the top-rated small business POS systems on the market, Lightspeed POS offers the most advanced inventory control tools. With features like multi-location stock tracking, integrated vendor catalogs, and detailed cycle counts stats, Lightspeed POS rivals the inventory management systems used by major retailers—but delivers it at a small business-friendly price. See how Lightspeed POS can help you put profitable inventory controls in place with a risk-free, 14-day free trial.
Visit Lightspeed
How do you handle your inventory control needs? Manually, with a POS system, or via other computerized methods? We'd love to hear how you keep your inventory data tidy and up-to-date in the comments below.