Your newspaper ad may be too busy or full of words to work as a billboard. "Simplicity is key when developing an OOH creative since it is a very visual medium and the fewer words the better," says Jean-Luc Decaux.  Mr. Decaux has been an important player in the out-of-home (OOH) advertising industry on three different continents (Australia, Europe, and North America).  Since 2000, his focus has been on North America. He is the Co-CEO of JCDecaux North America. If the name "JCDecaux" look familiar, its because you probably seen it hundreds of times underneath airport advertising.
Read More About Billboard Advertising Here
What is the primary service your company provides to local businesses?
We provide very targeted & cost-effective advertising solutions to help grow a local business.  Our local sales team are experts in their market and dedicated to developing placement strategies that ensure advertising budgets are spent wisely & efficiently.
I have noticed that some companies involved in Out Of Home advertising only serve certain regions. Is your company able to service businesses throughout the US?
Our company has offices in most major markets across the country and advertising assets nationwide.  This includes street furniture within the top 5 cities, over 25 airport concessions, as well as mall advertising and transit opportunities.
Click Here to get our FREE Google advertising guide and discover the 6 steps you can use to show up #1 in Google search
What type of local businesses tend to use your services?
We work with many local businesses across the U.S., but top categories would include doctor's offices, hospitals, universities & colleges, local attractions and local TV stations.
What is the difference between Out Of Home (OOH) and billboard advertising?  Do local businesses tend to focus on buying billboards?
OOH advertising is made up of many different formats, all of which reach consumers while they are outside the home.  This would include billboard advertising as one type of OOH along with street furniture & transit etc.  Local businesses very often tend to focus on buying OOH options that are close to their location to be used as directional or awareness signage.
What advantages do billboards and OOH have over radio and local broadcast for a small business? 
While there are many advantages, the two most significant would be the ability to target a certain geography where you know your consumer base lives, shops & eats; along with not being able to escape OOH advertising.  This type of targeting offers very little waste where with radio & local broadcast very often you have to buy the entire DMA as opposed to just one neighborhood as an example.  With this in mind; OOH is able to deliver a much better return on investment.  In this day and age, many consumers use DVR's or satellite radios as part of their everyday lives.  This allows them to often skip commercials.  Additionally even without these devices, consumers can simply turn the TV or radio off or tune it out at any given moment.  With OOH that is not an option.  Whether in a mall, an airport or driving on a highway; the consumer becomes a captured & contained audience with very little choice but to see the OOH advertisement.
What are common mistakes that small businesses make using OOH advertising? 
Very often local businesses are afraid to invest funds into advertising.  They tend to think small in this regard and immediately look for the cheapest option which unfortunately offers very little return.  Also they often try to repurpose their print advertisement into their OOH advertisement which can be very damaging to their campaign.  Simplicity is key when developing an OOH creative since it is a very visual medium and the fewer words the better.  Ads will be seen very quickly which means the message will need to be absorbed right away.
Can you think of a fantastic OOH campaign for a small business which your company was involved? Do you have a picture?
We recently worked with a local restaurant, Powerhouse Lounge, who advertised with us at Exchange Place & Newport which are both PATH transit stations in Jersey City.  Initially they were looking to invest no more than $10-$15K for the year to help increase business.  After encouraging them to think bigger by touring several stations to see many opportunities and sharing relative demographic information on their consumers as well as station traffic (impressions), they agreed to a much bigger commitment exceeding $100K.  Using many different formats has allowed them to also use their creative to showcase different promotions throughout the year.  Here are a few photos.
What questions should a small business ask when buying billboards or OOH?
They should ask the following to offer a few examples:  One of the main questions should always be "What do you recommend?"  Their Account Executive is the expert and often knows the best recommendation based on asking the right questions.  This helps them understand the client's goals and budget at the start of the meeting.  Other examples would be:
What are the pricing options for short & long term buys?
How many people am I reaching?
Are you working with any of my competitors?  Can you share details of their buy?
Do you have any success stories to share from other local businesses in my category?
Is there a seasonality to OOH?
What is the pricing model for buying OOH advertising?  It varies based on the type of OOH, packaging and the local trade area. 
Traditional OOH is typically sold in a 4wk cycle with premiums for units that deliver very strong impressions based on format, location and visibility.  Iconic billboard locations (Times Square) can be owned for sometimes a year or longer where street furniture (bus shelters) is often sold in packages that reach an estimated number of people.  The pricing will often differentiate based on these type of buys.  Recently we have developed an OOH ratings system which has also adjusted our pricing model.  Just like in other types of media you can buy a certain % of an audience by looking at the individual measurement of a buy.
How accurately can one predict the number of people will "pass by" an OOH advertisement? What percentage of these people will tend to look at the advertisement?
Past Outdoor measurements traditionally used traffic counts and Daily Effective Circulation (DEC) in order to estimate reach. For years, these figures were the only reliable counts available to measure the reach of an out-of-home advertising campaign.
Four years ago, the Traffic Audit Bureau (TAB) introduced a much more reliable measurement system and as such Outdoor operators are now able to provide standardized quantitative and reliable TAB-Out-Of-Home ratings.
The current Outdoor ratings are very accurate.  In fact,The Advertising Research Foundation (ARF) awarded the Innovation of the Year Award to this new outdoor ratings measurement system. These weekly impressions are significantly more reliable as a measurement tool than Daily Effective Circulation (DEC) figures. Whereas DEC figures were those of potential reach, weekly impressions under the new outdoor ratings system calculate the actual reach. This calculation of reach, as well as frequency, is now per board instead of general market figures. Rather than focusing on the number of consumers who could potentially see an ad, these outdoor ratings produce an accurate total of those who actually noticed an ad.
Before the TAB & OAAA introduced the new ratings, local clients' primary consideration was almost exclusively the inventory's location.  While location remains important, these ratings provide a new way for clients to identify their consumers and deliver demographic audiences similar or superior to those offered by other local media.
How have technology advances in the last few years, impacted how local businesses advertise? 
With social media now being such a big player, consumers can now interact with the brands they are experiencing.  For example many local businesses can now include QR Codes for consumers to download with their mobile device.  This could be by including a coupon or certain promotion.  Or they can encourage their customers to share their experiences via Facebook or Instagram with friends to help spread the word on their business.
Click Here to get our FREE Google advertising guide and discover the 6 steps you can use to show up #1 in Google search
About Jean-Luc Decaux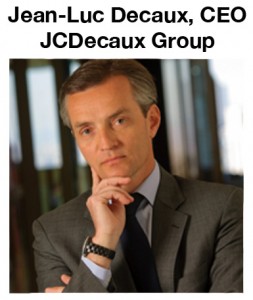 Jean-Luc Decaux is Co-Chief Executive Officer, JCDecaux NA. Jean-Luc oversees the North American Sales and Marketing activities for the group, including its Airport, Street Furniture, Transit, Mall and Digital Billboard Advertising programs.
Jean-Luc joined JCDecaux USA (New York) as Executive Vice President, Sales and Marketing in December 2000 and two years later, the company named him Co-CEO of an expanded JCDecaux North America.
Prior to that, he spent 13 years working for the International Division of the JCDecaux Group, launching the advertising franchises in both London and Sydney, Australia. He was a Sales Director in the London office for eight years, and worked for three years in Sydney where the company established a coordinated street furniture program in time for the 2000 Olympics.
Jean-Luc also serves as a Director on the boards of the Traffic Audit Bureau and the Outdoor Advertising Association of America, Inc.