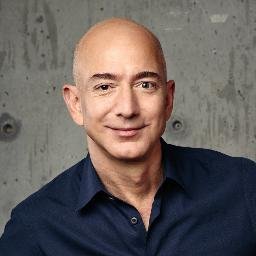 Jeff Bezos is a technology entrepreneur, philanthropist, investor, inventor, and the founder of Amazon.com. He is one of the wealthiest and most successful businessmen in the world, with a current net worth of $110.9 billion. Jeff Bezos' quotes and words of wisdom are a great source of inspiration for aspiring entrepreneurs.
Here are the top 17 Jeff Bezos quotes on business, success, and leadership:
Jeff Bezos Quotes on Business
1. "To be innovative, you have to experiment. If you want to have more invention, you need to do more experiments per week, per month, per year, per decade. It's that simple. You cannot invent without experimenting. And here's the other thing about experiments: Lots of them fail. If you know it's going to work in advance, it is not an experiment."
— Air Force Association Air, Space and Cyber Conference
2. "One thing that I tell people is, if you're going to do anything new or innovative, you have to be willing to be misunderstood. If you cannot afford to be misunderstood, then for goodness' sake, don't do anything new or innovative."
— Conversation with Mathias Döpfner, the CEO of Axel Springer
3. "We are so inventive that whatever regulations are promulgated or however it works, that will not stop us from serving customers."
— The Economic Club of Washington, D.C.
4. "Retailers negotiating and fighting with suppliers is not a new phenomenon. Rarely does it break through into kind of a public fight and mostly it's not. But, it's an essential job of any retailer to negotiate hard on behalf of customers, and that's what we do."
— Conversation with businessman and journalist Henry Blodget
5. "My advice would be the same for any kind of entrepreneur and that is to make sure that you are focused on something you're passionate about."
— Speech on the founding of Amazon.com
6. "Well, if you're long-term oriented, customer interests and shareholder interests are aligned. In the short term, that's not always correct."
— Conversation with Adi Ignatius, editor-in-chief of Harvard Business Review
7. "A builder's mentality helps us approach big, hard-to-solve opportunities with a humble conviction that success can come through iteration: invent, launch, reinvent, relaunch, start over, rinse, repeat, again and again. They know the path to success is anything but straight."
— Annual letter to shareholders
8. "Amazon is not too big to fail. If we start to focus on ourselves, instead of focusing on our customers, that will be the beginning of the end … We have to try and delay that day for as long as possible."
— Company-wide meeting with employees
9. "One advantage—perhaps a somewhat subtle one—of a customer-driven focus is that it aids a certain type of proactivity. When we're at our best, we don't wait for external pressures. We are internally driven to improve our services, adding benefits and features, before we have to."
— Annual letter to shareholders
10. "A brand for a company is like a reputation for a person. You earn reputation by trying to do hard things well."
— Conversation with journalist Robert Hof
11. "If you had to get the very last person in the room to have genuine consensus on an idea, it might never happen and you might waste a lot of time. When I do it, I will say, 'I don't agree with this, I think it's probably not going to work,' but I will never say 'I told you so.' I'm going to be on your team and do everything I can to make it work."
— Speech at Amazon's MARS conference
12. "The great thing about fact-based decisions is that they overrule the hierarchy. The most junior person in the company can win an argument with the most senior person with regard to a fact-based decision. For intuitive decisions, on the other hand, you have to rely on experienced executives who've honed their instincts."
— Medium.com
Jeff Bezos Quotes on Success
13. "The whole point of moving things forward is you run into problems, you run into failures, things don't work, you have to back up and try again. Each one of those times when you have to step back, back up, and try again, you're using resourcefulness, you're using self-reliance. You're trying to invent your way out of a box."
— Conversation with brother Mark Bezos at Summit LA17
14. "If you can make a decision with analysis, you should do so. But it turns out in life that your most important decisions are always made with instinct and intuition."
— 32nd anniversary dinner of the Economic Club of Washington, D.C.
15. "I didn't think I'd regret trying and failing. And I suspected I would always be haunted by a decision to not try at all. After much consideration, I took the less safe path to follow my passion, and I'm proud of that choice."
— Commencement speech at Princeton University
16. "Vision is absolutely important, but it doesn't deserve your day-to-day attention. You need a vision, but mostly your time should be spent on things that are happening today, this year, maybe in the next two or three years."
— Speech at the Yale Club, New York City
17. "The No. 1 thing that has made us successful by far is obsessive, compulsive focus on the customer as opposed to obsession over the competitor."
— Speech at the Economic Club of Washington, D.C.
Bottom Line
Jeff Bezos started small when he built Amazon.com. But his passion for new inventions and maintaining a customer-focused culture paved the way to his company's success. He became one of the wealthiest and most inspiring individuals in the world. Use these Jeff Bezos quotes and advice to help inspire you to be your best.