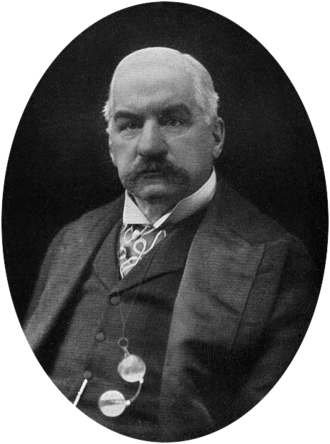 John Pierpont Morgan Sr. was an American financier, banker, and the head of the banking firm, J.P. Morgan and Co. He dominated corporate finance and helped revolutionize banking during the 19th century. His wisdom became a source of motivation for many. These quotes by J.P. Morgan will motivate you toward achieving your goals.
Here are the 14 best J.P. Morgan quotes on success, credit, and wealth.
J.P. Morgan Quotes on Wealth
1. "Any man who is a bear on the future of this country will go broke."
―The San Francisco Call
2. "Nothing so undermines your financial judgment as the sight of your neighbor getting rich."
3. "We are going someday to show ourselves to be the richest country in the world in natural resources. It will be necessary to go to work and to work hard to turn our resources into money to pay the cost of the war, just as soon as it is ended."
―"The Life Story of J. Pierpont Morgan: A Biography"
4. "Gold is money. Everything else is credit. You are affluent when you buy what you want, do what you wish, and don't give a thought to what it costs."
―Testimony before the United States Congress
5. "Monetary losses amount to nothing in life. It is the loss of life that counts. It is that frightful death."
―The New York Times, following the sinking of the RMS Titanic, a voyage Morgan was originally scheduled to take
J.P. Morgan Quotes on Success
6. "No problem can be solved until it is reduced to some simple form. The changing of a vague difficulty into a specific, concrete form is a very essential element in thinking."
7. "The wise man bridges the gap by laying out the path by means of which he can get from where he is to where he wants to go."
8. "Money equals business which equals power, all of which come from character and trust."
9. "No price is too great for a work of unquestioned beauty and known authenticity."
10. "When I have business on hand, I think it is better to have it done quickly."
―"The Life Story of J. Pierpont Morgan: A Biography"
Quotes by J.P. Morgan on Character
11. "The first thing is character. Before money or anything else. Money cannot buy it … Because a man I do not trust could not get money from me on all the bonds in Christendom."
―Testimony before the U.S. Congress
12. "I do not remember in my whole life I ever willfully misrepresented anything to anybody at any time. I have never knowingly had connection with a fraudulent scheme."
13. "The ability to obtain credit is largely a matter of personality."
14. "The first step towards getting somewhere is to decide that you are not going to stay where you are."
Bottom Line
The banking legend J.P. Morgan lived a successful journey in the banking industry through his hard work, vision, and risk-management strategies. His visionary life is a source of inspiration to many who want to become successful in leadership and building wealth. These famous quotes by J.P. Morgan will motivate you to achieve your goals.