Let's face it, cold calling can be a great way to generate leads in your farm area, but it's not for everyone. Luckily, there's an easier way to reach leads in your farm area: "Just Sold" postcards. Yup. The old tried and true marketing strategies of the last generation are back. Even better, since so many new agents ignore them, they can get you a killer ROI.
Of course you won't get any leads unless you send the right postcards, to the right people, at the right time. That's why we recommend using ProspectsPLUS!®. Their templates let you create postcards, then automatically mail them out on a schedule designed to increase response rates.
When to Send Just Sold Postcards
There is no hard and fast rule about when to send just sold postcards, but it might make sense to send them right after closing. This way you can be almost certain that your target audience is hearing about your closing from you first.
As far as what day of the week works best, people are more likely to have time to actually read your postcard on a Saturday morning rather than during the week when they're rushing out the door. If you have the option, try for a Saturday mailing.
How Often to Send Just Sold Postcards
While it may be tempting to send out a postcard after every single closing, most people (myself included) won't appreciate getting that many postcards from you. Instead, you should aim to send just sold postcards around three or four times per year. If you've had multiple closings in your farm area, you can always highlight them all on one postcard.
What to Include on Your Just Sold Postcard
When writing just sold postcards, always remember that your primary reason for sending them is to market your services as a buyer's or seller's agent to your farm area. How does your copy help demonstrate your value add in helping them buy or sell a home? There are many ways to get the message across. Here a few ideas to get you started:
1. Start with an interesting and true fact about the sale
Was it the highest sale of the season? Did you manage to get more than asking? Multiple bidders? Try to include more than just the fact that the property sold. Again, what was your value add?
2. Mention the reader's property
Many of the realtors we talked to told us that saying something like "you can get more for your home" or "Your home will sell just as quickly in the market" increased the response rate from their postcards.
3. The tone should be excited but serious
Unless you're a comedian, you should try to avoid humor in the copy of your postcards. Selling their home is a very serious and often emotional decision. Treat it with respect.
4. Include impressive and true information about you or your team
This is a big one. Anyone can sell a home, but what is it about you or your team that makes you stand out? Are you the number one seller of duplexes or split levels in your farm area? Highest sales volume in the office? Tell them.
5. Mention the new neighbors
Instead of focusing on your sale and how great your team is, you can start your postcard by mentioning the new neighbors. A headline like "Say Hello to Your New Neighbors!" can give your just sold postcard a more personal feel.
Just Sold Postcard Design Tips
Graphic Design is always a very thorny topic for realtors. Everyone have different taste, and many realtors want to avoid looking slick or polished as they feel it turns people off. Some of the most successful realtors in the country have dated websites, clunky logos, and ugly branding. Yet they still make millions. I'm not naming names, but I'm sure you can think of a few.
My advice on graphic design is to focus on utility rather than aesthetics. That means make sure your design is readable, clean, and interesting enough that your audience will want to pick it up and read it. Think of billboards. They aren't Rembrandts, but they get your attention and deliver a message even when you're speeding down the freeway.
Here are a few examples of well designed Just Sold Postcards: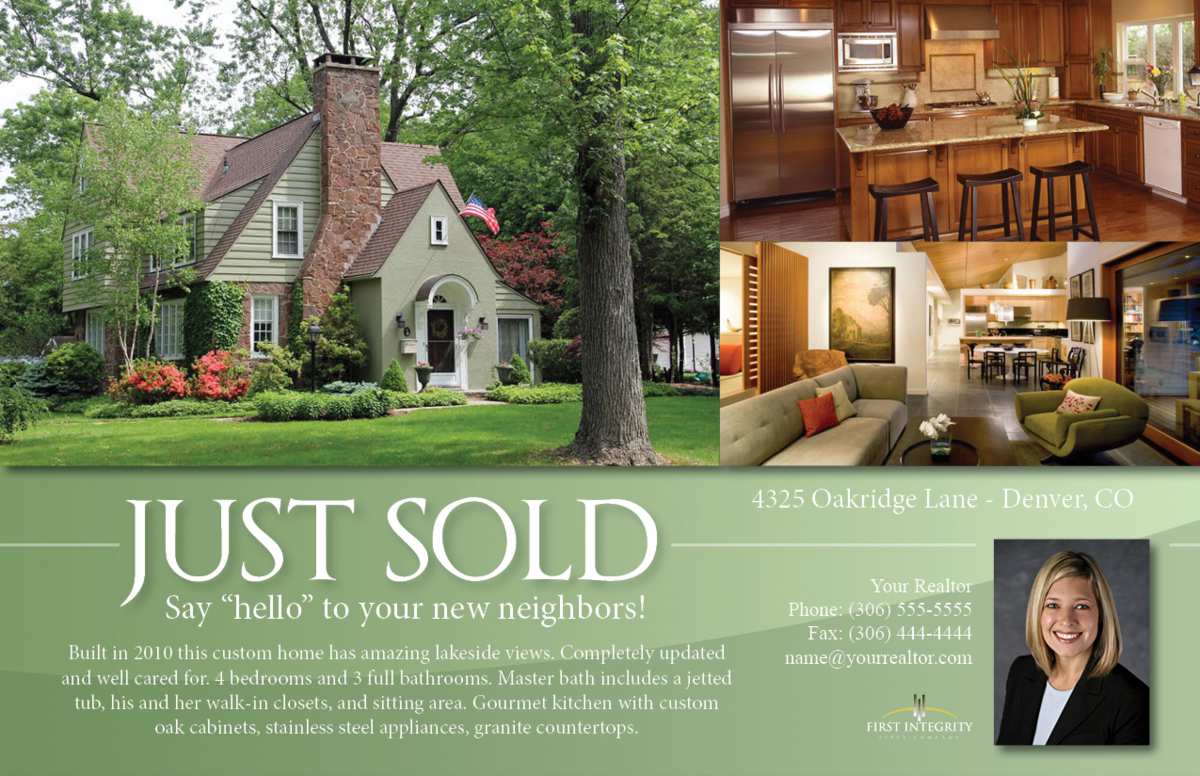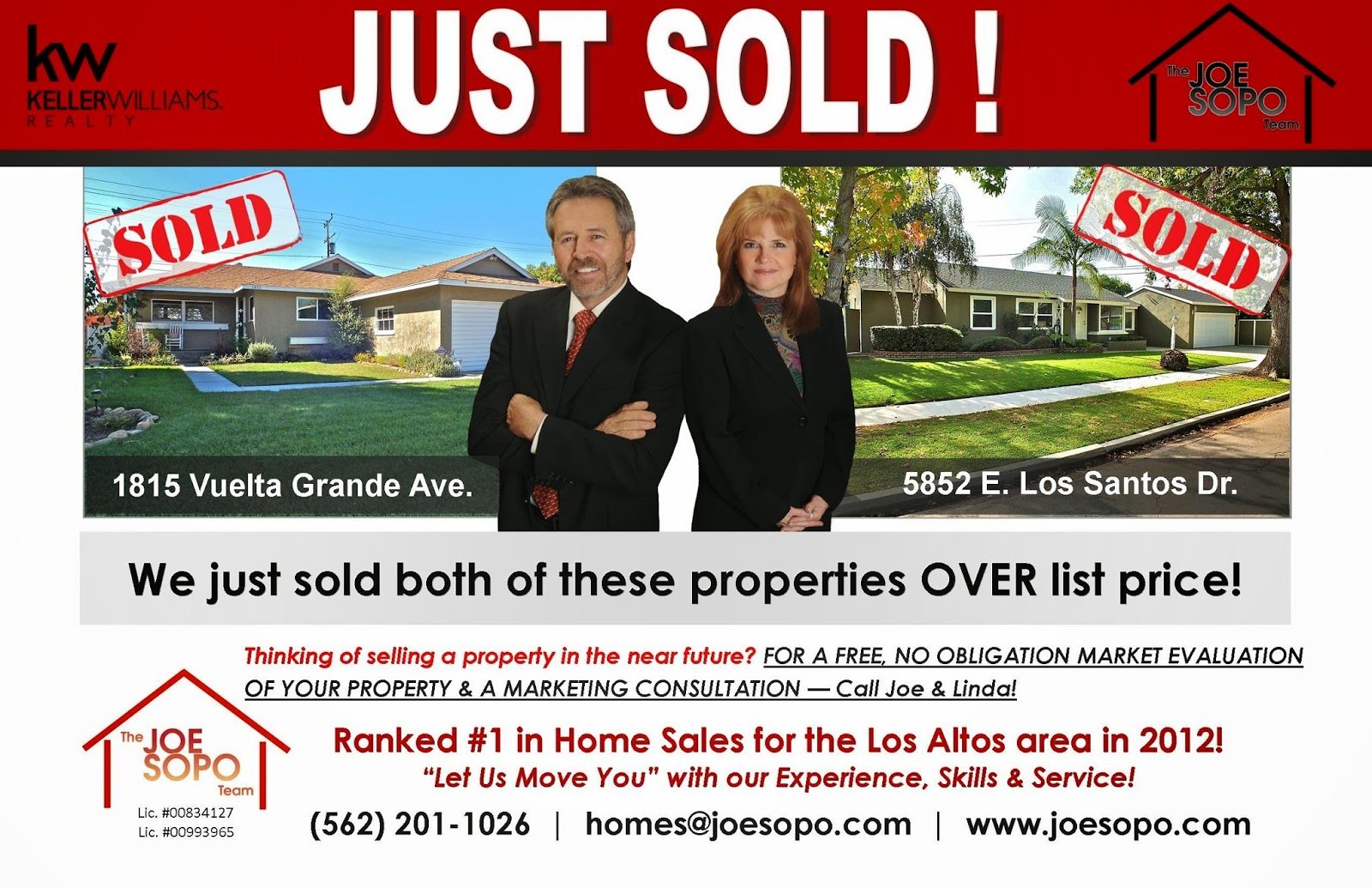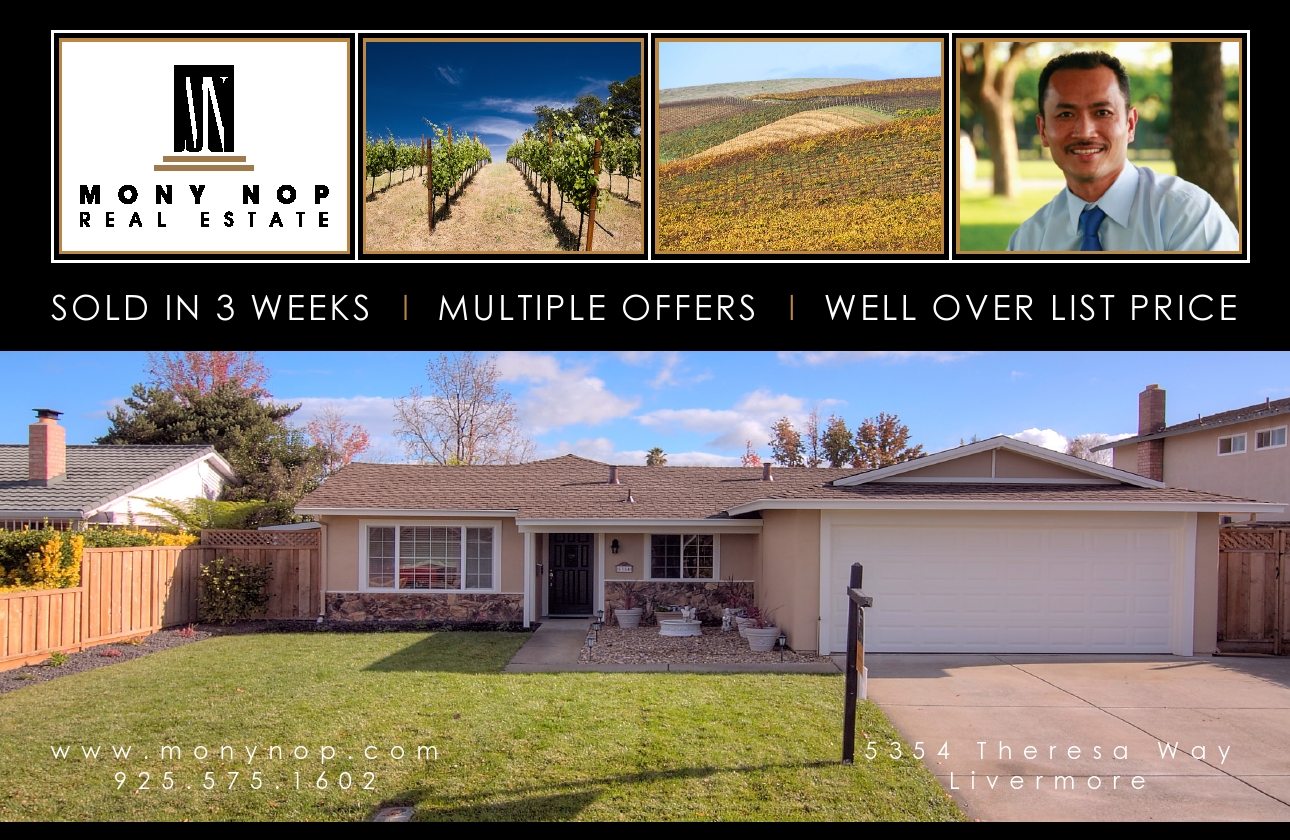 Here are some design tips for just sold postcards:
1. Choose a Template or DIY Postcard Design
Companies like ProspectsPLUS!® offer templates for just sold postcards that make it quick and easy to plug in your information and send your cards. When picking out a template to use, always remember that the house on the template is a stock photo. That perfectly photographed Palm Springs mansion on the template is going to be replaced by photos of your listing. Instead, focus on the layout and readability.
If you don't like any of the templates available online or need something very specific, you can try hiring a designer Fivver or hold a contest on 99designs.
2. Include Your Headshot
As long as you followed the advice on our in-depth guide on how to take the perfect realtor headshot, you should definitely include your headshot.
3. Keep Your Target Audience in Mind
Always remember that great graphic design isn't always what you like. Instead, focus on what your target audience will like. Live in a beach town? A beach themed template will go over swimmingly. Live in a hip part of the city? Use a template that's more slick and refined.
4. Try to Keep Your Online and Offline Branding Consistent
Consistency is a big part of building a brand as it helps people remember you. Your just sold postcards should have the same look and feel as your website and email marketing.
How to Get People to Respond to Your Postcards
Unless you hire a Madison Avenue ad agency to write it, it's very doubtful one postcard will keep you top of mind for most people. Instead, you should try and focus more on direct returns from your postcard mailing. How many people call? How many people join your email list? Here are a few ways to increase your response rate:
1. Include QR codes on your postcard
QR codes are like barcodes that people can read with their cell phones. Instead of scanning a price though, they open your website when someone takes a picture of them with their phone.
2. Offer them something for free
Just like in your email marketing, offering them something for free is a great way to get responses to your postcards. You can offer a free CMA, free list of just sold homes, free ebook on selling, free cup of coffee, etc. etc.
3. Remember to include a call to action
A call to action is a short phrase that makes people want to act. "Call now!" or 'Visit our website" are both examples of a call to action. For your postcards, your call to action can include an offer for a free CMA, an invitation to join your mailing list, an invitation to schedule a call or meeting for a cup of coffee.
4. Consider running a split test
Split testing is a very effective way to see what copy gets the highest response rate. To run a split test, write two different postcards and send each to half your farm area. To track your results, use a different phone number or different landing page on your website on each postcard. The one with the highest response rate should then be sent to your entire farm area in your next mailing.
5. Send Them to a Unique Landing Page on Your Website
In the digital marketing world, a landing page is a page on your website that you send people to from an advertisement in order to capture their contact information. In this case, you're hoping to get their phone number and email address.
Landing pages are specifically designed for one purpose and one purpose only: to get your lead to fill in their personal contact information. That said, they are also a great way to track the effectiveness of your just sold postcard campaign. Here's how: create a unique URL for your landing page that you only give out to people on your postcards. It can be something like "yourwebsite.com/posctard" or "yourwebsite.com/neighborhood". Just make sure the URL is easy to remember and easy to type without mistakes. It also makes sense to give them a reason to visit the page. A free CMA traditionally works well for seller leads.
Want to learn more about landing pages? Check out our article 10 Landing Page Examples: Anatomy of a Great Landing Page here.
If you still need a website, check out our guide to building a real estate website with WordPress or our real estate website builder buyer's guide.
How to Get People to Keep Your Postcards
Getting people to hang on to your marketing materials is the holy grail of offline marketing. Imagine if they stuck your postcard on their fridge or pinned it to their cork board? That means they would see your message every day.
If you want people to display your postcard instead of just tossing it in a junk drawer or worse, in the garbage can, you need to give them a reason to. Instead of a picture of your listing, why not work with a local photographer and use a picture of a beautiful local sunset or historic landmark? What would you put up on your fridge?
The easy answer here is magnets, but you can't mail magnets as easily as postcards. Door hangers are the best way to get magnets to your farm area. Check out our article on door hangers to find out how.
Brian Le Bow, a realtor from Arcadia California, offers coupons or schedules for local events to get people to keep his postcards:
"Sometimes I'll do a drawing for people that call me from the postcard, or do a coupon with local restaurant or cafe. To ensure people keep the card, I'll include some pertinent info, like 'how long to keep your important documents' or a schedule of local high school games or yearly calendar. These all help motivate homeowners to hang onto the card, not toss it! I've gotten up to 1% response rate on these cards, and find them useful to maintain contact and build name recognition."
You Don't Need a Recently Closed Listing to Send Just Sold Postcards
Haven't closed recently in your farm area? Brand new agent with no closed deals under your belt? Don't worry. You can still send just sold postcards. The only difference is that Instead of focusing on one listing that just sold, you should highlight several. Shannon Milligan, a Richmond VA-based realtor ($6 million sales volume for the last half of 2015) closes 2-4 deals per year from clients who respond to her market update postcard. Instead of focusing on one listing she just sold, she picks 8 recent closings in her farm area:
"I still use a Market Update mailer to my farm. Last year I sold two homes from it and the year before I sold 4. Seeing as I only mail it 4 times a year and it only costs a few hundred dollars, that's a pretty great return. As a matter of fact, the last seller I worked with pulled out the mailer and showed it to me. She had kept it for months!"
Here's an example of a nice market update postcard mixing a new listing and two recently sold listings: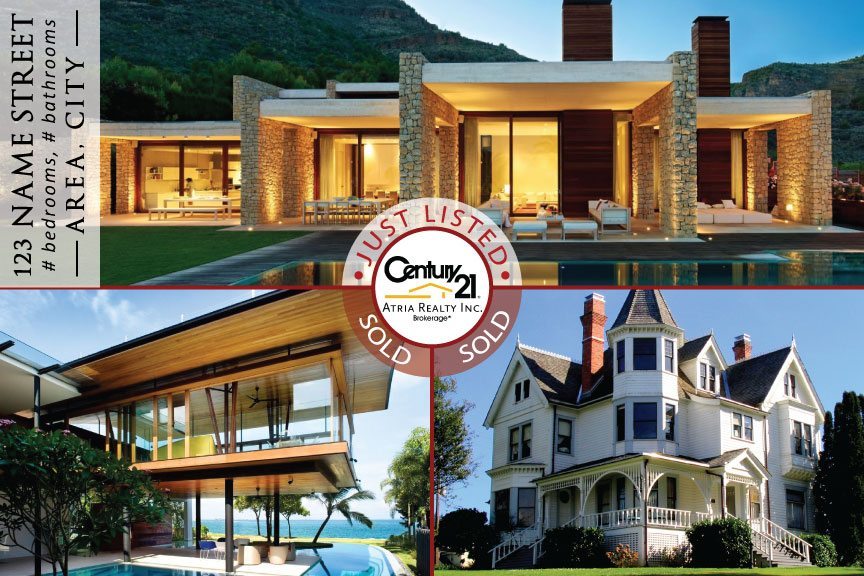 How to Send your Just Sold Postcards: EDDM (Every Door Direct Mail) vs Traditional Direct Mail
In order to get your message to your farm area, you need to get it into their mailbox. While the temptation to just pick a sunny day and start stuffing mailboxes may be great, this is not a good idea. First and foremost, it's not only illegal, it's a federal crime. Unless you really need time off to work on your harmonica playing, you're going to need to send them via USPS. There are two options here:
Traditional Direct Mail
Every Door Direct Mail (EDDM) through the USPS
Below, we discuss these options in greater detail.
EDDM (Every Door Direct Mail)
EDDM is an incredible service offered by the USPS that lets you send a postcard to every single home along a particular mail route for a little less than 18 cents per postcard. That means to reach 500 homes in your farm area, you'll pay a little less than $100. If you double your spend, you can reach 1,000 homes, which may cover your entire farm, for less than $200.
Cost vs ROI
Since you probably already see the value of expanding your sphere of influence in your farm area, let's talk about a real world ROI for a just sold EDDM campaign. Well, according to most studies, direct mail has a response rate of around 3-4%. That means that out of the 1,000 postcards you sent via EDDM, you should get somewhere around 40 responses. If you can get a listing or buyer client from just one of those responses, you'd have an ROI of over 1000%. Not too shabby.
How EDDM Works
Considering it's run by the United States Postal Service, EDDM is actually pretty simple. All you need to do is design your postcard according to their guidelines, and either have your direct mail company send them via EDDM, or set up EDDM yourself via the USPS website or at your local post office. The USPS will then deliver your postcard to every single home on the mail route your select, up to 5.000 postcards per day.
Traditional Direct Mail Services
Instead of sending postcards to every home on a mail route, traditional mailings are only sent to the people on your mailing list. Though it can be a bit more expensive, there are a few advantages to using traditional mailings:
You can target more effectively. Sending postcards to everyone on a mail route means you will send to renters, people who've just moved in etc. With a traditional mailing list, you can skip the renters and maybe even target people by age, income etc. It all depends on the quality of your list.
Smaller batches. EDDM has a minimum order of 200 pieces. With traditional mailings, you can send out as few or as many as you want.
How Much Does Traditional Direct Mail Cost?
The total cost to create and send 1,000 postcards is approximately $450. To come up with this estimate, we looked at the five major costs involved with sending any direct mail:
Design – Design costs can range from a few hundred dollars hiring a graphic designer on Upwork, to $5-$50 to hire someone on Fivver. You can also use stock templates from direct mail companies, or purchase a template from a site like Graphic River for around $10.
Copy – If you need help writing copy for your postcard, you can hire a great copywriter on Upwork for around $100.
Mailing List – You can expect to pay anywhere from .03¢ to .20¢ per record. Generally speaking, the larger the list, the less you pay per record. You can get FSBO, expired listing, and FRBO mailing lists from The RedX.
Printing – For 1,000 postcards, you should expect to pay around $100
Postage – For postcards, postage ranges between .25¢ and .34¢
Total Cost for 1,000 Postcards: ~$450
For a more in-depth look check out our Direct Mail – the Ultimate Guide for Small Businesses
Our Choice for The Best Direct Mail Service
If you choose to go with direct mail, we recommend ProspectsPLUS!®. Click here to get started.
Your ROI Will Depend on Your Farm Area
Just sold listings might not have a great ROI everywhere in the country, especially cities. Cities like San Francisco or New York have much larger renter populations, and there is much more competition for their mailbox space.
In order to determine if just sold postcards would work well in your area, do your research to make sure there is a high density of homeowners, and see if the area is already bombarded by postcards, menus, flyers etc. This doesn't mean that you won't see a return in these areas, just that you may have to send more postcards to get a decent ROI.
Next Steps: Just Listed Postcards, Prospecting Postcards, & FSBO Postcards
As you might have guessed, just sold postcards are not the only way you can use direct mail to get more buyer and seller leads in your farm area. Just listed postcards, prospecting postcards, and FSBO postcards can all have an excellent ROI if you send them to the right lead at the right time.
To learn more about getting a great ROI from a postcard marketing campaign, check out our in-depth guide on real estate postcards here.
Working with real estate investors or want to learn their tactics to use direct mail to get listings by targeting distressed properties? Check out our in-depth guide to yellow letters here.
The Bottom Line
Since so many agents are focusing their marketing dollars online these days, traditional techniques like just sold postcards may help you cut through the noise. In order to get the best return on your investment, you need to make sure your postcards are well written, well designed, and delivered to the right homes in your farm area.