13 Just Sold Real Estate Postcard Examples & Templates
Sending just sold real estate postcards is an effective way to attract new seller clients and build your brand presence after successfully selling a client's home. The best just sold postcard designs enable you to generate listing leads and convert them into clients using strategic messaging, relevant calls to action, and eye-catching photography. To get started, look through this list of the top 13 just sold real estate postcard examples and templates.
For even more just sold postcard templates, check out ProspectsPLUS!. There are hundreds of just sold and just listed templates for postcards, flyers, and door hangers. Plus, you can get all of your mail printed and shipped directly to the customer at an affordable price. Regardless of what type of leads you want to generate, ProspectsPLUS! should be an important tool in your direct mail strategy for real estate prospecting.
Just Sold Postcard Examples
Saying you can sell homes doesn't actually matter to your leads until you prove it. Therefore, every listing that you sell can be leveraged to generate new real estate leads. By displaying a picture of the property that you sold, including notes like the final sale price or the time on the market, you show interested leads that you know what you're doing.
These just sold real estate postcards are often most successful when sent to other homeowners in the same neighborhood. Neighbors who are curious about the home's sale price and familiar with the sold property in relation to their own will pay the most attention to this type of marketing mailer.
1. Your Equity Has Changed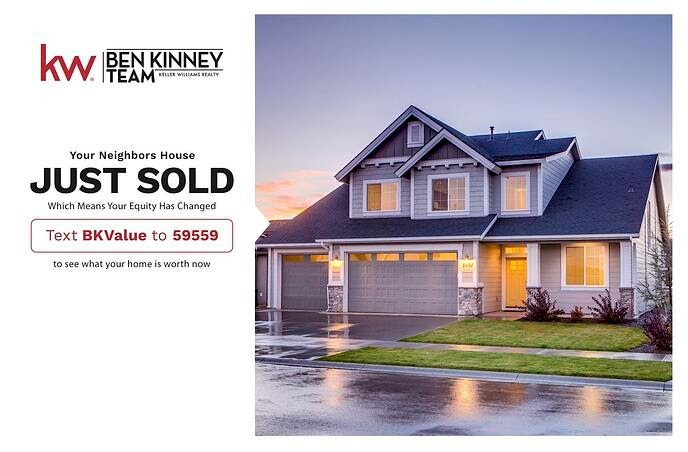 This postcard example creates intrigue about how the home sale impacted nearby properties. Any homeowner who sees the phrase "your equity has changed" is likely to pay more attention. Another great thing about this example is the easy call to action, which encourages the recipient to quickly reach out to you via text for a consultation or free home valuation.
2. Seller Review Postcard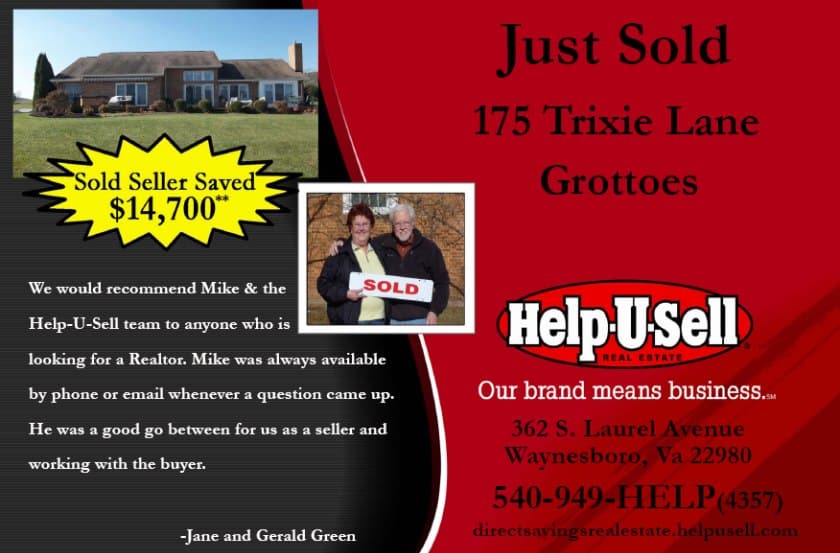 This postcard has all of the most important elements, like a photo of the property, the real estate team's logo, and contact information. However, there are two elements in particular that make this card stand out. First, there is a bright yellow area with a major win that the real estate agents were able to get for their clients—saving over $14,000.
In addition, it features a positive review from the clients who were helped. Showing the positive feedback you receive from clients is much more convincing than when you say the same things about yourself. Plus, if recipients of this postcard personally knew the featured homeowners, it will build a tremendous amount of trust.
3. Just Sold Room Labels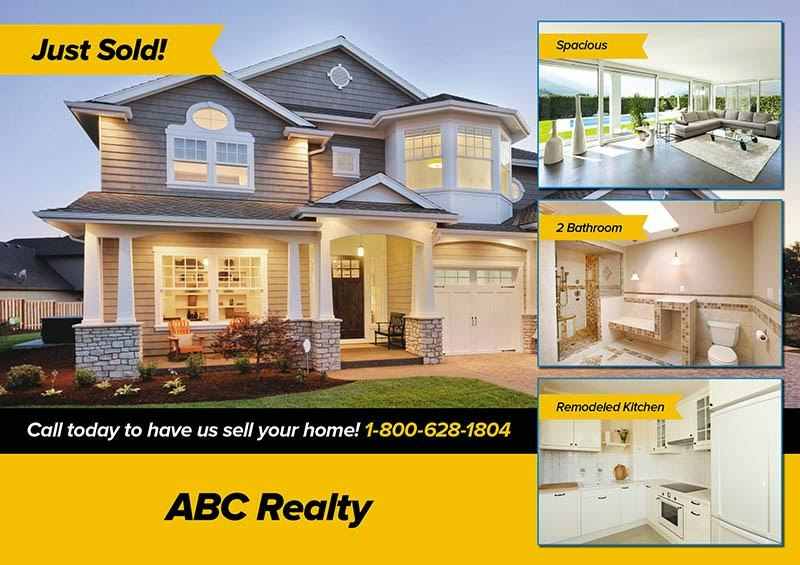 While the name of the real estate company is listed with a bright yellow background and plenty of white space, the message is primarily communicated through photography. Instead of using just one image, there are three photos with labels. Calling out individual spaces like this can show recipients your marketing expertise. Another great feature of this postcard is the space for your logo and the customization ability.
It's particularly easy to showcase your brand when you source templates for marketing materials from a company like Market Leader. Its marketing suite includes a content library with predesigned postcards, flyers, greeting cards, business cards, and digital flyers. Learn more about Market Leader and how it can help you generate exclusive leads.
4. I Came, I Saw, I Sold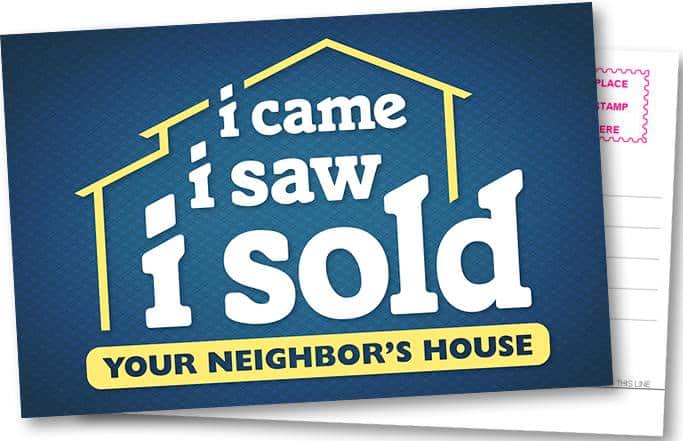 Simple designs can be the most powerful. This mailer doesn't include any property photos, but instead uses a short sentence with a large font to grab attention. It works well as a real estate farming postcard since homeowners are often curious about their neighbor's homes.
5. Simple & Modern Just Sold Postcard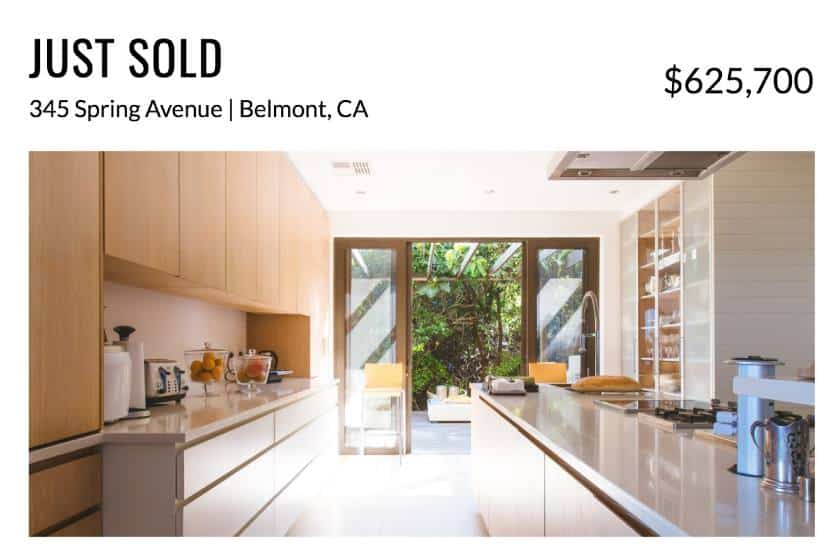 Those who are successful in real estate know that less is often more. This minimalistic design prevents leads from getting distracted or overwhelmed. With just one clear image and the most basic property details, the simplicity and beauty of this postcard naturally draws people in. The simplicity of this just sold real estate postcard can also be an ideal way to direct prospective clients to your website.
With a website design service for real estate agents, Placester can create a professionally customized website in as little as 48 hours. Whether you customize it yourself or take advantage of the platform's marketing services, Placester offers the most efficient method of creating a website that grows your business. Then, simply add a link address or a quick response (QR) code to your just sold postcards and watch your website visits increase.
6. Memoji Postcard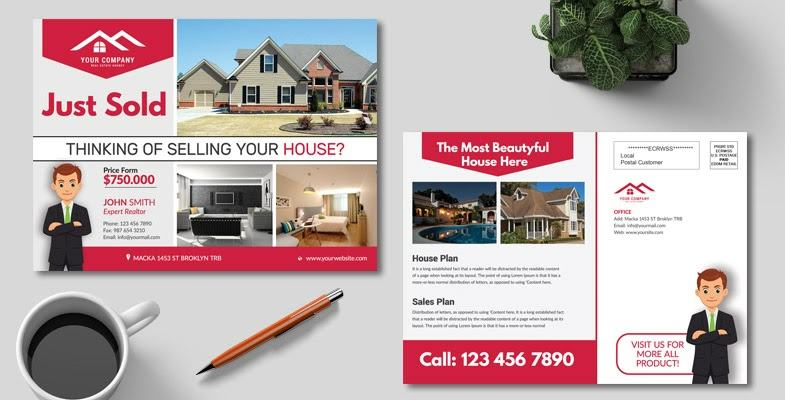 Some real estate agents aren't comfortable putting their image on marketing materials. With technology today, you can actually put your image on postcards in creative ways. Use an avatar-like figure or a memoji (a personalized animoji) to represent yourself in a unique way. Plus, when your creative just sold postcards include a clearly described house and sales plan, potential sellers will feel more confident in your authority.
7. Brand Colors Postcard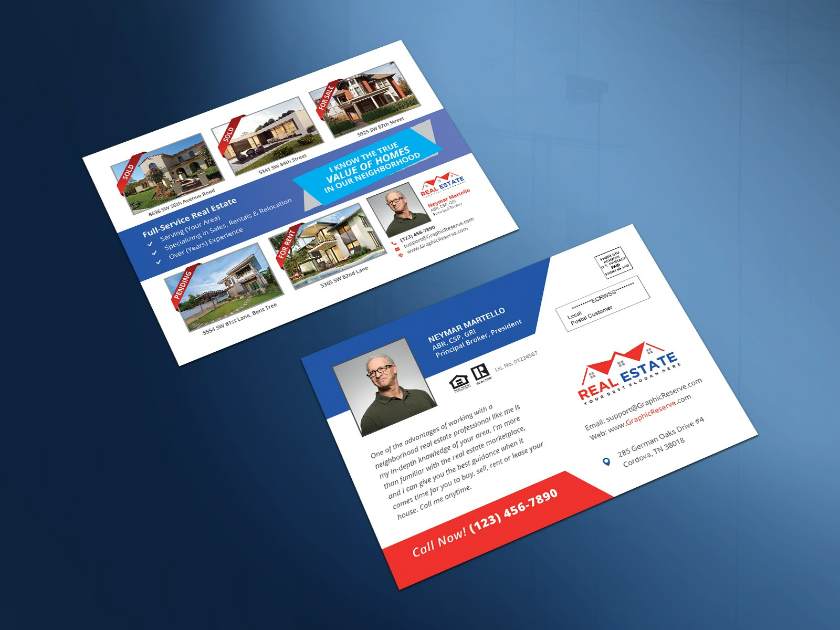 Building brand recognition is an important element of any direct mail marketing strategy. By using your brand colors on all mailers, recipients will start recognizing your brand and marketing collateral. In this postcard, the agent uses red and blue shades that match his logo. In addition, the postcard showcases a handful of successfully sold properties instead of just one.
8. Bold & Bright Postcard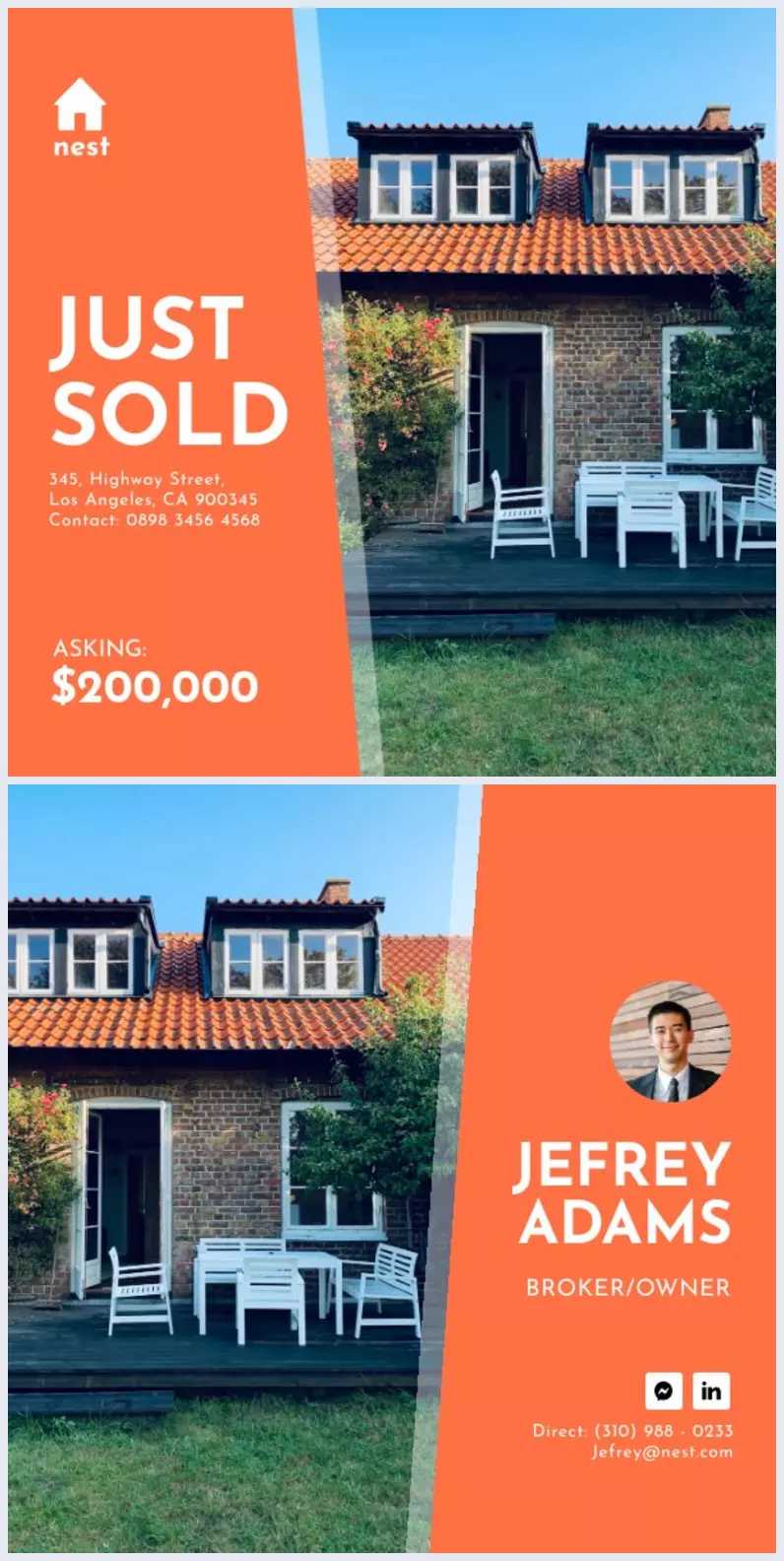 This postcard could be considered as another example of using brand colors. While it does use photography of the listing, what really grabs a reader's attention is the bright color and the large, bold text. There is not an overwhelming amount of information on this card, but the format makes it easy to see the property, the list price, and contact information.
This real estate marketing mailer could be particularly successful when mailed to other homes in the neighborhood. It could also be a great supplemental card for the contacts in your farm area who consistently receive your direct mail.
While you can use any of the just sold postcard templates below to create mailers to promote your real estate business, you might not want to invest your time in this way. Fortunately, you can hire graphic designers and marketing copywriters from Fiverr for as little as $5. Fiverr pros can help you create one design or help you design multiple types of marketing materials to better reach your target audience.
Just Sold Postcard Templates
After getting inspired by the just sold postcard examples above, you're ready to start creating your own mailers. When shopping through the real estate postcard templates below, be sure to note the cost and editing requirements and capabilities, and keep in mind that you'll also get more success with direct mail when it's sent as part of your overall marketing strategy.
Although there are many postcard templates online, VistaPrint additionally offers a wide variety of products, real estate marketing templates, and design expertise. The editing platform is extremely user-friendly, so you can easily customize any template for your goals. VistaPrint is also one of the only platforms where you can order samples, work with a graphic designer, and have the postcards mailed directly to your contact list.
Fit Small Business readers can use Promo Code FSB25 to receive 10% off $75, 15% off $100, 20% off $175, and 25% off $300+ from VistaPrint:
9. Home Sold Over Asking Price
This real estate just sold postcard template focuses on how this agent is able to consistently deliver for clients. While it is focusing on one specific home sale, it also draws attention to the agent's recurring success in selling homes. In this example, the agent is also highlighting a home being sold over the asking price.
Selling above asking is the ultimate goal of most homesellers, so it's extremely important to highlight this in your marketing. If you have success with various types of results, like low days on market, the number of homes sold over asking price, or other transactional statistics, use it in this template and within your overall marketing strategy.
10. Modern Home Postcard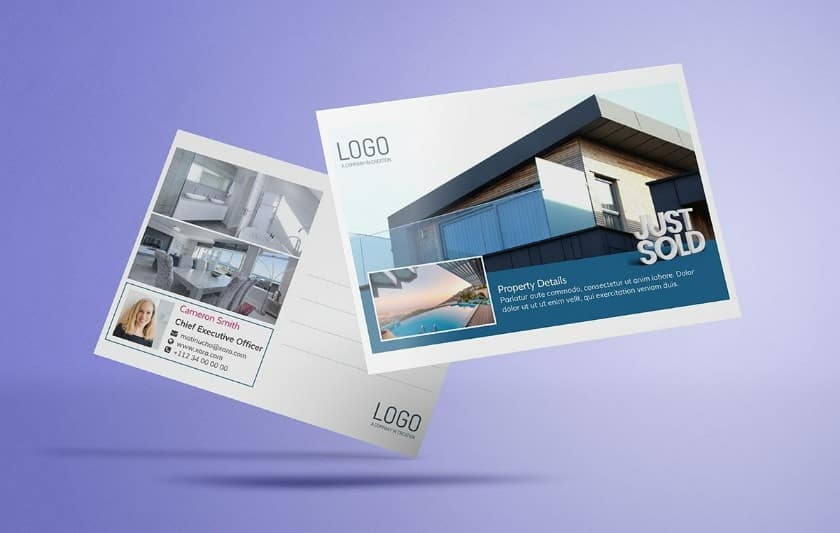 This bright and minimalistic postcard template is perfect for showcasing modern home styles or new builds. With just a few carefully selected property images, it's extremely appealing and will draw people in to read the property details.
11. Simple Block-style Postcard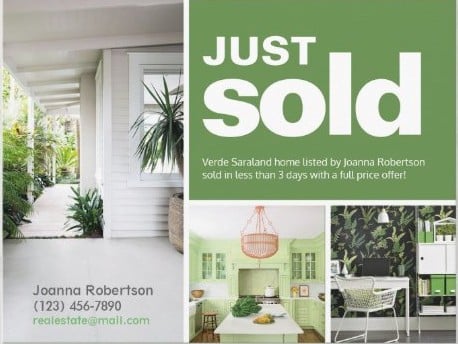 This postcard template uses a very simple design and could easily be customized to fit your brand. It uses three property photos with coordinating colors, which makes the postcard as a whole stand out. There is also a small amount of text, which could make this an easy go-to just sold template for almost all properties.
12. Custom Address Postcard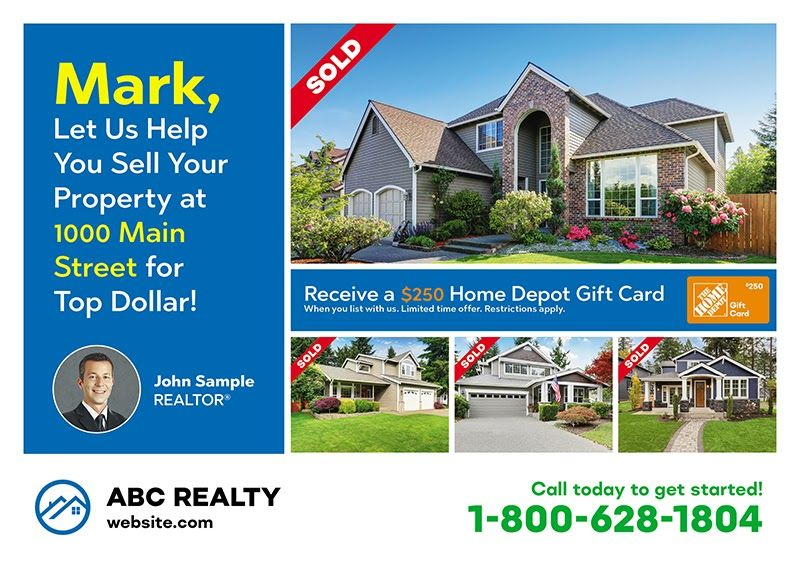 This postcard actually combines three marketing strategies: showcasing a recently sold property, offering to sell a property, and providing a chance to win a giveaway. Even though there is a lot going on within the design, it's formatted extremely well and so does not feel overwhelming.
One feature that will stand out is personalization with the recipient's name. Not all solutions offer this feature, but PostcardMania allows you to incorporate unique features like this into the majority of their direct mail templates. You also have the ability to seamlessly combine your physical and digital marketing strategy because they provide services that convert your mailer design to send to your contact list online.
13. Property Information Focus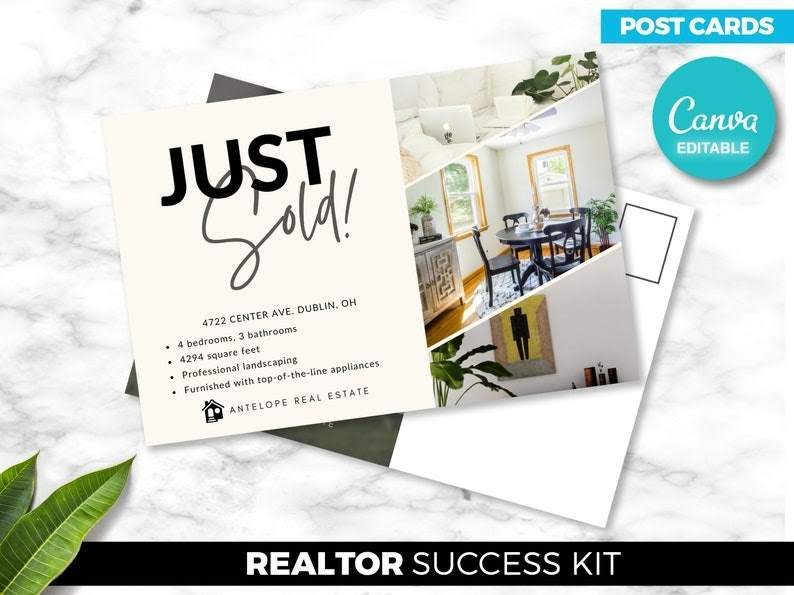 Although this postcard design shows three photos, the size and positioning keep them in the background. Instead, this template keeps the recipient's focus on the property details and contact information. It provides just enough information and photography to spike curiosity and motivates interested buyers to reach out for more details.
This just sold postcard template is available on Etsy and can be customized using Canva's online design editing software. Purchasing premade marketing templates simplifies the process of producing a beautiful postcard design, but you can also create your own real estate postcard templates from scratch on Canva. Even if you have no previous graphic design experience, the simplicity of Canva's design platform, along with a wide range of templates and design elements, is unmatched.
Just Sold Postcard Wording
In the just sold postcard examples and templates above, you can see that there are many different types that can be successful in terms of design, call to action, and wording. As with all real estate marketing materials, your just sold postcard's wording matters and you should take the time to plan and develop this to align with your real estate marketing strategy.
Make sure that your wording speaks to what is most likely to be compelling and relevant to the recipient. Even if you use words like "I sold," the message of the postcard should focus on what the sale means to the potential real estate seller. For example, you may explicitly describe how a home sale would benefit them or add a compelling call to action, like "Be the next to profit from your home!"
Here are some examples of how your just sold postcard's wording can change to impact the reader:
| Use This | Not This | Why? |
| --- | --- | --- |
| Be the next to profit from your home! | We know how to sell your home! | Always keep the focus on the homeowner. By inviting them to profit from their home, you make the seller the hero of the story. |
| Call us today! | Let us know if you're interested! | Be direct, not vague. "Let us know" is passive and without the additional instruction of how (call us today!) will likely be ignored. |
| Get your free home valuation today! | We can tell you how much your home is worth! | While similar, the first example is more likely to convert. It conveys what the homeowner will receive rather than what you can do. |
More Real Estate Direct Mail Ideas, Examples & Templates
Many real estate agents rely on direct mail marketing as a primary strategy. If that's the case, you must have a comprehensive plan that includes sending various direct mail campaigns consistently to see the maximum results. The good news is that we have plenty of resources to help you get started today.
Check out these articles for more tips, examples, and even free templates for real estate direct mail:
Bottom Line
Creative just sold real estate postcards are a proven way to show off recent successes and attract new listing clients. Using inspiration from examples and templates makes it more likely yours will stand out through strategic use of design, images, messaging, and wording. You can create your own just sold postcards easily and quickly from customizable templates with online editors like ProspectsPLUS!, Vistaprint, and PostcardMania.