13 Just Sold Postcard Examples & Templates (+ Resources)
After successfully selling a client's property, sending just sold real estate postcards is an efficient approach to attract new seller clients and boost your brand visibility. Using strategic content, strong calls to action, and eye-catching images on your just sold postcard enables you to generate listing leads and convert them into clients. Look through our list of the top 13 just sold real estate postcard examples and designs to get started.
For more just sold postcard examples and templates, check out Canva. It offers thousands of templates with fonts, layouts, and imagery for postcards, flyers, and door hangers. It also includes an intuitive interface that allows successful real estate agents to easily create beautiful graphics for their social media marketing, blogs, emails, advertisements, and direct mail strategy for real estate prospecting.
Just Sold Postcards Examples
Your ultimate goal when sending just sold postcards is to prompt recipients to reach out about your services. The postcard examples below use a variety of strategies, like incorporating slogans, showcasing client reviews, and applying color to encourage readers to reach out to them. While each strategy is valuable, using all these methods in one postcard could crowd your message.
Take a look through each of the postcard examples below to decide which is the best fit for your business style and real estate brand.
1. Postcard With Room Labels
This postcard uses photos and bright yellow to convey a message and highlight the property details and realtor company, allowing you to generate new real estate leads. Instead of using only one image, three photos with labels highlight specific areas in the home, showing your expertise and knowledge about the property. Another fantastic feature of this postcard is the area for the logo and the customization ability.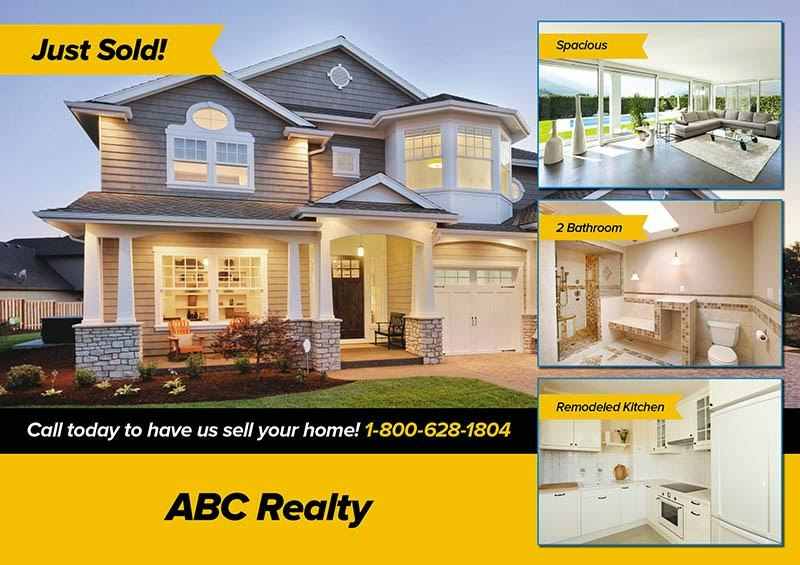 Takeaway Tips:
Use dramatic colors, such as yellow and orange, to draw the reader's eye.
If your listing has notable features, showcase those photos to encourage leads to inquire about your services.
Promoting your brand is especially simple when you use marketing material templates from a firm like Market Leader. Its marketing suite contains a content library with predesigned postcards, flyers, greeting cards, business cards, and digital flyers. Discover more about Market Leader and how it can assist you in generating exclusive leads.
For an in-depth analysis, read our experts' evaluation and assessment of this real estate marketing company in our Market Leader review.
2. Strong Slogan & Call to Action
This just sold real estate postcard example creates intrigue about how the home sale impacted nearby properties. Any homeowner who sees the phrase "your equity has changed" will likely pay more attention. Another great thing about this just sold postcard example is the easy and strong call to action, which encourages the recipient to quickly reach out to you via text for a consultation or free home valuation.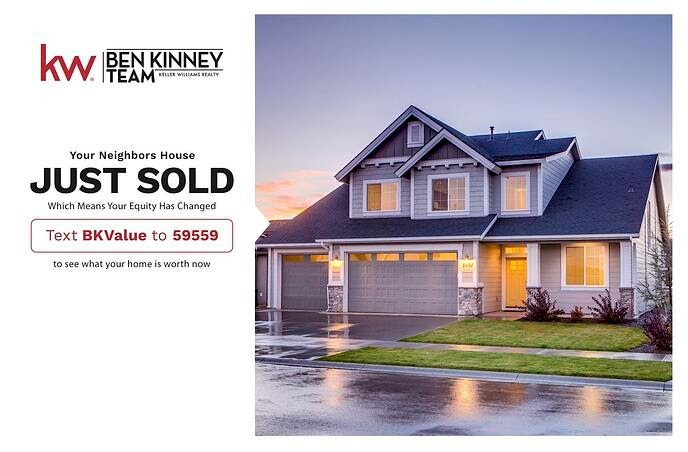 Takeaway Tips:
Use incentivizing slogans, like "Real Estate Without the Hassle" and "Click or Call We do it All," to bring attention to your services.
Include a call to action on your postcard so those who wish to reach out know exactly how and where to get a hold of you.
3. Simple & Modern Just Sold Postcard
Those who are successful in real estate understand less is often more. This minimalistic layout allows leads to stay focused and interested. The simplicity and elegance of this just sold postcard for realtors, with just one clear image and vital property facts, naturally lured people in and made it an excellent method to send prospective clients to your website.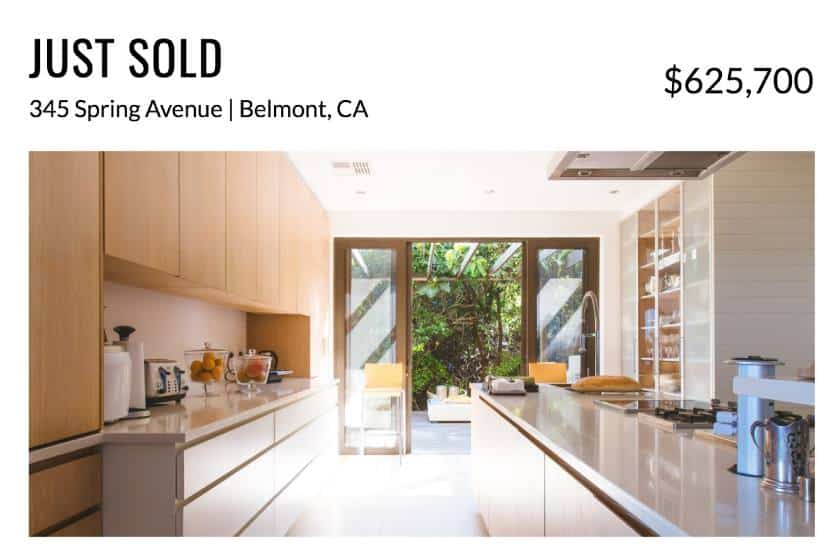 Takeaway Tips:
Use a simple and minimalistic layout to avoid cluttered postcards.
Include short and straightforward property details to highlight the key features of the property.
Placester's real estate website design service will generate a professionally designed website in as little as 48 hours. Placester is the ideal way to create a website that grows your business, whether you customize it yourself or use the platform's marketing services. Then, add a link address or a quick response (QR) code to your just sold real estate postcards and watch your website traffic grow.
Want to learn more about Placester? Read our analysis for its customer reviews, pricing, and top features in our Placester review.
4. Seller Review Postcard
This just sold realtor postcard has all the vital elements, such as a property image, the real estate team's logo, and contact information. However, two features make this card unique. First, a bright yellow area highlights the "Sold Seller Saved $14,000," a significant win for the real estate agent's clients. Second, it displays positive client feedback, which helps convince rather than saying the same things about yourself.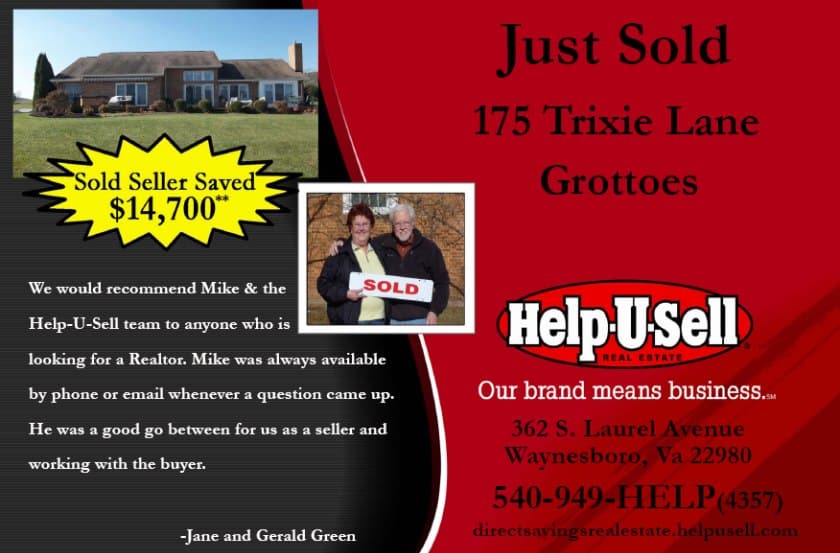 Takeaway Tips:
Highlight the seller's saved money to show prospective clients you are a valuable and helpful agent to sell their property and lower their expenses.
Use client feedback to strengthen your credibility as an agent.
5. Bold & Bright Postcard
This just sold postcard example uses bright brand colors and large, bold text to grab readers' attention. There is a manageable amount of information on this card, but the format makes it easy to see the property, the list price, and contact information. This just sold postcard idea could be particularly successful when mailed to other homes in the neighborhood. It could also be a great supplemental card for the contacts in your farm area who consistently receive your direct mail.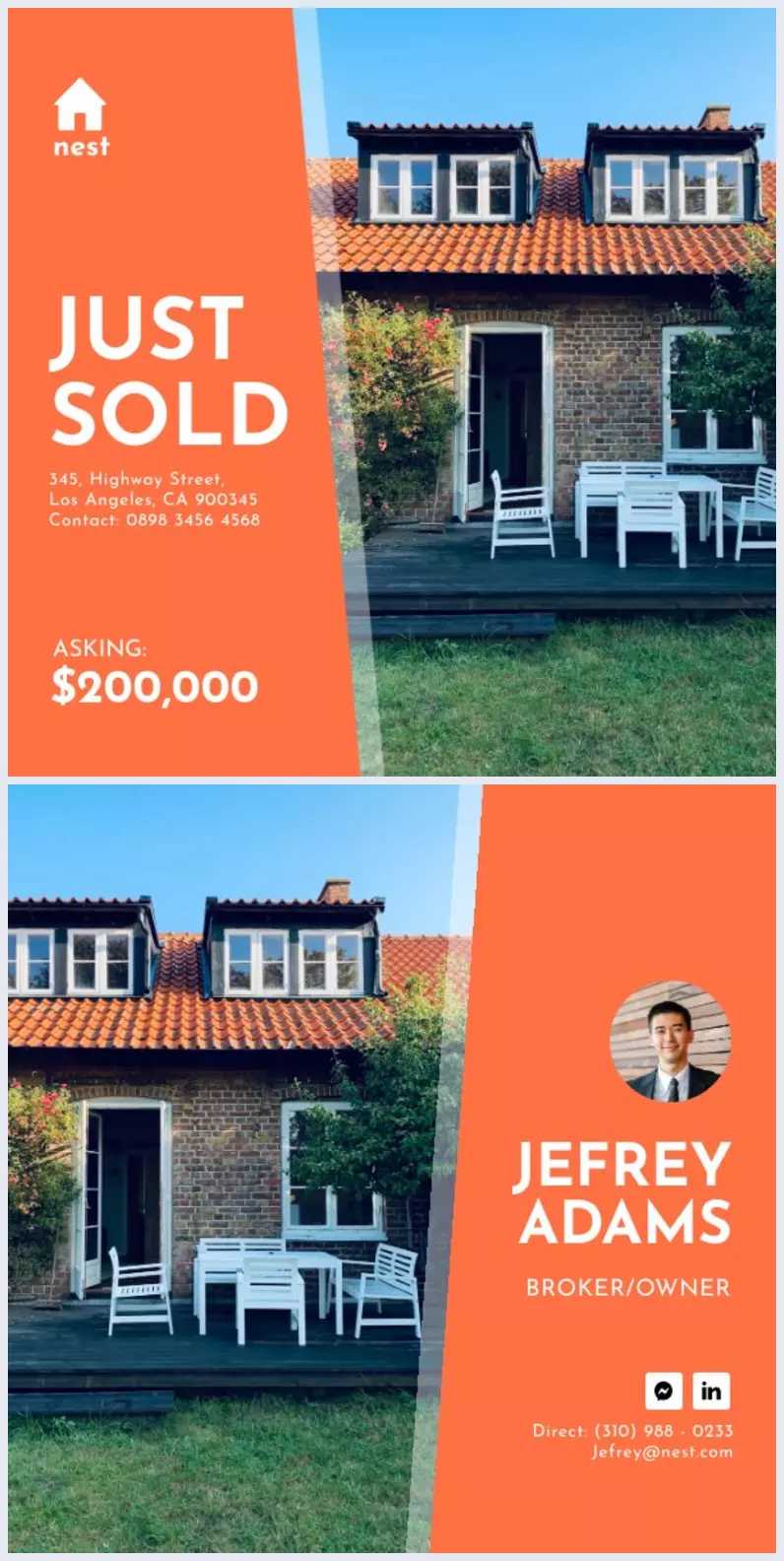 Takeaway Tips:
Use bold and bright colors to complement and highlight the property details and features.
Utilize a simple format to showcase the property's list price and your contact information.
While you can use any of the just sold postcard templates below to create mailers to promote your real estate business, you might not want to invest your time this way. Fortunately, you can hire graphic designers and marketing copywriters for as little as $5 on Fiverr. Fiverr experts can help you build a single design or different kinds of marketing materials to reach your target demographic better.
Read our Fiverr review to determine whether the platform fits your needs.
6. Short & Huge Texts Postcard
The most compelling designs are simple. This just sold postcard example does not include any property photographs and instead draws attention with a short sentence in huge print. It works effectively as a real estate farming postcard since homeowners are typically intrigued about their neighbors' homes.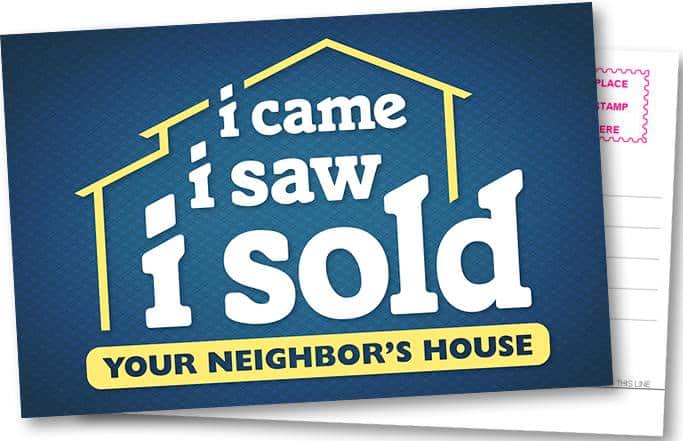 Takeaway Tips:
Use simple and larger-sized text to highlight and convey your message.
Utilize a direct and no-frills postcard design to draw potential clients' attention.
7. Memoji Postcard
Some real estate agents are uncomfortable putting their image on marketing materials. With technology today, you can creatively put your image on postcards. Use an avatar-like figure or a memoji (a personalized animoji) to represent yourself uniquely. Plus, when your creative just sold postcards include a clearly described house and sales plan, potential sellers will feel more confident in your authority.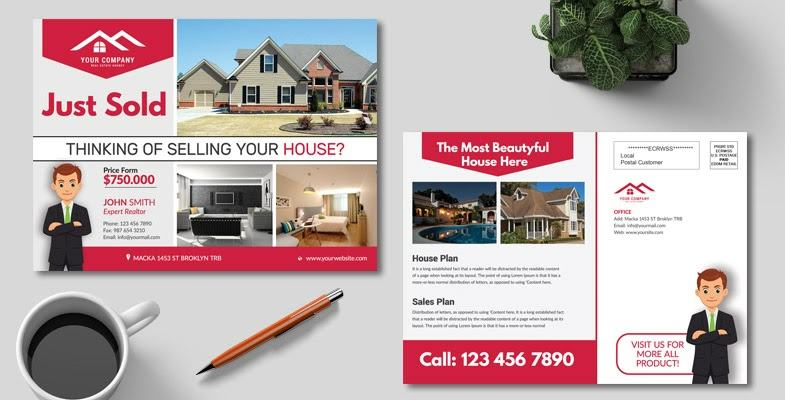 Takeaway Tips:
Use a memoji and avatar-like character to represent yourself or your company.
Include a sales plan and clear, brief property facts to reassure potential sellers of your authority.
8. Brand Colors Postcard
Building brand recognition is a crucial element of any direct mail marketing strategy. By using your brand colors on all mailers, recipients will start recognizing your brand and marketing collateral. The agent uses red and blue shades in this postcard that match his logo. In addition, the postcard showcases a handful of successfully sold properties instead of just one.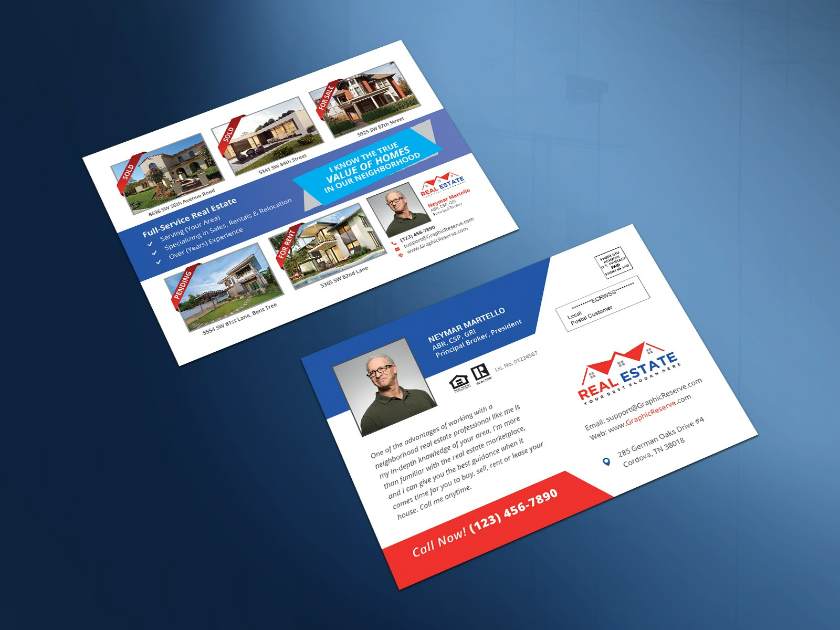 Takeaway Tips:
Incorporate your brand colors to make your postcard stand out and easy to remember.
Include all your successfully sold properties to demonstrate to prospective leads that you know what you're doing.
Just Sold Postcard Templates
After being inspired by the recently sold postcard examples above, you can start designing your own mailers. When browsing the real estate postcard ideas below, take note of the cost, editing needs, and capabilities, and remember that direct mail works best when it's part of a larger marketing campaign.
Although numerous postcard templates are available online, VistaPrint provides various products, real estate marketing templates, and design expertise. This editing platform is incredibly user-friendly, so you can alter any template to meet your needs. VistaPrint is also one of the only sites where you can request samples, collaborate with a graphic designer, and have postcards distributed directly to your contact list.
9. Incorporates a Contest
This postcard incorporates three marketing strategies: highlighting a recently sold property, offering to sell a property, and providing a chance to win a contest. Although a lot is happening in the design, it is presented incredibly well and does not feel overwhelming.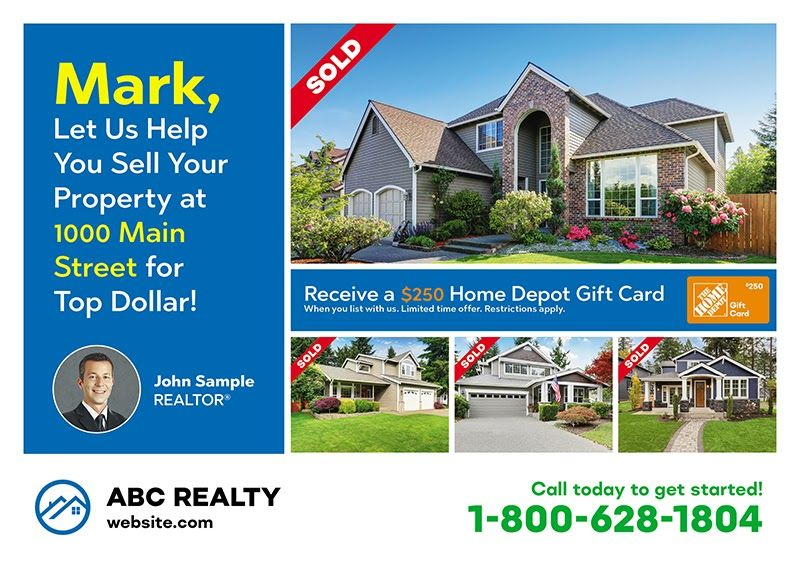 One feature that will stand out is personalization with the recipient's name. Not all solutions offer this feature, but PostcardMania allows you to incorporate unique features into most of their direct mail templates. It also gives services that modify your mailer design to distribute to your contact list online, allowing you to merge your physical and digital marketing strategies effortlessly.
10. Home Sold Over Asking Price
This just sold postcard example template focuses on how this agent can consistently deliver for clients by using the word "Another." In this case, the agent also emphasizes a home sold for more than the asking amount.
Selling above asking is the ultimate goal of most homesellers, so it's imperative to highlight this in your marketing. If you succeed with various types of results, like low days on the market, the number of homes sold over the asking price, or other transactional statistics, use it in this template and within your overall marketing strategy.
11. Property Information Focus
Although this postcard design shows three photos, the size and positioning keep them in the background. This template keeps the recipient's focus on the property details and contact information. It gives just enough information and images to pique consumers' interest and encourage them to contact the seller for more details.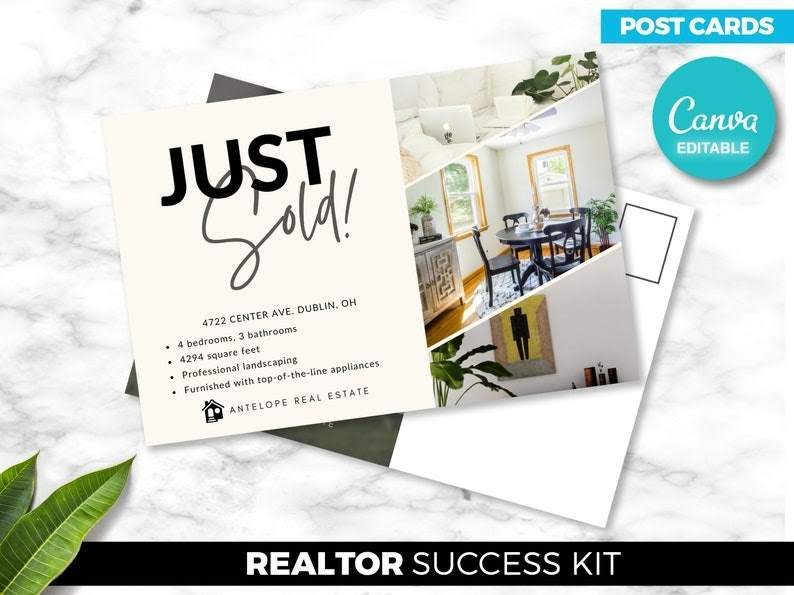 This postcard template can be modified using Canva's online design editing software. Buying preset marketing templates makes creating a great postcard design easier, but you can also use Canva to build your own just sold real estate postcard from scratch. Even if you have no prior graphic design knowledge, Canva's design platform is unrivaled in simplicity and offers an extensive selection of templates and design elements.
12. Modern Home Postcard
This bright and minimalistic just sold real estate postcard template is perfect for highlighting contemporary home styles or new constructions. With just a few carefully picked property photos, it's extremely appealing and will draw people in to read the property details.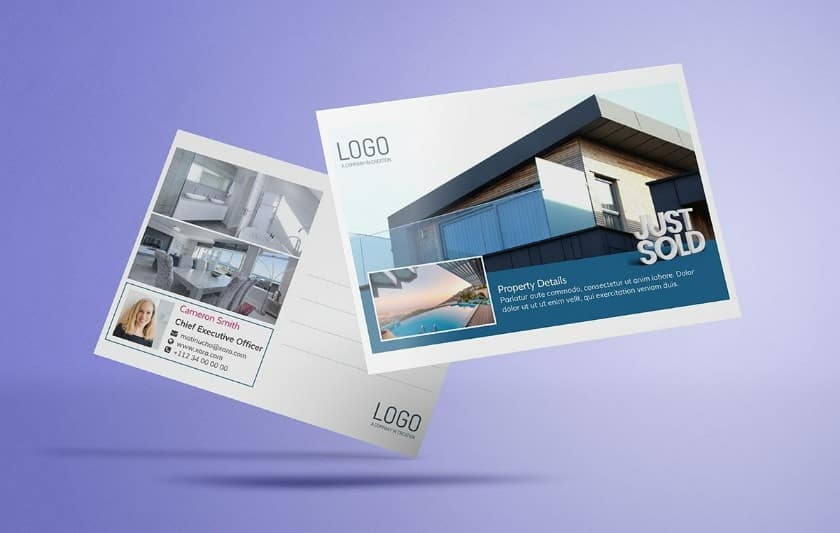 13. Simple Block-style Postcard
This just sold postcard example template uses a simple design and could easily be customized to fit your brand. It uses three property photographs in complementary colors to make the postcard stand out. There is also some text, which may make this an easy go-to just sold template for almost any property type.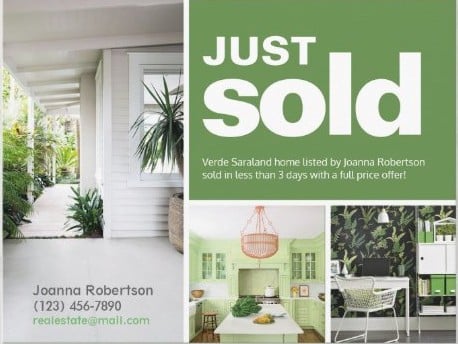 Just Sold Postcard Wording
In the just sold postcard examples and templates above, you can see that many different types succeed in design, call to action, and wording. As with all real estate marketing materials, your just sold postcards wording matters, and you should take the time to plan and develop this to align with your real estate marketing strategy.
Ensure that your wording speaks to what is most likely compelling and relevant to the recipient. Even if you use words like "I sold," the postcard's message should focus on what the sale means to the potential real estate seller. For example, you may explicitly describe how a home sale would benefit them or add a compelling call to action, like "Be the next to profit from your home!"
Here are some examples of how your just sold postcard wording can change to impact the reader:
| Use This | Not This | Why? |
| --- | --- | --- |
| Be the next to profit from your home! | We know how to sell your home! | Always keep the focus on the homeowner. By inviting them to profit from their home, you make the seller the hero of the story. |
| Call us today! | Let us know if you're interested! | Be direct, not vague. "Let us know" is passive, and without the additional instruction of how ("call us today!"), it will likely be ignored. |
| Get your free home valuation today! | We can tell you how much your home is worth! | While similar, the first example is more likely to convert. It conveys what the homeowner will receive rather than what you can do. |
Tools for Creating Just Sold Real Estate Postcards
Creating and modifying promotional real estate postcards can take a little time, money, or effort with today's technologies and services. Real estate agents can use simple templates and editors to quickly make, edit, and send postcards and direct mail.
These three tools can assist you in quickly creating attractive and powerful just sold postcards:
Platform

Best For

Agents seeking free design tool with an extensive collection of templates and design elements

Real estate professionals wanting an easy-to-use interface and highly targeted mailers

Agents and brokers with no graphic design experience and needing help from professionals

Agents who want a variety of affordable, no-frills postcard sizes

Key Features

Social media templates available
Premium stock images available
Free templates, fonts, and logos

Helps easily execute real estate farming efforts with automation
Offers an extensive list of marketing materials
Multiple mailing list data sources

Wide range of skills, from logo designing to proofreading
Includes user reviews of freelancers
No long-term contracts

Free direct mail planning
Full-color, glossy, customized postcards in three sizes
Has a professional graphic design team

Starting Price

Free-forever plan; paid plans start at $12.99 per month

93 cents per postcard mailed first class

$5 per job/project

5 cents per postcard

Learn More
Bottom Line
Creative just sold real estate postcards are a proven way to show off recent successes and attract new listing clients. Using inspiration from examples and templates makes it more likely yours will stand out through strategic use of design, images, messaging, and wording. You can easily and quickly create just sold postcards from customizable templates with online editors like ProspectsPLUS!, VistaPrint, and PostcardMania.