Kabbage offers short-term loans to companies who have been in business for at least one year. Small businesses pay for the loan directly through their company checking account or through PayPal. We compiled Kabbage reviews from our own website plus user reviews from around the web to determine what Kabbage customers think about the company. We also cover the fees associated with taking out a loan.
Kabbage Customer Reviews
Summary of User Reviews
We scoured hundreds of reviews and found that Kabbage has generally positive ratings. Here's what we found:
What Kabbage does well:
According to satisfied users of Kabbage, the service had a professional team of loan consultants that guided you along the process and explained things in a clear and precise manner.
What Kabbage does not do well:
Most complaints came from users who did not like Kabbage's high interest rates. According to dissatisfied users, Kabbage also tends to change terms without notifying current borrowers.
Most Helpful Positive User Review
"I can honestly say that Kabbage provides assistance when you most need it. After simply providing information about who we are and what we do as a business, Kabbage qualified us for a loan based on our operations. The amount was enough to allows us to expand and grow as a business. Yes, there are fees, but it's the risk they must take by helping us businesses. One thing that definitely blew me away was their PayPal connection that allows you to receive funds instantly; I believe they've come out with their own MasterCard, which I've yet to enroll with. The structure on how to repay them is straightforward and there are no penalty payments when you wish to pay a little extra each month. Customer service is knowledgeable and is available when you have questions. Overall, my experience with Kabbage is above average and would recommend them to anyone who cannot go through a traditional bank and wants to avoid those high interest capital advances. Thank you Kabbage for supporting small businesses!"

— Frank Torres
Most Helpful Negative User Review
One user who gave the service a negative review said Kabbage wasted his time by cancelling his loan even after the funds have already been delivered. According to him, he played by the book, answered all the questions honestly and got approved for his loan legitimately. The funds were already transferred when he got the call telling him his loan was cancelled. When asked, the agent gave him reasons for the cancellation; however, those reasons were already disclosed by the user during the interview part of the application. He was still approved despite those reasons, but the loan was cancelled only after the funds have been released.
Other Kabbage User Reviews From Around the Web
Here are a few other resources for finding helpful Kabbage customer reviews. We rated the review sites on a scale from poor to excellent based on how trustworthy and useful the reviews seemed.
| User Review Website | Average Rating* | Number of Reviews | Quality of Reviews |
| --- | --- | --- | --- |
| TrustPilot | 9.2 out of 10 | 2,465 reviews | Excellent |
| SiteJabber | 3 out of 5 | 113 reviews | Excellent |
| Merchant Maverick | 3.5 out of 5 | Staff Review | Good |
*Average rating as of date article was written: Feb. 14, 2017
How We Determined Quality of User Review Websites
TrustPilot has tons of user reviews on the product. While some are one-liners that don't offer much information, others are well-written and extremely detailed.
SiteJabber also has several reviews on Kabbage. Users can upvote helpful reviews so that the topmost reviews are usually the ones which provide the most insight into the service.
Merchant Maverick has a staff review on Kabbage on its website. The review is very detailed and informative. Although the staff review only reflects one person's point of view, users of the site can also comment and share their opinions on the product.
Kabbage Pricing & Other Details
| | Kabbage |
| --- | --- |
| Loan Fee Rate (First half of repayment period) | 1.5% - 10% of loan amount, depending on creditworthiness. |
| Loan Fee Rate (Second half of repayment period) | 1% of loan amount |
| Upfront Fees | None |
| Prepayment Penalties | None |
Small business can borrow anywhere from $2,000 to $150,000 from Kabbage, which is payable via a 6-month or 12-month repayment term. For the first half of your loan, you will be charged a rate of 1.5%-10% of your loan amount, depending on how well your business is doing. This means that if you decide to pay back your loan in 12 months, your first 6 months will have this interest rate. During the second half of your repayment period, you will be charged a flat fee of 1% of your loan amount.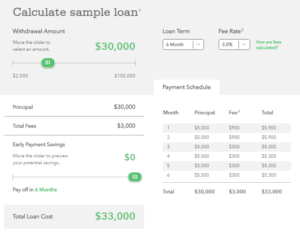 Sample fee calculator from Kabbage
Kabbage does not have early payment penalties, which means you can pay for the loan as quickly as you can without paying extra fees. Small businesses can take advantage of this policy and pay their loans back as soon as possible to save on interest rates.
Compare Kabbage Competitors

Not sure if Kabbage is the right small business loan provider for you? Check out our comparison and see how Kabbage fares against other providers OnDeck and PayPal.