Kaplan Real Estate Review: Is It Right for Your Education?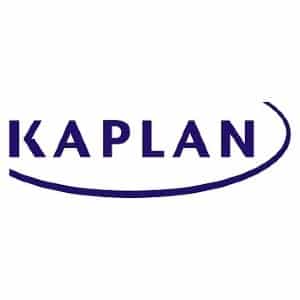 Visit Kaplan
Use Promo Code: Kapre5 for 5% off
What We Recommend Kaplan For
Kaplan is best for its high-quality real estate education and variety of course formats that accommodate different learning needs. Depending on your location, Kaplan provides comprehensive courses for every stage of your real estate career—from prelicensing to post-licensing and continuing education. If you decide to open your own brokerage, Kaplan also offers broker licensing education in select states. In addition, you can tap into its professional development programs and resource center for career development.
While the school doesn't provide in-person classes, Kaplan uniquely offers a home study solution for agents looking for traditional learning. Online courses also contain several interactive elements to stay on track while learning at your own pace. Some of Kaplan's noteworthy features are its Interactive Study Groups and Career Mentor Connect. These tools are designed to prepare aspiring agents for the licensing exam and their role in real estate.
Who Kaplan Is Good For
Students looking for a variety of learning formats: Kaplan offers scheduling flexibility, including live online, self-paced online, home study, and on-demand learning formats. Kaplan provides hybrid packages in some states for agents who want both livestream and self-paced classes. Kaplan is one of the best accredited online real estate schools.
Aspiring agents looking for several online learning tools and interactive features: Kaplan's prelicensing course packages include access to Interactive Study Groups, supplementary textbooks, and exam prep materials to prepare students for the license exam. You can also purchase additional study tools like exam prep apps and flashcards to improve your chances of passing the exam. This is why Kaplan is one of the top choices for prelicensing education in several states, like Arkansas, North Carolina, and Kentucky.
New and veteran agents needing extensive career support for every stage of their career: Although course availability varies by state, Kaplan offers real estate courses for every stage of your career—from prelicensing to post-licensing, broker licensing, and continuing education. This is why it ranks as one of the best real estate schools in states like Colorado, New Mexico, Virginia, Washington, and Minnesota.
Who Kaplan Is Not a Good Fit For
Agents looking for budget-friendly education: Prices vary by state. Still, Kaplan's pricing could be more expensive than other schools, such as Real Estate Express. For example, a basic livestream prelicensing course in California can cost $549 on Kaplan compared to a similar course on Real Estate Express priced at $449. While still one of the best schools, Kaplan has ranked lower than other schools in some states like Georgia, California, and New York due to high pricing.
Students located in any of the states where Kaplan doesn't offer real estate courses: Compared to other online real estate schools, Kaplan has a smaller footprint, with courses available in only 26 states. Aspiring agents looking for prelicensing education in states such as West Virginia, Maine, and Vermont might want to check other schools, such as The CE Shop.
Students who prefer in-person classes: Kaplan doesn't offer in-person classes for students looking for traditional learning to achieve a sense of routine and stay focused. If you crave regular discussions with your instructors and classmates, Kaplan's live online courses can be an alternative, or you can look for in-person courses in your location.
Kaplan Overview
PROS

CONS

Variety of online and offline course formats
Prices can be higher compared to other competitors
Instructors are active professionals in the industry
Allows only up to 6 months of course access
Accredited by the Association of Real Estate License Law Officials (ARELLO) and Association of Real Estate License Law Officials (IDECC)
No in-person class option
PassProtection Retake Policy
Courses not available in all states
Interactive course features and extensive career support
No physical school to visit for support
Courses accessible on phone, tablet, and desktop
Website is difficult to navigate, especially for first-time site visitors
Kaplan Pricing
Kaplan's pricing differs from one state to another due to varying real estate topics and the number of education hours required by each jurisdiction. You can choose between tiered packages and individual courses that you can tailor according to your education needs. Prelicensing (starts at $59) and broker licensing (starts at $39) courses tend to be more expensive because they require more education hours.
If you purchase premium packages, you can get access to professional development courses like Kaplan's Real Estate Accelerator live online course. Kaplan has also partnered with Dale Carnegie to provide prelicensing packages that include an on-demand Dale Carnegie course.
Plans

Prelicensing

Post-licensing

Broker Licensing

Continuing Education

Exam Prep

Who Plan Is Best For

Aspiring agents getting a real estate license for the first time

Agents looking to fulfill additional prelicensing requirements

Agents who want to upgrade their license to a broker level

Agents who need to renew their real estate license

Agents looking for extra study, tools, and preparation time to pass exams

Annual Price Range

(Per Course)*

$59 to $1,099

$17.50 to $799

$39 to $1,099

$15 to $249

$69 to $199

Interactive Study Groups

✓

✕

✓**

✕

✕

Variety of Course Formats**

✓

✓

✓

✓

✓

Instructor Support

✓

✓

✓

✓

✓

Supplemental Learning Materials

✓

✓

✓

✓

✓

Exam Prep Materials**

✓

✕

✓

✕

✓

Supplementary Textbooks**

✓

✓

✓

✓

✓

Customer Support

✓

✓

✓

✓

✓
*Price range includes all course packages in all states
**Availability will vary by state
Type of Education Available
You can find comprehensive real estate courses on Kaplan's, whether prelicensing, post-licensing, broker licensing, or continuing education (CE).
Prelicensing
Kaplan's prelicensing education is available in 23 states, offering the complete prelicensing hours you need to become a licensed real estate agent. Courses are available in several packages with various course delivery methods. Depending on your location, you can purchase packages in on-demand, self-paced online, home study, live online, and hybrid formats.
Courses include high-quality content, supplemental learning tools, and guided instructor support. Below is a summary of what's included in state-specific prelicensing package tiers offered by Kaplan. The availability of these packages and their inclusions vary by state and type of learning format you choose.
Basic Package

Career Launcher Package

Carnegie Launcher Package

Interactive Study Group
Career Mentor Live Online Connect
Virtual classroom exam proctoring
Available in different learning formats depending on location

Interactive Study Group
Career Mentor Live Online Connect
Virtual classroom exam proctoring
Exam prep
Real Estate Accelerator
Available in different learning formats depending on location

Interactive Study Group
Career Mentor Live Online Connect
Virtual classroom exam proctoring
Exam prep
Real Estate Accelerator
Professional development course from Dale Carnegie with a PDF guidebook
Available in different learning formats depending on location
Note that packages and course features are not available in all states.
If you're looking for additional education such as post-licensing, continuing education, exam prep, or broker's licensing, Kaplan can be an option for you. Page through the below images and descriptions to see if Kaplan offers the required education in your state.
Kaplan Features
With decades of experience, Kaplan's real estate education has greatly evolved to include several features that aid students' online learning. These features provide helpful educational resources as well as sufficient instructor and customer support, so agents receive the best return on their investment.
Following are outstanding features of Kaplan's real estate education for a seamless and convenient online education:
General Features
Simple learning management system (LMS) platform
Multiple course formats
PassProtection Retake Policy
Extensive career support
Aside from its high-quality education, Kaplan's features can help students understand and fulfill all the state-specific requirements to obtain and maintain their license. Its simple LMS platform reduces all the necessary complications when taking an online course. Furthermore, Kaplan's multiple course formats, PassProtection policy, and extensive career support help prepare agents for their lifetime careers.
LMS Platform
Easy to navigate
Simple user interface
Accessible course table of contents
Slide-based content delivery
Click-through navigation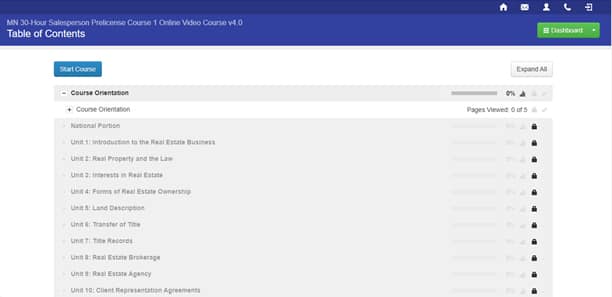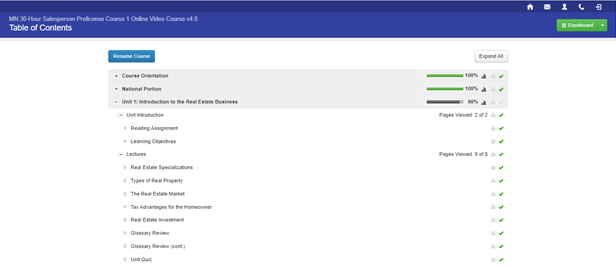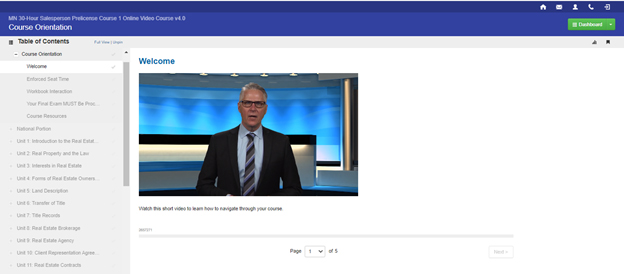 Kaplan's LMS platform
Kaplan's Learning Management System (LMS) is pretty straightforward, making the learning experience simple and convenient. On the student's main dashboard, you will only see the courses you paid for and links to your final exam, affidavit, and completion certificate. On top of your dashboard, you will see icons for your account's Home page, course and message notifications, personal account info, Kaplan's contact page, and the logout button for easy navigation.
Lessons are provided in easy, bite-sized segments, so you can focus on mastering one learning objective at a time. After each lesson, you can take quizzes designed to help you verify your understanding. Depending on your course package, access digital textbooks on your dashboard to supplement your learning. Kaplan's LMS automatically saves your course progress, so you can easily continue from where you left off. Once you've finished the course hours, you can unlock the final exam to complete your course.
---
Variety of Course Formats
Accessible on all devices
Online and offline learning formats
Availability varies by state
To provide the most effective online real estate education possible, Kaplan offers four learning formats so you can choose courses that match your learning style. See below to learn which mode of delivery perfectly suits your education needs (available learning formats may vary by state):
Live online: This study option provides the benefits of live classroom instruction from the comfort of your home or at work. The virtual in-classroom experience of Kaplan's live online classes allows you to interact with your instructors and classmates, so you can ask questions and get answers in real time.
Online video on-demand: If you need more flexibility, Kaplan's on-demand video courses allow you to complete your lessons as your schedule allows. With prerecorded instructor-led videos, you can review each lesson segment as often as you like on the go.
Online instruction: This course format is for students who prefer self-paced interactive content. Kaplan's online instruction is text-based and is best for those who love to read.
Home study solution: If you prefer physical textbooks over online reading materials, Kaplan's home study solution might work best for you. You can complete your courses by reading and answering physical workbooks and textbooks delivered to your home. To make sure you still have direct interaction with your instructors, home study packages include access to Interactive Study Groups.
---
Interactive Study Groups
Weekly live webinars
Real-time interaction with instructors
Cover the state and national portions of the exam
If you purchase Kaplan's prelicensing packages, you can get access to Interactive Study Groups. Designed for online and home study students, the Interactive Study Groups are weekly live webinars that cover the state and national portions of the real estate exam. These live webinars allow you to engage with Kaplan's expert instructors and other prelicensure students for a lively discussion of topics. Students can prepare any questions and bring them to the study groups to review key concepts covered in the prelicensing courses.
---
Career Resources
Free Career Toolbox
Professional development courses
Access to seasoned real estate and business professionals
In addition to quality real estate education, Kaplan provides career advancement resources to help agents succeed in real estate. Whether you're looking for free tools or paid courses, Kaplan is a one-stop shop for those looking for a holistic real estate career development. If you're taking prelicensing courses at Kaplan, you may find some of these tools already included in your package:
Career mentor live online connect: This feature allows prelicensure students to interact with real estate industry experts, ask questions, and exchange ideas with classmates through live instructor-led webinars.
Real estate accelerator course: A two-day intensive live online course designed to give prelicensing students the real-world skills, tools, and detailed activities to stay on top of their game. Students enrolled in this course also receive eight weeks of professional coaching from seasoned real estate professionals to help them launch their careers successfully.
Business brokerage training: This training course is designed for business brokers who want to serve clients better and generate more income while protecting their business. Through this course, agents will learn how to get their business started, grow their income, and succeed in a cut-throat industry.
Dale Carnegie OnDemand course: In partnership with Dale Carnegie, Kaplan provides an on-demand training course for agents who want to develop skills that can help them win connections and influence people in real estate.
Career Toolbox: Kaplan's Career Toolbox page contains a plethora of free real estate news, blogs, recorded webinars, a video library, and topical advice to help you stay abreast with the latest industry trends.
---
Real Estate Experts
Seasoned and practicing professionals
State-approved education
Access to instructor support
Kaplan's faculty includes practicing real estate brokers, attorneys, appraisers, mortgage experts, and certified public accountants (CPAs). Some of Kaplan's instructors are also writers of real estate literature and even act as advisers on pending real estate legislation. They not only teach proven industry principles but also bring relevant real-world experience to help students understand the industry better.
On average, Kaplan's faculty members have nine years of real estate teaching experience. With access to experienced instructors, agents can get quality education and relevant skills to navigate the industry even in down economies. Moreover, since instructors at Kaplan are practicing professionals, they customize programs to efficiently meet the needs of busy students.
---
PassProtection Retake Policy
Retake courses at no additional cost
Pass rate that beats the industry standard
Accessible within six months from the date of purchase
If students are unsuccessful in passing their licensing exam, they can retake the same classes within six months from the date of purchase. PassProtection Retakes are unlimited, but students may need to purchase new course materials. If the six-month period has elapsed, a student will have to repurchase the class, and a new PassProtection term will begin. This policy only applies to students who were enrolled in a live or live online class.
---
Exam Prep Tools & Add-ons
Customizable drills and practice QBanks
Performance tracker
QBanks accessible anytime, anywhere
Additional study tools available
Kaplan's decades of experience can help you pass the state licensing exam through its real estate drills and practice QBanks. These exam prep tools provide students with an interactive testing platform to test them with questions as outlined in the PSI or Pearson VUE. Students can simulate different test environments and even customize quizzes according to topics and subtopics. Kaplan's QBanks also come with a performance tracker so students can pinpoint problem areas.
If you need more assistance when preparing for the licensing exam, you can purchase additional study tools from Kaplan. The school offers a math on-demand refresher course, practice flashcards, exam prep apps, and study packages that help you master key concepts so you could ace the exam.
---
Virtual Exam Proctoring
Accessible anywhere
No need to commute for an in-person exam
Available in select states
In some states where students are required to take a proctored final exam, Kaplan offers virtual exam proctoring. Virtual proctoring works the same way as in-person proctoring. Instead of meeting proctors in a physical classroom, the final exam will be proctored in Kaplan's virtual classroom on the student's LMS platform. With this feature, students no longer have to worry about commuting and can focus instead on passing their final exams.
---
Course Access & Extension Policy
Six-month course access
Course extension up to 90 days
Additional charges apply
Just like other online real estate schools, Kaplan allows up to six months of access to their real estate courses from the date of purchase. Live online classes may have shorter course access since courses are accessed on a live schedule. For busy students who need more time, you can contact Kaplan to have your course extended for 30 to 90 days. Course extensions are not free and have corresponding charges.
| Course Extension Options | Fees |
| --- | --- |
| Licensing 30-day Extension | $49 |
| Licensing 90-day Extension | $89 |
| Licensing (Complete Package) Extension | $249 |
| Exam Prep 30-day Extension | $19 |
| Exam Prep 90-day Extension | $29 |
| Post-licensing 30-day Extension | $19 |
| Post-licensing 90-day Extension | $29 |
| Continuing Education 30-day Extension | $19 |
| Continuing Education 90-day Extension | $29 |
| Professional Development 30-day Extension | $99 |
| Professional Development 90-day Extension | $149 |
---
Customer Support
Instructor support
Phone, email, and chat support
Dedicated student, technical, and curriculum support teams
Specialized phone numbers for select states
Aside from the instructor support that comes with purchasing a course, Kaplan has dedicated student, technical, and curriculum support teams, which you can reach via phone, email, and chat.
For students enrolled in any of Kaplan's programs, the school has a student support team that you can contact through phone and email. Students located in California, Minnesota, New Mexico, and Texas also enjoy a specialized phone number specific to their state for questions about reprinting a certificate, tracking materials, or requesting a transfer.
If you're having problems accessing your course, you can contact the technical support team by phone, chat, or email from Monday to Friday. If you have questions about your curriculum, a team of national and state-specific subject matter experts is ready to assist you via email.
---
Ease of Use
Completing a course through Kaplan is convenient and straightforward, with an online platform that is simple and easy to navigate. Although its web layout can be intimidating for first-time site visitors, Kaplan provides all the necessary information you need to fulfill all education requirements specific to your state. Kaplan also lists all the courses and programs available in each state, as well as licensing exam information and some frequently asked questions (FAQs).
Kaplan's website also spells out all the information about a course or package, including the learning format, course topics, inclusions, and pricing. Paying for a course is also easy. You just need to create an account, add your shipping information, and specify your payment method.
Kaplan's dedicated student, technical, and curriculum support teams will assist you with enrollment—choosing the right package, taking the exam, and getting a course completion certificate. You will also get guided instructor support throughout your course, so you can complete all your education requirements on time.
Kaplan Alternatives
If you can't find the education you need from Kaplan, you can check out these online schools that provide quality online education and flexible learning options:
Best For: Customizable education with interactive elements and student support

Best For: Self-paced online curriculum for all stages of your real estate career

Best For: Course affordability for aspiring or experienced agents

Pricing: $10.95 to $888*

Pricing: $19 to $799*

Pricing: $29 to $677*

Key Features:

Prelicensing courses available
Reasonable prices
Tiered course packages
Available in 36 states

Key Features:

Broker licensing courses
Self-paced formatting
Live chat support available
Available in 50 states

Key Features:

CE courses available
Flexible completion schedule
Multiple device compatibility
Available in 14 states

Use Promo Code: FSB25 for 25% off

Use Promo Code: FSB30 for 30% off

25% off—no promo code required
*Pricing here is for comparative purposes; exact price range varies by course selection and format.
What Users Say in Kaplan Reviews
Kaplan real estate education reviews show students are satisfied with the school's excellent teachers, comprehensive content, and flexible learning formats. Agents praise Kaplan's responsive, knowledgeable, and highly professional instructors, who guided them in passing the real estate exam on the first try. Students also recommend exam prep courses from Kaplan, which equipped them with the knowledge necessary to get their license.
However, unfavorable Kaplan real estate reviews express dissatisfaction with some of Kaplan's outdated content. Some students also complained about several system glitches they encountered while completing their course. A student mentioned experiencing an unresponsive platform, which did not save his work and made him restart the section. The long wait time in the customer service phone queue is also something to watch out for when taking a course at Kaplan.
If you're looking for affordable real estate education with streamlined navigation and intuitive dashboards, we recommend The CE Shop and Aceable Agent.
Bottom Line
Overall, Kaplan is a great school to consider when completing your real estate education. With a wide selection of courses for every stage of your career and several learning formats to choose from, Kaplan is easily one of the best online schools nationwide. While its pricing can be more expensive than other education providers and its learning platform could be improved, these pitfalls could be overlooked in exchange for the high-quality education that you can take anytime, anywhere.