Restaurant metrics are calculations that illustrate the health of your business. Such restaurant calculations allow restaurant owners to measure, evaluate, and adjust their operation for maximum profitability. Metrics differ from the computations performed to create a business plan for a new restaurant; business plan calculations are based on projected numbers, while metrics work with actual operational data.
The metrics below are broken into three categories: basic restaurant calculations that can be easily performed with basic reporting tools, next level calculations that require a bit more time, and advanced calculations that may require additional computing power. These figures go beyond the numbers that can be easily generated in a baseline point of sale (POS) report, and generally require combining information from multiple sources. Figuring restaurant calculations is a key function of restaurant management.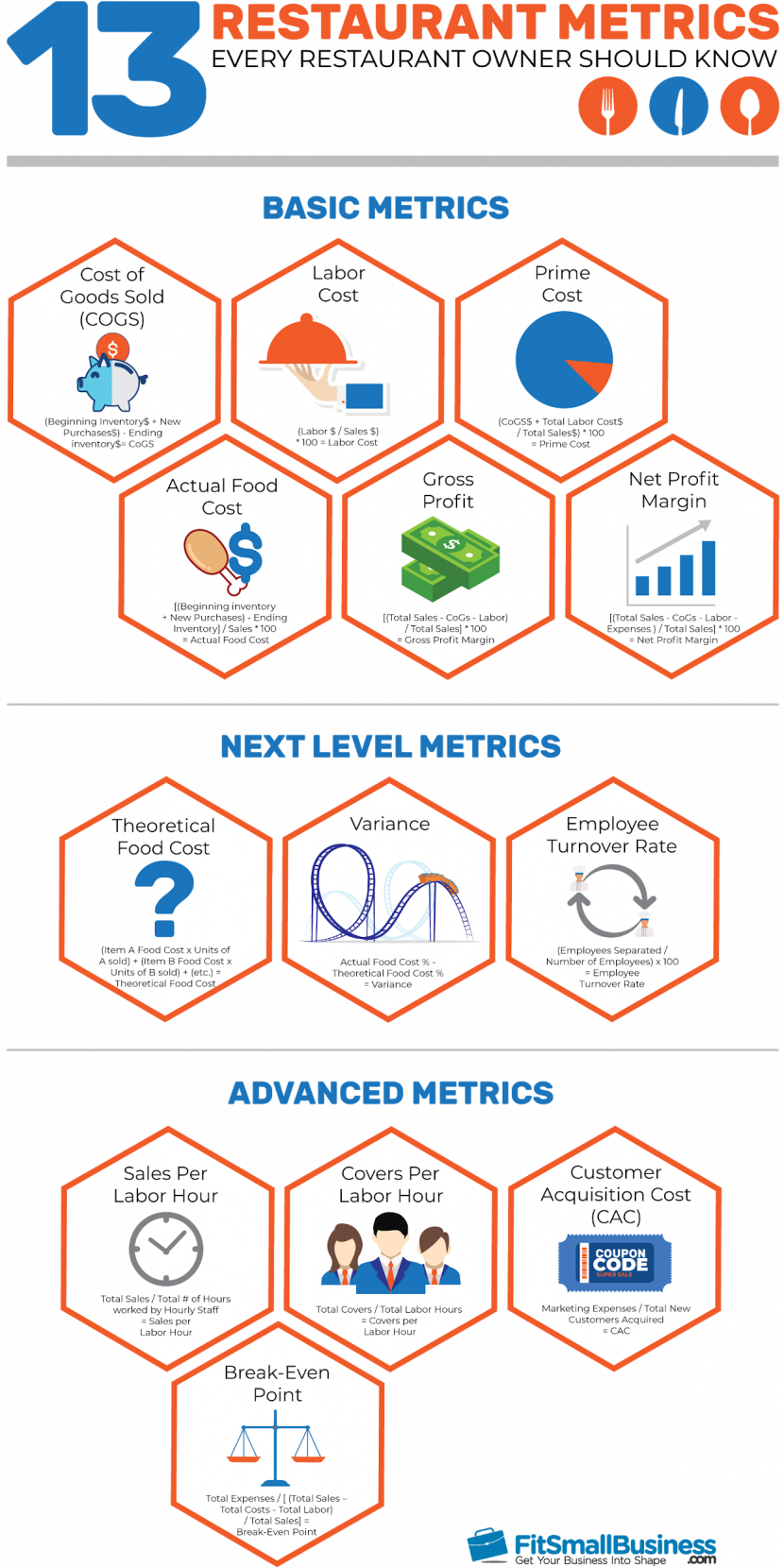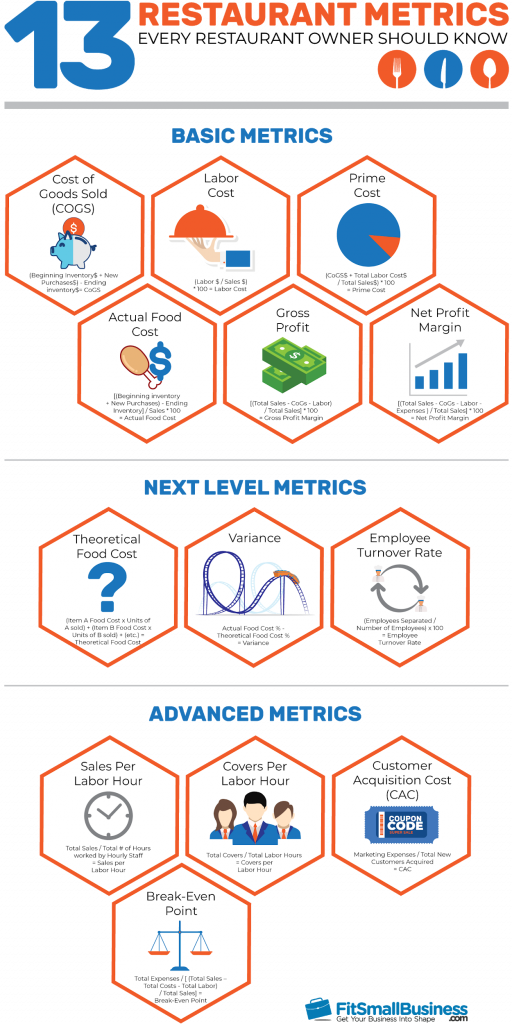 Basic Restaurant Metrics
The six baseline metrics below are useful to restaurants of any size. They are worthwhile figures on their own, but they also function as a foundation for figuring higher-level calculations. Historically, these metrics are post-mortem figures, meaning they are based on information for time frames that have already passed—as in using sales and labor numbers from a daily, weekly, or monthly labor report. Restaurants then use these post-mortem numbers to strategize solutions to optimize their costs and sales for the days, weeks, or months ahead.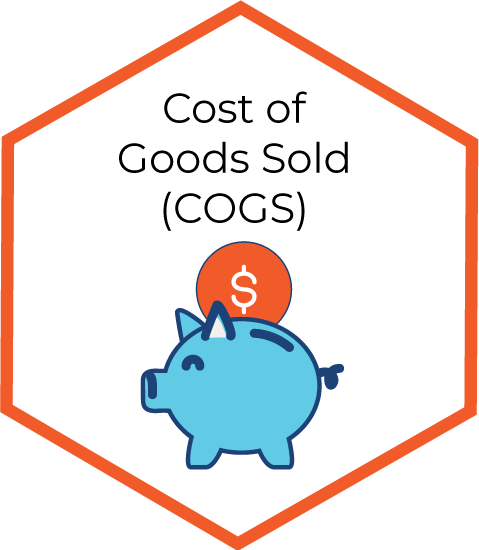 1. Cost of Goods Sold (CoGS)
Cost of goods sold (CoGS) can be tricky to keep track of in a restaurant that is constantly in operation. An accurate CoGS number relies on regular physical inventory counts. If you use your POS to place and receive orders and track virtual inventory, it may be tempting to rely on those numbers alone. To capture spillage and shrinkage, however, you will have to perform physical counts.
To figure your CoGS, you need to know the dollar value of your beginning inventory. If you perform monthly inventory counts, this would be the ending inventory number from the previous month. You also need the dollar value of all the new purchases you have made since that time—information that comes from your vendor invoices. Add your beginning inventory to your new purchases and subtract the result from the dollar value of your ending inventory.
(Beginning Inventory$ + New Purchases$) – Ending inventory$ = CoGS
From this simple calculation, many restaurants then compare the CoGS dollar amount to their total sales to determine their CoGS as a percentage of total sales.
CoGS $ / Total Sales$ *100 = CoGS as a % of Sales
Let's say a restaurant has a beginning inventory of $3,000, then spends $2,000 on new purchases, and ends the week with an ending inventory of $2,500. The CoGS for that month would be $2,500, or:
($3,000 + $2,000) – $2,500 = $2,500
If the sales for that same time period are $10,000, then the CoGS as a percentage of sales would be 25%, or:
($2,500 / $10,000) * 100 = 25%
Cost targets vary from restaurant to restaurant depending on your service style and profit margins, but a generally accepted ballpark for the hospitality industry is to keep CoGS at or below 30%. By this standard, our theoretical restaurant is on track.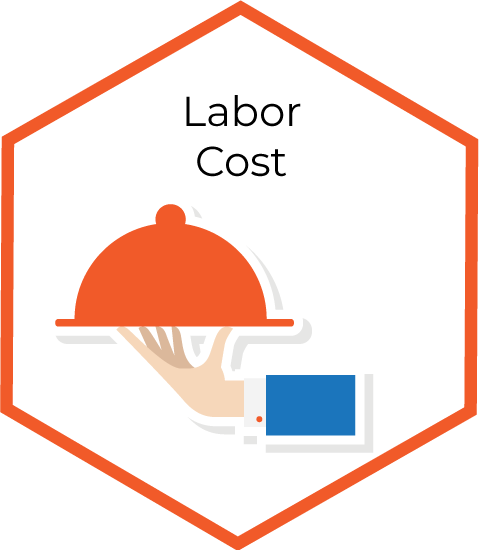 2. Labor Cost
Labor cost is the money your restaurant spends on hourly wages expressed as a percentage of your total sales. Labor cost is a simple calculation meant to illustrate the effectiveness of your hourly staff, and generally does not include salaried workers or payroll taxes in its calculation.
To figure your labor cost, begin with the dollar amount that you spent on hourly wages for a certain time period. Divide that number by the total sales for the same time period, and multiply the result by 100.
(Labor$ / Sales$) * 100 = Labor Cost
Industry standard for overall labor cost is 30% of sales; however, that target includes payroll taxes. To stay on course, a restaurant should aim to keep hourly labor cost percentage closer to 20%. If your hourly labor cost is higher, that may be an indication that your restaurant is overstaffed, or your sales are low. If your staff all appear to be busy, you should develop a strategy to increase your sales per customer. This could mean raising menu prices, but it could also mean training staff to upsell.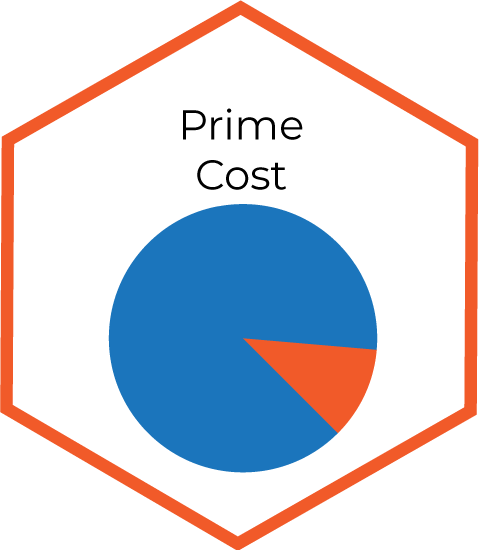 3. Prime Cost
Prime cost is the combination of your cost of goods sold (CoGS) and your labor cost expressed as a percentage of total sales. To figure prime cost, add the total dollar amount of your CoGS to the total dollar amount you spent on labor for a certain time period. Divide this number by your total sales for the same time period, and then multiply the result by 100.
(CoGS$ + Total Labor Cost$ / Total Sales$) * 100 = Prime Cost
To maintain profitability, restaurants generally aim for a prime cost of 55% to 60%. A prime cost higher than 60% is an indication that you need to trim either your labor or your CoGS. Lower than 55% could be an indication that your operation is understaffed or overpriced.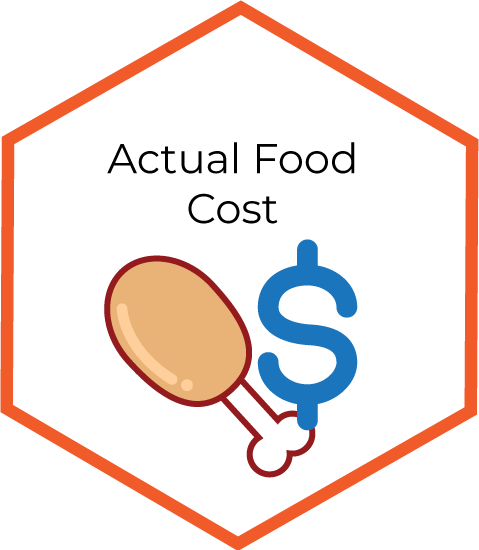 4. Actual Food Cost
Actual food cost is the amount of money your restaurant spent on food expressed as a percentage of sales. Some restaurants track beverages as part of their food cost, and others track those purchases and sales separately. Which way your restaurant tracks these costs is a matter of preference; restaurants that track separately enjoy the ability to pinpoint waste or off-target costs more specifically. Whichever strategy you choose, the math is the same. To figure this metric, you need the total dollar amount you spent
[(Beginning inventory + New Purchases) – Ending Inventory] / Sales * 100 = Actual Food Cost
Actual food cost is a post-mortem number. If your calculation shows that you are off target, there is not much you can do other than make a plan to do better in the next inventory period. For this reason, many restaurants that struggle to meet their actual food cost targets perform weekly, rather than monthly, inventory counts.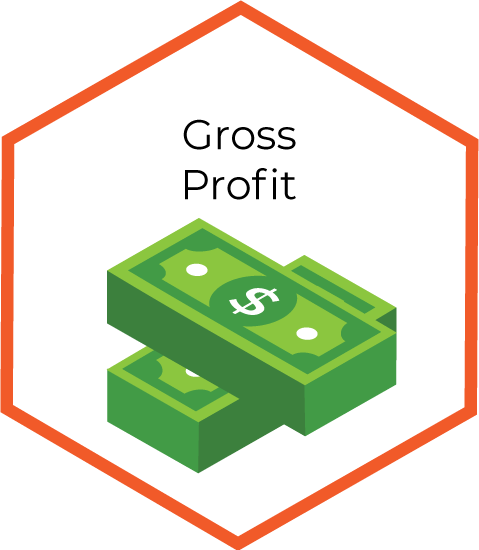 5. Gross Profit Margin
Gross profit margin is simply your restaurant's total sales minus your CoGS and labor. Some restaurant operators like to think of this as their total sales minus their variable costs. To figure this metric, you need your total sales for a certain period as well as your CoGS and labor costs for that same period. Begin by subtracting your CoGS and labor from your total sales. Then divide the resulting number by your total sales and multiply by 100 to get your gross profit margin.
[(Total Sales – CoGS – Labor) / Total Sales] * 100 = Gross Profit Margin
You can have a negative gross profit margin if your costs are higher than your sales. This can happen in restaurants that have not accurately forecast their projected sales and costs, or in the unlucky situation where circumstances outside of their control—like construction shutting down the street or bad weather events—make it difficult for customers to access the business.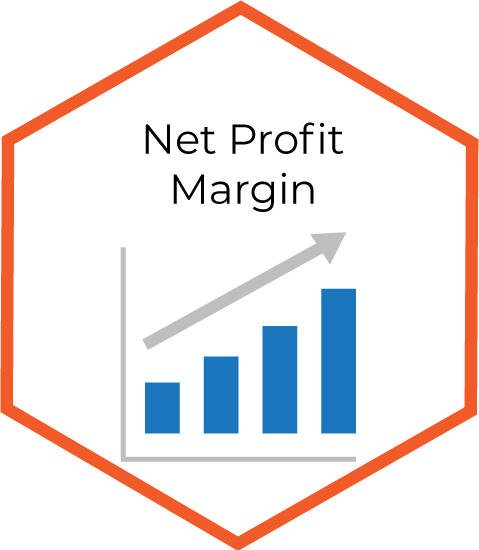 6. Net Profit Margin
When people talk about the tight profit margins in the restaurant industry, the metric they are talking about is net profit margin. This number tells you precisely what percentage of your total revenue is actually profit. To get an accurate net profit margin, you will need to know your CoGS, labor cost, and total sales, as well as your total operating expenses. Operating expenses are those that are incurred in carrying out day-to-day business functions that are not directly connected to production.
Payroll taxes, employee benefits, administrative costs, fees paid to online delivery platforms, rent, repairs, taxes, and licenses are all operating expenses. Simply tally all of your operating expenses that are not CoGS or labor. With that number in hand, the math is straightforward. Subtract your CoGS, labor, and expenses from your total sales. Then divide this number by your total sales and multiply by 100.
[(Total Sales – CoGS – Labor – Expenses) / Total Sales] * 100 = Net Profit Margin
Let's say a catering company sold $100,000 last week. For the same time period, their CoGS were $27,500, they spent $30,000 on labor, and expenses came in at $28,000. Their net profit margin would be 14.5%, or:
[($100,000 – $27,500 – $30,000 – $28,000) / $100,000] * 100 = 14.5%
In an industry where the average net profit margin is 5% to 10%, the catering company in the above example is crushing it.
Next Level Restaurant Metrics
These additional metrics are very useful for small and large restaurants but require a bit more computing power. The metrics below are easiest to figure if your restaurant frequently updates vendor orders, invoices, and payments. If you don't have an efficient system for tracking your costs, or you operate with a rudimentary system for tracking payments to vendors, these calculations will require a significant investment of your time.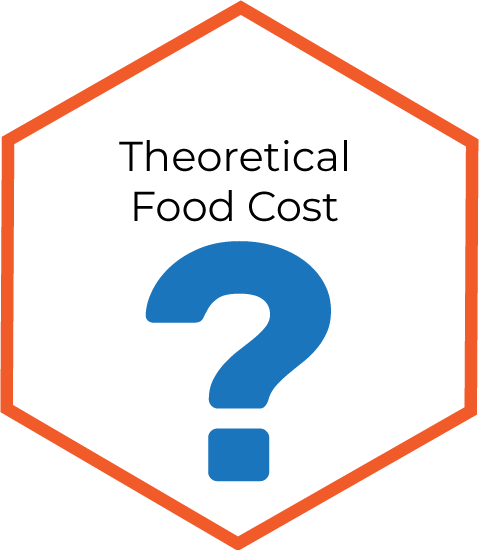 7. Theoretical Food Cost
Theoretical food cost is what your food cost should be based on your orders and sales. This number is a helpful tool to see if your team is ordering products effectively. To begin, you need to find your theoretical cost of goods sold.
To get this number, you need to know the per-item cost of each menu item—literally a tally of the cost of each ingredient (including garnishes like toothpicks in sandwiches) that goes into its preparation. Then multiply those numbers by the quantity of each item that was sold in the time period you are considering. As in:
(Item A Food Cost x Units of A sold) + (Item B Food Cost x Units of B sold) + (and so on) = Theoretical Food Cost
This math can be figured by hand. It is much easier if you have already figured the cost of each recipe when you designed your menu. A POS or restaurant management application that tracks invoices, recipes, and sales in one place can pull this information together on a single report, however.
Once you have your theoretical CoGS number, the equation is quick to figure. Simply divide your theoretical CoGS by the total sales and multiply the result by 100.
(Theoretical Cost of Goods Sold / Food Sales) * 100 = Theoretical Food Cost %
This number is useful on its own. For example, if your target food cost percentage is 28%, but your theoretical food cost is 35%, that is a sign that your ordering standards may need an update. Theoretical food cost can also be compared to your actual food cost to provide a deeper picture of your operation, as in the calculation that follows.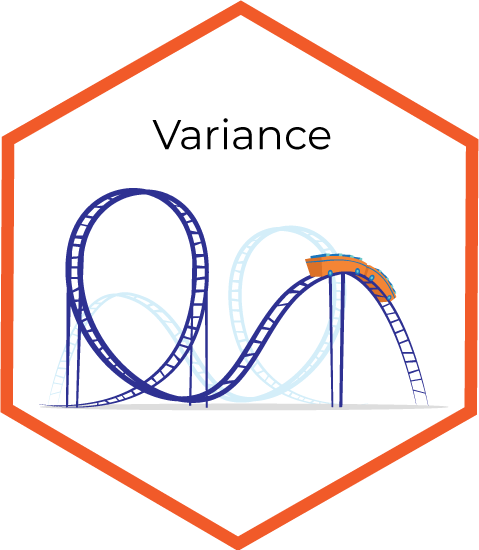 8. Variance
Variance is the difference between your theoretical food cost and your actual food cost, or what your food cost is versus what your food cost should be. This number shows restaurant operators the efficiency of their food and beverage ordering and usage. If most of the food and beverage you order is actually being sold, rather than wasted or spoiled, then your variance will be low.
To figure variance, simply subtract your actual food cost percentage from your theoretical food cost percentage:
Actual Food Cost % – Theoretical Food Cost % = Variance
A restaurant's variance will probably never be zero. There will always be some degree of waste, food comps, or spoilage. The mark of an efficient food and beverage operation is keeping the variance small. If your operation is running well, the variance should be less than 2%. If your variance is higher, it is an indication that you are not selling the products you paid for. This could be due to products expiring before they can be sold, high comps due to customer service issues, or theft.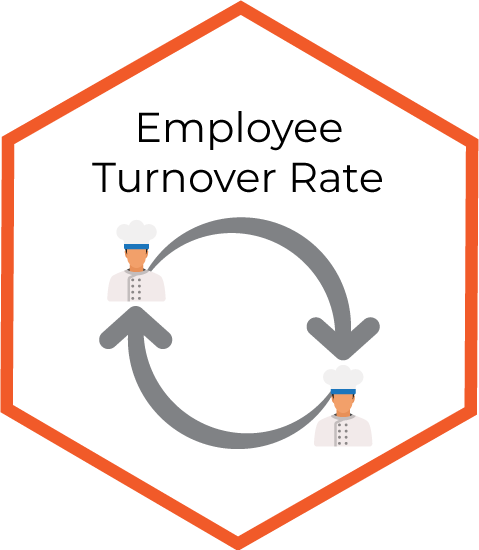 9. Employee Turnover Rate
Employee turnover rate quantifies what percentage of your staff have left your business over a certain period of time. Industry-wide, the hospitality industry struggles with turnover; a recent Bureau of Labor Statistics report sets the industry-wide turnover rate at 74.9% for food service. This means that three-quarters of the staff in the food service industry left their jobs in a given time frame (in this case, the 2018 calendar year).
To figure the employee turnover rate for your restaurant, you need to divide the number of employees that separated from your business (quits, terminations, and so on) by your total number of employees. Then multiply that result by 100.
(Employees Separated / Number of Employees) x 100 = Employee Turnover Rate
For example, a restaurant that lost 10 employees from a staff of 30 has an employee turnover rate of 33.33%. The owner of that restaurant might feel pretty good that he or she has a lower turnover rate than the industry standard. Every time an employee leaves your business, however, there are costs associated with searching for a replacement, then hiring and training that replacement.
The Cornell School of Hospitality Management found that replacing a front-of-house employee costs $5,864 for hourly staff. According to the National Restaurant Association, replacing a manager can cost as much as $15,000. At the end of the day, retaining the staff you have is just good business.
Advanced Restaurant Metrics
These calculations offer a deeper look at productivity and the efficiency of your hourly workforce, as well as the effectiveness of marketing and employee retention strategies. These calculations can be helpful to restaurant operations of all sizes, but because of the effort it takes to calculate them manually, these metrics tend to be used most frequently by larger operations.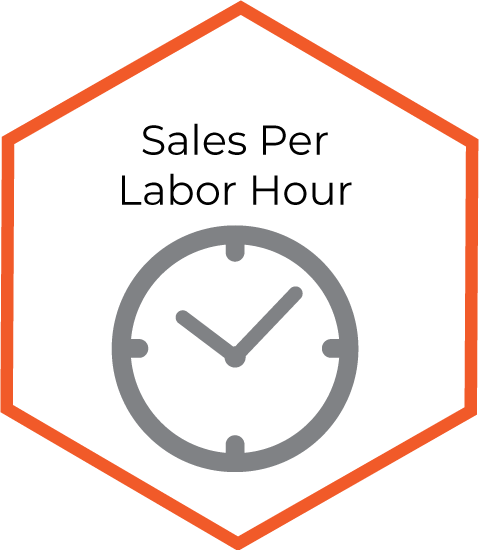 10. Sales per Labor Hour
Many restaurant professionals consider this figure to be the most important indicator of a restaurant's health. The cost per labor hour will tell you how much money you spend on labor for every hour that your restaurant is in operation. Knowing your sales per labor hour helps you quickly determine how many staff you should schedule based on sales projections, or help you see opportunities to increase your team's productivity.
To figure your sales per labor hour, start with your total sales for a week. Then add the number of labor hours worked for the week, including front-of-house (FOH), back-of-house (BOH), dishwashers, night cleaners, and so forth. Divide the total sales by the total hours worked.
Total Sales / Total # of Hours Worked by Hourly Staff = Sales per Labor Hour
For example, if your total sales for a week are $30,000 and your hourly FOH and BOH team worked a combined total of 550 hours, your sales per labor hour would be $54.55.
$30,000 / 50 = $54.55
If you are a burger joint selling $7.00 burgers, that is the equivalent of seven to eight burgers an hour. If you are struggling to hit your sales goals, this sales per labor hour calculation would suggest it is time to train your team on upselling skills. Adding a $3.00 order of fries to those burgers would increase your sales per labor hour by 50%, which translates to an additional $15,000 in sales per week.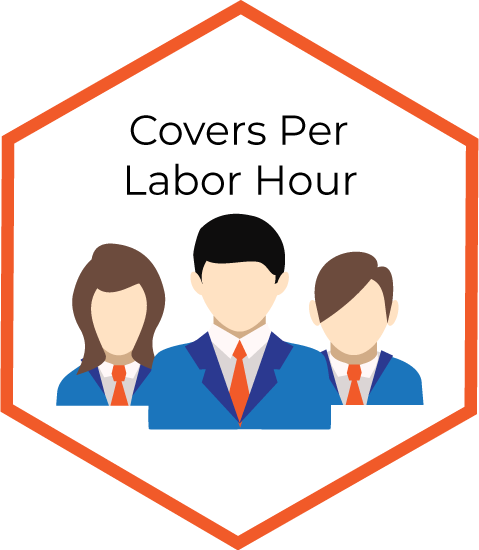 11. Covers per Labor Hour
Covers are paying customers in restaurant industry terms. Figuring your covers per labor hour shows the productivity of your hourly staff—literally, how many customers you are serving per hour of labor. Knowing this number can help you determine if the staff you have are effectively selling the products you serve, or if you are over- or understaffed.
To figure this number, start with your total number of covers. You can determine this number by adding the numbers from your reservations book or pulling a cover count report from your POS. Then combine the total number of hours worked by your hourly staff for the same time period. Divide your total covers by your total labor hours.
Total Covers / Total Labor Hours = Covers per Labor Hour
Let's say that your pizzeria served 1,600 guests in a week and racked up 550 hours in labor for that same week. Your covers per labor hour would be 2.9, or:
1,600 / 550 = 2.9
Every restaurant is different, and your ideal number of covers per labor hour will vary depending on your sales goals and CoGS. The Association of Nutrition and Food Service Professionals offers some standards based on service style:
If you put yourself in your staff's shoes, these numbers make sense. In a quick-service restaurant serving burritos, it is easy to see how an individual staff member could serve nine to 10 customers per hour. In a fine dining restaurant, where more attention is expected and the price point is higher, it is possible for staff members to take care of one to two customers per hour and maintain profitability. With a covers per labor hour of 2.9, however, our pizzeria in the example above is either overstaffed or in need of a marketing strategy to draw in more guests.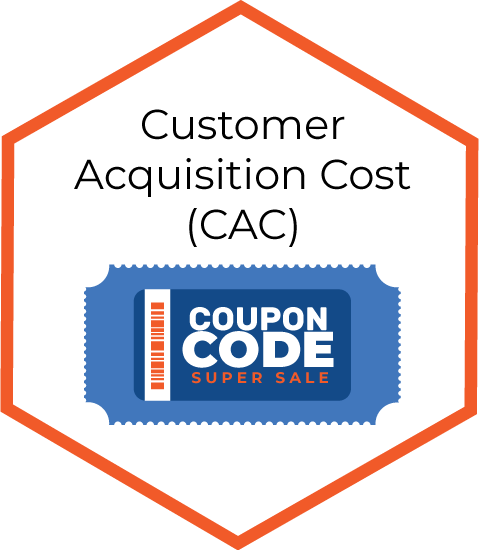 12. Customer Acquisition Cost (CAC)
Customer acquisition cost shows how effectively your marketing dollars are being spent, i.e., how much money you have spent for each new customer you receive. To accurately figure CAC, a restaurant needs the ability to track new customers.
This can be done by attaching a promotional code or coupon to the advertising you placed and tracking the number of discounts you apply each day. It is a good idea to program a specific discount button into your POS for each promotion to increase trackability.
Alternatively, you could compare the cover counts from a POS or table management app for a similar period before your marketing campaign and after. Once you have a plan for tracking, the math for CAC is straightforward:
Marketing Expenses / Total New Customers Acquired = CAC
If offering a discount is part of the marketing strategy, however, be sure to include the total dollar amount of the accumulated discount as part of the expense in your calculation.
If you spent $2,500 on ad placement in a local newspaper and gained 200 new customers, and offered a discount to those new customers that, over the course of the promotion, cost you $800, your CAC would be $16.50, or:
($2,500 + $800) / 200 = $16.50)
For a fine dining restaurant where the average check is $65 per person, this CAC might be fine, especially if those guests later return to pay full price. For a coffee shop where the check average is $7 per person, though, a $16.50 CAC might not be worthwhile.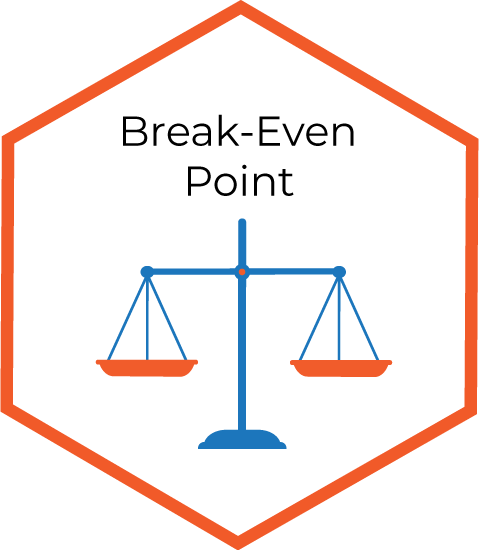 13. Break-even Point
The break-even point is the point at which your restaurant starts to generate profit. Your restaurant's break-even point can be figured for various time frames, such as the time it will take from your opening day to your first day of expected profit based on projected sales and costs. Alternatively, you can break down your fixed and variable costs to daily figures in order to figure a daily break-even point.
To figure your break-even point, you need your total expenses (those that do not fluctuate like rent, utilities, and so on), total costs, total labor, and total sales for a given time period. First, subtract your total costs and total labor from your total sales. Divide the result by your total sales. Then divide your total expenses by the resulting number.
Total Expenses / [(Total Sales – Total Costs – Total Labor) / Total Sales] = Break-even Point
If your restaurant sold $100,000 in one month, paid $55,000 in fluctuating costs like CoGS and labor, and $27,000 in expenses (rent, licenses, utilities, and so forth), your break-even point in dollars was $60,000 for that month, i.e., you started earning profit after selling $60,000 worth of food and drink.
This is a post-mortem number, but you can use the same formula with projected numbers to figure a projected break-even point by month or by day. For example, let's say the expenses for a coffee shop break down to $300 per day, and historically average CoGS and labor track as $390 and $480 respectively, with average daily sales around $1,500. This coffee shop should break even at around $714 in sales per day, or:
$300 / [($1,500 – $390 – $480) / $1,500] = $714.29
Costs of Figuring Restaurant Metrics
Whether they are managerial labor hours, wages paid to a third-party accountant, or funds spent on accounting software, there are costs associated with figuring restaurant metrics.
Most restaurant owners and managers rely on some combination of POS reports, accounting software, and customized spreadsheets to figure these metrics. Restaurants with multiple locations generally employ a full-time accountant. Depending on your budget, there are several options to help you figure your restaurant metrics.
Restaurant Accountant Fees
All restaurateurs see an accountant when tax time rolls around. An accountant who knows the ins and outs of restaurant accounting, however, is helpful year-round. They can assist with your bookkeeping and figure your regular sales tax payments. They can use your actual sales figures to offer guidance on menu pricing, operating hours, labor budgets, and financial planning, and to design spreadsheets that can easily figure your performance metrics.
An accountant who is deeply familiar with your location and industry may also offer guidance on payment processors, insurance providers, and viable paths to business growth. Many restaurant accountants work with several restaurants in the same market, and will also know if trends you see in your business are the result of greater trends in the market or something that is unique to your operation.
A restaurant accountant's rates will vary based on location and the level of service you request. Look for an accountant who has experience in the restaurant industry in your specific location, as tax and labor regulations vary. Hiring an accountant part time can cost $150 to $400 an hour. Keep in mind, however, that a good accountant will likely find places in your operation where you can save much more than what you are paying them.
Leverage Your POS
The POS market is increasingly competitive and changing faster than ever. More and more POS companies are expanding beyond offering a simple point of sale to process orders and payments. Today's POS partners are more like restaurant technology platforms, offering inventory management, scheduling, customer relationship management, payroll, and reporting functions that sync with your suppliers and accounting software.
Restaurant owners who take the time to learn the deeper functions of their POS and integrate their systems when possible will find they have an enormous amount of reporting power at their fingertips. If you are in the market for a POS, there are high-functioning POS options at a range of price points:
If you already have a cloud-based POS that is not listed above, there are several third-party integrations for inventory or labor management that work with several different POS systems that are worth looking into.
A third-party application like MarketMan offers inventory, ordering, accounts payable, and analytics, and it syncs with 32 different POS systems, including all the heavy-hitting cloud-based systems like Toast, Revel, and Lavu. Pricing starts at $149 per month. Sister apps Bevager and Foodager offer similar functionality for bar programs and food inventory respectively, each starting at $99 per month.
If you need to juice up your POS' labor management and reporting capabilities, there are integrations for that too. In addition to syncing with your POS, all of the options listed below feature an app that communicates schedules to your employees' smartphones, as well as reporting, analytics, and enforced scheduling features:
Use Restaurant Management Software
If creating a daisy chain of POS, inventory management app, and scheduling apps gives you decision fatigue, there are software solutions that combine these functions. Restaurant management software integrates and automates accounting, accounts payable (A/P), inventory control, and scheduling processes. Most of these applications were developed with larger, enterprise-level restaurant groups in mind, but there are some options that can fit within the budget of small restaurant operators.
The costs can appear steep at first glance, but if using an end-to-end solution saves you money on bookkeeping and accounting labor, or makes it possible to structure a management team with hourly shift leads rather than salaried managers, it can save you money in the long run. The options below sync with major POS, accounting, payroll, and distributor systems, putting all of your data in one dashboard for reporting and analytics.
Restaurants that use these applications can shift their restaurant performance metrics analysis from using post-mortem numbers to using real-time numbers. This may sound simple, but it enables restaurant operators to make in-the-moment decisions based on real-time data, rather than gut feelings. If you can pull a flash report that shows you, in real-time, your current labor cost, food cost, and sales per labor hour, then you can feel confident in your decisions to call in extra staff, cut labor, or hold off placing large vendor orders.
Restaurant management software is in a major growth and development phase. If it seems out of your budget at the moment, stay tuned. Prices may drop into more competitive levels over the next few years, and the number of available integrations will only increase.
Frequently Asked Questions (FAQs) About Measuring Restaurant Performance
We've shown you how to figure the most important restaurant calculations above. Here are some related and commonly asked questions about measuring success for your restaurant.
How do you monitor restaurant performance?
Restaurant performance is monitored by daily, weekly, and monthly comparison of sales, labor, and food cost reports. Depending on the style of a restaurant operation, reports will be pulled from a POS, accounting software, inventory and scheduling apps, or tracked on a series of spreadsheets.
Regardless of your service style, the most important raw figures to track are your daily sales, labor costs, CoGS, and expenses. Tracking this data will allow you to compare your costs and expenses to your sales and see how efficiently your restaurant is running.
What is the average profit margin for a restaurant?
According to research by the National Restaurant Association, the average net profit margin for restaurants in the U.S. ranges from 1.8% of total sales to 14.9%. Different styles of restaurants will have different profit margins. The list below offers some ranges based on a 2010 study:

| Restaurant Style | Range of Profit Margin |
| --- | --- |
| Limited-service Restaurants | 4.4% - 14.9% |
| Full-service Restaurants w/Check Average Less Than $15 | 2.8% - 11.3% |
| Full-service Restaurants w/$25+ Check Average | 1.8% - 9.8% |
To maintain profitability, most restaurants target a benchmark of 30% CoGS, 30% labor, 30% expenses, and 10% profit. That 30% overall labor target includes salaries and payroll taxes. Daily labor reports from a POS or accounting integration typically only include the raw hourly wages paid to your hourly staff and do not account for payroll taxes and salaries. Payroll taxes and salaries add 10% to 15% to your overall labor cost.
When looking at daily labor figures, restaurant managers should add 10% to 15% to the total to confirm they are on target for 30% overall labor cost. Targeting a daily labor percentage of 15% to 20% of total sales should keep you on track to hit 30% for your overall labor by the end of the pay period or month.
Bottom Line
The foundation of operating a profitable restaurant is knowing how to figure your restaurant performance metrics and how to use that information to make business decisions. Figuring metrics will cost you either in time or financial resources, but it will be worth it. If you have the budget for them, tools like software integrations or restaurant management applications can handle high-level calculations that give a deeper picture of your operation. Otherwise, an accountant familiar with the restaurant industry will be your greatest asset.