A keyword research tool tells you what keywords readers search for, which can help you tailor your blog's content. Most of these tools have similar functions and differ only in pricing and user interface. There are a few tools with extra functionality, but you will want to test drive multiple tools to get a feel for what works best with your learning style. Once you've evaluated the different options you can use for keyword research, check out our guide on how to do keyword research for your blog.
1. Ahrefs.com
If there's one keyword research tool to invest in, Ahrefs.com is it. It's the tool I personally use every day for my own blog, and so does Fit Small Business.com. What makes Ahrefs.com so likable is its versatility. You have comprehensive keyword research tools that make it easy to see what keywords rank well and you can sort by keywords to see which are easiest to go after.
When you're ready to dive into even more search engine optimization, Ahrefs.com has tools to help with content research, competitive analysis, and rank tracking. Pricing for these tools plus the keyword research feature start at $99 per month, but you can get a seven-day free trial for $1 per day.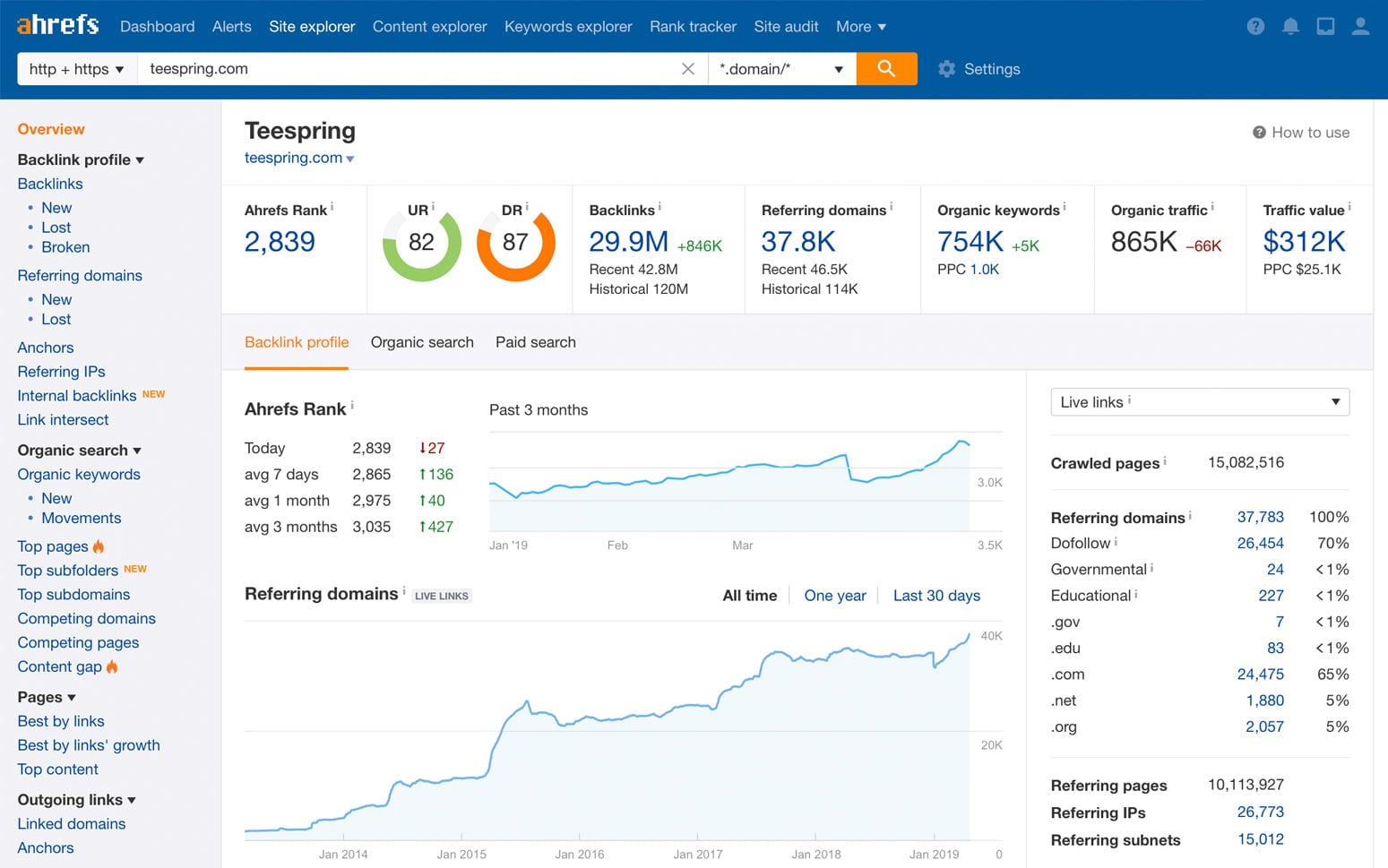 2. SEMrush
If you run pay-per-click (PPC) campaigns, SEMrush is the tool you want to use. With this tool, you can find keywords by cost-per-click (CPC), volume, the number of results in your query, ad copy used in campaigns, and how a keyword trends. Plans start at $99.95 per month, but you can get a free seven-day trial.
SEMrush also makes it easy to see what your competition is doing. For example, I have a blog in the travel space. I can see exactly which keywords my competition uses and which landing pages are most popular on their blog. This gives me an idea of what content to target, particularly if I have a higher domain authority than my competition.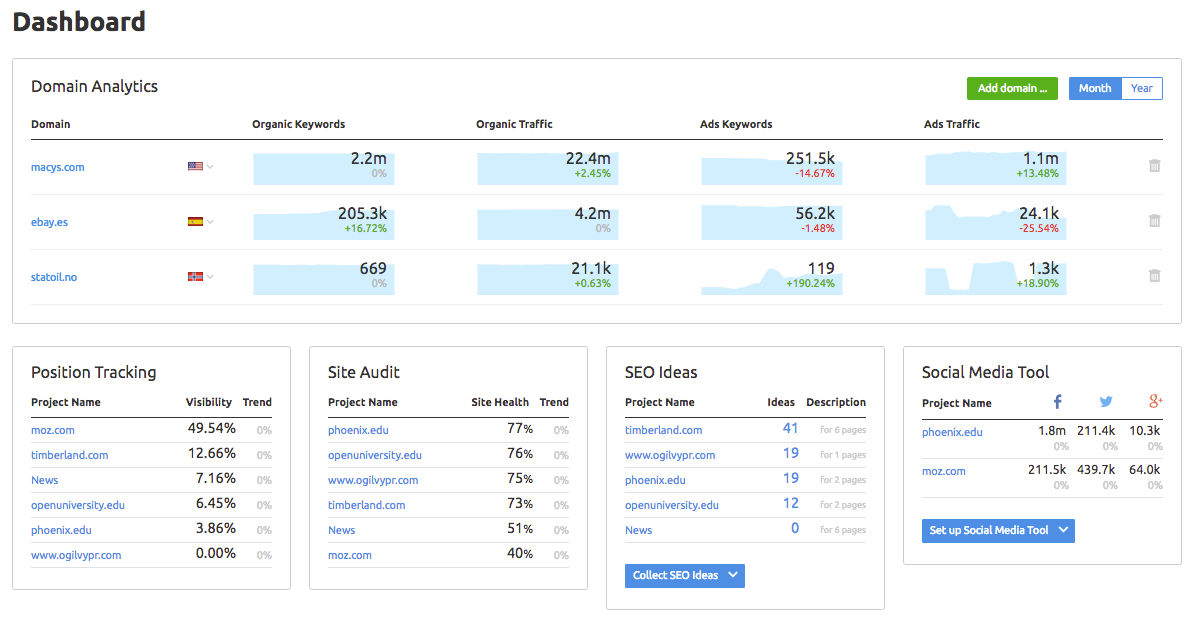 3. Moz.com
Moz.com is a keyword research tool that helps you discover keywords that you want to target for your blog posts. This tool also shows you how difficult a keyword is to rank for, competitor research, and search engine results page (SERP) analysis. Plans start at $79 per month, and you can test drive the Moz Pro package free for 30 days.
You can also use this tool to analyze backlinks on any website. This is helpful because if you want to rank higher in SERPs, you want other websites to link to your blog. If a website links to your competition, and you've written a better article on whatever it is they're linking to, you can ask them to take a look at your article and consider linking to yours. Use this tool to track how your keywords rank across 170 different search engines.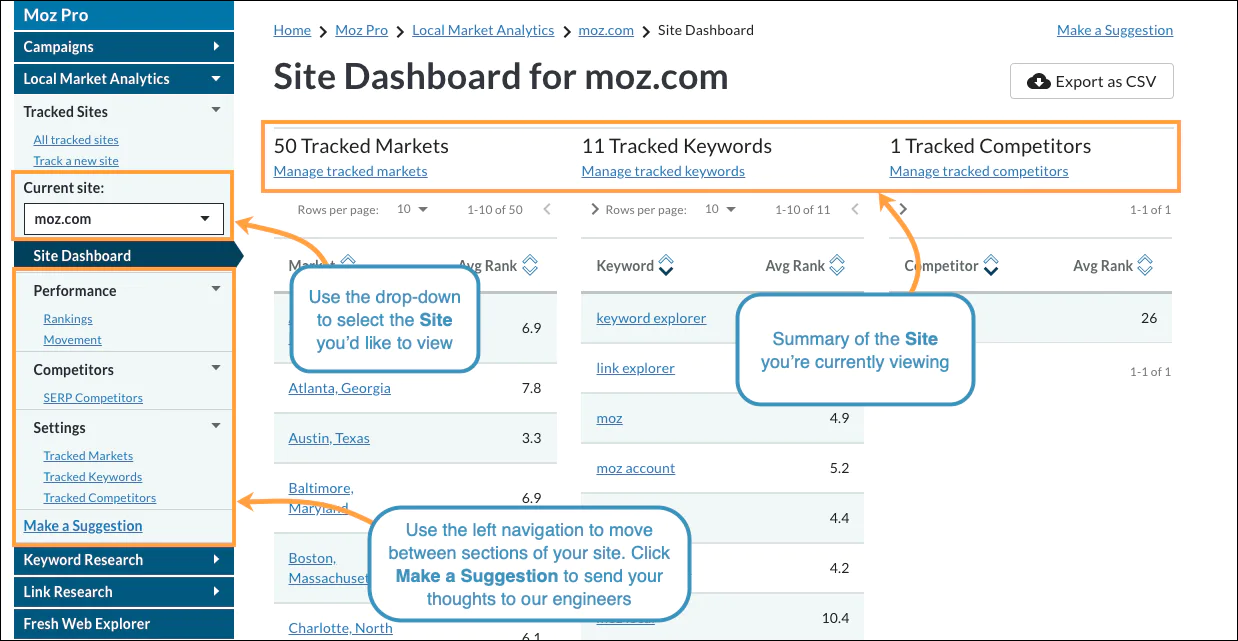 4. Ubersuggest
Neil Patel's new tool is a complete game-changer in your effort to master search engine optimization (SEO). He created Ubersuggest specifically to help you get more traffic by not only analyzing your own domain but by making it easy to analyze the domain of your competition. Plus, you can see keyword analytics. For example, if you type in a keyword, it will tell you the search volume, keyword difficulty, CPC, as well as how much competition there is for paid searches.
If I'm a blogger who wants to target a specific keyword through paid ads on Google, I probably don't want to target a keyword that has a really high difficulty number. However, if that keyword has a high search volume and a low difficulty number, which means that there's not a lot of people who are trying to run ads to that particular keyword, it's definitely a keyword I want to target. Plans start at $29 per month.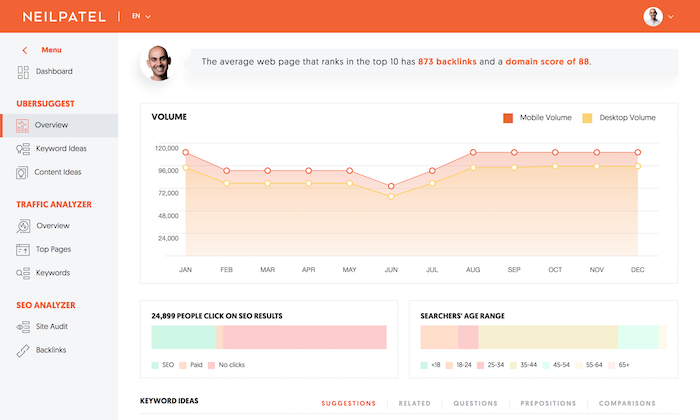 5. SpyFU
If spying on your competition is your SEO strategy, SpyFU is the tool you want. This website shows you what keywords your competition buys for Google Ads. It also shows you ideas for keywords you can target based on your competition's own SEO strategy.
To illustrate what I mean about targeting your competition's SEO strategy, you can download all of the keywords that my competitor ranks for. Then, you can see the specific changes made to the content and how it changes ranks over time. Plans start at $33 per month.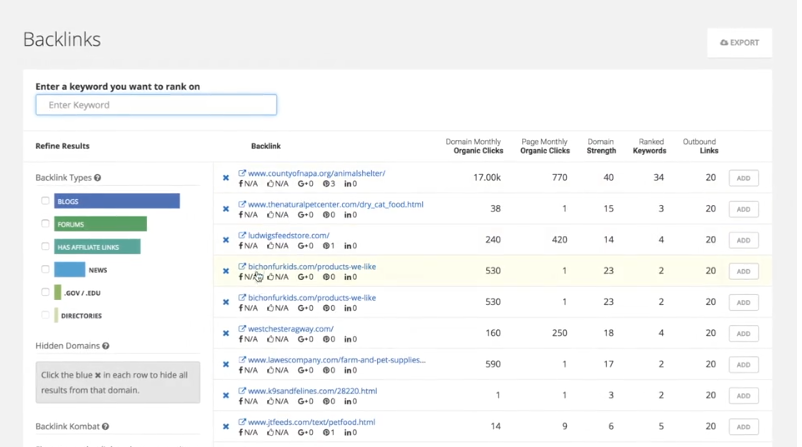 6. GrowthBar
The GrowthBar tool is a little bit different compared to other keyword research tool options we've explored, because it's a Chrome extension that you download to your Chrome browser. To use this extension, you simply conduct a search on Google as you normally would. On the SERPs, GrowthBar inputs keyword suggestions. This tool also shows the Google AdWords your competitors bid on so you can either bid on them yourself or create content and then try to rank for that particular keyword.
This free tool also shows which backlinks your competition has and the Facebook ads they run. The creators of GrowthBar created this extension for their own use in the beginning. Through this tool, they were able to grow their site to seven figures, so they released it to the public.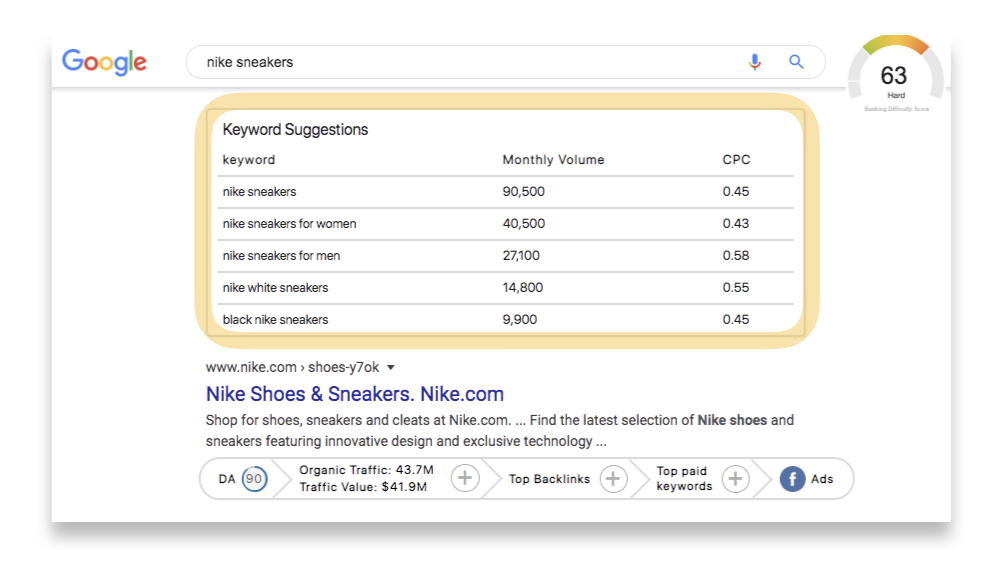 7. BuzzSumo
BuzzSumo is software that focuses on helping you grow your SEO through content research and content discovery. To get started with the BuzzSumo tool, type a keyword and you'll see a list of the most popular pieces of content on that particular topic. The search results show how many Facebook engagements each piece of content gets, Twitter shares, Pinterest shares, and reddit engagements. It also gives the total number of engagements across all platforms.
BuzzSumo assigns an evergreen score that tells you if this particular content is something that's relevant long-term or whether it's just a piece relevant for the short term. You can even sort the results so that you only get content relevant to you. For example, I can ask the results to only show me content by large publishers or I can exclude large publishers. Users can sort by content type, country, word count, as well as filter by domains. Plans start at $99 per month, but you can sign up for a seven-day free trial.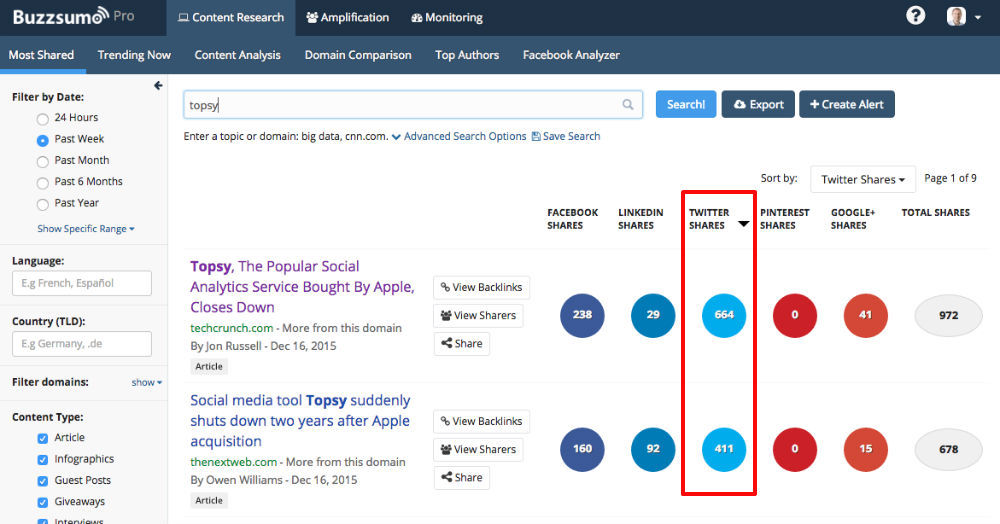 8. Answer the Public
Answer the Public is another favorite keyword research tool of mine. This tool promises to help you keep generating content ideas. The entire premise of the tool is to see exactly what users query on search engines. It works by using the autocomplete feature provided by most search engines to give you helpful keyword phrases and questions that people ask. It's like looking into the mind of your reader so that you can give them exactly what they want.
Answer the Public helps you streamline your content production, takes the guesswork out of determining what your clients are searching for, and is meant to help you create better content. You can try out a few daily searches for free, but you will need to upgrade to a paid plan starting at $99 per month for unlimited searches, support, and the ability to export the data.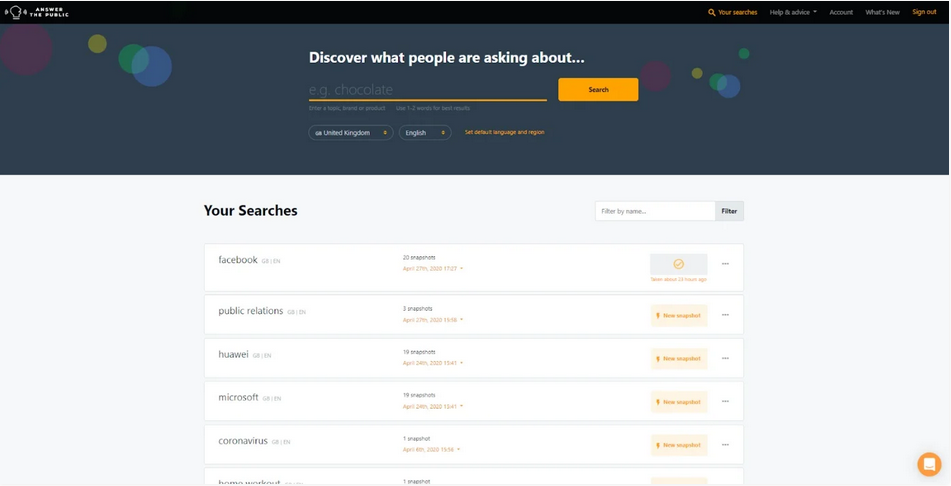 9. LSIGraph
LSIGraph is a keyword generator tool designed to help increase ranking on SERPs by giving you conceptually relevant words that align with the topic of your content. This tool gets its name from a term called latent semantic indexing (LSI) keywords, which simply means synonyms for keywords.
Search engines are smart and know when a user searching for scary movies also means to search for horror movies. So when a blogger has a blog post titled The Best Horror Movies of All Time, users searching for scary movies will see the article about horror movies on the SERPs. Pricing starts at $27 per month.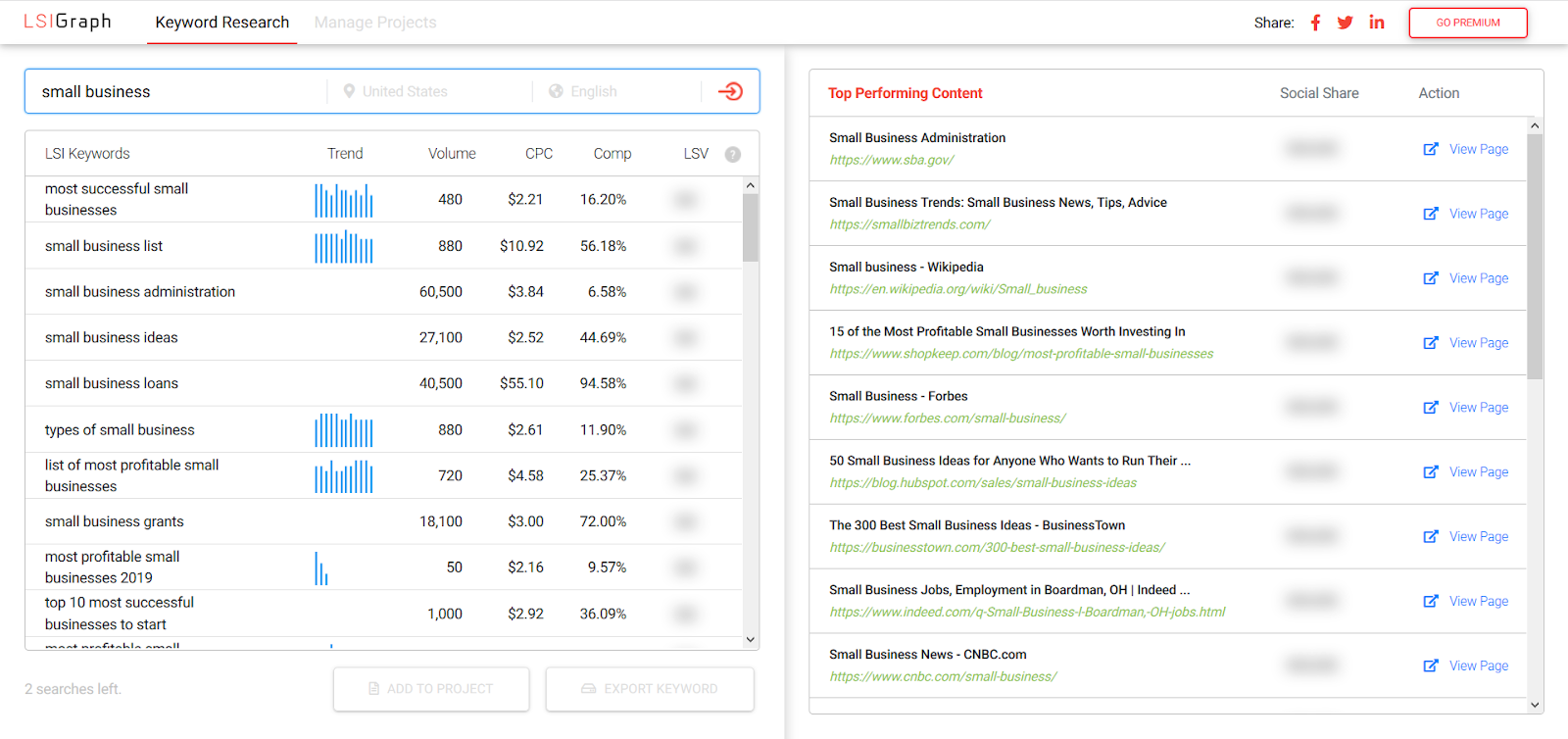 10. Keywords Everywhere
Keywords Everywhere is a Chrome extension and Firefox add-on. To use this tool, you must purchase credits. One credit equals one keyword, and packages start at $10 for 100,000 credits. There is also a free version of this tool that allows you to analyze any URL to see which keywords are on that particular page as well as the keyword density. Keyword density is simply the number of times a keyword appears on that page divided by the total number of words on a page.
When you search for a keyword, Keywords Everywhere gives you the monthly search volume, CPC, and competition numbers, provided you have enough credits.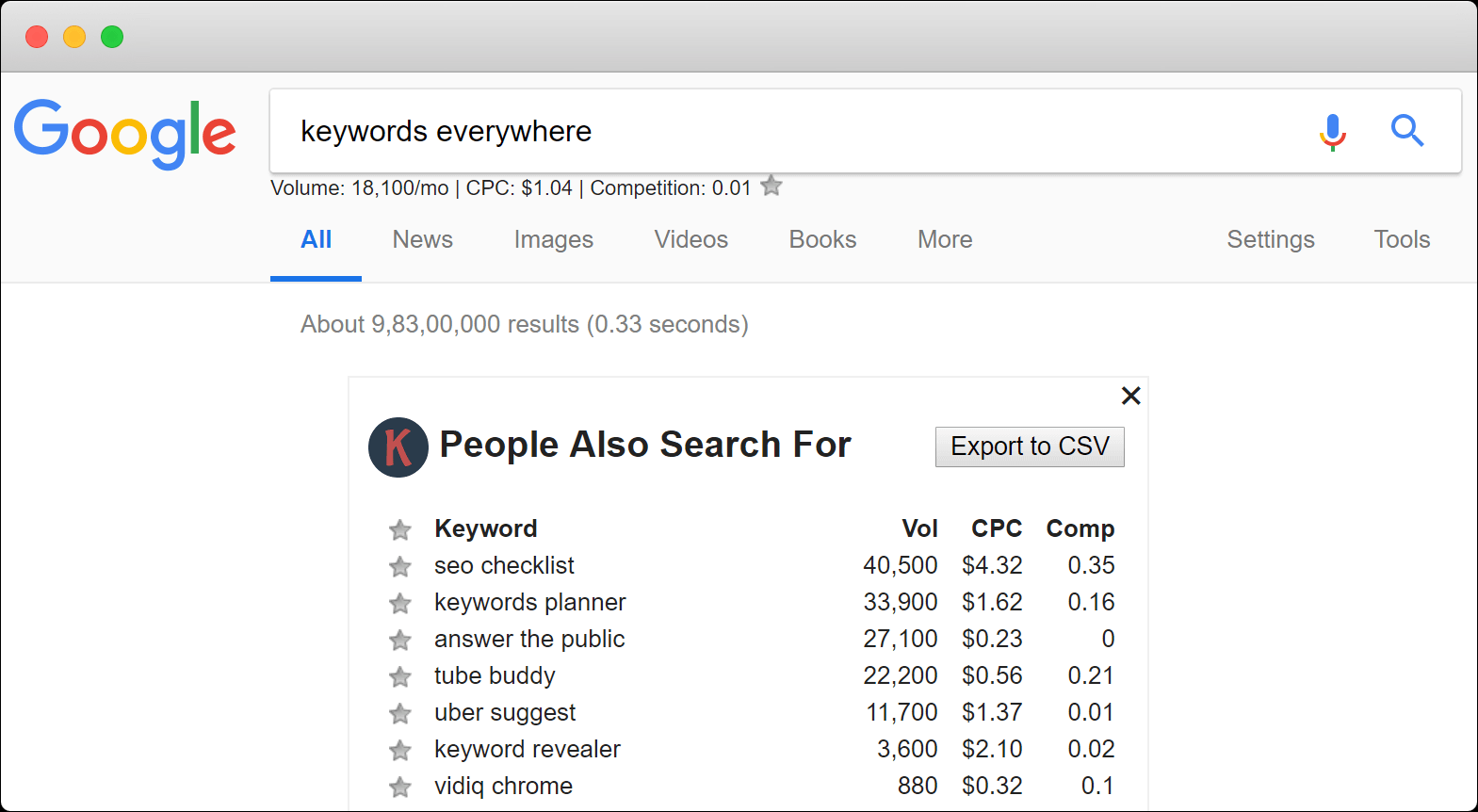 11. SearchVolume.io
If you want to do keyword research on a lot of keywords at a time, one of the best tools to use is SearchVolume.io. This is because you can enter all of your keywords in bulk, click "submit," and then see the average monthly search volume for all of your selected keywords. You can even export these data to Excel. Best of all, this feature is completely free.
You can search up to 800 keywords per search and 800 keywords per day. The pro version is $4.99 per month and lets you search 5,000 keywords per search and up to 50,000 keywords per day.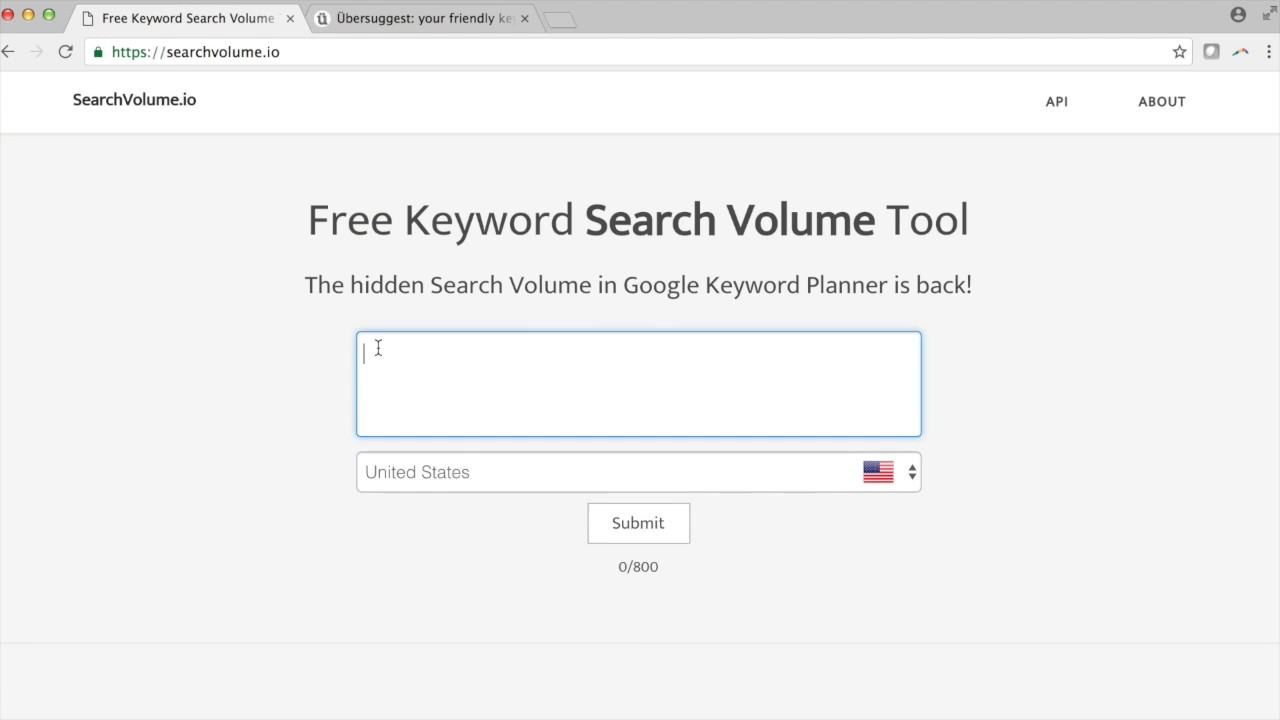 12. Wordtracker
Wordtracker helps you uncover your competitor's keywords and discover trending keywords for your niche. This tool also has a feature that lets you compare SERPs across different keywords. This is helpful when you want to rank for similar but different keywords. Plans start at $27 per month, and there is a seven-day free trial.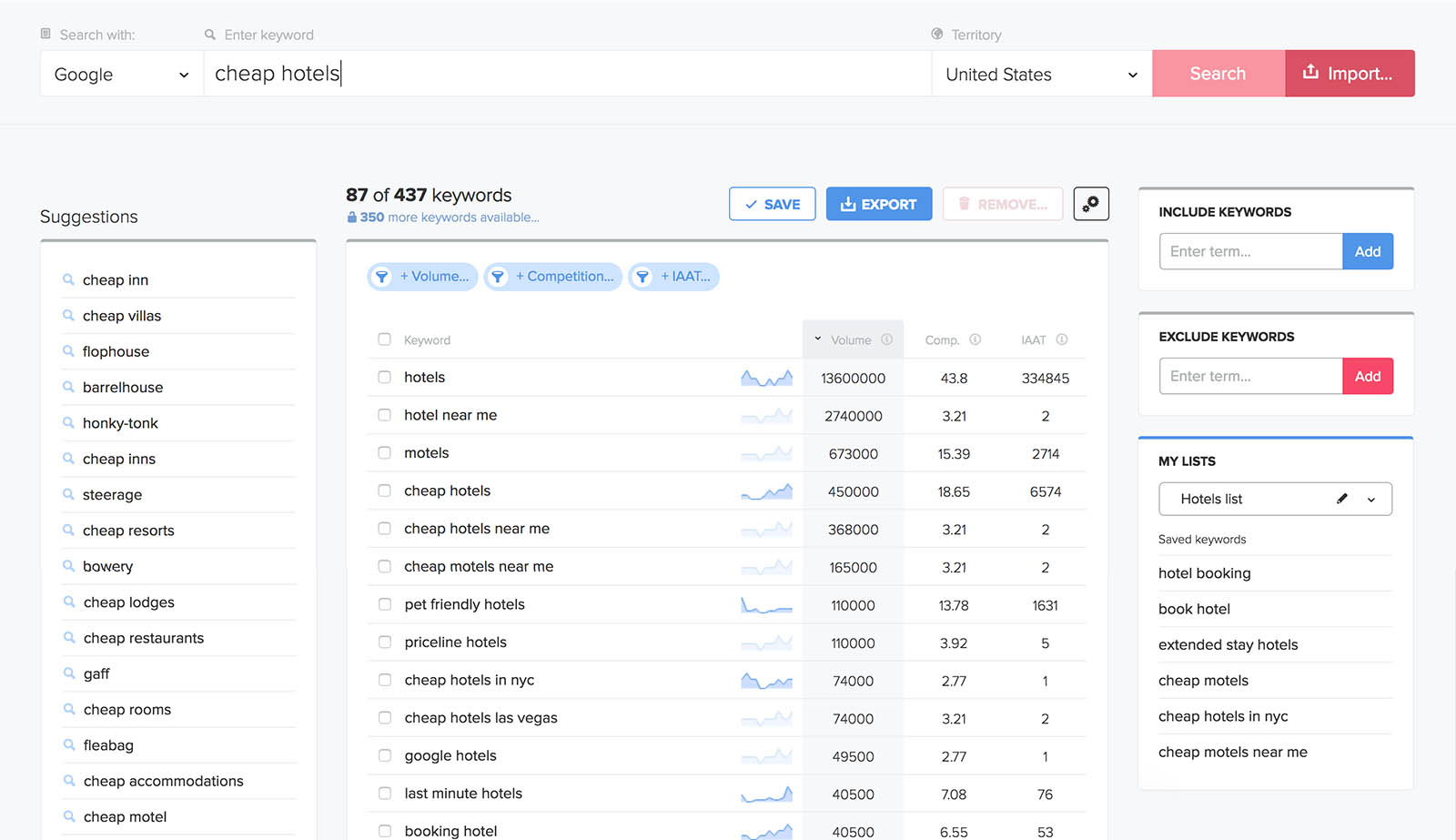 13. Keyword Tool
Keyword Tool is similar to Answer the Public in that it uses Google's auto-complete function. In seconds, you can come up with 750+ long-tail keyword suggestions with every search term you enter. The great thing about this keyword research tool is that it's absolutely free, and you don't even need to create an account.
However, there is a pro version of this program that starts at $89 per month. This gives you about twice as many keywords compared to the free version.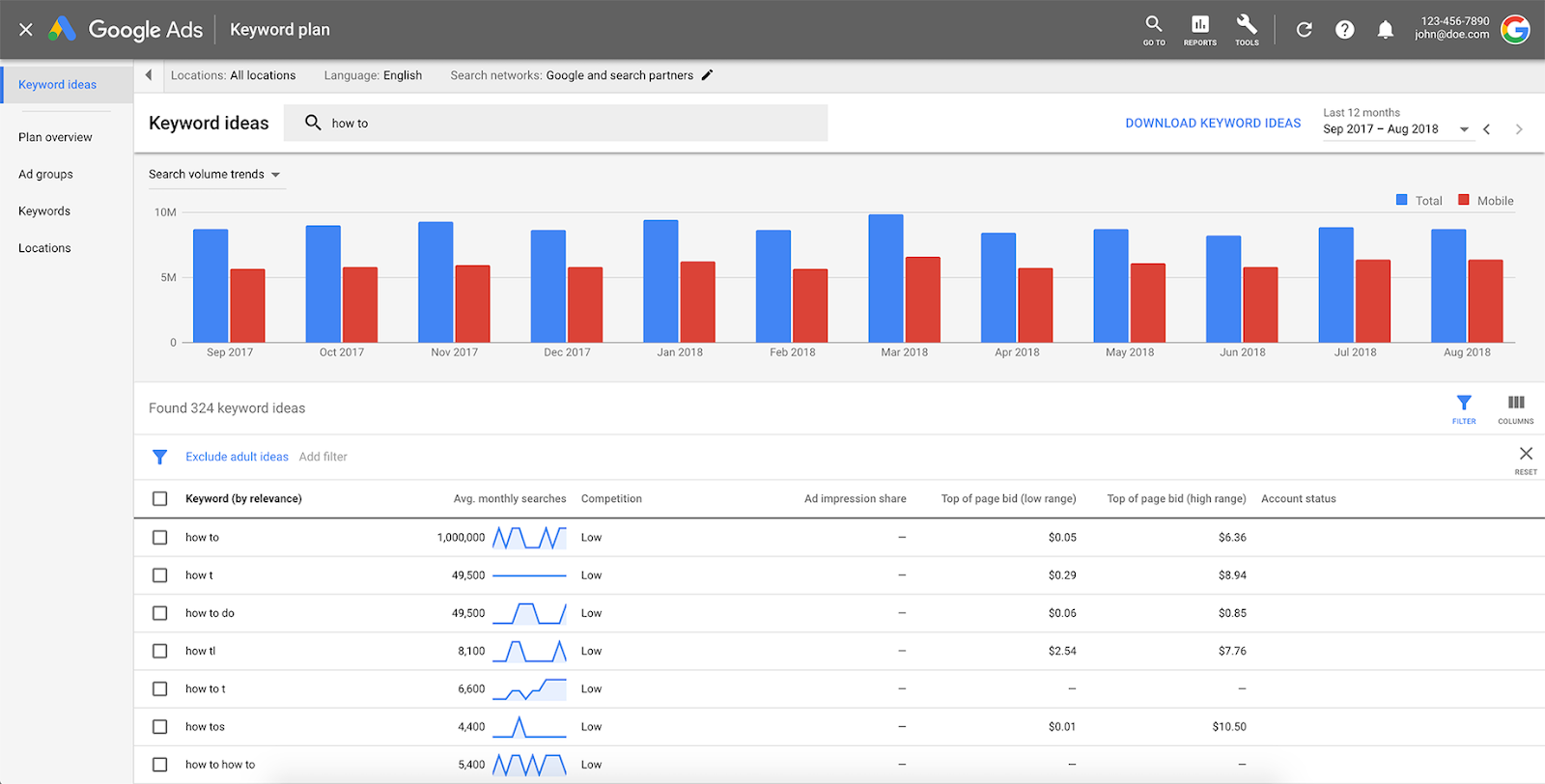 14. KWFinder
KWFinder is a tool you can use to find keywords that are easy to rank for. It does this by providing long-tail keywords associated with your search term that have low SEO difficulty. You can also see what your competitors rank for, historical search volume, and SERP analysis. You can get started with a 10-day free trial, but after that, plans start at $49 per month.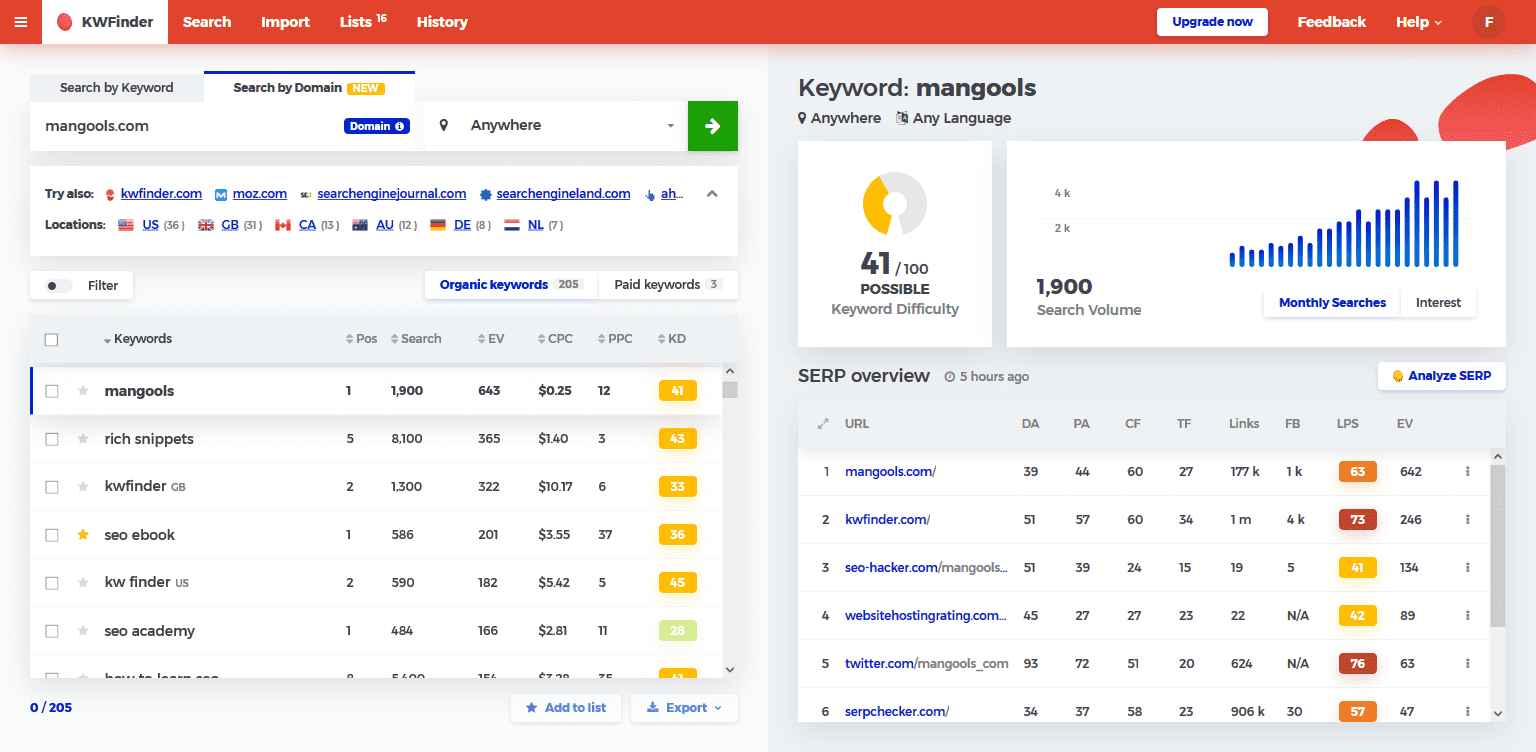 15. Google Trends
Google Trends is a great way to find timely content ideas. I like Google Trends, because it's completely free, and even if you're not using it to come up with content ideas, it's still fun to look at the data. For example, on the homepage, there is a visual showing which states searched for Taylor Swift in the past seven days, and which states searched for Kim Kardashian.
You can see historical data as far back as 2004, interests in the topic by region or sub-region, related topics, and related queries.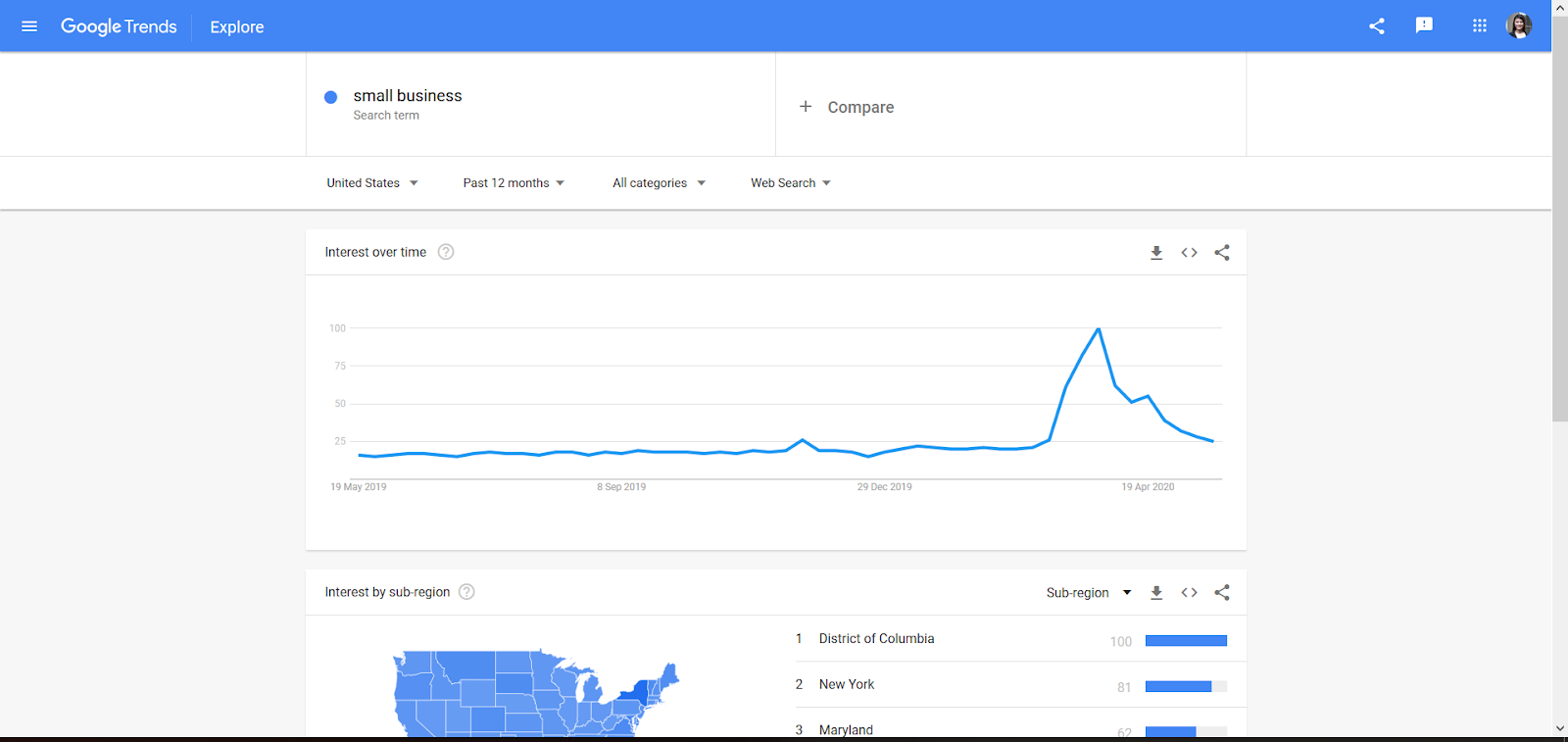 Optimizing Your Blog's Keyword Research Strategy
When I first started blogging, I completely ignored everything keyword and SEO-related. I found it too complicated to focus on, especially when I was just learning how to start a blog. What I didn't know is that getting started with keyword research isn't complicated if you have the proper tools. These tools make it easier to find content that your readers actually want to read about.
Before you spend time learning how to use keyword research tools, it's important to know what makes for a good keyword. The keywords you use in your blog posts must be relevant to your blog (no writing about garden tools if you're a food blogger, for example), easily monetizable, and easy to rank for.
Bottom Line
With a little time and effort, you can make your SEO strategy work for you thanks to keyword research tools. Many of the options I discussed above are either free or have a free trial, so you can get started now. Later, if necessary, you can invest in a more robust tool.