Landlord insurance is a specific type of property insurance that protects landlords against any potential liability caused by residential tenants. Properties can include houses, condos, or apartments. Typically, a landlord insurance policy is 20% – 30% more expensive than a homeowner's policy. Comprehensive landlord coverage includes dwelling coverage, loss of rental income, and liability coverage.
AP Intego makes getting landlord insurance easy. AP Intego's team of nationally licensed agents shop and compare your coverage needs with industry leading insurance companies like Travelers and AmTrust. Applying through their online platform that takes just a few minutes.
Landlord Insurance Providers
The top national insurance carriers cover landlord insurance, sometimes referred to as lessors-risk. Providers do vary on their preference to cover residential properties or commercial space, but the best providers offer custom coverage for your particular real estate investment.
Top Landlord Insurance Providers
| Provider | Best for |
| --- | --- |
| | Property management companies that need to add workers' compensation insurance. |
| | Multiple unit owners requiring bundled policies where possible. |
| Nationwide | Owners of residential properties where owners occupy one unit. |
| | Lessors of mini warehouses and storage units. |
| | Investors who own residential single-family properties. |
Consider these landlord insurance providers for your property protection needs:
AP Intego is an online broker that facilitates shopping for business insurance with top carriers to give landlords the best coverage for the most reasonable rates. By shopping among different carriers, AP Intego is able to offer all lines of business insurance that protect property owners with the right coverage for the best possible price.
AP Intego is an ideal provider to help management companies get the right coverage for the overall risks of a large, multi-unit property. It helps quickly explore other coverage needs such as employer liability and the best workers' comp companies on the location. AP Intego's innovative pay-as-you go workers' compensation platform allows flexibility and price accuracy for business owners.
State Farm is one of the most recognized brands in personal lines of insurance, including auto, home, and life insurance. State Farm also works with small business owners in communities to find reasonably priced commercial insurance products, with a local agent helping guide the process and support business owners.
State Farm is the right choice for property owners who have more than one residential unit and want a local agent to advise them on the specific risks in the area, such as wildfires, floods, or earthquakes. State Farm offers specialized policies with condos being underwritten under one policy form and all other properties underwritten under another. This ensures that the condominium investor has proper gap coverage for the unique risks condos present, such as loss assessment.
Nationwide Insurance
Nationwide is most notable for its auto and homeowner's policies, but has also offers many business insurance products. The online portal makes getting a quote simple and explores all potential discounts while applying, including senior discounts.
Nationwide Insurance is the right choice for a residential property owner who has a tenant on the same property. This could be a duplex or someone renting out a part of a house, such as a basement or guest house. Their experience with residential homeowners gives them an edge with finding the right policy that doesn't leave a homeowner without the right coverage in the event of a loss.
CoverWallet is an online broker with leading technology to help a small business owner walk through the insurance application with ease. Property owners identify what their business does and CoverWallet's application breaks their needs down further with industry specific niches. This helps expedite the underwriting process with some of the best carriers in the world.
CoverWallet is an ideal broker for landlords with bigger risks, such as leasing storage units and mini-warehouses. The business may require tenants to have their own insurance, but may also have additional insurance offered to tenants without insurance to cover units through their own providers. CoverWallet is able to help these businesses place the risk with the right carrier.
Farmers is an insurance leader with years of experience insuring personal and commercial lines of insurance. Farmers recognizes that landlords often have special insurance needs that fall between a personal homeowner's policy and commercial property insurance. The Farmers' landlord policies blend the two concepts as well as any company, providing coverage with few gaps.
Farmers is best for investors of single-family rental properties. These investors are often mom-and-pop buyers adding rental income to a long-term family financial strategy. Farmers covers residential properties for reasonable rates and offers comprehensive business insurance coverage on policies, often offering discounts for bundled insurance packages as well as tenant screening assistance with its proprietary SmartMove service.
How Landlord Insurance Works
Landlord insurance is a specific type of commercial property insurance that covers structural damage to a building or home, personal injury, and lost rental income from listed perils like storms, accidents, and vandalism. Landlord insurance combines elements of homeowner's insurance and small business insurance in order to protect a rental property owner from monetary losses.
For rental property owners, relying on the rent roll to cover fixed costs, like the mortgage, taxes, and maintenance, means there may not be sufficient funds if the property is unoccupied during a loss. If there are damages that make your rental property uninhabitable, then you may run the risk of not only losing income but ending up in foreclosure as well. For this reason, lenders require borrowers who finance rental properties to purchase a landlord insurance policy before finding tenants.
Who Landlord Insurance Is Right For
Landlord insurance is a necessity for any property owner who leases residential homes or units to others. Mortgage lenders require insurance to cover the mortgage that protects the structure in the event of damage or complete loss. Liability is often included but not always required by mortgage companies.
Circumstances where you should get landlord insurance include those where you:
Lease an entire home to a family
Own a duplex and lease out one of the units
Rent out condos or apartments
Allow a non-owner family member, such as a child, to live on a property rent-free
In most cases, someone who rents out a room out in their home will not need landlord insurance. Consult with your homeowner's policy about the proper way to cover this risk.
Landlord Insurance Costs
Since there are a myriad of factors that can affect the cost of landlord insurance, getting a general price (even a ballpark price) can be very difficult. Basic landlord insurance costs are anywhere from 20% to 30% more than comparable homeowner's insurance in your area. Thus, a $1,000 annual homeowner's policy might cost $1,200 for landlord insurance.
Factors That Affect Landlord Insurance Costs
Every home is built differently with different upgrades and additions, all of which affect the price. Below are a few factors that will influence how much you'll pay for rental property insurance. Construction costs are generally dictated by building costs in the area and quality of materials and finishes. Discounts may apply for certain safety features such as fire sprinklers and security alarms.
Some of the factors that affect the price of your landlord insurance policy include:
The replacement cost of your rental property
The number of units in your property
The age of your rental property
The condition of your rental property (such as normal wear and tear)
The geographic location of your property
The proximity of the property to natural risks such as areas prone to floods, fires, and hurricanes will be considered by the insurance company as well. The insurance agent will also want to know if you allow tenants to smoke in the property and if you have burglar alarms, fire sprinklers, or fire alarms installed. The construction of the property affects the policy cost too; generally, masonry buildings are cheaper to insure than wood frame buildings.
Other factors taken into consideration include crime rates in the area and if you allow short-term or long-term rentals. If you allow short-term rentals, you may pay a little more for the insurance policy. A swimming pool, hot tub, fireplace, or wood burning stove can also increase the cost of your policy.
Determining Replacement Cost
Replacement cost is the value the insurance company determines it would take to rebuild your home from the ground up. It is not the fair market value or the mortgage value. Remember that housing is based on consumer demand principles, while replacement cost is the hard costs associated with construction. Depending on the market and when the home was built, the replacement cost could be considerably less than the fair market value.
Landlord Insurance Deductible
Your landlord insurance deductible is the amount you're required to cover out of pocket before your policy covers any costs. Typical landlord insurance deductibles range from $1,000 to $2,500. A loss under this value is entirely the property owner's responsibility. Once the deductible is met, the insurance pays the remainder for the claim. Landlords can reduce insurance premiums by increasing the deductible.
Multiple Policy Discounts
Having more than one rental or having other personal lines of insurance, such as a car or personal residence, could lower rates. This is completely contingent on the carrier and how they bundle policies to provide discounts. Talk to your insurance agent about what discounts you are eligible for.
Claims History
A property owner who has previous claims on the property will pay higher premiums than a property owner who doesn't have claims. In some cases, the insurance carrier will want to see what remedies were made to prevent future claims, such as new electrical systems that don't use fuses to prevent fires.
Insuring your rental home for the right price ensures you get the home rebuilt properly while not overpaying for insurance. If you insure the rental property for more than the replacement cost, you are wasting money on premium because the insurance company will only rebuild to the size and standard of the original structure.
Landlord Insurance Features
Every landlord insurance policy has coverage options that should be considered in detail. The coverage options can be used to help you tailor the policy to fit the needs of your particular property and risks. The primary areas of coverage are structural coverage, liability, and lost rents as part of business interruption insurance coverage.
Property or Dwelling Coverage
Property coverage, sometimes referred to as dwelling coverage, covers the physical structure and permanent systems in your rental property. This generally includes the building itself, as well as heating, plumbing, and air conditioning systems. Essentially, anything attached to the main structure is part of the dwelling coverage. Detached structures may be a separate coverage line item, including detached garages.
Dwelling coverage will generally also cover your rental building from specific risks known in the insurance industry as perils. In order to determine what perils are covered by a specific policy you're considering, you need to review the named perils (aka covered perils) in the policy. If a specific peril is not named in the policy, it will more than likely not be covered.
Generally speaking, most landlord insurance policies will cover fire, lightning, wind, hail, or snow damage. Floods, earthquakes, theft, or other perils may require additional coverage. If you need specific coverage for equipment breakdown, check with your insurance carrier to determine if this is an included rider or needs to be purchased separately.
Personal Property Coverage
Personal property coverage insures any personal property that you may have in your rental unit. This can include appliances, rugs, tools, drapes, curtains, or furniture in the case of furnished rentals. Generally, a moderate amount of personal property coverage is all that is needed for landlords; tenants should have insurance to cover their personal property.
Liability Coverage
General liability coverage is another important add-on to consider when purchasing landlord insurance. This covers physical injuries that occur on your rental property. If a tenant or their guest trips and falls down the stairs or gets injured in a fire, they can sue for damages. To reduce the chance of claims, a landlord should not only make sure all items in the home are up to code, but that tenants have renter's policies that assume liability risks from pets or guest injuries.
Consider getting at least $1 million per occurrence and $2 million aggregate for the year in liability protection. Even if tenants have a renter's insurance policy, there is nothing stopping an injured person from adding the landlord's name to the claim and lawsuit. Per occurrence means you will be covered for up to $1,000,000 each time someone gets hurt, while the aggregate is the total amount of money the insurance company will pay for the year for multiple incidents where someone is hurt.
Rental Income Protection
Rental income protection will cover your loss of rent for a specific amount of time your rental property becomes uninhabitable due to a named peril claim. For example, let's say your entire rent roll is $3,600 per month from a three-unit building and there's a fire. The entire building burns to the ground.
Clearly, your units are uninhabitable until you can get the electricity back on and fix the water damage in the common areas. A policy with rental income protection pays out your normal rent roll of $3,600 while the repairs are made. While this may help keep you afloat, most policies will not pay for relocating your tenants to temporary housing, and will generally put a limit on the amount of time they will pay out your rental income.
What Landlord Insurance Does Not Cover
Homeowner's insurance policies, while designed to protect a residential structure, will not cover claims on property a person owns and rents out. In fact, even if a family member lives in the property, a landlord's insurance policy must be in place. If not, the structure and all the contents could be lost with no repair or replacement coverage because it wasn't underwritten properly.
The reason landlord insurance costs more and is structured this way is because non-owner occupants don't treat a home the same way as an owner, thus risk increases. There are some common exclusions and considerations when buying landlord insurance. Ask your insurance agent about ways to protect against these potential perils to avoid gaps in coverage.
Vandalism of Vacant Properties
While vandalism is a covered peril in most rental property policies, it won't cover vandalism or other losses if the property is vacant for more than 30 days under most insurance policy terms. This means if kids break a window and break in, and spray paint graffiti on the interior while the property is vacant, the claim might get denied.
"Even if you purchase a policy that covers vandalism, there's a strong possibility that you may end up paying out of pocket to fix the damage. Most people who vandalize your rental property by breaking windows, stealing copper pipes, and so on will wait until your property is vacant. Unfortunately, many landlord policies do not cover perils, like vandalism, if the property has been vacant for more than 30 days. If your rental is in a high crime area, or will be vacant for 30 or more days, ask your agent about any gaps in coverage."

– Ken Corsini, Investor, Georgia Residential Partners
Acts of God Exclusion
Floods, earthquakes, sinkholes, tornadoes, hurricanes, and tsunamis, are considered acts of God and generally considered to be excluded perils on your policy. If your rental property is located in an area prone to a specific act of God, like floods or hurricanes, you will want to make sure your policy includes it as a named peril.
What Renters Need to Know About Landlord Insurance
Renter's insurance protects a tenant from losses to his personal property and any liability claims resulting from his actions. Losses can happen from theft, vandalism, fire, or other common named perils. The loss can happen in the renter's leased space, his car, or while traveling. Many renter's insurance policies cost as little as $10 per month. Liability such as a dog biting someone or a child's skateboard flying into someone's car are covered claims under renter's policies.
Regardless of who is at fault, your tenants' belongings are rarely ever covered by landlord insurance policies, and the law doesn't require them to be. That means that even if a pipe bursts in the property and floods the place, destroying tenant's furniture and computer, landlords are not responsible for the loss in most cases. Many landlords require tenants to maintain renter's insurance.
Landlord Insurance Example
The national average home size is 2,687 square feet. The average construction cost is $150 per square foot. This means the average home in America costs approximately $403,050 to rebuild. If you upgrade building materials, your cost could increase to $185 or more per square foot, resulting in tens of thousands in additional rebuilding costs.
Current sales prices for Los Angeles County, California, homes for sale with 2,500 square feet range from $890,000 to $3.9 million across various communities. Conversely, homes of the same size surrounding Madison, Wisconsin, range from $268,000 to $372,000 per market listings.
Landlord Insurance vs Homeowner's Insurance
Landlord insurance protects an owner's investment or business interest in a property, while homeowner's insurance protects the property owner who resides in the home. Insurance companies treat rental property as business policies with higher premium, even though they may insure identical properties because owners are more careful with their own assets than tenants are. If the property title owner is not living in the property, landlord insurance is required.
For example, Peter and Betty buy their first home shortly after getting married and purchase the appropriate homeowner's insurance policy (usually called an HO3 or HO5 policy) for $500 per year. A few years later, they decide to buy a bigger home that meets the demands of their growing family. Betty's aging mom decides to move closer to be near the family. Peter and Betty allow her to live in their first home rent free and never change the insurance policy.
A small fire happens in the kitchen. While no one is hurt, there is $100,000 of structural damage and Betty loses $50,000 worth of her belongings in the fire. Because the property isn't under the landlord's policy (usually called a DP3 or RDP policy), the insurance carrier can rightfully deny the claim since the homeowner did not reside on the property.
Tips When Buying Landlord Insurance
Here are four tips to use when getting ready to buy landlord insurance:
1. Know the Replacement Value of Your Property
The insurance company will underwrite the home based on your provided information, including the year the home was built, a visual inspection of quality from the outside, and any upgrades you document, such as granite counters, Jacuzzi tubs, and hardwood floors. Have the details prepared. If you've recently had the home built or finished major renovations, provide a copy of the contractors' work orders and invoicing to show exactly what was done.
"Always try to get a policy that covers the RCV (Replacement Cost Value, aka what it would cost to replace your home today) instead of ACV (Actual Cash Value, aka what your home is worth today after depreciation). The difference is that an ACV policy reduces any claim about how old the property is. While this may not matter very much year two, you can potentially lose tens of thousands of dollars if you have the same coverage year 10."

– Ryan Boykin, Co-founder, Atlas Real Estate Group
2. Have Your Current or Projected Rent Roll Ready
Since your landlord insurance policy will cover your rental income losses, your agent needs to know how much your current or projected rent roll is. If you already have tenants, then copies of their current leases will be extremely helpful. If not, find comparable rentals to get a sense of what your rent roll will be.
3. Provide Proof of Safety Items
If you've installed fire sprinklers, burglar alarms, heavy-duty locks or doors, or security gates on your property, gather receipts from contractors or other documentation and provide it to the insurance agent. The types of safety items may increase credits and discounts.
4. Document of Any Personal Property in the Unit
Your business contents will play a significant role in increasing premium, so don't throw a ball park figure out there. Inventory items such as stoves, refrigerators, washers, and dryers, listing the make and model of it with any receipts. Photograph any other items in the unit that are provided to tenants, such as rugs, furniture, or tools.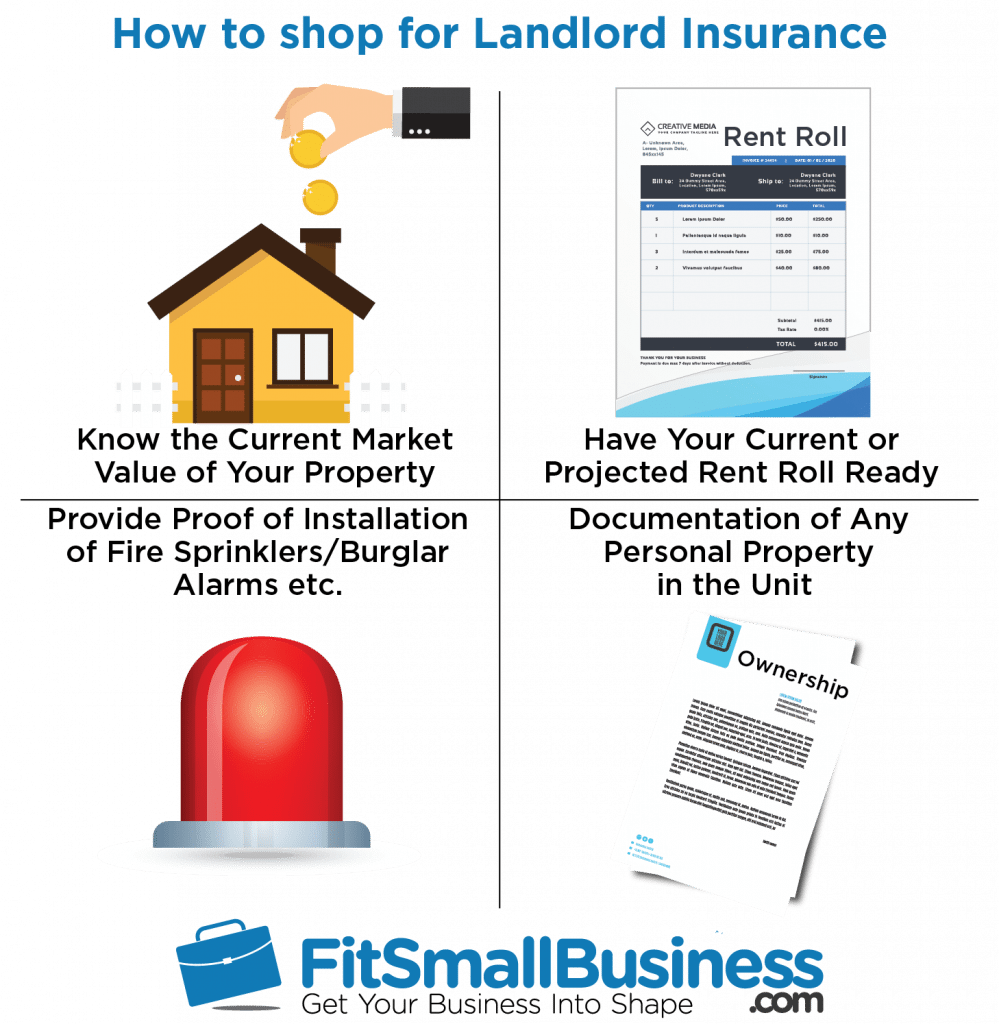 Landlord Insurance Frequently Asked Questions (FAQs)
Being a landlord is much more than owning the property and collecting your rent roll. Understanding the various aspects of investment property ownership and how insurance protects that investment helps you succeed. Below are some frequently asked questions.
Are landlords required to have insurance?
Landlord insurance is required by mortgage companies and potential investors to protect their financial interest in a property. It is not required by law. Thus, if the rental property owner has a clear title with no liens, there is no requirement for landlord insurance, although it is highly recommended to protect the owner's personal financial interest.
"The importance of insurance for a new or seasoned landlord falls on the quality of the carrier, the coverage they offer, and the service they will receive from the agent. Consider going with a higher deductible of $2,500 instead of the lowest $1,000 deductible plans. Most owners will end up paying the costs directly up to the $2,500 range to avoid having a loss claim on their insurance for the extra premiums it will cost them in years to come. While this may end up being more expensive in the short term, it will mean better pricing in the future as your portfolio grows."

– Brandon Stein, COO, LBPM
Do I need contents coverage when renting an empty house?
Most landlord policies have minimal contents coverage around $5,000 included in the policy at no extra charge. Even though the rental agreement states an empty house, there may be things like the HVAC unit that are considered property. You aren't required to upgrade contents coverage, but policies with the inclusion usually benefit owners in claims.
"There is usually much less Contents Coverage than a normal homeowner's insurance policy, since usually the only things the landlord owns in the rental are larger appliances and built-in cabinets, unless the rental is furnished. The tenant's belongings will be protected by their Renter's Policy, which I recommend all of my landlord clients require."

– Ben Guttman, CPIA, North Central Insurance Agency
Are landlord insurance costs deductible?
Landlord insurance is an expense for a business asset and is deductible on tax returns along with property taxes, maintenance, and loan expenses. However, remember that the insurance must be rental property insurance and not a traditional homeowner's policy to be eligible for the deduction.
"Although landlord insurance is more expensive than a traditional homeowner's insurance policy, it's also tax deductible. It is considered an expense related to running a business."

– Crystalynn Shelton, CPA, Writer, Fit Small Business
For more information on taxes relating to rental properties, check out our guide on rental property tax deductions.
Bottom Line
Every rental property owner needs a rental property insurance policy. While there are many coverage options to choose from, you should choose a policy that gives you adequate dwelling coverage—including from perils common to your area—and at least $1,000,000 of liability coverage. The landlord insurance cost is small relative to the security it provides.
If you're ready to speak to someone about landlord insurance for your investment property, reach out to the team at AP Intego. They offer a free, no-obligation consultation in order to get you the best policy at an affordable price. Get tailored quotes from industry leading insurance companies like Travelers and AmTrust in minutes.