The U.S. landscaping business is an $84 billion industry that continues to grow. As demand increases, so too does the number of people entering the business, making it increasingly competitive. Whether you're a veteran business owner or a relative newcomer, standing out from the crowd is essential to your success.
Here are 27 unique landscaping business cards ideas and examples that will help you impress potential clients.
---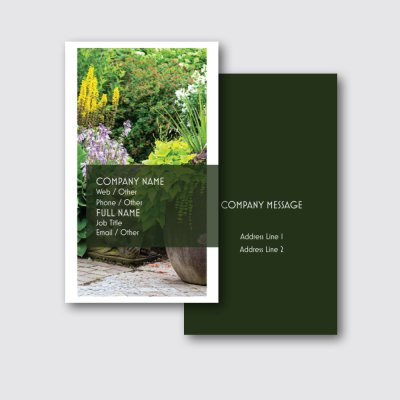 Your business card should give the right impression to your potential clients. Adding a photo from your portfolio is a good way to showcase your individual style. Once you have the perfect photo, make sure your business cards come out sharp and clear by having them professionally printed with Vistaprint. Vistaprint is the business card provider of choice for small businesses, with its affordable price and great turnaround time. And if you still haven't finalized your business card design, you can easily choose from their over 10,000 templates or get help from one of their professional designers.
---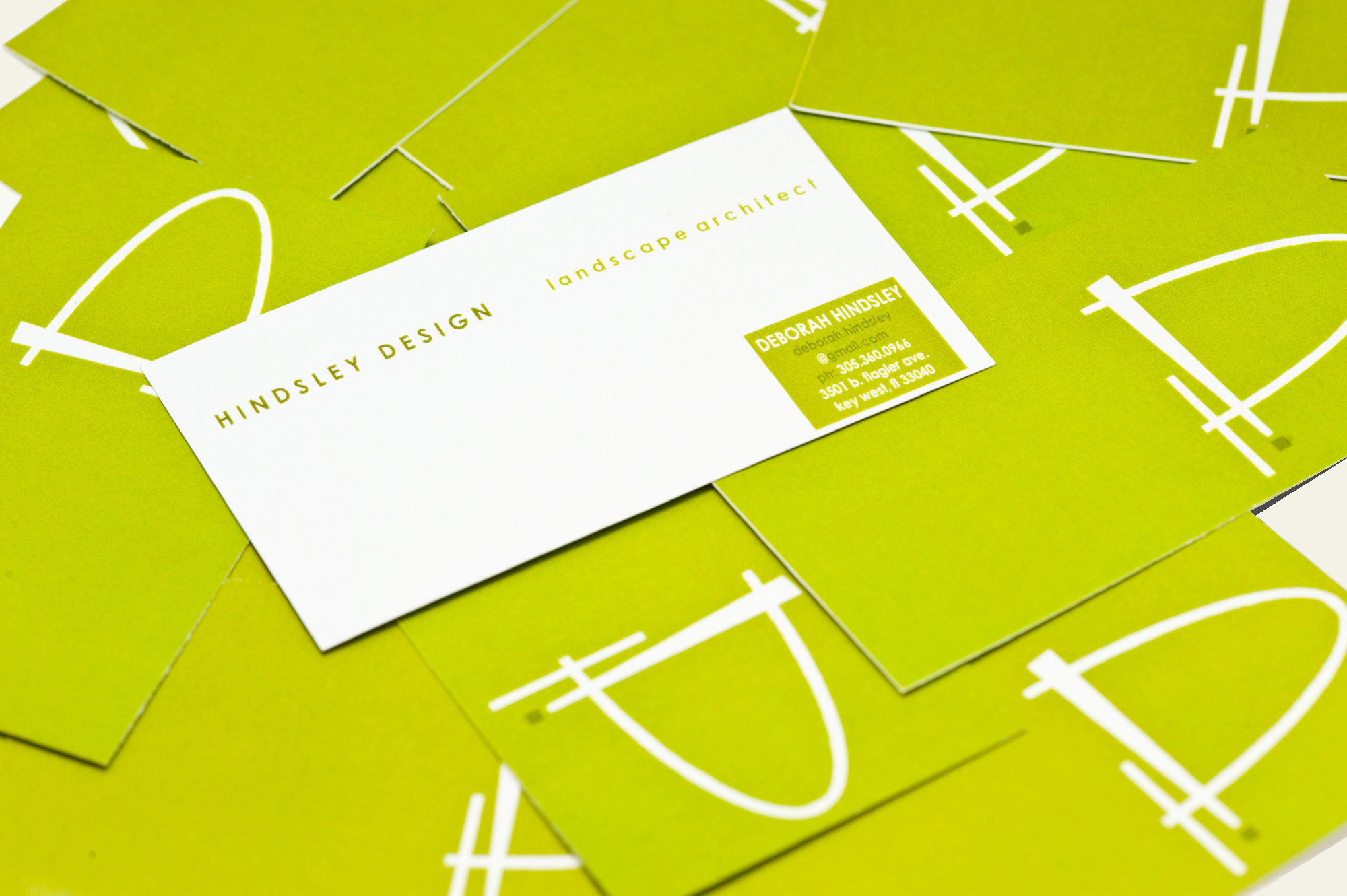 Green is the unanimous choice for landscaper business cards and other marketing materials — and with good reason, but that doesn't mean you can't stand out while using it. This example made an impression by using a different shade of green in its business card design. Try this for a unique take on the classic look.
---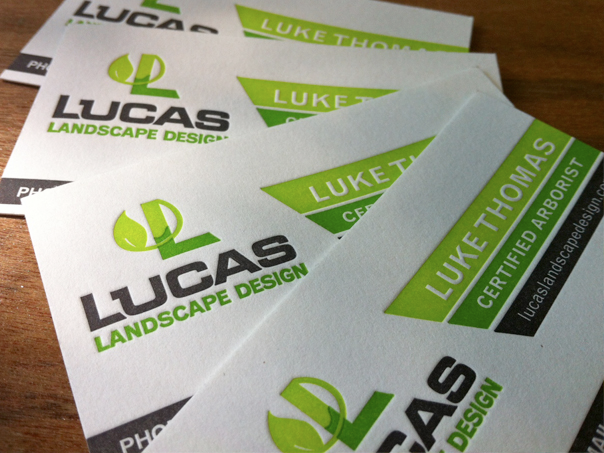 This is a corporate look that most larger landscaping business would go for. The layout gives it a professional vibe and is even more impressive with the use of letterpress. Adapt your logo or colors to come up with a design that emphasizes your brand.
---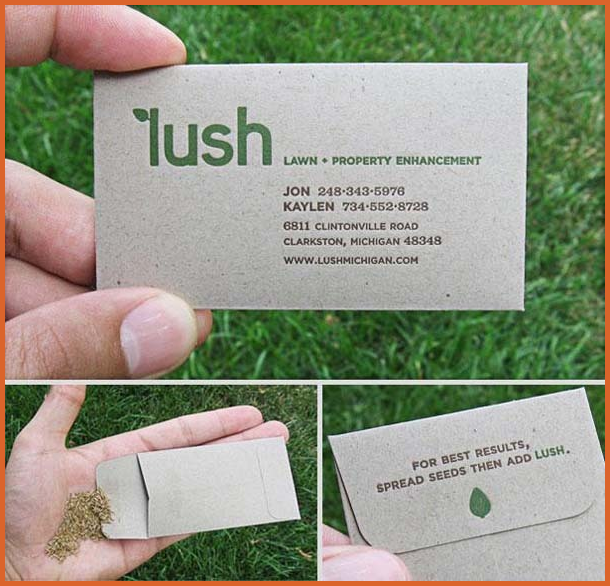 A very unique design, this business card doubles as an envelope and enclosed with seeds. The tagline on the flap is also a brilliant way to cap off this marketing strategy. This example is perfect for landscaping businesses promoting eco-friendliness as part of their brand.
---


One way to catch your potential client's attention is with colorful abstract designs. This inspires creativity and motivates the reader to start a creative project like landscaping. You'll also want to use a variety of designs and colors to help stand out, but working on a budget can sometimes limit your options. Moo offers a money-back guarantee service with their Printfinity program. Print a different design, double-sided, in full color on every business card, or fix a typo or request a design change at no extra cost. You can also choose from their wide variety of designs or upload your own and customize using their online design tool. Sign up with Moo today and get started with your business card design for as low as $19.99.
---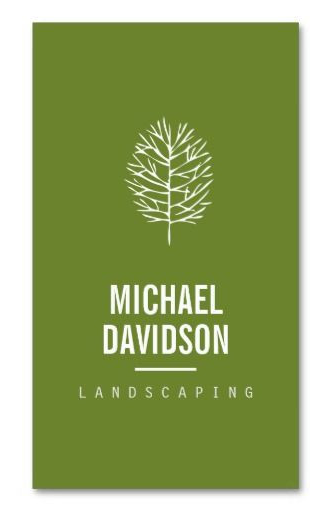 Bearing a simple green and white design, this business card example reminds us how less can be more. The simple layout and typography completing the look give the overall design an almost elegant feel while rendering the logo in white silhouette displays a hint of creativity.
---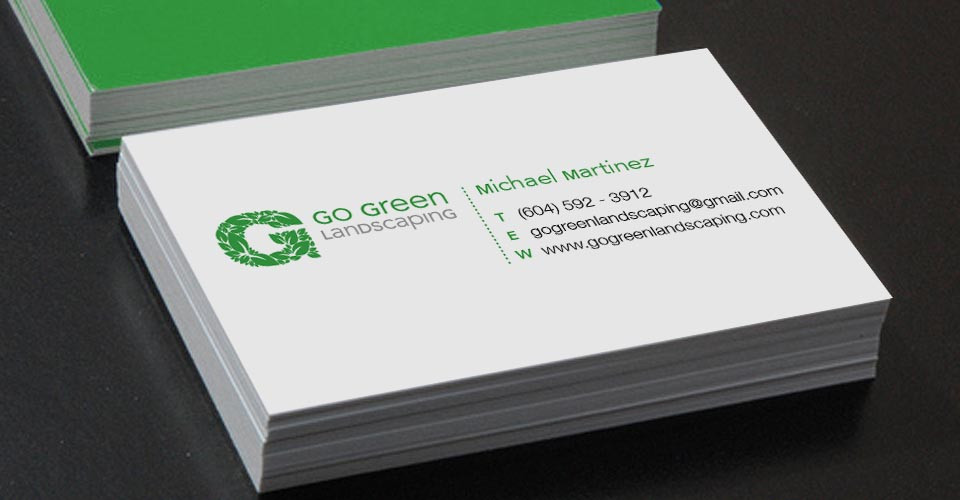 Another variation of a green and white theme, this clean and simple business card is meant to impress any client. But instead of making the logo stand out in white, the logo retains the same green shade. Try this for your own landscaping business card by adding your own unique grunge or stamp-like pattern to your logo.
---
8. Alternative Earth Color Scheme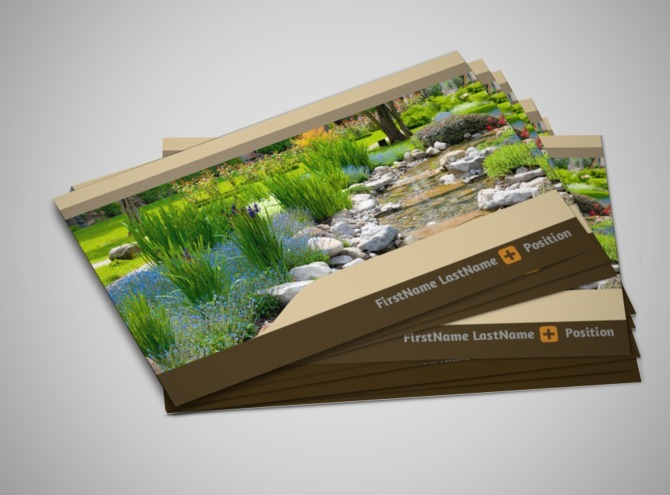 Another example to feature photos from your portfolio. This one creates a variation in the color scheme by using a different earth color instead of green. When applying this design, make sure to use the back of the card to include your business name, logo and contact details.
---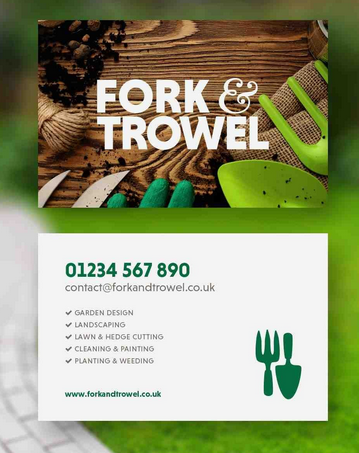 This example displays the business name over a single photo background while the back is simple but informative. Notice how it lists the company phone number in larger, bolder font, indicating that it is the preferred means of communication. It also lists the company email, website and the services it offers.
---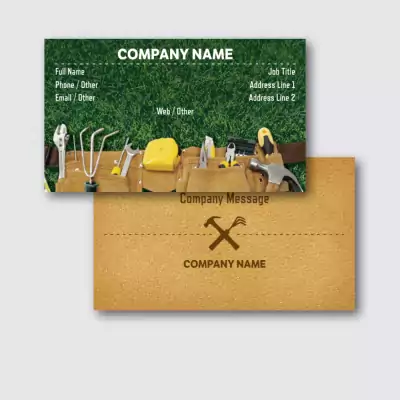 A unique approach to your business card design is to use an image that focuses on the tools of your trade. This creates an interesting look that can easily become a conversation starter with your potential clients. It's advisable to use your own photos, showing off your reliable tools and equipment as well as your professionalism.
---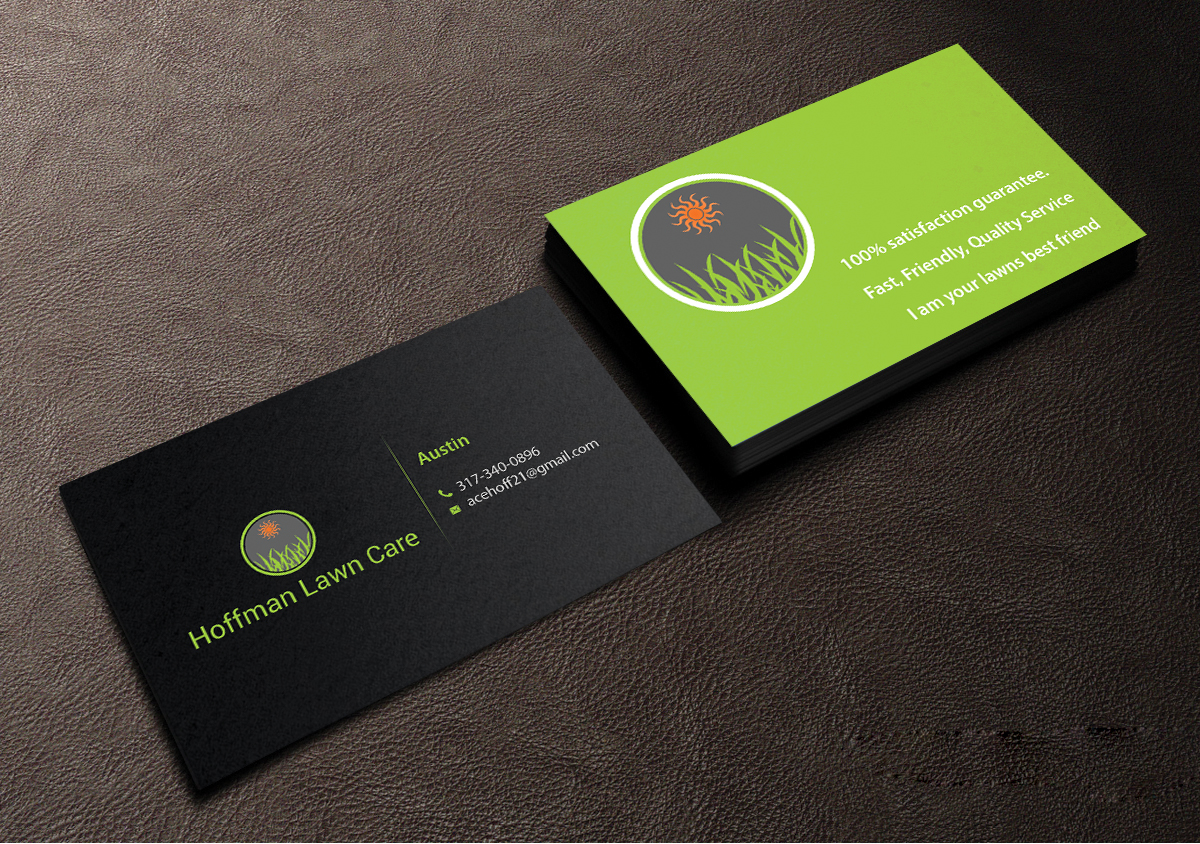 A clean black and green landscaping business card. The layout is simple and the design is anchored by an illustration in a circular frame. You can replace this with your own company logo to help emphasize your brand. Notice how it also includes the company tagline to make it more memorable.
---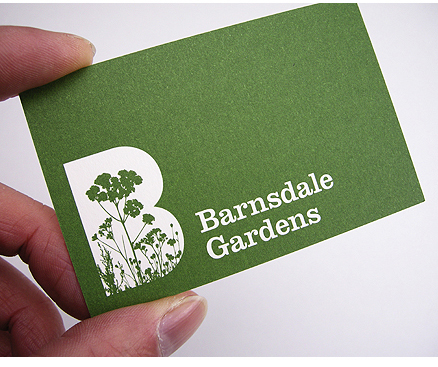 If you want to opt for the classic green color theme for your business card, why not use a recognizable shade? This example easily reminds you of green manicured lawns. You can even try using a matte finish instead of the glossy variety to complement the look. Add your logo and company name at the front and your contact details at the back.
---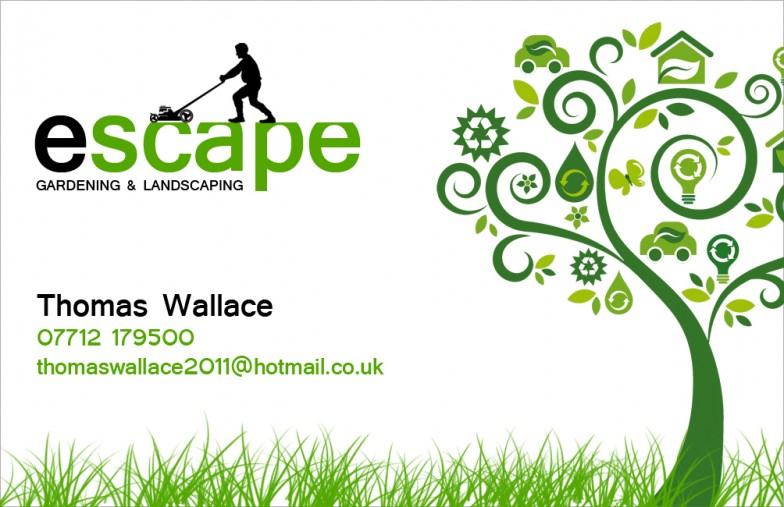 If you want a more elaborate illustration to design your business card, this example is good inspiration. The whimsical tree is more than just an illustration. Upon closer examination, the tree is filled with drawings to emphasize the business brand.
---
When you're working with more than one color in your brand, you can incorporate them to give color accents to your business card. Use it as an accent for elements like borders, panels and icons to stand out more. If you use a matte finish, you can leave the back of the card blank and use it as writing space.
---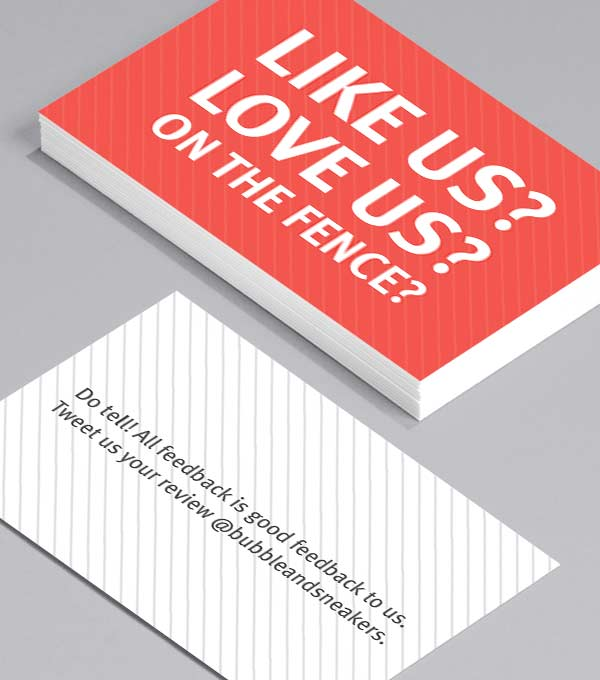 This example is all about creating endorsements. You rely on your current clients' satisfaction with your end results to get them referring your business to their friends and families. The headline is compelling and engaging, making your clients feel that you prioritize their needs throughout the entire project.
---
16. Text Overlay Design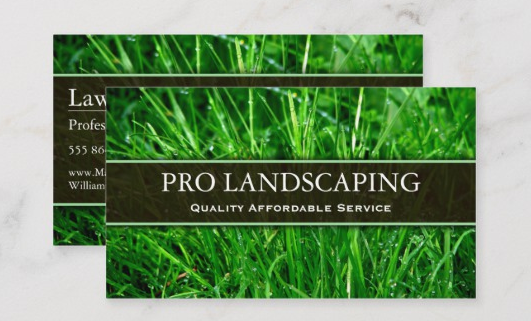 Here's one with the classic green by covering the business card with a stock photo on both sides. The text is placed in an overlaid box to make sure the message is clear and visible. You can also add your logo.
---
17. Offering Added Value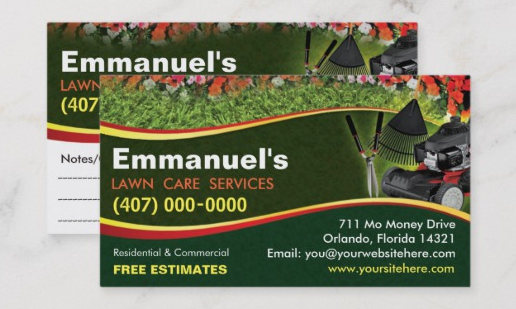 Two elements make this example an effective landscaping business card. The message at the front of the card for free estimates immediately offers value to its audience. The back of the business card can double as an appointment or reminder card for clients.
---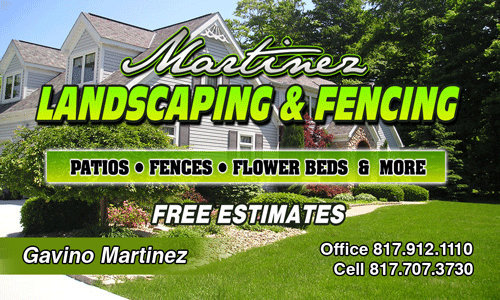 Bright and sharp colors are used for this business card example that reminds potential clients of a sunny morning over a lawn. It's also important that the text is located on the same side to make sure that the messaging is delivered simultaneously with the mood set by the image.
---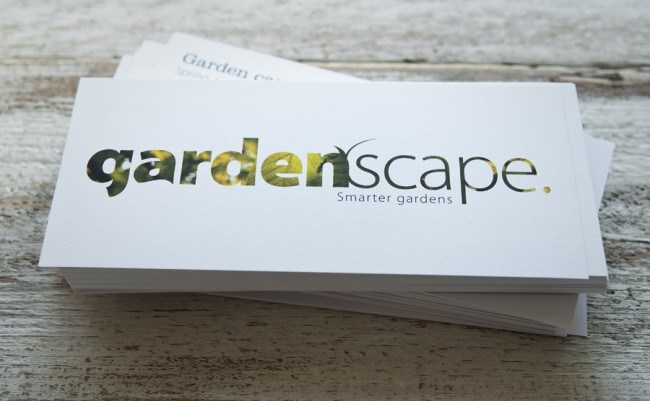 This business card example offers a unique idea of balancing the use of text and image. The layout is clean and the design makes for an interesting conversation starter. You can also choose an image that goes well with your brand color.
---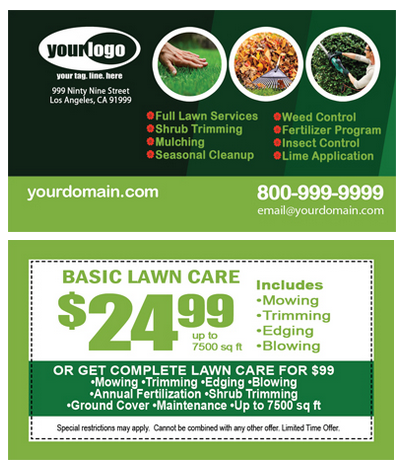 This design makes good use of both the front and back of the business card while keeping the layout clean and the text readable. The back of the card has everything a potential client will want to know before making the decision to contact a service provider. Don't forget to have your contact details well placed and readable in large, bold fonts.
---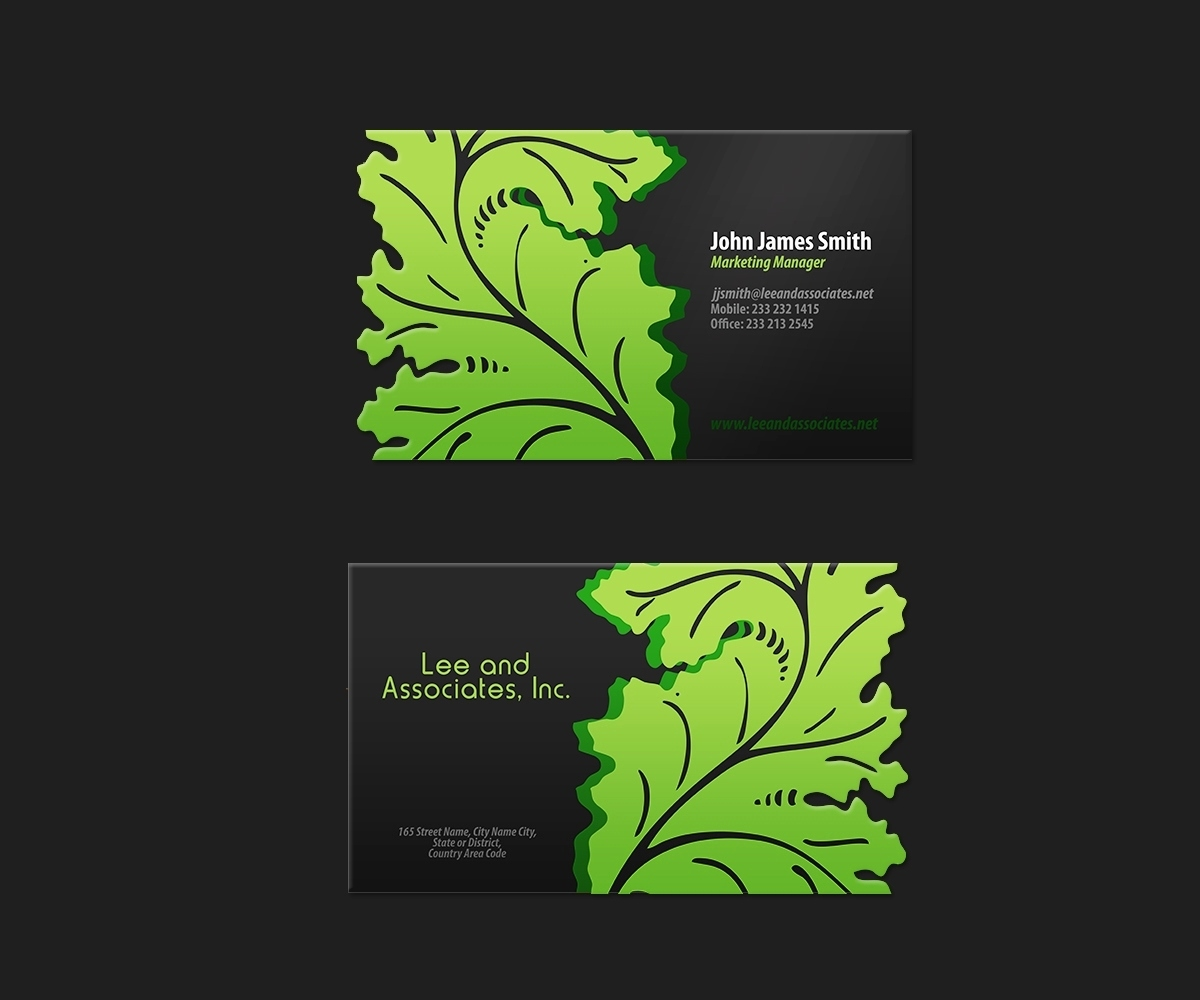 This example gives an idea of how die-cut design can work for landscaping business cards. Choose an illustration similar to the example and use the outline to make an interesting element for your design. Works best for businesses using iconic symbols as part of their logo.
---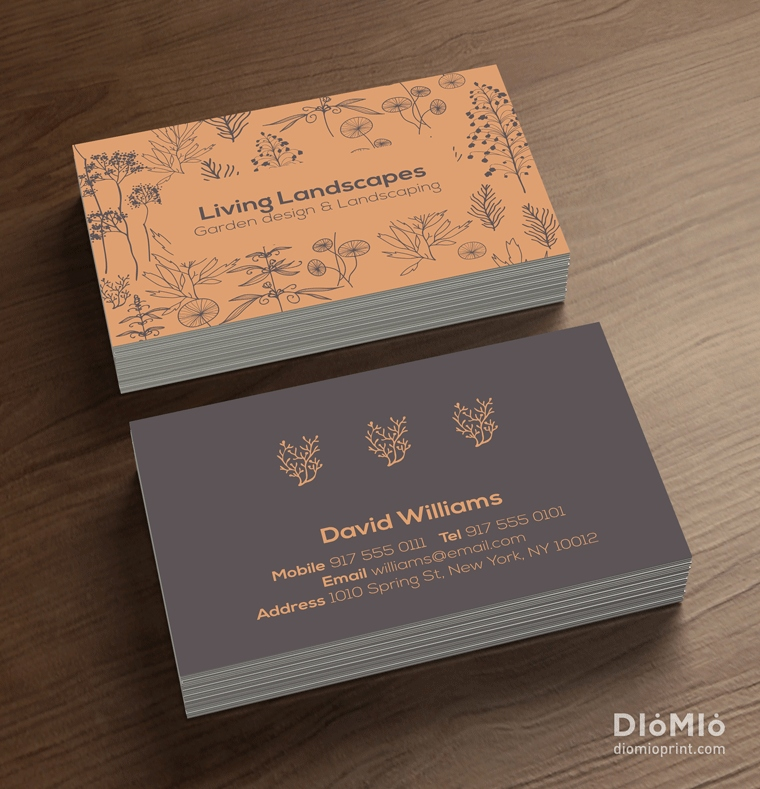 This design moves away from the usual color theme for landscaping business cards, but is as effective. The earth and gray tones make this example as eye-catching as other brightly-colored cards, while the use of illustration completes the standout look for an interesting design that inspires.
---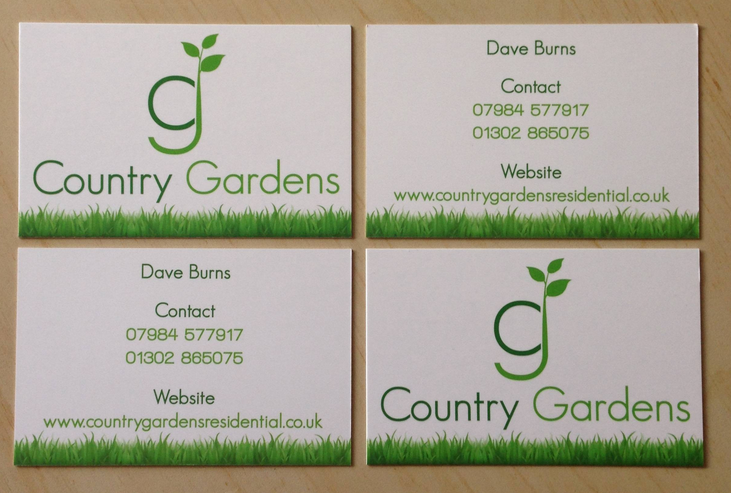 This country gardens business card acquires its charm from a clean layout and choice of fonts that match the lines used in the business logo. This strategy helps to promote a memorable brand. When using this idea, you can also work with your own brand color and a different bottom border that goes along with it.
---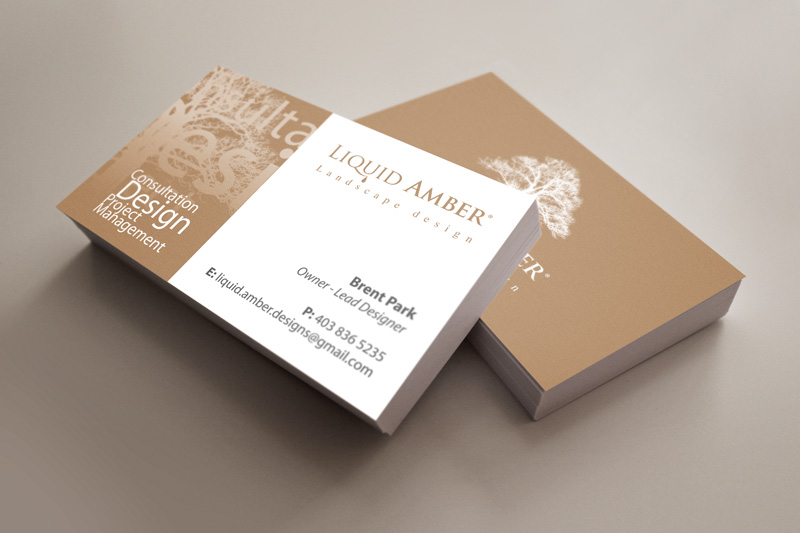 Liquid Amber is a perfect name that matches the design for this business card. The choice of colors and fonts give this example a modern, elegant look. Keep the color tone the same even if you plan on replacing the color to fit your brand. Finally, the use of gray for the name and company details ensures that the message is readable for its readers.
---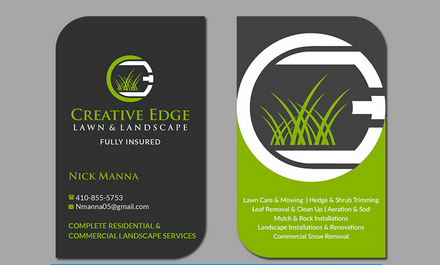 Curved edges make this business card easily stand out from the crowd. The idea was to adopt elements of the business logo from the color scheme down to the shape. While the logo is prominently displayed, it also makes smart use of the space by dividing the text between the two sides of the card.
---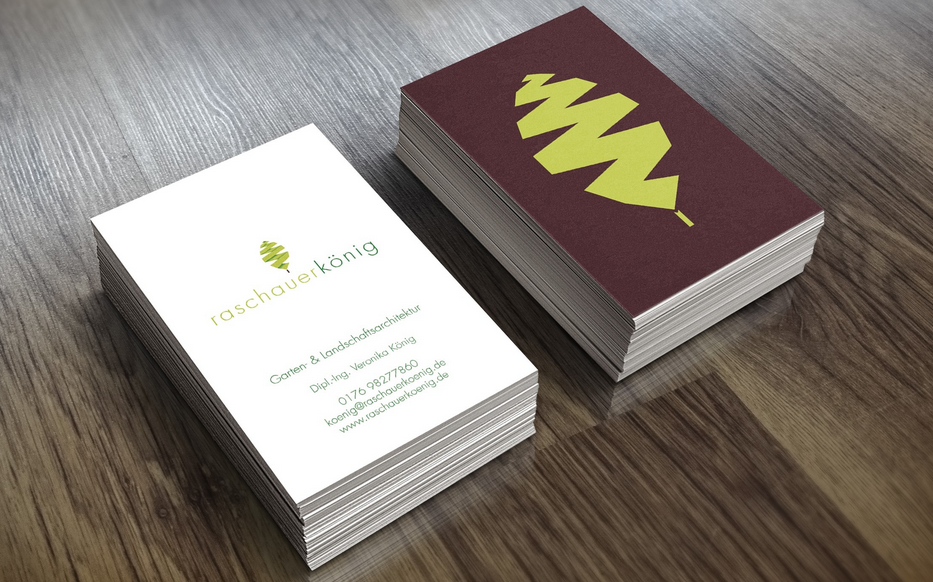 Even if your brand color is traditional, using unique colors for your business card also helps to highlight your brand. Notice how the deep brown, almost maroon makes the logo stand out on the front while leaving the details listed at the back. You should also consider adding your company name and website right underneath the logo to complete the messaging.
---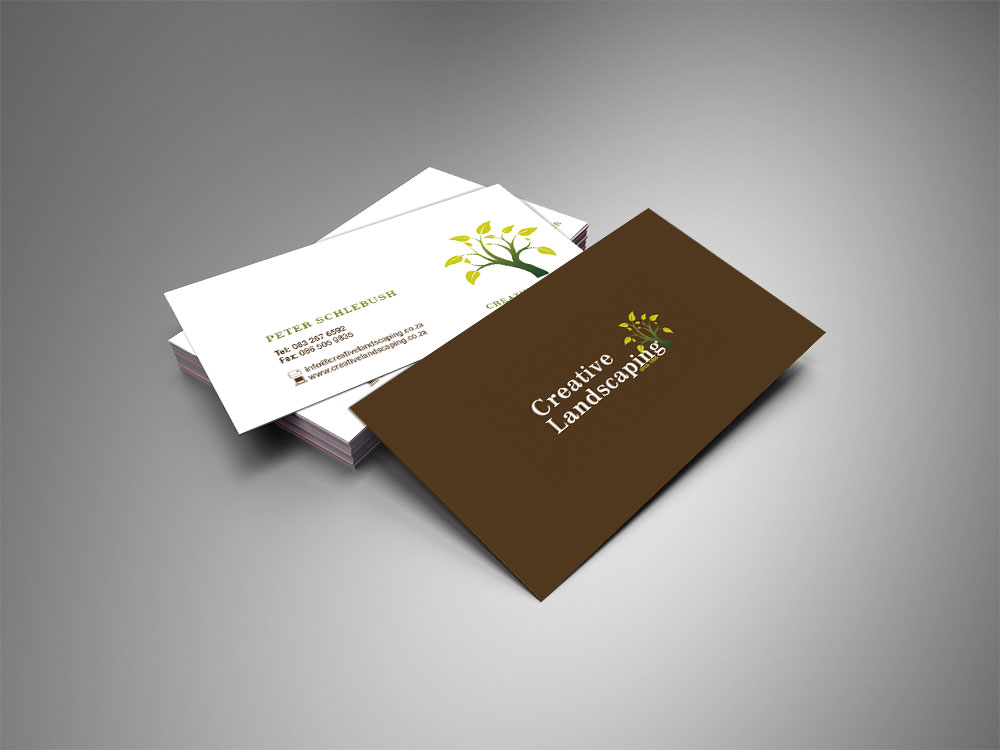 This example is a combination of elements that made the previous example stand out. The clean, simple layout, the use of illustration, and accent colors give the audience an eye-catching design that's hard to ignore. Remember to add your preferred contact detail right under the business name.
---
Over to You
Just like any business, it's important for landscaping business owners to make sure that potential clients are aware that their service exists. Get inspiration from our list of landscaping business card ideas and stay ahead of your competition.
For easy and affordable ways to design and order your own business cards, read our buyers guide on the best business card providers. 
Did we miss out on your favorite landscaping business cards examples? Share them with us in the comments.