Lead generation metrics are how you measure the effectiveness of your strategies of collecting and qualifying prospective customers such as the number of leads converted into customers. It's critical to measure your lead generation efforts with metrics so your business can track results, fine-tune your prospecting strategy, and ultimately, increase revenue.
Here are 11 tips for learning how to create the most effective lead generation metrics:
1. Incoming Lead Channels
Tracking where your leads come from is one of the most important pieces of information in any lead generation strategy. This could be a contact form on your website, a Facebook message, LinkedIn, a live chat widget on your website, or a response to an email campaign—among many others.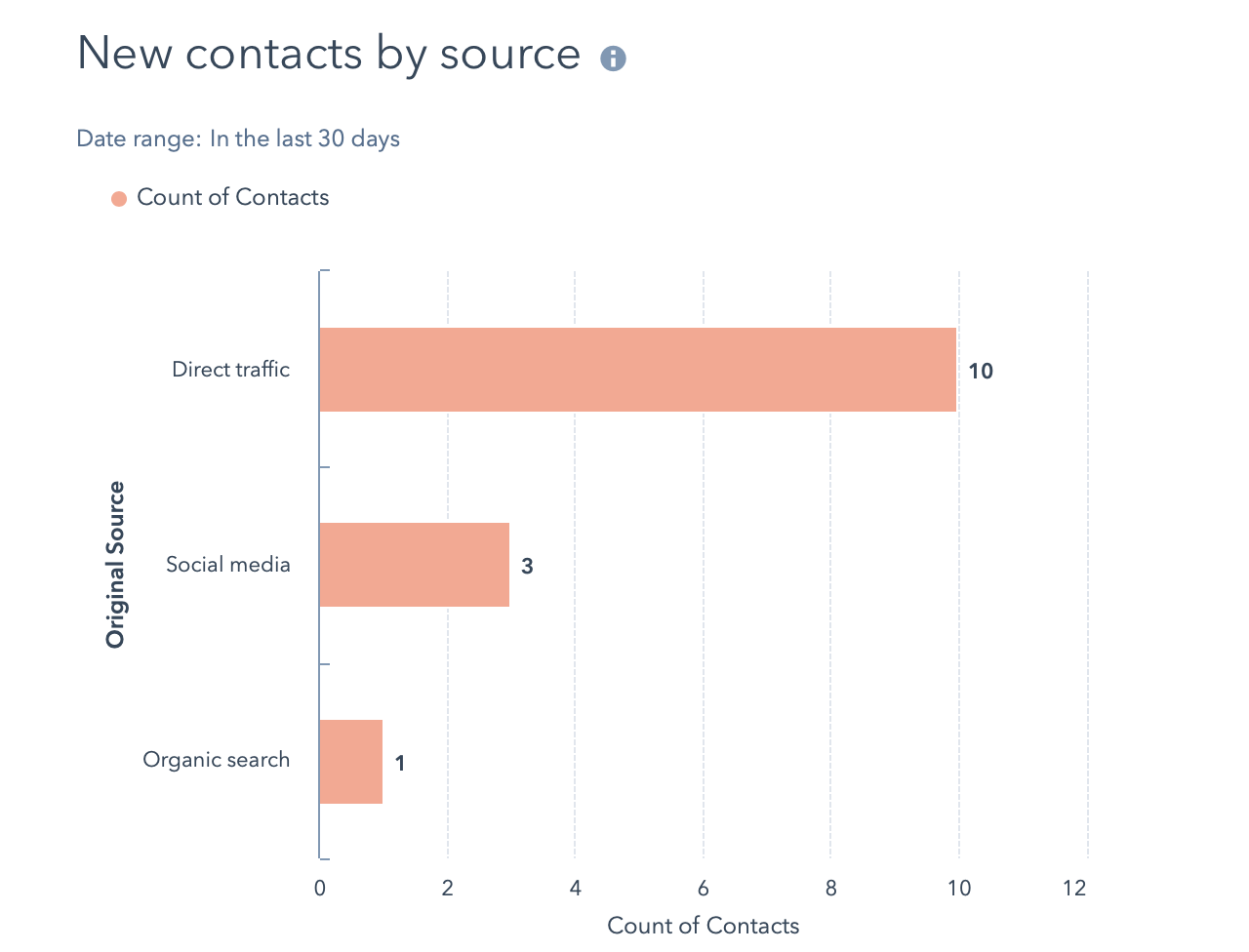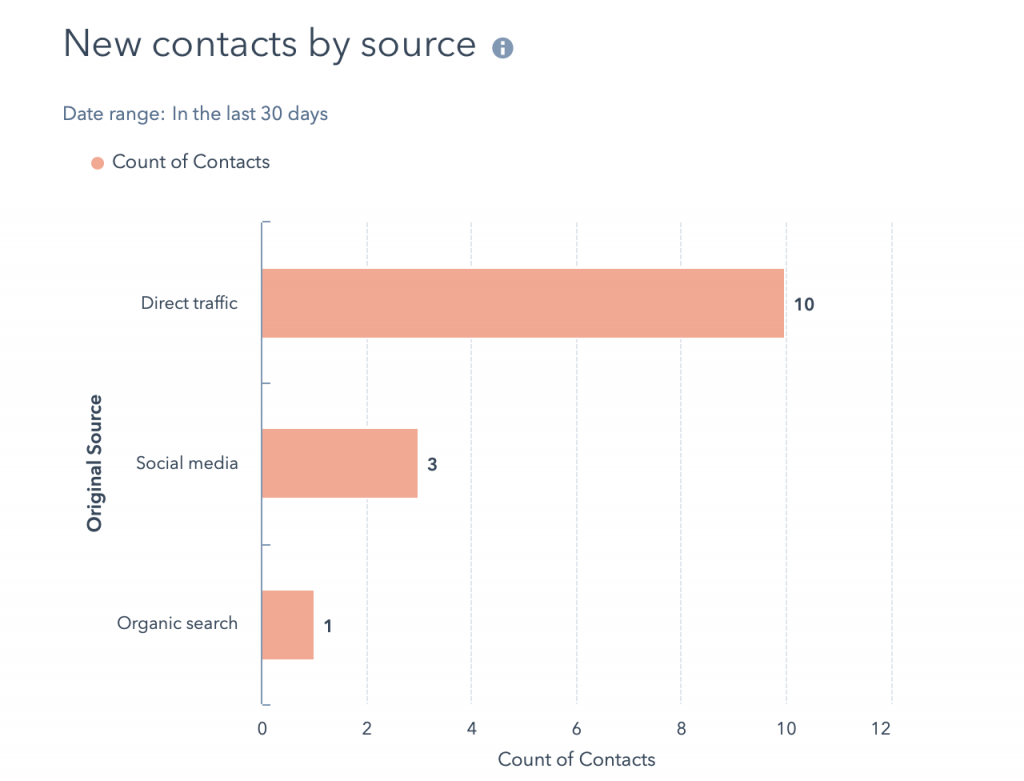 Knowing where your leads come from helps you identify which lead generation efforts are working best and what strategies you should deploy on a larger scale. If you're looking for an easy way to find out where your leads are coming from, check out HubSpot's Leads by Source Dashboard to help you understand where your lead generation efforts are driving the most traffic and engagement.
"To me, the most important lead generation metric at this stage in my business is website traffic. It's important to me because it opens the door so that I can continue my marketing campaigns with far better targeting and response rates. While merely visiting a site is a top of the funnel action, the moves that I'm able to take the next help me move random traffic toward action steps."

—Eric Johnson, Owner and Founder, You Betcha
2. Lead Quality
It's one thing to generate leads, but you have to determine the quality of them to know if they are worth following up with or if the way you generated them results in leads who will actually buy your product or services. Calculate your number of quality leads so you know how much time to spend on them.
Quality leads do things like requesting a demo or fill out a web form. You can score leads by assigning points based on what actions they take. For example, if they fill out a web form, that could be five points. If they sign up for your email newsletter, that could be three points. The leads with the highest amount of points should receive the most attention quickly since their behavior indicates they may be ready to make a buying decision.
3. Email Campaign Conversions
Email campaign conversions measure the number of people who receive an email campaign, open it, and take some action as a result. It's one thing to create great content in your email campaigns, but if people aren't opening them, they won't generate leads. Make sure you are sending your emails to a targeted list of people and that you are adding to the list by posting content on social media inviting people to subscribe to any email newsletters you send.
Once you send out an email campaign, you should analyze its performance by looking at the click-through rate (CTR) of each call to action in the message. For example, if you offer the reader the ability to download an e-book in your email, and they click-through and download it, they become a lead.
You calculate the click-through rate by dividing the total number of clicks by the total number of email opens, then multiplying it by 100. So, if 500 people open your email and 18 people click on a CTA, that's a CTR of 3.6%—the average CTR is about 2% to 3%.
"My most important metric is the click-through rate. The truth is, if you can't get them to your site or landing page efficiently, conversions will be much more difficult. It does a few things, such as gauging how effective my CTA is performing, setting up how much lead acquisition eventually will cost me, and telling me how important the content I am producing is needed. For most of my sites, I use Google Analytics/ to find out how certain content and keywords perform and those that are underperforming over time are re-hauled and re-tested."

—Travis Price, Independent Agent, MichiganMedigap
Pro tip: There's a plethora of creative ways small businesses generate quality leads. Learn more by reading our article on how to create the most innovative email subject lines to increase the effectiveness of your email campaigns.
4. Follow Up Rates of Sales Reps
Measuring the overall rate that your sales team follows-up with incoming leads helps determine whether or not you are missing out on sales opportunities because your team isn't responding soon enough. However, it's also critical to hone in on the performance of individual sales reps. Sales managers and business owners need to know how well each sales rep is following up with each lead and how many (and how long) it takes to close sales deals.
For example, it might take one sales rep less than five minutes to follow up with a lead it might take another rep more than an hour. It should come as no surprise that the first sales rep engages leads more effectively and closes more deals. That being said, keeping a good pulse on individual sales rep metrics helps identify training needs, incentive programs for sales reps, and opportunities for promotion of high-performing reps.
For example, you might find the average total sales cycle time from discovery to won-closed is seven total hours. Analyze the average time it takes each sales rep to close deals on a regular basis to assess performance.
5. New Customer Appointments
The main goal for generating leads in B2B businesses is starting a conversation with a potential prospect. Some companies call these conversations demos or discovery calls. Often, this starts with a sales development rep (SDR) having a short call with the lead to see if they are a good fit for the product or service, and if they have decision-making power before setting them up for a demo with a sales rep.
Track how many of those leads are qualified by SDRs and go onto a full demo with a sale. Then, track how many of those qualified leads convert. If the number is less than one in 10, you may need to tighten up your lead qualification process.
Every month, track how many new sales conversations are started with new leads. If you notice a significant drop, it's time to reevaluate your lead generation strategies. If you see a large increase, take a closer look at which strategies are working best and spend more time on those lead generation efforts.
6. Conversion Rate
A conversion rate is the percentage of your leads who take action on your website, social media, in an email newsletter, or even a video. That action is something you develop when you set up the campaign, which allows you to evaluate which campaigns are most effective at generating new leads.
For example, a lead is converted when they sign up for your email newsletter or download an e-book from your website. They also are considered converted leads when they make a purchase from your website and become a customer.
To measure your conversion rate, set a goal for the campaign. It could be to get 20 new customers from a paid ad. If you converted 20 leads out of 1000 viewers, your conversion rate would be 2%. It may seem low, but the average is about 3.48%, according to Smart Insights.
"On social media, my website, and all of my paid ads, I track my conversion rate. I want to know exactly how many sales I receive from my efforts. When running Facebook ads, I look at the impressions, the number of clicks, but most importantly the number of sales. I have a few services where people need to message me before placing an order. I always ask people how they found me. I track how many inquiries I get from social, organic search, and paid ads. Then, I track what percentage turn into closed business. Some marketing methods provide many leads but they aren't qualified. My business has doubled since I started tracking these metrics. I understand how much I'm willing to pay to get a new customer, and track web visits, messages, calls, and closed sales."

—Jacob Landis-Eigsti, Owner & Head of Marketing, Jacob LE
7. Return on Investment (ROI)
Return on investment is so important because it lets you know the money you are spending to generate leads and buying customers is worth the effort. It's like asking, "After we spend all that money on marketing, talent, and software, are we still coming out in the black—and by how much?"
First, you have to determine your total cost of capturing a lead, including how much an ad costs to advertise for a certain amount of time, the cost it takes for your staff to develop it, and any landing pages you create. You do this by tracking your ad spend, employee hours, and any outsourced fees, like website landing page creation.
For example, let's say you spent $400 creating an advertisement, $75 on a landing page, and $150 to run the ad on Facebook. Your total cost for your campaign is $625. To determine your ROI, you need to figure out next how many leads you actually generated. Let's say you get 80 people to visit the ad. Out of those, 15 people convert into leads.
Of course, the goal isn't to generate leads, but rather, sales. Out of those 15 people, you converted two into customers, which resulted in $1,000 in sales.
To calculate your ROI, you can use this simple formula:
ROI = ((Total Sales – Total Investment) / Total Investment) * 100
Or, in this case:
($1000 – $675) / $675 = 48.1%
"At the end of the day, the most important lead generation metric is revenue. Are leads that are being generated driving revenue results—yes or no? Unfortunately, a lot of organizations struggle with being able to answer that question so the best way to get to the answer is to walk backward from the point of revenue through different stages and get alignment on what each stage is. Whether you call them statuses, life cycles or pipeline stages it doesn't really matter. Know your conversion metrics on the journey from stranger to the customer because then the revenue is scalable and predictable."

—Tiffany Schultz, Director, Content Strategy and Promotion, Lake One, LLC
8. Average Deal Size
The average deal size is the average amount of money your sales opportunities bring in. This should be measured on a monthly, quarterly, and yearly basis—comparing month over month, quarter over quarter, and year over year to evaluate how your well your business is growing. If your average deal size is going up, you're in good shape. If you find it slipping, it's time to reevaluate pricing and lead gen strategies.
Your businesses should monitor this sales metric because it allows you to calculate how many deals you should have in each stage of the sales pipeline. It also forecasts how many you need to close to make ends meet and reach your sales goals and predict hiring needs.
9. Time to Convert Leads
The total amount of time it takes to convert a lead into a customer helps you determine the average length of your sales cycle. Track how long it takes for a lead through each stage of the sales funnel to gain insight into your sales funnel and learn where you can speed things up. For example, many CRMs will automatically generate reports or a dashboard to shed insight on the average time it takes to convert a lead, so you don't have to do it manually.
For example, customers sometimes get frustrated if they don't have a smooth experience trying to check out when buying a product on your website. Focus on reducing the number of clicks they need to make to complete a purchase, so they don't get frustrated and abandon their cart—along with the sale. Provide multiple ways for the customer to check out, such as integrating with several payment options such as PayPal and credit card choices.
10. Customer Lifetime Value
Customer lifetime value (CLV) is the dollar amount a business can expect to produce from a single customer. It involves the life span of the customer and the average amount of money they are expected to spend during that lifetime. Businesses use this metric to determine which segments of their customer base are most valuable—how much time, money, and effort they should exert to acquire and retain those customers.
You can calculate CLV to figure out the overall value of your customer relationships by taking the average revenue of your customers, your overall profit margin, and multiplying it by the length of your customer relationships. You can also save time and use HubSpot's interactive customer lifetime value calculator.
[(Annual Revenue x Profit Margin) / (Number of Customers)] x Average Customer Life span]
"Many people think they need to be 100% profitable on the front end, but this isn't always the case. If you're selling a subscription product or something that people will buy again and again, it's also important to track approximately how long people will stick around before canceling their subscription, or how many times people will buy again and again before they stop. This will give you the overall worth of each customer, and the lifetime value per person who initially opt's in or makes a purchase."

—Khabeer Rockley, Director, The 5% Institute
11. Total Time on Website
This metric simply measures the amount of time a visitor spends on a given page on your site. There's a strong link between the amount of time a lead spends on your webpage and the likelihood that they will buy your product or service. If they spend time reading your page and learning about what you offer, they are more likely to request a demo or call and decide whether to make a purchase.
If website visitors are spending 10-15 minutes reading content on your website, you know it's something that's working and you should duplicate that kind of content, like a particular blog article. If the majority of visitors are only spending 10 seconds on a 1,000-word blog article, you know it isn't engaging your readers and that you need to reevaluate your content.
Pro-tip: Use software that helps you track visitor activity on your website and analyze their behavior. Hotjar is software that lets you see clicks, taps, and scrolling behavior so you can understand where your website visitors are engaging with your content the most.
Frequently Asked Questions (FAQs)
Why are lead generation metrics important?
Lead generation metrics are important because they help business owners know what lead generation strategies are working best, which types of customers they should be focusing on, and where they should be spending the most time cultivating quality leads. They also help predict company revenue and forecast hiring needs.
What are lead generation KPIs?
KPIs are known as key performance indicators. They are the key metrics that are directly connected to your sales goals. They let you know how successful you are in reaching your goals as you generate and nurture new leads.
Who is responsible for collecting and analyzing lead generation metrics?
Usually, a sales manager or the vice president of sales is in charge of collecting, analyzing and providing reports on lead generation metrics. However, in some businesses, someone from the marketing team may be responsible. If you're a solopreneur, it's up to you to collect and analyze your own metrics.
The Bottom Line – Lead Generation Metrics
It's critical to track and understand your lead generation metrics in order to make the best business decisions. Lead generation metrics help your business track and forecast revenue, implement the most effective lead generation strategies, predict customer lifetime value, and enhance individual and team sales performance.
Once you generate leads, it's key to organize them in a CRM so nothing falls through the cracks. With HubSpot, you can automatically capture leads on your website with its built-in chat bots, track conversations, and stay on top of activities needed to close the deal. Best of all it's free to use. Visit its website to get started.