Employee development and leadership training providers meet your businesses' training needs by offering a range of topics, from computer skills to health and safety with multiple delivery options such as classroom and e-learning. Training providers give employees the development skills they need to improve their job performance.
To help support small businesses, we looked at six national employee development and leadership training providers that offer a variety of training topics — such as safety and compliance training, office skills training, sales training, leadership development, and technology skills — to identify the best for small businesses.
Training Providers Summary Table
Best For

Businesses in all industries with off-the-shelf and custom topics to support small business needs

Computer skills and IT training topics in a hands-on classroom setting

Management and office skills training, including small business finance and strategy, with both classroom and online sessions

Udemy

Widest selection of online courses (65,000) with courses that start as low as $10

Compliance training and an

LMS

system to track it, chosen from a library of well-designed online business courses

Sandler Training

Sales training using a blended learning approach for sales team members, executives and professional services
How We Evaluated Training Providers
Training providers come in all shapes and sizes, with a range of delivery formats and topics they specialize in. For example, one training provider may focus solely on an industry like transportation whereas another may focus on industries on a topic like leadership or sales. Therefore, we looked for the best training providers for small business that had the following:
A nationwide presence so that your employees wouldn't have to travel far for classes
Affordable courseware that's reasonable on a small business budget
Topics that crossed industries like computer skills, sales and leadership
Multiple training delivery modalities, such as classroom-based and e-learning
Testing so that you could verify whether your employee learned something
Industry certification so that you could be sure the courseware is high quality
We excluded niche providers, such as training providers that only offer educational programs in a specific industry or profession like real estate. We also excluded training companies focused on developing highly customized training, such as instructions on how to work your small manufacturing company's specific equipment.
Best Training Provider Across All Industries and Topics: GP Strategies


We recommend GP Strategies because they provide a broad range of training topics, including leadership development, safety, customer service and sales. It has off-the-shelf training courses for specific occupations like maintenance workers and equipment operators. It will conduct a training needs assessment and then offer existing courses like the ones shown below or custom training provided online or on-site.
Working with GP Strategies as your training provider is like having your own training department. Its off-the-shelf courses use a blended learning approach following sound instructional design methodology. Additionally, it can customize its courseware (for an upcharge) to meet your business needs.
GP Strategies Pricing
GP Strategies costs between $250 and $500 per year per employee for a seat license. The rate decreases as you add more learners and some specialized categories, such as electrical or power/energy, cost more as does customization. Its setup fee starts at $2,500 and provides you with an LMS to assign and track employee training. If you renew the site licenses, you're no longer charged a setup fee after the second year.
GP Strategies Features
Unlike other training vendors that offer courseware and focus solely on topics like computer training or sales courses, GP strategies is a training consultancy. While it has off-the-shelf courses, many small businesses want customized training, such as on its unique customer service approach, sales strategy or software. GP Strategies offers these options:
Off-the-shelf courses in multiple content areas
Custom course development and delivery
Training offered at its site or yours
A technical training lab for hands-on equipment training
OSHA-compliant safety training
The way GP Strategies works is by using a four-step approach to training, which it refers to as a Progression Pyramid: Foundational, Fundamentals, Applied Fundamentals and Site Specific. What this means is that it ensures your employees have the entry-level skills and knowledge first, and then it builds your employees skills with hands-on experiences.
GP Strategies Courseware
While GP Strategies' course catalog isn't as large as Skillsoft or Udemy, the course content often delves deeper into each subject. For example, Skillsoft provides online safety training but GP Strategies' safety training uses a blended learning approach that includes on-site training, online training and hands-on practice. Content areas include:
Management and leadership, including teamwork and change management
Sales and customer service, including sales performance, communication and marketing
OSHA safety and compliance training like personal protective equipment, lockout-tagout and equipment operator
Technical engineering including asset management, construction and procurement
Human capital management including people development and culture
Like Udemy and Skillsoft, GP Strategies provides an LMS system so you don't have to purchase one separately to track employee training enrollment, successful course completion or reports.
Other Recommended Providers Like GP Strategies
There are other training providers like GP strategies that provide both off-the-shelf content and can help customize courses for your business like Alliance Training and Consulting and Unicorn. In addition, many HR vendors provide standard business courses and training as part of their overall HR outsourcing service offerings.
Customer Support
GP Strategies provides administrative support to you and your employees by phone during regular business hours, Monday through Friday from 8 a.m. to 5 p.m. Eastern time.
What's Missing From GP Strategies
Unlike Udemy, AMA or New Horizons, you can't just sign up for a single course. You have to sign up for an entire package and purchase seat licenses like you do with Skillsoft. If you're only looking for one or two training courses, such as customer service skills or how to use Microsoft Office, then GP Strategies will likely cost too much. It's best for those who want to invest in a learning culture, not individual courses.
Best Training Provider for IT and Computer Skills: New Horizons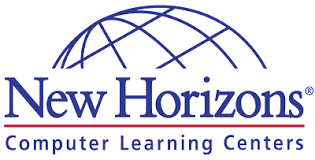 We recommend New Horizons as the best training provider for information technology and computer skills training. It offers courses in Microsoft, Adobe, SQL and applications like SAP and Salesforce. They also offer project management and Six Sigma training and certification to support technical service-type companies and IT projects. In addition, they have basic offerings in leadership and human resource management and provide training in several modalities.
New Horizons Pricing
New Horizons prices start at free and go up to $1,500 per class. Free webinar topics range from leadership development to technology. Classroom-based workshop prices vary from $275 per day for a Microsoft Excel course to $395 for project management fundamentals, up to $1,500 for a seminar on leadership. They also provide free IT content on topics like cybersecurity, ERPs and innovation.
New Horizons also offers volume pricing discounts. Club memberships, like the live online training unlimited club membership, costs $1,495 a year; or the basic office skills training courses for only $360 a year. Both provide videos, online manuals, self-paced courseware, hands-on simulated labs and printable job aids, ensuring your office worker can master MS Office.
New Horizons Features
New Horizons delivers courses in multiple ways, such as instructor-led training, classes at your site or at one of its training centers worldwide. It also has online training, recorded e-learning and instructor-led webinars. Alternatively, you could choose mentored learning or even a private class for your team. It can also help you set up a custom training portal with branding, similar to what other training providers offer on an LMS.
In addition, New Horizons provides room rentals with computers so that if you need to offer training on your custom or off-the-shelf software, you can use its facility to do so. That's something you get with New Horizons that other training providers don't offer.
Other Recommended Providers Like New Horizons
If you're looking specifically for IT courses, training providers like Global Knowledge and Learning Tree also offer a large range of subjects. Global Knowledge is a bit more specialized with topics like application development and cybersecurity, and Learning Tree tends to be pricey as compared to New Horizons.
New Horizons Courseware
While New Horizons strength is in IT and computer topics, it offers certification courses and other classes that small business leaders and staff might need. These include:
Leadership training
Business analysis
Basic Microsoft Office skills training
Project management training and certification
Software training like QuickBooks and Crystal Reports
Graphics and Internet training like web design, HTML, CSS, JavaScript and Adobe
Customer Support
New Horizons offers a live help desk to call, or you can contact your local training center Monday through Friday from 5:30 a.m. to 6 p.m. local time. New Horizons also has online chat where you'll interact with a live human, not a chatbot.
What's Missing From New Horizons
With a focus on technology training delivery, rather than custom development and instructional design, it may be difficult to tailor the training to the specific way you use your software without significant upcharges. In that sense, it's more like sending your employees to a college-like training center than having customized classes.
Best Training Provider for Management and Office Skills: AMA
We recommend the American Management Association (AMA) for all kinds of business training, from managing an office to customer service. It provides courses in 25 subject areas and hosts its workshops live or online providing flexibility similar to that offered by New Horizons and Udemy. Its content is provided via seminars, web events and even books, white papers and podcasts.
AMA Pricing
AMA seminars cost from $1,295 for a one-day presentation skills workshop to $2,345 for a two-day workshop on leading virtual teams. However, most podcasts are free on topics from how to be a first-time supervisor to improving writing skills. Webinars are less expensive; for example, courses on Mastering Excel Pivot Tables or Improving Productivity Using Microsoft office cost only $199 each.
In addition, many of the webinars are free. Discounts are available if you become a small business AMA member for $2,295 a year or purchase an e-membership plan for $50.
AMA Features
AMA offers the most variety of training and content delivery, from newsletters to podcasts, online courses and classroom-based workshops. You may choose to try AMA out by viewing free podcasts and webinars before attending live sessions because there's so much variety in what it offers and how it offers them.
AMA Courseware
AMA offers seminars in 25 different areas. Each seminar runs from one to five days. These are in addition to the lower-priced (or free) podcasts and webinars and cover most of what business owners would want for themselves and their team members.
Other Recommended Providers Like AMA
Another training vendor with a large range of courses like AMA is SkillPath, where your employees can find seminars by topic or ZIP code, in addition to online courses. You may also find similar courses offered at a community college in your area.
Customer Support
AMA provides customer service by phone, fax, email or via an online web help request form, making its support one of the best. However, it doesn't offer live chat.
What's Missing From AMA
AMA doesn't provide a free LMS to track your employee's progress, so you may need to purchase an LMS or use HR software that has an LMS if you want to assign courses to employees and verify course completion in one place. It also doesn't provide safety and compliance training like Skillsoft and GP Strategies.
Best Training Provider for Employee-directed Learning: Udemy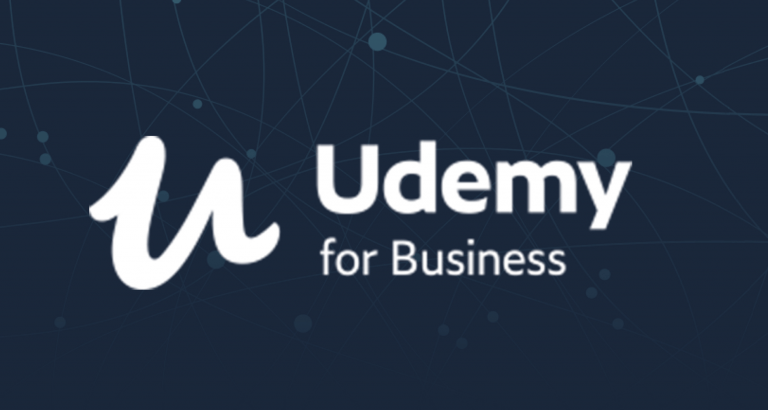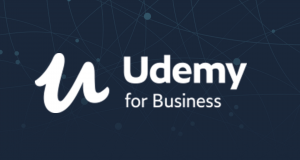 We recommend Udemy as the best training provider for employee-directed learning, which is when you let the employee choose what courses they need for skills development from the provider's 65,000 online courses. Udemy also offers a business package that provides 2,400 of the most common business training topics, including sales training and customer service, as shown below.
Udemy offers a 14-day free trial so you can try out any of its classes like the sales, HR or project management courses for free.
Udemy Pricing
Udemy courses start as low as $10 per class for one-off courses your employees might take. Prices range from $9.99 to $199 per course with volume discounts. However, a business package will run between $240 and $300 per year per employee with discounts as you add more staff. The big difference between the Business package and the Enterprise package is the LMS features, customization and reporting you receive.
| | Business (5-20 users) | Enterprise (21+ users) |
| --- | --- | --- |
| Annual Price | $240/year per employee | $300/year per employee |
| Minimum Number of Users | 5 | 21 |
| On-demand and Mobile Access to Courses | ✔ | ✔ |
| Custom Logo and URL | ✔ | ✔ |
| LMS Features | | ✔ |
| Custom Courses | | ✔ |
| Integrations | | SSL and API |
| Reports | Basic | Advanced |
| Customer Support | ✔ | Dedicated |
However, until you are sure that your employees will attend the courses you want them to take, you may be better off having the employee sign up and take courses on their own, even if they submit the receipt to you for reimbursement. For example, if they take only one course a month, such as Business Law for $13.99, the student price may be cheaper than an annual business subscription.
Udemy Features
With Udemy, as with Skillsoft and GP Strategies, you can get the LMS functionality if you upgrade to the Enterprise package. However, even without upgrading, your business staff has access to an entire library of online business topics provided via learning with live instructors.
If you want dedicated reports, dedicated customer support and single sign-on, the Enterprise package is the one to choose at only $60 annually per person extra.
Udemy Courseware
You can't find more course topics than on Udemy (65,000 courses), but they're all online, not on-site courses like you might get with New Horizons or GP Strategies. Many are taught live by experts in their respective discipline, from law to HR. Udemy's course catalog is also one of the easiest and most intuitive to navigate. Its courses range from finance to office productivity and even include personal development webinars.
Other Recommended Providers Like Udemy
Several low or no cost open-source and online training sites have launched in recent years with a broad range of topics — from vendors like Coursera, Lynda.com and Khan Academy. For example courses at the Khan Academy are free, while Lynda.com costs only about $25 per month with courses hosted on your free Moodle Learning Management System.
Customer Support
Udemy provides customer support through an online help request form and online chat. They also have a library of self-service user support topics. Its hours are Monday through Friday, 8 a.m. to 6 p.m. Central time. If you send a technical support question after hours, its off-site support staff will usually get back to you within a few hours. Additionally, learners who have a question on the training topic can email the instructor directly.
What's Missing From Udemy
While Udemy offers safety courses, they're for learning purposes only, not guaranteed to be OSHA-compliant. Being an online training platform, it also doesn't provide customized courses delivered at your work location.
Best Training Provider for Compliance and Tracking: Skillsoft

We recommend Skillsoft as the best training provider for compliance training as well as an LMS to track it. In addition to compliance, it offers business and IT training like Udemy and GP Strategies, but what it provides in terms of an LMS allows you to track certifications that are due. When employees attend safety or legal compliance training, Skillsoft will provide online documentation of what, when and who completed each course.
Like New Horizons, Skillsoft also provides a great number of IT certifications, such as Red Hat, Oracle, Cisco, Google and Amazon.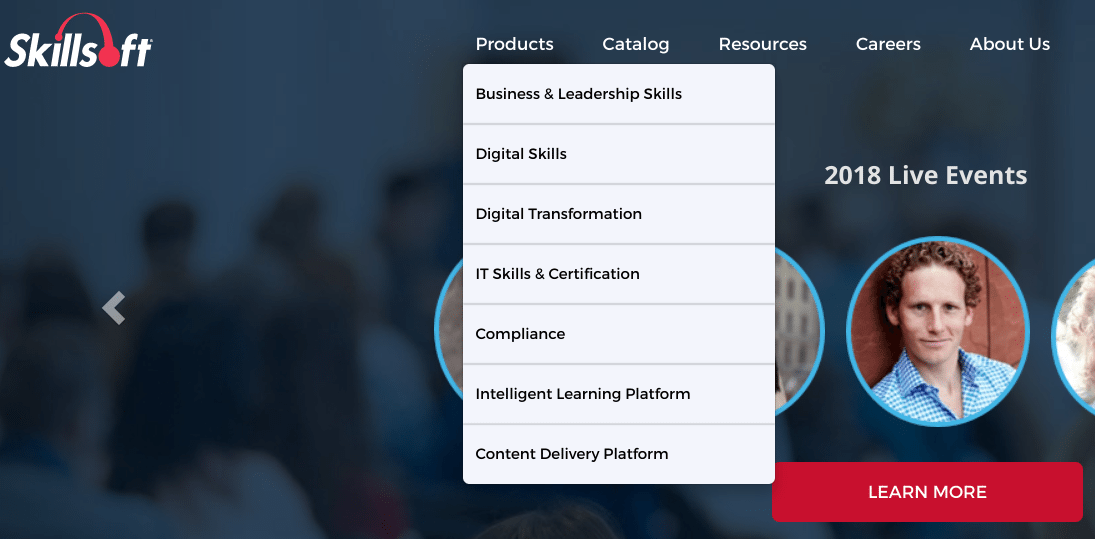 Skillsoft Pricing
Skillsoft offers multiple pricing tiers, and it's best to contact the provider directly to determine the course content you want first. Below is an example showing prices from $500 for the Select package to $651 a month for Select Plus package (for a company with 25 employees). That ends up costing about $20 per month per employee, which is in the same range as Udemy or GP Strategies.

| | Select | Select Plus | Unique |
| --- | --- | --- | --- |
| Price | $500/month | $651/month | Call for pricing. Requires a setup session. |
| Users | 25 | 25 | Varies |
| Built-in Course Content | 300 courses included | 300 courses plus 100 leadership videos and books included | Depends on how many and what kind of courses chosen and lets you add your own course content |
Skillsoft Features
Skillsoft was designed as a training content provider and provides both the courses and the LMS system to host and track them on. It offers several catalogs and users can choose a set of courses from one or more catalogs, such as compliance courses, or leadership topics.
Skillsoft also makes courseware available through a mobile app, such as on an employee's iPad as shown below.
Skillsoft Courseware
Even though Skillsoft doesn't have 65,000 courses like Udemy, the courses it does have are designed for business and corporate learners and cover the range of topics any small business might need. Catalogs are grouped into similar types of courses:
Business collection: strategy, finance, HR, sales and marketing
Desktop software: Adobe, MAC, MS Office, Google, Skype
Environmental safety and health training courses
Legal and federal compliance courses
IT: software, Internet, web, ERP, networking, operating systems and servers courses
Learning collections: project management and Microsoft Office
Other Recommended Providers Like Skillsoft
Skillsoft is very much is a class all its own. It has a best in class LMS (Skillport) as well high-quality course content. We recommend Kineo and SkillPath as other vendors with courseware similar to Skillsoft. Kineo provides courseware through its LMS much like Skillsoft, but SkillPath doesn't have that LMS feature. Most training vendors offer courses or an LMS, not both like Skillsoft.
Customer Support
Skillsoft provides support online 24/7, and it also has website chat, so either the training administrator, such as a manager, or the employees themselves can get help. Depending on the courses you purchase, you may also receive a dedicated LMS administrator to support your account during standard business hours.
What's Missing From Skillsoft
Skillsoft, like GP Strategies, doesn't sell courses one-off the way Udemy and New Horizons do, so you'll want to consider your entire organizational training needs before investing in Skillsoft's training platform. You also need to contact the provider directly for pricing as it's based on the package of courses you want.
Best Training Provider for Sales Training: Sandler Training

We recommend Sandler Training as the best training provider for businesses that want solid sales development. In addition to online courses, books, audio programs and motivational tools, it offers four levels of sales certification. It provides a train-the-trainer method that allows your sales leader to attend training, become certified and then cascade that sales training to your team.
Other training providers offer sales and sales management courses but, with Sandler, that's its sole focus. Sandler is a franchised sales training organization with 250 worldwide locations so that you can find a sales trainer near your business. You and your staff can also choose online courses like the ones shown below:
Sandler Training Pricing
Online courses on Sandler are priced individually and run between $47 and $249 per course. However, the real value of Sandler Training is having onsite sales training customized to your industry, using your CRM software and tailored to your sales funnel. To get a quote for customized training, you'll want to contact the Sandler Training location nearest your business.
Sandler Training Features
In addition to sales training, tools and support, Sandler Training offers an annual sales and marketing conference for sales leaders to attend, network with and learn from other sales professionals. Because Sandler is a franchise sales training organization, the training and tools you receive will be fairly consistent as well as proven worldwide.
Sandler Training Courseware
Sandler Training courseware is based on its proprietary training model, but it customizes it to your business, including looking at your industry, company size, client base and revenue goals. It provides training on all aspects of the sales cycle, marketing, communication, sales metrics, business planning and customer service, for example.
It also provides industry-specific sales training to support professional service providers like accountants, medical professionals and attorneys to develop and grow their business.
Other Recommended Providers Like Sandler Training
There are a number of good-quality sales training providers, both public and private, as well as those that offer online training options. We showcase 20 examples in our article on sales training programs as well as provide a listing of the top sales training videos.
Customer Support
Sandler Training customer support is Monday through Friday based on the office hours of the certified Sandler Training location you work with. The offices are typically open 8 a.m. to 5 p.m. in your time zone.
What's Missing From Sandler Training
Sandler Training provides certified sales trainers, but it isn't going to have an LMS like the companies that provide training on multiple topics. Its online catalog of courses is fairly small. This provider is more classroom and on-site based in its approach. In addition, you need to contact the provider to share your sales goals in order for it to provide you with a training proposal that fits your business.
The Bottom Line
While FitSmallBusiness is not a training provider, our free small business articles are educational. We also provide free webinars and how-to guides on topics like accounting, QuickBooks, payroll, hiring or rolling over your 401k to start a business.
However, when those aren't enough, we hope one of the training providers described above will meet your needs for employee training and development.