Hiring a Line Cook: Job Description Templates + Tips & FAQs
This article is part of a larger series on Hiring.
A line cook arranges a single kitchen workstation and prepares dishes from that station during restaurant service. When hiring a line cook, you must create a clear line cook job description template tailored to your particular restaurant type and the workstation the cook will manage. To help you out, we've provided downloadable job description templates, an overview of how to create your own, and some tips to find the best candidate.
3 Free Line Cook Job Description Templates
If you need to hire a line cook quickly, use one of these three line cook job descriptions to write your job posting. We've included options for quick service, fast casual, and fine dining restaurants to help you get your post up quickly. To write your own job description from scratch, read on for more tips below the template downloads.
Quick service is the fastest-growing restaurant industry sector, and the competition for cooks is very high. A line cook at a quick service restaurant usually operates like a short-order cook, handling several orders at a time. An ideal worker for this role is fast and good at working in tight spaces. If you need someone to wrangle multiple orders of burgers, Eggs Benedict, or crepes, this is the template for you.
A full-service casual restaurant kitchen includes some of the challenges of both quick service and fine dining. A line cook in this type of restaurant needs the speed and flexibility of a quick service cook, combined with the high-polish attention to detail expected in fine dining. A desire to work through multiple stations is also useful in a full-service setting.
This template is ideal for kitchens with a few stations—salads, grill, and sauté, for example—but don't staff a full brigade of chefs.
Line cooks in fine dining restaurants are typically looking for a challenging kitchen that will help them grow their skillset. Restaurants looking for this type of talent should show off the credentials of their head chef or their menu offerings. The ability to work under the mentorship of a respected member of the culinary community will draw in the best applicants.
Fine dining restaurants usually have the greatest number of possible kitchen stations, plus room for a floating line cook that cross-trains to fill in on every station when needed.
If your restaurant uses HR software, then you may already have a great tool for creating a line cook job description. For example, besides integrating with POS systems to help create, communicate, and enforce staff schedules, employee scheduling software Homebase also offers editable job descriptions that post directly from the app to job listing websites.
How to Write Line Cook Job Descriptions
There are some common points that all job descriptions should hit, regardless of your restaurant style. A strong job description should:
Give a brief overview of the restaurant.
Clearly outline the daily tasks the cook will perform.
List minimum professional requirements for the job.
Describe where this position fits within the overall restaurant operation.
Summarize company benefits.
Your restaurant overview section should only be a couple of sentences that describe your style of service, cuisine, and brand identity. This is a good place to list the short version of your restaurant's vision (if you have one), mention any awards your restaurant has won, or showcase the mentorship possibilities that your kitchen team can offer.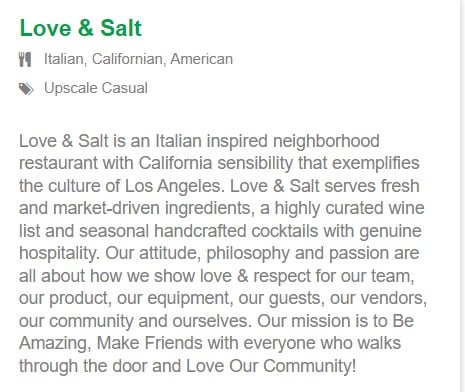 ---

---
---
This is the meat of the job description. If your kitchen has multiple stations, your job description should clarify what specific station this line cook will work. Will this cook handle all the fried items on the menu, all the grilled items, or all the cold things, like salads and desserts?

---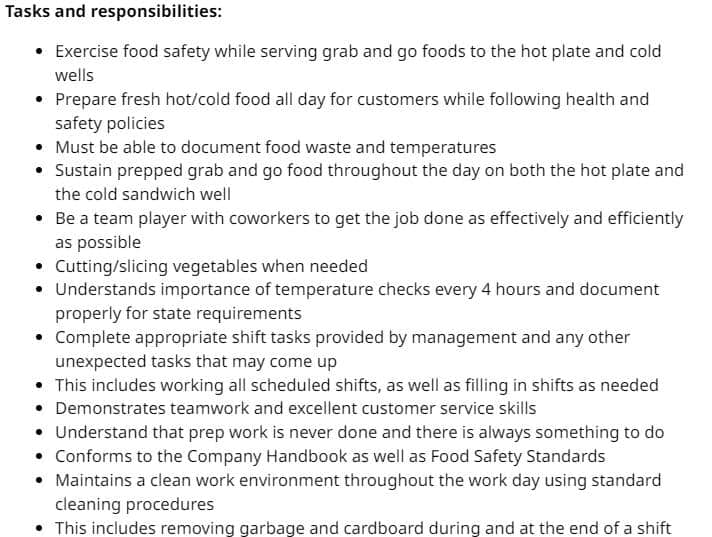 ---
Being descriptive here helps ensure that applicants responding to your job posting are interested in the job and have the skills necessary to perform it. If you need this line cook to assist with monthly inventory counts or make chicken stock once a week, then that should also be included.
Having a basic understanding of the "brigade de cuisine" (the hierarchy system in restaurants) will help restaurant owners ensure that they are hiring staff with the correct skill set. Most modern kitchens function with some form of the following brigade de cuisine:
Chef (chef de cuisine)
Sous chef
Line cook (also known as Chef de Partie)
Prep cook (also known as Commis Chef)
Kitchen porter
Dishwasher (aka Plongeur)
---
It is important to be realistic with your requirements. Quick service restaurants that sell hundreds of daily orders of their signature breakfast sandwich need a seasoned cook with a year or more experience cooking eggs in multiple styles. A casual place looking for a pantry cook to plate salads and slices of cake could train a recent culinary school graduate. Think about what experience your ideal candidate will have and put that in the job description.

---

---
Did you Know?
It's tempting to request multiple years of experience in a job posting as a way to decrease the amount of training a new hire will require. But make sure you need that experience; applicants with more experience can get bored in unchallenging positions and leave—forcing you to restart your recruiting and hiring process.
---
If you know that your kitchen needs extra hands for dinner services Tuesday through Saturday, as well as every major holiday, let applicants know upfront. If this grill cook position is expected to learn the saute' station as well, mention it.
If you did not list them in your restaurant description, this is also a great place to illustrate the perks of working in your kitchen. Things like the ability to learn a new cuisine, work with cutting-edge equipment, or gain a well-known chef as a mentor are all compelling to potential applicants.
Did You Know?
Most line cooks do not remain line cooks as the final stop of their career. There is an expectation that working as a line cook is a step along the spectrum of professional development. A restaurant owner should expect to hire new line cooks at least every two years.
---
The US Bureau of Labor Statistics predicts that the occupation of restaurant cooks will grow by 26% from 2020 to 2030 as the industry recovers from the effects of the COVID-19 pandemic. This is a much faster average growth rate than the general job market, which means that competition for strong line cook applicants will be stiff.
Your summary of benefits can be as simple as listing the job's salary range and health benefits. But savvy restaurant owners can compete for the best talent by:
Promoting their positive work environment
Mentioning comprehensive training programs
Offering health insurance and commuter discounts
Offering perks like family meals and dining discounts
---
Tips for Hiring a Line Cook
You'll attract the best line cook candidates by showcasing that your kitchen team actively works to help your line cooks develop new skills. This can include cross-training on a new station when there are lulls in service or providing training in placing orders, receiving deliveries, performing inventory, or team leadership skills. Make sure you convey these opportunities in your job description and throughout the hiring process.
Here are some other tips for hiring a line cook:
Look for passion: Passionate cooks are constantly learning on their own time. An entry-level cook who is eager to learn may require more training than a cook with years of experience. If they are excited to be part of your team, however, a novice cook can bring positive energy into your kitchen.
Train the cook you need: Savvy restaurant owners look for people they can teach. Employees that receive comprehensive training are more likely to stay in their jobs longer than those who receive little or no training. According to a LinkedIn study, employees' top motivators for learning on the job include: (1) it helps them stay up-to-date in their field, (2) it's personalized specifically for their personal interests/career goals, and (3) it helps them to get a new job internally, get a promotion, or just reach their career goals.
Reach out to your community: The best cooks find jobs through former supervisors. Usually, this takes the form of a chef at one restaurant referring strong cooks that they know to another chef who is opening a new restaurant. Chef communities tend to be very close-knit, so if you are having trouble finding the cook you need, ask a chef you respect for a referral.
Offer a good wage: According to the US Bureau of Labor Statistics, the median pay for line cooks is $14 per hour. Restaurants in major markets and tourist destinations will pay $18 to $24 per hour for the best line cooks. If your restaurant offers an above-average wage, list it in your ad; it can make your job ad stand out.
Did you know?
Cooks are a tight-knit community. Maintaining positive relationships with your former employees allows you to reach out to them for referrals. On the flip side, however, if your kitchen team is experiencing high turnover because of a negative work environment, then word will quickly spread to potential applicants that your restaurant is a place to avoid.
Best Places to Post Line Cook Job Openings
Like most of the working public, restaurant workers check job posting sites, like Indeed or ZipRecruiter. Candidates in the culinary field, however, may check industry-specific places first. Food workers also tend to congregate on food-showcasing social media platforms like Instagram and TikTok. By using these platforms, you're sure to find employees you'll love in no time.
Some good places to advertise your line cook job are:
Culinary Agents: Pay-as-you-go posts run $49 per placement, but if you have several openings, they have a monthly subscription that's $100 per month for four job postings. This site also has an "I want to work here" feature that allows applicants to find your restaurant when you do not have any openings.
Poached Jobs: Single job posts that last 30 days are $59 each, and if you're looking to just fill individual shifts, the cost is $39 monthly per job post, plus the position's hourly rate. Poached Jobs also cross-posts your listing with Indeed, Glassdoor, and ZipRecruiter, and includes other features, like an interview scheduler.
Local culinary school job boards: Culinary schools are eager to help their graduates find work. If your restaurant is located near a culinary school, reach out to the career services department.
Social media: More than just about any industry, cooks are on social media. Any cook who keeps up to date on culinary trends is on Instagram and TikTok. See our guide to social media recruiting to learn how to leverage social media to find the best candidates.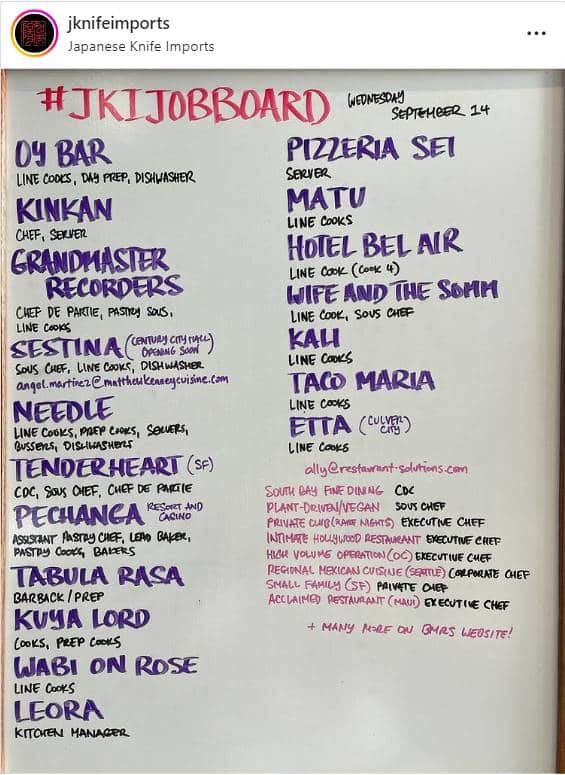 Tools for Hiring Line Cooks
There have never been more tools available to help restaurant owners hire hourly staff like line cooks. A new type of hiring tool has been rapidly advancing in the hospitality industry: hiring apps that focus on hourly workers.
These apps use a combination of artificial intelligence (AI) and on-call human resources teams to manage the tedious tasks—like texting applicants and scheduling in-person interviews—that restaurant owners and managers don't have time for. Some even let you include skills assessments or request video answers to screening questions.
If you lack the administrative bandwidth to manage applications and interviews, these tools can be a huge time saver. Here are some of the best ones:
Name

What It Does

Cost

Key Features

Manages job postings and collects applications in a central dashboard

$40–$80 per month, plus $6–$12 per employee

Central candidate dashboard where your management team can score candidates
Seamless onboarding support from the Gusto dashboard
Integrates with Clover, SpotOn and Upserve by Lightspeed POS systems
Part of the extensive Gusto HR and payroll management suite

Recruits and helps businesses retain hourly workers in the hospitality and retail industries

Custom quoted

Talent acquisition for restaurants and retail
Automated re-engagement with former employees and applicants
Staff retention surveys
People management software integrations

Hiring and employee management platform that integrates with popular job boards (for posting) and restaurant POS systems (for onboarding)

$99/month

Reaches community of 4 million hospitality workers
Talent acquisition
Applicant tracking
Onboarding
Scheduling
Fair Work Week compliance

AI-based job matching for restaurant staff with applicant vetting and interview scheduling

$259/month

Job posting on social media and popular job boards
AI-powered automated applicant texting
Applicant vetting
Interview scheduling

Job board and applicant tracking focused on Latinx food and beverage applicants

From $49.99 per job post

Reaches a community of 100% F&B workers
Skills assessments
Translation services
Interview coordination
Onboarding assistance
Line Cook Job Description Frequently Asked Questions (FAQs)
Understanding the basic functions of a line cook in the restaurant kitchen is a big piece of the job description puzzle, but there are some finer points to consider.
Line cooks prepare food on a specific workstation in a restaurant kitchen. The various cook stations in a restaurant kitchen are called—in the industry—"the line." So a line cook is a cook who works on "the line," as opposed to prep cooks who focus on off-line preparation. Line cooks are typically responsible for ensuring that their station is stocked with all the necessary ingredients to cook their assigned dishes before service begins.
They may be required to prepare items like sauces and garnishes themselves, or coordinate with prep cooks to stock their station. During service, line cooks cook all the dishes that are ordered from their station. They are frequently identified by the station where they work. So the line cook responsible for all grilled items is the "grill cook," and that cook would jump into action every time a steak or grilled item is ordered. At the end of a service, line cooks clean their station. Throughout their shift, line cooks ensure that all food safety standards are followed.
---
According to the US Bureau of Labor Statistics (BLS), the median pay for cooks is $14 per hour, with a median annual income of $29,120. Half of the individuals employed as cooks in the US are paid more; half earn less. In a competitive market like New York City, Chicago, or Los Angeles, restaurant owners should budget between $40,000–$60,000 annually for a full-time line cook. Keep in mind, however, that payroll taxes, insurance, overtime, bonuses, and benefits are not included in that number.
But these figures are only half the story. BLS figures come from the previous year's wage and tax information. In the midst of a staffing shortage—like the one currently plaguing the restaurant industry—you'll also want to consider what competitors are offering in current job postings. At the moment, it is not unusual to see line cook jobs posted for $20–$24 per hour, especially in busy tourist locations.
---
Line cooks need restaurant experience. A culinary degree is nice to have, but it is not necessary to find work as a cook. The restaurant kitchen is still a place where a person can learn most of everything that they need through on-the-job training. Many chefs, in fact, prefer to train cooks themselves. A line cook that already knows the five mother sauces is a great addition to a restaurant team, but a cook who is eager to learn, learns quickly, and shows up on time when needed is priceless.
---
A stage (rhymes with "dodge") is an opportunity to appear as a guest cook in a restaurant kitchen. In a typical stage, a cook who wants to gain experience will ask to work for free for a range of time, from a single service to a couple of weeks. This allows the cook to learn from more senior chefs as well as show their skills to a chef they hope to work with. Some restaurants also use stages as a working interview. Stages are popular in Europe, but can be legally tricky in the US.
Restaurant owners allowing stages should be sure that staging cooks are covered by their insurance policies. Should a staging chef get injured in your kitchen, you want to ensure that your workers' comp or general liability policy will cover the injury.
Federal labor laws also ban working for free, so you need to create clear lines for stages that honor local laws and offer some form of compensation. This can be minimum hourly wage for the shift or course credit toward the cook's course work at a culinary school (similar to an internship). You cannot treat stages as free labor. If a staging cook displaces a paid employee, you could open yourself up to a labor violation.
---
Bottom Line
Line cooks are the power that runs a restaurant kitchen—and a good one will keep your restaurant running efficiently with a positive attitude. A well-written line cook job description will include the daily tasks the cook will be expected to perform and showcase the opportunities for growth that your restaurant offers. The templates and tips listed above are great tools to help you hire a strong line cook for any type of restaurant.