A LinkedIn profile establishes your credibility as a real estate professional and showcases your unique brand. Moreover, the best LinkedIn real estate agent profiles feature strategic, professional images and have attention-getting headlines. Plus, the profile's content effectively highlights the agent's professional expertise, speaks to the target audience, communicates social proof, and creates personal connections. Here are eight steps for creating a LinkedIn real estate agent profile page to build a strong brand and generate leads.
Read through our guide and use LinkedIn profile examples to learn how to construct the perfect LinkedIn real estate agent profile:
1. Upload a Professional Headshot
Clients like to work with people they trust, so the first impression of your LinkedIn profile must convey that you are a trustworthy and valuable real estate professional. Your headshot is likely the first impression you'll make, and so a simple, professional headshot for your profile photo is crucial. As a real estate agent, be strategic with your chosen headshot so it conveys confidence, a sense of trustworthiness, and a welcoming attitude.
The background of your photo should be free of distractions and lighting should complement your face. Your clothing should fit appropriately and reflect your professional personality. The image should also be high-resolution and professional, not grainy or blurry, and not a picture that doesn't reflect who you genuinely are as a real estate agent.
Take a look at the following LinkedIn headshot examples:
While both of these pictures are perfectly fine, the picture on the left is likely the better choice for a real estate profile picture. The background is naturally lit and interesting without being distracting. The agent's appearance is casual yet confident, and as many studies have shown, a smile conveys trustworthiness. The picture on the right does not solicit the same feelings and would not be as effective for a real estate agent's LinkedIn profile.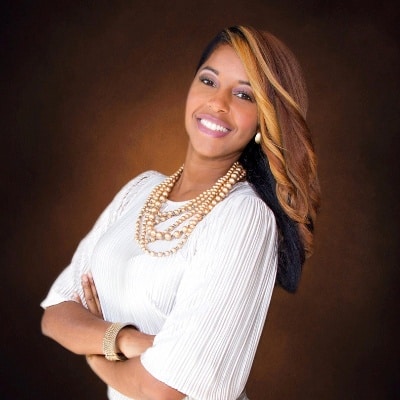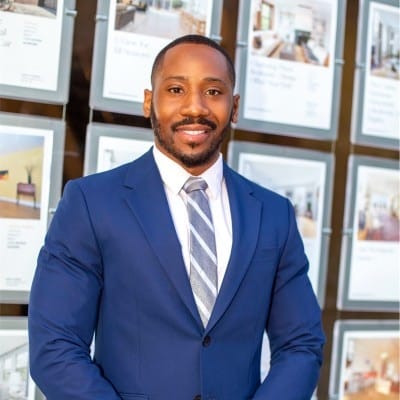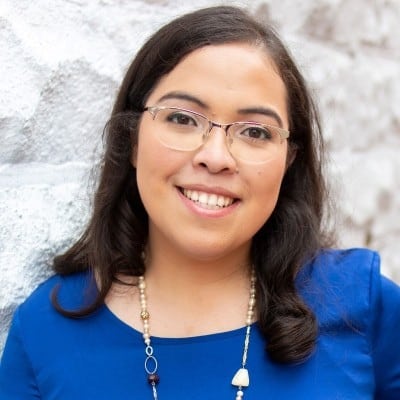 After you upload your headshot to LinkedIn as your profile photo, preview your profile to make sure it's cropped properly and to see how your profile looks to others. For more insider tips on taking the perfect headshot for LinkedIn, check out our in-depth guide to real estate agent headshots.
2. Add a Background Photo That Doesn't Distract
Once you upload your headshot as your profile photo on LinkedIn, choose a background photo that complements it, size it properly for LinkedIn, and upload it to your profile. Make sure it's not too busy and doesn't distract from the information on your LinkedIn profile. Ultimately, the photo you choose should enhance your professional lead generation efforts on LinkedIn by reflecting your personality, expertise, or real estate niche.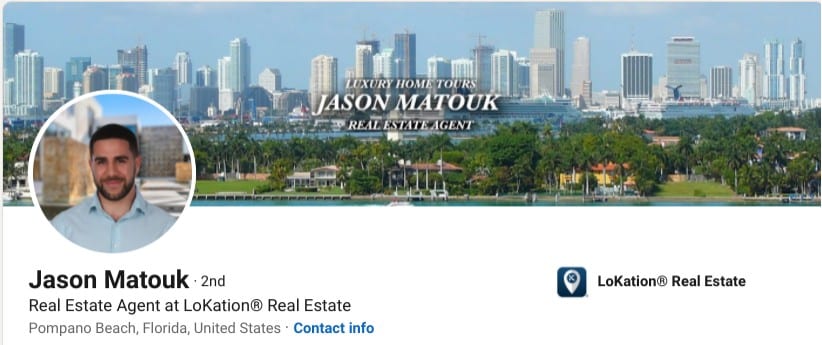 If you work in a metropolitan area, use a background photo showing common landmarks, such as a photo with the Empire State Building for real estate agents in New York City. If you specialize in winter vacation rentals, choose a background image with ski slopes or snowy landscapes. The possibilities are endless; but either way, choose a background photo for your LinkedIn profile that's attractive, relevant to your area or niche, and of high quality.
If you're stumped for ideas, try a website like Canva. Canva has premade artwork and images to personalize your LinkedIn profile and other social media platforms. They can also help with sizing to make sure your background photo is perfectly placed on your LinkedIn profile. You can try Canva for free by visiting their website today.
3. Add a Creative LinkedIn Profile Headline
After the headshot you use for your LinkedIn profile photo, your headline is the second-most important element of a real estate agent's LinkedIn profile. Your headline is a short, no-more-than 100-character description of your current role. It could be your job title, but you can (and probably should) get more creative to use your LinkedIn profile for real estate lead generation effectively.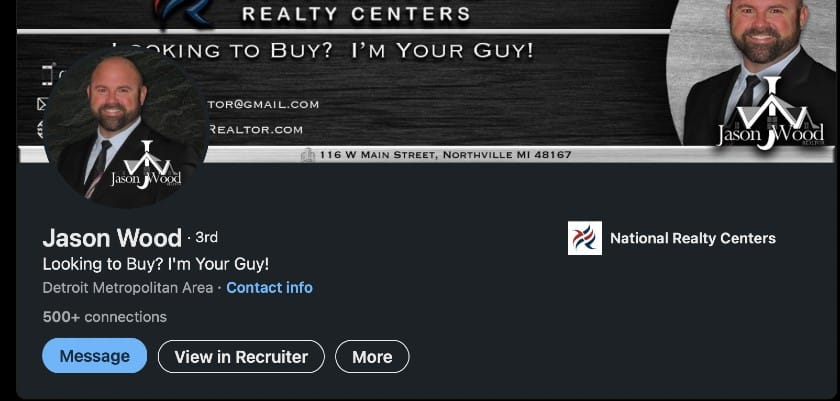 For example, if you work in Malibu selling waterfront homes and love surfing, write a profile headline like "Malibu Area Realtor Since 2006 | Surfer Since 1986." Alternatively, mention accomplishments or highlight your focus area with a headline like "Voted the Best Malibu Realtor by Malibu Magazine" or "Malibu Waterfront Homes Expert at Keller Williams."
You can also mention any real estate designations and certifications you've earned. For instance, if you are a certified relocation specialist, make it known with a headline like "Real Estate Agent Specializing in Relocation Services" or "Move to Your New Favorite City With a Certified Relocation Specialist." To help with lead generation, your headline should not only scream that you're in real estate but also reference special expertise or convey personality.
4. Write a Compelling Summary & Choose a URL
Next, you'll add a summary of your skills and experience to the "About" section of your LinkedIn real estate agent profile. The summary should include your approach to real estate, the value you promise to bring to your clients whether they are buying or selling a home, details about your brokerage, and personal details that give clients an insight into your personality and create connection.
You don't want this to be a textbook that tells your life story, so be concise and leave out the fluff—about five to seven sentences should be enough. Your goal for this content is to help generate buyer leads or potential seller leads so they contact you to use your services.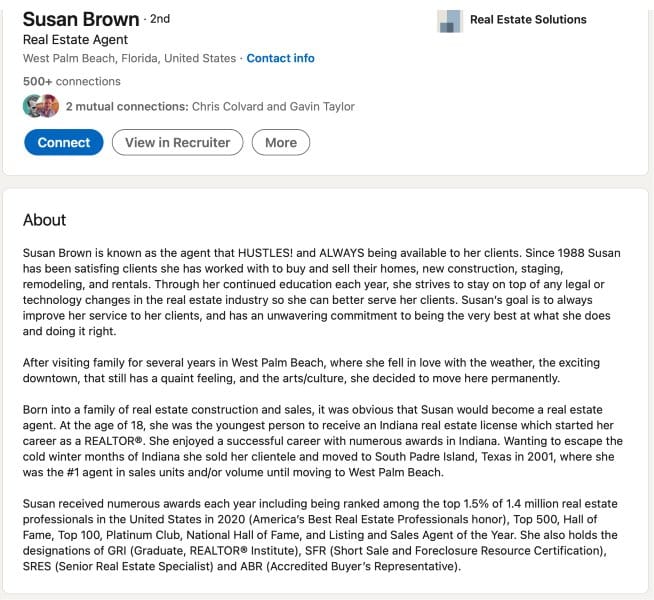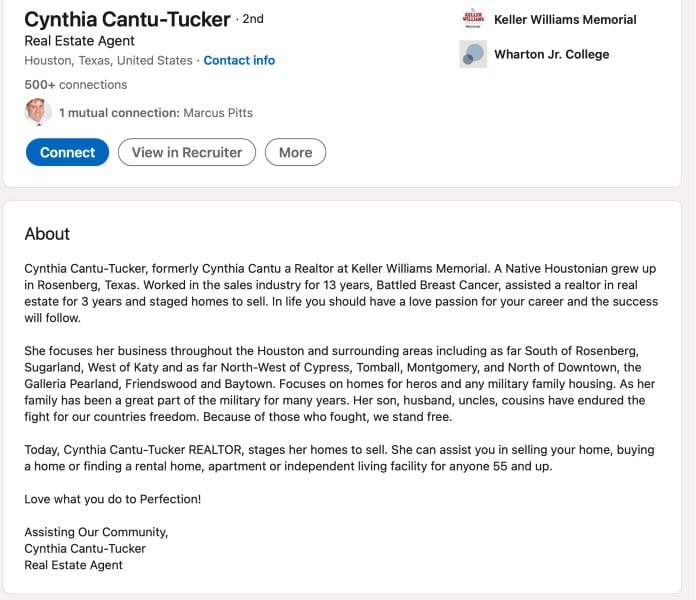 According to LinkedIn's Talent Blog, a recipe for a great profile summary has the following components:
Describe what makes you tick: Showing that you have a passion for real estate and helping people find the right home will get you noticed. Everyone wants to make money at their job. By focusing on your passion rather than money, you will stand out and demonstrate your value to potential clients.
Explain your present role: You're clearly a real estate agent, so now tell your audience what you do to help clients, how you solve their problems, and what makes you unique in your role as a real estate agent.
Frame your past: Real estate may have been your first career, so write about how you got started and how far you've come. If you haven't been in real estate for long, that's OK too. There are many job skills you gain in other industries that make you a great real estate agent. Include any relevant roles and skills—but remember that you have the freedom to leave out unrelated items too.
Highlight your successes: Highlight your biggest professional accomplishments. This doesn't necessarily have to be awards, but can be anything that has particular significance to you and helped mold you into the professional and successful real estate agent you are today.
Reveal your character: Throughout your summary, be authentic and display your personality. Write as you would normally speak and use a tone that shows confidence but is friendly and welcoming. You want people to like you as much as they like what they read about you.
Show life outside of work: LinkedIn (and social media generally) is about finding commonality and making connections. If you have specific interests, hobbies, charity organizations you work with, and so on, don't be afraid to mention those so others gain a sense of who you are outside of real estate.
Add rich media: If you feel that you can better explain yourself using a video, article, or image, you can include rich media in your profile.
LinkedIn also allows you to create a custom URL for your profile page, which makes your profile easier to find and easier for leads to remember. Using your name or your real estate company name is the obvious choice. However, you can also get creative, and you may need to if your name or brokerage name is very common or already taken.
5. Add Work Experience, Skills, Education & Accomplishments
Leads who are seriously vetting you will dig deep into your LinkedIn profile and review details about your real estate work experience, skills, education, and accomplishments. To provide a complete picture of your professional background and skills, complete those sections of your LinkedIn real estate agent profile in detail. Describe the unique ways you help your clients rather than a rote resume-like description of your job duties.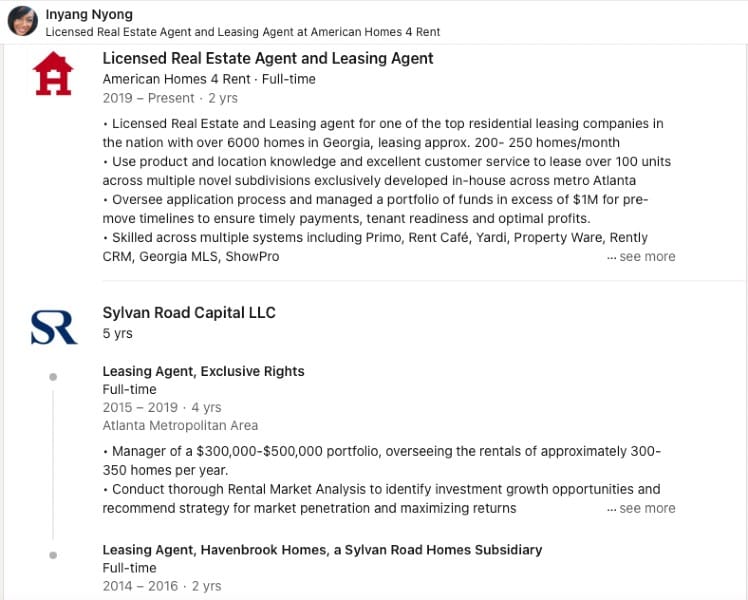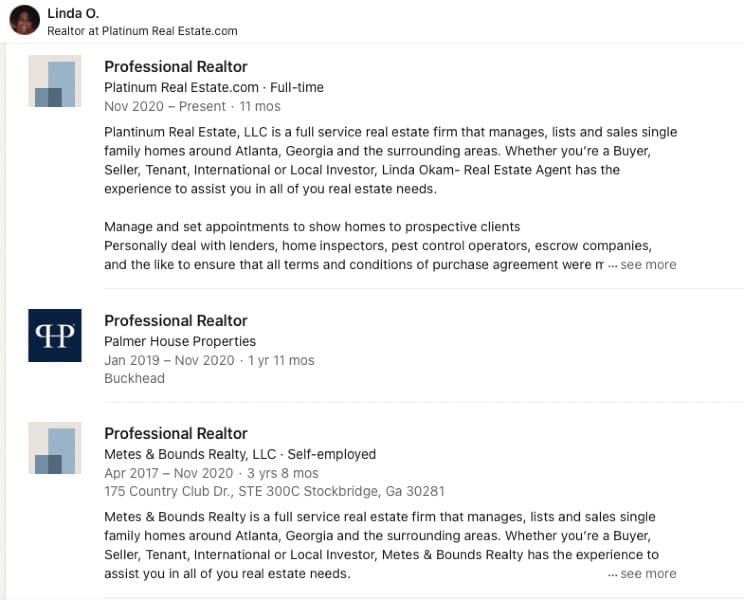 While being creative with your profile's written content and images can be a huge help for getting noticed on LinkedIn, remember to always keep the National Association of Realtors (NAR) rules and governmental regulations pertaining to real estate advertising in mind. For example, in New York State, the only official job title agents can use is "Licensed Real Estate Salesperson." There may also be restrictions on the use of team and brokerage names.
6. Reach Out for Recommendations & Skill Endorsements
Your LinkedIn profile includes a recommendations section where former clients and colleagues can write testimonials about your services and endorse you for specific skills. This is commonly referred to as "social proof," meaning that third parties are adding objective proof as to your value as a real estate professional.
To strengthen your profile, reach out to colleagues and former clients after connecting to ask for recommendations as social proof. Social proof from clients and respected professionals shows potential clients they can trust you and makes prospects more likely to reach out for your services.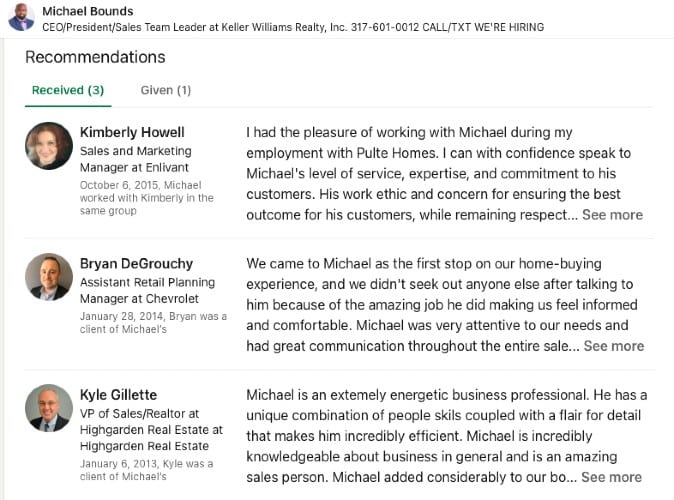 LinkedIn also lets your connections "endorse" you for skills you list on your profile or for other skills. Endorsements are most valuable when they're relevant to your area of specialty and come from high-profile connections or other professionals who excel in your field.
Pro tip: To build your LinkedIn recommendations and endorsements page, leave positive feedback for your colleagues, past clients, and other connections to encourage reciprocal endorsements.
7. Create & Post Eye-catching & Informative Content
Once you've published your real estate agent profile on LinkedIn, stay active on LinkedIn by posting content to build your network of followers in order to attract and convert leads. When leads vet your profile page, they are also able to see your "Activity," which includes all the content you post. Share posts on topics such as market advice, notable recent listings and closings, neighborhood news, real estate ads, and anything else you think may attract, educate, or entertain your potential leads.
Add LinkedIn postings to your social media marketing tasks on a regular basis. Alternatively, you can use a service like Artur'in to help with consistently adding new content (and credibility) to your LinkedIn feed. While reading real estate articles to grow your knowledge, repost them to your feed, or create your own content with templates. You can even post videos and infographics to your LinkedIn page.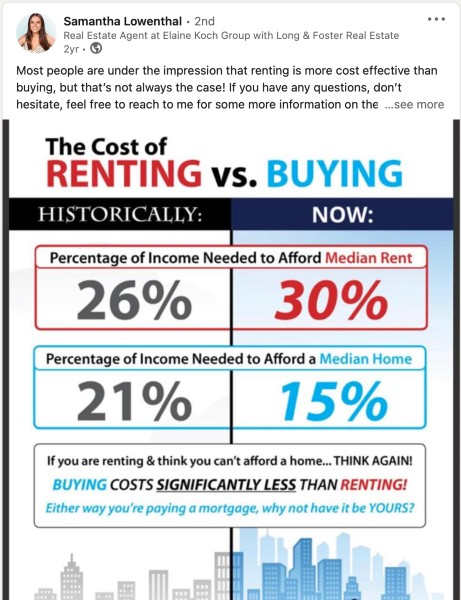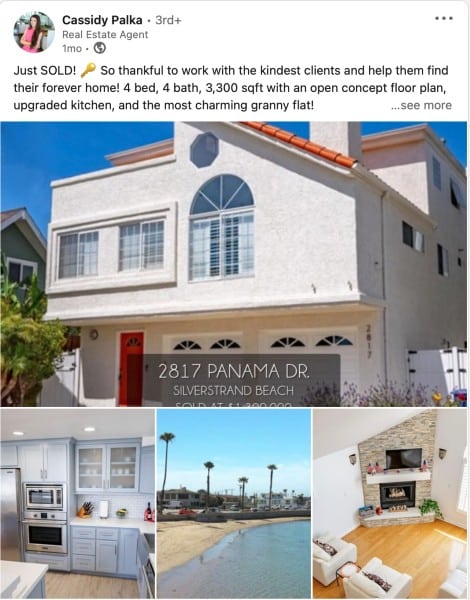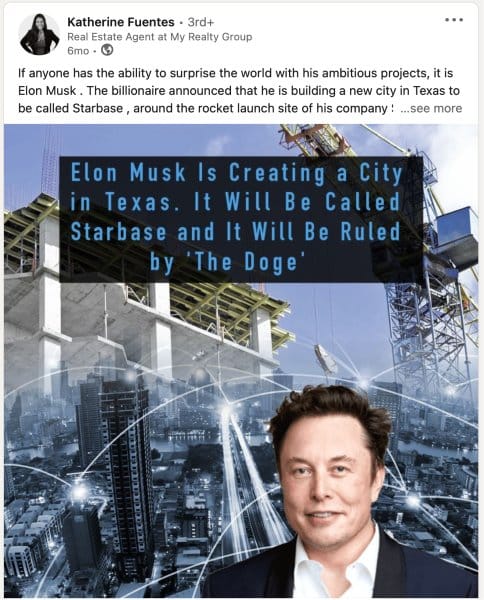 Not only is LinkedIn content a great way to engage current and future clients, but you can also use the same content as inspiration for articles that boost the search engine optimization (SEO) value of your personal website or blog. What's more, your content can also link to your internet data exchange (IDX) website and real estate social media marketing pages to expand your reach online.
If you're not sure what to add to your LinkedIn page, a company like Fiverr can help. Fiverr's platform gathers freelancers in one place so you can hire professional designers and marketers to create content for you. Many freelancers on Fiverr specialize in creating LinkedIn real estate agent profiles and search-optimized content for optimal lead generation and marketing engagement.
8. Link to Your Website & Real Estate Landing Pages
One of the best ways to capture leads directly from LinkedIn is with your website and real estate landing pages. After you create your LinkedIn real estate agent profile, create (or connect to) your website and to real estate landing pages that solicit lead contact information from your target audience.
You can even create multiple real estate landing pages to target different audiences of buyers, renters, or sellers. You can post the links to your website and landing page directly into your feed or include it in your experience section. This enables you to direct LinkedIn leads to your lead capture forms.
To build a custom website and real estate landing pages, take a look at Placester, Real Geeks, or Bold Leads. Real Geeks has a variety of easy-to-use landing pages with customizable lead capture forms. Choose among home valuation, market report, property, or other types of landing pages to make sure you are generating qualified leads. Real Geeks also includes a built-in client relationship manager (CRM) to organize and communicate with your leads.
To learn more about real estate websites and landing pages, take a look at these articles:
Bottom Line
Your real estate agent LinkedIn profile provides lead generation, brand recognition, and conversion value. Not only can your profile be found by new leads in searches on Google and LinkedIn, but by consistently sharing engaging posts and well-written content, it can also be used for lead nurturing of past and current clients. Make sure you take advantage and optimize each section for maximum reach and marketing benefits.