This guest article was written by Matt Smith, VP of Sales at StackCommerce.
According to VentureBeat LinkedIn currently has over 400M members and there is no better place to find leads online than LinkedIn. Instead of contacting leads directly through LinkedIn you are better off securing their email and then contacting them via the email medium.
When it comes to lead generation, building your own repeatable predictable system is truly the key. In order to predictably grow topline revenue you need to have a stable flow of high quality leads that fit your ideal customer profile. 90% of businesses struggle to grow sales consistently because they cannot find enough high quality leads. The reason they cannot find enough leads is because:
The sales team is too focused on closing and not focused on lead generation

The process around lead generation is poorly defined

No sales team role specialization

Lack of technology used in the lead generation process
The goal of this post is to introduce you to a new piece of lead generation technology called LeadFuze. LeadFuze was built specifically with LinkedIn list building in mind.
Before we dive into the details on this topic, we also suggest you check out Insightly, our recommended small business CRM. Visit Insightly to learn more.
LeadFuze is a web app and chrome extension/app that adds additional functionality to your desktop chrome web browsing experience. The app combines the data rich LinkedIn network with powerful contact information gathering technology to allow you to build ridiculously amazing targeted lead lists right off of LinkedIn.
Let's talk about a few ways you can leverage LeadFuze with LinkedIn.
#1 – Advanced Searches

If you have not really dived into LinkedIn's advanced search functionality you have been missing out. LinkedIn's granular search functionality allows you to find prospects based on a variety of criteria such as:
Keywords

First Name

Last Name

Title

Company

School

Location

Industry

Groups

Function

Company Size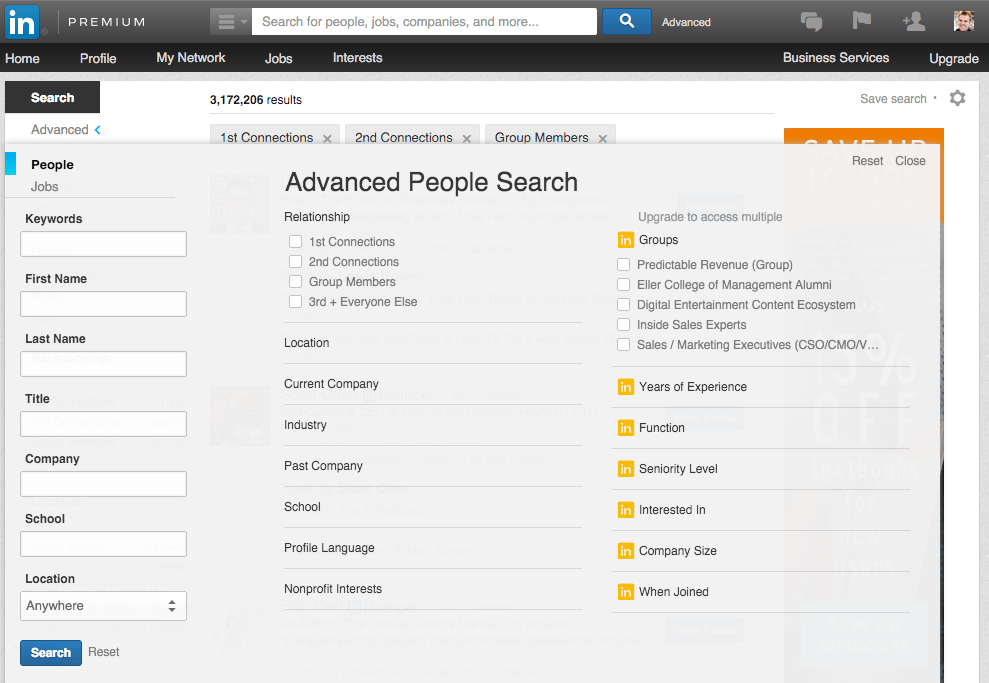 These pieces of search criteria can be combined to pinpoint the exact ideal customer profile you are looking for. In order to use all of LinkedIn's advanced search criteria you will have to upgrade to a paid LinkedIn plan. That said, you can get a ton of value from simply using the free advanced LinkedIn search functionality in combination with LeadFuze.
For example let's say I was looking to help professionals in the automotive industry with their  lead generation activities. I could run the advanced search using the below criteria:
Keywords = leads

Industry = Automotive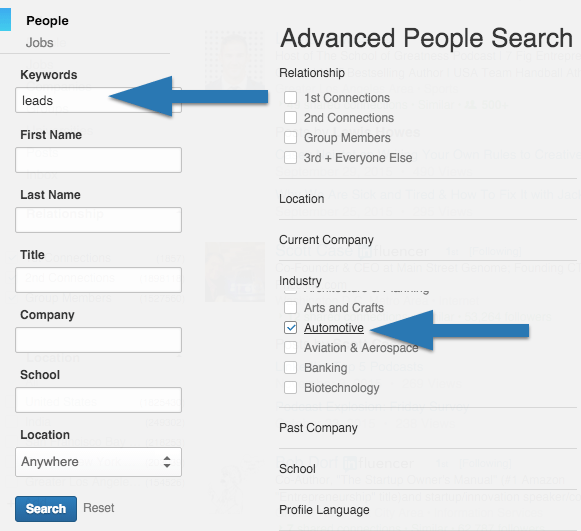 From this simple search I got 20,490 results. Assuming LeadFuze can find 50% of their emails I'm looking at a nice targeted 10,000+ contact lead list.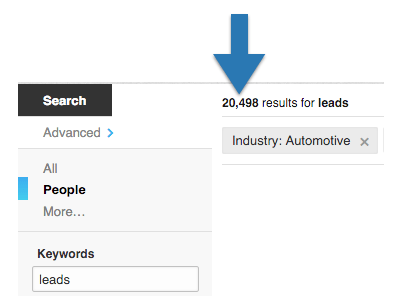 Now lets run another query with the criteria:
Keywords = "lead generation"

Industry = Automotive
This query generated 14,164 results.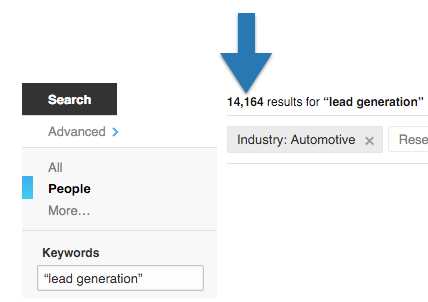 When using multiple words in your keyword search make sure to use quotes. In fact let's take that one step further by leveraging Boolean search queries within LinkedIn's advanced search functionality. Advanced search plus Boolean search is extremely powerful. To learn more about Boolean search within LinkedIn see this tip sheet from LinkedIn's internal Corporate Solutions team.
Once I have these search results on the page I login to LeadFuze and begin adding these prospects to my lead list. LeadFuze will grab the prospect's LinkedIn info then go scour a myriad of data sources to add the relevant contact info such as email and phone number.
At this point I can export this lead list to an Excel sheet and then import that sheet into my CRM of choice. Now I'm ready for some outbound sales activities!

FYI – We have a special offer for FitSmallBusiness readers. You can get 5000 LeadFuze credits here for only $99. 5000 LeadFuze credits means you get 5000 good emails to help jump start your lead generation efforts.
Now let's talk about using LinkedIn Groups to find prospects.
#2 – LinkedIn Groups

LinkedIn has groups for almost everything you can possibly image. In order to see the members of the group you need to actually be a member of that group. Once you are a member of the group simply select that group in your advanced search to view all the members.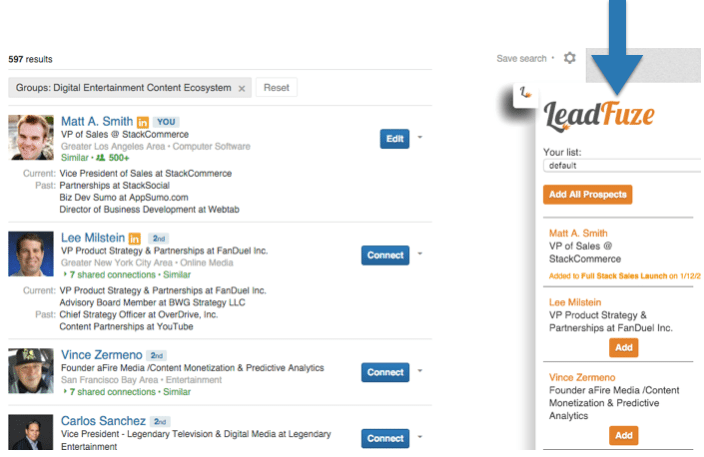 Once again from there let LeadFuze do the heavy lifting. Add your prospects to your LeadFuze list. Export to Excel then upload to your CRM.
#3 – Individual Profiles
In the above examples I used LeadFuze in combination with LinkedIn's advanced search to generate lead lists. But LeadFuze also works on the individual profile level.
When you are on the prospect's LinkedIn profile you can see the LeadFuze chrome extension on the right side of the page. All you have to do is click "Add" and that individual prospect will be added to your list.
LeadFuze is just one of a handful of apps that can be used to build lists of LinkedIn data. New lead generation apps are being launched everyday. We are on the front of a 5-10 year technology adoption cycle when it comes to sales tech so this is just the tip of the iceberg.
If you enjoyed this post please check out my new site Full Stack Sales: The Store for Sales Professionals and don't forget to grab the 5000 LeadFuze credits for $99
Want to manage 1000's of leads, save time, and get organized? Click Here to get our FREE CRM guide and find out how.
About the Author
Matt Smith is currently the VP of Sales at StackCommerce where he took the ecommerce startup from $0 to $30M in revenue in under 3 years. He is also the co-founder of Full Stack Sales: The Store for Sales Professionals where he has worked with major sales companies like Predictable Revenue and Pipedrive. Matt's specialty is based on the Predictable Revenue system, the converge of technology and the sales profession (sales hacking), and educating/training sales professionals. You can reach him at matt@fullstacksales.com