How to Generate Real Estate Leads on LinkedIn (+ Pro Tips)
Real estate agents who build their network, effectively target their audience, post content and engage with others, and use automated messaging and sales software find LinkedIn to be an excellent resource for generating organic and paid real estate leads. Find out what makes LinkedIn a great lead generation source for real estate agents and get pro tips for generating real estate leads on LinkedIn.
Pro tip: Before you can use LinkedIn to generate real estate leads, you need a LinkedIn profile. If you haven't created one yet or feel shaky about your profile, read our article titled How to Set Up Your Real Estate Agent Profile on LinkedIn (+ Examples) to guarantee your profile page is in optimal condition to employ LinkedIn lead generation strategies.
Now that you're ready to capitalize on your LinkedIn profile, here are effective ways to use LinkedIn to generate real estate leads with tips from the pros:
1. Build Your Network
Building your network of LinkedIn connections is key, especially when first joining and creating your real estate LinkedIn profile. By making connections, you expand your outreach, demonstrate credibility, and show your commitment to promoting your personal brand.
Your goal as a successful real estate agent on LinkedIn is to get as many local connections as possible as quickly as possible, so understanding how these connections work on LinkedIn is crucial. Before just trying to connect with anybody and everybody, it's necessary for you to understand the LinkedIn degrees of connection:
The three degrees of LinkedIn connections are:
1st degree: LinkedIn users already in your network, such as after you've sent a connection request to a co-worker and they have accepted.
2nd degree: LinkedIn users who belong to the networks of your first-degree connections. For example, if your co-worker is connected to a mortgage broker, they are a second degree connection to you. You can invite the broker to connect and if they accept, they become a first degree connection and everyone in their network is now also your second-degree connection.
3rd degree: LinkedIn users who are connected with your second-degree connections. In most cases, you can't directly invite third-degree connections to connect with you (but you can usually follow them). To engage with third-degree connections, you have to send them direct messages using "InMail," using credits through LinkedIn's premium options. Premium plans start at $29.99 per month and enable you to send three InMail messages monthly.
Allow LinkedIn to Connect With Email Contacts Automatically
Start by building your network of LinkedIn connections through your existing contact lists and your sphere of influence (SOI), paying particular attention to friends, family, colleagues, and past clients. These people already know and trust you, so they are more willing to connect with you on social networks.
While you can manually connect with individuals, when you first join LinkedIn and build out your profile, you'll be prompted to allow LinkedIn access to your email contact list and invite them to connect with you on LinkedIn. This may not be the most personal way to build your network, but it's quick, efficient, and automatic. To do this, you can take the following steps:
Click on "My Network" along the top bar
Click on "Connection" on the left sidebar
Enter your email address under "Add Personal Contacts" on the right side of the screen
Side note: if you have not added your email address yet, you will have to click on "More Options" to choose your provider and follow the instructions to upload contact files.
Once a contact accepts your invitation to connect, send them a quick thank-you message or re-introduce yourself if you haven't spoken in a while. You can also use this as an opportunity to offer your services or advice with no strings attached. If you already have an established relationship with a contact, consider asking them to endorse you for one of your skills or, even better, leave a recommendation.
Join Local LinkedIn Real Estate & Professional Groups
Similar to Facebook, LinkedIn has groups you can join to further extend your professional network. Groups are a great resource for networking events, industry insights, and more. Most LinkedIn groups require you to request to join and some only let you join based on your professional qualifications, so it's important to complete your LinkedIn profile fully and continue to make connections to build credibility.
You can search LinkedIn for groups by name, industry, or keywords. Simply type in a targeted search in the search bar, as shown above for "manhattan real estate." You will find groups to join for networking, tips and tricks, clubs, and referrals.
Once you join a group, you may also be able to connect with other people in the group (but outside of your first and second-degree connections) without using InMail credits for LinkedIn messages. Make the most out of LinkedIn by strategically choosing groups that are well-suited to your industry and market. This could be a group with IT professionals if you work primarily in tech-town or military wives for people who specialize in relocation.
Connect With Out-of-Town Agents to Build a Referral Network
Ralph Fox, Partner & Broker, Fox Marin Associates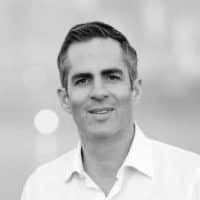 "When looking for leads on LinkedIn, it can be beneficial to network with other agents—not just potential clients. Specifically, I recommend connecting with similar agents in other cities. By making a strong impression on LinkedIn with an agent from Vancouver, I was at the top of her mind when one of her clients was looking to invest in Toronto. Her referral led to a fantastic sale and a new client relationship—all because I connected with her through LinkedIn and had a strong profile that gave her confidence in me."
Use LinkedIn's "People You May Know" Feature
LinkedIn's "People You May Know" feature recommends connections based on your profile and your current first-degree connections. It may recommend people who went to the same college, worked at the same company, are located in your city, or have a similar job title. This enables you to connect with other professionals more easily and expands your reach among people already in your market.
You can access this feature by clicking "My Network" and reviewing the "People You May Know" section. Feel free to send a request to connect to any of these people, making sure you write them a quick personal note introducing yourself to begin creating a professional relationship and avoid your request being perceived as spam.
Add a Public Profile Badge to Your Website & Email Signature
Another effective way to build your network is to create LinkedIn public profile badges to add to your professional website, email signature, and other digital documents. These personalized badges share your pertinent information with potential clients and give prospects a way to quickly visit and view your LinkedIn profile. LinkedIn automatically creates badge options and code to copy and paste on your website.
To set up a public profile badge, take the following steps:
Click on "View Profile" under your picture on the top right of the LinkedIn homepage
On the top right hand side, select "Edit public profile & URL"
Scroll down until you find "Public Profile Badge" on the right hand sidebar and click on "Create a Badge"
Follow the directions to create and then copy the code for your badge and paste it onto your website
2. Target Your Niche Clientele
A real estate niche is a specific audience, location, or property type a real estate agent targets to build business with particular client types. For example, you may focus on first-time buyers, multi-family sellers, historical homes, vacation rentals, or specialize in a certain location. LinkedIn can be used in addition to other marketing techniques to expand your outreach to specific client types and increase your lead generation.
Have a New Listing? Try Circle Prospecting With LinkedIn
Timothy McMullen, Realtor, Kinoko Real Estate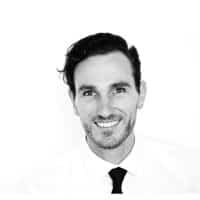 "LinkedIn is a powerful tool for generating leads for one very specific reason: You can geotarget your leads. LinkedIn's platform is built off the premise that everyone will geotag themselves to a specific location—an employer, building, or office. This is ideal for finding buyers for a property. Being in the downtown metropolis of San Francisco, when I have a listing, I follow a very simple protocol using LinkedIn to generate a wealth of potential buyers:
Create a walk-through video in the building
Target five companies located within a few blocks of the listing
Search for a list of my target buyer demographic within each company
Connect and direct message a listing video with a short introduction
"Following this procedure, I can generate between five and 10 genuine real estate conversations, which can lead to either a buyer for my listing or buyers for a future property."
Join groups to start conversations and post content to appeal directly to your niche real estate clients. You can create your own content and imagery or use Canva to help you build image-rich content. They have thousands of premade templates and images you can access to create content for your posts that appeal directly to your niche clientele. Check out the social media post templates below and try Canva for free today.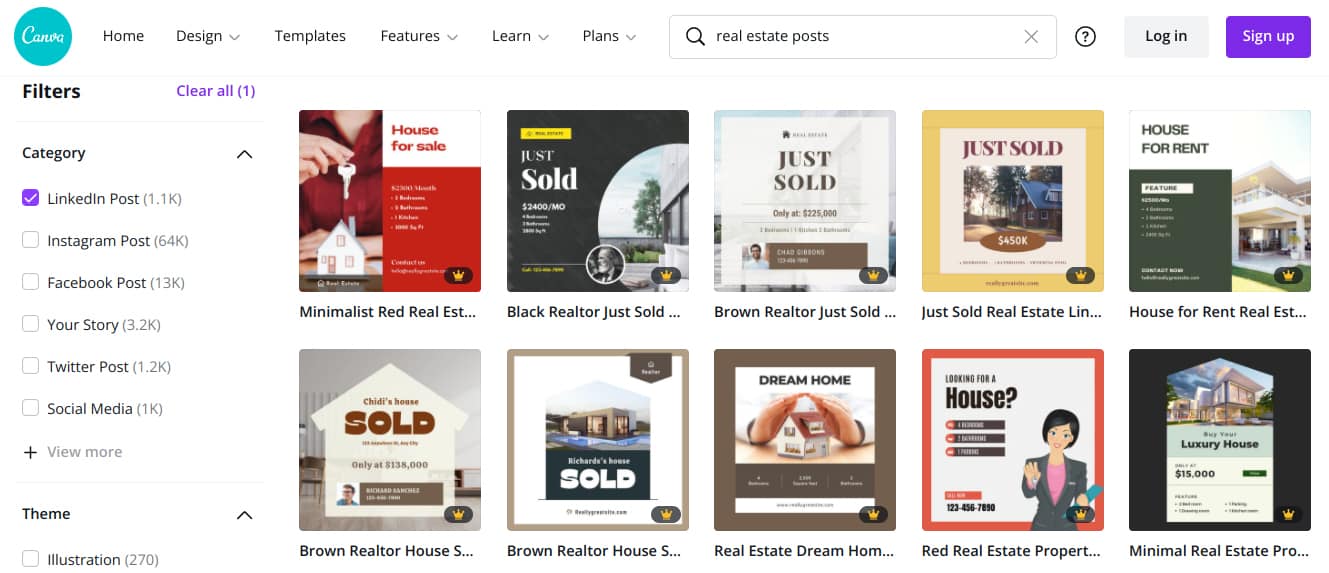 3. Actively Post Real Estate Content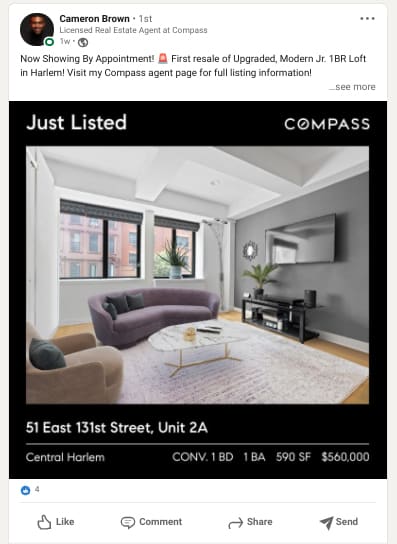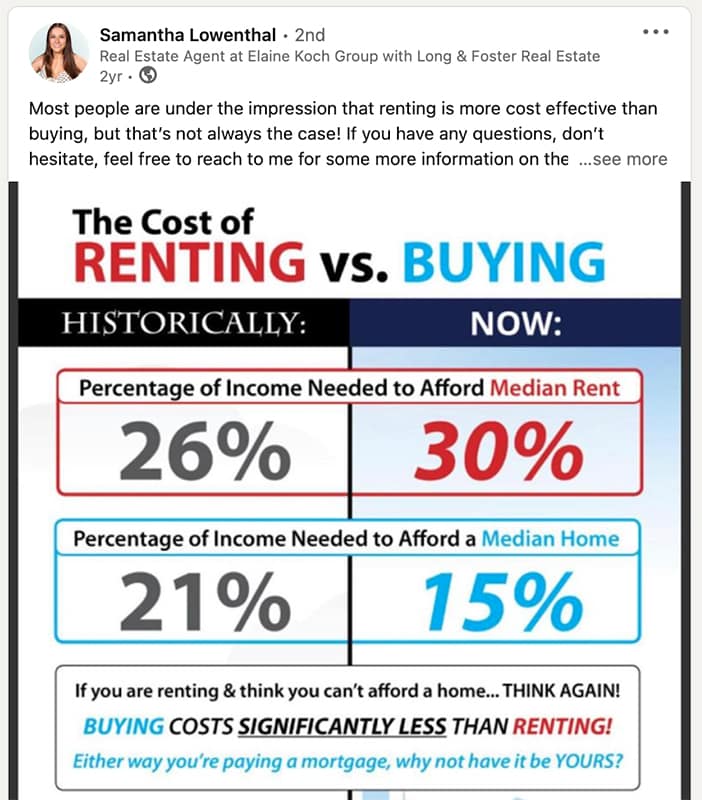 To generate real estate leads on LinkedIn, you maintain relevancy by posting consistently. Engaging posts that showcase your expertise prove your commitment to and passion for the real estate field. Post current listings, listings coming to the market soon, sold listings, or remarkable listings—but don't inundate your LinkedIn page with listing posts. Interweave posts on other topics like home decor, industry trends, local market reports, and client testimonials to differentiate your content and encourage discussion.
If you're at a creative loss for social media content, look to Artur'in for assistance. Artur'in is a social media marketing company that helps create and schedule social media posts so you can stay relevant and consistent with your content. They have premade templates as well as images you can customize to make your posts stand out from the crowd.
4. Comment on Posts to Boost Engagement
In addition to posting, LinkedIn gives you the option to like, share, and comment on other users' posts. While you can easily "like" or "love" posts, which is a step in the right direction, you will build more relationships and foster discussion by commenting on posts.
Consider this pro tip from digital marketing legend Gary Vaynerchuck, called the $1.80 strategy. Originally for Instagram, it's equally applicable for connection building and real estate lead generation on LinkedIn. Each day, leave your "two cents" on 90 different posts relevant to your brand and business, leaving a total of $1.80 worth of thoughts online every day. This will increase your engagement, build your network, and contribute to lead generation on LinkedIn.
Follow up With Prospects After They Post
Bill Corbett Jr., President, Corbett Public Relations, Inc.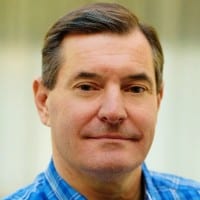 "Studies have shown that quick action creates results. A paper from Sandler Sales Training in partnership with LinkedIn found that prospects are 100% more likely to positively respond to a call or message if they are called or communicated with within five minutes of posting on LinkedIn. If you are having trouble getting to speak with a prospect, simply monitoring them and communicating with them right after they have posted gives you a much better opportunity to reach them on the phone."
5. Use Message Automation Services
Sending direct messages to your connections is another way to generate real estate leads on LinkedIn. With a LinkedIn premium account, you're allotted from 30 to 150 messages per month depending on your plan. While this is a decent number of messages, as you build your network and outreach plan, you may eventually need to expand your message count in order to generate more leads.
To save time and maximize your efforts, consider using a LinkedIn message automator like Cleverly, Octopus, or We-Connect. These platforms build targeted prospect lists based on the types of clients you want to connect with and then write personalized messages that encourage responses, send these messages to hundreds of connections every month, and direct these leads into your real estate pipeline.
Check out a breakdown of each of these top rated automated LinkedIn messaging services below:
Company

Pricing Packages (Monthly)

Stand Out Features

Silver: $297
Gold: $397
Platinum: $597

A/B testing
Data-driven strategy
Real-time customer support

Starter: $9.99
Pro: $14.99
Advanced: $21.99
Unlimited: $39.99

Free trial
Connect with Premium users
Automatic skill endorsement

1 User: $49
2 Users: $98
3 Users: $147
4 Users: $196
5 Users: $245

Annual plan includes two months free
Robust reporting
Focus on quality over quantity
Regardless of which LinkedIn message automation tool you use for real estate lead generation, make sure your client relationship manager (CRM) connects to it. Each of the platforms above allows integration with CRM software through Zapier, a product that enables integrations between web applications.
Notably, Octopus integrates seamlessly with HubSpot to organize and track your real estate leads. HubSpot has lead generation and nurturing features such as pipeline management, email templates, drip campaigns, SMS text marketing, and meeting scheduling. Plus, it also provides detailed reports to track leads and maximize your outreach.
6. Convert Using CRM Tools
Now that you've built your LinkedIn network and have leads pouring into your inbox, you need a way to organize them so you can capitalize on your marketing efforts and start converting these leads into clients. Similar to the CRM integrations available for automatic message services, you should purchase a real estate-friendly CRM that integrates directly with LinkedIn.
While there are many CRMs to choose from, Pipedrive is an excellent choice for direct connectivity to LinkedIn contacts. Using the free add-on app called LinkPort, when you import your contacts, it auto-populates contact details like name, contact information, and company. This enables you to use marketing features like email drip campaigns with targeted real estate ads and resources directly to leads.
7. Use LinkedIn Paid Advertising
Another method to generate real estate leads through LinkedIn is to use advertising directly on the platform.
LinkedIn ads are especially effective because you will be advertising specifically to a network of professionals who are looking to grow their own connections as well as refer you to others in their professional network. They can appear on the desktop, news feed, or message, which gives you the option of how you'd like to reach other professionals. In addition to format variety, LinkedIn allows you to target specific audiences based on demographic areas such as location, company, industry, and more, which will help you specify the clientele pool you wish you reach.
A few other notable features of LinkedIn ads are:
Pay-per-click text ads: Includes a small image, headline, and description. You only pay when someone clicks on your ad, so it is ideal for budget-conscious agents.
Retargeting: Allows advertisers to track a user's internet behavior through cookie-based technology. When an individual visits your site, you then can show them your LinkedIn ad to entice their engagement in your services.
Lead gen forms: This will generate pre-filled forms for your visitors using data collected from their profiles, which increases the chance that they'll submit forms to you since it will be less work to complete.
Utilizing LinkedIn ads, you can promote yourself, make referral connections with other real estate professionals, and engage prospective clients. If you'd like to take your LinkedIn ad experience to the next level, consider signing up for their Campaign Manager. This feature will allow for real-time reporting and analytics to gauge the effectiveness of your ads to make sure you are reaching the intended audience.
Why Agents Use LinkedIn for Real Estate Lead Generation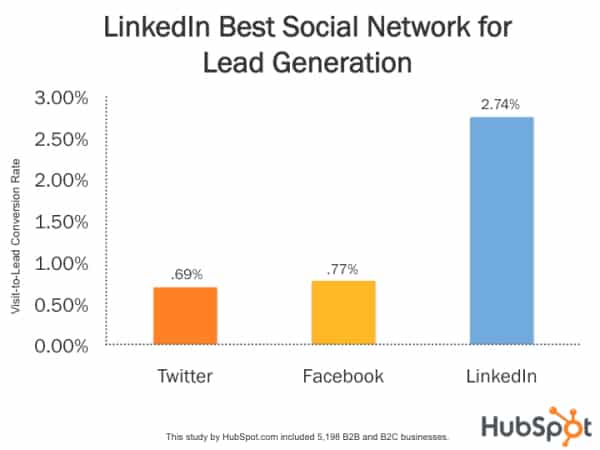 According to a study by HubSpot, LinkedIn's lead conversion rate is 277% better than Facebook or Twitter. Since LinkedIn is a business-centric social platform, it elicits a business mindset automatically for its users. Unlike other social platforms, LinkedIn users aren't there primarily for entertainment, but to discuss, read, and acknowledge other business-minded people instead.
Also, Easyagentpro.com reports that LinkedIn's demographics are ideal to find homebuyers and sellers. For example, 77% of LinkedIn users are 30 years old or older, nearly half earn over $75,000 a year, and half are college graduates. This is the perfect representation of those typically wanting to purchase, sell, or rent a home, and therefore, a great lead generation source for real estate agents.
Bottom Line
While there are many options for lead generation, you can use LinkedIn to generate real estate leads through both organic and paid methods. LinkedIn enables you to network for referrals and create relationships with individuals who need the assistance of a real estate professional. By building your network, appealing to your target audience, creating engagement on the platform, advertising, and leveraging lead generation software, you can create an effective LinkedIn real estate lead pipeline and convert more leads to clients.