Want to get a better ROI from your social media efforts? Why not focus your efforts on a platform designed for networking rather than platforms designed to look at funny cat pictures? What if I told you that as long as you use the right networking strategy, that LinkedIn is the best platform for real estate agents to generate leads and referrals for 2018?
Of course like any lead generation strategy, you need to learn the proper technique before you dive in. In this article, we'll teach you killer lead gen strategies using LinkedIn for real estate agents.
Why LinkedIn Is One of The Best Social Media Sites for Generating Buyer & Seller Leads in 2018
Going strictly by the numbers, LinkedIn still lags far behind the social media giants most Realtors rely on like Facebook and Twitter. For example, LinkedIn gets around 250 million unique visitors every month. While this may sound impressive, it's still a far cry from the 1.5 billion unique visitors that spend time on Facebook every month. It doesn't fare much better against rivals for your social media efforts like Twitter either. Twitter gets more than 400 million unique pages views per month. Not exactly encouraging.
Faced with statistics like these, most Realtors find it pretty hard to justify spending any of their social media outreach resources on LinkedIn. As you'll discover, this is a huge mistake. There are two primary reasons why LinkedIn is so amazing for Realtors:
1. LinkedIn is the Best Social Media Site for Lead Generation
According to a study from HubSpot, LinkedIn is 277% more effective for lead generation than Facebook and Twitter. While there may be a lot more people and a lot more activity on other social media sites, you're not using them to make new friends.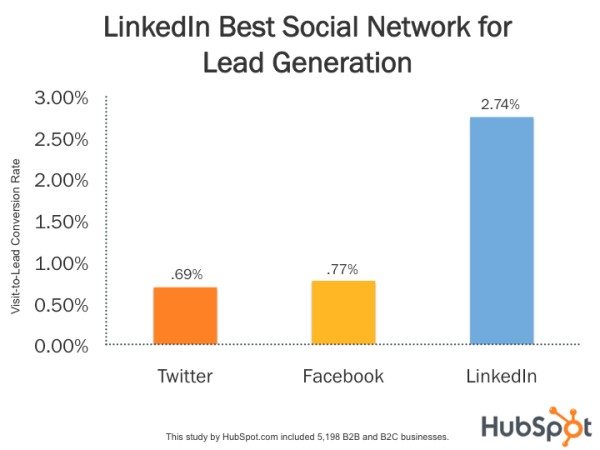 2. People Use LinkedIn to Network with, Learn from, and Vet Other Professionals
When it comes to marketing, a smaller more focused audience is much better than a larger more diffuse audience. This is why buying ads on Zillow through Zillow Premier Agent is so effective. While 100x as many people may see your ads on Facebook, almost every single person on Zillow is there to plan a real estate purchase or sale. That makes traffic to your content on Zillow much, much more effective than traffic on Facebook.
While most people don't think of LinkedIn as a place to look at listings or find a real estate agent, they generally associate LinkedIn as the place to network with other professionals and learn more about their industry. That makes LinkedIn the perfect place to engage leads when they are most interested in networking, and hopefully, more interested in learning about your services.
Of course since a big part of networking is vetting other professionals, if you have a great LinkedIn profile and content, they will naturally see you as more professional and hireable. After all, you wouldn't vet a potential lawyer on Instagram would you?
Using LinkedIn to Stay Top of Mind in Your Farm Area & Generate Leads
Since people come to LinkedIn to network, learn from, and vet other professionals, it's a great place to stay top of mind with people in your farm area when they're ready to get down to business.
Promotions, changing locations for work, or bringing on new employees are all times when professionals in your farm area may need your help as a Realtor. To reach them at the right time, you can produce timely content for LinkedIn (for example an explainer video about the Fall real estate market in your area ), reach out directly to hiring managers or moving employees, or buy targeted ads on LinkedIn to reach your leads.
Before we dig deep into the many strategies you can use to get more leads on LinkedIn, you need to understand the basics of how networking on LinkedIn actually works.
Basic LinkedIn Networking for Realtors: Degrees of Connection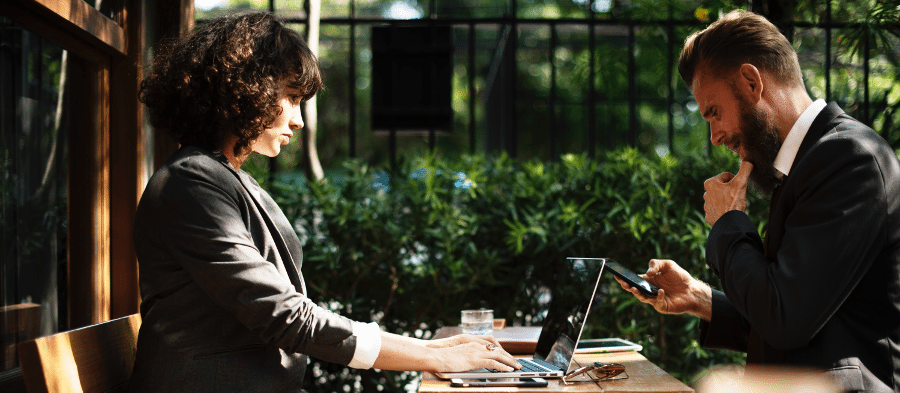 In order to use LinkedIn to generate real estate leads, you first need to understand the basic principles behind networking on the site. On LinkedIn, the people who join your network are called connections.
Unlike Facebook or Twitter where you can add or follow almost anyone, LinkedIn restricts your networking options dramatically based on your degree of connection. Since your goal as a Realtor on LinkedIn is to get as many local connections as possible, as quickly as possible, understanding how these connections work on LinkedIn is crucial.
There are three degrees of connection that matter on LinkedIn:
1. First Degree Connections
First degree connections are people that are already in your network. For example, if you have brand new LinkedIn account and a coworker invites you to connect with them, they will become a first degree connection. Likewise, if they accept your offer to connect, they will become a first degree connection.
With some limited exceptions which we'll discuss below, first and second degree connections are the only people you can directly reach out to on LinkedIn. In some cases, you won't even be able to see any details about people who are not first or second degree connections.
2. Second Degree Connections
Second degree connections are the people that are already in your first degree connections network. LinkedIn allows you to invite these people to your own network very easily by clicking on the "connect" button that shows up on their profile, or in a list of suggested connections.
For example, let's say your coworker has a mortgage broker you know in their network. Since they are a second degree connection, you can just click on connect in order to invite them to join your network. If they accept, everyone in their network is now your second degree connection.
3. Third Degree Connections
Third degree connections are the people in your second degree connections network. In most cases, you can't invite third degree connections to connect with you. Instead, you have to send them an "Inmail," which is a direct message through LinkedIn. Unfortunately, Inmail's are not free. You need to sign up for a premium account (starting at $24.95/month), in order to send 5 Inmail's per month.
Expert Tip: You Can Sometimes Invite Third Degree Connections to Connect for Free
The easiest way to add a third degree or higher connection to your network is to exchange an email with them. That means every single person in your email contacts list can be invited to join your LinkedIn network for free. You can also join LinkedIn groups which will sometimes allow you to connect to third degree and higher connections.
Advanced LinkedIn Networking for Real Estate Agents: 7 Tips from the Pros
1. Connect With Agents in Other Cities to Build a Referral Network
Ralph Fox, Partner/Broker, Fox Marin Associates
"When looking for leads on LinkedIn, it can be beneficial to network with other agents – not just potential clients. In specific, I recommend connecting with similar agents in other cities. By making a strong impression on LinkedIn with an agent from Vancouver, I was at the top of her mind when one of her clients was looking to invest in Toronto. Her referral led to a fantastic sale and a new client relationship – all because I connected with her through LinkedIn, and had a strong profile that gave her confidence in me."
2. Have a New Listing? Try Circle Prospecting With LinkedIn
Tim Mcmullen, San Francisco Realtor
"LinkedIn is a powerful tool for generating leads for one very specific reason; you can geo-target your leads. LinkedIn's platform is built off the premise that everyone will geo tag themselves to a specific location – an employer, a building, an office. This is ideal for finding buyers for property. Being in the downtown metropolis of San Francisco, we I have a listing I follow a very simple protocol using LinkedIn to generate a wealth of potential buyers:

1. Create a walk through video in the building: See #TourWithtim Episode here
2. Target 5 companies located within a few blocks of the listing
3. Search for a list of my target buyer demographic within each company
4. Connect and Direct message Listing Video with a short intro

Following this procedure, I can generate between 5-10 genuine real estate conversations, which can lead to either a buyer for my listing or buyers for future property."
3. Studies Show That You Are More Likely to Get a Response Right After Someone Posts on LinkedIn
Bill Corbett, Jr., President, Corbett Public Relations, Inc
"Studies have shown that quick action creates results. A paper from Sandler Sales Training in partnership with LinkedIn found that prospects are 100 percent more likely to positively respond to a call or message if they are called or communicated with within 5 minutes of posting on LinkedIn. If you are having trouble getting to speak with a prospect, by simply monitoring them and communicating with them right after they have posted will give you a much better opportunity to reach them on the phone."
4. Make good use of the Headline field which displays right below your name.
Shanahan Ramos, Founder, Your Social Edge
"Most people just put something like "REALTOR" or "Real Estate Agent." There are more than 2 million REALTORS in the United States – use this field to stand out with a more descriptive headline such as: "Savannah Real Estate Expert" or "Helping Chicago Home Buyers & Sellers since 2002" or "Historic Home REALTOR Specialist of Charleston." Be honest but be creative."
5. Try Using LinkedIn Pulse
Scott Bishop, CEO, Up and Social
"LinkedIn has a whole suite of products and advertising options for realtors to get more leads. But what really works is LinkedIn Pulse. LinkedIn Pulse is your personal blog and news feed built right into LinkedIn. If you're currently writing blogs on your website they should always be published on LinkedIn Pulse. These blogs need to provide value and encourage conversations. If you're blog just consists of a list of open houses, don't expect to see results. You want to become an expert in your city and town so write about it! The beauty of LinkedIn Pulse is once you hit publish all of your connections receive a notification."
6. Stay Ahead of New Large Businesses Coming to Your City
Jlyne Hanback, Plano Texas Realtor
"One of the things that LinkedIn enables me to do as a Realtor is to target specific areas geographically. When I first found out that Toyota was moving their headquarters to my community of Plano, TX I immediately used LinkedIn to do a search for current Toyota employees that were based in Torrance, CA. I sent connection requests to many of them with my real estate information as well as information about Plano, should they be moving with their company to the area. This served to be not only helpful to many of them, but also helped me build solid relationships with these Toyota employees which led to subsequent referrals — and business."
7. Write About Stories From Your Past and Lessons Learned
Taylor Kerby, Creative Director, Cave Social
"We've seen massive engagement with this strategy where professionals write short essays (about 300 words in length) detailing stories from their past and lessons they've learned from them, all with the goal of helping others.

By adopting this "You First" attitude along with a consistent posting strategy, professionals can grow their following, increase their credibility, and become an authority, which naturally turns into capturing more leads. Fair warning: this is not a silver bullet, it takes commitment and only works if you stay at it!"
Advanced LinkedIn Networking for Real Estate Agents: Creating Content
Another great way to build your network and convert connections to clients is to produce and publish useful real estate content on LinkedIn. You can write about market advice, notable recent closings, neighborhood news, or anything else that you think will educate or entertain your potential leads. You can even post videos and infographics to your LinkedIn page.
Setting up Your Real Estate LinkedIn Profile to Get More Leads
Now that you have a better idea of how your network and degrees of connection work on LinkedIn, the next step is to set up your profile to help generate buyer and seller leads.
You're going to need a LinkedIn account to do this, so if you don't already have a LinkedIn account, click here to set one up.
Create a Home Valuation Landing Page
One of the best ways to capture leads directly from LinkedIn is with a home evaluation landing page. BoldLeads offers over 40 different landing pages you can place on your website and link to from your LinkedIn profile and posts. BoldLeads also captures info from a visitor's media profile so you'll still get a partial lead if prospects only enter an address. Click here to build a home valuation landing page.
Upload a Professional Headshot
Since your headshot will probably be the first thing your leads see on your profile page, in search results, or when you invite them to connect, a great headshot is crucial. Make sure to use a professional headshot that shows your leads that you are confident, competent, and likable enough to connect with and eventually hire.
One of the best ways to make sure your headshot is LinkedIn worthy is to use Photofeeler. Photofeeler's puts your headshot in front of thousands of people who anonymously rank it for competence, likability, and influence. You can upload a few different versions of your headshot and use the one that users rank the best on LinkedIn.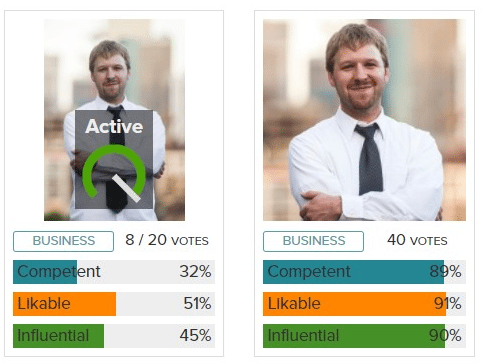 After you upload your headshot to LinkedIn, make sure to preview your profile to make sure it's cropped properly.
Need more insider tips on taking the perfect headshot for LinkedIn? Check out our in-depth guide on Realtor headshots.
Choose a Background Photo That Works With Your Headshot
Now that you have a headshot on LinkedIn, the next step is to choose a background photo that works with your headshot. While you don't necessarily have to choose a real estate related background photo like Phil Greely's above, it might help. Just make sure it's attractive, sied properly, professional, and looks good behind your headshot. Very busy patterns or pictures generally make bad background photos.
If you don't have a great picture ready to go, you can either download a background photo from a site like Linkedinbackground.com, or download a picture from a free stock image site like Unsplash.com. While Unsplash generally has much higher quality images, you may have to resize or crop the photo to fit your background. You can do this very easily using sites like picmonkey.com, or hire someone on Fiverr to crop a few photos you are considering.
Use Your Headline to Show Off Your Real Estate Mojo
After your headshot, your headline is your second most important element of your LinkedIn profile. Your headline on LinkedIn is a short (100 character) description of your current role. Generally speaking, your headline will be your job title, but you can and should get creative with it to attract more leads.
For example, instead of just putting something boring like "Realtor" you can write a headline that shows off your side projects, or gives your leads a better sense of your personal brand or even hobbies. For example, let's say you work in Malibu selling waterfront homes and love surfing. You could make a headline like, "Malibu Area Realtor Since 2006 | Surfer since 1986." Or you could mention accomplishments; "Voted the Best Malibu Realtor by Malibu Magazine." Or highlight your focus area "Malibu Waterfront Homes Expert at Keller Williams."
One great thing about headlines is that you can change them anytime you want. For example, here's Matterport VP of Global Marketing Linda Itskovitz's current headline:

Just make sure to keep NAR and state licensing disclosure regulations in mind when writing your headline or adding your job title to LinkedIn. If you're not sure, ask your managing broker, or reach out to your association for advice.
Write a Compelling Summary & URL
After you have a professional headshot, background, and headline, the next step is to write a compelling summary and choose a URL. For your summary, you should try to write a concise description of your approach to real estate. Since your goal here is to get leads to call or connect with you, briefly highlighting some career achievements can help as well.
Here's an example of a great Realtor LinkedIn summary written by Boston area Realtor Bill Gasset: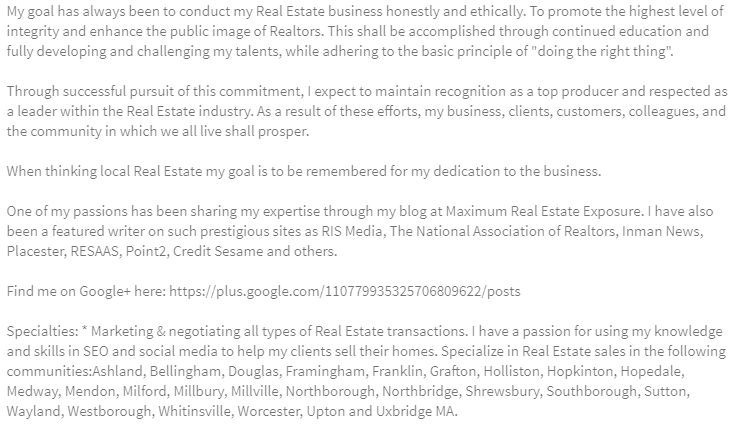 LinkedIn also allow you to create a custom URL to help make your profile easier to find, and easier for your leads to remember. Using your name or your real estate company name is an obvious choice here. However, you can always get creative as well if your name or company name is very common.
Fill in Your Work Experience, Skills, Education, & Accomplishments
When your leads are truly vetting you, they will generally dig deep into your profile and check out your work experience, skills, education and accomplishments. In order to give them a complete picture of your professional background and skills, make sure you fill these sections out completely. When describing your work experience, try to focus on how you helped your clients rather than a rote resume like description of your job duties.
While being creative with your job descriptions and summary can be a huge help on LinkedIn, remember to keep NAR and local regulations on advertising in mind. For example, in New York State, the only official job title agents can use is "Licensed Real Estate Salesperson." There are also restrictions on team and brokerage names.
Reach out to Colleagues and Former Clients for Recommendations & Skill Endorsements
Just like Zillow, LinkedIn now provides a recommendations section that allows former clients or colleagues to write up testimonials about your services. Reach out to colleagues and former clients after connecting to see if you can get recommendations from them.
LinkedIn also lets other people in your network "endorse" the skills you have on your profile. Generally speaking, this is something that colleagues and former clients can complete for you as well.
Building Your Network on LinkedIn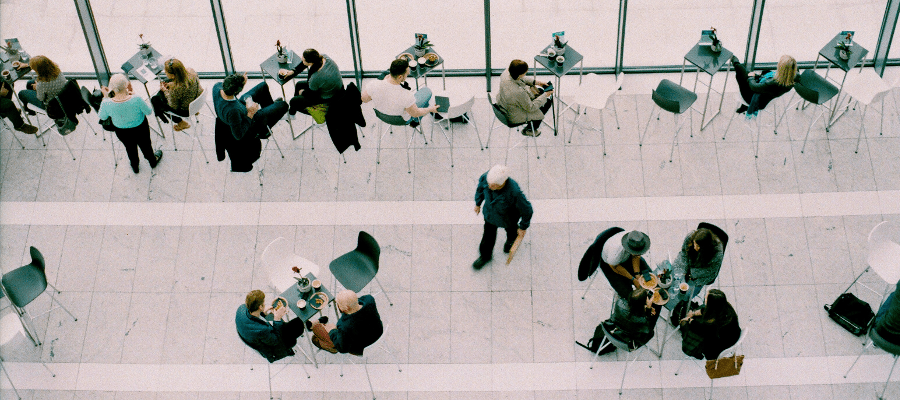 Now that you have your profile set up, the next step is to start building your network. Here are five strategies you can use as a Realtor to building your LinkedIn network:
1. Allow LinkedIn to Automatically Connect With Your Email Contacts
When you first join LinkedIn and build out your profile, you will be prompted to allow LinkedIn access to your contact list to invite them to connect with you on LinkedIn. While it may not be the most personal way to build our your network, it's quick, efficient, and automatic.
Once your contacts accept your invitation to connect from your contact list, send them a quick message to thank them for connecting, or re introduce yourself if you haven't spoken in a while. You can also use this as an opportunity to offer your services or advice with no strings attached. If you already have an established relationship with a contact, then consider asking them to endorse you for one of your skills, or better yet, leave a recommendation.
2. Use Clearbit Connect to See the LinkedIn Profile of Every Person Who Emails You Right in Gmail
If you're using Gmail as your email client, there's a great plugin called Clearbit Connect that pulls social media information including LinkedIn profiles, for anyone that you exchange emails with. From there you can quickly and easily connect with them on LinkedIn, or check out their other social media profiles.
There is another very similar plugin called Rapportive that even shows you if you're already connected, or gives you a connect button if you're not. The only issue is that Rapportive was recently acquired by LinkedIn so functionality can be limited. That said, LinkedIn may add more features to the plugin so it couldn't hurt to install it.
3. Join Local LinkedIn Real Estate or Professional Groups
Another great way to connect with people who are not second degree connections is to join a local real estate or professional group on LinkedIn. Once you join a group, you might be able to connect with people outside your network without using Inmail credits.
The type and number of groups that LinkedIn gives you the opportunity to join is based on your qualifications and network. Yet another reason why having a great LinkedIn profile optimized for real estate, and a large network is worth the effort!
You can also search for groups by putting local keywords into the search bar at the top of your LinkedIn homepage. For example, try top level searches for your city and see what kinds of groups show up.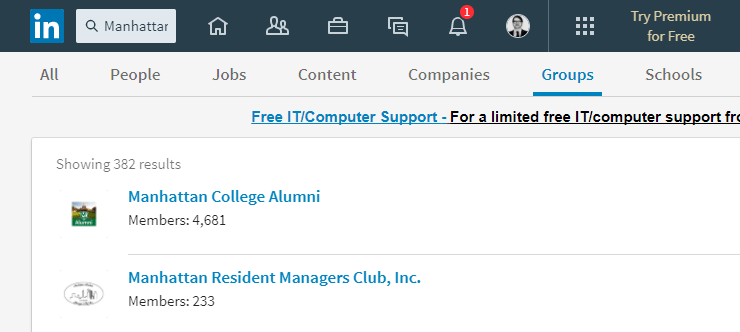 4. Use LinkedIn's "People You May Know" Feature
Another great way to build out your network is to use LinkedIn's "People You May Know" feature. By default, LinkedIn will show you a list of second degree connections you can add to your network. To use this feature, go to your LinkedIn homepage, click on "My Network" and start connecting with second degree connections in the "People You may Know" section.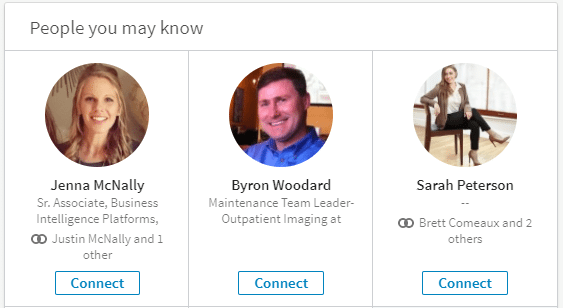 5. Add a Public Profile Badge to Your Website & Email Signature
Another great way to build up your network is to add LinkedIn public profile badges that you can add to your website, email signature and other documents. Here's how to set one up;
Click on "View Profile" under your picture on the top right of your LinkedIn homepage.
Next, click on "Update Your Public Profile Settings." Finally, click on "Your Public Profile Badge" and follow the instructions to build a profile badge for your website. Finally, copy the code for the badge you'd like to create and paste it onto your website.
The Bottom Line
LinkedIn can be an amazing lead source for Realtors. If you want to get more leads on LinkedIn, take the time to create a great Profile, and reach out to as many people as possible to build out your network. Once you have a large network, publish informative or entertaining articles and videos to turn your connections into clients.