LinkedIn is a professional networking and career development website that can be used by real estate professionals to make connections, establish their online identity, and generate business. By creating a captivating profile, posting real estate-related content, using paid advertising, and nurturing your online connections, using LinkedIn for real estate agents can provide steady brand recognition and a targeted online reach that yields real estate opportunities.
We've found eight ways real estate agents can use LinkedIn for real estate leads with both organic and paid strategies:
1. Build a Compelling Personal LinkedIn Real Estate Profile
A LinkedIn profile acts as a landing page for your personal brand. Agents who want to generate real estate leads should have a page that clearly identifies their profession through a professional headshot, headline, and profile summary. When people visit your page, they'll clearly understand what you do and your services. Agents should consistently update their profiles to ensure prospective clients have the most accurate information on where they work, some of their most recent projects, and their newest acquired skills.
A headshot is one of the first things people will see in LinkedIn search results, on search engine results, and when they land on your profile page. Many real estate agent LinkedIn profile examples display headshots that not only show their professionalism but also a bit of their personality to stand out from the rest of the competition. Unlike other social media pages, LinkedIn profiles should be created to build immediate trust and put your best foot forward with prospective clients on this professional platform.
Agents should make sure their photo is cropped enough to clearly see your face, as you'll want prospective clients to recognize you offline and through other real estate marketing efforts. Profile images should fit the LinkedIn image parameters of 400×400 pixels and should be high-quality photos. Agents should market themselves in their profile with as much detail as you would put into marketing your listings.
---
The professional headline sits just below your headshot. It consists of 120 characters of opportunity to share your marketing message, promote your services and brand, and share your expertise. By default, your headline will be populated by LinkedIn to show your current job title and employer. However, many people don't know that this can be changed manually to convey a deeper brand message to make your profile stand out among your colleagues and industry experts and drive connections.
Some of the best LinkedIn headlines will showcase your value proposition. It should catch the attention of people breezing through multiple profiles online and encourage them to stop and take a closer look at your page. It should be written to address your target market directly. If an agent specializes in representing buyers interested in luxury properties, their headline should address those buyers and establish credibility to represent them.
---
The profile summary section is located beneath your headshot and headline. It's an opportunity to describe yourself and your expertise in long-form, up to 2,000 characters. Successful real estate agents will use this area in LinkedIn for real estate marketing instead of using a generic biography to take up the space.
Showcase your personality, summarize your biggest achievements, or explain your career choices with some context. This section is meant to add strength to a first impression that may not be conveyed in your profile's experience or education sections.
---
When creating a LinkedIn profile, each user will get a profile Uniform Resource Locator (URL) "https://www.LinkedIn.com/in/" followed by your name and maybe some numbers. A LinkedIn URL should reflect your brand and can easily be your full name. However, if your name is long or uniquely spelled, then changing this URL can help others find your profile easier, allows others to share it easily, and can be used professionally for email signatures and marketing materials.
---
2. Create a Business Profile
If using LinkedIn for real estate agents, you should have a business profile and a personal profile to give credibility to the products or services offered. Business profiles or company pages are similar to personal profiles but highlight the businesses' expertise, services, employees, and accomplishments. This strategy will also increase additional exposure to your business because there is not only an additional landing page created but also additional tools provided to increase page following and engagement.
On a business profile, agents can further develop their brand's marketing messages and grow a business following, whereas, on a personal profile, you're limited to personal one-on-one connections through your network. For example, on a personal profile, only those connected to you in a 1st-, 2nd-, or 3rd-degree connection can see your profile or even invite you to connect, whereas in a business profile, anyone can choose to follow your business profile.
The addition of a business profile gives you access to lead conversion tools like adding a lead generation form to your page. The form allows visitors to leave their contact information on an auto-filled form that pulls in information. Agents can use these forms to collect contact information when hosting informational seminars or for those looking to learn more about your services. Additionally, businesses get analytics tools that allow them to see your page followers, unique visitors, post impressions, and clicks.
---
With a company page, there are many opportunities to engage with your page followers and your team to attract prospective clients. Engaging with your followers through LinkedIn Live Events can attract the right type of audience to promote your business.
These events are streamed online and provide opportunities to connect individually with attendees. Agents can collect leads from registration forms but also have the ability to promote the event to have a larger audience reach.
---
3. Increase Your LinkedIn Real Estate Professional Network
Once you've created your personal LinkedIn real estate profile, your next objective should be to create as many meaningful connections as possible on the networking site. Eighty percent of professionals say you can elevate your career through professional networking. However, collecting LinkedIn connections won't just result in success for your business. You have to make connections beneficial to your business.
On LinkedIn, connections are made when you or someone you invite to connect accepts the invitation. There are different levels of connections on LinkedIn. The degrees of connections on LinkedIn:
1st-degree: These are LinkedIn users who have accepted your invitation to connect, or you've accepted their invitation to connect. These users will have a 1st-degree icon next to their name in search results or on their profile. You can send direct messages to 1st-degree connections on LinkedIn.
2nd-degree: These users are people who are connected to your 1st-degree connections. They will have a 2nd-degree icon next to their name in search results or on their profile. Connect to these users using a connect button via their profile page or in search results.
3rd-degree: These are LinkedIn users connected to your 2nd-degree connections and have a 3rd-degree icon in search results or on their profile page. You are unable to connect to these users directly but have the ability to message them via InMail. You will often only see a reduced profile for 3rd-degree connections unless you have a premium LinkedIn account or share a LinkedIn group connection.
Followers: These are LinkedIn users who choose to follow your public updates that show up on their LinkedIn feed.
2nd- and 3rd-degree connections, along with followers, are opportunities to become your 1st-degree connections. To connect with 3rd-degree connections, find someone you have a mutual 2nd-degree connection with and connect with them to make the 3rd-degree connection a 2nd-degree connection. Then you can connect directly with the 2nd-degree connections.
4. Leverage Your Sphere Of Influence
Your sphere of influence (SOI) will be the most beneficial to your professional networking results. An SOI is a list of professionals you know both personally and professionally. They can provide you with business opportunities by sending a referral, helping market your services, or can give you direct contacts. Many times, people in your SOI will be family, friends, colleagues, past clients, or even your neighbors.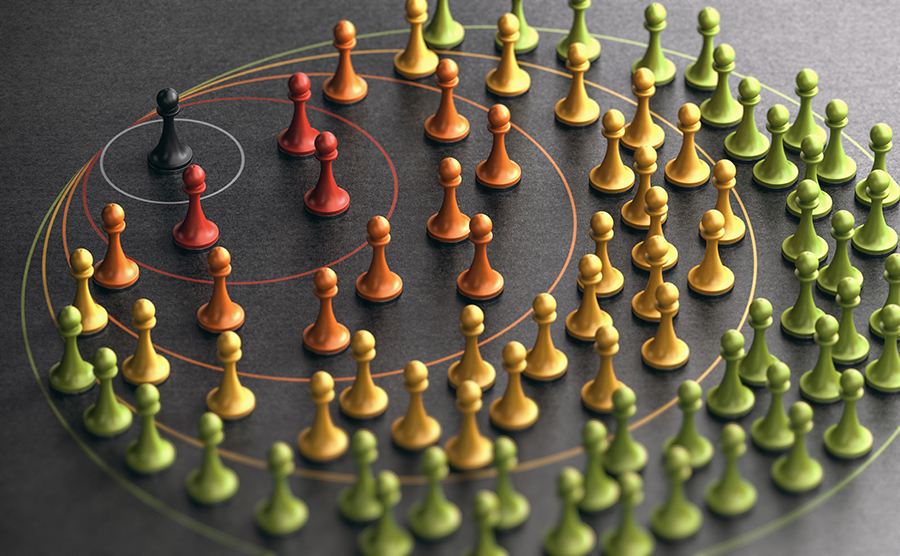 Because these SOI relationships can be personal, many people choose to exclude these connections for fear of intermingling personal and professional relationships. Don't be shy about connecting with your SOI on LinkedIn. Not only are they familiar with you, so they'll easily accept the connection, but then you'll have access to their connections. Access to their connections allows you to create a larger network by having someone in common to help with referrals or introductions.
An easy way to increase your LinkedIn network is by importing the email contacts of people you have corresponded with through email. This process will upload your address book contacts and allows you to connect with the contacts on LinkedIn, suggest relevant connections, and show you updates of imported contacts.
Instead of manually adding contacts or trying to search individually for new contacts, this import process will periodically sync with your address book, so any incoming leads to your inbox or contacts will be shown to you. This process does not automatically make connections for you—you will have to manually check a box next to contacts you want to invite to connect or choose to "Skip" a contact if you don't want to invite a specific individual.
The following steps can be taken to import your contacts to LinkedIn:
Select the "My Network" icon at the top of your LinkedIn screen.
Click "Connections" under the "Manage my network" pane on the left.
On the right pane, there is an option to add personal contacts. Click the "More options" at the bottom of that section.
Enter your email address or choose an email service provider logo listed at the bottom.
You'll need to sign in or select your email account to proceed.
For contacts not on the LinkedIn network, you will be redirected to a list after you are done importing. You can choose to invite these contacts to the network or skip them as needed. Once a contact accepts your invitation, you will receive a notification of the connection. Use this as an opportunity to message them with a quick note to open up dialogue so you can eventually share your services.
---
Another way to grow your network is through LinkedIn's People You May Know (PYMK) feature. The feature recommends new prospective connections based on shared connections, similar profile information, similar location, similar work experiences, or similar education at the same school. You can find this section under your My Network section at the top of your LinkedIn screen. However, the PYMK section usually is under your current invitation section.
Real estate agents can directly connect with those listed in the PYMK section by clicking the Connect button. Within the PYKM section, you can withdraw an invitation if the user has not acted upon the request. You also have the ability to remove suggested connections with the "X" located on the upper right next to their image.
To increase the probability of users accepting your initiation, include a personal message. Although you cannot add a personal message when clicking Connect from the PYMK screen, you can click into their profile and connect with them from their profile page.
To add messages to an invitation, follow the following steps:
Go to the profile of the users you want to connect with.
Click the "Connect" button located under their location or hit the "More" button on 3rd-degree connections.
Click "Add a note."
Enter your personalized message in provided field.
Click on "Send invitation."
---
LinkedIn groups are an opportunity to connect with other professionals with similar interests or professions. Once you join a group, have conversations and send messages to other group members to make 3rd-degree connections. Real estate agents can join LinkedIn real estate-related groups with other agents or users interested in real estate and whom you could contribute to the conversations.
Find various LinkedIn real estate groups by searching a group topic, name, or keyword in the search bar at the top of the screen. Select the group you're interested in to see its profile page. On the profile page, you can see the group admin, information about the group, the join button, and hashtags associated with the group. Many groups allow anyone to join, whereas other exclusive groups require admin approval before joining.
Strategically positioning yourself in professional networking groups can benefit your lead generation efforts by showcasing your expertise in real estate. Not only are your groups listed under the interest section of your profile, but being an active participant within the group can illustrate your knowledge through answering questions, posting relevant content, or creating conversation by asking questions.
---
5. Define Your Niche & Set Goals
LinkedIn for real estate lead generation should be treated like any other marketing tool. The best use of your marketing effort should help you stand out from your competitors and position yourself as an expert in real estate.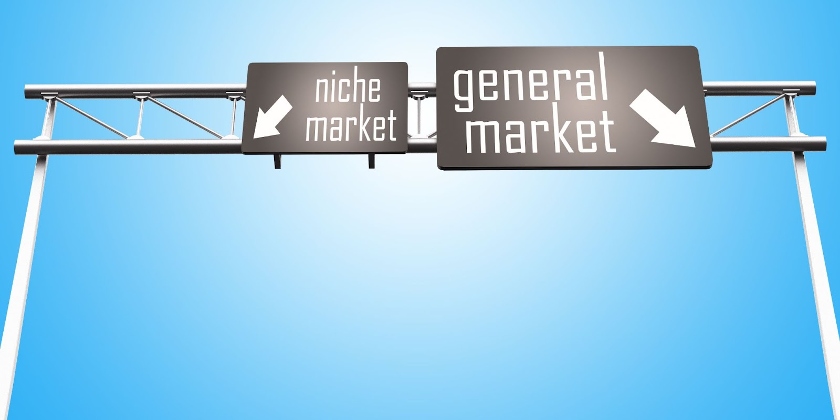 To do this, agents should always have a defined real estate niche so their marketing efforts are maximized and clearly defined. A real estate niche can be based on location, activity, property type, or situational, which can be leveraged on LinkedIn to connect with prospective clients with similar interests or goals.
---
Many companies use LinkedIn for their business development efforts. Agents can use the platform to search for prospective clients in their niche market. For example, if you operate in the Palo Alto area, you would want to connect with professionals in that location. Many of those professionals would also work in tech or finance for companies headquartered there, like VMware or Palantir.
To scope for connections that fall into your niche category, process a search in the search bar using location and company, then narrow your search results by items relevant to you. Make sure you narrow your search results to "People" instead of "Jobs" or "Groups" to see users you can connect with.
Under all filters, select a relevant hashtag and identify keywords or language listed on the profile. All these filters help agents narrow down users who may be most relevant for business development opportunities.
---
6. Post Real Estate Content
Real estate agents can post different LinkedIn real estate posts like videos, documents, article links, or just plain text. Posting relevant content establishes your knowledge and credibility of real estate. When others see your posts and see them often, there is a greater chance to start a conversation and develop better connections with relevant and like-minded users.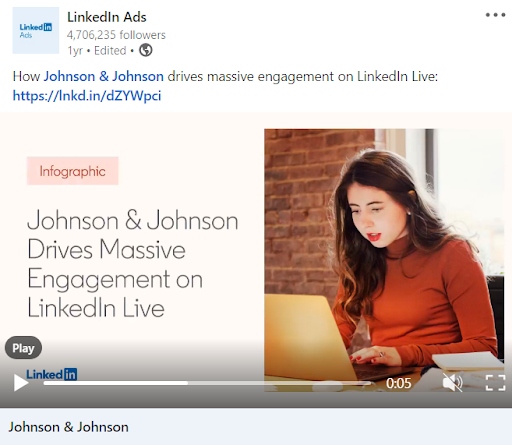 ---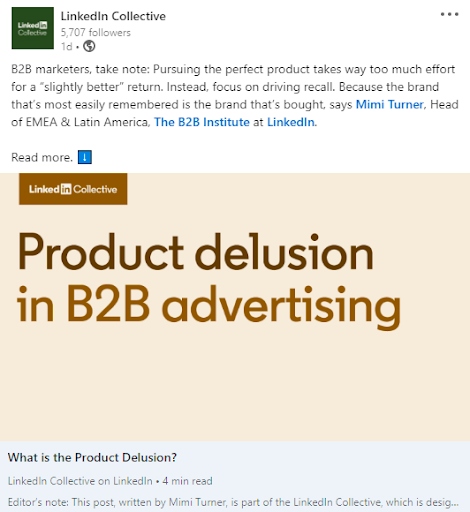 ---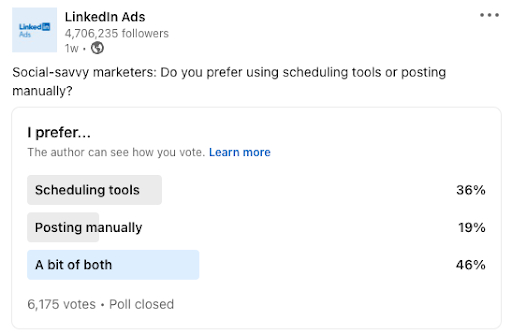 ---
When users "like" or "share" your content, that post will show up on your 2nd-degree connection's feed, and there is an opportunity that a new lead may see your content and prompt them to connect with you. Therefore, agents must constantly post so that you increase the likelihood of creating more interactions with the network. Similar to social media marketing, agents should create a content calendar to help them with consistent posting on LinkedIn.
Create Quality Content
Social platforms will filter how your content appears to social media users by using an algorithm that determines the relevancy of your content to each user. These algorithms will affect your post's performance and its reach. The LinkedIn algorithm will rank and filter your content to determine its quality and display it accordingly. If your content engages with likes, views, comments, etc., to a sample of your audience, it will continue to display your content to a broader audience.
With knowledge of how the algorithm works, users can modify their content so it is shown to their desired audience. There are some tips to ensure your content is not flagged as spam.
Following these best practices will ensure your content stays available to other users:
Make your content relevant: The biggest red flag is if other people mark it as spam, hide the post, or ignore it altogether.
Avoid grammatical mistakes: Agents should always use correct grammar and punctuation.
Limit tagging of other users: Do not tag more than five other LinkedIn users in a post.
Space out your posts: Don't post more than every three to four hours.
Reciprocate content engagement: This ensures other users feel comfortable engaging with your content.
Since the LinkedIn algorithm rewards content that is interacted with consistently, you want to also interact with other users' content as well to reciprocate and welcome engagement on your content. You can comment on others' posts, but if you're not ready to dive into leaving comments, you can leave a "reaction." LinkedIn reactions are expressions that allow users to participate more easily in conversation with others in their network. You can like, celebrate, support, love, mark something funny, designate it as insightful, or add a curious expression.
To help with LinkedIn real estate posts, platforms like Later support social media management—integrating with social platforms like LinkedIn, Facebook, and TikTok. The platform lets you create and schedule posts in advance, and it will automatically publish the content on your behalf. The presence of a mobile application lets you manage your posts on the go without needing the transfer media between devices.
7. Utilize Paid Advertising Opportunities
To help increase your reach, agents can use LinkedIn ads for real estate advertising to meet your marketing goals. Additionally, according to HubSpot, LinkedIn is 277% more effective for generating leads than Facebook and Twitter.
LinkedIn allows advertisers to define their marketing objectives as awareness, consideration, or conversion. Awareness creates brand awareness, and consideration will increase your website visitors, engagement, and video views. The conversion objective will provide you with lead generation, website conversions, or job applicants.
After identifying the advertising objective, agents can select the audience they want to reach with the campaign. Agents have over 20 different audience categories, like company size, member schools, groups, skills, and titles. Following the target audience is selecting an ad format. The ad formats on LinkedIn fall into different categories. Select from creating sponsored content, document ads, message ads, dynamic ads, and text ads to market your services.
Finally, agents must identify a budget and schedule for the advertising campaign. There are three price options to select from:
Cost per send: The best option for a Message Ads campaign. You are charged for each message that is successfully delivered.
Cost per click: Best pricing option for action-based campaigns like conversions or event registration.
Cost per impression: Usually a good fit when brand awareness is your marketing objective. You'll pay for each impression or view of your ad.
Once you choose the pricing structure, agents can identify a daily budget, start and end date, and total budget. Regardless of the campaign time frame, agents can cancel the campaign anytime.
Paid advertising allows agents to reach professionals on the network they might not otherwise connect with through their various degrees of connection. With financials being an important role in buying or selling a home, the professionals on LinkedIn are most likely to be homeowners or in a financial position to purchase one. The right audience reach on LinkedIn can contribute to overall business growth.
8. Nurture Your Contacts Online & In-person
Nurturing your connections on LinkedIn is essential to developing deeper relationships. On LinkedIn, ways of nurturing your contacts include email, likes, comments, and messages. Sending direct messages to your contacts to congratulate them on their new role or related to one of their recent posts can help you build rapport. Liking or commenting on their posts can ensure you and your business stay top of mind.
Although LinkedIn supports InMail, they don't directly send emails to your connections to their third-party inboxes. However, you can export your contacts and their contact information to import into a customer relationship manager (CRM) to take your relationship to email marketing.
CRM systems like HubSpot CRM have a LinkedIn integration. The integration helps pull in contact and company information like job title, location, industry, and company size into the CRM profile. Through the CRM platform, you can add the connection to an email drip campaign or even send InMail to stay top of mind.
The most beneficial connection is taking the relationship offline. Agents can have a more meaningful conversation with prospective clients in person, but also an opportunity to get to know them personally a little better. Not every LinkedIn connection will want to meet offline, but agents can persuade connections by offering an event that aligns with their interests like a networking happy hour, sales meeting, or a conference.
Bottom Line
Since LinkedIn is mainly used for professional networking, you'll be on a platform with professionals interested in learning about your services. After learning how to use LinkedIn for real estate leads, agents find it an excellent resource for generating organic and paid opportunities. By posting and engaging with other users on LinkedIn, you continuously build your professional network to create a sales funnel of prospective clients.