LionDesk Review 2023: Pricing, Features & Alternatives
A customer relationship management (CRM) software, LionDesk is designed for real estate agents, mortgage brokers, insurance agents, and property management services looking for sales prospecting and lead management in one software. The CRM has built-in tools for communication, lead generation, marketing automation, and transaction management. Based on reviews, agents love the automated drip campaigns and power dialer. Read our LionDesk review to understand how its robust features and affordable pricing suit your business needs.

Pros
Integrates with many third-party applications
Robust in-app phone to help agents reach out and follow up with more leads
Strong outbound sales features built-in for email, phone calls, and texting
Cons
No free option available
Lead generation is mostly limited to Facebook and no paid Google Ads service
Some integrations, such as Google Workspace and Dropbox, require the use of third-party software like Zapier
Recommended For
Real estate professionals who need a high-performing, in-app phone system like LionDesk's power dialer
Sales teams using Facebook Ads and third-party sites to generate leads
Brokerages looking for automation features for sales prospecting
Not Recommended For
Startup companies on a tight budget that prefer a free plan
Organizations providing products or services outside the real estate industry
Real estate brokerages looking for project management functionality
CRM: $39 includes 7,500 emails, 2,000 text messages, 500 video text credits, and a custom number
CRM Premier: $139 includes everything in the CRM plan plus single-line dialer and landing pages
CRM for Brokers and Teams: Custom pricing
Concierge setup (one-time fee): $499
Concierge recharge (one-time fee): $549
Lead Assist: Starting at $30
---
---
LionDesk Reviews: What Users Think of LionDesk
LionDesk CRM reviews praised its email drip campaigns and third-party integrations. Agents getting leads from Zillow, Trulia, and Realtor.com benefit from all of their leads syncing to one centralized location for follow-up and consistent communication. In one LionDesk review, the agent said he liked the robust data capturing and visualization, contact management, custom phone lines, text messaging, and pipeline revenue projection. Another LionDesk review said he was happy with affordable pricing compared to other CRM software.
G2: 3.4 out of 5 based on 33 LionDesk reviews
Capterra: 4.1 out of 5 based on 94 LionDesk CRM reviews
GetApp: 4.1 out of 5 based on 94 LionDesk reviews
In less favorable LionDesk CRM reviews, one customer hoped LionDesk had a newsletter marketing feature to share informational articles with their clients. Another user wanted social media digital management on top of LionDesk's marketing capabilities. One feedback further noted that LionDesk does not allow custom data fields in its CRM. For a more customizable and affordable CRM, check out other alternatives below, like IXACT Contact and Pipedrive.
Would Our Expert Use LionDesk?
LionDesk is an excellent CRM solution for agents and teams looking for a single platform to manage their real estate business. What we particularly like are the third-party integrations, enabling you to manage leads, sales, marketing, and transactions from other sources without logging in to another software. Another plus for us is the power dialer, which allows you to contact up to three lines simultaneously. The automated drip campaigns are also noteworthy, as you can incorporate a mix of video messages, emails, and phone calls.
Though you can try LionDesk for 14 days, it doesn't offer a free real estate CRM for budget-conscious agents who are just starting their careers, unlike Freshsales. LionDesk's lead generation is also limited to Facebook, which doesn't offer flexibility to agents using other social media and online platforms.
LionDesk Alternatives
If you're unsure if LionDesk is the right CRM software for you and your team, other options are available. Take a look at the following CRM systems to see if they can work for you:
Software

Best For

Rookie real estate agents who are new to the real estate industry

Agents, teams, and brokerages that want a low-cost CRM with a mix of essential features

Agents, teams, and businesses looking for a free-forever plan for an unlimited number of users

Real estate professionals who want access to real-time market information that they can share with potential clients

Key Features

Mobile app updates contacts in real time
Automated reminder tool
Automatically generate and import leads from Zillow, social media, and your website

Mobile app auto-syncs real-time data updates with the web app
Digital signature and document tracking capabilities
Automated assistant to analyze data and suggest new solutions

System customizations
Pipeline management to create, manage, and track sales pipelines
AI-powered assistant offering smart suggestions

Mobile app to access the CRM portal on the go
FiveStreet Lead Management tool to centralize all lead generation and communications
Market snapshot and CRM reports

Starting Price

(per User, per Month)

$45 (5-week free trial)

$19.90 (14-day free trial)

Free (21-day free trial for a fully loaded CRM)

$60 (paid 30-day trial)

Learn More
LionDesk Plans & Pricing
LionDesk pricing consists of two options for its real estate CRM software, billed either monthly or annually. All plans include essential features like video emails, bulk texting and emailing, transaction management, and Facebook lead generation. While there's no free plan, LionDesk offers a 14-day free trial. This gives you a risk-free opportunity to determine if it's the right fit for your business before subscribing to a paid plan.
Brokers and teams managing multiple agents can contact customer support for custom LionDesk pricing, including all the CRM software features, agent activity monitoring, agent activity reports, and artificial intelligence (AI)-powered lead follow-up. Browse through the table below to determine the LionDesk cost and features for each plan.
Plans

CRM

CRM Premier

Custom Plan for Brokers & Teams

Who Plan Is Best For

Real estate professionals and businesses wanting a low-cost plan for lead management and communication

Agents and businesses who need to deploy mass text and email marketing campaigns and the ability to contact multiple leads simultaneously

Brokers looking to integrate most of their applications with their CRM and manage their teams, leads, and marketing efforts in one platform

Annual Price Billing

$33 per month

($399 per annum)

$83 per month

($999 per annum)

Custom pricing

(contact LionDesk)

Monthly Credits

7,500 emails (including video emails)
2,000 text messages
500 video texts

7,500 emails (including video emails)
2,000 text messages
500 video texts

Custom

Bulk Texting

✓

✓

✓

Prebuilt Marketing Campaigns

✓

✓

✓

Transactions Pipelines/Management

✓

✓

✓

Facebook Lead Generation

✓

✓

✓

Webinar Training

✓

✓

✓

Lead Distribution

✓

✓

✓

Custom Number

✓

✓

✓

Single-line Dialer

$99 per month

✓

✓

Multi-line Dialer

$149 per month

$50 per month

✓

Landing Pages

$29 per month

✓

✓

AI Lead Follow-up

✕

✕

✓

Agent Activity Monitoring

✕

✕

✓

Agent Activity Reports

✕

✕

✓
There are additional add-ons available for a fee through the LionDesk system. Take a look at each tab below to review these options:
LionDesk offers a comprehensive setup and customization of your account, including several marketing campaigns. The concierge works with all subscription levels. LionDesk's team assists with gathering your contacts, installing a strong bank of marketing campaigns, adding your marketing assets like logos and videos, and customizing your account settings to fit your branding. You will also have the expertise of a dedicated coordinator who will make sure everything in your account is top-notch.
Moreover, the concierge adds your core profile information, configures lead routing and lead distribution from third-party sources, sets up Text-2-Sell shortcodes, and assists with email domain white labeling. With Concierge Set-up, you can improve your marketing delivery rate and maximize your CRM capabilities.
This is a comprehensive recharge and customization of your LionDesk account, including several automated marketing campaigns. The Concierge Recharge aims to get your LionDesk account back on track. You can enjoy all the features included in the Concierge Setup service, along with a 30-minute, one-on-one wrap-up where your concierge hosts a recorded screen-share to finalize the service.
Starting at $30 per month
This LionDesk feature helps real estate agents automatically qualify leads using artificial intelligence (AI) so you spend more time nurturing them. The AI Lead Assist immediately reaches out to your new lead when they fill out a form on one of your lead capturing sites. To qualify leads, the Lead Assist asks questions using natural language processing (NLP) and machine learning. Once leads have been qualified, you can take over the conversation.
General LionDesk Features
Customer relationship management
Drip campaigns
Third-party integrations
Custom landing pages
Lead generation
Power dialer
Mobile app
LionDesk has a suite of robust features that empower agents to close more deals while saving time and energy. The CRM organizes your contacts and automates client communications, so you can focus on meeting their needs where it matters most. Its power dialer is integrated into your CRM software to help you connect with up to three leads simultaneously and secure more appointments. Lastly, its Facebook lead generation enables you to generate high-quality leads through targeted Facebook ads.
LionDesk also integrates with hundreds of third-party applications to manage your business more efficiently. Additionally, the customer relationship manager (CRM) generates reports and analytics so you can visualize future outcomes and understand your leads more precisely. Check out these notable LionDesk features to streamline your real estate business.
Expand the tabs below to see a breakdown of some of the key features the LionDesk CRM includes:
All-in-one real estate CRM
Marketing automation
Contact management
LionDesk's CRM platform enables you to organize your contacts, automate client communication, build multi-channel campaigns, and remind yourself of important tasks. It allows real estate agents and brokerages to organize contact information through data importing and storage. LionDesk's CRM further enables communication with leads and clients through multiple communication channels, including phone, email, and text messaging. In addition, it allows agents to manage workflows for transactions.
What's great about LionDesk CRM is that you can manage your automated drip campaigns and also access the Power Dialer in one place, keeping your pipeline flowing from lead to contact to conversion. Read on to understand more of these features.
---
Automatically capture leads
Customizable prebuilt templates
Multiple landing pages for different campaigns
Agents can now create professional real estate landing pages that fit their brand using LionDesk's prebuilt templates. It removes the complication of coding and allows you to drag and drop elements on your landing page to suit any type of marketing campaign. You can create multiple buyer- and seller-targeted landing pages, such as home valuation and property search.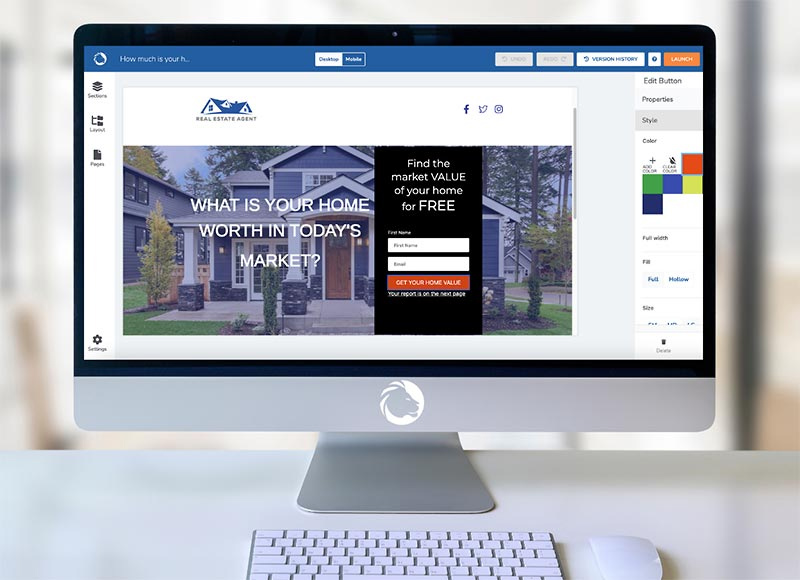 ---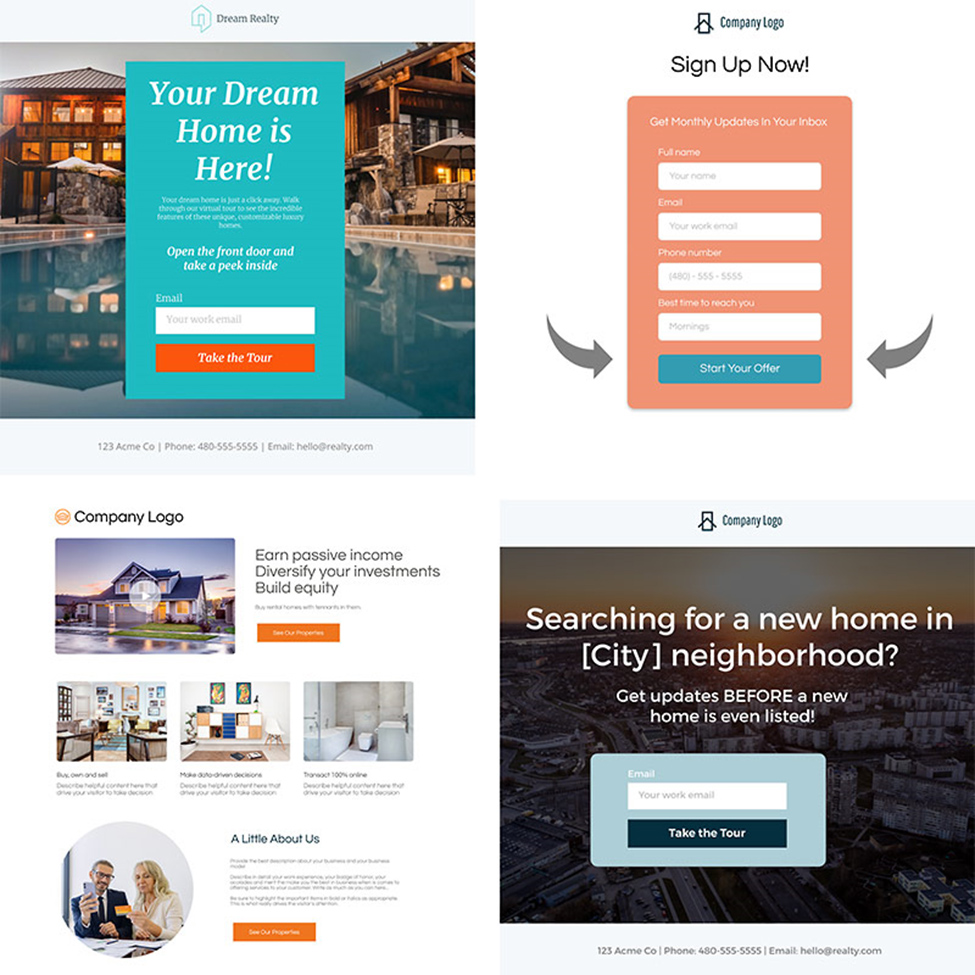 ---
To save you time, LionDesk's landing pages automatically send qualified leads into your LionDesk CRM. You can trigger lead nurture campaigns and grow your online presence more efficiently. By using it alongside other features like Facebook ads and email drip campaigns, you can convert leads faster.
---
Preloaded and create-your-own drip campaigns
Integrated video emails and video texts
Assign automated campaigns to a single contact, multiple contacts, or new leads
One of the most effective ways to set up consistent communication with your contacts is through automated drip campaigns, which you can create straight from your LionDesk CRM. Uniquely, LionDesk has integrated video emails and video texting that you can utilize within drips and mass emails or texting to engage with prospects. Your campaigns can also include automated phone calls to let your leads know you are available whenever they need assistance.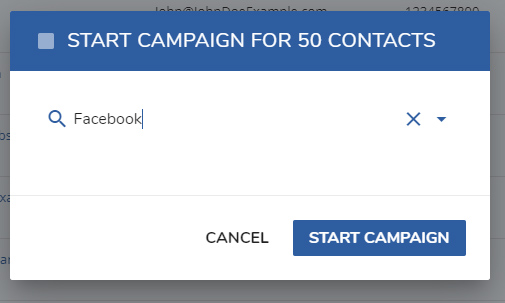 ---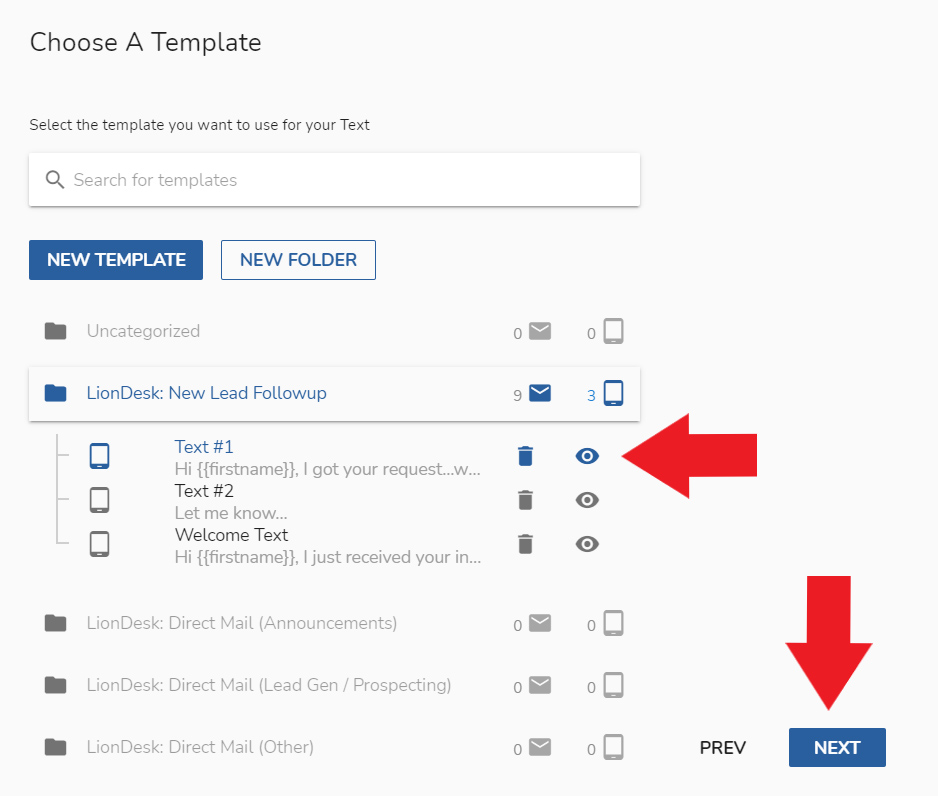 ---
So you don't miss out on any opportunities, set up automated drip campaigns to a single contact, multiple contacts, and even newly captured leads. You can create your own drip campaign or use LionDesk's preloaded drip campaigns to get you started. If you want your campaign to stop after a contact responds, you can set a "stop" automatically. Don't forget to set a reminder at the end of your campaign to get notified when it ends.
An effective drip campaign includes various content, such as introductions, newsletters, and market updates, to build trust and keep you top of mind over time. To create a drip campaign that increases sales, explore our article How to Create Real Estate Drip Campaigns (+ Examples).
---
LionDesk Ad Portal
Facebook lead generation
Lead import from third-party sites
LionDesk's lead generation helps agents attract high-quality prospects from a pool of incoming leads. With LionDesk's Facebook Ad Portal, you can launch targeted ads using proven ad templates and custom audiences. The Ad Portal is integrated into your CRM, so you create ads directly from your CRM. Simply choose the template, select which listing to promote, and set the budget. You will then be able to share your ads on Facebook, Instagram, and other sites like Realtor.com, Zillow, and HGTV.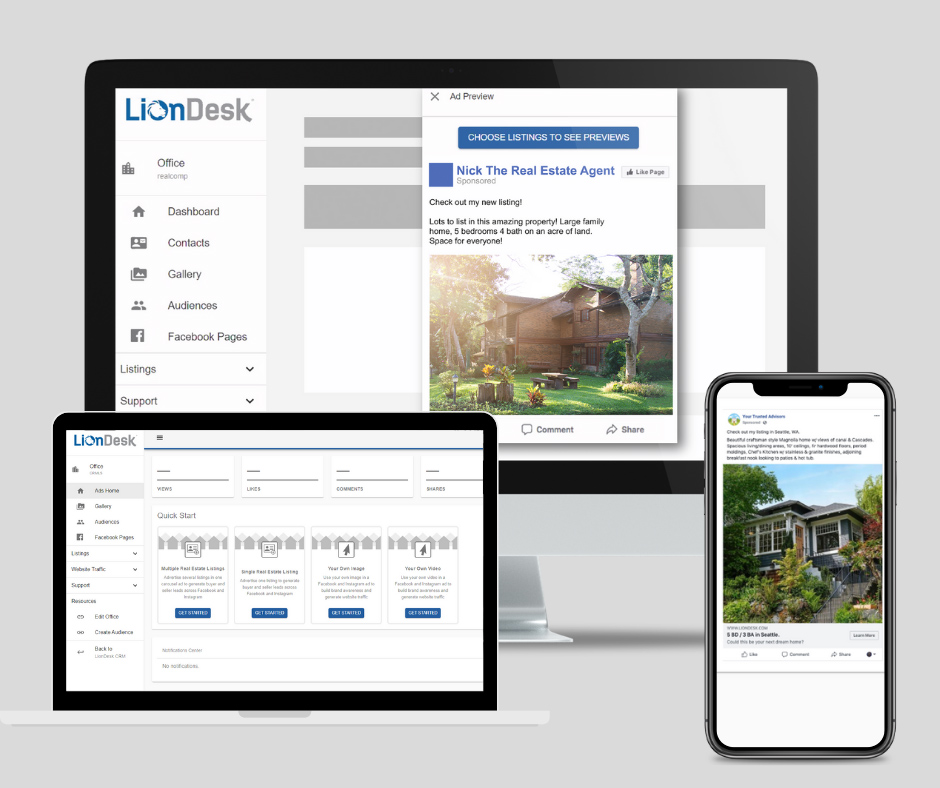 ---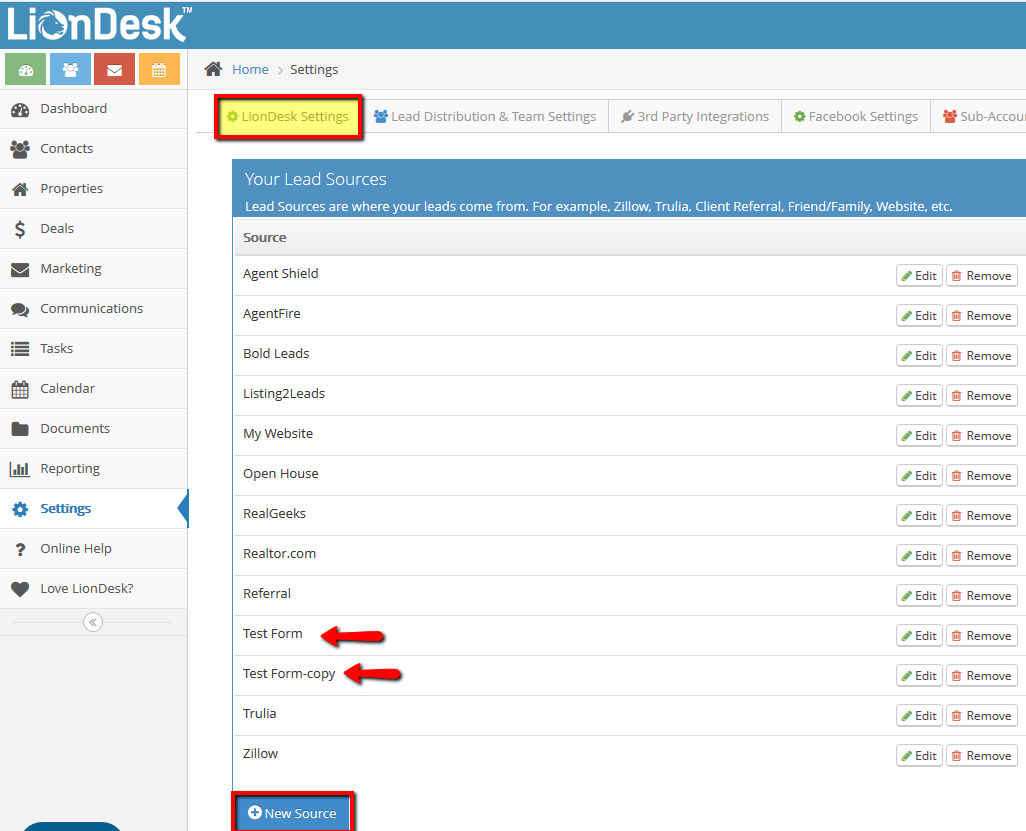 ---
When using the Ad Portal, make sure to connect all your leads to LionDesk and assign an effective lead follow-up strategy. To increase your conversion rate, use Facebook lead generation in combination with other LionDesk marketing features such as text and email drip campaigns. LionDesk also allows users to import lead information from real estate-specific platforms, such as Zillow, Trulia, and Realtor.com, so you can track and nurture all your leads in one software.
---
Unlimited minutes
Call recording
Choice ID and voicemail drop
Calls up to three lines simultaneously
LionDesk's Power Dialer helps you increase the return on time and resources by removing manual dialing when calling leads. The Power Dialer skips voicemail boxes, no-answers, disconnected numbers, busy signals, and dropped calls so you connect with live calls only. It features unlimited minutes, call recording functionality, voicemails, time zone protection (prevents you from calling too early or too late), and a choice ID.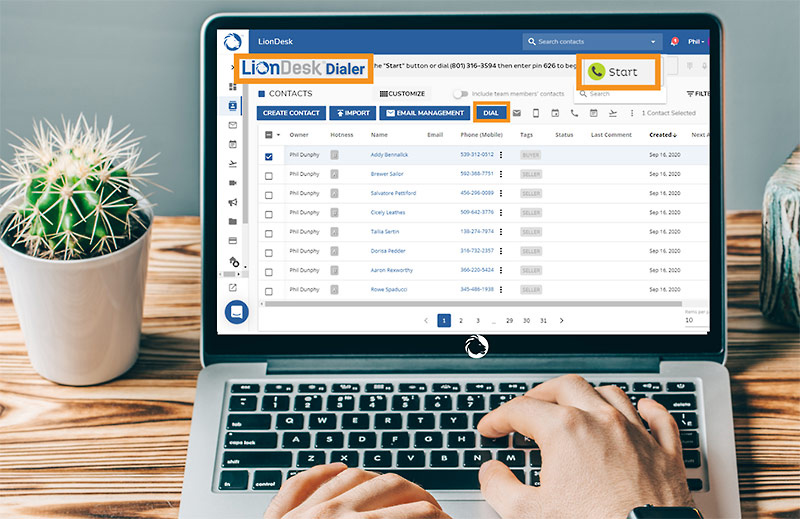 ---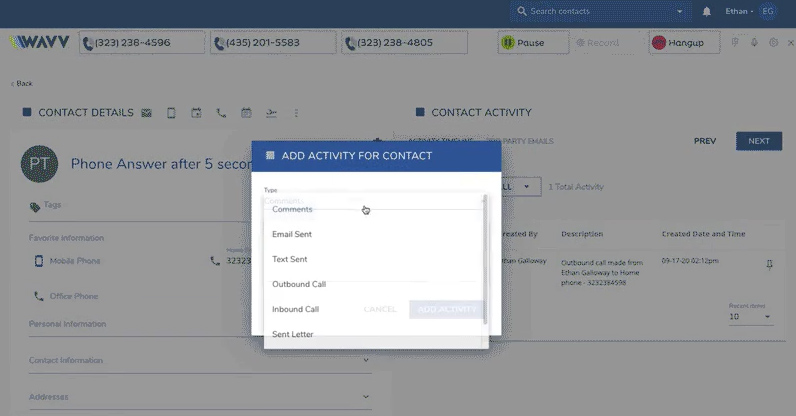 ---
LionDesk's Power Dialer easily connects agents with leads and clients from within the CRM. The Single-line Power Dialer queues a list of contacts and calls them one at a time. The Multi-line Power Dialer, on the other hand, enables you to queue a list of contacts and ring up to three numbers at a time. Power Dialer also allows you to record voicemail messages that you can easily share with your clients. Moreover, your callback message will automatically be played if you get two or more live answers on the multi-line dialer.
---
Generate graphs and charts
Visualize business projections and future outcomes
Track lead responses, incoming leads, lead sources, and revenues per lead source
LionDesk makes it easy for you to track and monitor your marketing efforts to see which ones are effective and which ones need a revamp. The Reporting page on your LionDesk CRM will show you what goes in and out of the systems, graph your deals, and track incoming leads, giving you real-time insight into your business. A user can generate visual CRM reports on lead sources, projected revenue, pipelines, and communication history.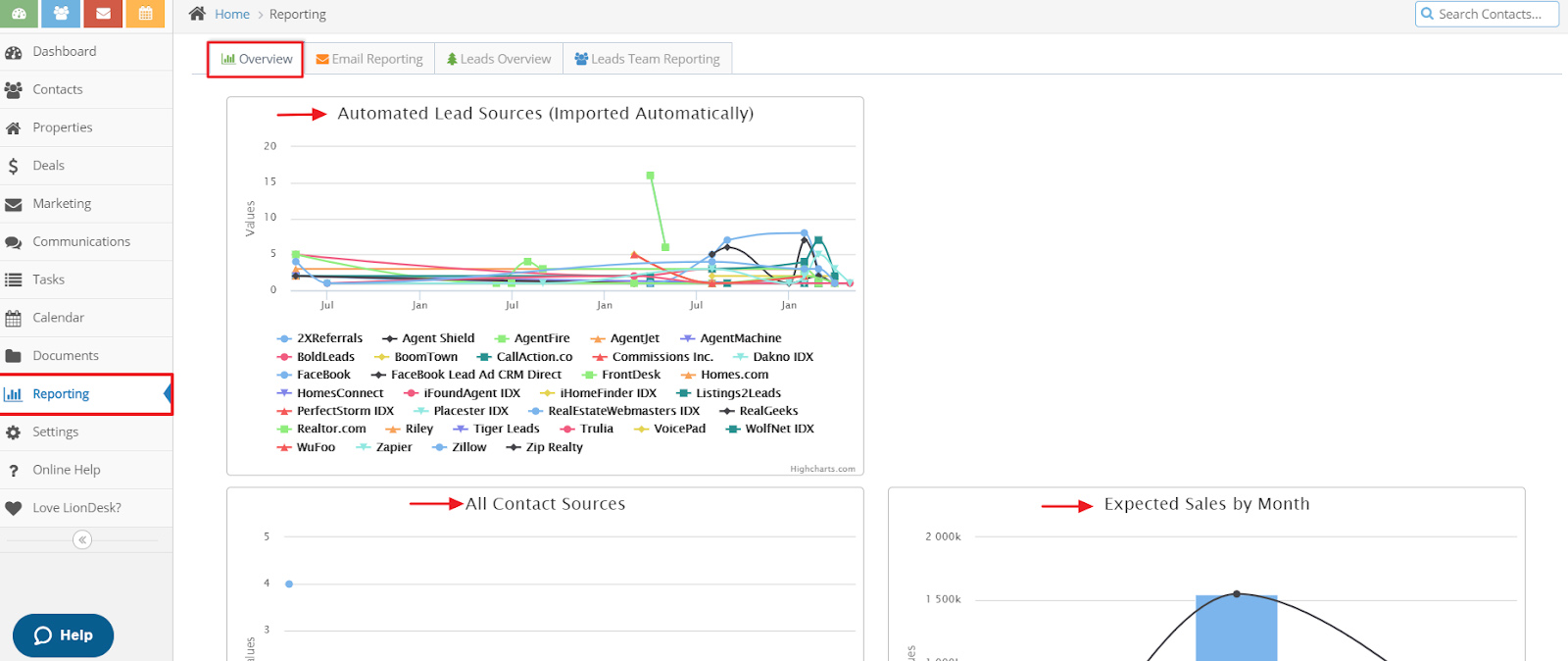 ---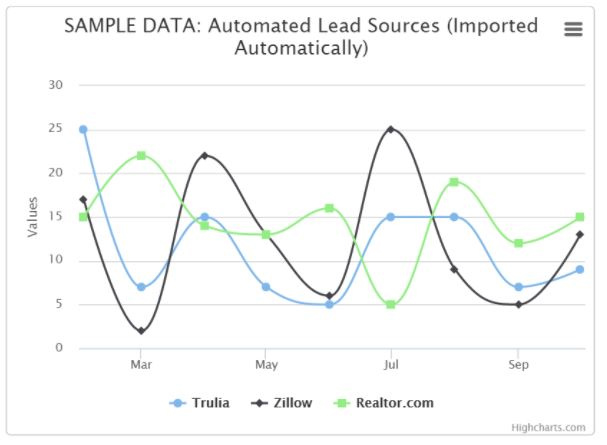 ---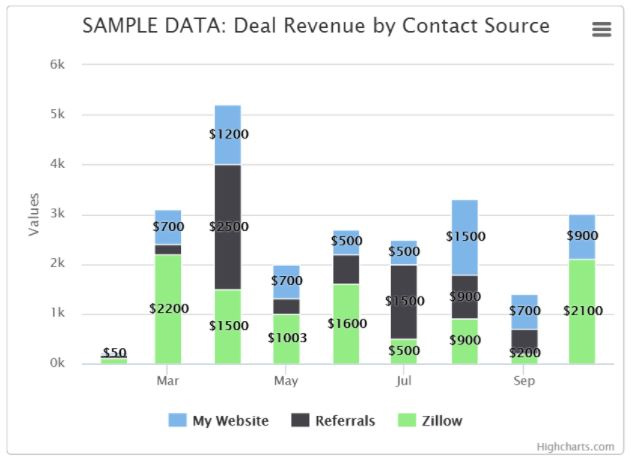 ---
Among the reports you can generate are contact sources, deal revenue by contact source, expected deal revenue per month, contact pipeline, and monthly new contacts. You can even track email results by obtaining emailing reports straight from your LionDesk CRM to get statistics on sent emails, opened emails, spam reports, and unsubscribed contact emails.
---
Easy and simple interface
Manage leads and communications on the go
Compatible with Android and iOS devices
The LionDesk mobile application allows real estate professionals to access the CRM portal on the go. Users have access to all of the CRM's features wherever they are. Among the things you can do on the mobile app are add and update contact information; text, email, and call contacts; create and complete tasks throughout the day; and record and send video emails and texts. This gives a significant advantage to professionals who often travel or visit property sites.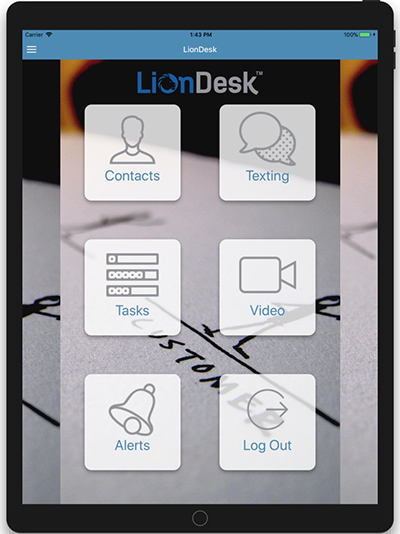 ---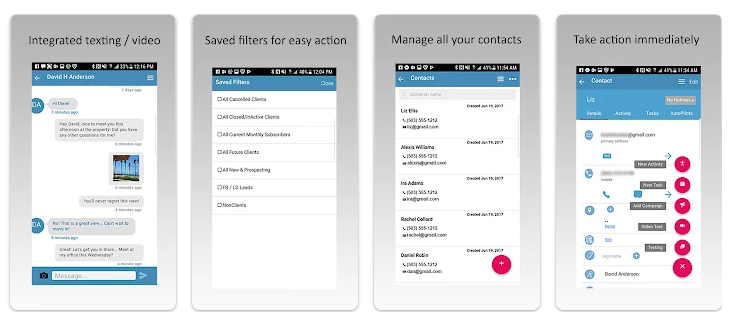 ---
LionDesk's mobile app has a simple and easy interface. It is compatible with Android and iOS users and is free to download from the App Store and Play Store.
---
Organize your contacts, leads, sales, and marketing in one dashboard
LionDesk CRM integrates with hundreds of third-party tools
Log in to one platform for all integrated tools
LionDesk CRM easily integrates with apps that you use every day, including both general business software and apps specific to the real estate industry. LionDesk is an application programming interface (API), which allows you to plug other resources to your CRM to keep your entire database in a single platform. The integrations assist with different processes like lead generation, contact organization, phone calls, transaction management, email marketing, and website tracking.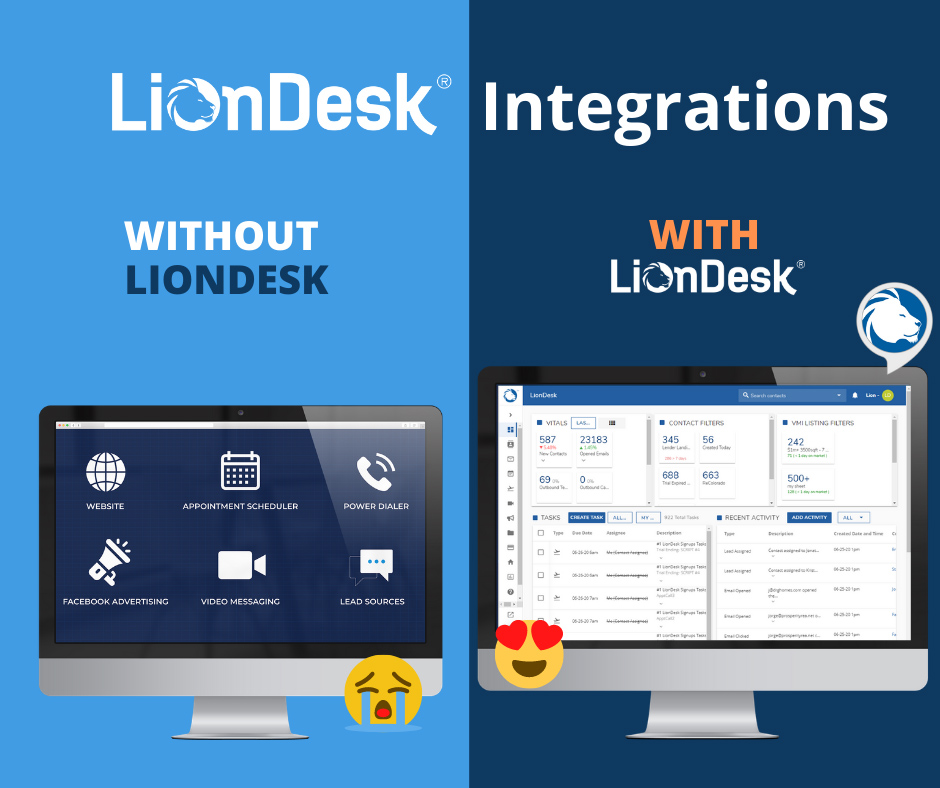 ---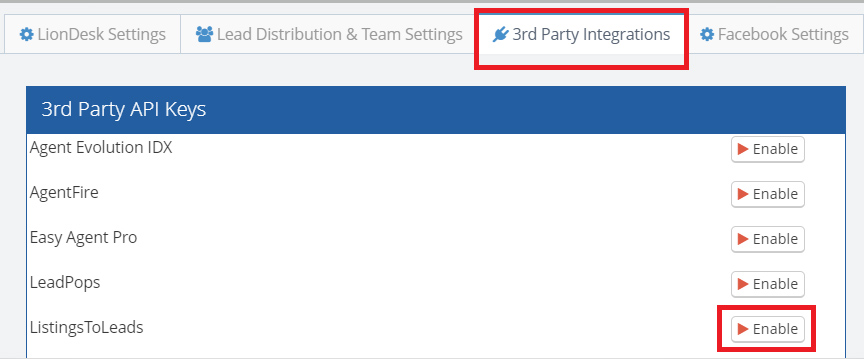 ---
Check out some of the most popular real estate integrations in your LionDesk CRM:
AgentFire
BoldLeads
Boomtown
Easy Agent Pro
Facebook
Homes.com
HomeSnap
Hotpads
IDX Broker
JotForm
Offrs
Office 365
Placester IDX
Real Geeks
Realtor.com
RealtyTrac
SmartZip
StreetEasy
Trulia
Zillow
Zurple
---
Phone, email, and live chat
Submit a request via a fill-in form
Training videos and how-to guides
LionDesk provides customer service through basic channels, including phone, email, live chat, and social media platforms. If you want to know how to set up your account but don't need direct assistance, check out LionDesk's Help Center, where you can access how-to guides and training videos to navigate through LionDesk CRM settings. You can also submit your request for support by filling in a form on their website.
Accounts subscribed to Concierge services will have a dedicated coordinator who is supported by a team of virtual assistants. Once your LionDesk account is set up, the coordinator will host a 30-minute, one-on-one screen-sharing session to review your account, address any questions, and provide some best practices.
---
Ease of Use
Setting up and navigating the LionDesk CRM is simple. This is because it offers many prebuilt templates within the CRM for email and text communication, as well as third-party integrations with most real estate tools.
For agents who have used a CRM before, navigating LionDesk's platform will only require a slight learning curve. Upon login, you will be directed to your dashboard where you have a quick snapshot of your Vitals, Contact Filters, Tasks, and Recent Activities. Your Vitals track various types of metrics, such as email opens/clicks and inbound/outbound texts to see leads who are engaging with you, opening your emails, and replying to your texts.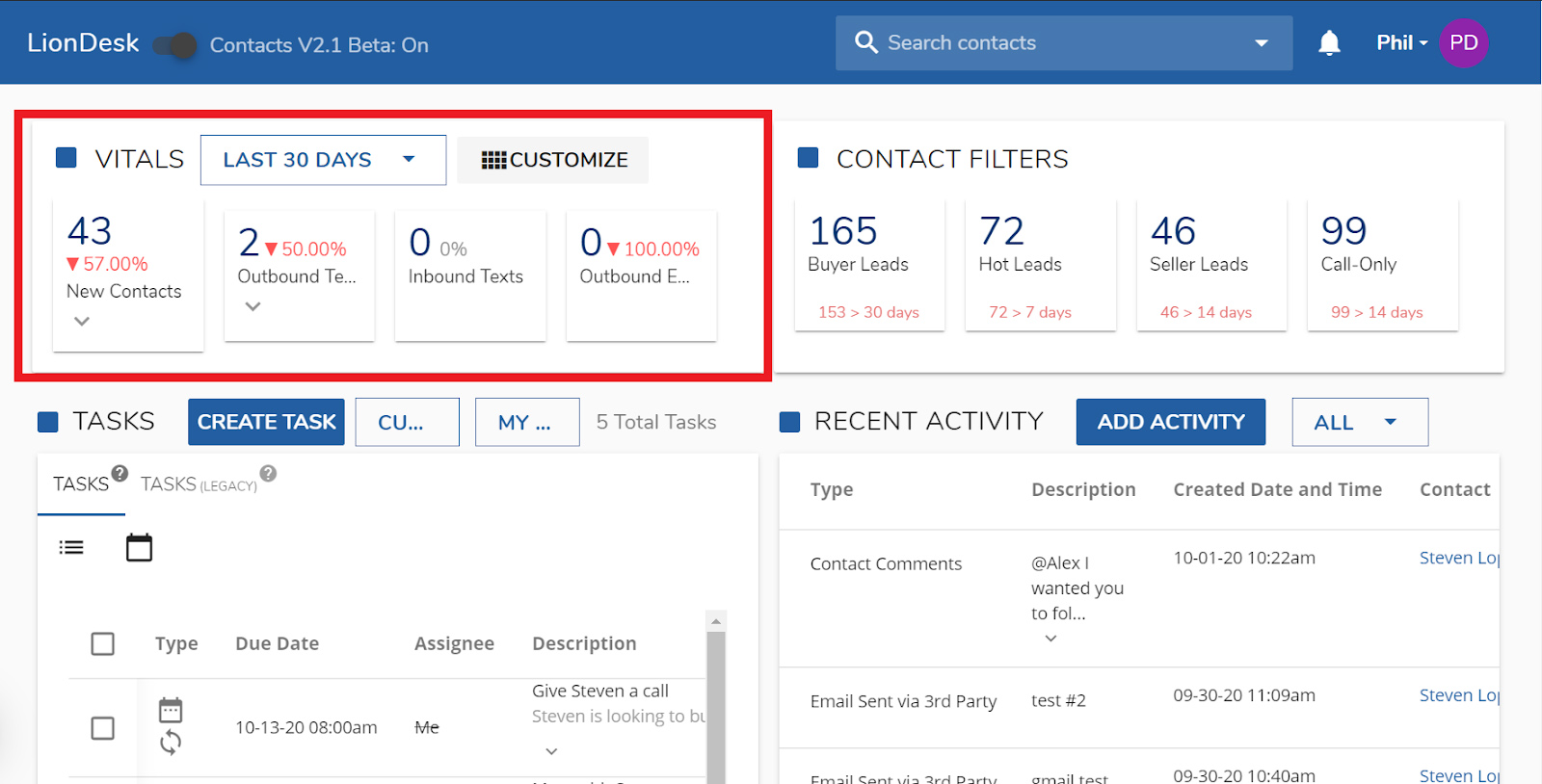 ---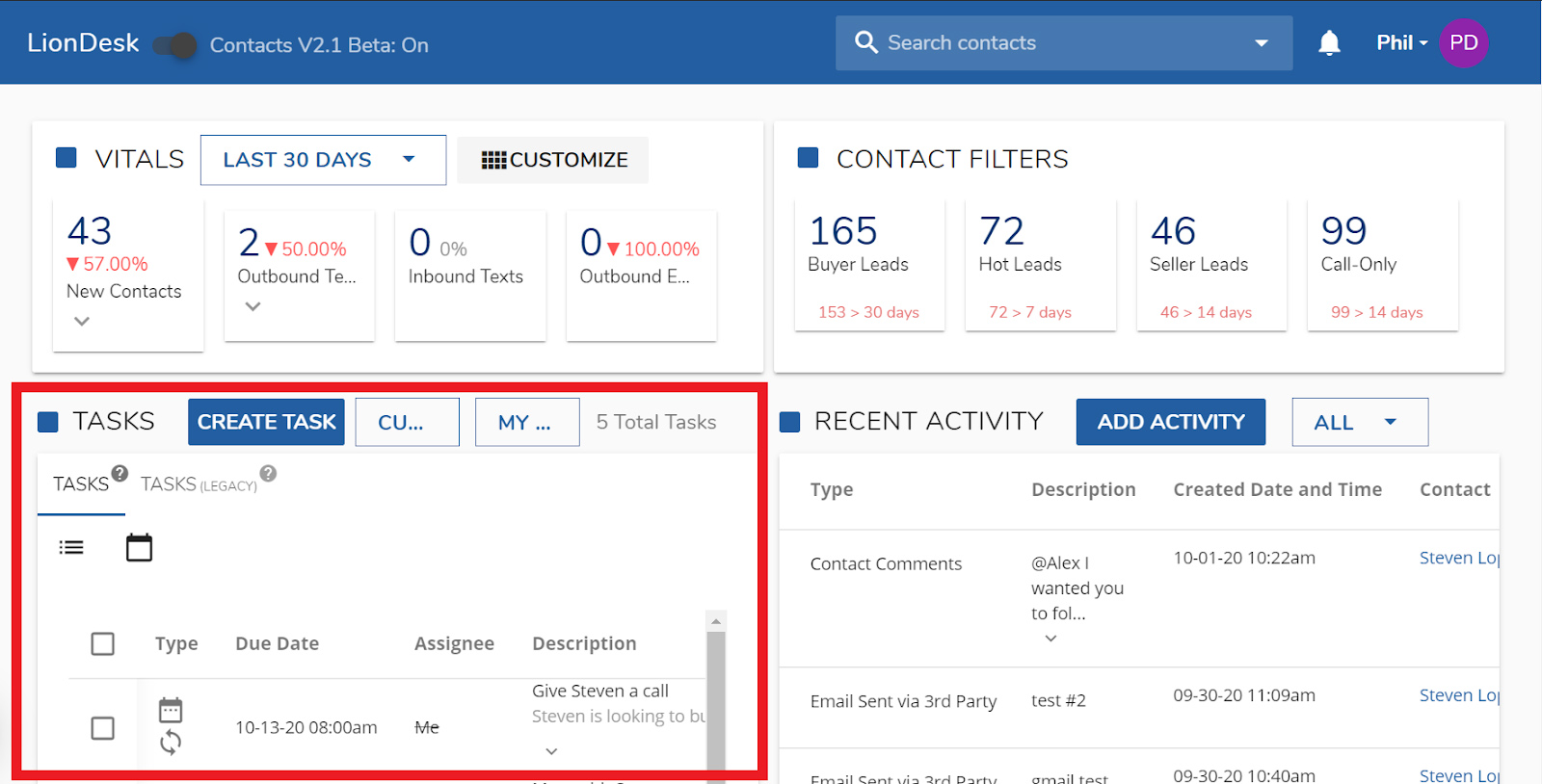 ---
Manage your day-to-day workflow through the Tasks widget. You can set reminders for upcoming events, recurring meetings, and even calls you need to make. The calendar view allows you to visually organize your workflow according to your daily, weekly, or monthly calendar.
To access other settings within your CRM, just navigate through the Menu tab on the left side of the homepage. You can easily jump to several features, such as Reporting, Transactions, and Communications, with just one click. If the multiple features overwhelm you, you can simply go to LionDesk's Help Center for step-by-step guides.
Bottom Line
Our LionDesk review shows that the software is excellent for different real estate professionals and businesses looking for an all-in-one CRM solution. The built-in communication and marketing tools and third-party integrations allow agents to accomplish a wide range of tasks, from initial lead generation to closing transactions. LionDesk CRM pricing, features, and ease of use reduce the drudgery of lead generation, marketing, and sales so you can focus on the more exciting aspects of a successful real estate business.