The Ultimate Real Estate Listing Presentation (+ Free Template)
A powerful listing presentation and client-winning pitch are the first steps to becoming a successful seller's agent. Your real estate presentation introduces you to the client and explains how you bring value throughout the sales process. It includes local market statistics, a summary of the entire process, and discusses how you will effectively sell their home—all while offering comfort, creating trust, and focusing on the seller's needs.
Download our free real estate listing presentation template and customize it as you go through the steps below. Modify the template based on your needs, adding your own pictures, figures, graphs, and data. To achieve the best results, always tailor each listing presentation for realtors to the homeowner and the property.
If creating presentations isn't your specialty, get assistance from Canva to help with all your design needs. Use it to create visually appealing marketing materials like social media graphics, presentations, posters, videos, and branding logos to increase your lead generation with its easy-to-use design interface with drag-and-drop features.
Here are the 11 steps to a successful real estate listing presentation that will help you attract and win more sales clients:
1. Begin With a Short Overview
The overview summarizes the topics covered in your listing presentation and how long the realtor listing presentation will last. Some of this information may have been included in your prelisting packet, but it's important to reiterate the details. The first section of the presentation provides information about you, your brokerage, and what you intend to learn from your clients.
Remember that a brief presentation can contain all the necessary material; a reasonable time frame is between 30 and 60 minutes, but some will require longer than others. Homebuyers who are inexperienced, meticulous, or afraid may have more queries and worries than experienced buyers.
A homeseller wants an agent who is confident in their profession and can clearly explain how the sales process will go. To earn your clients' faith and confidence in your abilities to sell their houses, consider yourself a real estate expert and instructor.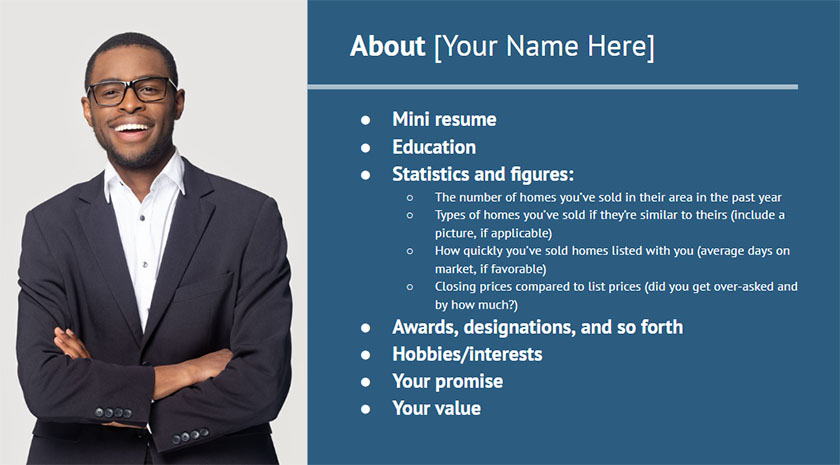 Along with a mini-resume of your background, include the following statistics and figures:
The number of homes you've sold in their area in the past year
Types of homes you've sold if they're similar to theirs (include a picture, if applicable)
How quickly you've sold homes listed with you (average days on the market, if favorable)
Closing prices compared to list prices (did you get over-asked, and by how much?)
You can also use this part to brag (and boost customer confidence) by noting any awards, certifications, or designations you've received that are relevant to this transaction. Just be sure to link every one of these components to your client's property so you can prove your value by working hard, being devoted, and paying attention to what they require.
If you don't have any certifications or designations under your belt, check out our Top 10 Real Estate Certifications & Designations Agents Need to Gain Clients article. We've gathered the most impactful real estate certifications and designations that will help boost your real estate career. This article discusses what they are, the reasons to get them, how to get them, and the cost of each.
---
Sellers want to know whether a reputable brokerage is supporting you because this gives them confidence that you will work with a team of agents and a firm with a successful track record of helping other homeowners sell their properties. Make sure to highlight the benefits of teaming up with someone who works for your company, such as having vast professional networks and extensive neighborhood knowledge.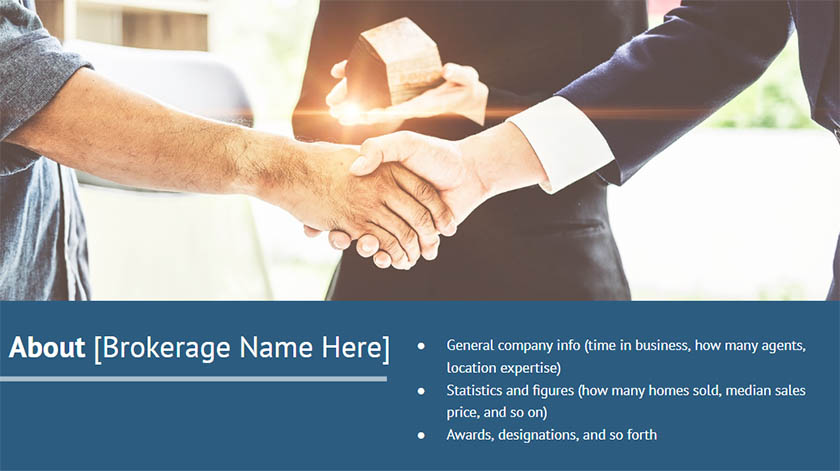 Both large and small brokerages offer a value proposition. If you're with a larger brokerage, like RE/MAX, Keller Williams, or Compass, you'll likely focus on numbers like the number of homes your brokerage sold in the last year and the median home sale price.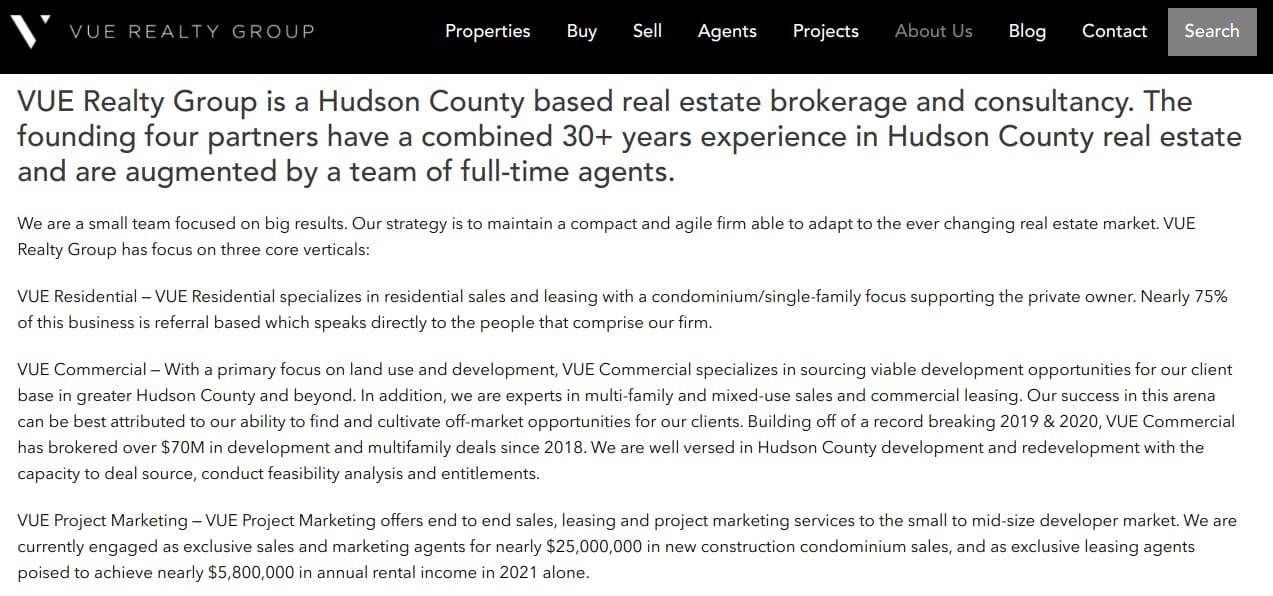 ---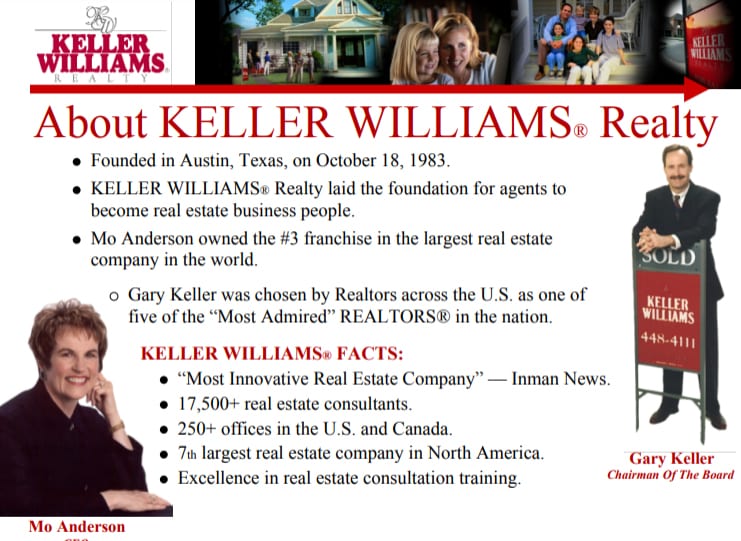 ---
In contrast, if you work for a smaller boutique firm, highlight your local roots and personalized service. With a smaller brokerage, you often want to emphasize customer care and that your client won't be just another person on their roster.
---
It's time to return to what really matters—your client—now that you've presented your case for why they should choose you. Spend the next few minutes learning more about your homeowner. As a result, you can better tailor your presentation to the homeowner's demands and promote communication while also putting them at ease.
During your presentation, ask the following questions to learn more about your seller: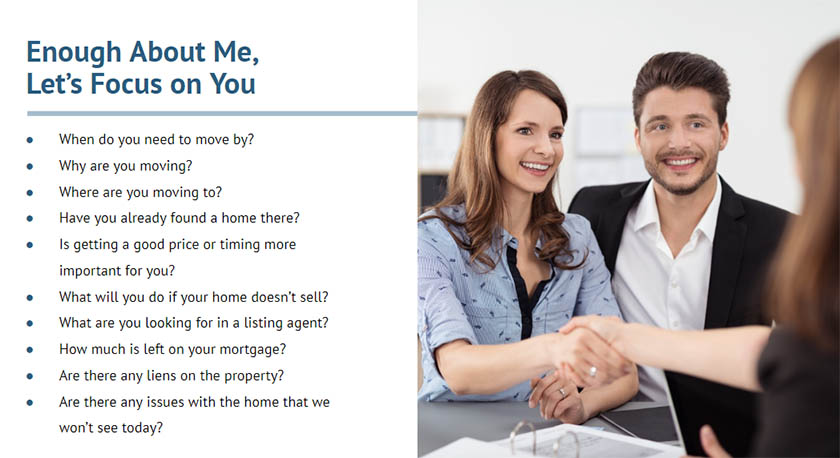 Make notes about the most critical issues to your potential customer to demonstrate your diligence and help you remain aware of their requirements throughout the process. This knowledge can help you better connect your pitch with your client's needs, emphasize key points, and dispel any doubts as you go.
For instance, if someone already submitted an offer on a house somewhere, they might need to sell their current house immediately. You can use this information to explain how an overpriced home will take considerably longer to sell.
---
2. Present Local Market Data
After introducing everyone, return the conversation to selling the client's house. Presenting local market data for the neighborhood or area where the subject property is located is a great way to introduce the sales portion of your listing presentation.
Share information about the local housing market, including historical patterns, the speed at which properties are selling there, the number of sales over the last several months or years (depending on the data available), and median price ranges. Include any other information that will assist homeowners in understanding the market data that must be considered when pricing their home for sale, such as seasonal statistics if prices tend to fluctuate depending on the time of year you plan to list the property.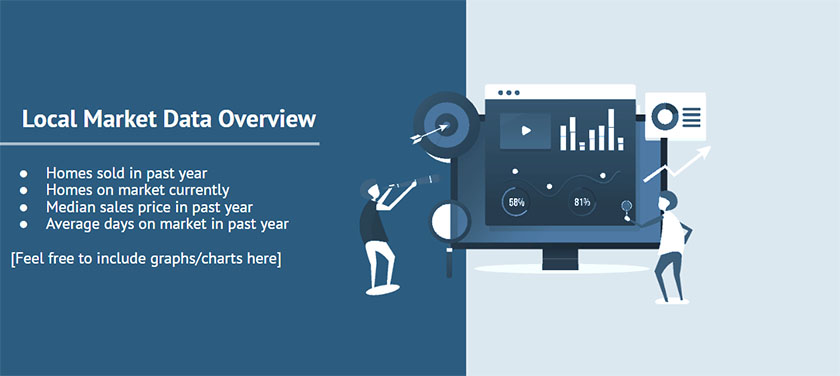 Consider your audience to see whether you need to go into greater detail on any topic areas in this section, which may require more than one slide. Also, remember some of this data lends itself well to charts or graphs—these visualizations can help the average person understand the data better. Although you can produce these charts on your own (or using the tools provided by your brokerage), doing so can take a lot of effort.
It may be preferable to get them from your multiple listing service (MLS) platforms or use the paid comparative market analysis (CMA) and listing presentation packages available from a service like Cloud CMA. Cloud CMA's paid CMA software offers premade charts and graphs that make you look like a pro and save you a lot of time. They also will help create your CMA report in print or digital format so you can present it in person or digitally.
3. Explain the Sales Process
Give your clients a rundown of the entire sales process as you continue to educate them. Take the time necessary to ensure that your client is informed of what will happen throughout the process over the coming weeks or months. You should discuss the following steps: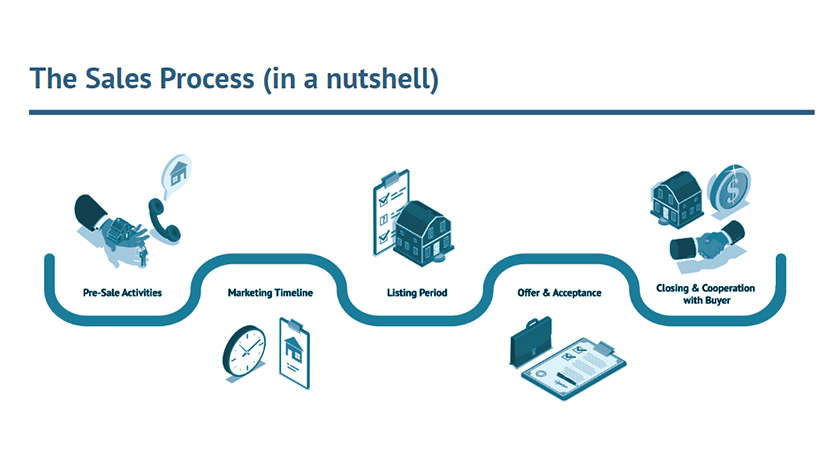 Consider your client's previous experience selling properties when creating this section of the listing presentation. For instance, take a little extra time and periodically pause if you are dealing with a first-time seller to see if they have any concerns. If you're working with someone who has sold many houses in the past, you'll be able to get through this phase considerably faster.
4. Prepare the Home to Sell
Now that you've covered the generalities of the local market, it's time to concentrate mainly on your seller's house. It's important to establish expectations for the seller while getting ready to sell their house, even if you haven't been to the home or are just seeing it for the first time. The client must be aware that it is their responsibility to ensure that the property is in excellent condition to maximize value.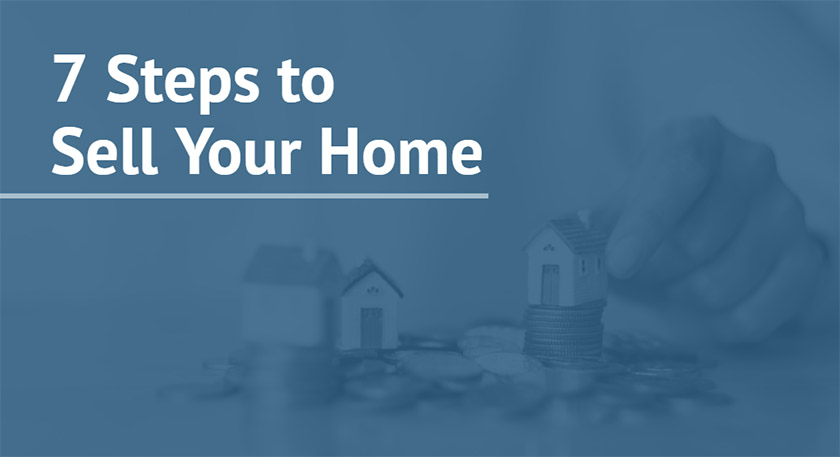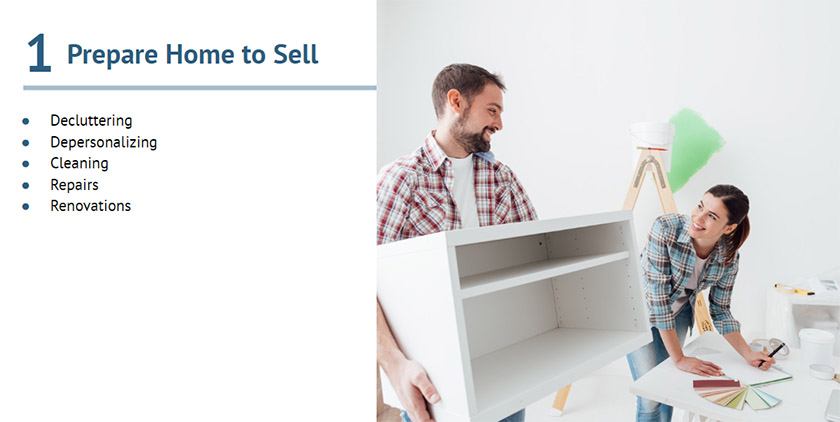 A few things you want to cover are the following:
Decluttering: Often, less is more when it comes to furniture. Many homeowners have more possessions than they actually need. Your seller might have to rent a storage unit to house extra stuff and remove furniture to make the place more presentable.
Depersonalizing: Buyers must be able to visualize living there. The buyer can imagine themselves living in the house more easily if family photos, nameplates, and other personal belongings are taken down.
Cleaning: A dirty home is challenging to sell because no one wants to inherit a mess. If pets are in the house, the owners must thoroughly clean or contact a cleaning company.
Repairs: It's to a seller's best advantage to see that repairs are finished right away, especially when the inspection is approaching since some buyers don't want to purchase a home because they have to make repairs. Depending on the house's condition, this could be anything from a damaged cabinet hinge or leaky faucet to upgrading the electrical box or replacing the roof.
Renovations: In some circumstances, remodeling a room or other area of the house can considerably raise the value of your property. For instance, if remodeling the basement bathroom costs $5,000 and increases the home's value by $15,000, it might be worthwhile for the seller to invest their time and money in the project.
It is crucial to go over these details with your client because they are in charge of them since you don't reside at their residence. Be prepared to offer suggestions for reliable, licensed contractors and nearby cleaning companies. Additionally, remember that these actions must be finished within a specific time to promote, list, and show the property to potential buyers.
5. Outline Your Pricing Strategy
The suggested cost of the house and the process used to arrive at the ideal list price will be one of the most critical aspects of your real estate listing presentation. You need to see or tour the property to discuss figures with your clients, but it is crucial to explain how accurately valuing their home will save them money in the long run.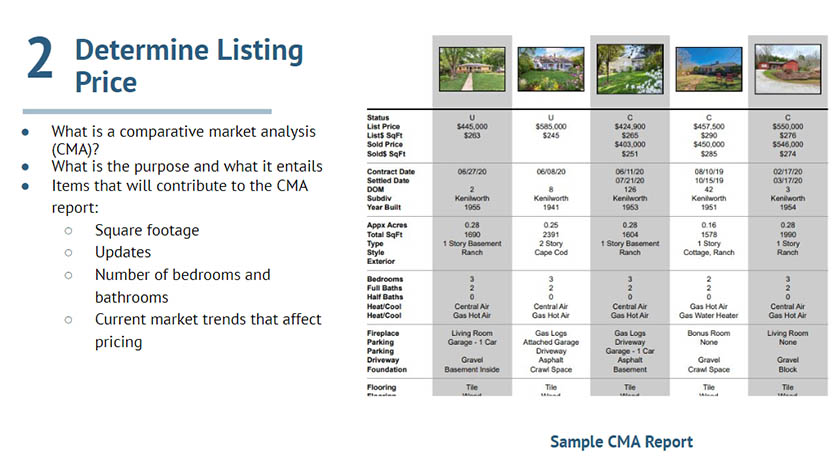 With your clients, go over what a comparative market analysis (CMA) report is and describe your approach. Showcase the impact of factors like square footage, upgrades, the number of bedrooms and bathrooms, and pricing trends. Then explain how those factors impacted the price you had in mind for the seller's property. To achieve the best outcomes, you should do what it takes to assist the homeowner in understanding how pricing works and your strategy.
6. Walk Through Your Marketing Strategy
Your clients will be interested in understanding how you can maximize marketing and advertising. In general, it makes sense to concentrate on the marketing tools you can offer and how to use them directly to promote their house.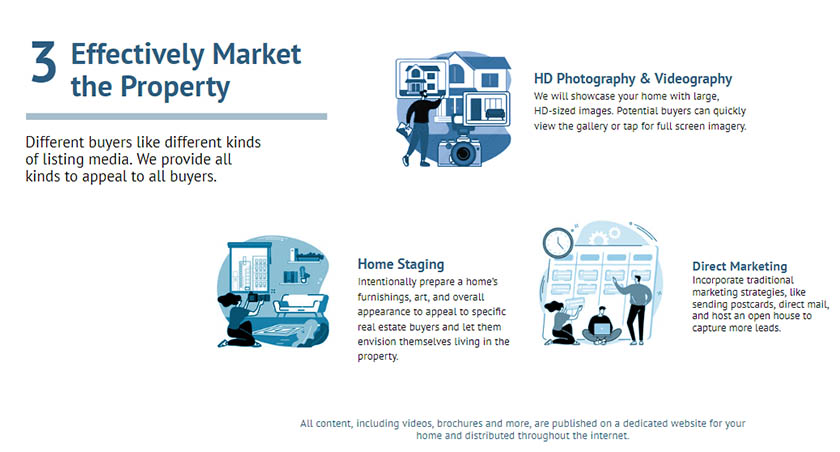 You can also provide your listing checklist outlining these items to accompany your presentation:
Talk to clients about home staging as part of your marketing strategy. The National Association of Realtors reports that even though staging a home is not required, 31% of seller's agents said they staged all sellers' homes before listing them for sale, and 82% of buyer's agents said staging made it simpler for their buyer to picture the property as their future home.
Home staging is utilized because it helps buyers envision themselves living in the property and can be done strategically to draw in targeted homebuyer types. Browse through our Home Staging in 10 Steps: The Ultimate Guide to learn more about home staging.
The average national cost for home staging is $766 to $2,852, but clients can also stage their homes virtually at a lower cost. A company like BoxBrownie allows sellers to pay per image, making it a cost-effective option for clients who want all the perks of home staging without breaking the bank. BoxBrownie also does floor plans, which can be a great addition to your marketing images.
---
Explain how and why your marketing will take advantage of professional photography and videography, regardless of whether the home is staged or not. Poor images degrade your marketing efforts and may make buyers want to avoid seeing the house. Bring examples of excellent and poor images from other listings and samples of photos taken by your photographer so they can fully see the difference in quality.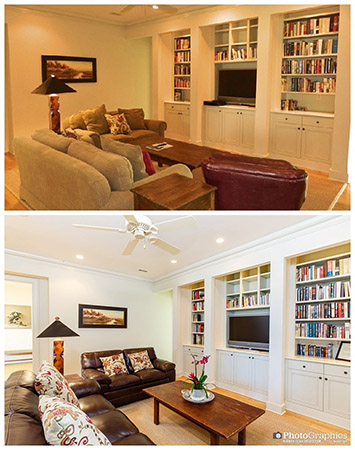 ---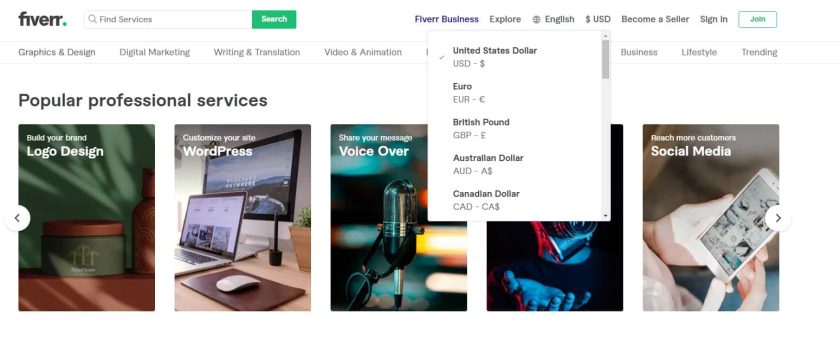 ---
For even more engagement and to provide potential buyers with a 360-degree experience, many agents and homeowners choose to film or take virtual tours of their houses in addition to taking photos. You can provide an example with your presentation if you've already used video marketing for other listings.
Also, use a service like Fiverr to assist with creating videos. Fiverr offers an array of freelance services that can help with photos, videos, and virtual staging to make sure the marketing for your listing is on point. Choose from various professionals at different price points to suit your needs.
---
Additionally, incorporate traditional marketing strategies, such as sending your client handwritten letters or conducting in-person meetings, to build genuine human connections. Outline the additional locations where you market directly to buyers since many consumers erroneously assume you would list their home and call it a day.
Here are some marketing tactics you may be using and will want to point out to the seller:
---
7. Advertise on All Major Platforms
Once you finish creating your marketing materials, you will use them on both physical and online advertising channels. You should let the sellers know that you intend to advertise to your full extent to bring them multiple offers, which involves using as many platforms as possible.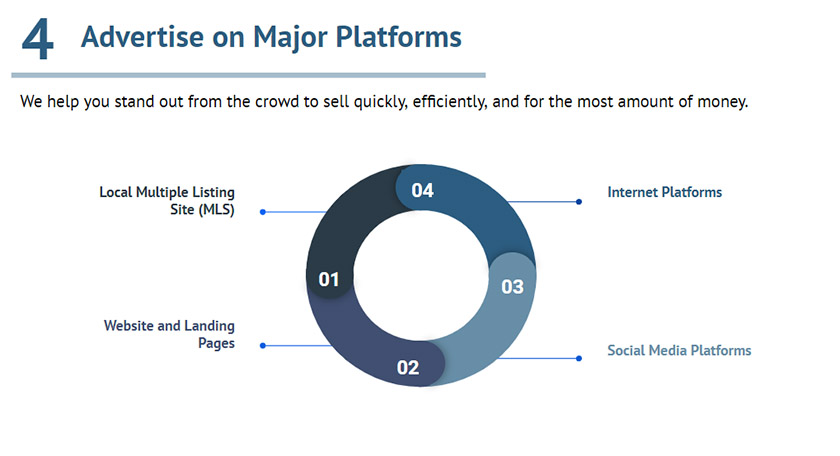 Given that some clients might not be familiar with the multiple listing service (MLS), a brief explanation of the system's purpose is beneficial. Discuss how it makes the listing accessible to agents, and that their listing will be available for buyer's agents to show to their clients once it's posted. It is beneficial to mention that only real estate agents can access this platform so you can get qualified buyer candidates from other agents using the MLS.
---
Your online presence will be a significant selling point for most homeowners, regardless of whether you use your brokerage's website or have your own internet data exchange (IDX)-enabled website. If you use IDX, emphasize how their listing will appear on your site and numerous other brokers' IDX websites.
If you have remarkable visitor figures on your website, talk about how many people visit it, how it works, and how sales-oriented it is. You can also include a screenshot of your landing page and website for a visual. For example, talk about placing their home as a "featured listing" in front of hundreds of visitors or if you can offer the sellers a single-property website.
In addition to advertising the seller's property on your website, create a single-property or property-specific website or landing page dedicated to their property to showcase the seller's home fully. A single-property website or landing page can optimize your opportunity to generate leads specifically interested in the seller's house, which is a strong selling point during a listing presentation.
Check out companies like Real Geeks to help you create the perfect website and real estate landing pages to highlight your value as an agent and advertise your listings. Customize your website with templates, designs, and widgets with Real Geeks. Its IDX website updates automatically every 15 minutes, so you can guarantee your site is always fresh.
---
Ninety-five percent of people use the internet during their home search, so it's essential to stress which sites you will use to advertise the seller's listing. Unlike the MLS, these platforms are available to everyone, including active homebuyers, and will allow clients to contact you directly without an agent. Since you will be the expert on their home, you can explain why having leads contact you directly will lead to more showings.
If you're a Zillow Premier Agent, explain how this designation benefits their listing. Feature their listing with exclusivity on the most popular listing site on the internet. Zillow Premier Agent won't only help you close seller leads, it will also help you get more buyer leads as well. See our review of how Zillow Premier Agent works to learn more about the exclusivity that Zillow Premier Agent offers.
---
---
8. Showings & Open Houses
Set expectations with the sellers about your role and their responsibilities regarding open houses and showings. You will provide tours for prospective buyers when they visit the home, but you want to guarantee that your client's schedule and home safety will not be infringed upon during this process.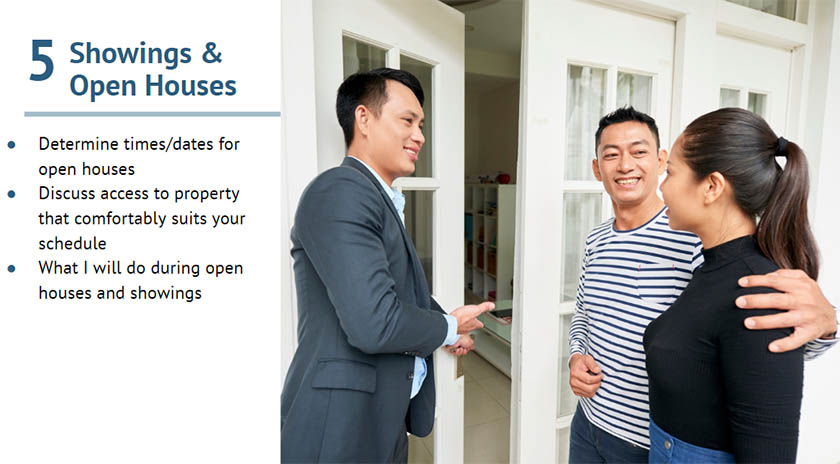 Assure your client no one will be permitted into their home without your presence or the presence of a licensed buyer's agent. Regarding their duty, politely explain that it is in the seller's best interest to avoid being present during open houses or showings since doing so may turn away potential buyers or impair their judgment when deciding on offers.
Discuss the ideal times you'd like guests to come to their house. Open houses will likely be planned continuously until the house sells. In contrast, individual showings may occur more spontaneously and be held at specific hours on any day of the week (with appropriate notice given to the homeowner). To access the seller's property for showings, the seller will also need to provide you with a copy of their key or digital access code.
For safe and secure access to the property, consider using ShowingTime. It allows agents to make appointments through a mobile app, which will also provide directions on how to access the home. Specify times and dates your clients will allow or not allow access so you can guarantee convenience.
Following the appointment, ShowingTime will gather feedback and notify you if the keys are returned or if someone does not depart the property. It's a terrific way to provide your clients with peace of mind regarding visitors to their houses.
9. Offers & Negotiations
Since this is when the process becomes real, sorting through offers and making counteroffers until an agreement is reached is often the most stressful part of the real estate process for sellers. Until now, the seller isn't fully committing to selling their home.
Set reasonable expectations based on the state of the market and describe how the process will work. For instance, a seller's market in a popular neighborhood can see multiple offers quickly and may end up in a bidding war. On the other hand, in a slow market, the seller can also be asked to lower the asking price, cover part or all of the buyer's closing fees, or contribute funds for renovations like new flooring or painting.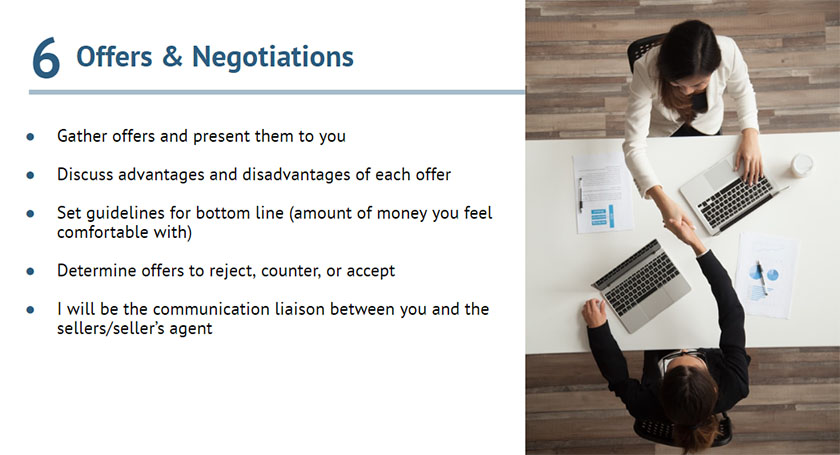 To ensure you're addressing their needs, emphasize that this part of the process involves honest and open communication. Use the seller's answers to some of the questions you touched on before to guide this part of the conversation during the presentation, such as:
When do you need to move by?
Why are you moving?
Is getting a reasonable price or timing more critical for you?
What will you do if your home doesn't sell?
10. Closing & SOLD
Keep this part brief since you discussed the sales process steps earlier. However, if you have first-time homesellers or homesellers who want to know all the details, you should review additional questions they may have about the final stages of the process that might impact the sale, including the following:
Appraisal
Inspection
Financing
Contingencies
Walk-through
Closing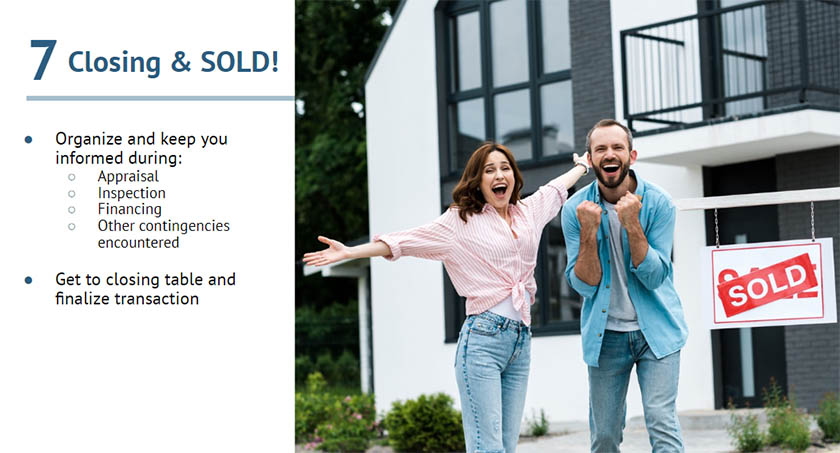 After answering any questions they may have, make sure to conclude this section of the presentation by leaving them with a positive note. Make it clear that, although the sales process can occasionally be long and stressful, you will make every effort to make it seamless.
11. Schedule Next Steps
Ideally, the sellers will be prepared to hire you at this point and have faith in your ability to represent their property. However, you might not be the only candidate they are considering for the agent position. Scheduling one or more subsequent actions is a fantastic way to carry the conversation forward from this point.
Set a time to see the property and review the suggested listing price if you still need to finish the comprehensive CMA report. To beat the competition, schedule it as soon as possible after the meeting. Assign them a deadline by which they should be prepared to conduct home staging or video and photography shooting. By continuing the conversation, you establish yourself as their exclusive listing agent.
Additional Tips for a Successful Listing Presentation
The content in your slides will be based on your experience, the market, and your client, but your approach can make all the difference in the world. Here are a few more tips on how to make your pitch:
In any presentation, you may have people interrupting or trying to take over the conversation. It's vital for you, as the professional, to be the one guiding where the conversation goes. To do this, you can employ the following tactics:
Be kind but assertive.
Don't overfill your slides with detailed text or pictures; keep focusing on your narrative with the slides as a supportive backdrop.
Keep consistent eye contact throughout the presentation.
Be passionate and enthusiastic about the content.
Anticipate questions before presenting.
Pay attention to the reactions of your audience.
Use questions to bring the seller back on track.
Allow questions, but don't stray far from the current point of your presentation. Staying in control of the presentation will keep your clients interested and also keep a focus on the topic at hand—which is how you are the best person to be selling their home.
---
You will have time and space to highlight your skills and abilities in your listing presentation. However, no matter how fantastic your reputation is, clients focus on how those things meet their needs.
For example, talk about why you got the award and what it means for your potential client instead of focusing on getting a recent award. Always remember that your focus should remain on the seller, their home, and how you can best meet their needs.
---
Every homeowner is different, and you must tailor your slides accordingly. As you make your presentation, be flexible enough to either go into more detail when warranted or skip certain sections. For example, if your homeowner is tech-savvy, gauge their reaction when you start talking about websites and landing pages to see if they want to dive deep into it or skip over it.
If you end up glossing over sections of your presentation, remind them that you will leave more details with them and that you will be available for questions if they get curious later. Often, when there are elements people do not understand, they might ask a friend or family member to review what you've said and give their opinion.
---
Regardless of how much a home is worth, money is money—so treat your clients like they're all VIPs so you can continue getting business. Bring lunch to your listing presentation or buy them dinner while you review the CMA report.
Breaking bread is something friends do, which can make people feel appreciated and more open to conversation. Footing the bill can also create feelings of reciprocity, making it more likely that a client will choose you vs a competitor who didn't make this personal investment. This gives you a chance to win your clients over through real estate and a personal connection.
Keep in mind that it's essential to avoid judging a book by its cover because you never know when a $100,000 seller has a family member or friend who wants to sell a $1 million home and will refer your services to them. By holding all clients at a VIP status, you will be giving yourself more opportunities to generate leads to build your real estate business.
You can even give small branded gifts to your clients as a token of appreciation for the opportunity to present. They can be anything from a backpack to an Apple AirPods, as long as your real estate logo can be added. You can use AnyPromo to create customized, brandable gifts. You can also have your business logo printed on the gift to remind your client of your premium service.
---
The old adage "practice makes perfect" is valid when conducting presentations, as you can't jump in front of sellers expecting them to give you business without knowing your stuff. Role-playing with a co-worker or family member is a great way to bring your listing presentation off your laptop and into reality. You may be surprised that lines that sounded great in your head fall flat with other people.
Consider videotaping yourself and watching to see your facial expressions, where you stumble, or where you are doing your best work. We tend to be our harshest critics, and you can use that criticism to make constructive changes to your presentation.
---
While reason tells us to stick to the facts, remember that selling a home is often a very personal and emotional decision, so it doesn't hurt to let emotion take the reins during your presentation. Ask the client why they are selling their home and be sensitive to that information.
It may be for a happy reason, like having a baby, buying a vacation home, or making a life change. But, it could be for something sad or bittersweet, like a family death, job loss, or moving on from the home they grew up in. Even though this is a financial transaction at the core, being relatable and considerate of a client's emotional reasoning for selling will get you further than always being a stickler for the facts.
---
All types of real estate agent personalities exist, so be true to yourself as you make your presentation and beyond. If you're bubbly, be bubbly. If you're shy, be shy. If you're funny, be funny.
If you try to be someone else, your clients will see you as disingenuous and question your trustworthiness. Although your personality matters, being confident, clear, and informative during your presentation illustrates your abilities and value as a successful real estate professional, which will be the reason you ultimately win clients.
---