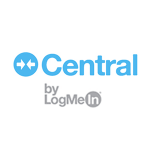 LogMeIn Central is a remote access and endpoint security management software. It offers solutions for remote access, user grouping, monitoring, and troubleshooting. We compiled LogMeIn Central reviews from around the web and found that LogMeIn Central has generally positive ratings. We also compared the most popular pricing options for small business owners.
Want to know the top internet security software for small business? Read our LogMeIn Central alternatives guide.
LogMeIn Central Customer Reviews
Overall Experience: Good
Ease of Use: Good
Customer Service: Good
Pricing: Fair
See All User Reviews
Summary of LogMeIn Central Reviews
What LogMeIn Central does well:
Users who gave LogMeIn Central a positive review liked how they can access and monitor their devices, then quickly resolve any security issues from anywhere.
What LogMeIn Central does not do well:
There weren't a lot of negative LogMeIn Central reviews, but some users mentioned how the price has become too expensive for most small business owners.
Most Helpful Positive User Review
A positive reviewer from the site G2 Crowd said that LogMeIn Central has made it easier for him to manage multiple machines at once and implement network-wide changes. He said the software also made it easier to implement deep-freeze protocols without loading software on each computer individually.
Most Helpful Negative User Review
A reviewer from G2 Crowd summed up his review in one word: price. He said he's been highly satisfied with the service for many years, but he felt that the company is focusing more on their larger corporate customers. He mentioned that they've raised their prices tremendously and eliminated the free version all together.
Other LogMeIn Central Reviews From Users Around the Web
Here are a few other resources for finding helpful LogMeIn Central reviews from customers. We rated the review sites on a scale from poor to excellent based on how trustworthy and useful the reviews seemed.
| Review Website | Average Rating | Number of Reviews | Quality of Reviews |
| --- | --- | --- | --- |
| G2 Crowd | 4 out of 5 | 76 reviews | Good |
| Trust Radius | 6.5 out of 10 | 19 reviews | Good |
| PCMag | 4 out of 5 | Staff Review | Good |
*Average rating as of date article was written: Dec 15, 2017
LogMeIn Central Pricing
LogMeIn Central has three plans: Basic, Plus, and Premier. The plans cost $599.99, $1,299.99, and $1,599.99 per year, respectively. All plans start at 25 computers each. Only the Premier plan includes advanced security features and premium customer support.
Plan

Price
(25 devices/year)

Remote Access

File Sharing

Anti-Virus

Basic

$599.99

✔

✕

✕

Plus

$1,299.99

✔

✔

✕

Premier

$1,599.99

✔

✔

✔
All plans offer the following features:
Remote Access
User Management
Computer Grouping
Online/Offline Status
Reporting
Multi-Monitor Support
Ad Hoc Support
Two-Factor Authentication
256-bit SSL Encryption
Desktop & Mobile Apps
File transfer and background access are only offered in the Plus plan. Anti-virus management, malware protection, endpoint monitoring, computer audit, advanced reports, and advanced analysis are only offered in the Premier plan.
Customer support can be reached directly via phone, email, or tickets. A subscription to the Premier Plan ensures premium customer support.
Compare LogMeIn Central Competitors
Not sure if LogMeIn Central is the right internet security software for your small business? Look through our internet security software reviews for comparisons.