Luxury real estate marketing targets prospective buyers and sellers interested in upscale properties using email, community outreach, and advertising. Marketing a luxury home requires extra effort and expense by the agent, so only highly committed agents should consider it. However, commissions can be higher if your real estate marketing is successful.
Here are the 6 steps for attracting the right buyers with luxury real estate marketing:
1. Position Your Luxury Real Estate Brand
Any luxury brand is about creating an impression of prestige and exclusivity—both regarding your clientele and the types of properties you represent. There are several ways to do this, but you should start by considering training in luxury real estate marketing, pinpointing your target audience, reviewing your competition, and identifying the best ways to secure quality leads.
Acquire Professional Certifications & Get Training
You might want to consider special training or certifications for a luxury real estate agent. McKissock offers the Institute for Luxury Home Marketing to help agents align their upscale marketing with their buyer and seller goals. Designations and certification in green housing, trust fund handling, investment properties, luxury home sales, and vacation home sales through the National Association of Realtors (NAR) or Mbition – Learn Real Estate would increase insight and customer understanding.
Simply sign up to select your course and complete it entirely online. Course costs vary by state and course type, but range from about $50 to $200+.
Identify Your Audience
Properly identifying the target customer profile for your real estate marketing means more than just knowing an average net worth. You need to pinpoint the types of habitual behaviors of your audience in order to ensure you're creating the right content for your advertising. For example, is your primary buyer married? What kind of car does he/she drive? Does your buyer play golf, come from a certain university, or travel often?
Here is some of the most common information included in a customer profile template:
Age & gender: Age and gender are more than just labels; they tell a real estate agent what type of language is used in their age group, how strict their social norms may be, and what types of trends they follow in society.
Buying behaviors & interests: Buying behaviors give the agent an idea of what a potential buyer is seeking in a luxury property and how to meet their expectations for a purchase.
Marketing channels referenced: The marketing channels clients use are simply the ways they acquire information, communicate with others, or find entertainment. Many high-end clients read luxury print magazines and belong to exclusive online networks, as well as popular social sites like Facebook. Knowing these specifics allows agents to place their marketing messages in the right places.
Make a note of this information and keep it in mind when creating your marketing materials and advertising. When you align effective luxury real estate marketing ideas with your targeted audience, the result will be a massive increase in leads and, ultimately, sales.
Review the Competition in the High-End Market
Your competition can be your best friend in the luxury home marketing space because you can use what other successful high-end agents do as a test guide. Start by identifying top sellers at luxury brokerages, then follow their social media accounts, subscribe to their emails, and comb through their websites. If you see mounds of reviews, then read those to see what people are saying and take the best responses as hints on where to up your game.
Some of the best places to look for luxury real estate competition are on social media, high-end local magazines, and networking events. Monitoring competitors found in these channels will give you the advantage of seeing what works without spending your own money.
Plan for Leads
Most high-end real estate agents want tons of leads, but do not plan on what they will do when referrals and clicks start coming in after a well-executed marketing campaign. Stay ahead of the curve by getting Real Geeks, which can provide you with an upscale real estate website with lead capture forms that push new leads directly into a CRM (customer relationship manager) for easy management.
Once in your CRM, track and communicate with leads to ensure you are making the most of all sales opportunities. Also be sure you set up follow-up reminders, autoresponders, and drip email marketing campaigns to keep communication consistent with minimal effort.
2. Establish Your Marketing Channels
Your marketing channels are the ways in which you share your luxury branding with potential clients. That branding should focus on your "prestigious" and "exclusive" offerings. First, build out clean, professional landing pages to capture lead information, then launch social media accounts (if these are not already in place), and finally, design and print high-end flyers and door hangers to send to your farm area.
Create Your Real Estate Landing Pages
Your real estate landing pages are where users land after clicking on your ads. They are created to showcase individual properties and serve the dual purpose of representing your brand and giving potential buyers a place to find out more information about a property.
Using a tool like Real Geeks, create your real estate landing pages with a clean, professional, and uncluttered design—omitting excess information. The images should represent a property in the best light and invite the visitor to find out more about the features of the home. Use professional photography and expert design whenever possible. Avoid low-quality, gimmicky additions like animated GIFs or outlandish colors.
While you want to be sure you provide ample visuals and feature information about a listing on a landing page, you also want to be sure it's easy for a visitor to input their contact information to learn more. Include a simple form that requests only basic contact information (name, phone number, and email address) to ensure it can be completed easily and quickly. Consider offering a free report via email for those who submit their information.
Once you have your landing pages created, you'll connect them with ads (in the next step).
Launch Your Social Media Outlets
Social media outlets for high-end real estate marketing should represent the quality of your brand and the prestige in working with you. While you can select any social platform to build your brand, it's recommended that you create accounts where luxury home buyers are likely to frequent, including Facebook, Instagram, Google My Business, and LinkedIn.
Here are the top social media platforms for high-end real estate marketing:
Facebook: A real estate Facebook page helps real estate agents build a brand and a following for their properties with keyword-optimized posts and targeted ads
Instagram: Using Instagram for real estate gives agents the ability to connect with high-end buyers with simple, beautiful pictures and videos.
Google My Business (GMB): Ranking on Google can improve search results and increase the number of click-throughs for listing ads in specific locations.
LinkedIn: LinkedIn real estate leads are beneficial because high-earning professionals are active on the channel.
When posting on these platforms, use high-quality images and videos to earn maximum engagement and build your online prominence and reputation.
Design & Distribute Printed Marketing Pieces
From business cards to property folders, real estate agents — even in the high-end home market — need printed marketing pieces to leave with potential buyers and sellers. Start by designing business cards and general agent information flyers, then use an online service like ProspectsPLUS! to print them quickly and affordably. As a general guideline, make your luxury real estate brand stand out with heavier stock, embossed or engraved fonts, gold or silver film, and vibrant colors.
Next, consider designing and printing brochures, presentation folders, and postcards highlighting specific properties. Be sure to print a limited number of these, however; you won't need them after a property is purchased or sold.
These printed marketing materials should be used at all points in a buying cycle; offer business cards during initial meetings, hang flyers for neighborhood canvassing, leave postcards at open houses, and send thank-you cards after a closing.
3. Launch Your Luxury Real Estate Advertising
Luxury real estate advertising involves both print and online media. While advertising in print publications is expensive, it can be worthwhile; these magazines often have a loyal readership that spends more time reading the entirety of an issue's content. However, most people spend significant time online these days, so it makes sense to deploy online advertising, too.
Start with print advertising by contacting a luxury title's media representative or salesperson (noted in the masthead of every issue). Ask for an advertising kit to price out ad options, then decide on appropriate advertising. When you're ready for online advertising, consider Facebook or Google Ads as they have the widest reach and best targeting options.
Plan Print Advertising
Print advertising in magazines is a staple for high-end real estate marketing. To find the right magazine title, consider your target demographic's interests, then find magazines that serve audiences with that interest. For example, if you want to capture an affluent audience, consider golf magazines that distribute to high-end country clubs or boating magazines that are available on marinas.
Once you have found your ideal magazine title, contact their salesperson to get a run-down of advertising costs and placement information. You will need to make sure your ads include content that makes the most of the media placement, so find ways to connect your advertising to the magazine's subject matter. For example, if you're buying an ad in a golf magazine, include an ad of a listing on a golf course.
By aligning your real estate advertising with publications already integrated into a buyer's life, your ad placement gains prominence and recognition from ideal prospects.
Advertise Your Luxury Home Online
It is vital your luxury real estate ads target the qualities, interests, and characteristics you highlighted in the customer profile in step one. To being your online advertising, review this profile information, then set up advertising accounts on either Google Ads or Facebook (or both). Finally, create the ads that target a specific audience.
Creating accounts for advertising on Google and Facebook is easy. For Google, all you need is a Gmail account. Once you have that setup, read our article on How to Advertise on Google. For Facebook, you will need to create a business account, which will give you access to their Ads Manager.
When you're ready to create your ads, be sure to align special features of your listings with the buyer profile you created in step one. Think about their age, their needs, their family, and their interests. Your ad should be able to address a want or need that they have, making it easy for them to click through to your landing pages (that you created in step two).
As mentioned before, you want to make sure that leads from online advertising are collected using landing pages and sent to a CRM to ensure they are organized and trackable. There are many CRMs that do this well, but we recommend two: Real Geeks and Bold Leads.
Respond to PR Requests on HARO
Many real estate agents overlook participation in HARO (a site called "Help a Reporter Out" that allows reporters to request subject-specific quotes) and other expert sourcing platforms. Sending quotes and PR pitches to reporters from high-end publications can help you gain high-level, free media coverage for your brand and your properties. Being regularly featured online and in print can give you the prestige and recognition that lead to sales.
4. Involve Yourself in the Community
Real estate agents can easily use community involvement to boost their PR coverage. Start by finding out what philanthropic causes are important to your buyers, then identify the charities and community efforts in your area that align with those causes. Before you reach out to volunteer with philanthropic organizations, however, make sure they align with your own interests as well.
When you have found organizations and causes that are a great fit personally and are well-thought-of by your target audience, reach out to volunteer coordinators or sponsorship representatives to find out how you can get involved. By engaging with these groups, you will meet people who become not only potential clients, but friends. The rapport you build with them engenders trust, which makes you the first contact when they need to buy or sell a home. It's also worth noting that most affluent charity events are covered by the media, giving you even more exposure to a broad audience—at no cost to you.
Charity events are not the only way to get involved. Find local business groups for your industry through apps like MeetUp or coworking and event spaces like Galvanize. This can quickly lead to business partnerships that generate leads. For example, you may meet car dealership owners who attend the same marketing events you do. Connect with them to arrange a special giveaway deal for your clients or theirs—like a free ride in a high-end sports car if a house is purchased.
5. Surround Yourself With Pros & Resources
Having a complete luxury marketing team frees your time to interact with potential buyers or sellers, so consider hiring industry experts to help with your marketing efforts. While there are many you might consider hiring, you will most likely need a photographer, videographer, email marketing specialist, staging service, and marketing/copywriting freelancers.
Here are five resources you should have on your high-end real estate marketing team:
Photographers: Quality photos are a must for luxury home marketing because you will need to show off features and amenities in detail both in print and online; professional photographers can capture the smallest nuance in depth and help turn pictures into reasons to buy.
Video specialists: From VR to 360-degree tours, video is changing the way that buyers shop for a home; with the ability to virtually stroll through a home without leaving a computer, prospects can experience a property almost firsthand — without traveling to the home.
Email program: Creative real estate marketing ideas can include the use of video to reach out to potential buyers and sellers through email. Video email services like BombBomb give high-end real estate marketing efforts a boost by promoting the agent or the property directly in the buyer's inbox.
Virtual staging services: Virtual staging services like BoxBrownie can be an inexpensive way to increase a luxury real estate marketing effort by adding virtual furniture, rugs, and lamps to an indoor or outdoor space to make it more appealing.
Marketing freelancers: For real estate agents who do not have the time or expertise to handle their own luxury real estate advertising, a list of freelancers from Fiverr can streamline and optimize luxury home marketing efforts.
6. Measure the Results
Now that your luxury real estate marketing and advertising efforts are in place, it is time to look at what worked and fix what did not work. Because high-end real estate marketing is expensive and time-consuming, it's important to measure expenditure vs. return on investment. While high-end home sales are less frequent than lower-cost homes, the commissions are much higher; be sure to keep this in mind when evaluating the cost of your advertising and marketing.
Evaluate What Worked
Every single piece of your luxury real estate advertising and marketing should produce a measurable return on investment (ROI). Some results will be less about a solid number and more about a feeling. For example, you might not be able to measure the time savings of hiring a Fiverr freelancer, but you probably know if it saved you enough time to do it again. Still, it's important to consider all of the pieces of your advertising effort carefully.
To evaluate your ROI, ask yourself these questions:
Was the budget enough for the sales effort?
Did you make a profit?
Did you advertise in the right magazines?
How many leads did you acquire and where did they come from?
Did your brand convey the right message to your buyer?
Were the online and digital marketing efforts productive?
Are the printed pieces you purchased worth the investment?
How did the sponsorships and community involvement pay off?
Revisit Marketing & Advertising
When you find luxury real estate marketing ideas that produce results, it is easy to replicate those efforts and do it again. It is also a good thing to find parts of your high-end real estate marketing that do not work because you do not want to waste money. Tweaking your real estate advertising efforts will be an ongoing process based on results.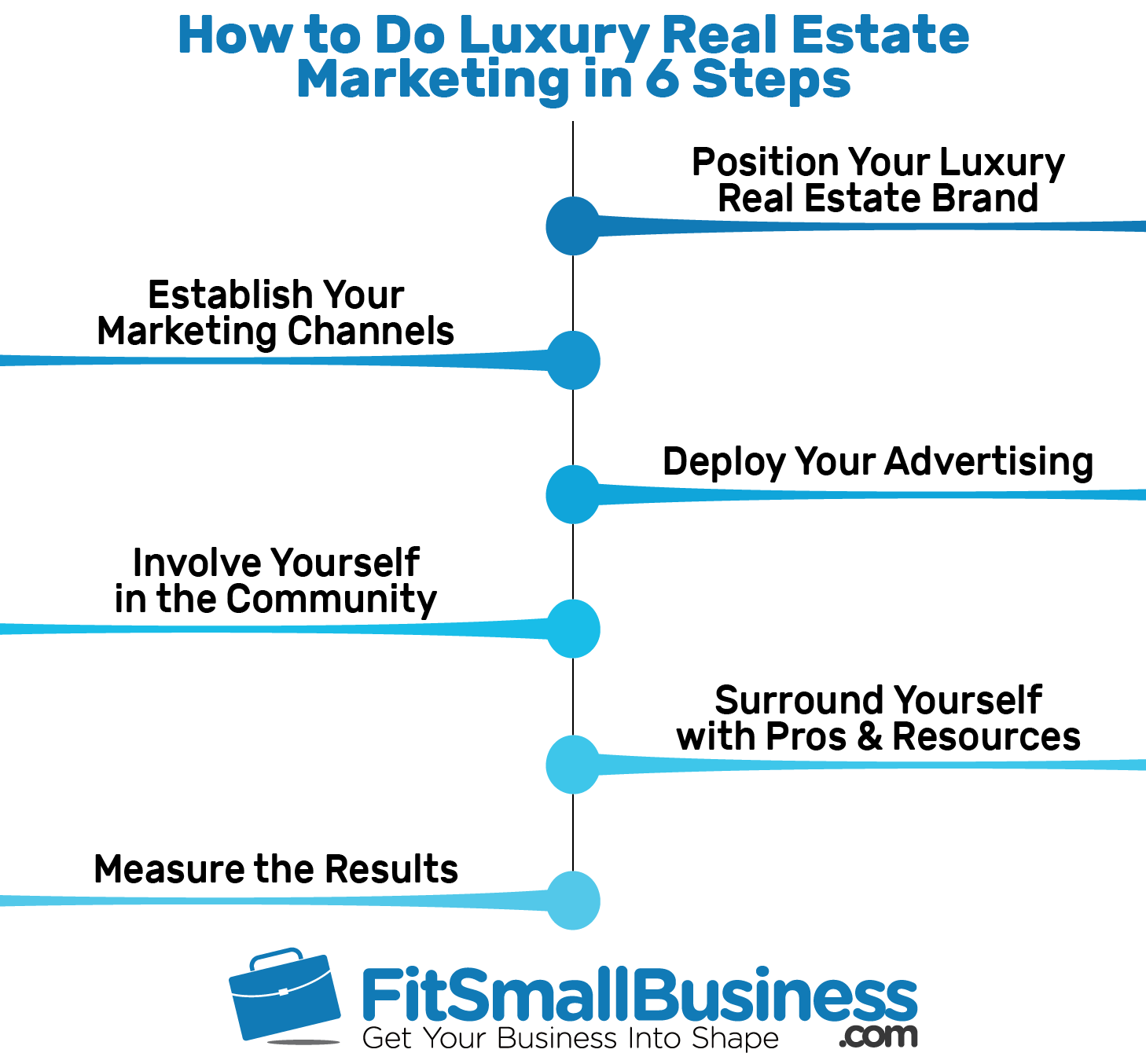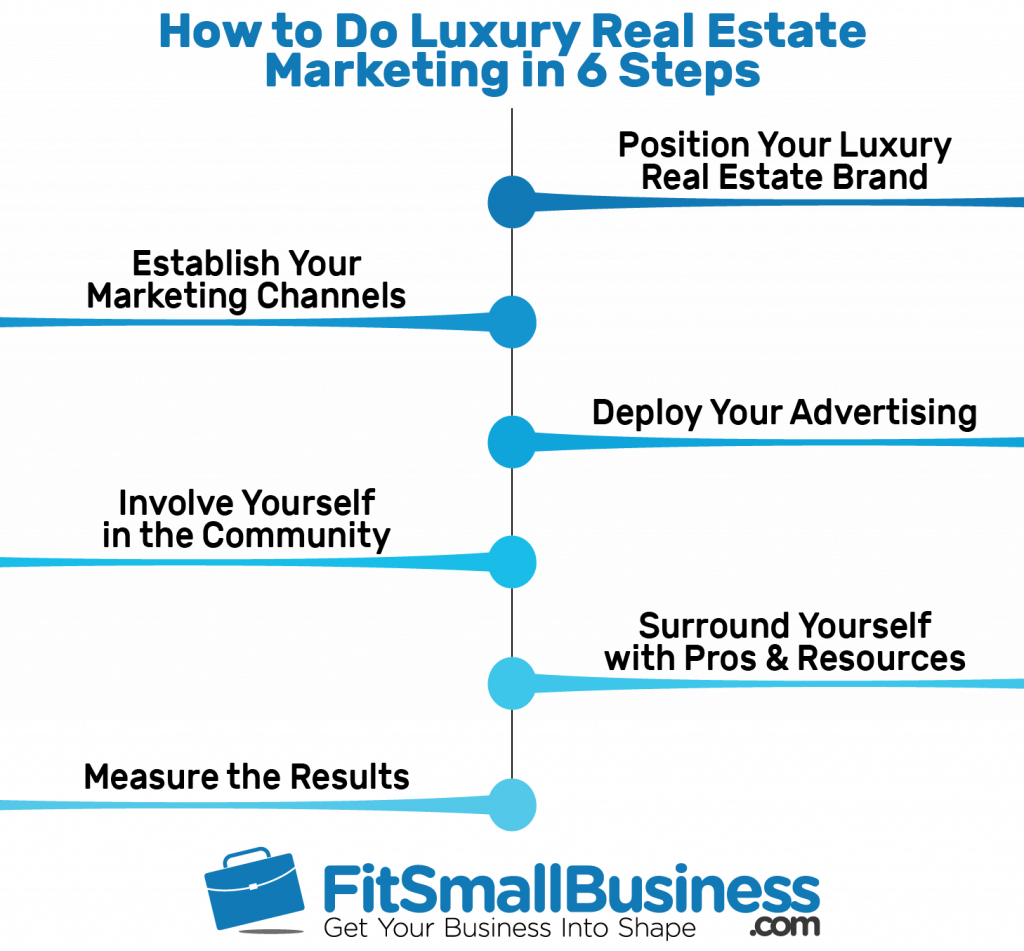 How Luxury Real Estate Marketing Works
Luxury real estate marketing is similar to general real estate marketing, except the property is pricier and the buyer and seller demographic more affluent. To succeed in luxury real estate marketing, you'll need to focus on positioning your real estate brand online and in-person, establishing high-end marketing channels, deploying advertising, involving yourself in the community, leveraging high-quality lead-nurturing resources, measuring results, and optimizing your process.
Because of client demands, high-end real estate agents have to commit to concierge-style service, including 24/7 availability, while also taking their marketing to the next level with custom gifts, spotless presentation, and client assistance that goes above and beyond. These offerings need to be made apparent on a branded website, social media accounts, and in any distributed print materials.
When marketing your brand to luxury audiences, you should consider where your target demographic spends their time and resources. For most high-end agents, online advertising will have to be complemented by engagement in big-ticket charity events and community activities, careful lead nurturing through both personal and professional networks, and a constant effort to hone advertising for a variety of affluent audiences.
High-end agents should also be aware that for luxury real estate marketing, you need to spend money to make money. Not only are professional virtual home tours, drone footage, and high-end photography expected, but so are gifts and constant, one-on-one assistance. While this can be taxing, successful real estate marketing can lead to sales of very expensive properties, resulting in commissions of $100,000 or more.
Who Luxury Real Estate Marketing Is Right For
Luxury real estate marketing is right for real estate agents and brokers seeking to increase commission levels by attracting buyers and sellers of high-end properties. High-end real estate marketing requires a mixture of experience, concierge service, and a big budget to reach potential buyers of high-end properties.
These are the key characteristics of a real estate agent in the luxe home market:
Agents with a proven track record: The ability to show a history of successful luxury high-dollar real estate marketing and sales is vital to attracting future buyers and sellers because you have proven your skills; the luxury real estate market is not a learn-as-you-go field.
Concierge service provider: Concierge service is the backbone of real estate marketing, so you have to be prepared to meet the client on their time, answer the phone for late-night calls, and respond to questions without delay. Closing the deal can depend on your commitment to helping the buyer at any time.
Real estate agents with outstanding reputations: Your brand is the first impression that high-end buyers and sellers will use to decide if you are good enough to work with them; like a tailored suit, your brand makes buyers want to contact you by reflecting prestige and exclusivity.
Real estate agents with an extensive network & many connections: A real estate agent for high-end properties needs an extensive network of other real estate agents, potential buyers, and connections throughout various industries; luxury real estate is not just about closing a deal or showing a house; the ability to work your connections and create a stream of leads through referrals makes high-end real estate marketing easier.
Agents with a deep knowledge of local areas: Knowing facts about a local area makes all of the difference in the luxury real estate effort; if various famous or infamous people have lived nearby, it can add prestige to a neighborhood. Digging into the details of the area makes you an expert, and provides plenty of details to share with prospective buyers and sellers.
Real estate agents with a sizable marketing budget: Whether working alone or with a brokerage, high-end real estate marketing is expensive. From large magazine layouts in strategic print publications to online video, advertising campaigns should be produced with a high-end clientele in mind.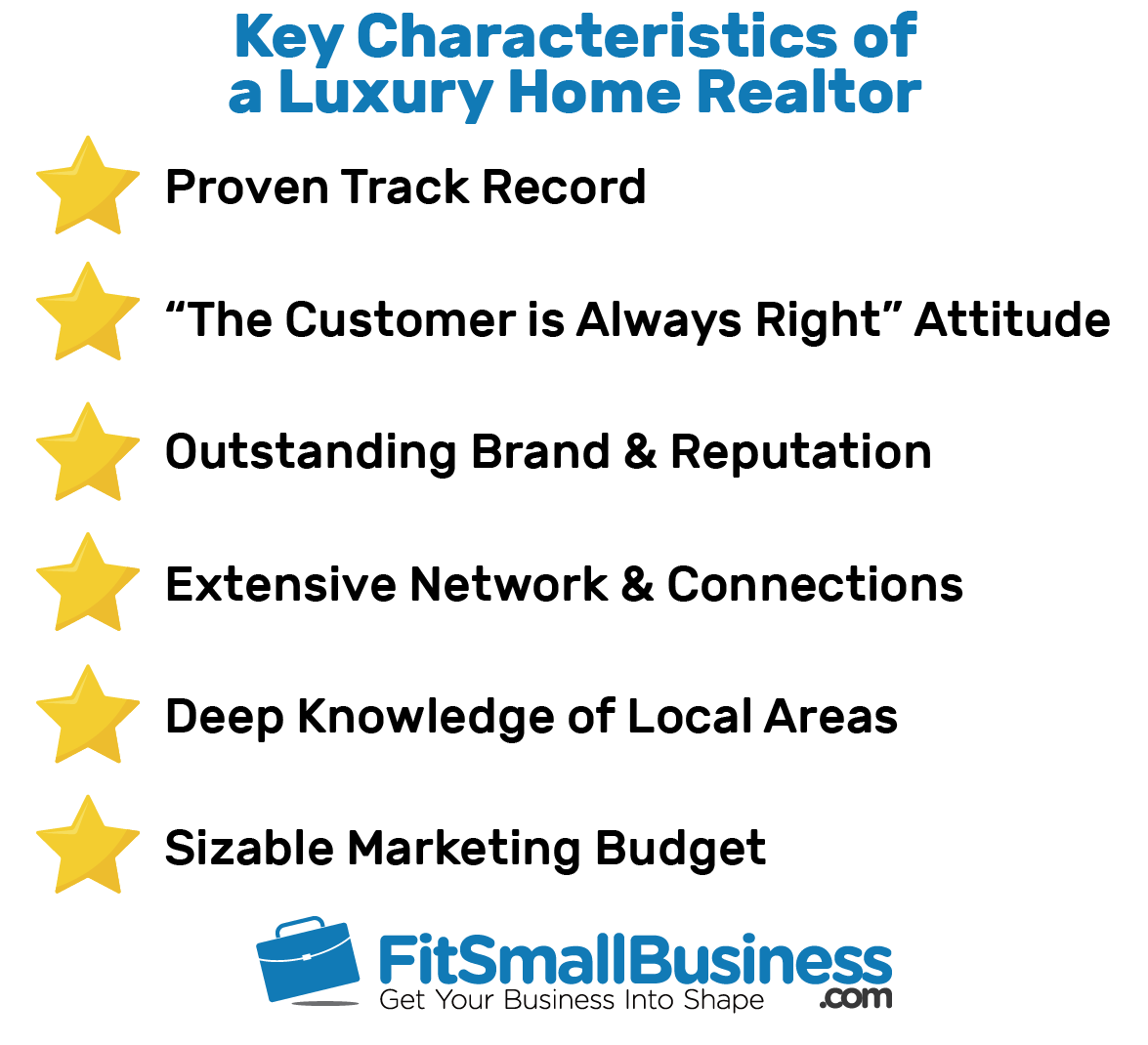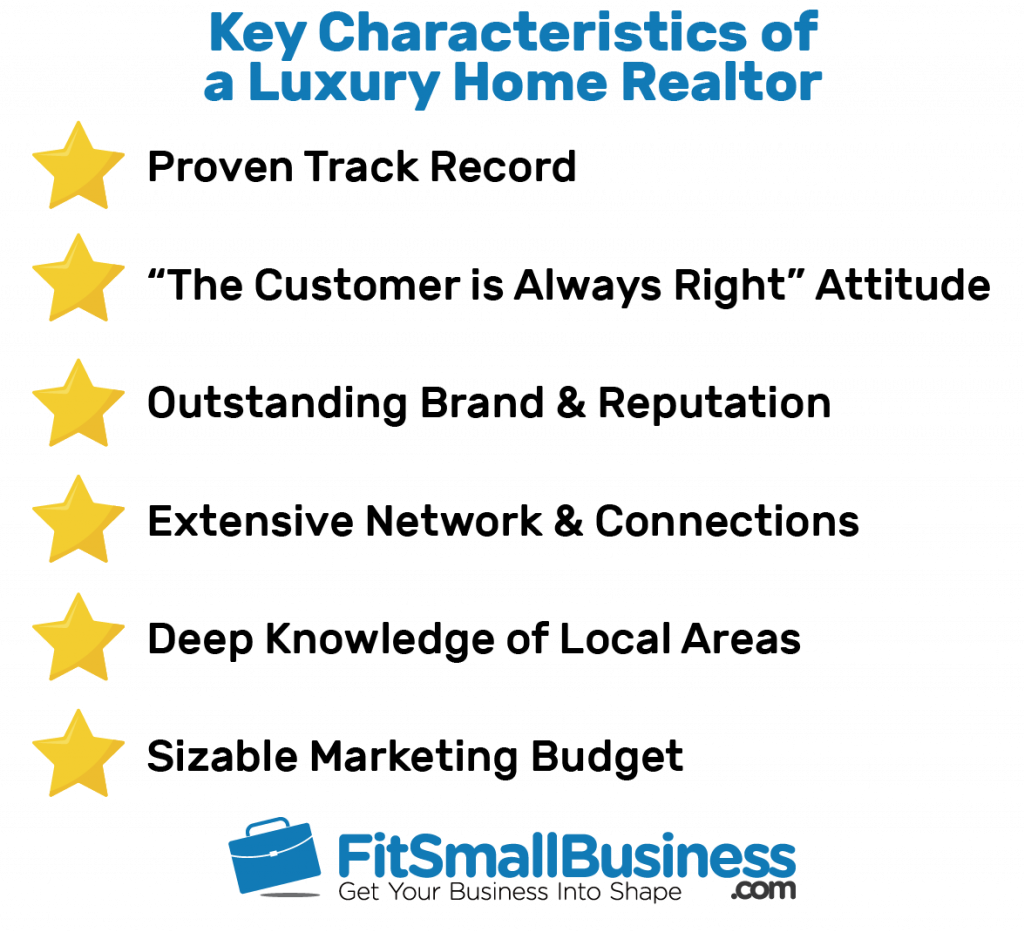 Nine Pro Tips for High-end Real Estate Marketing
Luxury real estate marketing can be very tricky, and finding the right advertising outlets and messaging is sometimes not straightforward. That's why we reached out to experts in high-end real estate marketing to get the best advice.
Here are nine tips from the pros on high-end real estate marketing:
"When someone is searching for the best luxury real estate agent in a certain area, wouldn't it be nice if you appeared in the coveted three map listing results? Google My Business not only allows you to better leverage your digital presence but also allows for direct calls to action. This includes your address, phone number, and a website link. People can read posts that you make and reference frequently asked questions — not to mention your reviews."

— Ben Fisher, Founder & Lead Consultant, Steady Demand
"Perfect staging was an obvious decision for us, but leveraging the stager's relationship with Steinway resulted in them lending us a gorgeous grand piano. Anyone with the $100,000 in disposable income to purchase a Steinway piano is exactly the kind of buyer that we were looking for. We have a beautiful piano that is a wonderful talking point, and Steinway has the perfect backdrop to make buyers feel literally at home."

— Ayo Haynes, Licensed Real Estate Broker, Halstead
"Highest quality professional photography, including 3D Matterport images, drone photography, and video, create an emotional impact for buyers. A very detailed marketing plan for the property includes a luxury website as well as advertising in luxury real estate magazines. There is a higher budget with luxury properties, of course, and due to the higher pricing, it may take a little longer to sell."

— Patricia Vosburgh, Licensed Realtor, NextHome Gulf to Bay
"In high-end real estate, referrals are how most people land new clients. When being referred, clients will dive into Google to check your credibility before making a decision on whether to use you. If your personal branding looks cheap and dated, so do you. If you're making five figures a sale, spend some money on nicer business cards and a high-end looking brand."

— Michael Greenspoon, Founder & Creative Director, Brand Revive
"Referrals are your best marketing tool in luxury real estate. If you've worked with people buying or selling luxury real estate, chances are that they know other people who will be buying luxury properties in the future. Since the luxury real estate market is limited, you have to do your absolute best to keep good relations with your past clients to make sure they send you referrals from among their friends and family."

— Daniela Andreevska, Marketing Director, Mashvisor
"When you are at the high-end price point, buyers expect it to look its best and, when they see large unfurnished rooms in the marketing photos, it doesn't look its best and will get passed over for competition. Virtual staging is a perfect option for a vacant luxury home because it allows the photos to be marketed online, doesn't have the high-cost options of renting furniture, and can be done without any risk to damaging the property."

— Kris Lippi, Real Estate Broker & Owner, Get LISTED Realty
"The wording is key. High net worth individuals prefer words such as 'estate' or 'prestigious' as opposed to 'luxury.' The word luxury is used so often these days it has lost its meaning, as luxury could mean something completely different to another market."

— Jaclyn Vlahos, Content Specialist, Printi
"Create a video walkthrough. Hire actors and bring in luxury items or cars for the video. When a potential buyer is watching the video, let them see themselves pulling up in a Bentley or Rolls Royce. It's important that the potential buyer can understand the lifestyle of living in this home."

— Brett Ringelheim, Real Estate Agent, Compass
"Be an expert of the real estate that attracts your upscale client. Learn all about the design and architectural details and history. Understand the facts about the finishes and what their monetary value is. You must create a storyline expertly to narrate property marketing and create an emotional experience for buyers."

— Brenda Di Bari, Commercial Broker, Halstead Realty
Frequently Asked Questions (FAQs)
Is Social Media or Print Luxury Real Estate Advertising Best?
They are both important. Your online and offline brand work together to attract the right customers to your properties. From sponsorships to social media to print ads, your high-end real estate marketing is all about surrounding your buyer or seller with your message.
Do Videos Increase Sales in High-end Real Estate Marketing?
Upscale real estate marketing is all about creating a story for the buyer. When used in listing ads, video enhances engagement and allows the client to experience the feeling of walking through the property without leaving the comfort of their surroundings. Video is also a good tool for brand awareness, introducing an agent to a new audience.
Is There a Difference Between Traditional and Luxury Real Estate Marketing?
The way that upscale property real estate agents handle and reach a client is much different than traditional agents. High-end real estate agents need to be prepared to offer a concierge service with high-end customer interaction to close the deal, and their brand needs to exude prestige and elegance.
The Bottom Line
An effective luxury real estate marketing plan involves well-placed ads and marketing messages that target high-end clients interested in luxury properties. Additionally, high-end customers need extra attention to build the confidence and trust required before a purchase or sale is made.