MailChimp is one of the most popular platforms for sending newsletters to your subscriber list. With its number of users increasing, it's important to have a newsletter design that's up to date and engaging. We put together a list of MailChimp newsletter designs to keep you inspired and your conversion rates up.
If you're looking for a way to send email newsletters to your subscribers in the most efficient way possible, try using Constant Contact. You can easily edit its email newsletter templates to make them your own, and segment your contacts to send certain emails to specific people for targeted lead nurturing. Constant Contact even tracks results like email opens, clicks, and bounce rates. Best of all, you can try it free for 60 days — no credit card required.
Here are 25 of the best paid and free MailChimp email marketing newsletters templates from around the web.
---
1. Email Digest Template

A simple yet very effective style of curating interesting news and articles that your email marketing audience will love. The articles are divided between "what's new" and "what's popular". The layout is clean and the right balance of image and snippet will keep your readers interested.
---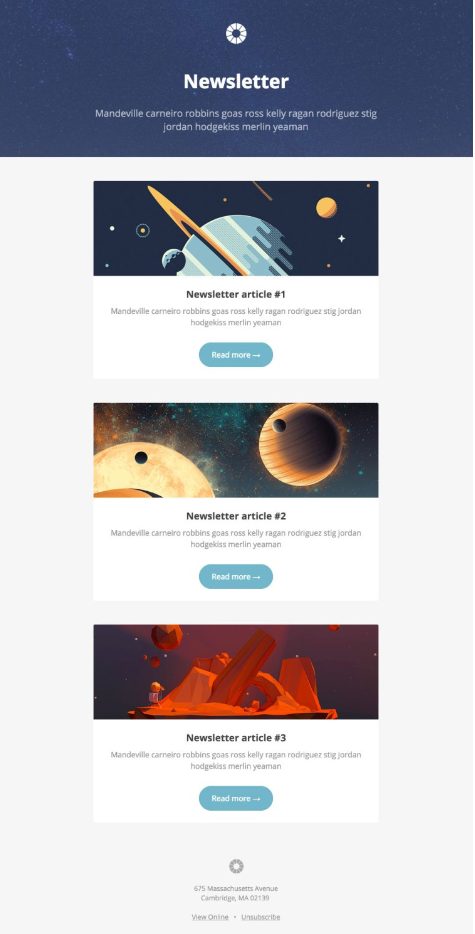 This newsletter template is designed to feature and wrap up your latest content to share with your audience. It's image heavy without being cluttered and it includes a teaser caption and a call-to-action button for each image. This helps guide readers to convert. One of the many email design tips is to focus on the customer journey and user experience, which this email does well.
---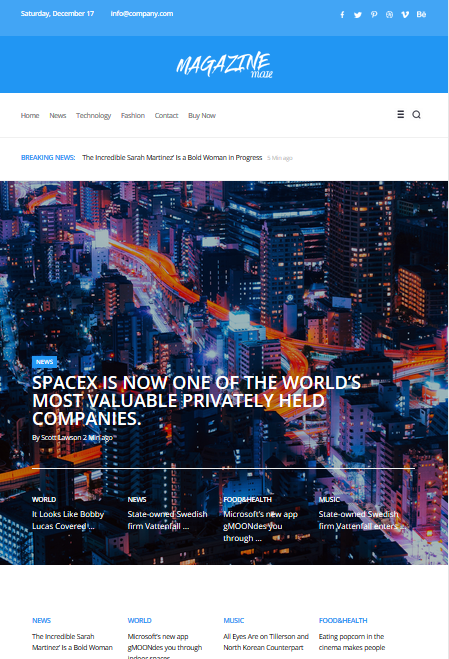 A magazine style of newsletter designed to offer leisurely reading to your audience. Because of its image heavy layout, this template is great for businesses in retail fashion, furniture, auto dealership and the like.
---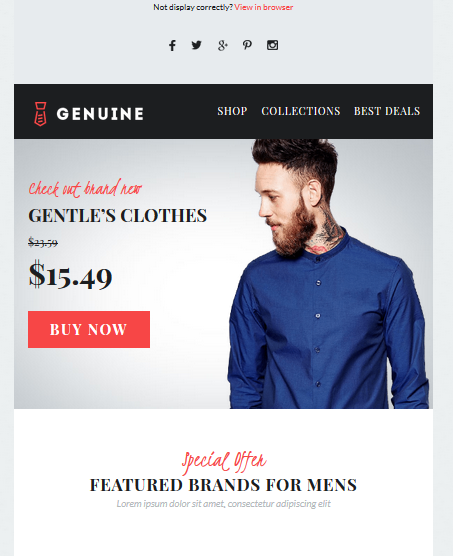 The preview for this template doesn't do it justice. It's designed to make the reader feel like they just stepped into an actual retail shop. You get greeted by the specials promotions, and as you scroll down you find the new arrivals and brand new collections. You can add the color and sizes too.
---
5. New Collection Email Template

This template will work great for featuring your new collection. We love how the layout focuses on the images and the captions are kept short and sweet. It also gives you the option to prompt readers to add your featured items directly to their cart.
---

A photographer's newsletter will naturally be image heavy and this template manages to present a gallery that doesn't look crowded or cluttered. The sections are divided into themes you can use for each photo collection. There's also a function to include social media buttons at the bottom where readers can connect with you faster.
---
7. Gift Guide Newsletter Template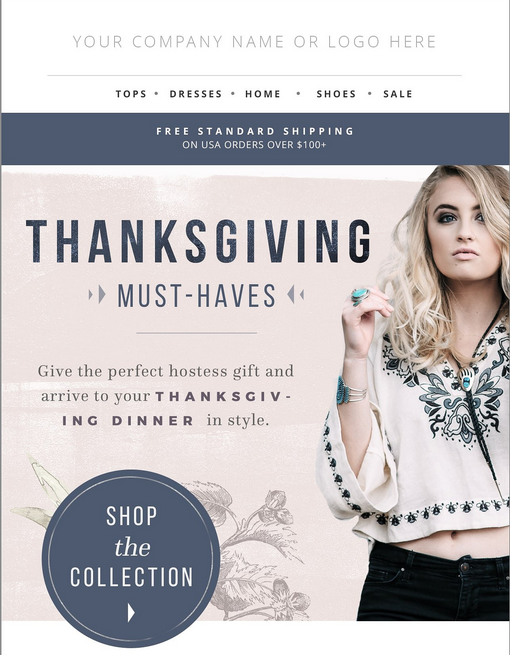 This gift guide newsletter is perfect for all occasions. The use of white space makes it versatile and the customization options for this template ensures that it always reflects your brand. This means editable fonts, layout and colors to match your every campaign.
---
8. Moka Email Newsletter Template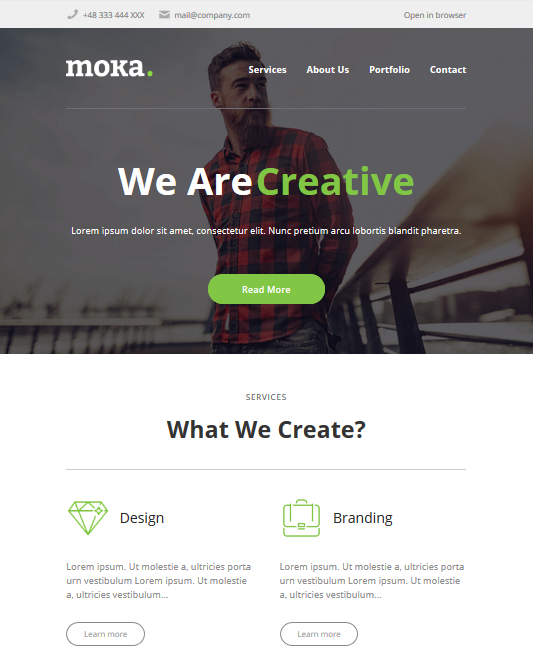 This template is for service oriented businesses looking to share their new ideas and concepts with their audience. We love the layout they used for their newsfeed, alternating images with text to keep the format balanced. The whole look is clean and pleasant to look at.
---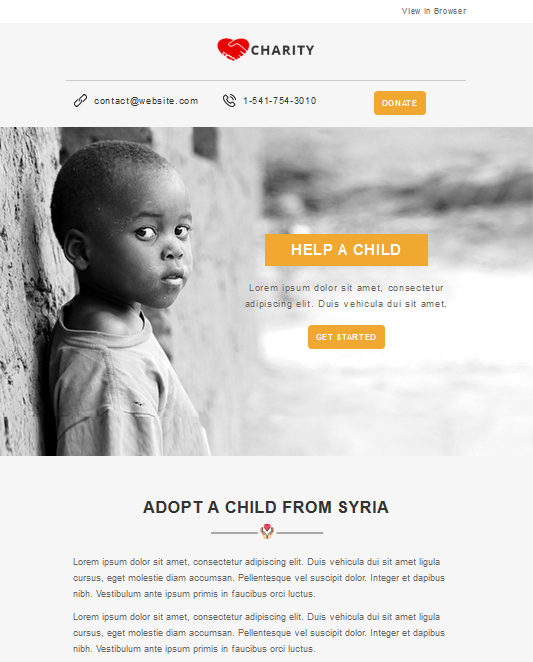 Newsletters from charity organizations are expected to talk about good causes, but it also has to present the issues that warranted the cause. This template keeps the design clean and the mood light to set a relaxed tone for a pleasant overall reading experience. The layout also keeps the narratives short and donate buttons are placed strategically throughout the content.
---
10. Spa Newsletter Template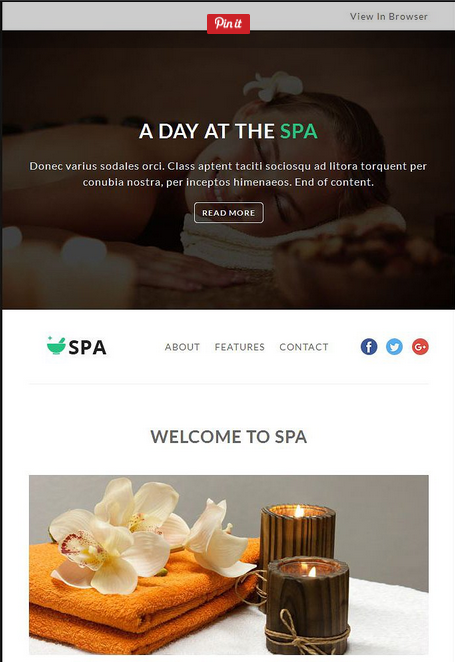 This multipurpose template can be easily converted from a promotional email to a newsletter by removing and replacing panels in a few easy steps. We love how it added a collage style gallery, followed by a section for beauty tips, promotional offers and snippets of the newest entries from their blog.
---
11. School Email Newsletter Template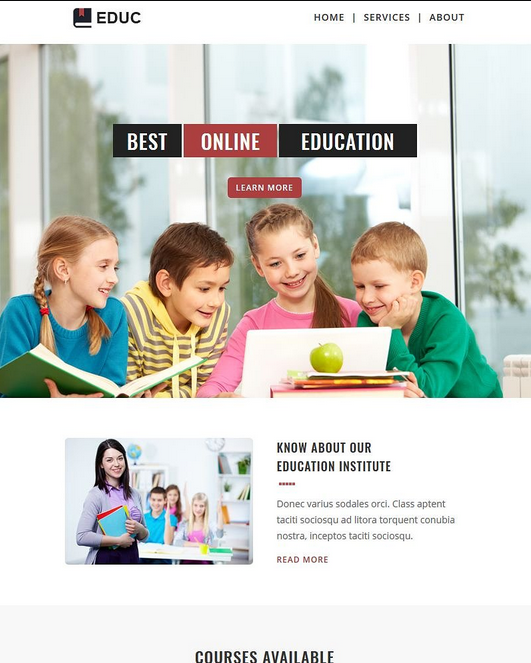 This newsletter template is designed for schools looking to share updates with the students and their parents. The layout makes good use of the space to balance images with text, using boxes to keep the overall look clean and modern.
---
12. Year In Review Newsletter Template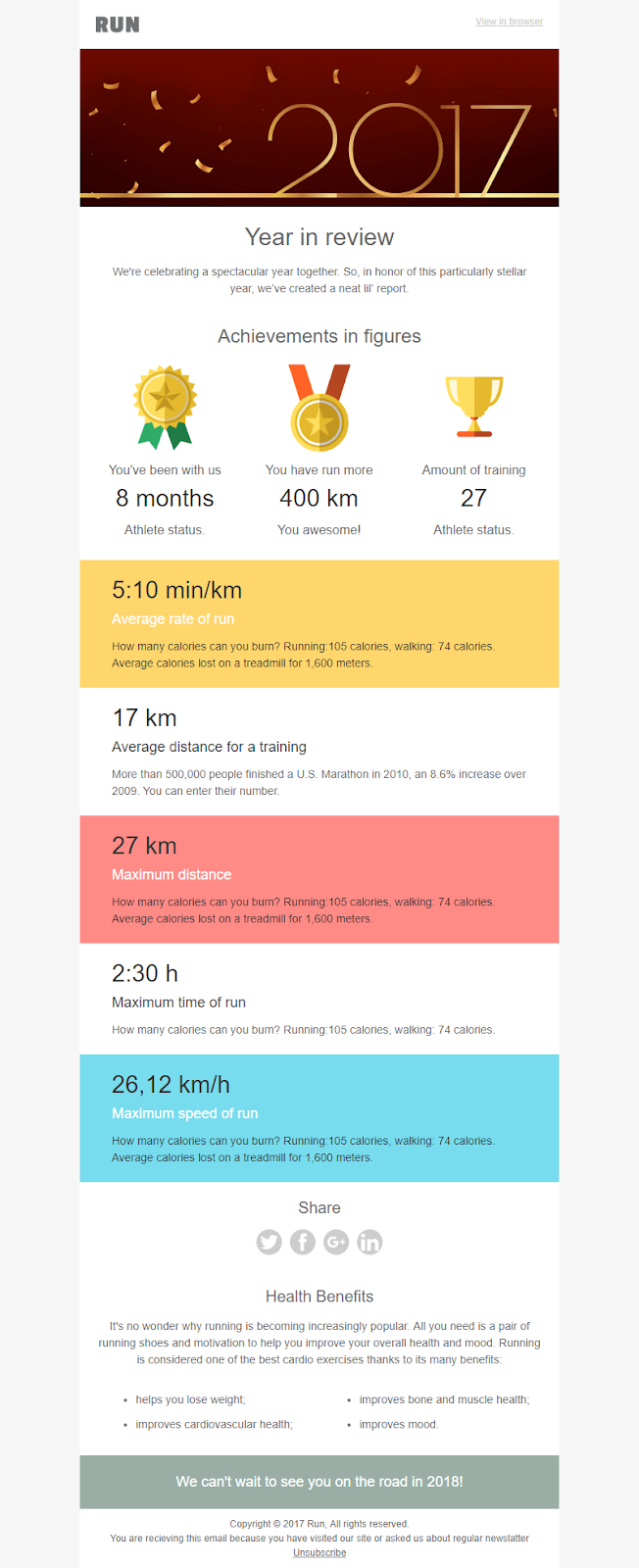 This year end review template is designed for Tech companies but can easily be adapted to other businesses. Notice how the achievements are that of the reader's and recognizing their level of engagement with your business or product makes them feel more motivated to connect.
---
13. Wedding Planner Newsletter Template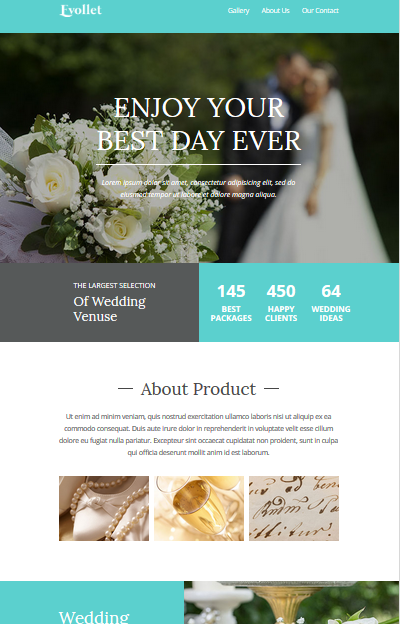 This wedding planner newsletter template is designed to inspire creativity. The design is versatile and the level of customization available gives you all the possibilities to make sure that you can develop it easily to represent your brand. Add a calendar of events to let your subscribers know what you've been working on.
---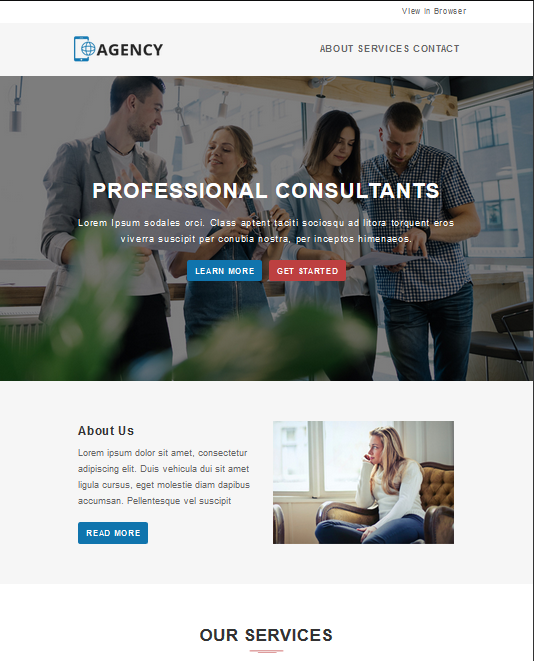 Suitable for corporate, business, marketing, lead, creative and general categories, this template is as versatile as they come. Professional consultants can take this template and remove or modify elements of each module to come up with a perfect newsletter that's all their own. Feature your services and keep your readers updated with news that reflect your brand.
---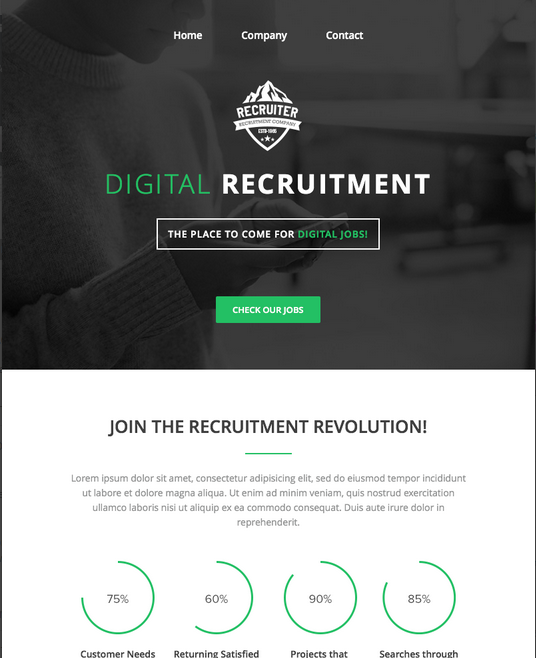 Job seekers and employees can't always be on your website but will love to get regular emails that are related to what they need. This template was designed for recruiters to share updates on the latest jobs or job seeker profiles. Add a CTA button that allows your readers to contact the featured profile immediately right from your email.
---

Use this template to feature health articles related to your business. It lets you feature your services in a large format while the layout makes sure you don't get overwhelmed. The different text box background makes up for the template's lack of space for images.
---
17. Back to School Email Template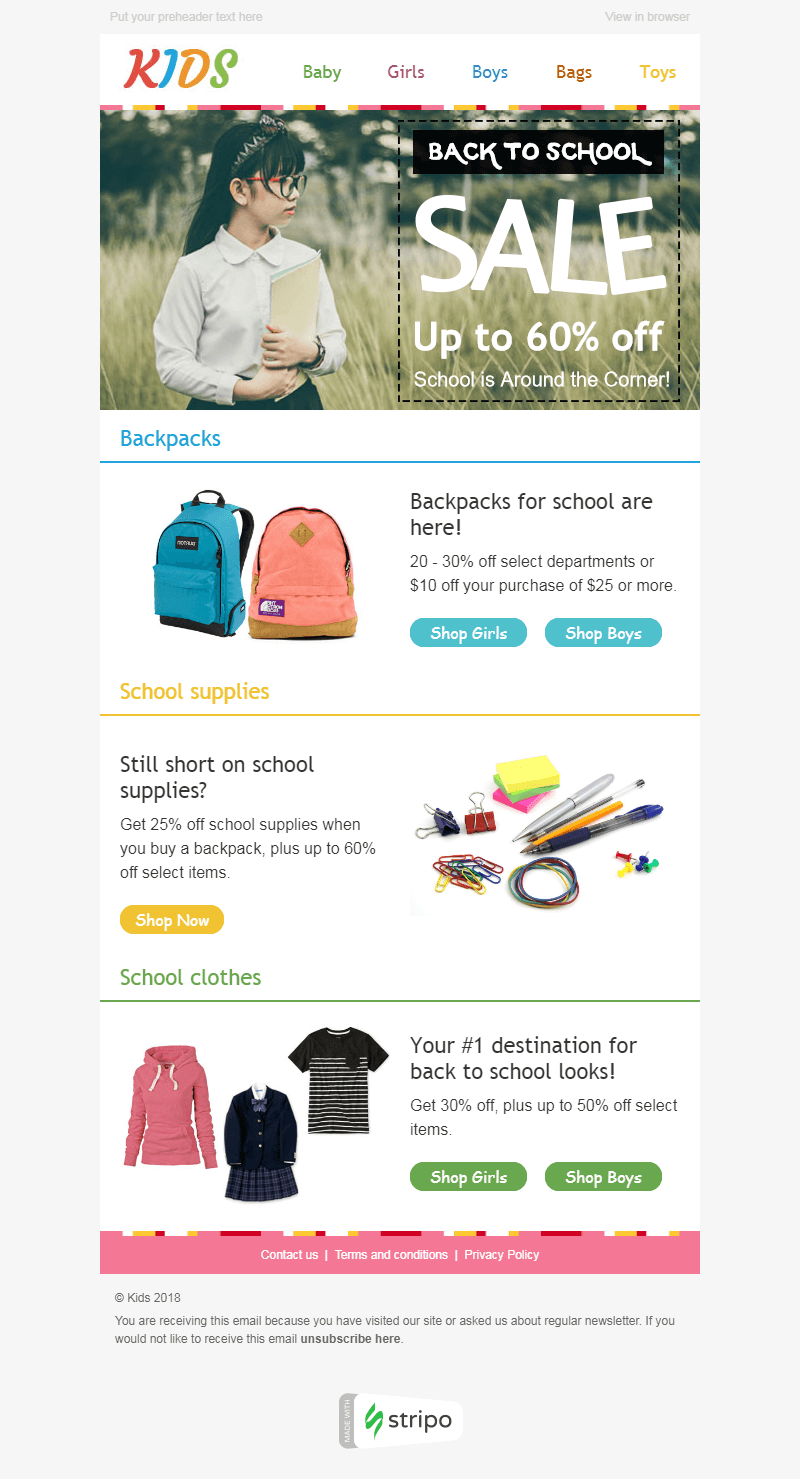 The whole design is meant to be fun and playful for brands that cater to students. We like how simple the layout is and the colors are kept clean to draw attention more to the products. Each module gives you the option of having a different color theme to keep the look fun and interesting.
---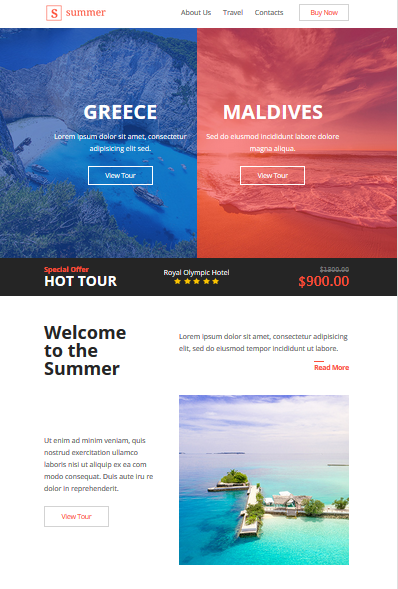 Images are the star in this template so make sure to choose sharp, vibrant photos for your featured summer destinations. The text is kept low and fonts are designed to either stand out or support, Call to action buttons give your subscribers access to your website to book travels right away.
---
19. Real Estate Listings Email Newsletter Template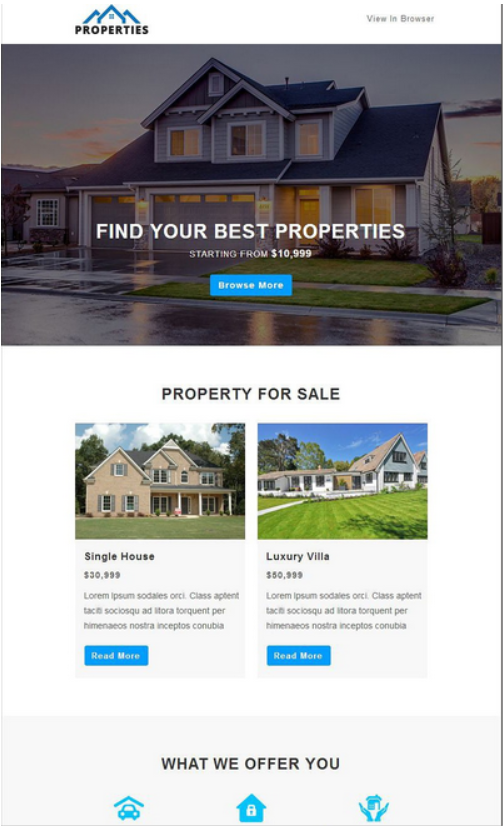 Readers will expect real estate newsletters to offer listings and sold properties. This template design makes sure that the layout is clean and doesn't overwhelm readers to keep their attention. You can also have a module to feature agents and an option to contact them directly should your readers be interested in any of the properties.
---
20. Santa Themed Email Newsletter Template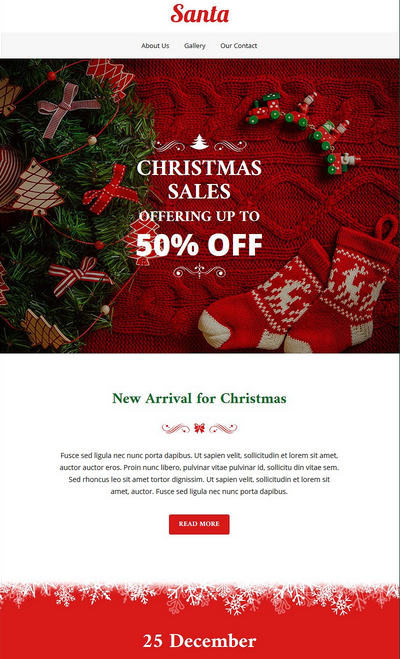 Holiday themed email newsletters arrive in your customer's inbox in bulk so make sure yours look inviting to help you stand out. The color scheme for this template gives you a break from the dominant read and instead uses white background to create a snow like feel that sets the tone. The collage style photo collection adds to the festive feel and keeps your newsletter clean and elegant.
---
21. Product Update Email Template
Give your readers a clean, modern look with this template. It's designed for finance related firms to feature their business but can also be adapted to be used by other professional services. What stands out in this design how it's kept short yet very informative, and capped off with a CTA asking feedback from your readers to get them to engage.
---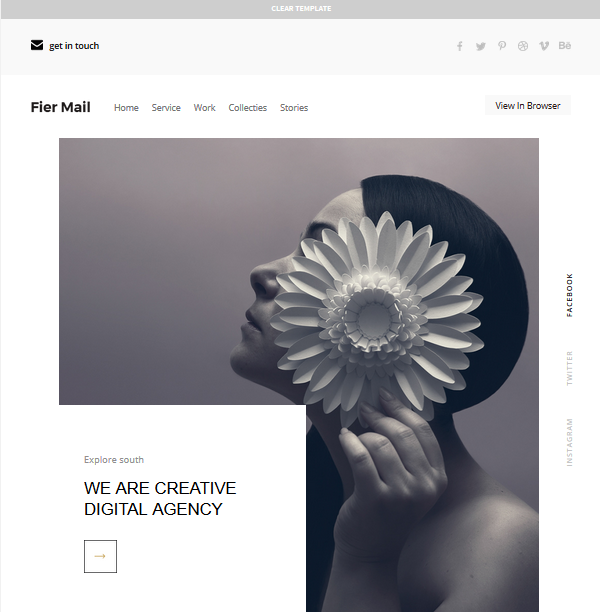 This template looks so elegant and inviting with its approach on adding images in gray or black and white scale. Feature some of your best works and a link that takes them back to your website to read more. Keep the fonts simple, in either black or gray to compliment the whole look.
---

Looking for a holiday inspired theme? Grab this template and give your readers some halloween fun with the dark color palette and brilliant images. Or you can add your own photos for a more personal tone. Don't forget to include your halloween promotions featured with a module of its own.
---

Get a simple orange-themed newsletter with this template for a simple yet professional look. The modules and sections are designed to showcase your business related news and information. Notice how the images are kept in grayscale to maintain the look and feel of this newsletter.
---
25. Thanksgiving Recipe Newsletter Template

Make sure you stay top-of-mind with your customers during the holidays with a fun and engaging thanksgiving themed newsletter. This template greets your readers with a thanksgiving table image to create nostalgia that's hard to ignore. Share your recipes, offer discount and cap it off with a map to your store.
---
Over To You
If you haven't tried using MailChimp for your email marketing before, these newsletter templates might just do the trick. Use them as a base to create interesting newsletters for any type of business.
For a more streamlined way to send out your newsletters, try Constant Contact. Easily upload your images and logo or choose from a free selection of stock photos to customize its templates, and send targeted emails to a segmented email list. Try Constant Contact free for 60 days and convert more leads into paying customers.
Did we miss out on your favorite MailChimp newsletter templates? Share them with us in the comments.