Makeup artists stand out because of their creativity and skill to create drama and beauty with their brush strokes. But, even with the best training and background, your success lies in making sure that potential clients are aware of your services. Start with a well-designed business card that lets your personality and creativity shine.
Here are 25 ideas and templates for unique professional makeup artist business cards from around the internet.
---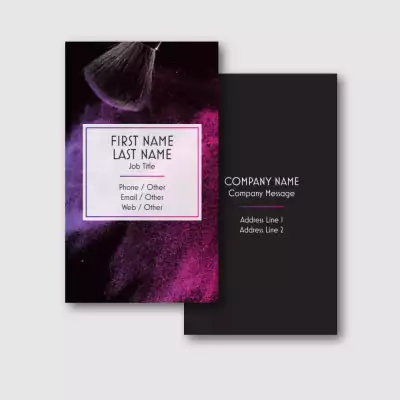 Sharp colors on business cards can work wonders catching your audience' attention, but it's also important to make sure your message doesn't get lost in the design. Use frames to highlight details even in the middle of a full-color background. Once you have your concept and design all set up, have them printed professionally with Vistaprint for vibrant colors and clear printed fonts that stand out. Vistaprint is the business card provider of choice for small businesses with its affordable price and great turnaround time. If you still haven't finalized your business cards design, you can choose from its more than 10,000 templates or get help from one of its professional designers. Click here to get started.
---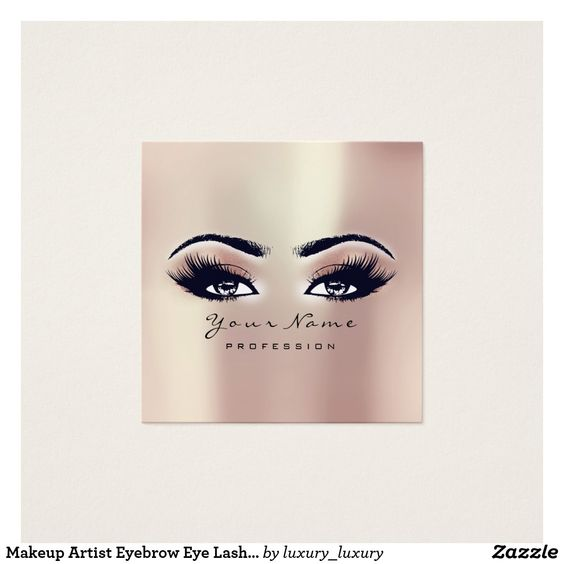 Rectangular business cards are common, so it needs to have different elements for its design to stand out. However, not all business card designs can pull off a square shape. If you do, remember to keep the size in such a way that it will still fit inside a wallet or card holder.
---
3. Add a 3D Element to Your Design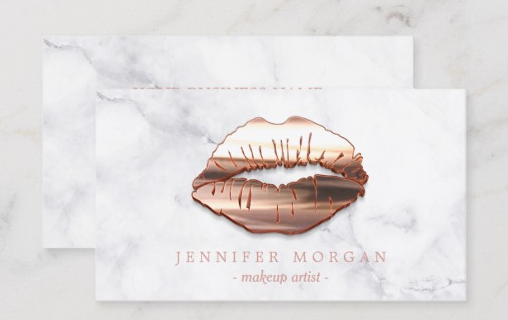 Adding a three-dimensional element to your business card design involves creating highlights and shadows. In this example, the marble rose gold lips is made by simulating foil using lighting, color accent and different shadow weights applied around the image. A subtle marble background also helps to make the image seem like it's jumping out of the card.
---
4. Create a Design Using Keywords
If you would rather do away with images, you can also use keywords to design your business card. Notice how the work makeup artist is used in different colors and textures on both front and back, making it the prominent design that gets the business card to stand out. However, when using keywords for design, make sure that it doesn't render other information in your marketing materials unreadable so proper layout is very important.
---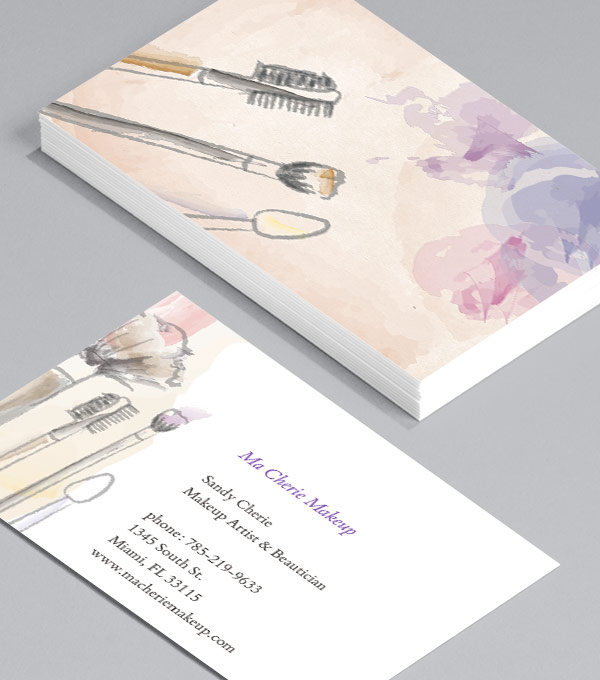 Amid other makeup artist business cards vying for attention with vibrant colors and sharp images, you can create a fresh look with sketches and simple watercolor designs. Because it creates a less intense impact on the eyesight, it immediately stands out to your audience. However, you will want to have different designs on the back to complete an interesting design series, which can be difficult when you're working on a budget. Moo offers a money-back guarantee service with its Printfinity program. Print a different design, double-sided, in full color on every business card, fix a typo or request a design change at no extra cost. You can also choose from its wide variety of designs or upload your own and customize using its online design tool. Sign up with Moo today and get started with your business card design for as low as $19.99.
---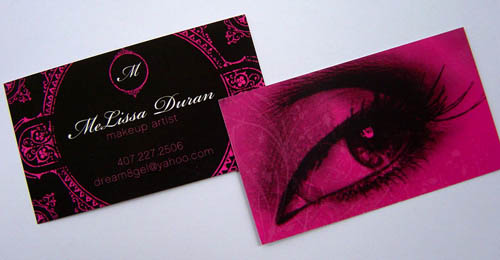 For a makeup artist business card, choosing to work with one color can be a challenge. However, if your aim is to focus on your brand color, then what you can do is to create opportunities to highlight other elements. In the example, the use of intricate patterns and the image of an eye when put together can show creativity and gives the audience an idea of your skills.
---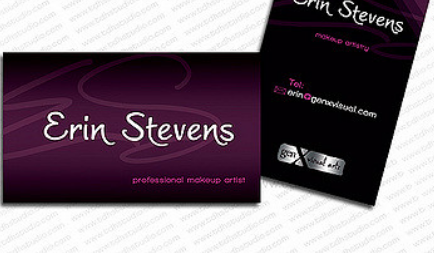 This is the alternative to using keywords that ensures an easier recall from your audience. The choice for background color is meant to highlight the name and provide silhouette-like initials at the back. The job title is written in smaller fonts below the name to complete the message.
---
8. Include Images from Your Portfolio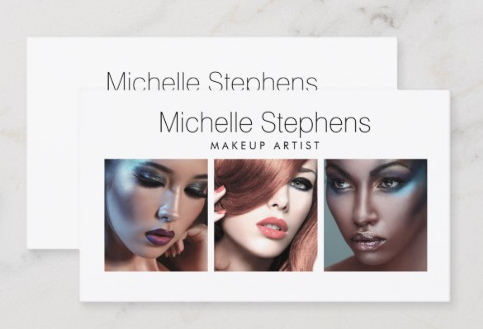 Although what we have on the example may seem like stock photos, adding a gallery is an opportunity to showcase your skill. Add high-quality images from your portfolio to showcase models you have worked with and remember to show variety.
---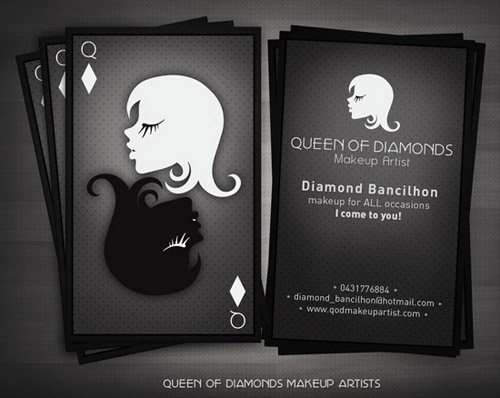 Do you have an interesting name or work for a salon with an interesting name? The example above shows how a unique name can be used to create an equally unique brand and design your business card. Remember to keep the layout clean and all of your contact details available on the card.
---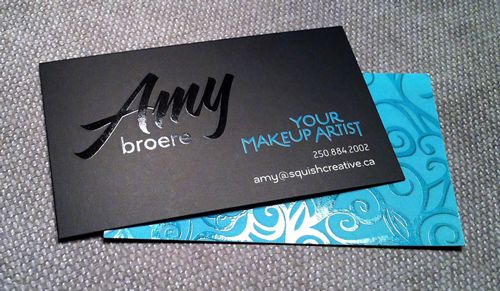 Adding foil gives your business card an extra pop of color adding life to your design. There are a variety of colors available to use depending on your theme and, when combined with other elements, can produce an impressive overall look. Use it tastefully and avoid the risk of a design that drowns out your message, making your business card less effective.
---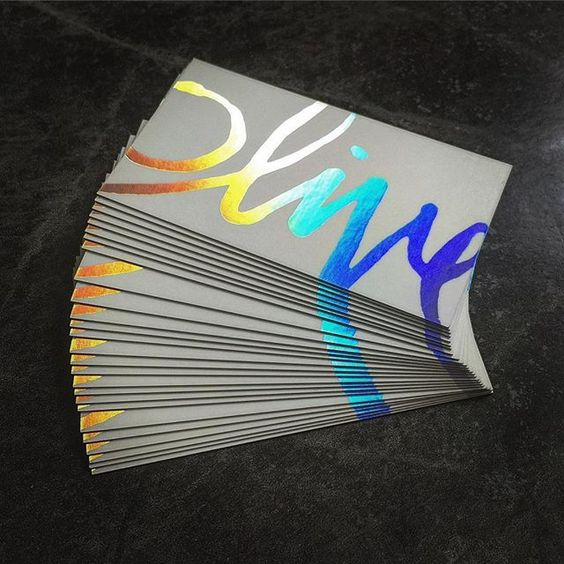 Oversized fonts are becoming a popular technique. Create your style with colorful fonts in large brush strokes perfect for makeup artists. Remember to keep the background simple and leave your contact details at the back of the card for a clean look.
---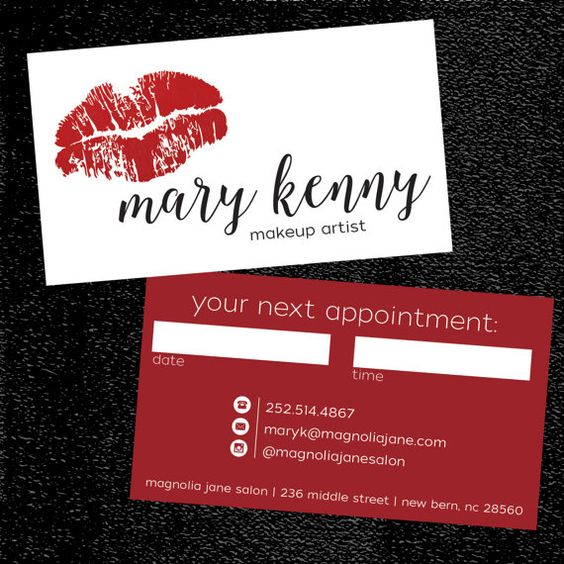 Create more reason for your clients to keep your business card. Add more value by using it like an appointment, loyalty or referral card as well. Keep your layout clean and your text readable to encourage your clients to interact.
---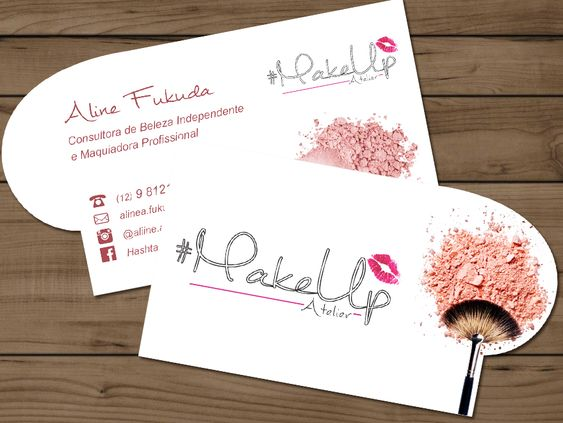 A unique business card shape can be effective when done right. Be careful not to create a shape that's inconvenient to bring or keep inside one's wallet. It's also important that the unusual shape has a purpose like emphasizing curves of your logo or in the case of our example, creating an accent for a great-looking image.
---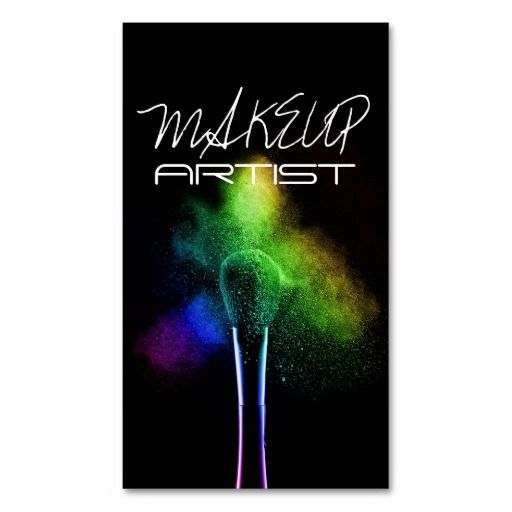 A makeup artist's job is all about colors, so it's no surprise that most business cards for professional makeup artists are designed in the same context. One tip is to use a black background to help colors become more vibrant. The example also uses white to outline shadows to give the image an almost lifelike look.
---
15. Feature a Color Palette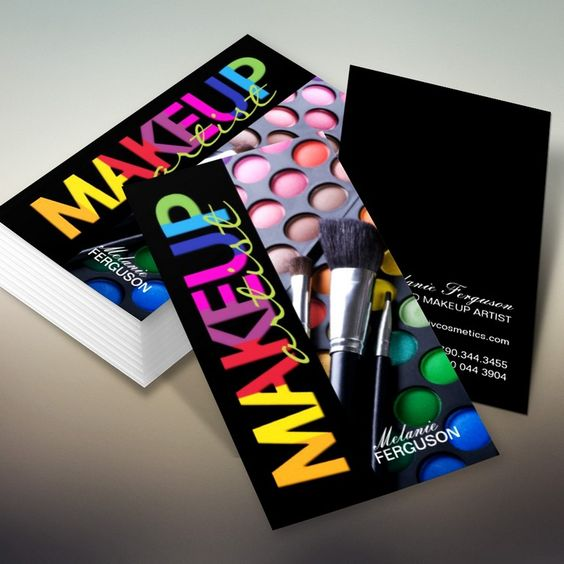 It's important that your design is both interesting and familiar so your audience can relate and remember easily. Displaying the tools of your trade, such as a makeup palette, is a terrific choice to use as the background for your business card design. Pair it with a caption that's equally colorful to impress your clients.
---
16. Opt for an Elegant & Classy Look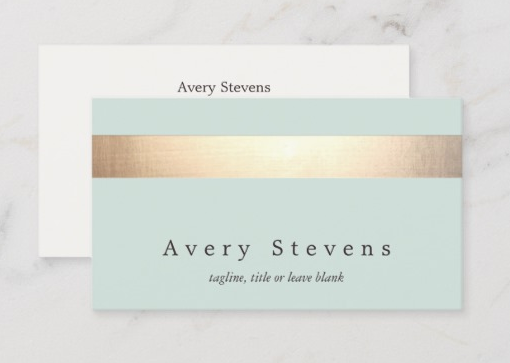 If your specialty is makeup for weddings and formal events, you can choose a more elegant, classy feel to your business card design. In this example, the designer opted for a minimalist look. A light pastel blue background is paired with elegant fonts and topped with gold or copper panel at the top.
---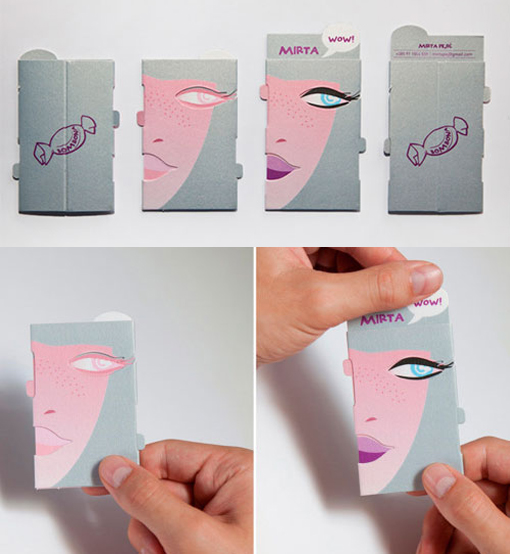 If you decide to go with an interactive design, make sure you choose something that works to promote your brand. Notice how this example lets the user pull on a tab to switch from a plain to a painted eye. This is a superb way to show creativity and remind potential clients what colors can do to liven up one's looks.
---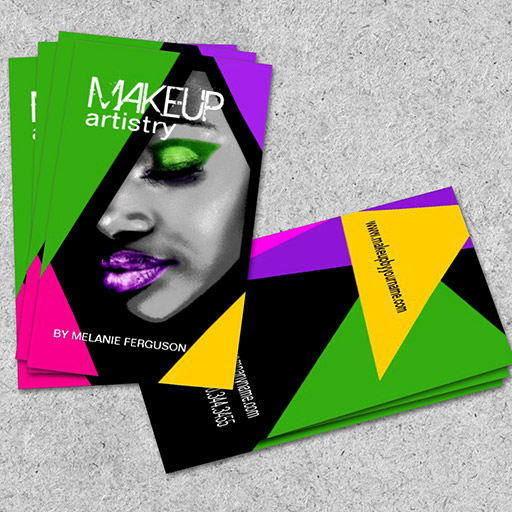 Geometric shapes can be an unusual choice for makeup artist business card designs, but adding colorful flair can get you noticed. Notice how these shapes are used in the example to create a colorful, abstract design. The monochrome filter on the image with the sudden pop of color on the lips and the font style completes a modern look.
---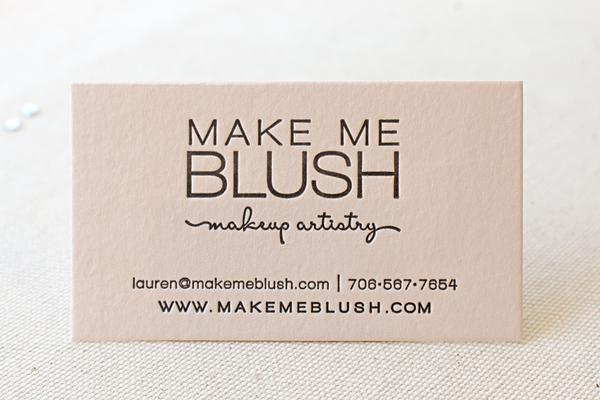 The right minimalist style can create a statement even for makeup artist business cards. A good choice of fonts can make up for lack of image and colors while keeping the layout clean and simple helps for an overall memorable look. Practice the use of hierarchy in your typography to create a clear message for your audience.
---
20. Add Some Drama to Your Design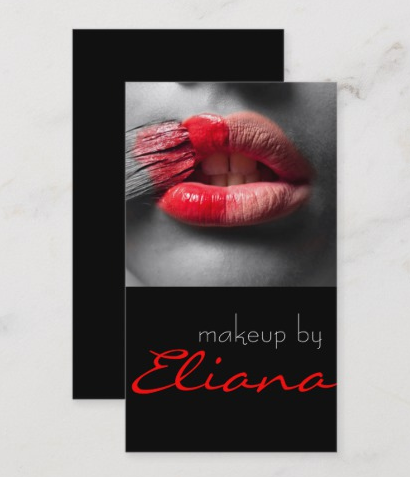 As a professional makeup artist, your job is to create a look that excites and enhances. This idea should also be showcased in your business card so clients can see your personality and skill. In this example, the designer made use of filters and contrast in the feature image's colors. The short headline, using only the makeup artist's first name and the choice of font completes the dramatic style.
---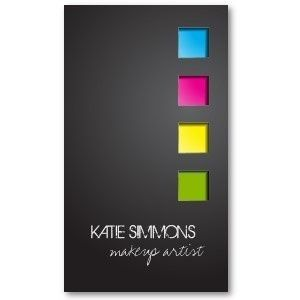 This tip balances out the extremes between a colorful and a minimalist-style business card. In this example, the color accent is in the form of small boxed block colors with shadowing to mimic the image of a makeup palette. The font used for the title creates an elegant yet modern look.
---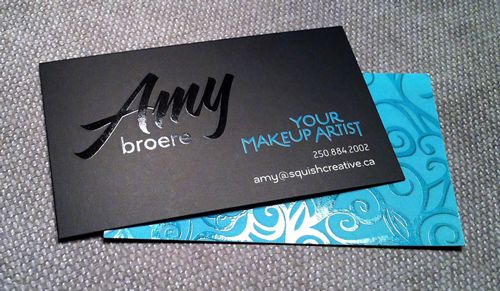 Texture encourages interaction and makes your business card look upscale and expensive. Instead of just patterns, choose stock paper with texture and pair it with slightly embossed glossy printing for keywords of your message. You can also add a spot UV for more personality.
---
23. Create a Mirror Image Design on Both Sides
For a playful design to match your personality, create mirror imaging on both sides of the business card. Choose two colors to use alternately and add a large illustration that identifies your brand. Don't forget to add your information and contact details.
---
24. Choose a Color Theme to Match Your Brand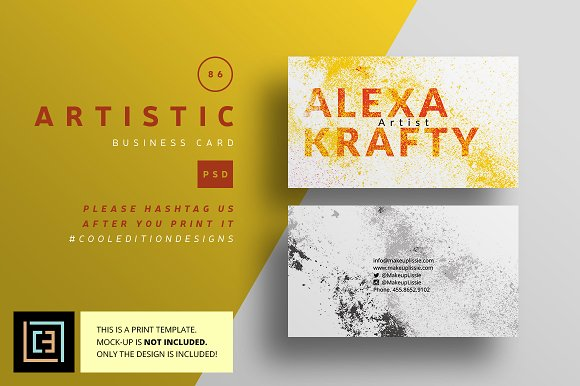 One way to emphasize your brand is to understand color psychology. Each color evokes certain emotions, and you should choose a theme you want your clients to identify with your business. This example uses a mixture of orange and yellows which can stimulate attraction, creativity, passion and fun.
---
25. Send a Clear Message with Typography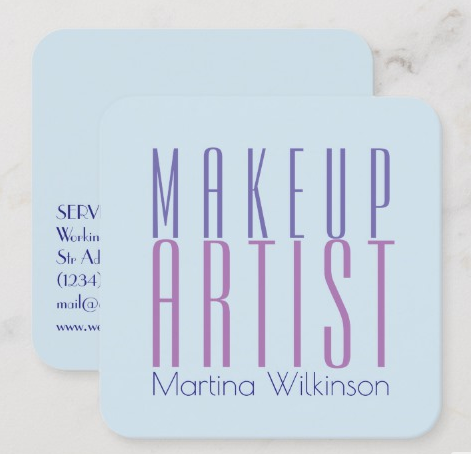 Our final entry emphasizes how you design your text combine to create a hierarchy. The font style, size, color and layout of choice forms a hierarchy that determines where your audience' attention is drawn. Because it affects the quality of the message, it's important to understand this concept before designing your business card.
---
Over to You
Professional makeup artists excel with their own set of skills, but getting the word out will make the difference between success and failure. Follow our makeup artist business card ideas and tips to make sure you stay ahead of your competition.
Care to share your favorite tips for designing professional makeup artist business cards? Share them with us in the comments.