Market Leader Review: Is It Right for Your Real Estate Business?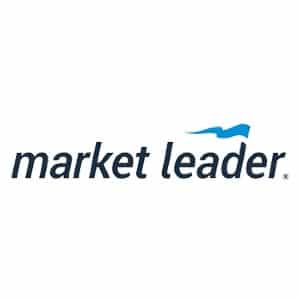 What We Recommend Market Leader For
Market Leader's robust website and marketing automation tools drive continuous lead generation and nurturing for website-generated leads. Create a responsive, search engine-friendly real estate website with unique page layouts for brand differentiation. Add internet data exchange (IDX) listings to your site for location-based real estate searches. Listing automation tools enhance your ability to market listings with single-property websites and marketing, and the CRM has a full suite of automation tools for nurturing and converting leads.
Who Market Leader Is Best For
Agents who need to create their own personal website: Market Leader's website tools are simple to use so you can get your site up quickly without the need to hire a web developer. Additionally, widgets make it effortless to add content, and the photo library gives you easy access to professional stock photos.
Real estate businesses looking to obtain exclusive listings: Real estate agents can farm specific neighborhoods using Market Leader's exclusive leads product. It guarantees a specific number of exclusive buyer and seller leads per month based on an identified ZIP code and lead availability. That is why it is considered one of the top choices for places to buy real estate leads.
Busy agents who need to save time by automating daily tasks: Marketing automation tools assign leads to specific campaigns, send out curated email newsletters, and help with print and direct mail campaigns.
Who Market Leader May Not Be a Good Fit For
Salespeople looking to track deal flow: Market Leader provides solutions for obtaining and nurturing leads and closing deals, but the platform and CRM don't track closed deal data. It's important to have activity reporting on closed deals to forecast future business. Pipedrive is an excellent option that tracks leads in pipelines. Look through our list of the best real estate CRMs for additional information.
Teams looking to scale into multiple markets: Although Market Leader has a business suite for brokerages, the product doesn't support collaboration within teams looking to expand services to different markets or states. Also, the business suite allows for team and agent subdomains, but doesn't allow multiple teams under one brokerage domain. Consider BoldLeads or other lead generation websites for scaling options.
Hybrid agents who close deals outside of buyers and sellers: Hybrid agents who deal with transactions outside of residential sales need a system that caters to their unique lead types. Unfortunately, Market Leader's tools aren't currently built for attracting commercial or rental clients. Use a free CRM option like HubSpot CRM to mitigate some of the costs of lead generation and nurturing, or discover other free real estate industry-specific CRM platforms.
Market Leader Overview
PROS

CONS

CRM integration with 40+ lead sources, e.g., Zillow, Trulia, and Realtor.com
Can't purchase leads through the platform except through a Market Leader website
Dashboards show individual and team productivity
Lead availability in ZIP codes can be limited
Easily scalable for growing teams
No annual payment discounts to incentivize the 12-month commitment
Mobile application for working on the go
Doesn't offer social media marketing services
Access to real estate training guides
Not cost-effective for larger teams
Market Leader Pricing
Market Leader's pricing plans are separated into three categories, but each starts at a flat rate of $139 per month. As the number of agents within a team grows, you are charged by the number of team members using the platform on a sliding scale (in addition to the flat fee).
If you commit to the platform for six months or more, there is a 10% discount incentive, but there's no additional discount for committing to a full year or longer. All plans include most of the available tools, including a website, CRM, marketing automation, content library, mobile application, and text and email alerts.
Plans

Market Leader Pro

Professional for Teams

Business Suite for Brokerages

Plan Is Best For

Individual agents

Small teams focused on residential buying and selling transactions

Mid-size brokerages onboarding over 15 agents

Annual Pricing

($/User/Month)

10% discount when committing to 6 months or more

10% discount when committing to 6 months or more

10% discount when committing to 6 months or more

Monthly Pricing

($/User/Month)

$139

$139 Pro account plus

$79 per user for the first 4 team members

$69 per user for 5-10 team members

$59 per user for 11+ team members

$139 Pro account plus

$79 per user for the first 4 team members

$69 per user for 5-10 team members

$59 per user for 11+ team members

Multiple Users

✕

✔

✔

Customizable Website

✔

✔

✔

CRM

✔

✔

✔

Content Library

✔

✔

✔

Marketing Automation

✔

✔

✔

Text and Email Alerts

✔

✔

✔

Mobile Application

✔

✔

✔

Dedicated Account Manager

✕

✕

✔

Team Performance Details

✕

✔

✔
Market Leader Add-ons
Exclusive Seller Leads: Agents may purchase exclusive seller leads generated by Market Leader's HomeValues.com website. Pricing depends on ZIP code and cost per lead in that area. You're guaranteed a specific number of leads per month based on availability in your ZIP code.
Leads Direct: The Leads Direct add-on is a pay-per-click ad campaign that drives search traffic to your website. Pricing is based on a combination of impressions and keywords through Google and Bing advertising platforms.
Market Leader Pro
The Market Leader Pro plan is designed to be used by one individual agent. This plan has access to the customizable website builder, including unique page layout options to visually differentiate the agent's brand and website. Agents can easily make changes using a simple drag-and-drop web editing interface and preview website and page changes on both desktop and mobile devices.
In addition to the website, Market Leader Pro provides a fully integrated CRM for collecting leads from website visitors, third-party lead sources, and Market Leader's exclusive leads if you choose to purchase them. All website leads flow into one CRM, which then displays insights on the prospect's search criteria. Fully integrated into the CRM are the marketing automation tools, print and direct mail marketing services, and a content library, enabling you to quickly send out customized emails, postcards, and business cards.
A mobile application is also included for conducting business on the go. Market Leader's mobile app provides instant access to reminder alerts, quick lead responses, email management, and CRM contact information.
Market Leader Professional for Teams
The Teams plan includes the same features as the Pro individual plan. However, each agent within the team can have their own individual domain, or a subdomain, and the ability to employ unified team branding across each team member's individual website. Flexible lead management through the CRM can be customized for your business or set to distribute leads to various team members with a standard round-robin procedure, by ZIP code, or based on price or lead source.
An accountability and performance dashboard provides an overview of both individual and team performance. The dashboard includes marketing activity, performance summary, and distribution of contacts by source. To help onboard a new team, a dedicated account manager is assigned to your account along with access to successful training guides.
Business Suite for Brokerages
The Suite for Brokerages includes all the functions and offerings of the individual and team accounts. It's priced identically to the Team plan, however, due to the complexity of onboarding a larger number of agents within a brokerage, an account manager will set up the accounts and make sure all the tools are properly implemented.
Market Leader Features
The features included in the Market Leader platform are essential to running a successful real estate business for a single agent or growing team. It eliminates the need to outsource marketing services by providing an out-of-the-box solution that is easy to customize to fit your business needs. These tools, along with exclusive listing marketing, play an essential role in a real estate agent's lead generation, management, and engagement activities.
Standout Features
Below we'll take a closer look at some of Market Leader's most important standout features for real estate agents, teams, and brokerages:
Listing marketing
Contact management
Marketing campaigns
Lead source integrations
Customizable website
Internet data exchange (IDX) home search
Productivity dashboards
Each feature is designed to capture the interest of prospective clients and convert leads into closed deals. A visually appealing website encourages site visitors to provide their contact information, the IDX search function gathers buyer leads, and lead engagement strategies re-engage leads at the right time to move them through the sales funnel. Lead source integrations capture all leads into one CRM so agents can manage their leads in one place.
Listing Marketing
Listing management tools allow agents to market exclusive listings to attract buyer leads for their seller clients. Each property has its own unique website highlighting the listing's top amenities and features. Each property also gets a dedicated custom email blast to target the right buyers. Agents can easily share the listing information on social media platforms and create ready-to-mail flyers and postcards. It's important to note that this feature is only available to subscribers of the Team and Brokerage plans.
Real estate agents can also leverage this feature to pitch for listings. They can share and show examples of all the marketing resources that will be used to market and sell the listings with the homeowner during pre-listing and listing presentations. Additionally, if the property sells, agents can use this listing and marketing strategy as an example to attract other listings within the neighborhood.
---
Contact Management
The Market Leader CRM supports an agent's business by organizing and tracking data, and delivering daily task reminders and alerts so nothing gets missed. It provides valuable insights by informing the agent when a contact visits their website and which properties they prospect viewed or saved. These data points help an agent determine the next steps in their communication with that client.
Agents can leverage a viewed listing to re-engage clients with an open house time slot or share information on price decreases. The CRM allows agents to filter clients by categories, and then with one click, agents can communicate easily with one or many clients at a time to share relevant updates to generate new interest. Additionally, Market Leader's CRM provides lead conversion plans to help guide leads through the sales process.
---
Marketing Campaigns
Automating marketing campaigns frees up agents to focus on the leads that are most responsive and have higher closing potential. It allows agents to work more effectively and reduces the need to manually connect with low-quality or early-stage leads.
Market Leader's automated marketing campaigns assign contacts to pre-existing workflows and then use newsletters, postcards, and emails to re-engage the interest of prospects, developing trust and establishing the agent's expertise. This is essential for lead generation and improves conversion by creating a better client experience.
---
Lead Source Integrations
Market Leader integrates with more than 40 lead generation sites. This feature eliminates the need to spend time on manual lead management from multiple databases and streamlines contacts into one place, allowing agents to focus on closing deals without missing any prospective leads.
The lead source feature captures all leads into a single platform so agents can leverage the CRM's automated marketing tools regardless of lead source. It makes leads easily visible to a growing team and offers key analytics to better understand and inform operations. It reduces the need to hire resources to manage multiple lead sources, and the contacts will also be visible on Market Leader's mobile application.
---
Customizable Website
Without an online presence, real estate businesses miss out on opportunities and may struggle to generate leads. Websites legitimize a real estate business and brand, and give prospective clients confidence in the services being advertised.
Market Leader's platform makes it simple to launch a professional real estate agent website to fit an agent's unique brand. The site provides the type of content needed to attract the prospective clients the agent most wants to work with. Having the right messaging and calls to action on web and landing pages improves lead generation efforts, helping real estate agents generate more prospects and convert more clients.
---
IDX Home Search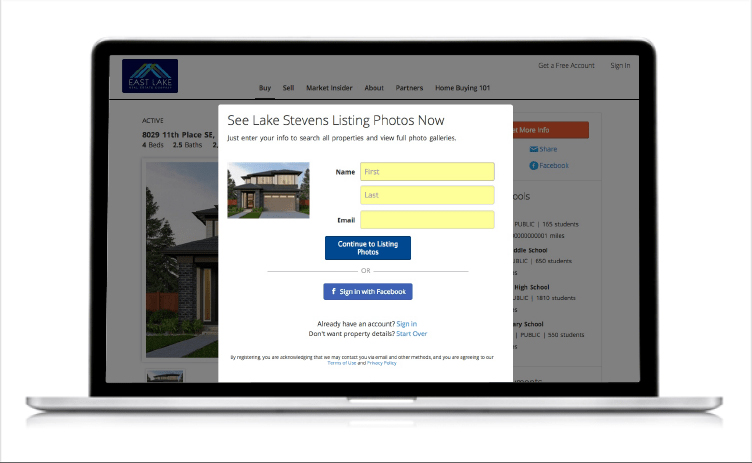 Websites with an IDX home search feature give prospects an active, up-to-date listing database to search, reducing the need to search for homes and properties on competitors' websites. Real estate agents can position themselves as having access to all the available listings within the market, and leads are generated when prospects enter their contact information in order to access the listings.
The Market Leader IDX website is linked to the agent's local multiple listing service (MLS) and integrates real estate listings from the MLS into their website. The IDX information is updated regularly to include new listings on the market to keep the searches as up to date as possible. The integration also reduces any need for manual updating, reducing the potential for error and saving time so an agent won't miss out on any opportunities.
---
Productivity Dashboards
Market Leader's productivity dashboards support the overall operation of a real estate business and visualizes the data being collected. It allows for individual performance tracking to identify shortcomings and determines where to invest in more advertising based on lead sources.
The dashboard also shows where agents should increase marketing in a low-performing month and provide insights into the collective value of the leads in the system. Dashboards can also help with identifying and tracking key performance indicators for individual agents and teams to aid with future business growth.
---
Ease of Use
Market Leader's platform and tools are easy to use. It has drag-and-drop website editing functionality and you can make changes to your site on the go using the platform's mobile app. The platform is set up to eliminate any need for outside resources, especially when it comes to website design and stock photography.
The flow of information is centralized into one CRM, even from outside third-party vendors like Zillow, Trulia, Realtor.com, and so on. There are a variety of templates to keep your marketing new and fresh to prospective clients. Given the various pricing plans, it seems the most difficult piece to set up would be lead routing for a larger team and creating sub-website domains for teams and individuals.
Market Leader Alternatives
Best For: Smaller teams needing a CRM with lead insights

Best For: Small to midsize brokerages wanting prospecting tools

Best For: Agents looking for customizable landing pages and ad management

Starting Price: $37.50 per user, per month

Starting Price: $25 per user, per month

Starting Price: $249 per month

Key Features:

Client insights from social media, locations, jobs, and more
Automated niche marketing
Follow-up tools

Key Features:

Power dialer
Streamlined transaction management
Targeted ad creation

Key Features:

Facebook and Google ad management
Property valuation tool
Market reports and analytics
What Users Think of Market Leader
Market Leader's customers enjoy the platform's ease of use for both mobile and desktop users, particularly when setting up their websites. They appreciate the CRM and its ability to track all sent emails. One client in particular found value in having the ability to send listings directly from the MLS to their clients. The training guides and mobile app are said to be beneficial and the platform and customer service receive high ratings.
Some clients were dissatisfied with the training videos and expected them to be shorter in length. One client had trouble reading emails using the mobile application and wanted the ability to save email drafts.
Other clients wanted their website's content to rank higher in Google searches. For clients looking for improved search engine optimization (SEO) and a higher-ranking website, Real Geeks may be the better platform.
Bottom Line
Market Leader provides a generous list of features in an affordable month-to-month platform. It offers agents, teams, and brokerages fully functional websites, a full-featured CRM including a robust marketing suite, and the integrations needed to run and grow a real estate business—all without a long-term commitment. Schedule a demo today.