Market Leader is a marketing and lead conversion solution for individual agents, teams, and brokerages, and one of our top real estate marketing companies earning a 4.23 out of 5 rating. We arrived at this score based on 21 factors that are essential to real estate marketing strategies. This includes ease of use, help and support, customer reviews, and features such as social media management, websites, mass marketing tools, and client relationship management (CRM) integration. Market Leader reviews and our analysis found that it is ideal for agents looking for an all-in-one solution to scale their businesses.
What We Like
CRM integration with 40+ lead sources, e.g., Zillow, Trulia, and Realtor.com
Dashboards show individual and team productivity to scale growing teams
Mobile application for working on the go
Access to real estate training guides
What's Missing
Can't purchase leads through the platform except through a Market Leader website
Lead availability in ZIP codes can be limited
No annual payment discounts to incentivize the 12-month commitment
Not cost-effective for larger teams
Recommended For
Agents looking to create an easy-to-customize Internet Data Exchange (IDX)-enabled real estate website
Real estate businesses that want to farm specific neighborhoods and obtain exclusive listings
Busy agents who need to save time by automating marketing campaigns like email newsletters and print and direct mail
Not Recommended For
Salespeople looking to monitor deal flow as the platform doesn't track closed deal data
Teams looking to expand their business to multiple markets and states
Hybrid agents who close deals outside of residential buyers and sellers, such as commercial and rental clients
Professional for Agents: Starts at $139
Professional for Teams: Starts at $139, plus additional charges per team member
Business Suite for Brokers: Starts at $139, plus additional charges per team member
---
---
NEW FEATURE ALERT: Engage more efficiently with buyer and seller leads using Market Leader's new feature Network Boost. Network Boost has shown a 40% increase in agents successfully connecting with leads. Market Leader social media experts design highly targeted and optimized ads for your Instagram and Facebook. As visitors engage with your ads, they will be prompted to complete a form and funnel directly into your Market Leader client relationship manager (CRM). This will also trigger an automatic marketing campaign that nurtures your clients and lets you know they are ready to engage with you personally. Try Market Leader's Network Boost today.
Market Leader Reviews: What Users Think of Market Leader
Is Market Leader worth it? Market Leader real estate reviews show that users enjoy the platform's ease of use in both mobile and desktop applications, particularly when setting up their websites. They appreciate the CRM and its ability to track all sent emails. Other users commented that most of the leads are "actively buying" leads and are reasonably priced, which is helpful for their business. Some clients commended the platform for its helpful customer service, technical support, and training guides.
Featured Customers: 4.8 out of 5 based on 1,370 Market Leader reviews
Cuspera: 4.47 out of 5 based on 1,058 Market Leader reviews
G2: 3.4 out of 5 based on 203 Market Leader reviews
However, several users were frustrated with the leads they received, complaining there were "no names to a lot of the leads, wrong phone numbers, and email." Some users were frustrated with the required six-month contract, which made it hard to cancel their Market Leader account before the term ended. Other customers hoped their website's content would rank higher in Google searches. If you're looking for search engine optimized (SEO) landing pages, along with a robust CRM and a free trial, try LionDesk.
Would Our Expert Use Market Leader?
With robust features, Market Leader is easily one of the most effective lead generation and marketing solutions available for agents, teams, and brokers. What we like about Market Leader are its comprehensive paid inbound lead, automated marketing, and CRM solution that help agents acquire, engage, and nurture real estate leads. With exclusive buyer and seller leads, you have higher chances of converting prospects without worrying about the competition from other agents, thereby positioning your business for success.
However, Market Leader may not be the best solution if your business is built on prospecting and other outbound marketing. Although you are guaranteed a number of exclusive leads, there's limited availability in specific ZIP codes. Leads are also an added cost, as they're not included in the plans. Moreover, Market Leader doesn't offer comprehensive social media marketing tools. We recommend Offrs if you're looking to maximize Facebook marketing while prospecting seller, buyer, for sale by owner (FSBO), and expired leads.
Market Leader Alternatives
If you want to explore other CRM software that can provide you with robust marketing, website building, and follow-up tools, consider the following alternatives to Market Leader:
Software

Best For

Smaller teams needing a CRM with lead insights

Small to midsize brokerages wanting prospecting tools

Agents looking for customizable landing pages and ad management

Teams who want intuitive lead management features

Key Features

Client insights from social media, locations, and jobs
Automated niche marketing
Follow-up tools

Power dialer
Streamlined transaction management
Targeted ad creation

Facebook and Google ad management
Property valuation tool
Market reports and analytics

Artificial intelligence (AI) features available on Essential plan
Unique deal rotting feature
Smart Contact Data features for enriching profiles

Monthly Starting Price

$109 per user

$25 per user

(with free trial)

$299

$14.90

(with free trial)

Learn More

Or

Or

Or

Or
Market Leader Plans & Pricing
How much does Market Leader cost? Market Leader pricing is categorized into three plans: Professional for Agents, Professional for Teams, and Business Suite for Brokers. The starting rate of each plan is $139 per month. In addition to the flat fee, you are charged by the number of team members using the platform on a sliding scale.
If you commit to a plan for six months or more, there is a 10% discount incentive, but there's no additional discount for committing to a full year or longer. All plans include basic management and marketing tools, such as IDX websites, CRM, marketing automation, content library, mobile application, and text and email alerts.
Plans

Market Leader Professional for Agents

Market Leader Professional for Teams

Business Suite for Brokers

Who Plan Is Best For

Individual agents looking for a code-less IDX website and an all-in-one lead generation and marketing solution

Small teams focused on residential buying and selling transactions

Mid-size brokerages onboarding over 15 agents

Monthly Starting Price

$139

$139 Pro account

+ $79 per user for up to 4 team members

+ $69 per user for 5-10 team members

+ $59 per user for more than 11 team members

$139 Pro account plus

+ $79 per user for the first 4 team members

+ $69 per user for 5-10 team members

+ $59 per user for more than 11 team members

Multiple Users

✕

✓

✓

Customizable Websites

✓

✓

✓

CRM

✓

✓

✓

Content Library

✓

✓

✓

Marketing Automation

✓

✓

✓

Text & Email Alerts

✓

✓

✓

Mobile Application

✓

✓

✓

Dedicated Account Manager

✕

✕

✓

Team Performance Details

✕

✓

✓
For more details on each Market Leader plan, click on the plan you're interested in below:
The Market Leader Pro plan is designed for individual agents, giving access to customizable websites, CRM, and marketing automation. Its website builder includes unique page layout options to visually differentiate the agent's brand and website. Agents can easily personalize their websites using a simple drag-and-drop web editing interface, which you can preview on both desktop and mobile devices.
Market Leader Pro also provides a fully integrated CRM for collecting leads from website visitors, third-party lead sources, and Market Leader's exclusive leads if you choose to purchase them. Marketing automation tools, print and direct mail marketing services, and a content library are fully integrated into the CRM so you can quickly send out customized emails, postcards, and business cards.
What's more, Market Leader has a mobile app that provides instant access to reminder alerts, quick lead responses, email management, and CRM contact information on the go.
The Teams plan includes the same features as the Professional Agents plan. However, each team member will have an individual account, individual domain or subdomain, and the ability to employ unified team branding across their individual websites. Flexible lead management through the CRM can be customized or set to distribute leads to various team members with a standard round-robin procedure, by ZIP code, or based on price or lead source.
An accountability and performance dashboard provides an overview of both individual and team performance to improve productivity. The dashboard includes marketing activity, performance summary, and distribution of contacts by source. A dedicated account manager is assigned to the Teams account, along with access to successful training guides to assist in onboarding a new team.
The Business Suite for Brokerages includes all the functions and offerings of the individual and team accounts—consumer websites, CRM and marketing tools, leads, performance analytics, and personalized training and support. It's priced identically to the Teams plan; however, it includes a dedicated account manager who will set up the accounts and make sure all the tools are properly implemented to help with onboarding a large number of agents within a brokerage.
Market Leader offers two real estate lead products to help you grow a successful business. Leads are exclusive, which means every lead generated will be sent to only one agent. You can buy a minimum number of exclusive buyer and seller leads every month for a flat monthly rate. Contact Market Leader's sales team for pricing and availability in your desired area.
Exclusive Seller Leads: Agents can purchase exclusive seller leads captured on Market Leader's home valuation website, HouseValues.com. You will have access to lead information and insight, including property details and listing time frame. Market Leader pricing for seller leads depends on the ZIP code and cost per lead in that area. You're guaranteed a specific number of leads per month based on availability in your ZIP code.
Leads Direct: Leads Direct is a pay-per-click ad campaign that drives search traffic to your website. Capture homebuyer and seller leads on your IDX website and get lead insights, including properties viewed. Market Leader pricing for buyer leads is based on a combination of impressions and keywords through Google and Bing advertising platforms.
General Market Leader Features
Exclusive leads
Listing marketing
Lead and contact management
Marketing automation
Customizable internet data exchange (IDX) websites
Productivity and performance dashboards
Market Leader's platform includes several features essential to running a successful real estate business, whether you're an independent agent, a growing team, or a fully staffed brokerage. The platform eliminates the need to outsource marketing services by providing a lead management and marketing solution tailored to your business needs. These tools make lead generation, management, and engagement activities more efficient.
Each feature is designed to capture buyer and seller leads so you can successfully convert them into closed deals. With a visually appealing IDX website, you encourage site visitors to provide their contact information while you gather buyer leads and move them through the sales funnel. Moreover, lead source integrations capture all leads into the CRM so you can manage leads in one place.
Read on to take a closer look at some of Market Leader's standout features for real estate agents, teams, and brokerages.
Homeseller leads through HouseValue.com
Homebuyer leads through Leads Direct
Exclusive leads at a monthly rate
Market Leader is a great source of real estate leads for agents who want to automate their lead generation and marketing efforts. You can get a guaranteed number of exclusive seller and buyer leads in your target niche at a monthly rate. Exclusive leads simply mean that leads are given solely to you and are not shared with other Market Leader agents, thereby decreasing your market competition. Based on Market Leader real estate lead reviews, users appreciate the ability to keep in touch with current and past leads automatically.
Agents can capture exclusive prospective homesellers when they're motivated and are searching for a home valuation. These sellers are generated through Market Leader's website, HouseValues.com, where they request a free personalized property valuation. Lead insights, such as lead information, property details, and listing time frame, are provided to you so you can determine the next marketing steps.
If you need both buyer and seller leads, Market Leader's Lead Direct feature helps you capture leads on your IDX website and gives you lead insights that are seamlessly integrated with Market Leader systems. This means all lead information, including home search criteria, is sent directly to your CRM for easy access.
---
Listing marketing automation
Feature listings on your website
Single property website
Share listings via email and social media
On your Market Leader account, promote individual listings in a variety of ways, including on your website. Additionally, Market Leader allows you to feature your brokerage's or colleague's listings, and even create custom properties to promote.
Create a single property website to impress your potential seller leads. Each property will have its own unique website highlighting the listing's top amenities and features. Moreover, your properties will get a dedicated custom email blast to target the right buyers. With the Listing Marketing Automation feature, your system will email you a ready-made, customizable marketing package to promote your new listings.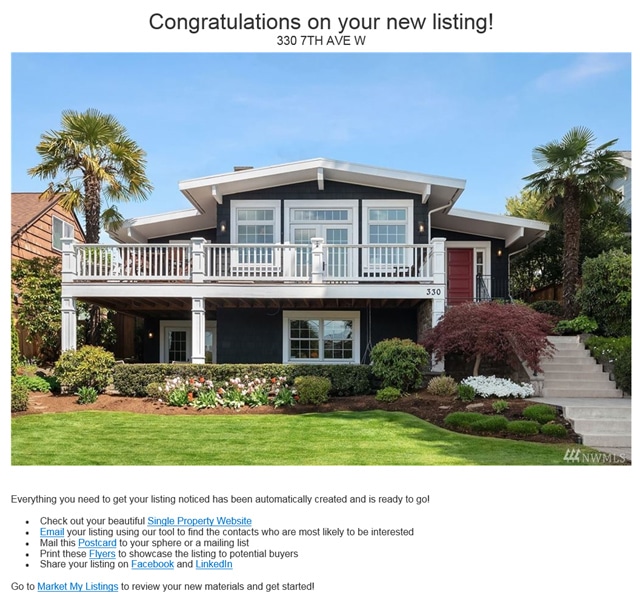 ---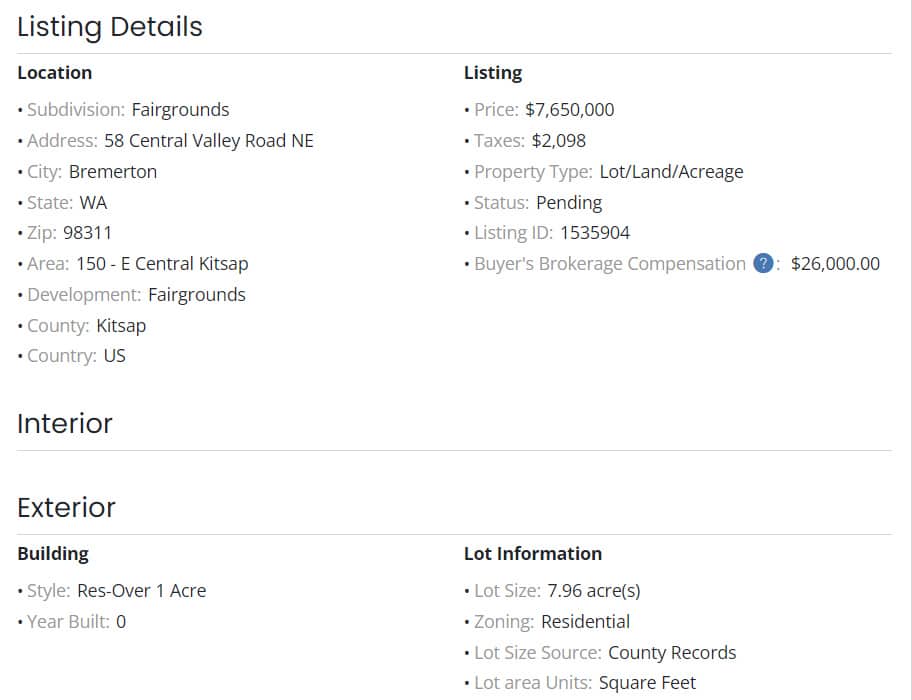 ---
To maximize your listings' exposure, share them on your email and social media campaigns. Gain more listing insights by viewing marketing activity for each active listing—from social sharing and print collateral to property page views and email open rates.
Real estate agents can leverage listing marketing features to pitch for listings. They can share and show examples of all the marketing resources that will be used to promote and sell the listings with the homeowner during pre-listing and listing presentations. Additionally, if the property sells, agents can use this listing and marketing strategy as an example to attract other listings within the neighborhood.
---
Organize and track leads
Import contacts into one Market Leader system
Export contacts from other online programs into Market Leader
Create groups to categorize contacts
Agents, teams, and brokerages can easily import all their contacts into their CRM to stay in touch with all contacts, build relationships, and win more business. Plus, agents can create a custom contact list for import and organize them into groups to readily identify leads with similar traits or preferences. This makes it easier to target the right people during a marketing campaign. You can also export contacts from other online programs and import them into your Market Leader system.
---
Automated text and email alerts
Integrated marketing center
Integrated MLS and third-party lead sources
Aside from managing contacts, Market Leader's CRM tool enables agents, teams, and brokerages to seamlessly organize and track data, as well as deliver daily task reminders and alerts, so they don't miss anything in their lead's journey. You can respond to clients with automated text and email alerts. Moreover, the CRM provides valuable insights by informing the agent when a contact visits their website and which properties a prospect viewed or saved. With these data points, it's easier to plan specific client communication strategies.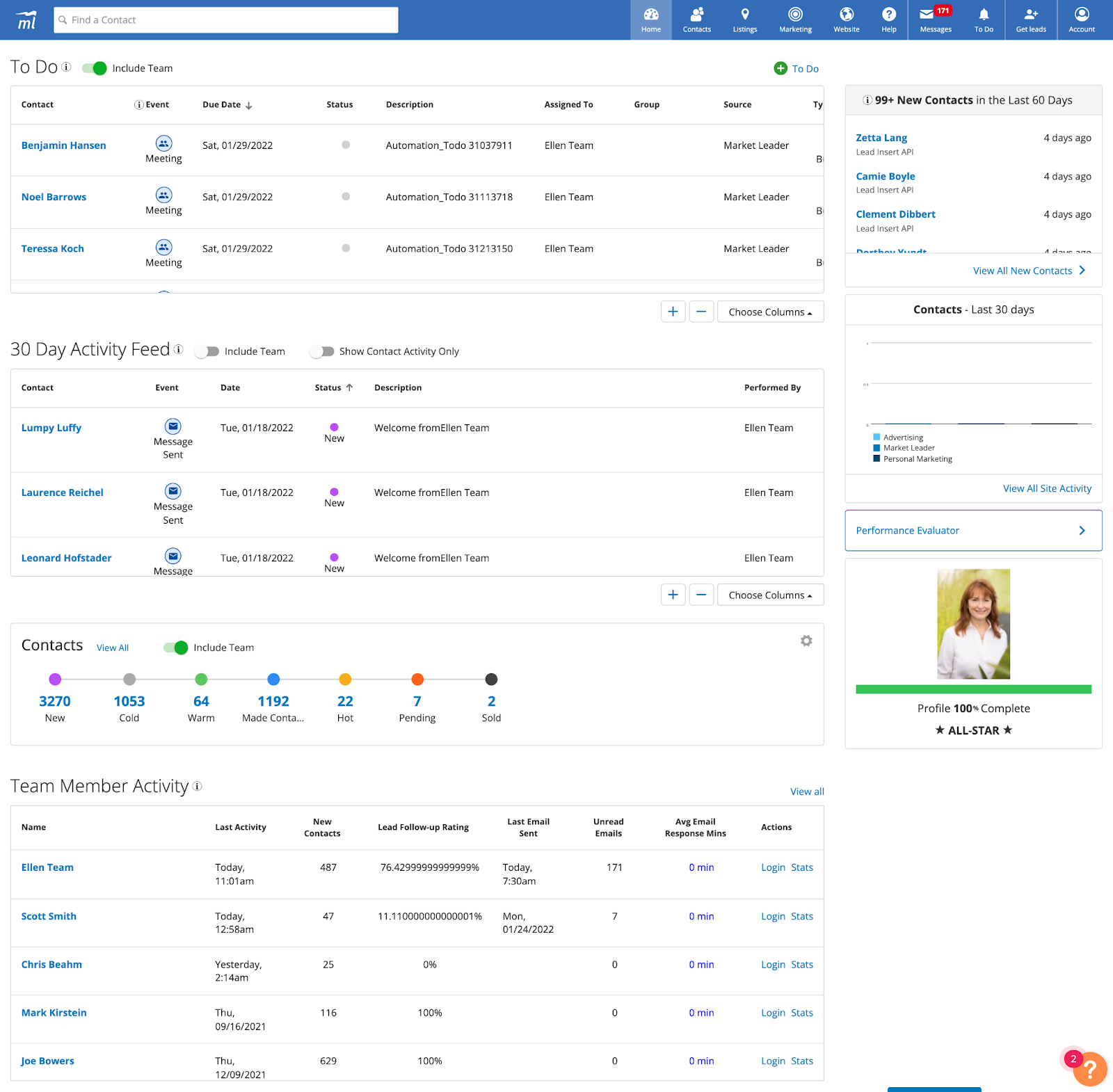 ---

---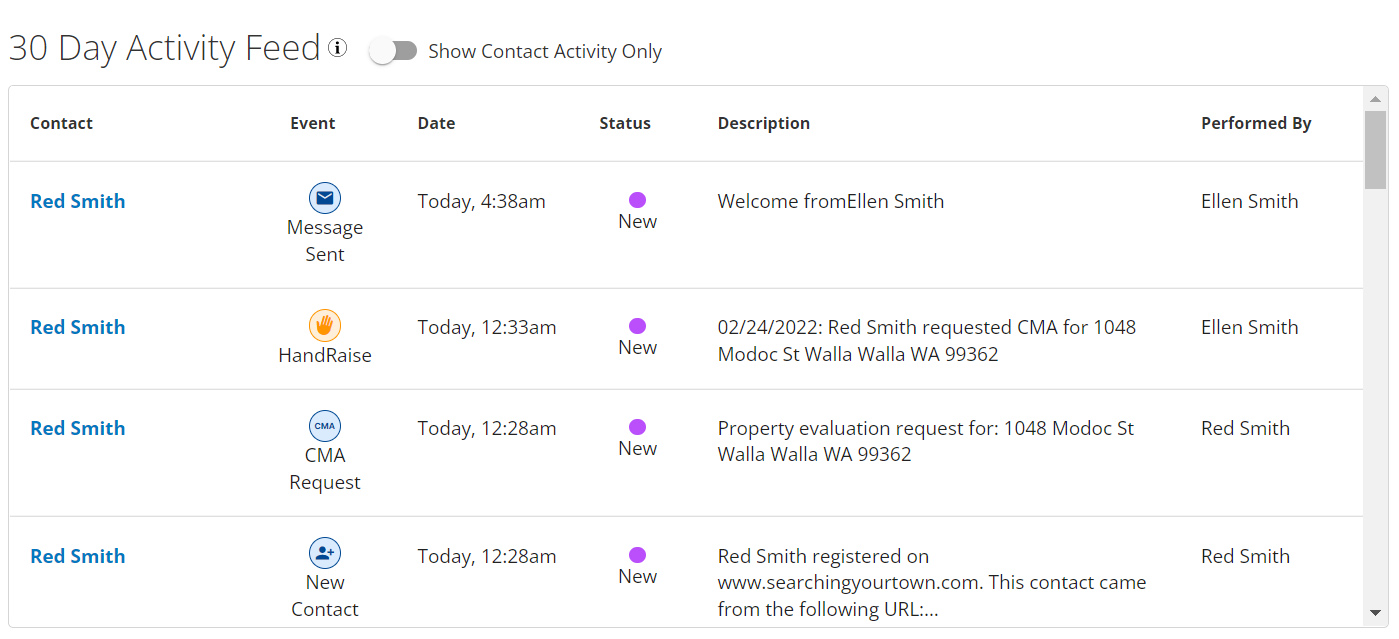 ---
Your contact and housing search information flows from your Market Leader website to your CRM. Further, your MLS can be connected to your CRM to send listings and include listing details in your marketing campaign. The CRM is also fully integrated with a marketing center so you can manage your marketing efforts on the same platform. Lastly, Market Leader's CRM integrates with over 40 lead sources, including Zillow, Trulia, and Realtor.com, to ensure your listing gets the best exposure.
To leverage a viewed listing, re-engage clients with an open house time slot or share information on price decreases. On your CRM, filter clients by categories and communicate with one or many clients at the same time to share relevant updates and generate new interest. Market Leader's CRM also provides lead conversion plans to help guide leads through the sales process.
---
Automated marketing campaigns
Listing marketing automation
Email, print, and direct mail marketing
Automated marketing empowers agents to focus on nurturing leads who are most responsive and have higher closing potential. By using Market Leader's marketing automation tools, agents can work more effectively and save time from manually connecting with low-quality or early-stage leads. Moreover, with Listing Marketing Automation, you receive a ready-made, customizable marketing package via email to quickly promote your new listings.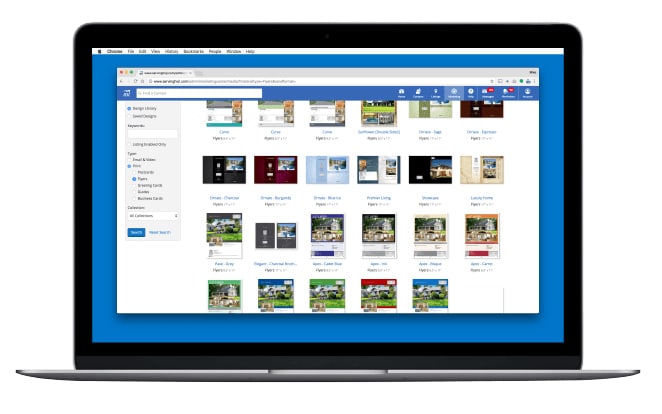 ---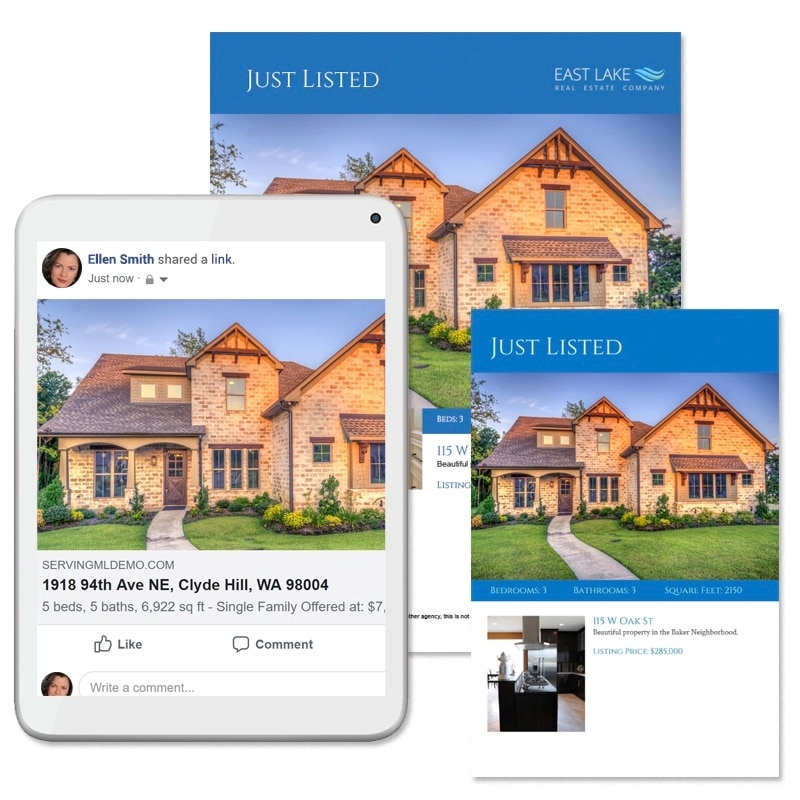 ---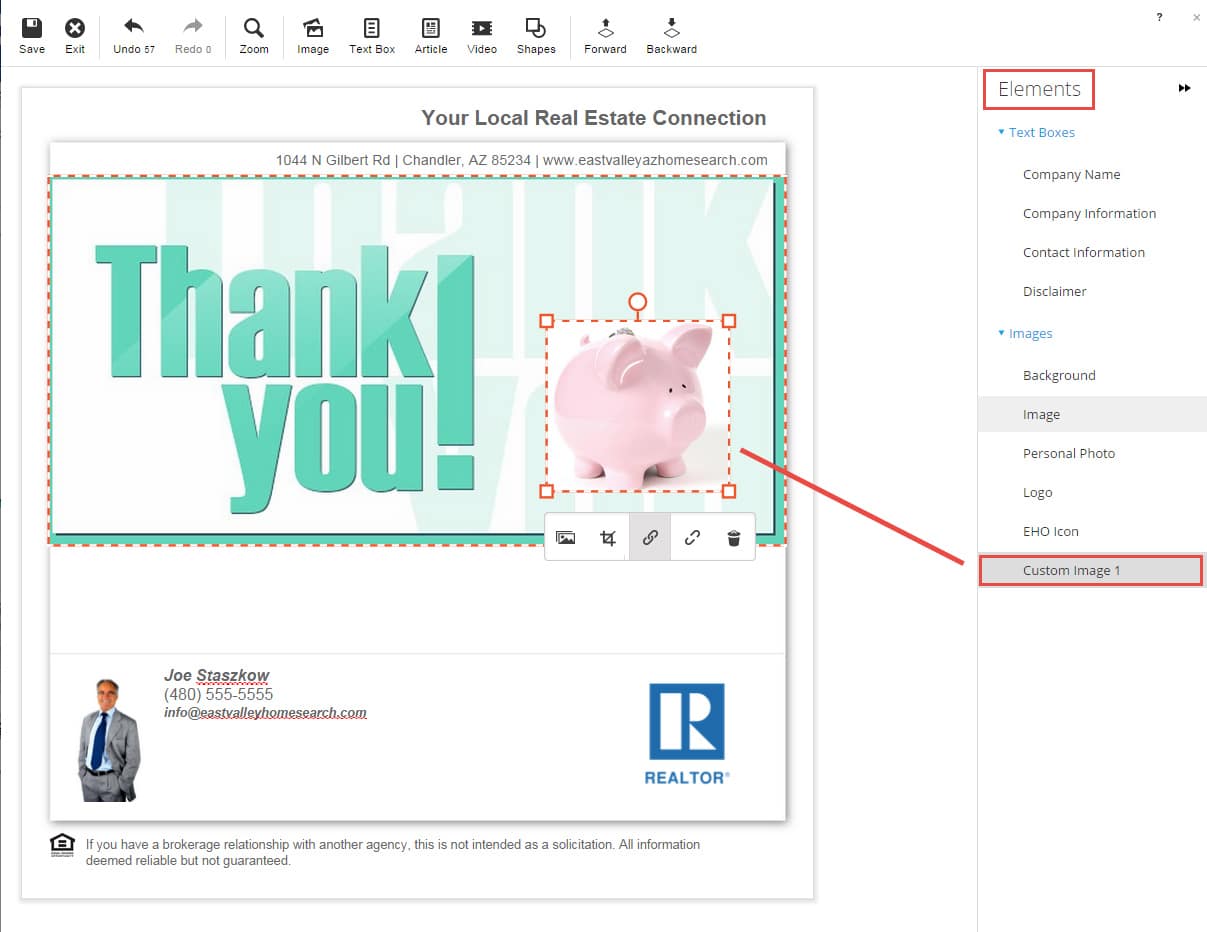 ---
Automate your marketing campaigns by assigning contacts to pre-existing workflows and using digital and print materials to engage the interest of prospects and establish your expertise. Easily automate multichannel campaigns, including print, direct mail, email, and phone marketing. You're also able to automatically assign new leads to a specific campaign and even connect one campaign to the next to improve lead conversion by creating a better client experience.
Market Leader provides you with tools to professionally design marketing materials, such as welcome emails and monthly newsletters. With its preloaded content library, it's easy to design postcards, flyers, greeting cards, business cards, guides, and video-enabled responsive emails and print them for your marketing campaigns. Market Leader also enables you to schedule birthday and anniversary cards for past clients ahead of time so you remain top of mind.
---
Over 40 lead generation sources
Lead Stream feature to automatically stream leads into your CRM
Lead Capture widget
Market Leader integrates with more than 40 lead generation sites, including Realtor.com, Homes.com, and Realty Now. This feature eliminates the need to spend time on manual lead management from multiple databases. It's easy to streamline contacts into one place so you can focus more on closing deals without missing any prospective leads.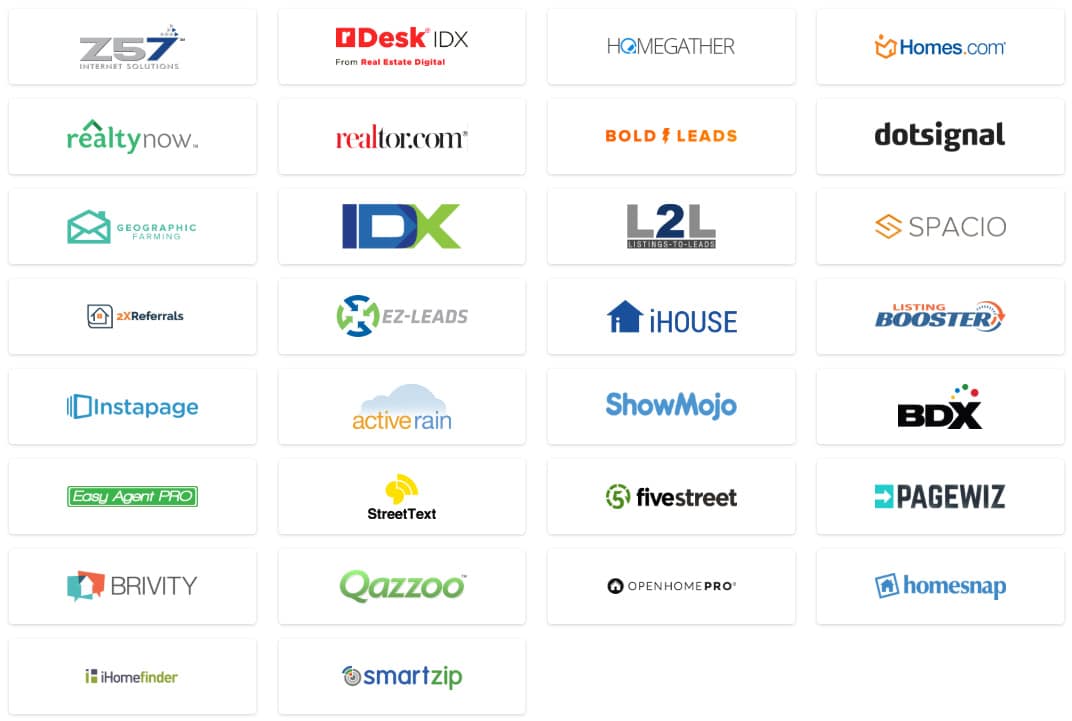 ---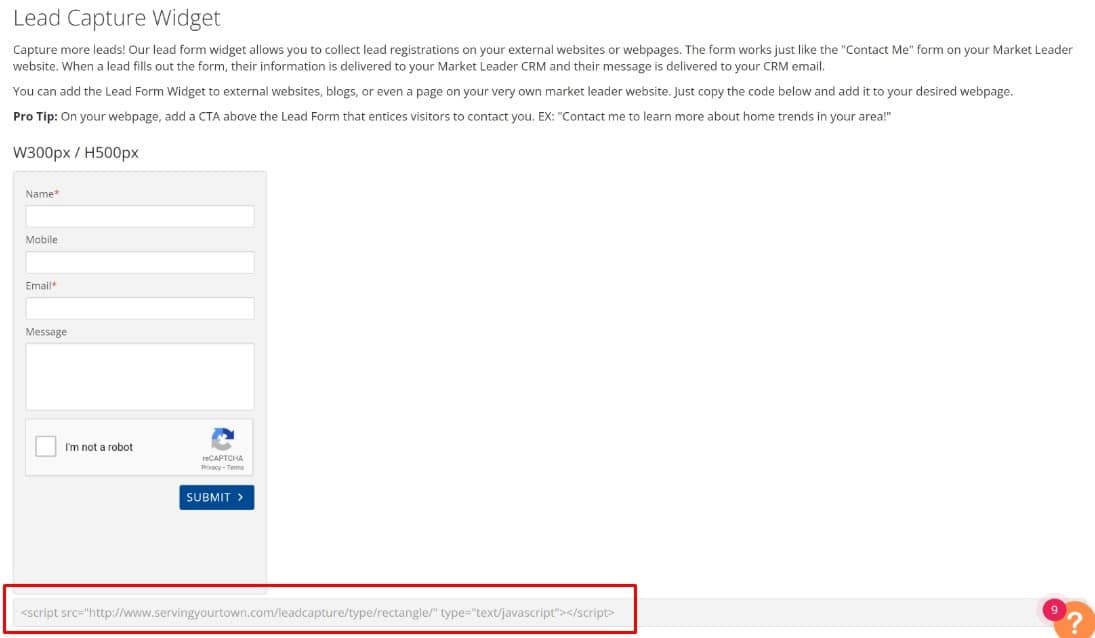 ---
With Market Leader's Lead Stream feature, leads from different sources will automatically flow into your Market Leader system, where you can nurture and engage them. All you need to do is add your Market Leader email address as the main email address in the profile or lead notification section for your lead generation source. Another unique feature is the Lead Capture Widget, which allows you to generate leads on outside websites using your lead capture form and send them directly to your Market Leader CRM.
---
IDX search function
Multiple templates and layout options
Drag-and-drop web design builder
Establish your online presence through Market Leader's customizable websites. By having a professional real estate website, you legitimize your real estate brand and give prospective clients confidence in the services being advertised. According to Market Leader lead generation reviews, users appreciate that leads generated from websites are texted to them.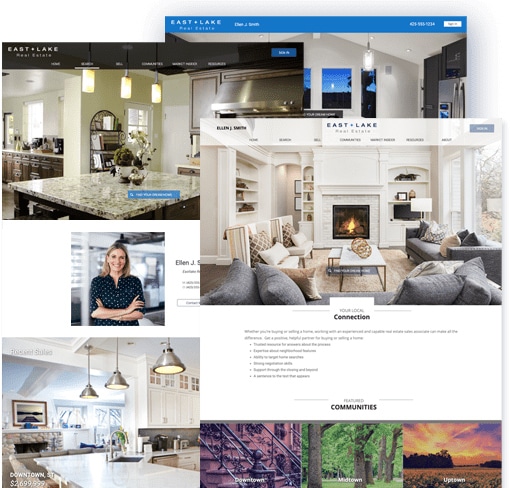 ---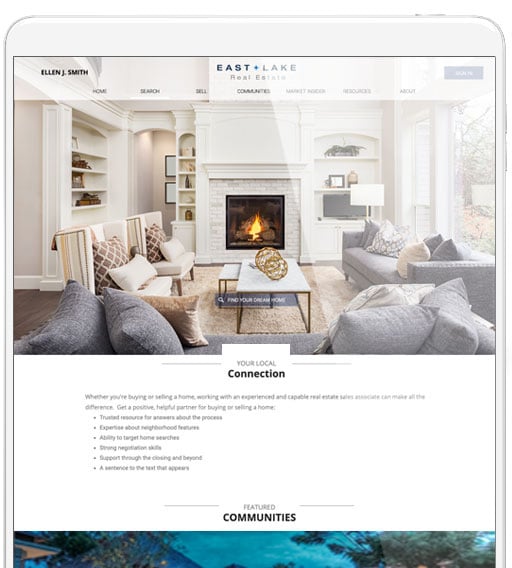 ---
Using Market Leader's platform, customize a wide variety of widgets to easily add content and choose from numerous licensed photos in the image library or use your own to increase your website's visual appeal. The drag-and-drop interface with multidevice preview and visualization makes it convenient to edit any section and do quick updates on the go from your mobile device.
---
Tailored for lead capture
Integrate MLS into your real estate website
IDX information updated regularly
Websites with an IDX home search function give prospects an up-to-date listing database, reducing the need to search for homes and properties on your competitors' websites. This offers site visitors access to all the available listings within the market, encouraging them to give their contact information to access the listings.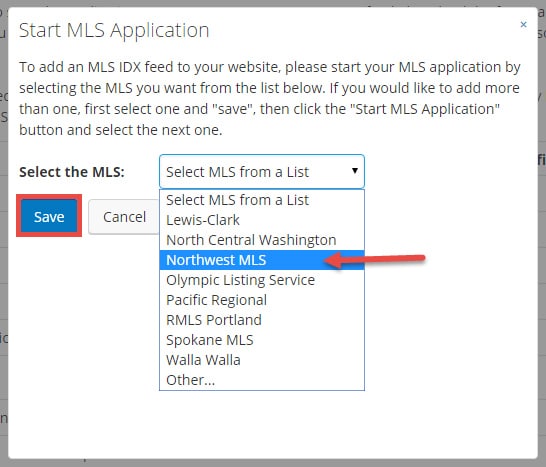 ---

---
Through your CRM, link your Market Leader website to your local multiple listing service (MLS) and integrate real estate listings from the MLS into your website. The IDX information is updated regularly to include new listings on the market and keep the searches as up to date as possible. The integration also reduces any need for manual updating, lessening the potential for error and freeing more of your time.
---
Performance analytics
Available for Teams and Business Suites
Improves team productivity
Market Leader's productivity dashboards support the overall operation of a real estate business and visualizes the data being collected. Teams and brokerages can visually track individual performance to identify pitfalls, improve overall productivity, and determine what aspect to emphasize more to effectively engage and convert leads.
The productivity dashboard also shows where agents should increase marketing in a low-performing month. Teams can use performance analytics to get insights into the collective value of the leads in the system. Moreover, these dashboards help with identifying and tracking key performance indicators for individual agents and teams to aid with future business growth. Note that productivity dashboards are only available for Teams and Business Suite users.
---
Help, Support & Ease of Use
Market Leader's platform, dashboards, and tools are easy to navigate, empowering teams, brokers, and independent agents to build professional websites, market their services, and manage leads in one platform. Its customizable IDX websites utilize drag-and-drop editing functionality, so you can make changes to your site even while on the go through its mobile app. Market Leader further eliminates the need for outside resources, especially when it comes to web design and stock photography.
Your real estate lead flow is centralized into one CRM, even from third-party vendors like Zillow, Trulia, and Realtor.com. Integrating your MLS listings into your website can even be done in a matter of a few clicks. Moreover, there's a variety of design options to keep your marketing campaigns fresh and appealing—whether via email, print, direct mail, or phone marketing. Given the various Market Leader plans, setting up lead routing for a larger team and creating sub-website domains for teams and individuals may be challenging at first.
How We Evaluated Market Leader
The top real estate marketing companies for realtors offer tools and features that assist agents and brokerages in generating and converting more leads to clients. We examined marketing companies for agents, teams, and brokers based on the following criteria:
30%
Help, Support & Ease of Use
40% of Overall Score
We researched each provider to find those with additional real estate marketing tools going beyond what agents gain by simply sending out flyers. In particular, we looked for software with mass marketing tools, social media management, customizable reports, built-in search engine optimization (SEO) tools, and website builders.
15% of Overall Score
We specifically evaluated each platform's unique or stand-out features, as well as popularity and the overall value for the cost.
15% of Overall Score
Based on customer feedback for each platform, with particular attention given to actual user reviews of the product, and the popularity of each real estate lead generation company.
30% of Overall Score
It's important that platforms are easy to use and that you have access to customer support. We favored software providers known for stellar customer service on one or more channels.
*Percentages of overall score
*Pricing was not included in our evaluation criteria because of the vast price difference between providers and services
Bottom Line
Market Leader's strength lies in its ability to provide exclusive leads, automate marketing campaigns, and integrate lead processes into one easy-to-navigate platform. Individual agents, teams, and brokers can create fully functional websites with IDX home search functionality. With a full-featured CRM and a robust marketing suite, you can have the basic tools to operate and grow your business—all without a long-term commitment. Based on Market Leader reviews, users love how it's convenient to use both desktop and mobile applications.