Marketing teams juggle multiple projects with inputs from in-house, clients, and outside services. Marketing project management software tracks project status, facilitates communication, and gives easy access to campaign elements. The best tools, including monday.com and Asana, range from free to more than $25 monthly per user and help streamline processes to save you time.
Top Six Project Marketing Project Management Software
| Marketing Project Management Tools | Best For |
| --- | --- |
| | (Best Overall) Remote creative teams that depend on online collaboration and task approvals |
| | Multi-media marketing teams requiring flexible and configurable project templates |
| | Client-facing marketing firms that invoice customers based on employee time worked |
| | Larger marketing teams (10 and up) needing easy-to-use software for internal marketing projects |
| | Social media marketing teams for ease of account management |
| | Creative teams within a marketing department that need to collaborate with peers and clients |
Which Project Management Software is Right for You?
How We Evaluated Marketing Project Management Tools
Marketing teams have unique challenges. Projects can vary from one-time print products and long-term media campaigns to recurring tasks like social media posting. Even when you don't have outside clients, other departments might task you with special needs like branding for an upcoming conference. Plus, as creatives, you and your teammates depend on collaboration—you may need software to keep you aware of tasks and deadlines.
We evaluated some of the best marketing project management software based on the following criteria:
Cost: We evaluated affordable project management software services ranging in price from free to more than $25 monthly per user. Some offer flat-rate plans. Depending on the vendor, you may be charged a setup fee.
Ease of use: The interface should have a modern design that's intuitive and easy to follow. There should also be plenty of online support and training for new users.
Project management methodologies: Some software serve more diverse project management styles than others, i.e., Kanban, Lean, Scrum.
Communication: There are different types of communication tools, including live activity streams, tagging function, team emails, private chats, and so on.
Time sheets: Some software have tools that allow you to track time spent on a particular task; you can create time reports for certain tasks or projects.
Reports: Many reports are canned, but there are some reports that are customizable.
Integrations: Integrations can include other project management software, Google products (Drive, Calendar), communication tools (like Slack), invoice apps, and more.
Customer support: Some services offer 24/7 support, while others are only open on weekdays. You should be able to call, email or submit a request online.
Customer reviews: We prioritized only top-rated software, paying attention to ease of use as well as any shortcomings such as integrations or reporting limitations.
Based on this data, we recommend Asana. It's easy to use and has good collaboration features. Plus, its interface is bright and graphical as well as flexible, an asset for creative types.
Asana: Best Overall Marketing Project Management Software


Asana is an all-around project management tool, particularly useful for marketing teams whose members are spread across geographic areas. The collaboration and communication tools make it easy to work together on tasks. It offers privacy settings and a document library to make it easy to find the files you need.
Asana Pricing
Asana's pricing compares well with other marketing project management software we reviewed—from free to $19.99 monthly per user. Further, you do not pay for guest users like clients who do not share your organization's domain and who can collaborate on tasks but not manipulate the fields in Asana. There are free trials and a free version with limited features.
Asana Pricing Tiers
| Features | Basic | Premium | Business |
| --- | --- | --- | --- |
| Pricing | Free | $9.99 per user/month | $19.99 per user/month |
| Board View & Collaboration | ✔ | ✔ | ✔ |
| Task Dependencies | | ✔ | ✔ |
| Advanced Search/Reporting | | ✔ | ✔ |
| Custom Templates | | ✔ | ✔ |
| Forms | | | ✔ |
| Workload Review | | | ✔ |
Asana's Features
Asana is an extremely feature-rich project management solution. It provides project tasks and dependencies, custom templates, and forms as well as an ability to manage marketing documents throughout the project life cycle. What it lacks is in-app tools (particularly for billing and time sheets), it can usually provide via integrations.
Standout Feature: Asana Collaboration Tools
While most marketing project management software has online-collaboration features, Asana's are especially powerful. For example, you cannot only comment on a graphic, but actually place a marker on the graphic to show the area you are critiquing. You can also edit a document within Asana or set the document to comments only. This makes it great for teams with remote members.
Asana Flexibility
Like other marketing project management tools, Asana lets you create projects and tasks, but it also allows unlimited levels of subtasks within a task. This is especially helpful when a task depends on the completion of other parts. You can customize your dashboard to the information you want.
Asana Views
Like other solutions we reviewed, Asana provides list, calendar, Kanban, and conversation/chat views as well as a project dashboard that is customizable. Its Timeline view works much like a Gantt chart and is easy to work with.
Asana Templates
Asana allows you to create and save templates so that you do not need to recreate a template for similar tasks. It also offers a library of common templates. Several focus on marketing: campaigns, product launches, editorial campaigns, and developing marketing goals.
Asana Integrations
Asana offers scores of apps for Microsoft Office, Google, Adobe, Salesforce, and other major software brands used by marketing teams. You'll find apps for chats like Slack, newsletter programs like Mailchimp, and file sharing like Dropbox. If you are a marketing firm with multiple clients, Asana integrates with reporting and time-tracking software as well.
Asana Security and Privacy
Like monday.com, Asana lets you restrict access to tasks or even set tasks for your eyes only. This is especially useful when you have confidential information that pertains to an assignment but should not be shared across the entire project team. If you have guest users, such as clients, they will only see the tasks you allow as well as any other guests who are assigned to that project or job.
What Asana is Missing
Asana does not have invoicing or billing capabilities. If you are a marketing firm needing this feature, you can integrate Asana with third-party software like TSheets or by using Zapier. You can also consider Zoho Projects, which has these tools.
What Users Think About Asana
The Asana users reviews we found say very few negative comments and those that do, admit they are mostly small issues such as wanting an additional feature or making something easier to learn. Overall, they praise the user interface, the training resources, and the reporting features.
Where to Find Asana
You can easily order Asana from its pricing page on its website. You can get a free trial of the advanced plans or sign up for a free basic plan with fewer features that allow up to 15 users. If you are a nonprofit organization, you may be eligible for a discount. Sign up for a free trial.
monday.com: Best Marketing Project Management Software for Multi-marketing Teams

monday.com is the second best marketing project management software, because it's templated and customizable to your marketing needs. Its features and automations require some setup but most users love it once they get the hang of it. Further, its priced affordably based on the number of users and tiers—starting with a minimum of five.
monday.com Pricing
monday.com prices in groups of five users as well as by tiers. Depending on the number of users, it is more cost-effective than other marketing project management tools. This table shows pricing for one to five users. For example, with five users, the basic plan costs $7.80 per user per month, making it one of the least expensive solutions on our list.
monday.com Pricing Tiers for 0-5 Users
| Features | Basic | Standard | Pro | Enterprise |
| --- | --- | --- | --- | --- |
| Pricing | $39/month | $49/month | $79/month | Varies |
| Unlimited viewers & boards | ✔ | ✔ | ✔ | ✔ |
| Forms customization | | ✔ | ✔ | ✔ |
| Time tracking | | | ✔ | ✔ |
| Dedicated service rep/one-on-one training | | | | ✔ |
| File storage | 5GB | 50GB | Unlimited | Unlimited |
| Activity log | 1 week | Unlimited | Unlimited | Unlimited |
| Shareable boards | | 4 guests billed as 1 user | Unlimited | Unlimited |
| Integrations | | 250 actions/month | 25,000 actions/month | 100,000 actions/month |
monday.com offers discounted plans to nonprofits, nongovernmental organizations (NGO's), and educational institutions. It also features an Enterprise plan with additional integrations, a dedicated service rep, and one-on-one training.
monday.com Features
monday.com's project management tools are excellent and easy to access, making it the best among the other software we reviewed. You can access it via any Android or iOS mobile device. All pricing tiers include Kanban style project management tools as well as iOS and Android apps. It does lack billing and timetable tools, however, and does not have integrations for these.
Standout Feature: monday.com Automations
The best marketing project management software doesn't just track projects. It also automates processes such as notifications or automating data transfers within the software itself. monday.com's easy-to-use automation templates let you program tasks from letting your boss know when a project is done to moving a task to a new group when a certain date is reached. You can create automations with outside software as well.
monday.com Flexibility
monday.com's strengths can be summed up in one word: flexibility. It offers powerful features for customizing boards. For example, you cannot only assign columns for standard items like priority, status, or cost, but also design your own including highlight colors. This lets you create boards that work specifically to your project.
monday.com Views
It also offers multiple views: calendar, chart, files, Kanban, map, timeline, even a weekly view to show you what's due in a given week. You can set up a dashboard to display multiple views.
monday.com Templates
You don't have to create boards from scratch, however. monday.com offers multiple templates based on common tasks—several specific to marketing. Use these as a starting point and modify them. You can also duplicate your custom templates to use again.
monday.com Integrations
monday.com integrates with more than 25 third-party programs, including Gmail, Mailchimp, and Salesforce. This makes it possible to automate processes such as email marketing campaigns or updating client CRM data with deliverables.
monday.com Content Storage & Communication
Marketing depends on content—documents, images, videos. monday.com keeps all your information together and organized by campaign. You can add a marketing element, discuss it in chat, and store it within monday.com so it's easy to access once the campaign is ready to launch. monday.com only stores content as attachments; you cannot edit or manipulate docs and data files within the program.
When you click on a task, it automatically opens up a column that lets you look at or add updates, put in content and discuss it, and see the activity on the task. You also have an inbox, and of course, you can set automations to communicate outside monday.com.
monday.com Security & Privacy
Marketing projects often involve outside parties, from the client participating in a case study or white paper to the graphic artist hired for a brochure design. monday.com allows you to create shared boards and invite these people as guests. Guests only have access to the specific project board and only to the tasks you decide to share with them. In addition, you can set up private boards where only you or specific team members have access to confidential information.
What monday.com is Missing
If you need time sheets, billing, or reports, monday.com is not the best option as you'd have to set up your own interfaces through a service like Zapier. It's also pricey if you're a marketing team of one. You could consider instead Zoho Projects or Asana, which share the main features of monday.com as well as time sheets and even customizable reports.
What Users Think About monday.com
Users rave about monday.com in our user review. They appreciate the program's flexibility, custom capabilities, and workflows. The bright, graphical interface is also a hit. However, some complain about the steep learning curve. And, it's not the best-priced option for one-to-two users or for very large firms due to its pricing structure.
How to Sign up for monday.com
Like most project management software, you can order monday.com from a website. It lists its pricing by user group and tiers, so be sure you are on the correct number of users before clicking the "Get started" button on the plan of your choice. If you run a nonprofit, NGO, or educational institution, contact monday.com about special pricing. Visit the website to sign up for your free 14-day trial.
Zoho Projects: Best Marketing Project Management Software for Client Marketing Firms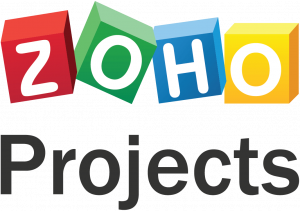 We recommend Zoho Projects for client marketing firms because it has so many additional features for the business side of marketing such as time sheets, budgeting, invoicing, and downloadable reports. It also integrates with the entire Zoho suite of software. In addition, Zoho Projects offers a free plan for up to five users—more than enough for a small project team.
Zoho Projects Pricing
Zoho's pricing runs from free to $10 a month per user. The full-featured Express plan is steeper than most of the other marketing project management software on our list, however, many users consider it worth the extra cost because of its built-in time tracking and task management features. That means they do not need to purchase or integrate with other time and attendance programs.
Zoho Pricing Tier Comparisons
| Features | Standard (10 maximum users)* | Express (100 maximum users) |
| --- | --- | --- |
| Pricing | Approx. $3/month per user | Approx. $4-$10/month per user* |
| Time Tracking & Task Management | ✔ | ✔ |
| CRM Integration | ✔ | ✔ |
| Time sheet Approval | | ✔ |
| Custom Views | | ✔ |
| Gantt Chart | | ✔ |
| Invoice & Books Integration | | ✔ |
| File Attachment | Up to 5GB | Up to 20GB |
* Zoho's pricing begins with six users.
Zoho Projects Features
Zoho fares well against its competitors in terms of features. All plans include time tracking, task reminders, and task dependencies. It also syncs with Google's task feature and integrates with customer relationship management software. It works best when integrated with other Zoho software which increases its capabilities but has plenty of tools to make it extremely useful on its own.
Standout Feature: Zoho Projects Client Features
If you're a marketing firm with multiple clients, Zoho Projects offers excellent features to help you manage the financial as well as creative side of your business. Time sheets let you track how long individuals spend on a task, and budgets help you manage expenses. With Zoho's invoice integration, you can turn those time sheets into invoices automatically. You can also invite clients as guests to a task or milestone.
Zoho Projects Flexibility
Zoho's strength lies in its ability to get granular. Within a project, you can set milestones, then task lists, tasks within that list, and even subtasks. Further, you can set dependencies, letting users see which task or subtask must be done first. This makes it a great choice for complex projects with many moving parts. You can set recurring tasks for ongoing projects, like social media posting, schedule reminders, and deadlines.
Zoho Projects Views
You can see the tasks with their subtasks in the Classic view, while the plain view shows tasks in equal weight. Your project dashboard gives you a bird's-eye view of the status of each project and milestone, and even time sheet summaries. There's a Kanban view, a calendar, and even a Gantt chart so you can easily visualize dependencies and timelines.
Zoho Projects Templates
Zoho allows you to make and save templates for projects. To create a task, you fill out a form, which you can also customize to include the information important to that type of task. To create a task, you must fill out this form, which appears as a pop-up. Compare this to other project management tools that let you do everything directly on the project view.
Zoho Projects Content Storage & Communication
Like all marketing project management software, Zoho lets you store information such as documents and images. However, with the Zoho Docs integration, you can comment on documents, edit and collaborate within the software.
Zoho offers multiple communications modules for different purposes, from chat to issue tracking. Pages lets you create evergreen documents for general use such as employee policies. The Feed tab keeps you up-to-date on projects. From there, you can also comment and add attachments. If your team or clients prefer email, they will like that Zoho supports email-based project management.
Zoho Projects Reports
The Gantt & Reports module in Zoho is a great asset for your marketing team. Not only can you use the reports to track progress, resource utilization, and more, but you can also download them as PDFs in order to share with your chief marketing officer (CMO) or clients. The Resource Utilization Chart, in particular, is handy because from it, you can drag tasks from one user to another to rebalance workloads.
What Zoho Projects is Missing
Zoho Projects was the only marketing project management software solution that included all the main features we looked for. However, it could use a wider range of privacy settings. It only limits views to internal or external members. Other project management tools, like monday.com, allow you to limit task views to designated individuals. When working with clients on a project, it's helpful to be able to have tasks and conversations within the project where you can discuss confidential information.
What Users Think About Zoho Projects
Users praised Zoho Projects for its time sheet and invoicing capability. Our Zoho user reviews specifically noted the number of features for the price. However, many would have liked a friendlier user interface and stronger privacy features.
Where to Find Zoho Projects
You can subscribe to Zoho Projects via their website. In addition to the paid plans, it does have a free plan that allows five users and two projects. You can sign up for a 10-day trial or reach sales via chat on the pricing page if you have questions. Sign up for your free plan to manage up to two projects.
Basecamp: Best Project Management Software for Large Teams


Basecamp has flat pricing for unlimited users and projects. Less flashy and with fewer options, it is easiest to use. It's a good choice for large marketing teams who depend on input from other departments that won't use project marketing software often, or for large budget-conscious companies who want everyone interacting using the same software.
Basecamp Pricing
Basecamp offers all of its features with no limits on numbers of users or projects plus 500GB of storage for $99 per month. It's the most cost-effective for busy marketing teams with 10 or more users. In fact, you can enroll your whole company to facilitate collaboration and make announcements. The free version limits projects and users.
Because Basecamp charges a flat fee, you get all the features regardless of number of users:
Unlimited users
Unlimited projects
Task/To-do lists
Collaboration tools
Advanced client access
Search
Charts
Reports
Template creation
500GB document storage
Email support
Basecamp Features
Basecamp has the fewest features of the marketing project management tools we reviewed, but that does not make it any less powerful. It offers an incredible number of built-in integrations, making it possible to tailor it to your client's industry.
Standout Feature: Basecamp's Ease of Use
Basecamp is very simple to use. The dashboard organizes the interface by projects, along with a special company-wide section. Within each project, you can easily find tasks and tools. The interface is less like a spreadsheet and more like a document, and the chat features follow the familiar format. It takes very little training to get up to speed on its most important tools.
Basecamp's Views
Basecamp offers several levels for views. You can see a birds-eye view that covers all your projects across the company, including a "Basecamp HQ" board that is geared toward non-project communication like company announcements and worker check-ins. Within each project, your view will include all the tools applied to that project, like calendars, task lists, or messages.
The documents board in the task display shows the files in graphical format, making them easy to locate. Also, its Automatic Check-Ins feature is useful. Workers can chime in with what they did for the day, keeping everyone apprised of their progress and alleviating the need for regular status meetings.
Basecamp's Templates
Basecamp does not offer pre-made templates that you can customize. However, it does allow you to create and save project templates. It's the only project management software we reviewed that allows you to determine which tools to use in a project. For example, you can remove the Campfire tool for projects that do not require discussion.
Basecamp's Integrations
Basecamp may not have as many in-app features as its competitors, but it makes up for it in integrations. It works with over 60 apps covering proposals, customer service, marketing design, software development, reports, time tracking, and other task management. However, it does not integrate with newsletter programs like Mailchimp.
Basecamp's Content Storage
With 500GB of storage, you can keep all your files in one place. Basecamp lists them in the Docs & Files tool within the project, where you can find them quickly. File versioning lets you track changes to files you upload, or you can use Text Docs to create files you want to collaborate on within the application.
Basecamp's HQ Feature
Basecamp offers a unique function that can take the place of meetings and announcement-style emails. HQ gathers everyone in your company. From there, you can make announcements, set up a social chat, discuss company or employee policies, store employee manuals, and more.
What Basecamp is Missing
If you use Kanban boards, you will need a plug-in. However, Basecamp offers several integrations to third-party software. What it lacks is security features such as the ability to limit access to tasks. For example, clients assigned to a project will be able to view anything on the project.
What Users Think About Basecamp
Many Basecamp user reviews include praise for the software's ease of use. They mentioned how helpful it was when working with clients as well as casual users, because it's much easier to learn than other project management programs. The primary complaints seemed to stem from this, however. It was easy for people to post comments, make requests, or load items in the wrong areas. Having a clear process for users is important.
Where to Find Basecamp
You can purchase Basecamp directly from its website and sign up for a free program with limited users and projects or try the full-on version free for 30 days. Basecamp offers free accounts for teachers and their students and discounts for nonprofit organizations. Try Basecamp free for 30-days.
Airtable: Best Marketing Project Management Software for Social Media


Airtable combines the best of spreadsheets and databases in a marketing project management software that offers useful connectivity between tasks and elements. It has some unique venues for communicating with others outside your business, including social media connectivity. The plans run from free to $20 monthly per user for the Pro plan, which includes a customer success representative.
Airtable Pricing
Airtable costs between $0 and $20 a month per user. However, Airtable offers nice features even with its free plan. In fact, if you don't need complex functionality or a huge number of tasks, the free plan may suit your needs. However, one of its standout features, blocks (a data import and visualization tool), is only available in the Pro and Enterprise plans. Only those people with comment or edit access are considered users. View-only access is free.
Airtable Plans by Price & Features
| Features | Free | Plus | Pro |
| --- | --- | --- | --- |
| Pricing | $0/user per month | $10/user per month | $20/user per month |
| Storage Space | 2GB | 5GB | 20GB |
| Kanban | ✔ | ✔ | ✔ |
| Web, desktop, iOS, & Android app | ✔ | ✔ | ✔ |
| Email Support | ✔ | ✔ | ✔ |
| Custom-branded Forms | | | ✔ |
Airtable Features
Airtable stacks well against its competitors for features, making it useful not just for marketing, but other projects as well. The ability to show images as thumbnails in the task row makes this software standout, as do the social media integrations.
Standout Feature: Airtable Social Connectivity
If your campaigns depend heavily on social media, then Airtable is a good choice. It integrates with Facebook and LinkedIn for posting. While the Twitter app only allows you to archive posts from people you follow, which can be useful when planning retweets or tracking trends.
It integrates with other social communications services like Mailchimp. Plus, if you run a campaign that requires a survey or sign-up, you can create the form right on Airtable and have the answers feed directly to the platform, creating a new task.
Airtable Flexibility
Airtable describes itself as having the functionality of a spreadsheet with the power of a database. If you're familiar with the versatility of Excel, you'll find many of the tools work similarly. You can sort, group, filter, add or hide features, and more. The real strength of this setup, however, is the linking function that ties entries together even across tables.
For example, if you have a graphic you use in multiple campaigns, you can click on the link for that graphic and see what campaigns it's been used in. It's an excellent way of tracking elements, contacts, or other resources that span more than one project.
Airtable Views
Like most marketing project management software, Airtable offers calendar and Kanban views as well as list views. It also has a gallery view with images and only the information you want to share. You can then publish this gallery view to your website if you wish to share your projects and status with the world.
Airtable Templates
Like monday.com, Airtable offers a wide variety of premade templates to choose from, including many for marketing. Further, its Airtable University has user-made examples, with templates you can download and make your own.
Airtable Automations and Integrations
Airtable will alert someone via email when they receive a chat message or the status of the project changes. It offers an impressive number of integrations, including with other marketing project management tools, file management tools, event tools, forms, and more. If you need an integration Airtable does not provide, you can use their API to create one.
Airtable Content Storage and Communication
Communication happens within the individual task—click on it, and you get an expanded record layout, where you can see the task details and revision history. You can comment there. You can also add content as attachments to a task. Airtable shows images in thumbnail and uses them in gallery view to make a more attractive layout.
What Airtable is Missing
Airtable does not offer a dashboard view where you can see at a glance the progress on your projects or those of your team. And while it has some excellent tools such as Gantt charts, organization charts, and time trackers, these are only available with the Pro and Enterprise plans.
What Users Think About Airtable
Our readers who reviewed Airtable enjoyed the variety of view options, the forms feature, and the customization. Other reviewers found it easy to navigate, and those who like Excel appreciated the similarities in the interface.
Where to Find Airtable
Airtable's website has a pricing page where you can sign up for the plan of your choice. It offers a free plan for teams of any size. However, it also provides paid plans that include support, data storage and additional features. Sign up for your free plan.
Wrike: Best Marketing Project Management Software for Content Creatives

Wrike is a powerful marketing project management solution because of its versatility and collaborative editing tools. Its forms function lets other departments or clients request projects. It also offers a plan specifically for marketers with extra tools and a ready-made interface designed for marketing.
Wrike Pricing
Wrike runs from free (for up to five users) to nearly $25 a month per user. Wrike's Professional plan is on-par with its competitors, but the higher tier gives you reports, templates, and time tracking. It offers a plan specifically for marketers with some valuable creative tools. Like Airtable, Wrike does not charge for guest users (called Collaborators).
Wrike Pricing & Features Comparison
| Features | Free (5 users) | Professional (5, 10, 15 users) | Business (for 5-200 users) |
| --- | --- | --- | --- |
| Pricing | $0/month | $9.80/user per month | $24.80/user per month |
| Multiple Views: Board, Task, Spreadsheet | ✔ | ✔ | ✔ |
| Gantt Chart | | ✔ | ✔ |
| Advanced Integrations | | ✔ | ✔ |
| Collaboration Tools & Shareable Dashboard | | ✔ | ✔ |
| Real-time Reports & Pre-built Templates | | | ✔ |
| Time Tracking | | | ✔ |
| Storage Space | 2GB | From 5GB | From 50GB |
| Video Uploads/Month | | 15GB | 15GB |
Wrike Features
Wrike offers some excellent creative tools for marketers with its higher-tier plans such as shareable dashboards and real-time reports. However, even in the lower-level plans, it has strong collaboration tools and some editing features.
Standout Feature: Wrike's Creative Tools
Marketing depends on creation, and Wrike makes it easy to collaborate on documents and images. The Free, Professional, and Business plans offer file sharing, the ability to work together on a document in the application, and the ability to comment directly on an image. If you purchase the Marketing plan, you also get Wrike Proof, integration with Adobe Creative Cloud, and Wrike Publish plus a preconfigured workspace designed for marketing.
Wrike's Flexibility
Wrike's projects and task templates are highly customizable so you can get the information you need. You can add fields such as priorities and due dates, assign colors to status bars, and more. It does not allow you to make subtasks, but you can set dependencies which reflect in the timeline.
Wrike's Views
Wrike contains the standard views: task lists, calendars, Kanban dashboards, and a timeline that works like a Gantt chart. The great thing about the timeline is you can email it to others to update them on a project's status. Clicking on a task or project opens a sidebar where you can see details, access files, and chat with teammates.
Wrike's Templates
Wrike offers very few ready-made templates, although one is specifically for marketing campaigns. However, it does allow you to build and save templates that not only include tasks but team members, a nice addition when you have projects that always apply to certain people.
Wrike's Integrations
Wrike offers over 30 integrations that cover email, chats, document creation, single-sign-on, and other business interactions. There are none for newsletter services, and the LinkedIn integration is geared toward HR. However, it does offer an API for integrating other applications.
Wrike's Content and Communication
The amount of content storage varies by plan but does accommodate documents and images. Content is stored within a task and offers the ability to comment on and even edit it. Communication, too, lies within a project or task.
However, one excellent feature is the Project Request Form that allows others to request a task. The form feeds directly into Wrike, where you can evaluate and assign it. Collaborators (who are not considered paid users) can use this form, making it easy for customers or other departments to put in requests.
What Wrike is Missing
Social media is a huge part of most marketing campaigns. Wrike, however, lacks social media integrations geared for this important task. You'd have to use an API and set up the integration yourself.
What Users Think About Wrike
Both users on our review website and elsewhere enjoyed Wrike's wide range of features. One reviewer noted that their company had very specific project needs, and Wrike enabled them to create a task system that worked. Unlike with other project management systems, the negative comments differed widely. This could indicate difficulty with finding or using a particular tool.
Where to Find Wrike
Wrike's website lets you order from the pricing page and has a pop-up chat in case you have questions. There is a free trial as well as a free version that allows up to five users. The page also lists other Wrike tools that you can purchase as add-ons. Sign up for your free 15-day trial.
Alternatives to the Best Marketing Project Management Tools
If you're a marketing firm with many clients or work closely with your sales team, then managing customers may be even more important than keeping your marketing projects organized. If so, customer relationship management (CRM) software might fit your needs. Many also include project management tools.
Here are some CRM software we recommend.

| CRM Software for Project Management | Best For |
| --- | --- |
| | Internal marketers automating tasks and data to track progress toward KPIs |
| | Customer-facing teams requiring configurable client collaboration and process management |
| | Product sales teams managing lead generation with intelligent workflows |
| | Sales and marketing teams collaborating on individual customers, subscriptions, or repeat business |
| | Activity-based marketing firms managing metrics like contacts, follow-ups, and results |
Bottom Line
The best part of marketing is the creative work. Marketing project management software helps you to stay organized and keep on top of tasks so you are free to concentrate on creating winning campaigns. Each program we reviewed has strengths for specific needs, but for overall use and flexibility, we recommend Asana.
If you could benefit from using marketing project management software with storage, integrations that allow you to bill your clients, and a free plan, consider Asana. Its dashboard is customizable so you can rearrange the display to only show the information you want users to see. It also allows you to create exportable csv files to use outside of the software. Start using Asana's free plan, or choose the plan that's right for you.